I have gone scuba diving in Dauin in 2019 and that experience made me want to go back. During that trip, I only stayed for a day and regret that I didn't stay longer.
Last February 2022, I finally got the opportunity to return to Dauin.
My dive buddy, Maire, and I decided to stay for the weekend this time. With her recommendation, we stayed in Aivy Maes Divers Paradise Resort Dauin.
I was familiar with the resort as they are just walking distance to Bongo Bongo Divers, the dive shop that showed me the wonders of Dauin for the first time.
Aivy Maes Dive Resort can be found just by the beach, just walking distance to the dive sites. You can recognize the resort because of its Filipino-inspired bahay kubo or nipa hut-style accommodations.
If you go diving in Apo Island, you might pass by the resort as you walk towards your dive boat. It's very common to see divers and snorkellers bound for Apo Island, right in front of Aivy Maes during the weekends.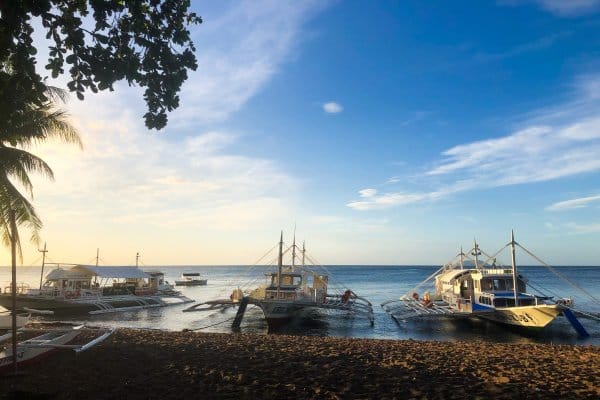 Accommodations at Aivy Maes Divers
We arrived at Aivy Maes Divers Paradise Resort around noon and Kim, the resort manager, welcomed us and showed us to our rooms.
I opted to get a fan room for myself as I tend to get cold easily and the weather wasn't that humid yet.
The bamboo rooms did not feel hot when we stayed in February but that may not be the case during the summer months. My dive buddy got her own hut but hers had air conditioning and had bigger windows with a view of the beach.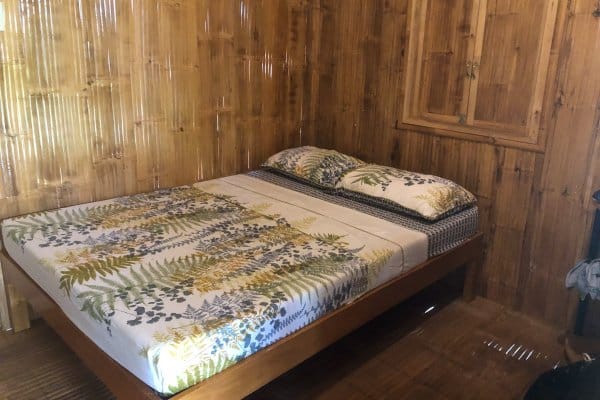 I found the bed and room comfy but I am not sure what it will be like if there were two people staying in it. It might feel a bit cramped. The fan rooms come with mosquito nets and Kim installed one for me upon request.
Another thing to consider when booking the nipa hut rooms is the thin bamboo walls. While it's usually quiet in the resort, on weekends where there are more people, you might hear conversations or muffled sounds through the walls.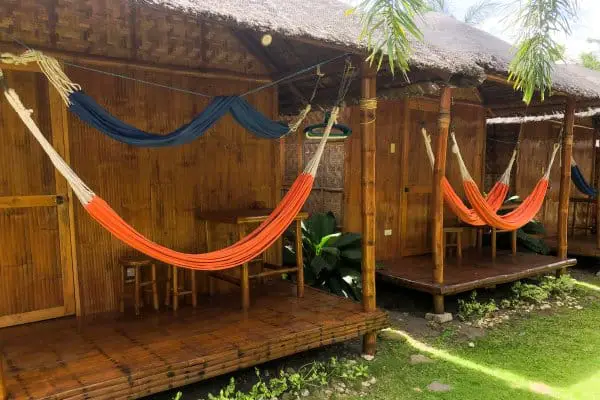 One of my favorite room features is having my own hammock just outside my room. With the grass and palms trees around me and the beach right in front of me, it was the perfect spot to chill right before or after diving.
I also loved that it had its own tables and chairs so I had space to set up my camera or sort through my dive photos on my laptop. The wifi connection was very good so getting some work done wasn't a problem.
The hut also had a clothesline where I could hang my swimsuits, sarongs, towels, and wetsuit. I thought this was a nice practical touch so that I didn't have to worry about them getting misplaced or mixed up with other divers staying in the resort.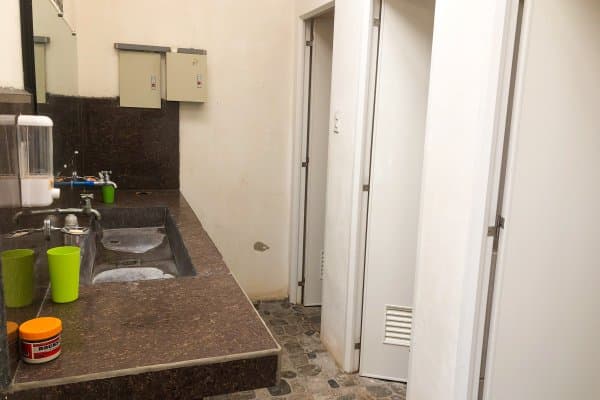 We were the only people in the resort so we didn't have problems queuing or sharing bathrooms with anyone. However, the water pressure here was a bit weak so we did end up taking showers using a hose where we rinse our dive gear.
Another issue you might encounter is that the communal bathrooms are a bit of a walk from the room. If you need to go to the bathroom in the middle of the night, it can be a nuisance.
If this is a problem for you, then you can stay in a more private room that has its own bathroom.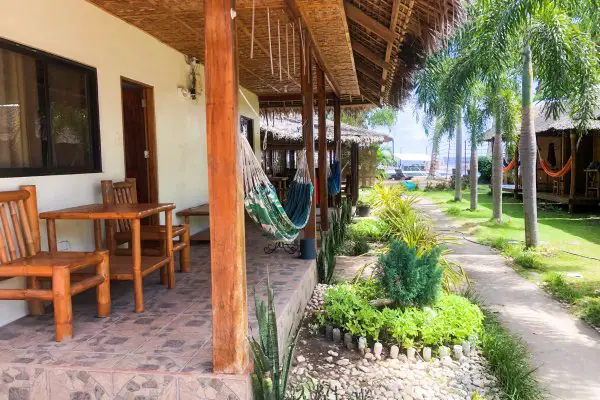 Scuba Experience with Aivy Maes Divers Resort
Since Maire was still "Working From Home" when we arrived, we didn't do any diving until the day after our arrival.
Neil was assigned to be our dive guide for the weekend and I did a total of 6 dives with him. He was an excellent guide and pointed a lot of cool critters underwater. He also helped us a lot setting up our gear, and entering and exiting the water. And when we had dive gear problems like when my BCD was self-inflating or when Maire lost her regulator mouthpiece during a dive, he did a great job helping us resolve our equipment issues!
Here are some of the dives sites where Neil took us.
Muck Diving in Dauin Marine Sanctuary
Our first and second dive was in the Dauin Marine Sanctuary just in front of Aivy Maes Resort. We encountered the usual critters you'll find in a muck diving site like cuttlefishes, pipefishes, frogfishes, and sea slugs.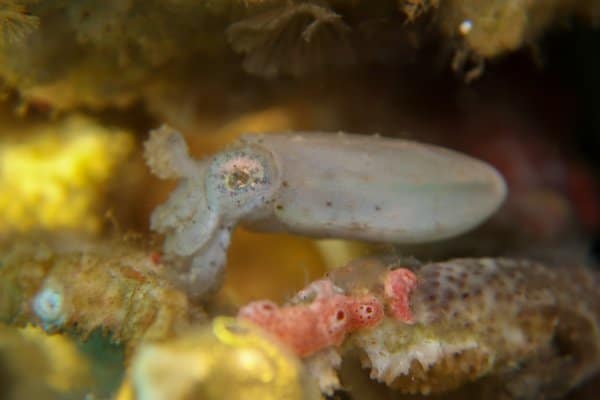 Poblacion Reef
If you prefer to dive in a more coral-dense area, the Poblacion reef is also a nearby site you can visit while you're diving with Aivy Maes Dive Resort. I did see big fishes and coral in this area but since I was focused on macro photography at the time I wasn't able to capture more wide shots.
It was my first time to dive this site and apparently it was badly hit by the recent typhoon, Odette. You will see some heavy reef damage like broken or dead corals. According to Maire, it used to be more beautiful when she visited this dive site in 2018.
I insisted on going here because I was tipped off by Daniel aka Dr. Frogfish, author of the PADI Frogfish Specialty Course, that there were one or two giant frogfishes in the area.
We did see it along with other cool critters that prefer to live in coral reefs than sandy muck bottoms.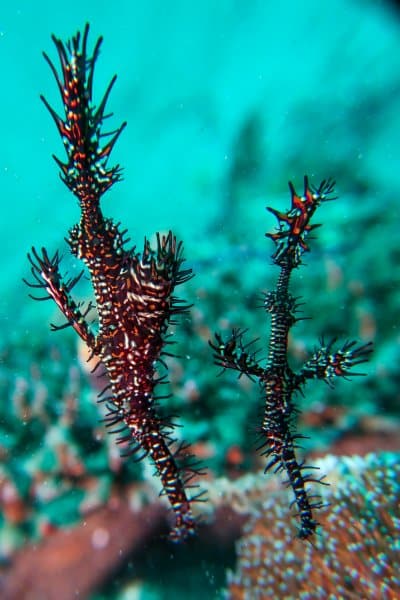 Night Diving
We also did a night dive at the Poblacion reef and encountered a lot of shrimps, corals, and crinoids feeding. We also saw some turtles napping and of course, Nemo!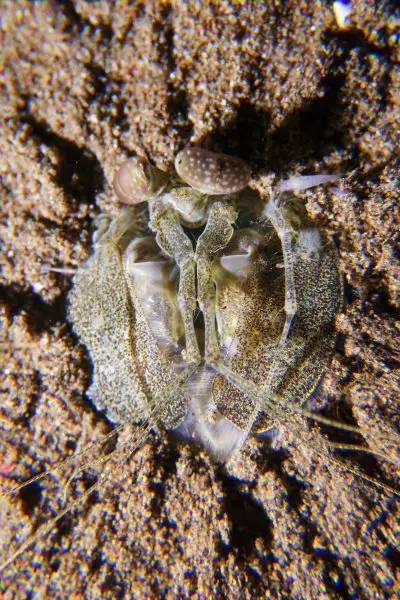 Talisay Point Coastal Dive
On our last dive day, Neil suggested we go for a dive in another location for a change of scenery. He recommended we go to Talisay Point which is on another side of Dauin. We had to take a trike to get there.
It was also a shore dive and a bit of walking and swimming was needed to get to the dive site, but it was worth it. I saw several creatures hiding in the seagrass and sandy muck areas.
Neil found us at least 3 different-sized juvenile frogfish, several ghost pipefishes, some sea slugs, shrimps and squat lobsters. How he finds them without even a torch, I have no idea!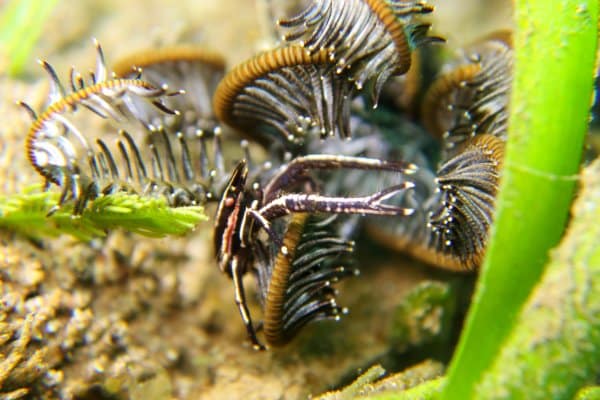 This was also my favorite dive as I encountered one of the most dangerous sea creatures – the blue-ringed octopus which I spotted myself! After that dive, I didn't feel the need to dive anymore as I felt it was the perfect way to end our dive weekend at Aivy Maes.
If you would like to know more about the other things you might see while diving in the Philippines, check out my post on 100 Marine Life in the Philippines that you must see.
Where to eat in Dauin?
When you stay in Aivy Maes Divers Paradise Resort you are welcome to use their common kitchen if you wish to prepare your own food. Coffee and tea is free and they also offer complimentary bread or pastries in the morning. (I didn't know this until I checked their website after my stay so I was actually having breakfast somewhere else and not taking advantage of these inclusions!)
The resort doesn't have their own restaurant so I ate in neighboring establishments for most of my meals. I was a frequent visitor at Anahaw Dauin and Mabuhay Restaurant as they were the closest to Aivy Maes.
I highly recommend Anahaw. It's a vegetarian / vegan restaurant and even a meat lover like me, I enjoyed their dishes. They also offer yoga classes if you're into that sort of thing.
Here are some of my favorite Anahaw dishes that I've tried.
We also got to eat in Finbar for their burgers, Soga for some Korean, and Frontemare for Pizza. These restaurants are a bit far so you might need to take a trike to get here.
Some of these restaurants in Dauin offer delivery if you're within the area, so you can order in if you don't feel like leaving your hammock
How to get to Aivy Maes Dive Resort in Dauin
The most convenient way to get to Dauin from Manila is to take a flight to Dumaguete, Negros Oriental. Then, take a 30-40 minute car ride to Dauin.
Cebu Pacific and Philippine Airlines fly to Dumaguete-Sibulan Airport from Ninoy Aquino International Airport daily.
Recommended- private car transfer
For this trip, we took Cebu Pacific and asked Aivy Maes to arrange a private car transportation for us to the resort. As we were traveling with our dive gear, it just seemed more practical and easier to just arrange for a private transfer. We paid Php800 (USD16) for a van to take us from the airport to the resort.
Cheapest way- bus
If you prefer to take a public transportation, you can head to the Ceres bus station in Dumaguete and look for a bus that goes to the south of Negros Oriental. Usually the bus will say it is bound for "Bayawan," but always confirm with the conductor that it will pass through Dauin.
The bus fee was around Php50 (USD1) when we were there. But with the rising fuel prices, it could be a bit more.
Ask the conductor to drop you off at J. Basa St. or watch out for Chooks to Go right after the Dauin market. Once you get off, you can walk down J.Basa until you reach Aivy Maes. It's about 400 meters from the highway. If you don't want to walk, you can hire a trike to take you to the resort.
If you take a bus, it may be cheaper but it also takes longer. Expect to do some waiting at the bus station and buses make multiple stops along the way to drop off or take on more passengers.
Another alternative – tricycle special trip
You can also take a tricycle from the airport all the way to Dauin. You can expect to pay around Php300 or more depending on your bargaining skills. You can ask the driver to bring you to the Dauin Marine Sanctuary area. Once you're in Dauin, ask them to make a left in J.Basa St. and drive all the way to the beach. At the end of the road, you will find Aivy Maes Resort to your left.
How much did I spend in Aivy Maes Divers
For 4 nights stay and 6 dives in Aivy Maes Divers Paradise Resort, I spent Php11,250 (USD225). This does not include the cost of flights, food and snacks, and local trike transportation.
| | | |
| --- | --- | --- |
| Expenses | Cost | Total |
| Van Transfer to Resort (Php800 per van) | Php 400 per person | Php 400 |
| Large Hut Fan Room | Php 800 per night | Php 3,200 |
| House Reef Dive (4) | Php 1200 per dive | Php 4,800 |
| Night Dive | Php 1500 per dive | Php 1,500 |
| Coastal Dive | Php 1350 per dive | Php 1,350 |
| Total Expenses | | Php 11,250 |
I believe we were also given some special rates for the rooms and diving since it was not yet peak season and Maire knew the owner. (So, thanks, Mark!)
For the latest dive rates, please refer to Aivy Maes Resort website.
Covid-19 Travel Requirements
As of the time of my visit and at the time this post was published, Negros Oriental where Dauin is located had a very tourist-friendly policy. They're one of the easiest and best dive spots to visit in the Philippines, especially if you're a vaccinated tourist.
If you're vaccinated you will need to present the following:
Vaccination card/ vaccination certificates
Valid ID
A photocopy of both with your contact information for contact tracing purposes
If you're NOT vaccinated you will need to present the following:
Valid ID
Negative Antigen Test Result from any DOH-accredited laboratories issued within forty-eight (48) hours
A photocopy of both requirements with the traveler's contact information number for contact tracing purposes
These may be subject to changes. Please confirm with Aivy Maes Resort what the latest travel requirements are in the region.
What did I pack for diving in Dauin?
Here is the standard dive gear I bring while diving in the Philippines. You can rent gear through Aivy Maes Divers Paradise Resort if you do not have your own. Their dive rates are inclusive of dive gear rental and you get 10% off if you have your own gear.
My Scuba Diving Gear
Regulator: Scubapro MK25 Evo, C300 and C200 2nd Stage
BCD: Aqualung Axiom
Mask: TUSA M-212 Freedom Ceos
Snorkel: TUSA SP-170 Platina Hyperdry II
Booties: Poseidon Pink Dive Boots
Fins: Problue
Wetsuit: Seavenger
Vest Hoodie: Scubapro Hybrid Hooded Vest
Dive Watch: Suunto D4i Novo
Dive Knife: Aqualung Blunt Tip Knife
Dive Leggings and Rash: Blue Adaptation Coral Sea Fan

My Underwater Camera Gear
Underwater Camera: Canon G7X Mark II
Underwater Camera Housing: Fantasea FG7XII
Video Lights: Big Blue AL1200XP
Underwater Action Camera: GoPro Hero9
360 Camera: Insta360 X3

> Canon G7X Mark II full review
> Insta360 X3 underwater camera review
> Scuba diving camera recommendations for beginners.

Dive Insurance
Divers Alert Network (DAN)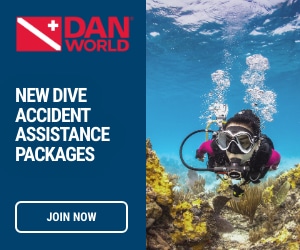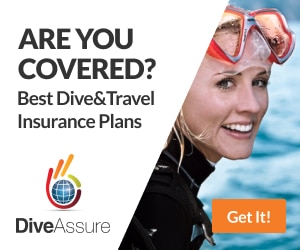 Need travel insurance for your trip? Get a quote from Safety Wing.
If you're traveling and diving in the Philippines for the first time, make sure to read my post on Philippine Packing List: What to Bring to Your Dive Trip.
Aivy Maes Divers Paradise Resort Dauin Contact Details
Lot 186, J. Basa Street Poblacion district 1, Dauin, Negros Oriental, Philippines 6217
Mobile Number: +63 9675211742
Email: aivymaesdivers(a)gmail.com
Facebook: Aivymaes divers resort
Website: https://aivymaesdivers.com/
Book on Agoda.com