When Elle, owner of Aurora Wetsuits, contacted me to send me a pair of her dive leggings to try, I immediately said yes to her offer. I had never worn scuba legging before so I was very curious and excited to try on a pair.
I scuba dive mostly in the Philippines or in tropical waters. I wear a 3mm full wetsuit in all my dives because I get cold easily and I am afraid to get stung by anything underwater. I have never tried anything else, until now.
In this post I will share with you my experience with Aurora Wetsuits' scuba diving leggings. While this was given to me as a gift, I was not obligated in any way to write about them. All opinions are mine.
About Aurora Wetsuits
Aurora Wetsuits was founded in 2019 by Eliska and Jordan Griffiths. As avid scuba divers, they noticed the lack of scuba wetsuits and apparel catered to women. Despite the growing number of female divers, the industry was still dominated by companies that were only making boring and ill-fitting dull black wetsuits.
To help women dive in comfort and style, Eliska also known as Elle designed women's scuba wetsuit and diving leggings.
We are on a mission to provide practical, durable, colourful and comfortable women's wetsuits and scuba dive leggings that all female divers out there can both look and feel great in. And we'd like to achieve that in the most eco-friendly and environmentally conscious way possible!

– Eliska and Jordan Griffiths

Ocean Spirit Dive Leggings Review
After a series of email exchanges about my shipping address, design, and size that I want. Aurora Wetsuit shipped out my dive leggings all the way from Czech Republic.
I was a bit worried about receiving international shipments but I was given a tracking number so I knew where it was the entire time. Even more delightful was that the package arrived a week later at my address in Metro Manila, Philippines.
Upon receiving the packet from UPS, I excitedly opened it and took out my brand new scuba dive leggings from its paper packaging.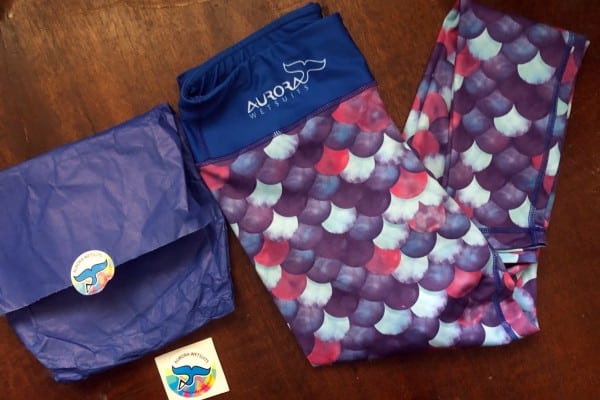 Designs
Aurora Wetsuits carry several legging designs to fit your style and personality.
I had requested for the Ocean Spirit design as this resonated with me the most.
It has pink, blue, and purple mermaid scale patterns and a blue hip band with the Aurora Wetsuit logo on it. The design and colors make it a fantastic gift for mermaid lovers!
Sizing
During our email exchange, I told Elle that I normally fit a US size 10-12 for my regular clothes. I also admitted that I had gained a bit of weight during the pandemic and that I was thinking the XL would fit me.
The Aurora Wetsuits leggings for diving are available from XS to 3XL (UK 6-20, US 2-16) sizes.
She suggested going for a tighter fit.
According to her, the dive leggings serve as compression and improve blood flow and circulation. The thick fabric and the tight fit will help keep you warmer in the water.
To be sure, I sent her my measurements and told her to use her best judgment since she knows her product more.
She sent me a Large instead.
Fit
To be honest, putting it on for the first time was a bit of a challenge for me. I have worn cotton leggings before and I was expecting them to be as easy to wear.
Of course, it wasn't the same.
It actually reminded me of the first time I tried wearing girdle underwear and had to squeeze myself into it.
While I did have to wiggle a bit to put it on, it was much easier compared to getting into a wetsuit.
The Ocean Spirit leggings for divers are made of 86% Polyester and 14% Spandex making them stretchier and softer. It was more manageable to handle and slip on compared to neoprene.
The scuba leggings are also form-fitting. Unlike my wetsuit that would have spaces at the back of my knees or my crotch, the dive leggings stuck to me like a second skin.
My only concerns with this was it was causing "muffin top" and a "camel-toe" on me while wearing them! But to be fair, I think these issues would disappear once I lose my quarantine weight and go back to my pre-pandemic size!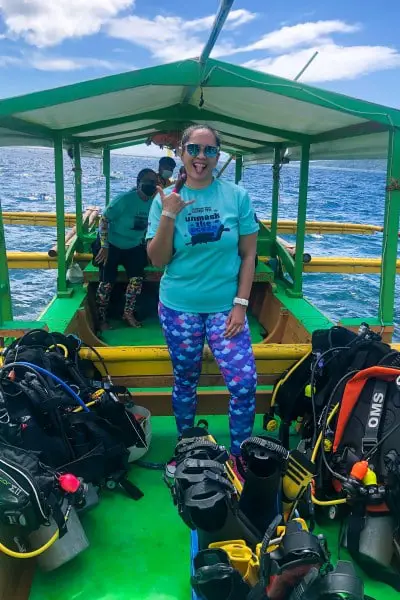 Benefits of wearing leggings for diving
My dive leggings came at the perfect time as I had a scuba diving trip in Anilao for the International Coastal Cleanup. Two days after receiving my scuba leggings, I was able to immediately put them to the test.
I did 7 dives over the weekend and wore the dive leggings in all of them. It was my first time ever wearing dive leggings during a dive.
Stand out and look good
As I was the only one wearing the beautiful mermaid leggings in the dive shop, many people took notice and gave me compliments for it.
And when I posted updates on social media, many messaged to tell me they loved my new underwater look.
Of course, I told them it was from Aurora Wetsuits and that they shipped worldwide!
I knew for sure that if I was already standing out while out of the water, I will surely stand out underwater as well. Aurora Wetsuits' Ocean Spirit is one of the best scuba leggings that will help you look good on land and underwater.
No doubt, wearing these unique leggings was extremely helpful in identifying me underwater. Especially when almost everyone on the boat was wearing black wetsuits, I am certain that at any given time my dive mates did not have difficulty locating me.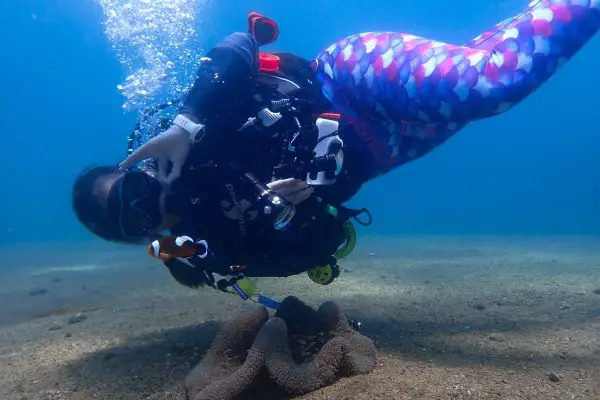 If you too want to look while diving, you can get a pair of dive leggings from Aurora Wetsuits. You can use my special code "DIVERBLISS" to get 10% off on your order.
Protection
Because the scuba leggings only kept me protected and warm on my lower extremities, I wore a rashguard and a 1.5mm vest with a hood for my top. I also wore a bikini under as I like to easily strip out of them as soon as we return to the dive shop.
I didn't bother putting reef-safe sunscreen on my legs as the scuba leggings provide UPF 50+ protection.
Buoyancy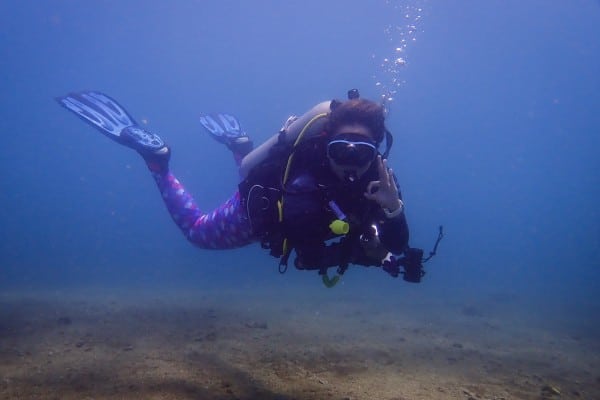 Since the dive leggings were less buoyant than my wetsuit, I also had to reduce my dive weights. I experimented by removing a kilogram which worked well for me.
One of the biggest surprises for me was discovering how scuba leggings affected my buoyancy. I felt more in control of how I moved underwater.
I came to realize that one of the benefits of wearing this dive skin was the was no space for the air to hide.
In the past, I would often find air pockets in my wetsuit. I would find myself tumbling underwater just to remove air trapped in my wetsuit.
This time I didn't have to worry about that and felt more comfortable in my movement.
Warmth
As I tend to get cold easily, one of my biggest concerns was staying warm while wearing the dive leggings. This was actually the main reason why I haven't tried scuba legging until now.
I feared getting cold.
According to Aurora Wetsuits, the leggings are perfect for scuba diving in water temperatures of 28°C+ (82°F).
I was very doubtful of this claim as my tolerance for cold temperatures is very low. I also do 45-60 minute dives so I wasn't sure if I would stay warm for the entire duration of the dive.
According to my dive computer, the water temperature that weekend was at 29°C+ (84°F). I am happy to report that I did not feel cold at all while wearing my brand new leggings.
There were several instances during my dive trip when I almost took out my wetsuit. But because I wanted to see how the leggings would perform, I refrained from doing so.
Our third dive was a night dive, which tends to be colder due to the lack of sun. Then on our 6th and 7th dives, winds and rain came so I expected the temperatures to be colder as well.
The dives went comfortably and smoothly. At no point did I feel the urge to end the dive because of cold water temperatures.
Final note
I was pleasantly surprised with my experience wearing the scuba dive leggings from Aurora Wetsuits.
It changed my mind about needing to always wear a wetsuit. I think you'll be seeing me more in my mermaid leggings underwater.
Or at least, until the colder water temperature forces me to unroll my wetsuit again!
If you would like to buy a pair of your own dive leggings from Aurora Wetsuit, don't forget to use my Coupon Code: DIVERBLISS for a 10% discount on your order!
My Scuba Diving Gear
Regulator: Scubapro MK25 Evo, C300 and C200 2nd Stage
BCD: Aqualung Axiom
Mask: TUSA M-212 Freedom Ceos
Snorkel: TUSA SP-170 Platina Hyperdry II
Booties: Poseidon Pink Dive Boots
Fins: Problue
Wetsuit: Seavenger
Vest Hoodie: Scubapro Hybrid Hooded Vest
Dive Watch: Suunto D4i Novo
Dive Knife: Aqualung Blunt Tip Knife
Dive Leggings and Rash: Blue Adaptation Coral Sea Fan

My Underwater Camera Gear
Underwater Camera: Canon G7X Mark II
Underwater Camera Housing: Fantasea FG7XII
Video Lights: Big Blue AL1200XP
Underwater Action Camera: GoPro Hero9
360 Camera: Insta360 X3

> Canon G7X Mark II full review
> Insta360 X3 underwater camera review
> Scuba diving camera recommendations for beginners.

Dive Insurance
Divers Alert Network (DAN)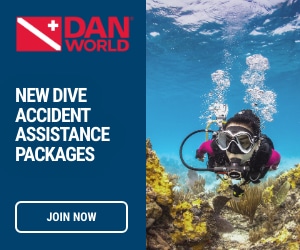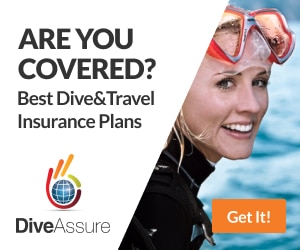 Need travel insurance for your trip? Get a quote from Safety Wing.
Have you worn legging for divers before? Have you bought anything from Aurora Wetsuits? What was your experience like? Leave a comment below!