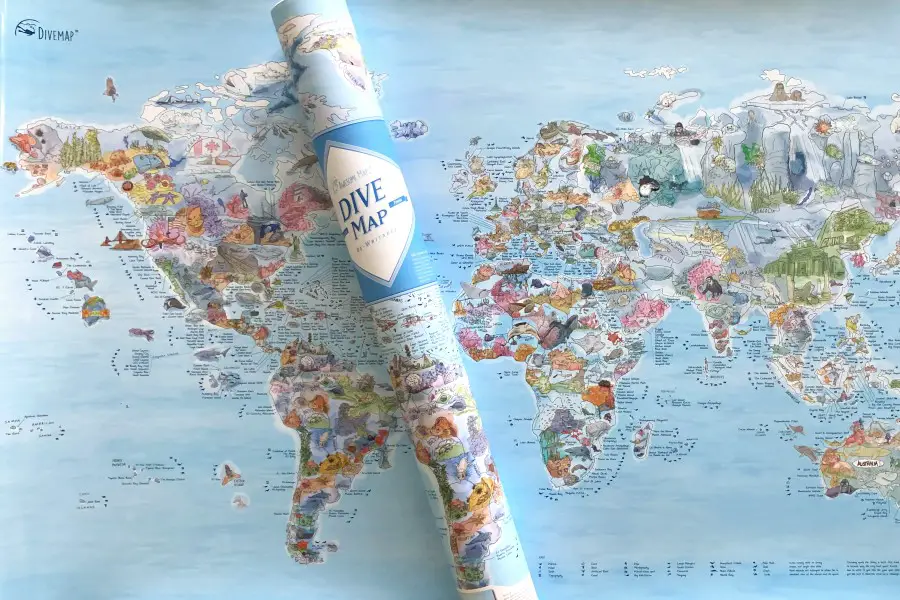 The links below may be affiliate links. If you shop through them, I'll earn a commission at no additional cost to you. For full information, please see my disclaimer here.
I've been eyeing Awesome Maps Dive Maps for some time now, and as luck would have it, they asked if I wanted one as a gift. Of course, I said yes!
While they did send it to me for free, all opinions below are mine. I was not required to write a blog post about it, however, I thought it would be helpful to share my experience and insights about this world dive map.
If you want to learn more about this scuba map from a diver's perspective, then continue reading or jump to the sections below for my complete and honest Awesome Maps dive map review.
About Awesome Maps
Awesome Maps is a company that designs all sorts of maps for globetrotters and adventurers. They are not your typical map as each map on their portfolio has been meticulously researched by experts, hand-illustrated by various talented artists, and then printed in Berlin. The results are beautiful and high-quality maps for your home, workplace, or even your backpack! 
This awesome company started making maps in 2010, launching with their Surf Map. Since then, they've introduced other unique world maps to cater to different outdoor lifestyles. But what drew my attention to this company was their world map for scuba divers. 
What I liked about the Awesome Maps Dive Map
As an avid traveler, I have always been fond of maps. It's a good way for me to keep track of where I've been and where I want to go. In the past, I even DIY'd a Philippine map onto a corkboard so I could pin my travels. Unfortunately, after moving homes several times, my homemade travel and dive map got misplaced and is now collecting dust somewhere. 
So receiving an Awesome Map dive map could not have come at a better time. 
International shipping
When Awesome Maps told me that they can ship internationally from Germany, I honestly didn't have high hopes of ever seeing an Awesome Maps dive map in person ever. 
As I live in the Philippines, I was expecting my world scuba diving map to either take months to get to me or to simply get lost.  These are based on my previous experiences with shopping internationally.
However, this was not the case when I received my Awesome Maps dive map.  
When I was notified that I had a package waiting for me at home, I was pleasantly surprised that my awesome map made it. The package took less than a month to arrive. I thought this was more than acceptable considering the unreliability of our postal system and the expected delays in shipment due to the pandemic.
The package was delivered straight to my home without any issues and I was not charged any additional fees. This was a huge relief for me too as in the past, I've experienced being taxed for ordering items abroad. (Please note that this may vary depending on your country's importation laws and policies.)
Beautiful packaging
My Awesome Maps dive map arrived safely in a beautifully illustrated tube. The packaging is durable and very attractive so I intend to keep it for future use. 
The tube was shipped in a simple carton box to prevent it from being scratched and smooshed while in transit. 
I liked that these were sufficient enough to protect the map and that they did not use any other unnecessary single-use plastic. This was a huge plus especially for divers, like myself, who are trying to say no to plastic.
High-quality material
While unrolling the dive map for the first time, I immediately noticed the smooth-to-touch surface and the thickness of the paper. The quality was very good compared to other travel maps I've handled before which were very thin, flimsy and ripped easily.
The Awesome Maps dive map is printed on acid-free, 250gsm thick, art paper. Its size is 97.5 cm x 56 cm (38″ x 22″), which I found to be ideal for handling and displaying. 
The surface of the map is silk-coated which makes it possible for you to write on using a whiteboard marker. So if you want to write your own notes on the map you can do so without having to worry about permanent markings.
Amazing artwork
The Awesome Maps scuba map is without a doubt one of the most beautiful dive maps I've ever seen. It does live up to the name of being AWESOME!

The hand-drawn illustration by artist Lars Seiffert is absolutely impressive. It is packed with details of the different dive sites around the world, many of which I didn't even know existed until now! 
The scuba dive map also has helpful icons and legends to indicate what marine life and attractions you can see in the different locations. I thought this was particularly helpful for those who have preferences or want to see specific things on their dive bucket list. 
The first time I opened my map, I must have spent an hour just looking at the drawings and checking out where I want to dive next. And every time I look at my Awesome Maps dive map, I discover a new dive destination I want to visit. With the map featuring over 500 dives spots and areas, the list of places I want to scuba dive in continues to grow!
Variety of display options
I am still deciding where and how I would display my dive map. Another scuba diver friend who has the map said he mounted his on a frame. He uses pins to mark his dives and travels, but I am not sure if I want to put holes on mine just yet! 
I might put mine on a blank wall in my room. I think it will be good to see it as soon as I wake up so that I feel more inspired every day to work towards my diving dreams.
If you do get your own Awesome Maps scuba diving map, you should consider how and where you want to use and display it. Luckily, the dive map is available in different materials and mounting options. 
You can purchase additional wooden mounting frames so you can easily hang your map on your wall. Canvas dive map is also an option you can consider getting.
For those that are a bit more nomadic, you can also get the dive maps in the foldable version. It is small and easy to take in all your dive adventures around the world. The Awesome Maps coffee table dive map edition is also writable with a pen so you can jot down notes and personal accounts of your dive trip. 
Also available as a microfibre material, the dive map towel will fit perfectly in your dive bag to help you dry off between dives. 
You can also bring your dive sites map towel on the dive boat. Use it as a conversation starter for you and your newfound dive buddies. You can share stories of where you've visited, and ask for recommendations on where to go next, using your dive map towel.
Great gift idea for divers
Based on my overall experience with the product and the company, this scuba diving map would be a great gift for scuba divers. It will inspire any scuba diver for future trips and also track their travels.  And when they are out of the water, this map for divers will allow them to marvel at the beautiful world of diving.
The Awesome Maps dive map would be the perfect housewarming present for a scuba diver's home or beach house. You can give it as a gift to yourself or a diver that you know, as they celebrate birthdays, holidays, or any special occasion. This map can also be a good way to congratulate someone on their special diving milestones like getting their scuba diving certification or doing their 100th dive!
For more idea on what to give scuba divers, do check out my other gift guides:
Best Scuba Diving Gifts for Men
Best Scuba Diving Gifts for Women
What I did not like about the Awesome Maps Dive Map
One of the things I immediately noticed was that some of the best dive sites I was hoping to get featured were not included! I thought this was one of the downsides of the Awesome Maps world dive map. Especially if you're addicted to pinning or marking the dive locations you have visited, this might come as a disappointment.
As someone who loves scuba diving in the Philippines, I was shocked that Anilao could not be found on the map. Anilao has always been one of the top places to scuba dive in the world and if the cartographers failed to include that, I can only assume that a few other bucket list-worthy dive sites have also been left out.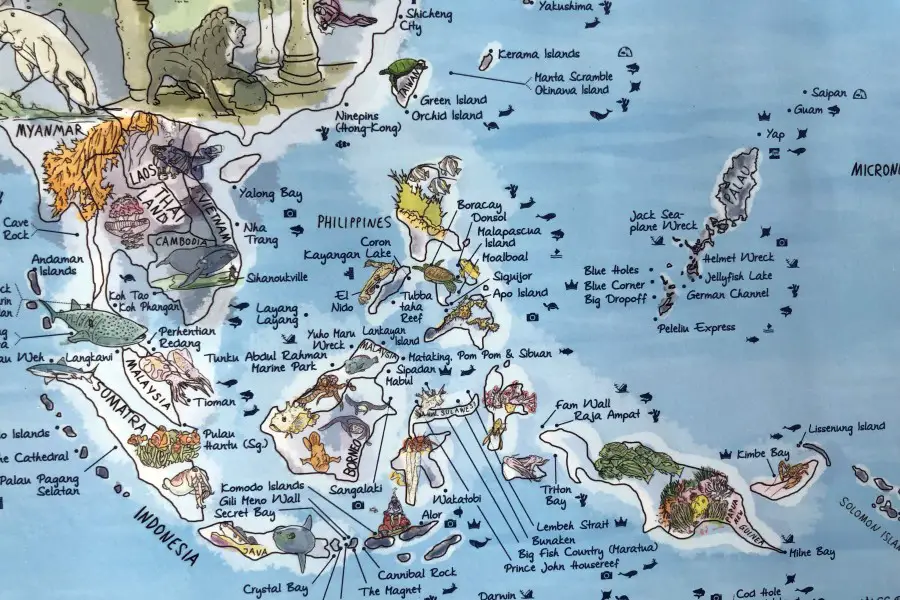 But to be honest, while some dive sites may have been missing on the map, I think this oversight can be forgivable. I can't really blame the mapmakers especially when there are simply too many spectacular dive sites around the world. It would be difficult to feature everything without compromising the design.
Being able to list more than 500 dive spots is an amazing feat in itself, and I have no doubt that the artist had no choice but to narrow it down to achieve a good balance of aesthetics and functionality.
I would suggest though that maybe in the future, they can update their map of the best dive sites in the world by consulting more scuba divers on what to actually include. Many divers from all over the world have purchased this map, so they might give valuable insights as to which places should be included instead.
Other than this, I would say that the Awesome Maps' world scuba dive site map is still a wonderful product that any diver would love to have.
Awesome Maps Exclusive Offer
If you would like to get your own Awesome Map dive map then you can use my magic code "ARA" to get 10% off on your purchase.
You can use this Awesome Maps special offer not just for the dive map, but also the other maps they have like:

Surfing Map 
Kids Map and more! 
Based on the scuba map I received, I would say that their other maps are equally impressive. So, if you favor other these other maps, feel free to use my code (ARA) on the Awesome Maps website!
Share this review to a friend or PIN it for later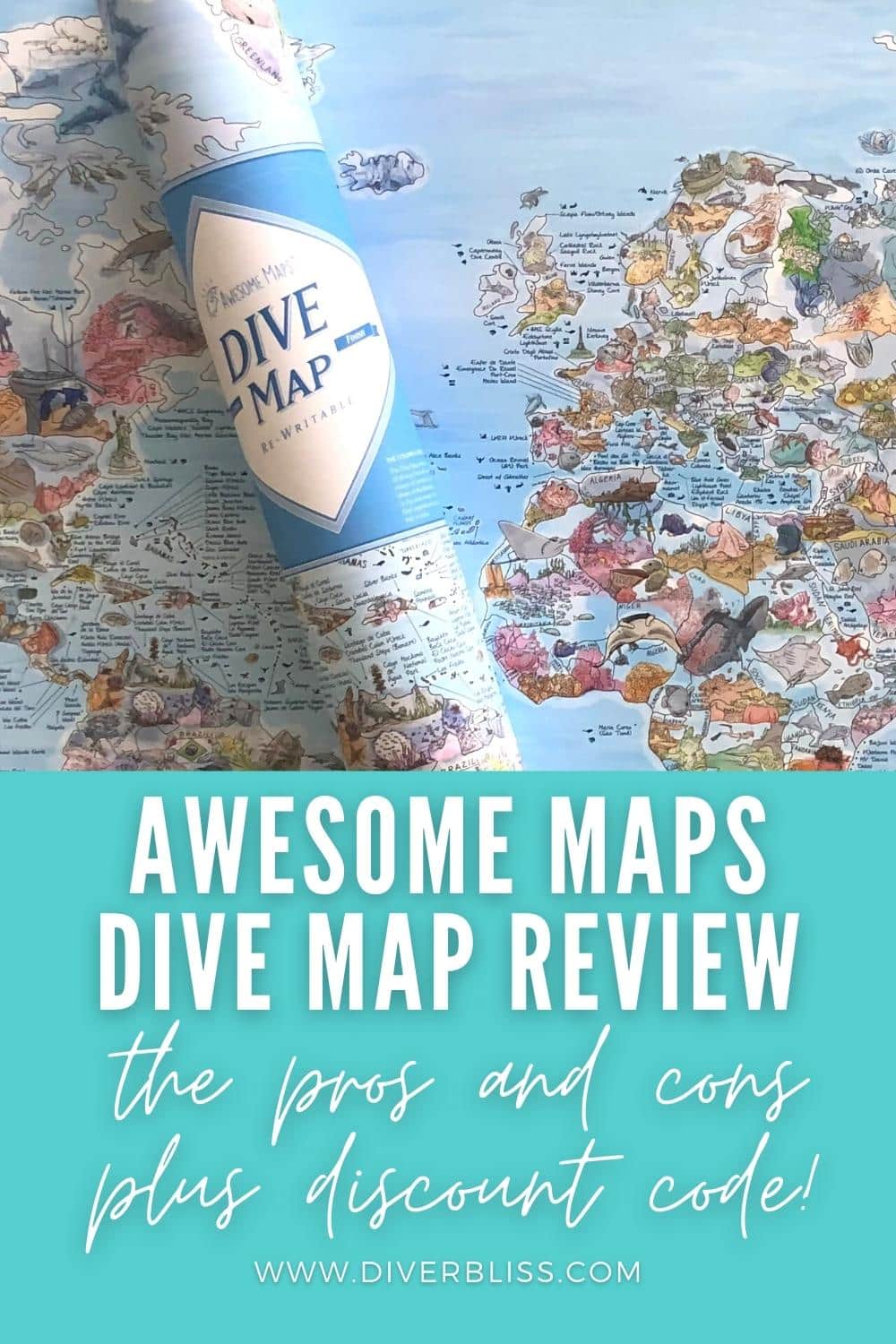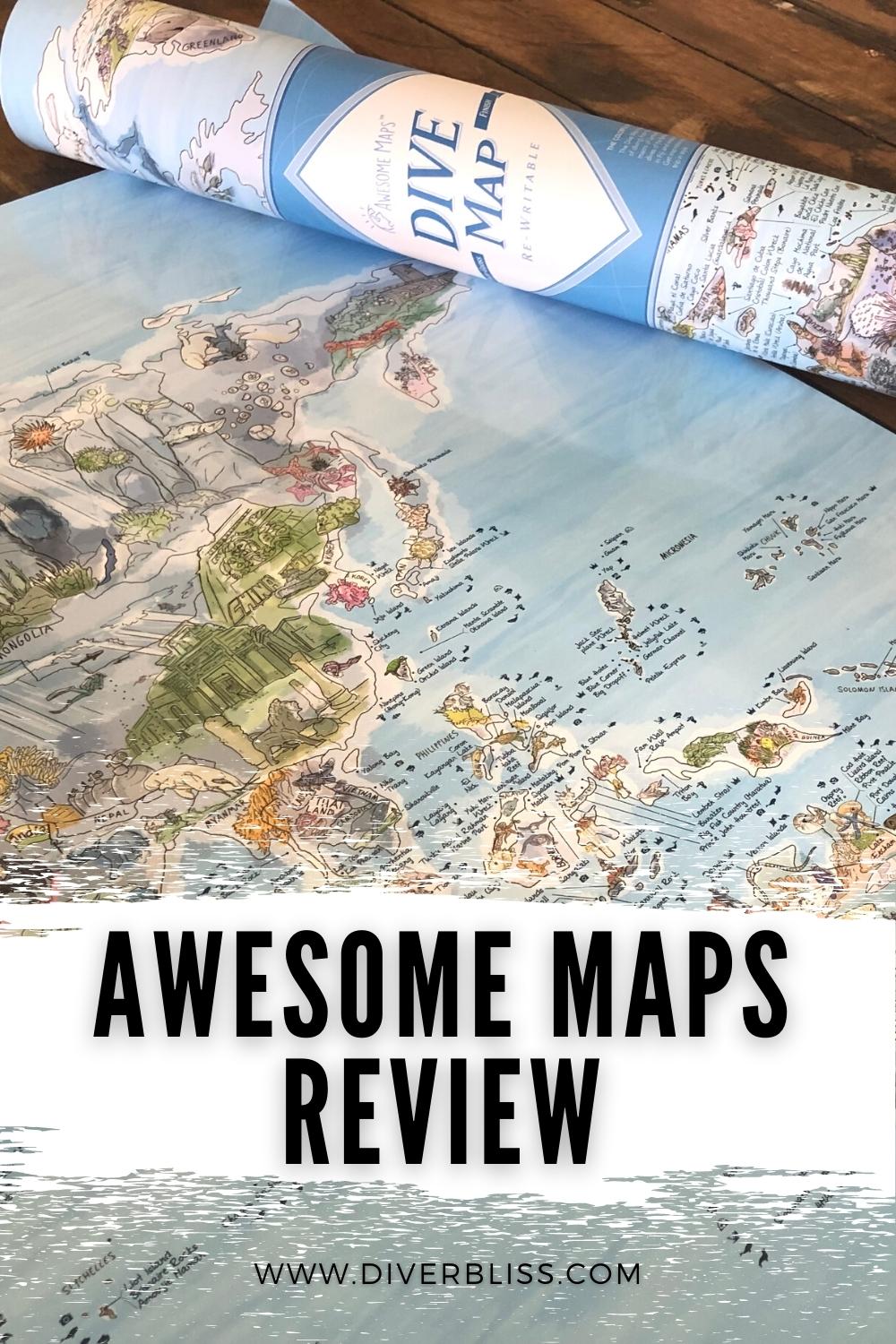 Not the dive map you are looking for? Check out my list of Best Dive Maps You Would Want on Your Wall.
The links above may be affiliate links. If you shop through them, I'll earn a commission at no additional cost to you. For full information, please see my disclaimer here.