If scuba diving in Balicasag Island is in your dive bucket list, here's everything you need to know to help you plan your trip!
Just a 30-minute boat ride away from Alona Beach in Panglao, Bohol, is the tiny island of Balicasag. This marine sanctuary is one of the best places to scuba dive in the Philippines.
With white sand and turquoise blue water, Balicasag Island looks very similar to the other 7000 islands in the Philippines. However, beneath the surface, another magical world awaits.
With countless turtles feeding on the sea grass and colourful fishes playing on the reef, Balicasag Island has become a haven to many sea creatures and heaven to many scuba divers.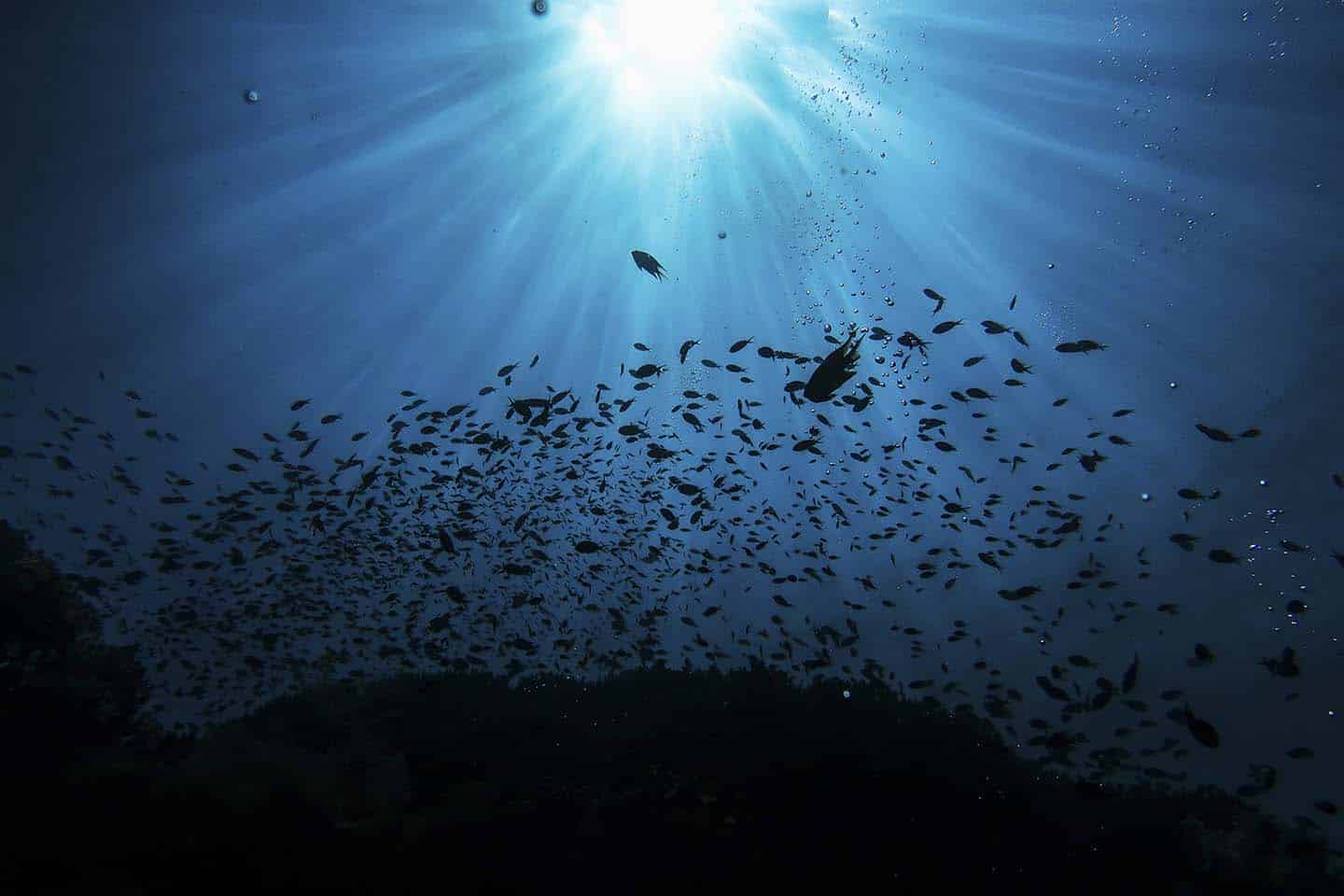 Where is Balicasag Island?
Balicasag Island is located 6 KM Southwest of Panglao, Bohol. Its close proximity to Panglao and stunning reefscape has made it one of the most popular tourist destination.
Getting to Balicasag island is an easy 30 to 45-minute boat ride. You can easily arrange for a boat from Alona to take you island-hopping and snorkeling on Balicasag and it's neighboring island Pamilacan. In the water between the two islands, dolphin watching is also a popular tourist activity early in the morning.
If you're a diver, you can arrange to go scuba diving in Balicasag with dive operators from Panglao. There are several who frequent Balicasag Island regularly.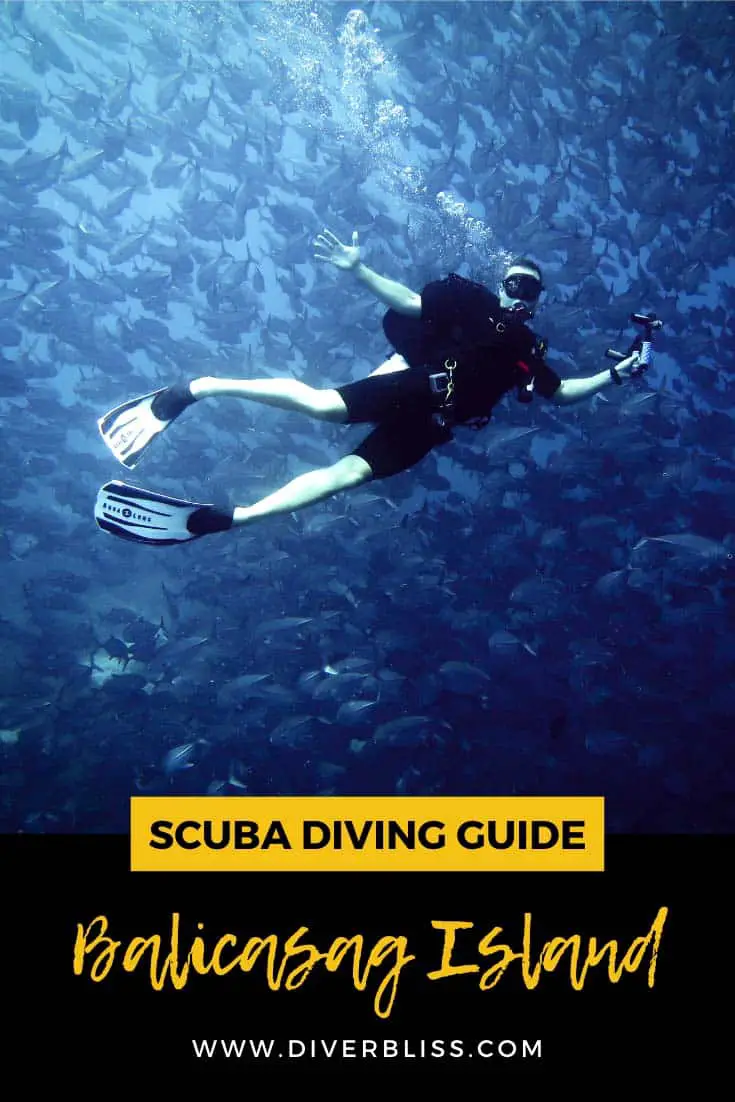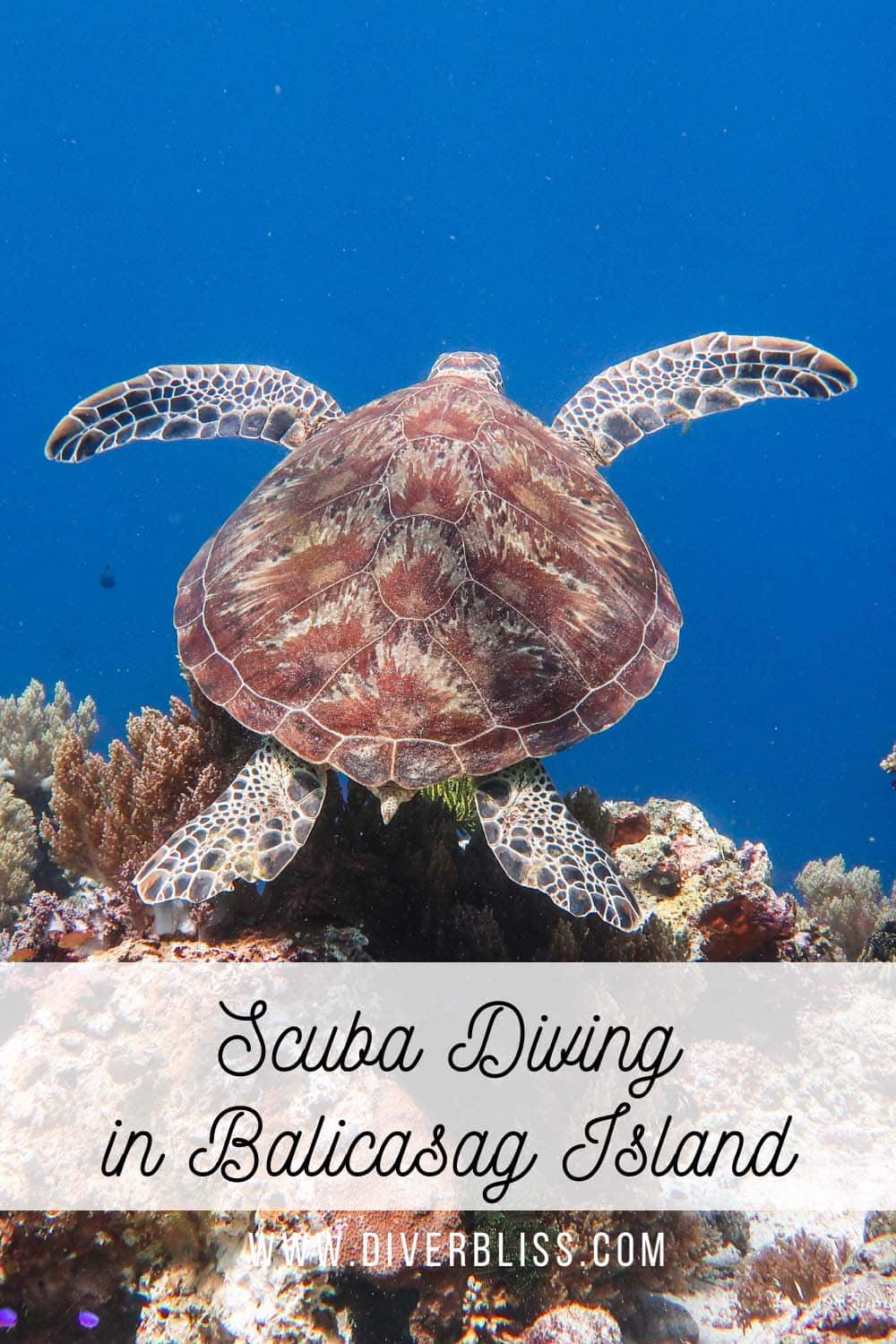 Don't have time to read now? Pin this for later!
Balicasag Island has been a marine reserve since 1978. Thanks to Presidental Proclamation No. 1801, the island can only be used for aquatic sports, tourism, and marine life conservation.
With the influx of tourism, you can just imagine the negative impact this has on the reef. In response, the local government decided to impose stricter rules when it comes to accessing Balicasag.
Balicasag Diving Restrictions
Since April 2015, the local government has limited the number of people who can dive in Balicasag Island. Only 150 divers are allowed to scuba dive in Balicasag each day. Each diver is allowed only 2 dives per day. This limit is shared among all dive operators. And diving permits are given on a first come, first served basis.
The local ordinance also states that for Balicasag diving, every dive operator is only allowed to dive 5 days per week. And each dive operator can send just one boat with a maximum of 20 divers per day.
With these restrictions in mind, Blair and I reserved for our Balicasag scuba diving as soon as we figured out our itinerary. We chose to dive with Philippine Fun Divers as recommended by another dive friend.
The initial interactions with them on their Facebook Page were prompt and pleasant which sealed the deal for us.
Cost of Scuba Diving in Balicasag Island
The boat dive for Balicasag Island cost Php1500 (approx. USD30) per dive. This includes the boat, dive guide, as well as weights and air tanks.
Blair and I had our own gear so we did not rent. However, if you do need to rent diving equipment, you can do so with the dive shop.
An Environmental User Fee (EUF) of Php250 (approx. USD5) per day per diver for Balicasag diving was paid to the local municipality.
Since we did two dives, we paid Php3250 (approx. USD65) per diver for Balicasag Island diving. All these fees were paid in advance to secure our slot.
*Prices on these were from October 2019
Going to Balicasag Island
On our diving day, we were asked to be at the Philippine Fun Divers shop by 8 AM. Since we went diving in Panglao the day before, they already had our gear which they loaded into the dive boat that would take us to Balicasag.
I actually thought we would leave at 8 but I think some divers arrived late. We only left Panglao at around 9AM.
From the beach, we boarded Philippine Fun Dives' smaller dive boat, then we transferred to a bigger banka that took us to Balicasag. We arrived in Balicasag 30 minutes after.
There were 10 divers on the trip and we were split into 2 dive groups. We geared up, did our dive briefings and we were in the water by 10 AM.
What are the Dive Sites and Marine Life in Balicasag
Balicasag Island has 6 dive sites. These are Diver's Heaven, Marine Sanctuary (also known as Rico's Wall), Black Forrest, Royal Garden, Cathedral, and Rudy's Rock.
On this trip, we dived in Diver's Heaven and Sanctuary. The visibility was amazing with at least 35 meters of clear water. They were also comfortable dives with water temperatures at 29°C.
Diver's Heaven
If swimming with sea turtles is on your bucket list, there's a good chance of spotting one or maybe even 10 in Balicasag Island. This is not an exaggeration because in my first trip to Balicasag, I had encountered 17 sea turtles. And in my most recent trip, there was about 12!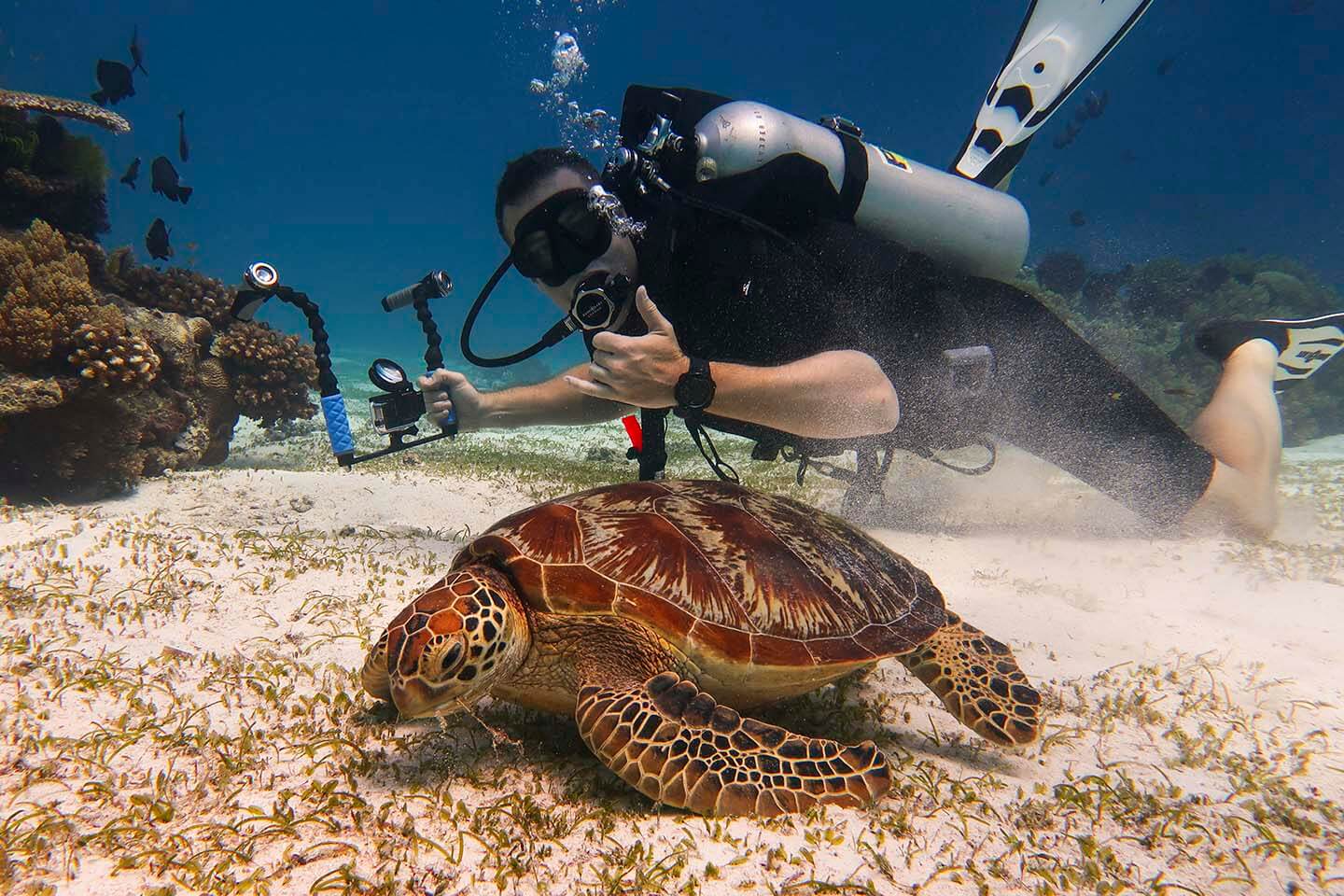 As a diver who has seen a good number of turtles, seeing the turtles in Balicasag Island still got me excited. They were everywhere on this dive site. I honestly wanted to just stay with them the entire time.
But I quickly changed my mind, when I noticed the giant tornado of trevallies just a few meters out in the open water! After chasing some turtles, we chased the jacks instead.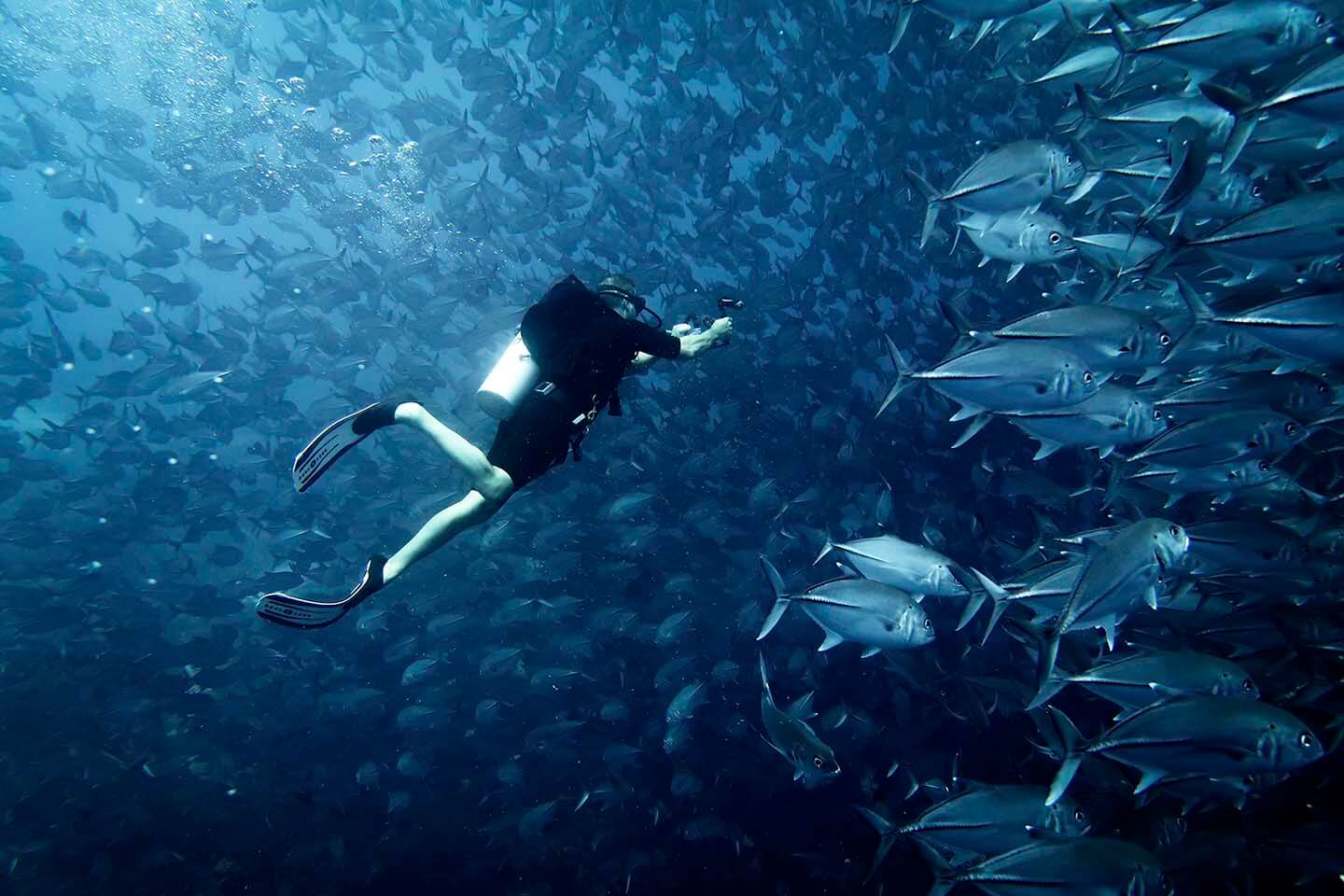 You would think that after doing the sardines run in Moalboal, we'd find this boring. It was the opposite. The adrenaline rush was a different level. I actually had to calm myself down as I didn't want to run out of air so early into the dive.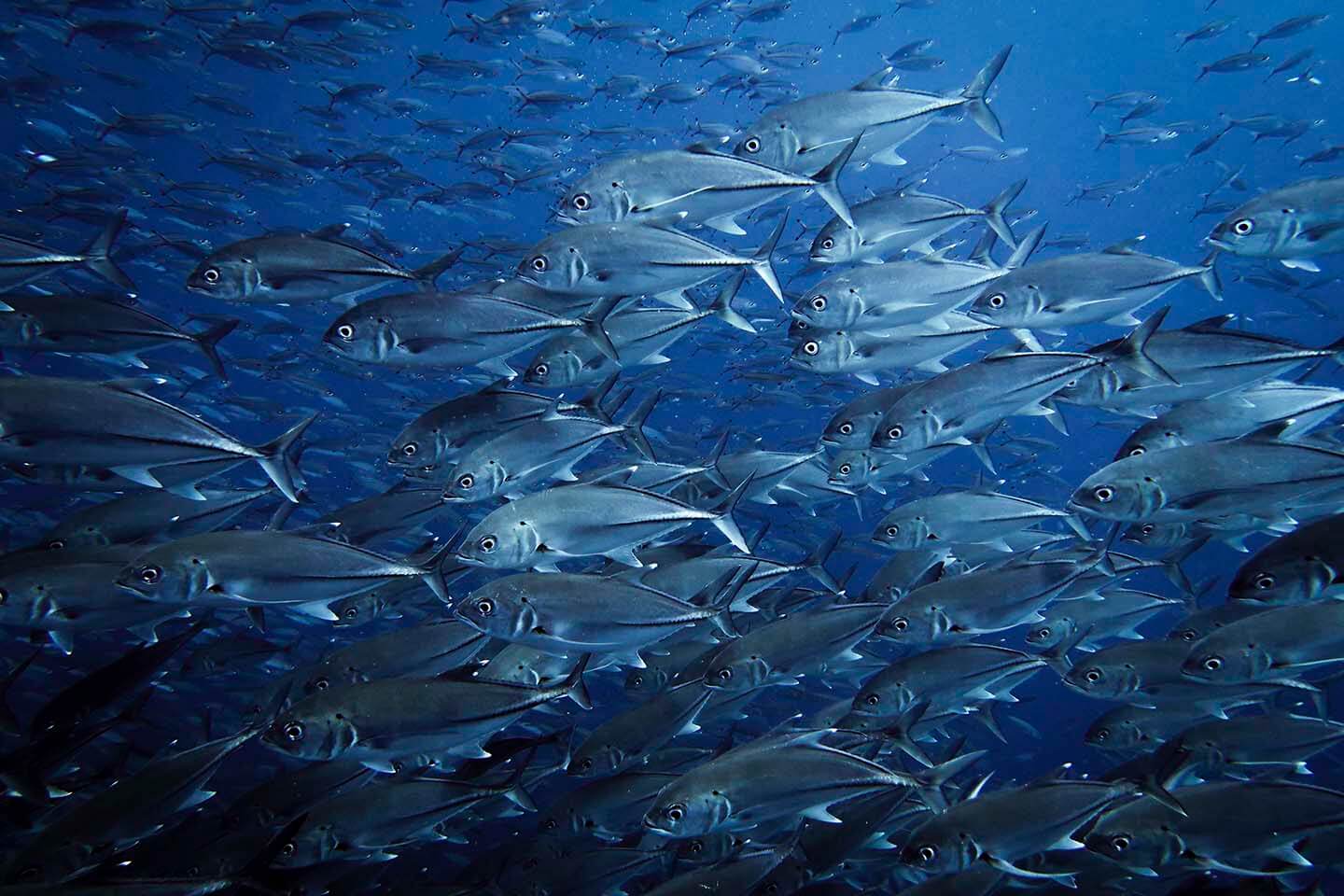 When we had our fill of the thrill, we leisurely explored the dive site and encountered more soft corals and reef fishes.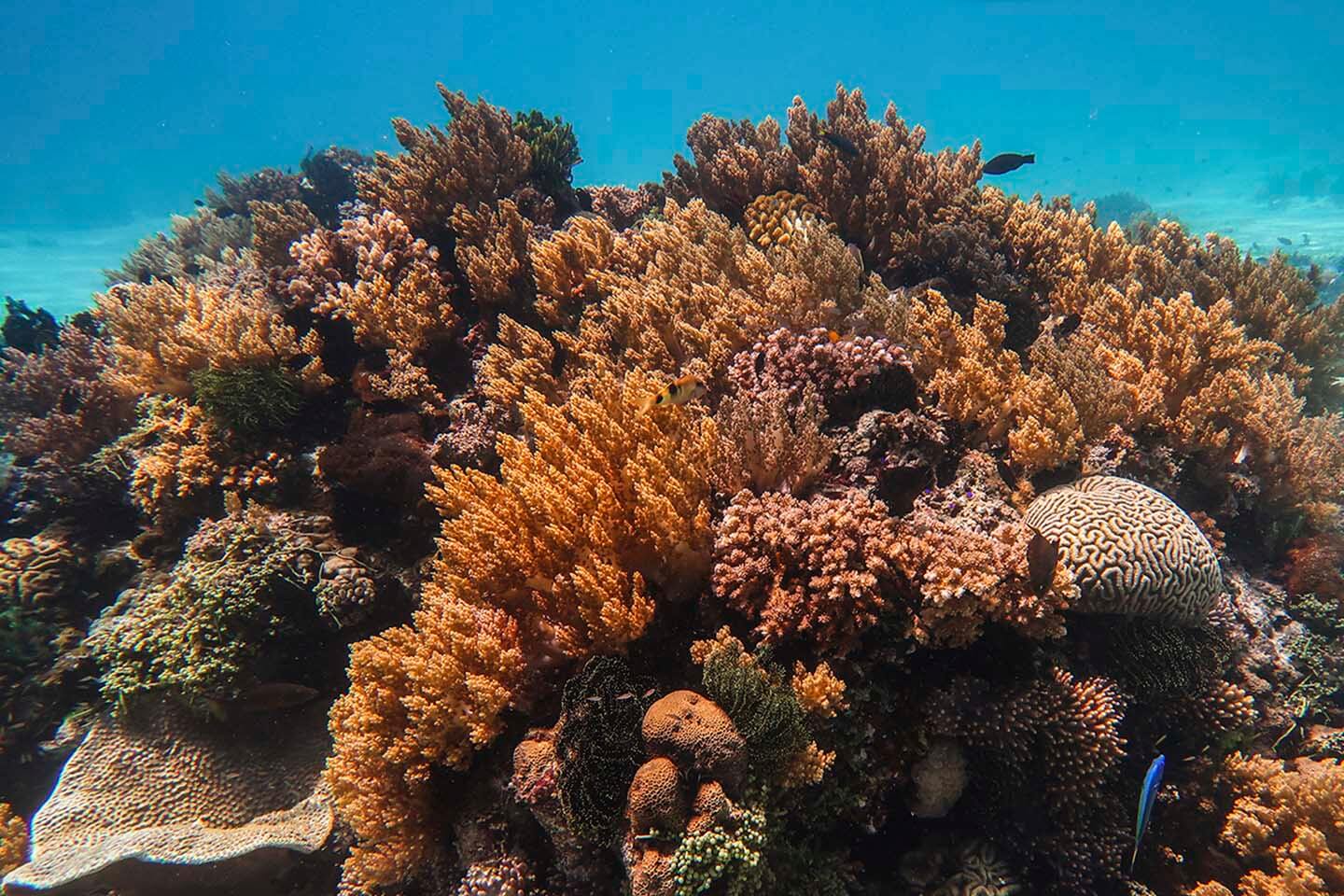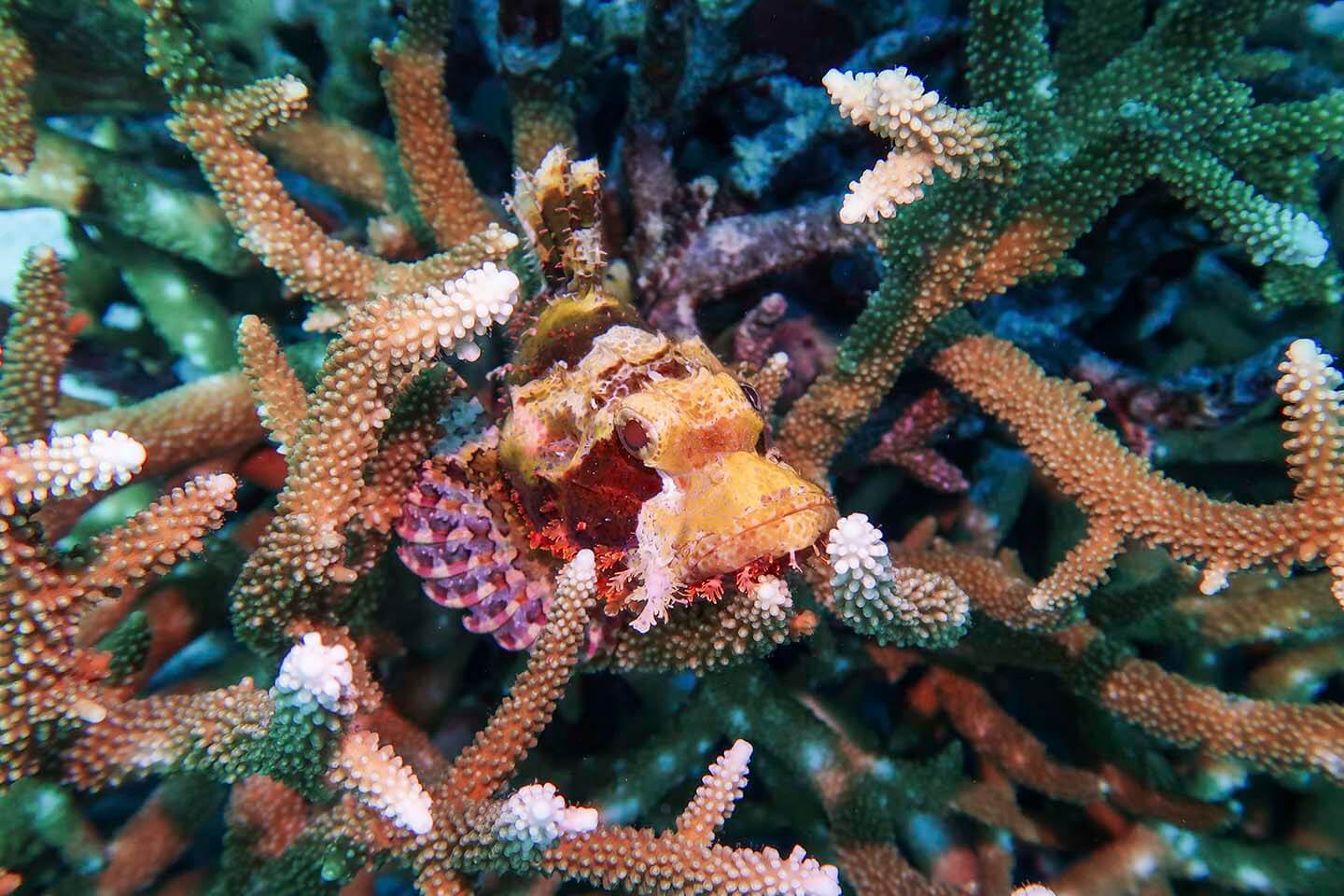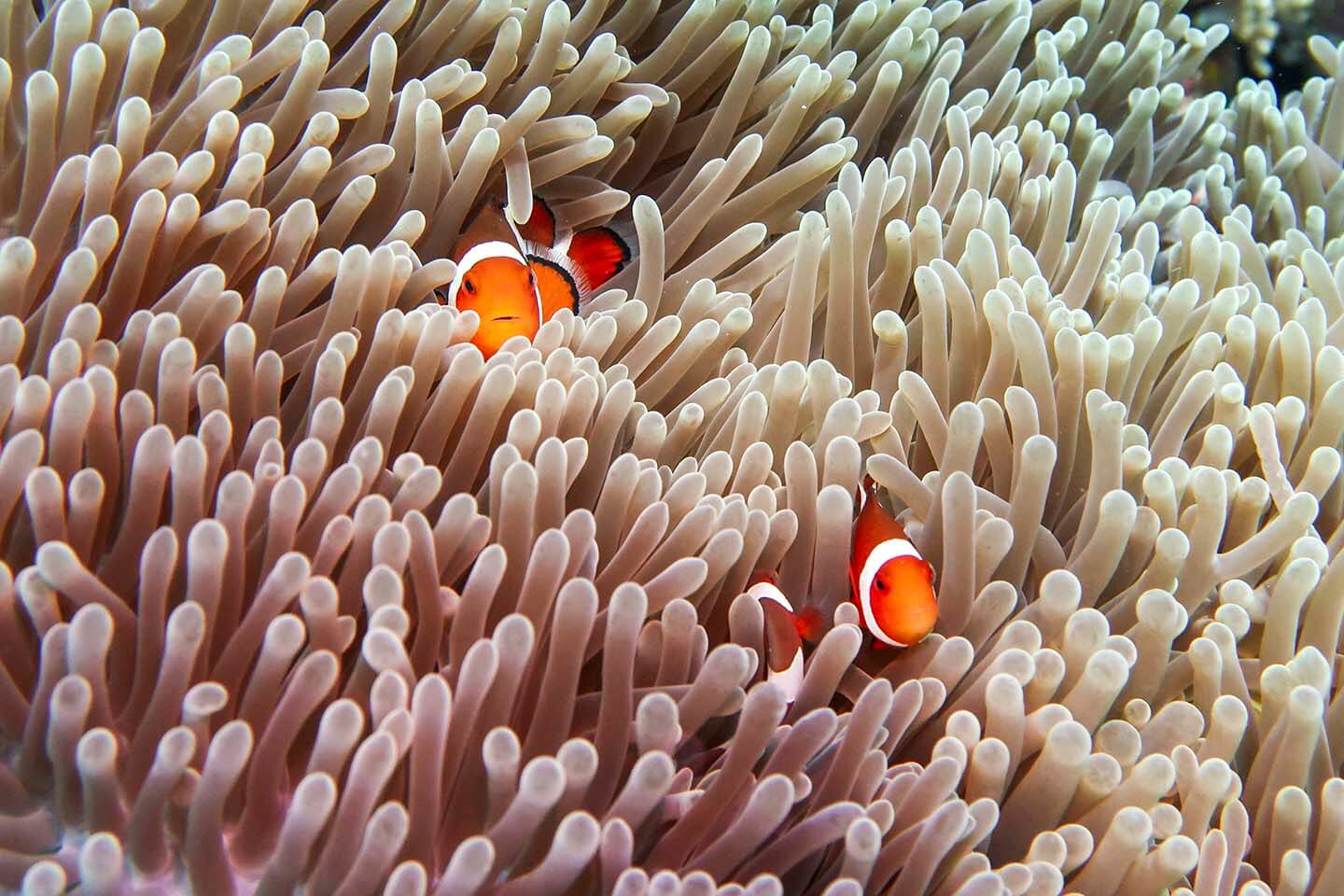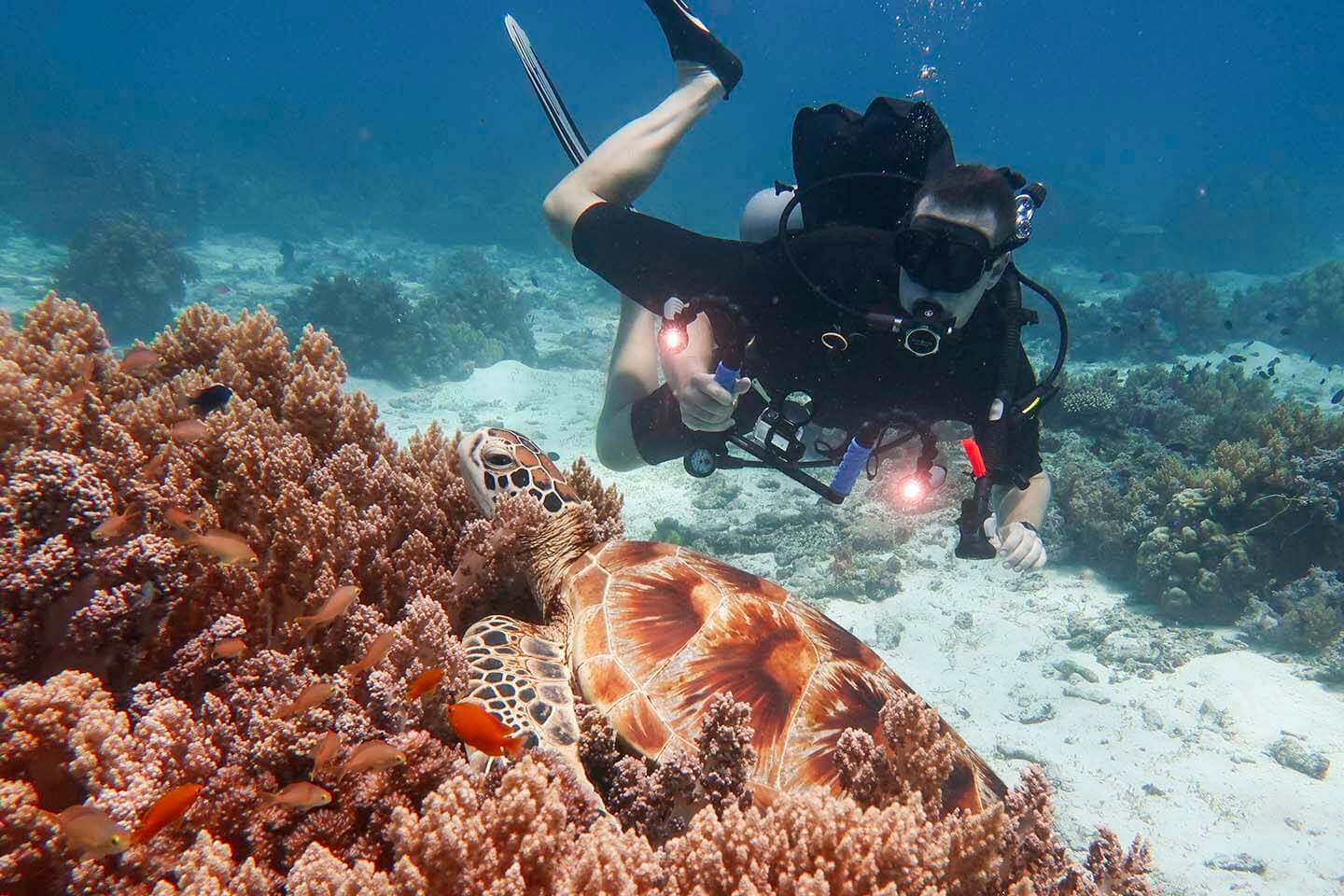 I am reminded once again why I love diving in Balicasag. This was a dive site worthy of its name- a diver's heaven indeed.
We returned to our boat for our 1-hour of surface interval. While we waited, the boat crew offered some beverages and a fruit snack. If you like snacking between dives, like I do, you can bring your own munchies as the snack option was limited.
Rico's Wall / Marine Sanctuary
For our second dive, they brought us to Marine Sanctuary. And, boy, does this site deliver all the goodies!
The dive starts on a sandy slope then drops off to a wall where you will find impressive sea fans, sponges, corals in all shapes, colors, and sizes. Reef fishes like chromis, sergeant, butterflyfishes, wrasses, snappers, parrotfishes, and many more, dart in and out of the crevices and caves that can be found on the wall. And invertebrates like crinoids, sea cucumbers, shrimps, anemones and nudibranchs can also be spotted in this dive site.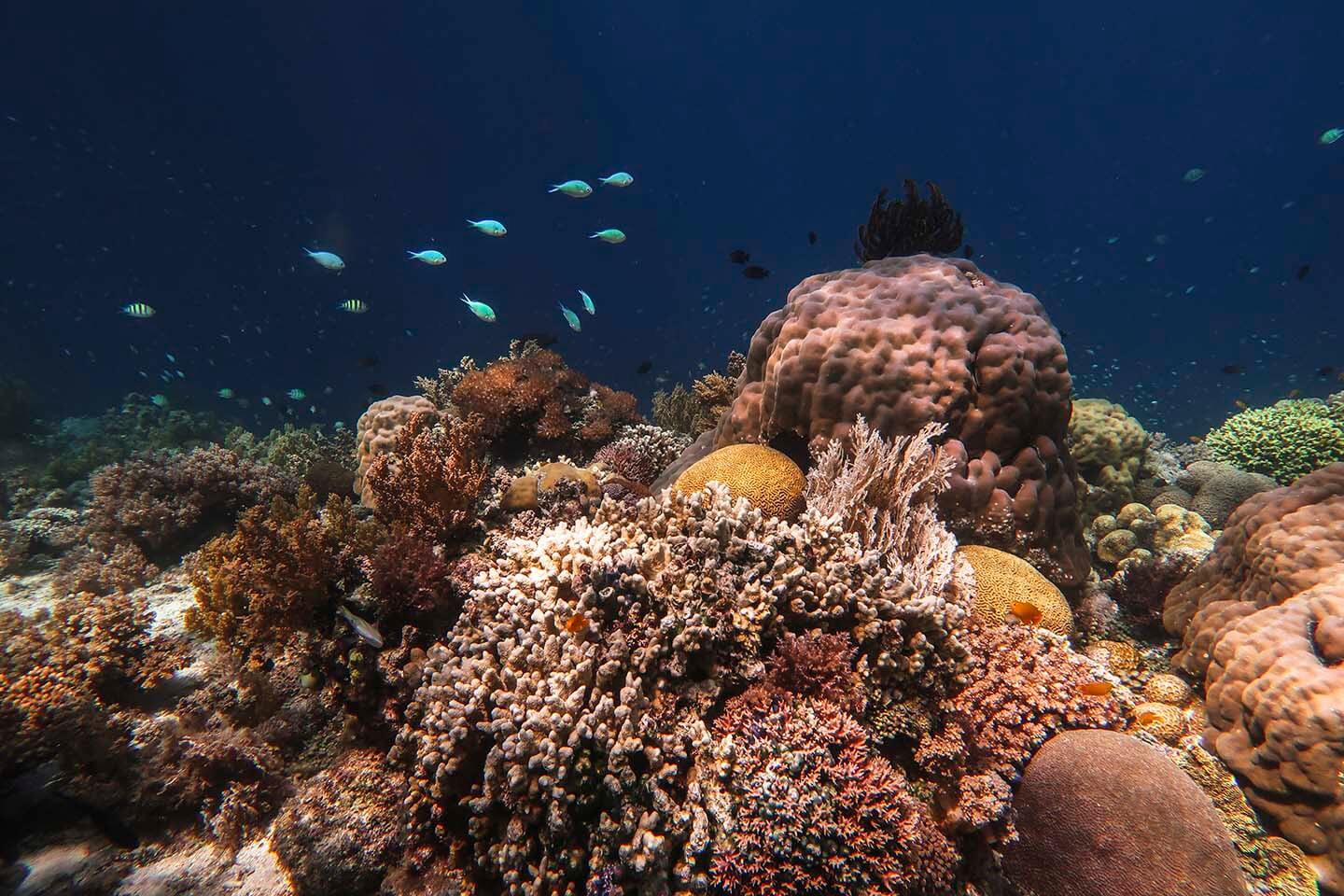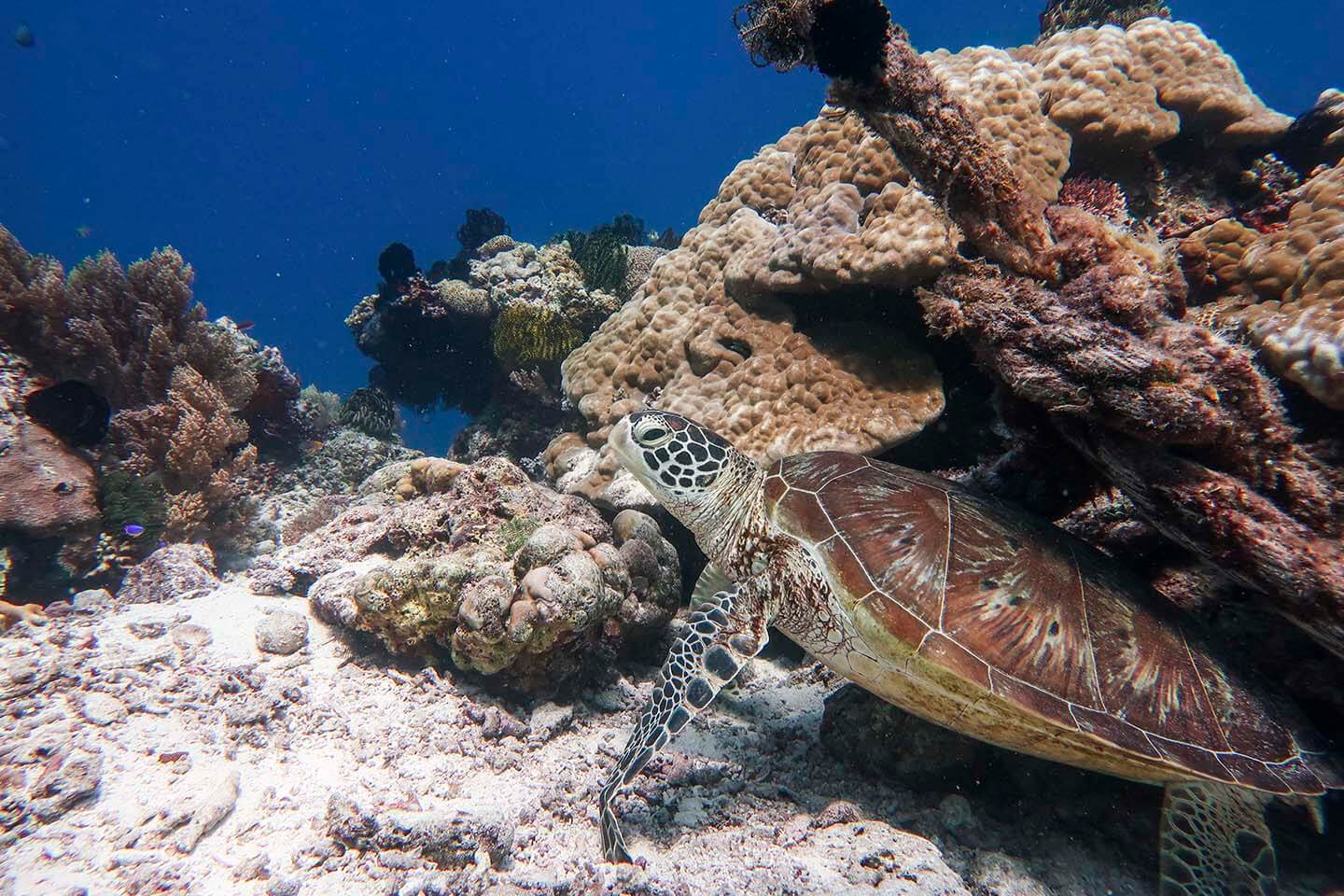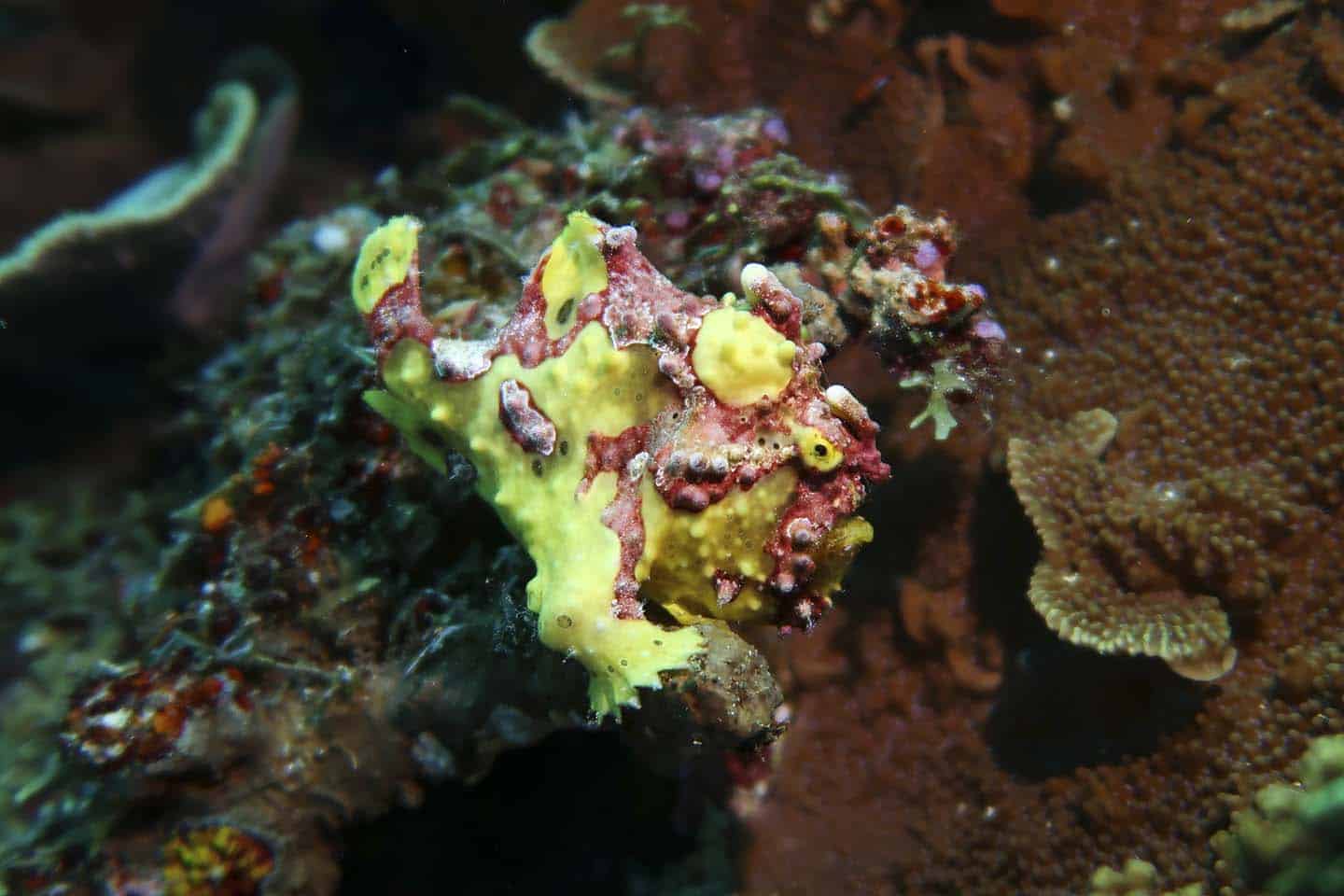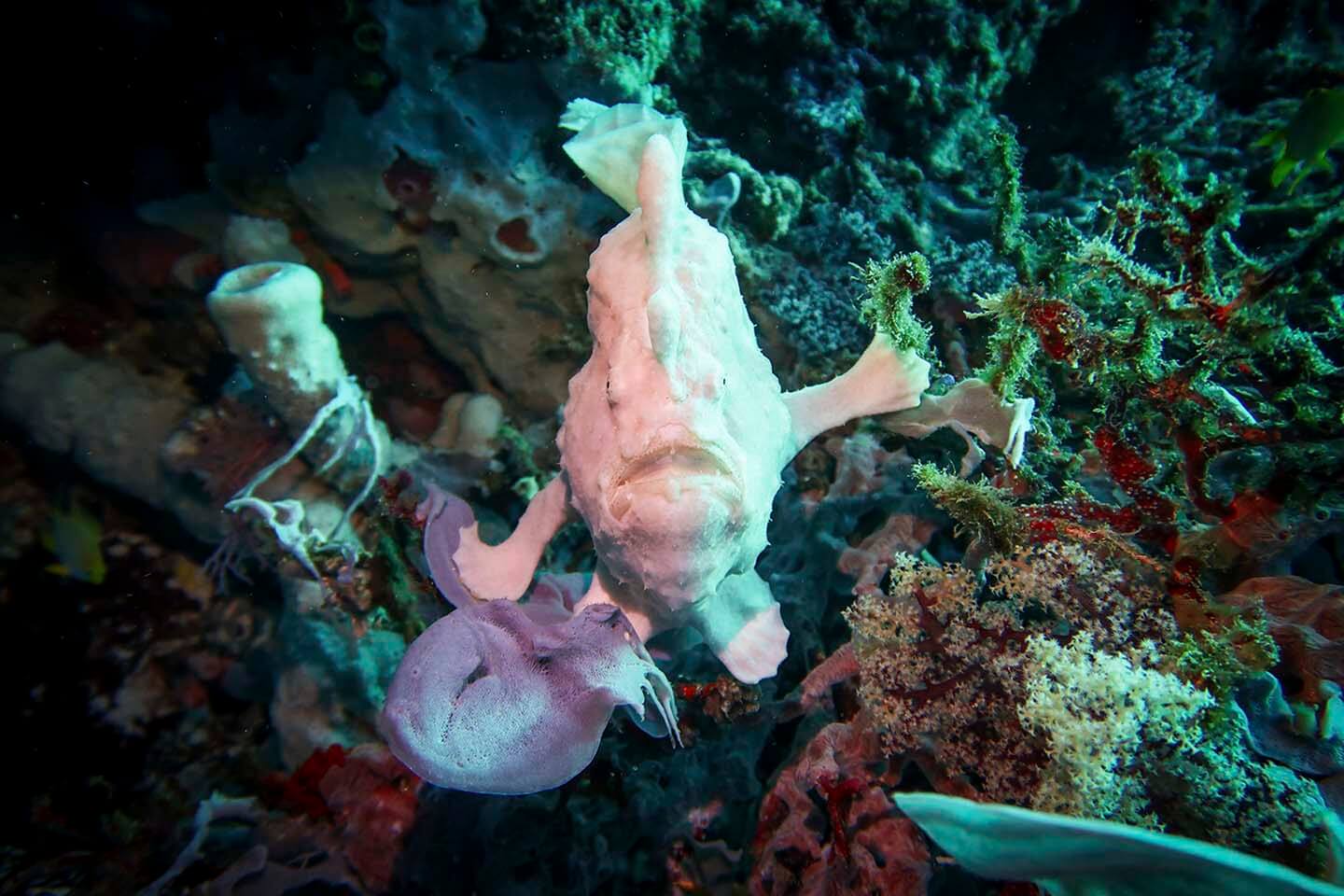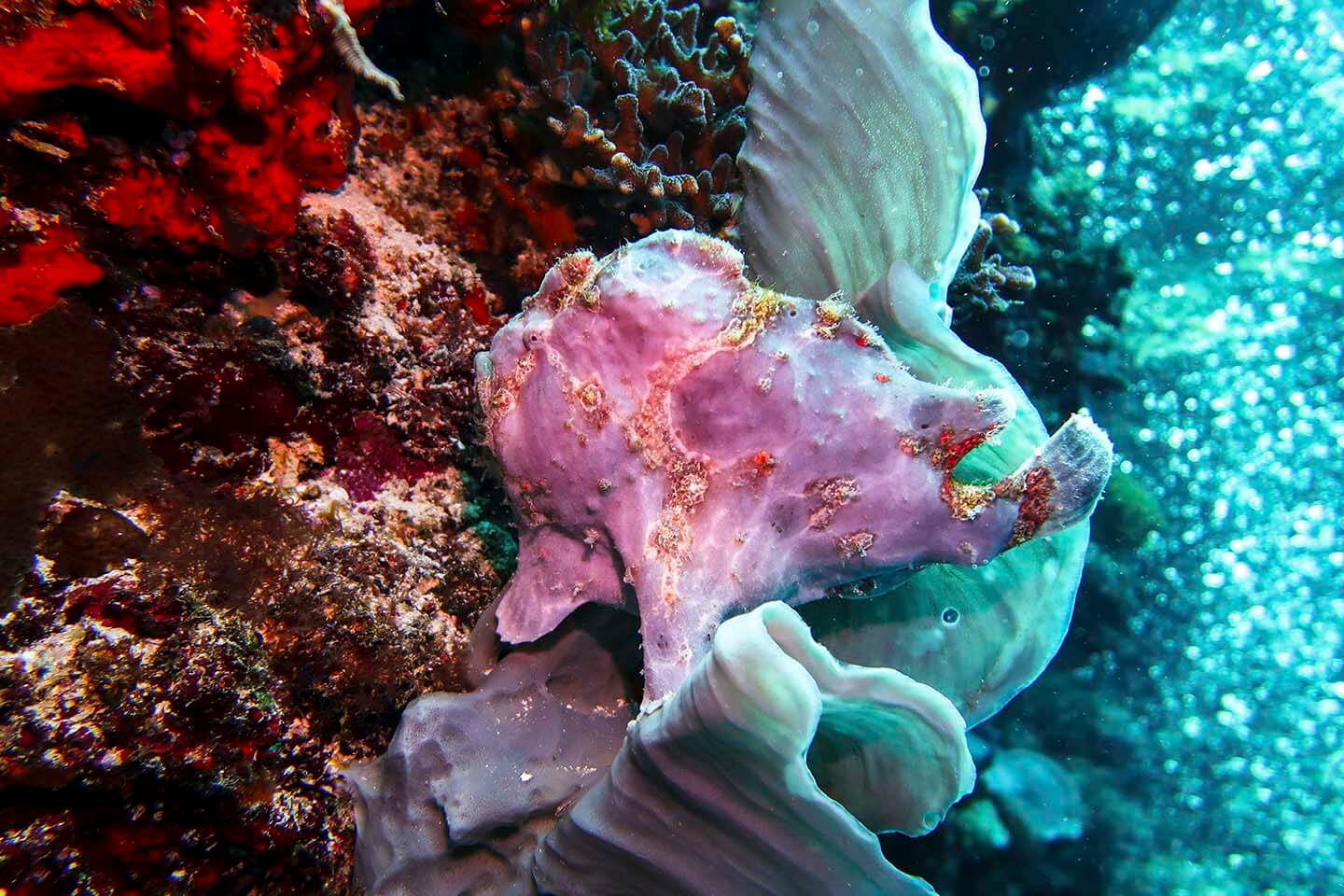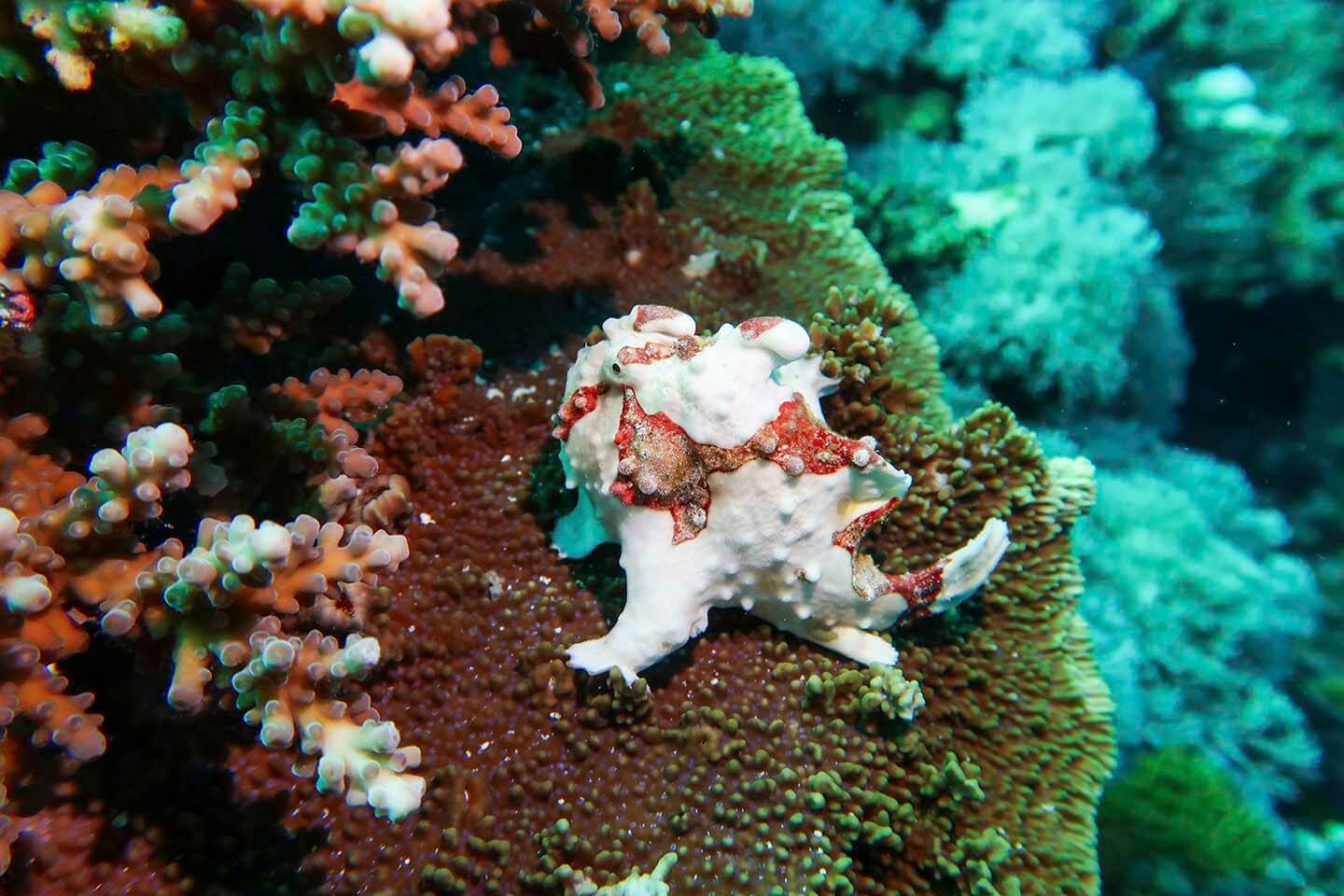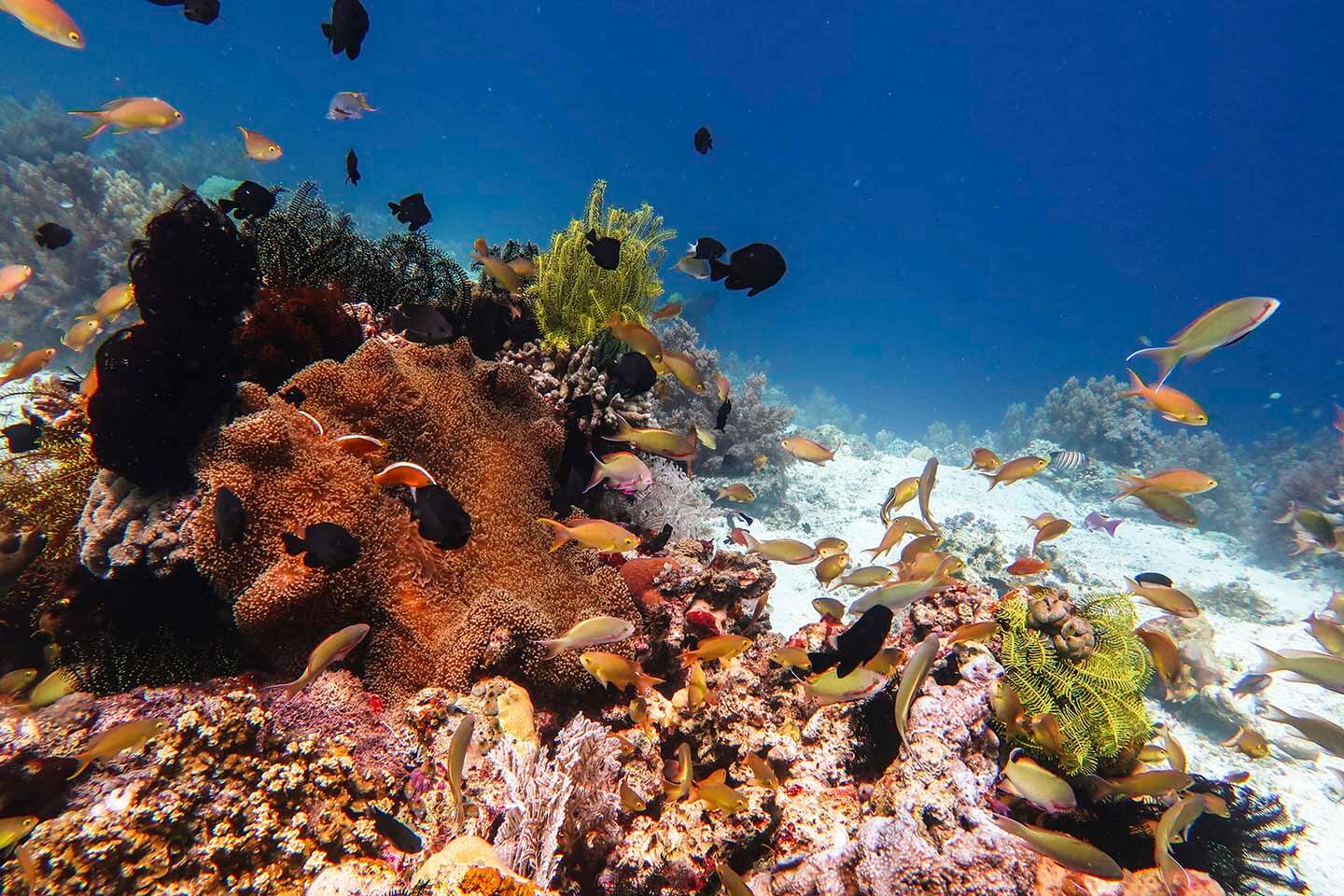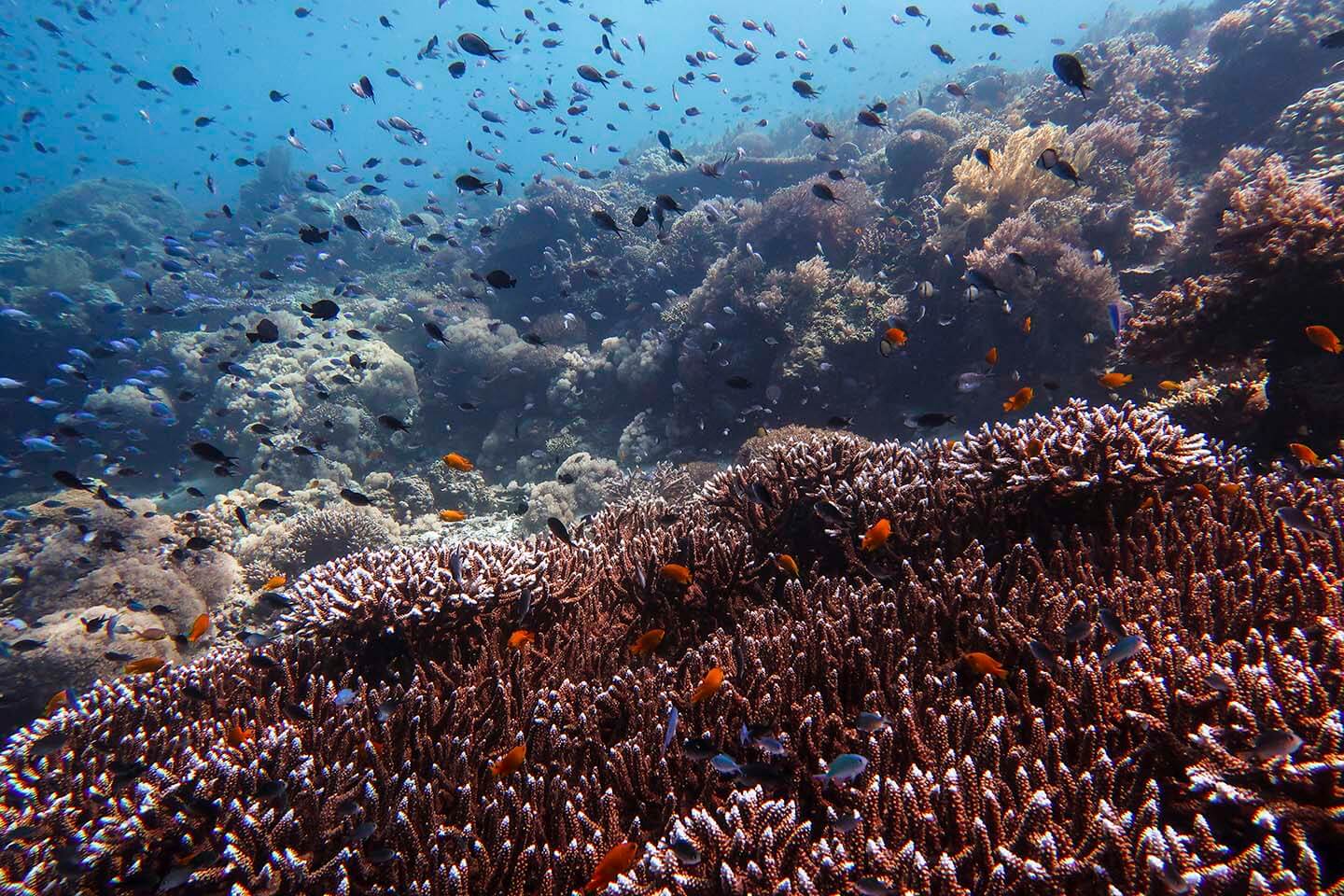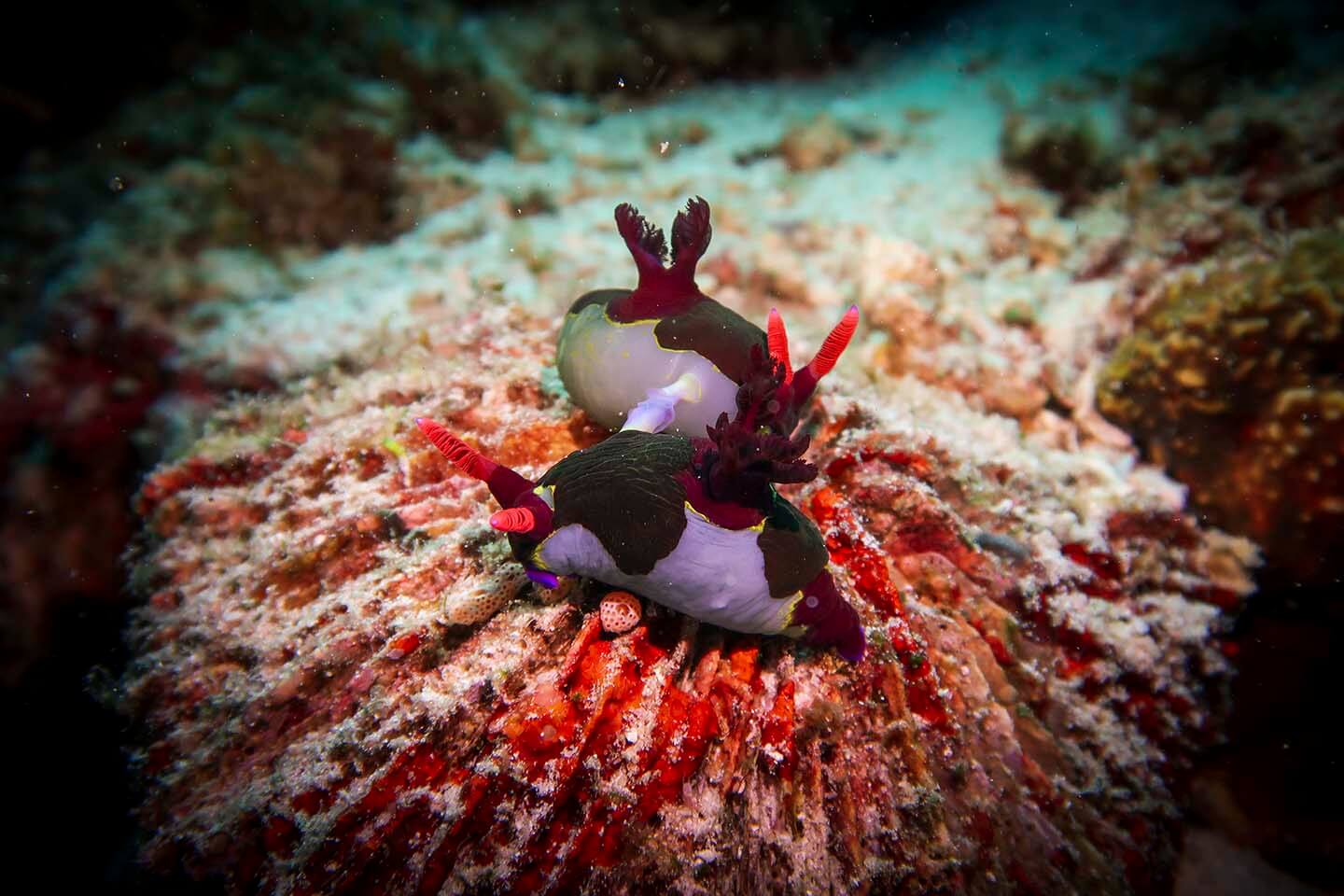 The marine life and diversity in Balicasag is simply astounding. And it will leave you wanting for more. Once again, I was left in awe and in high spirits.
If you would like to know more about the other things you might see while diving in the Philippines, check out my post on 100 Marine Life in the Philippines that you must see.
When is the best time to go diving in Balicasag Island?
You can go diving in Balicasag Island all year round. But the best time to go is November to May as this is when the typhoon season is over and there are less rainy days in general.
The downside of this is that tourism is at its peak which means more divers in the water. Availability of slots for Balicasag diving might also be harder to get.
We went diving in October. The weather was perfect the entire time we were there.
Recommended reading:
Amihan and Habagat: Diving Seasons in the Philippines Explained
Best Time To Dive in the Philippines + Monthly Guide on Where to Go
What liveaboards go to Balicasag Island?
If you're interested in diving Balicasag via a liveaboard, here are some options that include Bohol in their itinerary.
If you have limited time and want to get as much dives in, doing these liveaboards can be worth it as it brings you to the best sites in the Visayas which includes Balicasag

ATLANTIS AZORES– BOHOL SAFARI OR CEBU MALAPASCUA
SEADOORS– VISAYAS SHARK SPECIAL OR MALAPASCUA CAGAYAN
What to pack for Balicasag Diving
Here is the standard dive gear I bring while diving in the Philippines.
My Scuba Diving Gear
Regulator: Scubapro MK25 Evo, C300 and C200 2nd Stage
BCD: Aqualung Axiom
Mask: TUSA M-212 Freedom Ceos
Snorkel: TUSA SP-170 Platina Hyperdry II
Booties: Poseidon Pink Dive Boots
Fins: Problue
Wetsuit: Seavenger
Vest Hoodie: Scubapro Hybrid Hooded Vest
Dive Watch: Suunto D4i Novo
Dive Knife: Aqualung Blunt Tip Knife
Dive Leggings and Rash: Blue Adaptation Coral Sea Fan

My Underwater Camera Gear
Underwater Camera: Canon G7X Mark II
Underwater Camera Housing: Fantasea FG7XII
Video Lights: Big Blue AL1200XP
Underwater Action Camera: GoPro Hero9
360 Camera: Insta360 X3

> Canon G7X Mark II full review
> Insta360 X3 underwater camera review
> Scuba diving camera recommendations for beginners.

Dive Insurance
Divers Alert Network (DAN)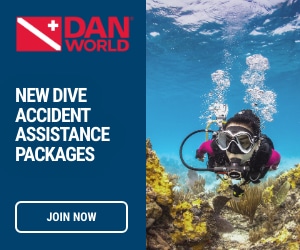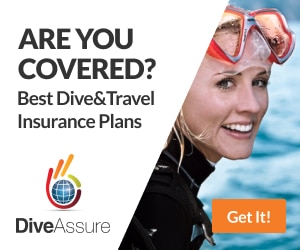 Need travel insurance for your trip? Get a quote from Safety Wing.
If you're traveling and diving in the Philippines for the first time, make sure to read my posts:
Ultimate Guide to Traveling and Diving in the Philippines
Philippine Packing List: What to Bring to Your Dive Trip.
Where to Stay in Balicasag Island
There is only one resort on Balicasag Island. This is Balicasag Island Dive Resort. Unfortunately, I do not know if they are any good but you can check them out and see for yourself below
I personally would recommend doing a day trip instead since Panglao has more options in terms of accommodations, restaurants and activities. After a day of fun in Balicasag, you can head back to Panglao where there are more to choose from.
We opted to stay near Alona beach, since we did some scuba diving in Panglao the day before which I also recommend for you to do.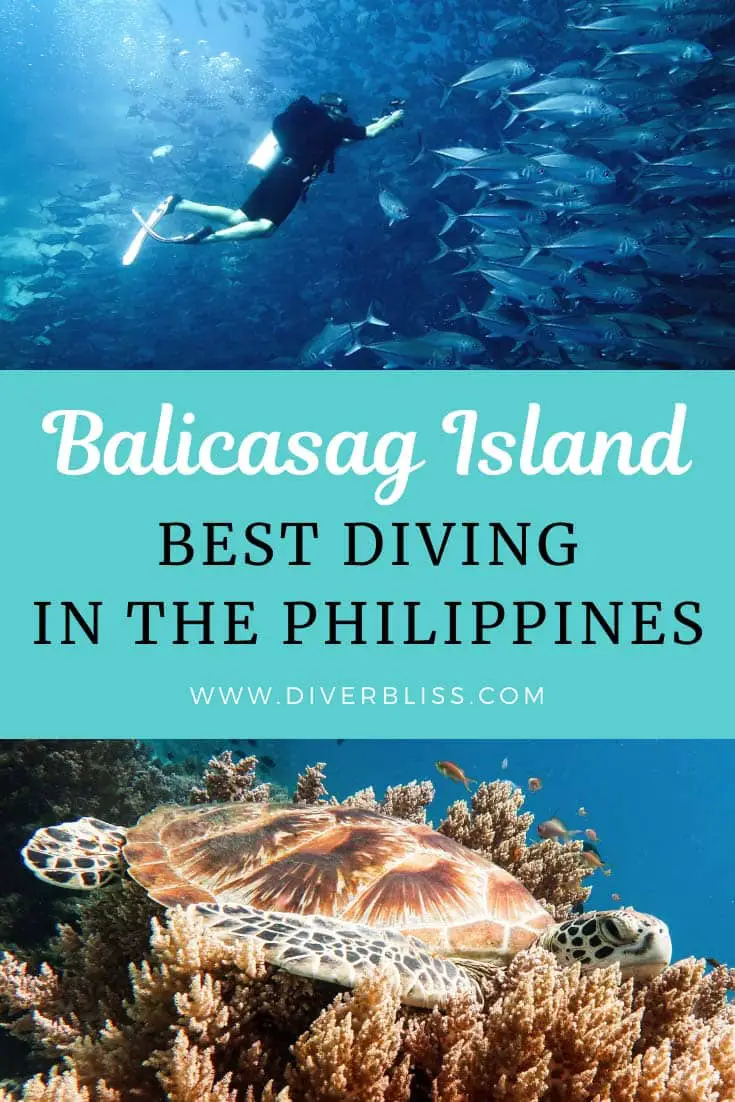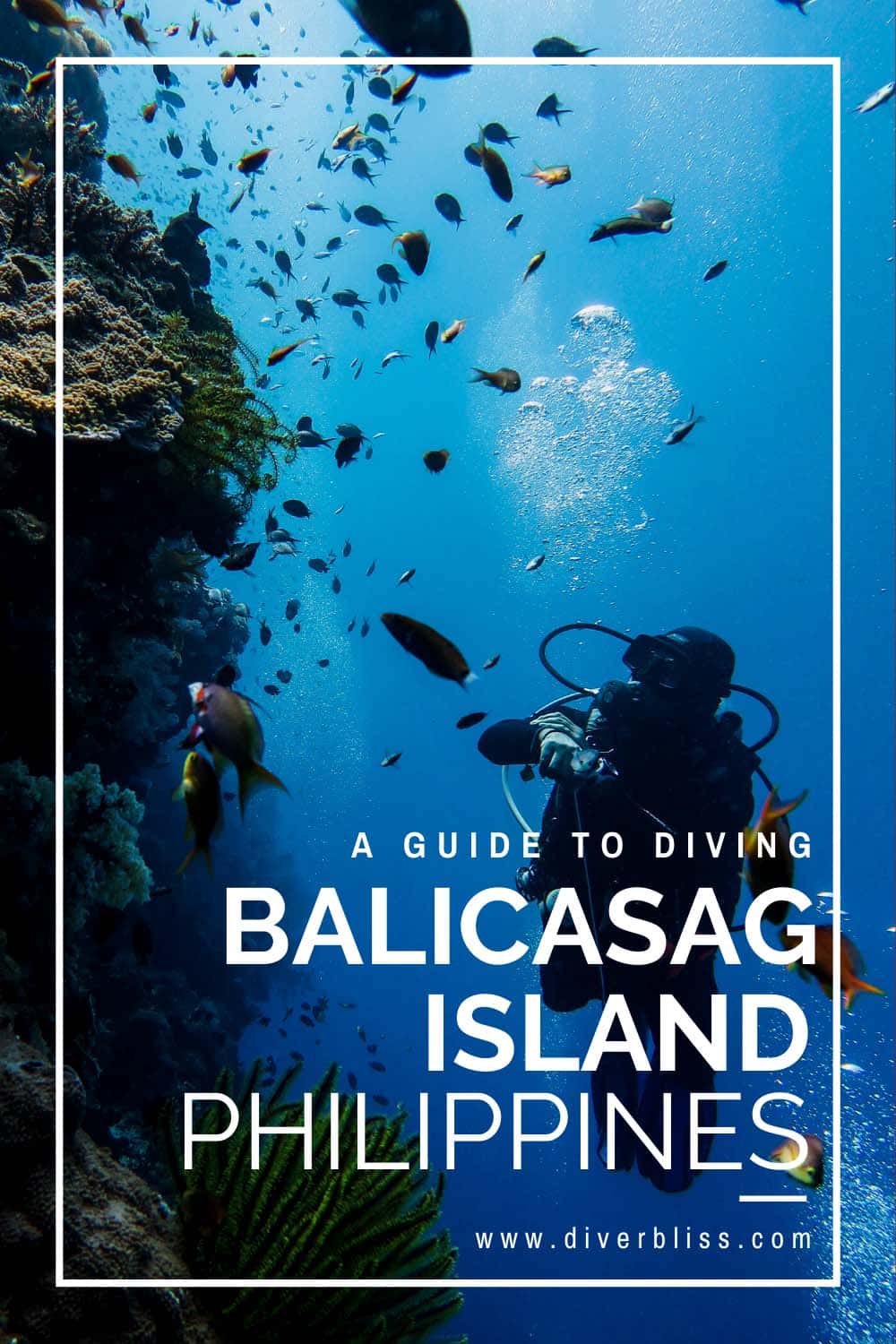 I do hope that one of these days you get to experience scuba diving in Balicasag. There is no doubt that I will be back to dive this world-class destination in the Philippines.
Have you been to Balicasag Island? Would you include this in your bucket list? Leave a comment below!