This post focuses on the different adopt a coral reef programs you may want to support. It lists the different organizations that help protect and save the reefs in our oceans.
Coral reefs are often referred to as the "rainforest of the sea." These complex and living ecosystem provide life and habitats for millions of plants and animal species all over the world. When reefs are destroyed it has an enormous impact on both marine and human lives.
Many coastal communities rely on coral reefs for food and livelihood. When there are no more coral reefs, there are no more fish to eat.
Coral reefs also bring in billions of dollars for the local community. Healthy coral reefs support businesses in the fishery and tourism industry. It generates millions of jobs for individuals in different sectors. If the corals are gone many businesses and lives will be affected.
Ironically, coral reefs around the world are declining primarily because of humans. Overfishing and destructive fishing techniques can easily irradicate a reef. Coastal developments and pollution can easily destroy coral reef systems that took hundreds of years to build. Climate change that leads to our oceans warming and sea levels rising contributes to corals bleaching and dying.
If you would like to help save coral reefs, you can symbolically adopt a coral through ocean conservation groups. Coral adoptions mean you are supporting an organization that works toward the protection of coral reefs.
These marine conservation organizations have made it their mission to protect corals through various research, education, and conservation programs. They are among the best ocean-focused foundations that encourage ordinary citizens to get involved.
For an affordable adoption fee, you, your family, or your friends, can sponsor a coral reef that needs your help. Schools, companies, or organizations you belong to can also symbolically adopt a reef for philanthropic purposes.
These coral reef adoptions are also wonderful gifts for ocean lovers. You can easily buy Adopt a Coral Reef gifts online where you'll receive an adoption certificate and other perks.
When you adopt corals you will not receive a real live coral though. After all, they are better left in the wild or with experts who can properly care for them.
If you want to save our coral reefs, you can support one or all 10 adopt a coral reef programs instead. Keep reading to find out where you can adopt a coral, what perks you will receive by adopting them, and how much it is to adopt a coral reef.
1. Coral Vita- Adopt a coral reef
"Coral Vita creates high-tech coral farms that incorporate breakthrough methods to restore reefs in the most effective way possible. Our scientific team has partnered with leading marine institutes, utilizing techniques to grow coral up to 50x faster while boosting their resiliency against the warming and acidifying oceans that threaten their survival."
Why you'll love adopting a coral through Coral Vita:
Your coral adoption restores the reef in Grand Bahama
Choose from three coral adoption levels: micro-fragment, coral cookie, tank-growth cycle
Receive a personalised certificate through email
Get updates about the corals and conservation efforts through a member's only portal
Adoption Price: $50 – $10000
---
2. Coral Gardeners- Adopt super corals
"Coral Gardeners grows and plants resilient corals to restore dying reefs and bring life back to the ocean. It's all based on Super Corals – corals that have proven to survive rising water temperatures and bleaching events in the ocean."
Why you'll love to adopt super corals through Coral Gardeners:
Your coral will help repopulate the reef of Mo'orea in French Polynesia
Receive updates of your coral's growth until it's back onto the reef
Get your adoption card in printed format which you can display
Avail of your adoption card in digital format which can be customized and perfect for sending as gifts for eco-friendly people.
Help the coral restoration project by sponsoring ropes, nurseries, and restoration sites which will start the journey of thousands of Super Corals
Adoption Price: €25-€10000
---
3. Coral Guardian- Adopt and name a coral
"Join our mission to help protect coral reefs, and for local communities that depend on them."
Why you'll love to become a Coral Guardian:
Adopt a coral and give it a name of your own choosing
You will receive an adoption certificate with a picture, the name you gave your coral, its GPS location and a picture of Coral Guardian's team member who will transplant it for you or for your loved one
Your coral will help restore the damaged reefs of Hatamin Island near the village of Seraya Besar in Indonesia.
Adoption Price: €30
---
4. Reefscapers- Adopt a coral reef in the Maldives
"Reefscapers is one of the most successful and recognized coral reef propagation projects in the world. We have planted more than half a million coral colonies all over the Maldives, on more than 8,000 coral frames."
Why you'll love to sponsor a coral frame through Reefscapers:
Choose how big you want your coral frame size to be and where you want your adopted coral reef to grow.
You can include a personalized name or dedication on the coral reef adoption certificate to give as a gift or to commemorate and event.
Receive a unique reference number to follow your coral growth online. Photos are uploaded bi-annually so you can check on your corals
Adoption Price: $5 – $500
---
5. Marine Conservation Costa Rica- Adopt a reef program
"Our "Adopt a Coral" program directly benefits our coral nurseries and helps us grow more coral to outplant, resulting in a healthier reef system and ocean. You can get involved and support us today, from anywhere in the world!"
Why you'll love to adopt a coral reef in Costa Rica:
Reefs in Costa Rica are rehabilitated using 3 different species of endemic reef building corals
Choose from three different adoption packages: Adopt a coral fragment, Adopt a coral nursery, or Adopt a reef being restored in Costa Rica
Receive a personalized PDF Adopt a Coral Certificate and informative letter about your adoption and restoration project, via email
Get updates about your coral after 6 months
Adoption Price: $25- $250
---
6. Reef Restoration Foundation- Coral Crusader for the Great Barrier Reef
"The Reef Restoration Foundation's Coral Crusaders have been growing corals on coral tree frames in Australia's first ocean-based nursery. This restoration method has been proven to help regenerate degraded reefs overseas and is being piloted for the Great Barrier Reef at Fitzroy Island, near Cairns."
Why you'll love to become a coral crusader through Reef Restoration Foundation:
Be one of the first allowed to adopt coral grown on the World Heritage-listed Great Barrier Reef
Make a difference by adopting a coral fragment, coral branch, coral tree, or coral nursery
You will receive a certificate with your name on it that you or the recipient can download and print
Get updates on the growth of the coral and conservation efforts of Reef Restoration Foundation
Higher level adoptions are fantastic options for organizations or companies that want to contribute more
Adoption Price: $50-80000
Click here to read about my liveaboard diving experience in the Great Barrier Reef.
---
7. Coral Triangle Center- Adopt a coral
"We are an independent, non-profit foundation. Our goal is to promote the conservation of marine biodiversity and the sustainable management of marine and coastal resources across the Coral Triangle."
Why you'll love to adopt a coral through Coral Triangle Center:
Receive a photo of your adopted baby coral in the nursery site, as well as an Adopt-A-Coral certificate signed by CTC Executive Director and CTC's logo
Include a message or name that will be tagged to the coral
Get an email update about the baby coral you adopted within one year of adoption.
Your adoption will help rehabilitate coral reefs in Nusa Penida Marine Protected Area in Indonesia
Adopting a baby coral makes a wonderful gift for scuba divers
Adoption Price: $30
---
8. Bahamas Reef Environment Educational Foundation – Adopt coral reefs
"Restoring our coral reefs is vital as they provide a natural barrier against hurricanes and strong storm waves. They also contribute indirectly to the food and livelihood security of The Bahamas and other coastal communities around the world."
Why you'll love adopting a coral through BREEF:
Adopt and name a coral which will permanently be tagged and placed in the coral propagation unit
Receive a  a custom identification plaque, photo, and 1-year update on your adopted Staghorn corals
BREEF will monitor your baby corals and maintain your plaque on the coral propagation unit so you know that your corals are growing healthy
Choose from three adoption packages where you can adopt a coral polyp, a coral fragment, or a coral head
Choose where your corals will permanently live in the Bahamas, either in the Coral Reef Sculpture Garden or Andros Great Barrier Reef
Adoption Price: $150-$1000
---
9. Reef Renewal Foundation Bonaire- Coral reef adoption program
Corals in our nursery are being cared for by our staff and volunteers for six to nine months. When they reach a competent size, they are outplanted at restoration sites and regularly monitored.
Why you'll love adopting a coral through
Your symbolic coral adoption helps protect and restore the reefs around Bonaire
Receive a letter of appreciation and an official proof of your coral adoption, with your name or the name of someone else if you want to give it as a gift
Create a bigger impact by adopting a coral tree, or a coral thicket
Higher adoption packages includes a personalized hand-crafted sign on Reef Renewal Foundation Bonaire Pole of Fame and personalized underwater coral tag, and photo of your corals in the nursery or reef where it will grow forever
Adoption Price: $50-$3000
---
10. Reef Life Foundation- Gift a reef
"Our IntelliReefs coral reef gardens provide critical homes for biodiverse marine plants and animals, supporting increased fish aggregation and natural coral settlement. They have been found to foster 100% biological coverage in less than 14 months!"
Why you'll love to adopt coral reef gardens through Reef Life Foundation:
Your Coral Reef Garden donation is part of a coral reef restoration habitat in Sint Maarten which was devastated by Hurricane Irma in 2017
Receive a customized e-card which you can email to family and friends
Choose to adopt multiple coral reef gardens
Adoption Price: $25-$250
---
If you love supporting organizations that help our ocean, you should also check out these posts:
Adopt a Wild Animal and Track It: 11 Wildlife Adoptions for Ocean Lovers
10 Best Adopt a Shark Programs That Are Fin-tastic
10 Best Adopt a Sea Turtle Programs That Are Turtley Awesome
10 Best Adopt a Whale Programs That You Whale Love
10 Best Adopt a Dolphin Programs You Should Support
10 Best Adopt a Whale Shark Programs That Protect Them
10 Best Adopt a Penguin Programs That Save The Adorable Sea Birds
10 Best Adopt A Seal Program That Will Have Your Seal of Approval
10 Best Adopt a Seahorse Programs You'll Love To Support
9 Best Adopt a Manta Ray Programs You Can Support
8 Best Adopt an Octopus Programs for Cephalopod Lovers
8 Best Adopt a Polar Bear Programs that are Bear-y Cool
7 Best Adopt a Manatee Programs

22 Amazing Ocean Companies Saving Our Seas
10 Saving The Ocean Bracelets You'll Want to Wear and Share
Do you have Pinterest? Pin this for later!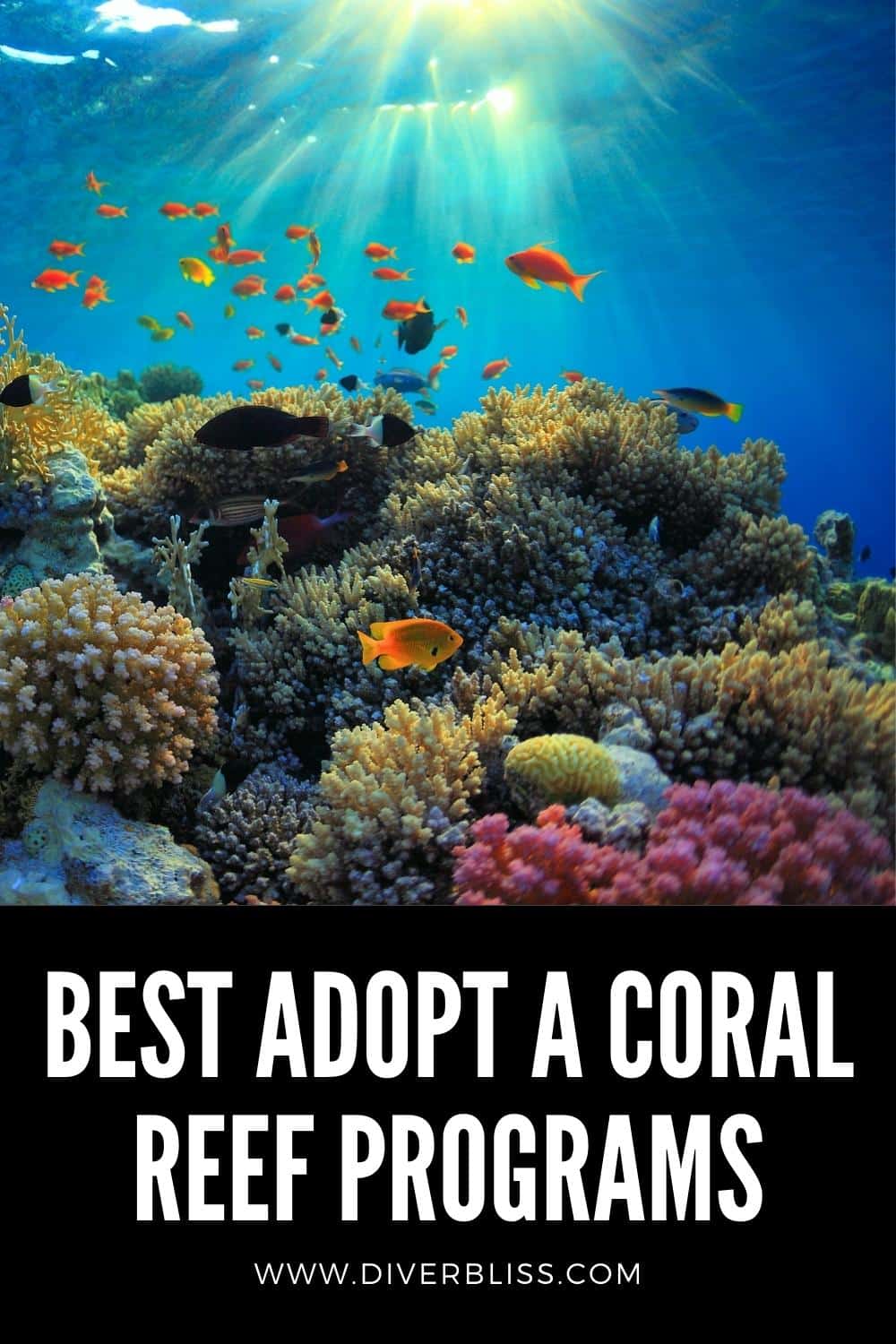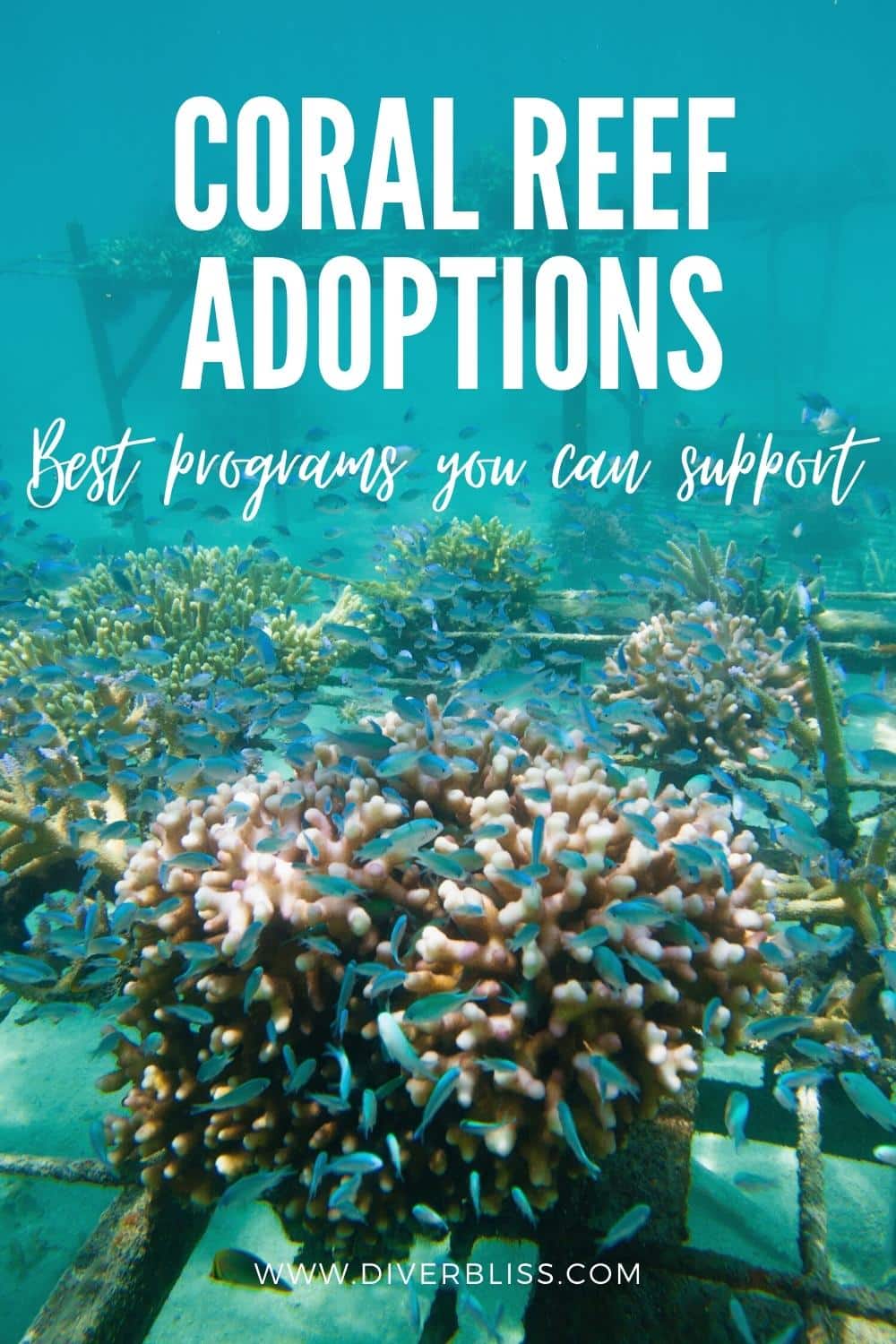 Have you symbolically adopted a coral reef before? Do you know of any other coral reef adoption programs in your own country that needs to be supported? Leave a comment below!