Do you love dolphins and are looking for a way to help save them? Then you should adopt a dolphin today!
Adopting a dolphin is only symbolic. It is a way to raise funds towards saving dolphins that are always threatened because of human activities.
You do not keep or take home a dolphin, but you help improve their lives through research, educational project and conservation efforts.
When you sponsor a dolphin, you donate to a non-profit organization whose primary mission is to study them and ensure that their species are protected. In return, these dolphin conservation groups gives you recognition for helping their cause. Sometimes they also include special gifts as their way to say thank you.
These symbolical dolphin adoptions are wonderful gifts for dolphin lovers. They're perfect to give for birthday, holidays or for no reason at all.
Aside from adopting them, you can also name a dolphin. This is a wonderful idea if you'd like to give tribute to someone or you simply want to contribute more toward dolphin conservation.
Some companies wanting to do good, can also sponsor a dolphin. It's a great way to raise awareness within your organization about dolphins and the challenges they are facing today.
If you're looking for a fun and meaningful way to help dolphins, then you should support these adopt a dolphin program.
1. Whale and Dolphin Conservation- Dolphin Adoption Project
"Dolphins off the British coast face many threats: oil and gas activity, industrial development, accidental entanglement in fishing gear, and plastic pollution. Adopt a dolphin and protect their home to give them a safer future."
Why you'll love adopting a dolphin from Whale and Dolphin Conservation:
Choose a dolphin based on their personalities
Receive a welcome pack that includes your adoption certificate and information about whales
Get 4 issues of Whale & Dolphin magazine
Get monthly updates about your adopted dolphin
Option to receive a gifting set for adult or for kids. Adult adoption gift set includes a WDC cotton bag and bookmark while the kids adoption gift set includes stickers and badges.
Convenient paying scheme of monthly or annual adoption
Adoption price: £5-£10 per month, £50-£70 annually
---
2. Dolphin Project- Adopt a dolphin in rehabilitation
"By adopting a dolphin, you can help ensure Rocky, Rambo and Johnny receive 24-7 care by our expert team of veterinarians and caregivers. The dolphins are being closely monitored, and are presently being evaluated for possible release. The dolphins are rehabilitating at the Umah Lumba Rehabilitation, Release, and Retirement Center in Banyuwedang Bay, West Bali, Indonesia – the first-ever permanent dolphin rehabilitation, release and retirement facility for formerly performing dolphins."
Why you'll love to sponsor a dolphin at Dolphin Project
You'll receive an electronic adoption kit that includes a personalized adoption certificate suitable for framing, gorgeous underwater photos, biographical information, a dolphin fact sheet, a dolphin warrior booklet, and quarterly updates
Choose to help 3 ex-performing dolphins that needs round the clock care
Option for one time or recurring donations
Great gift for scuba divers who prefer to see animals in the wild than in captivity
Adoption price: Starts at $25
---
3. Dolphin Communication Project- Adopt a wild dolphin
"At our beautiful field site on Bimini, The Bahamas, the Dolphin Communication Project studies a group of wild Atlantic spotted dolphins (Stenella frontalis) that frequent the clear blue waters of the island. By adopting one of the Bimini dolphins, you will be helping to fund our non-profit research group's research, education, and conservation efforts that will directly benefit the Bimini dolphins."
Why you'll love the dolphin adoption program of Dolphin Communication Project:
Choose to adopt from over 20 wild dolphins from the Bimini pod each with their own unique characteristics, life histories and personality traits
Options to choose between a print or digital adoption kit
Adoption gift sets includes an adoption certificate, photographs and info on your adopted dolphin, access to unique underwater video footage featuring spotted dolphins around Bimini, Information Booklet with fact sheet on Atlantic spotted dolphin and info about the Dolphin Communication Project
Get to download an actual recording of one of the Bimini dolphin's vocalizations
Adoption price: $30-35
---
4. Pacific Whale Foundation- Name a dolphin
"Pacific Whale Foundation is a nonprofit organization dedicated to protecting our oceans and marine wildlife through research, education, and conservation. Now more than ever, the world's whales, dolphins, sea turtles, coral reefs, and other marine organisms need your help to thrive in their natural ocean habitat."
Why you'll love adopting a dolphin from Pacific Whale Foundation:
Choose to adopt a bottlenose dolphin that is sighted in Hawaii
Receive the adopted dolphin's story and sightings, species info and Pacific Whale Foundation Research overview, as well as a certificate and sticker.
Frequently get email updates about the adoption program and any re-sighted animals
For $750, you or your company can adopt and name a dolphin. This includes a personalized story of your dolphin; map of available sightings; an adoption certificate; ultra-soft plush animal; cinch bag; and recognition on the PWF website below the photo of your dolphin
Option to make the adoption digital to prevent shipping waste
Dolphin Adoption price: $80
Name a dolphin price: $750
---
5. Ocean Conservation Society- Adopt a bottlenose dolphin
"Help protect dolphins and their habitat by symbolically adopting one (or more) of the wild bottlenose dolphins we've identified during our marine mammal research! By joining our OCS "dolphin family" you'll help build a better future for these magnificent creatures by supporting our important conservation work."
Why you'll love adopting a dolphin from Ocean Conservation Society:
Choose 1 or all 6 bottlenose dolphins to adopt
You will receive a personalized dolphin adoption certificate, a comprehensive 12-page educational booklet on bottlenose dolphin ecology, an info sheet on bottlenose dolphins, a marine mammal pocket guide with whale watching guidelines, and a waterproof OCS sticker
100% of your donation goes directly toward continuing over 25 years of data collection to help support the conservation of dolphins and their habitat
Dolphin Adoption price: $50-200
---
6. Marine Mammal Foundation- Adopt a Burrunan dolphin
"Buddy up with a Burrunan dolphin and make a difference helping to conserve and protect Australia's amazing marine mammals for future generations to enjoy!"
Why you'll love adopting a dolphin through Marine Mammal Foundation:
Choose to adopt from a roster of 11 Burrunan dolphins in Australia
Supports critical research for one of the newly described dolphin species, the Burrunan dolphin (Tursiops aduncus australis)
Dolphin adoption gift package includes an adoption certificate, information about your adopted Burrunan dolphin, a MMF Cap, MMF eco-mug, MMF shopping bag, and an MMF annual membership
Get updates on the Burrunan dolphin research and MMF endeavors and receive invitations to MMF Member events.
Dolphin adoption price: $100 per year
---
7. Bottlenose Dolphin Research Institute- Adopt a bottlenose dolphin
"BDRI researchers have identified and followed over 400 individual dolphins since 2014 in Galician waters. You can adopt one of the Galician' bottlenose dolphins, open a window into their watery world, and learn about their lives and personality. If you want to go a step further, you can even name your very own bottlenose dolphin or dedicate it to a family member or friend."
Why you'll love the adopt a dolphin program of Bottlenose Dolphin Research Institute:
Choose from more than 40 wild common bottlenose dolphins (Tursiops truncatus) studied by the BDRI with their own unique characteristics, life histories and personality traits
Receive an electronic dolphin adoption kit for an eco-friendly and quick way to adopt a dolphin
Your e-adoption kit includes a welcome letter and registration info, a PDF file with the biography of your adopted dolphin with recent photographs, an audio file of dolphin vocalizations from the Gailcian bottle nose dolphin, Information booklet containing dolphin facts and info about Bottlenose Dolphin Research Institute BDRI
Access to an exclusive Facebook group where you can get updates on your adopted dolphin and research programs you are supporting when you sponsor a dolphin
Option to name a dolphin you adopt
Dolphin adoption price: €50
Name a dolphin price: €200
---
8. World Wildlife Fund- Adopt a dolphin
"World Wildlife Fond (WWF) works in nearly 100 countries and is supported by more than 1 million members in the United States and more than 5 million globally. Your donation provides general support and makes you a member. 83% of spending is directed to worldwide conservation activities."
Why you'll love the dolphin adoption program of WWF:
The basic dolphin adoption kit includes an adoption certificate and photo, a species card and gift box.
You can upgrade your adoption and receive a dolphin plushie in your adoption package
Virtual dolphin adoptions allows you to adopt without receiving the gifts and trinkets which you might not need.
Dolphin adoption price: $25-$100
---
9. Irish Whale and Dolphin Group- Dolphin Adoptions
"Our mission is to promote a better understanding of cetaceans & their habitats through education & research. We carry this out by the collection & distribution of information and collaboration with universities, government & research groups"
Why you'll love to sponsor a dolphin from Irish Whale and Dolphin Group:
Choose to adopt from a list of 4 dolphins
Receive through mail an info pack on your adopted dolphin including your certificate of adoption
Get an annual email update on your whale at the end of the field season
Adopting a dolphin helps cover the expenses incurred while monitoring the Shannon bottlenose dolphins
Dolphin adoption price: €20
---
10. Ocean's Initiative- Adopt a Pacific white-sided dolphin
"Your tax-deductible donation provides needed funding to continue our non-invasive, long-term research and to further protect this beautiful population of marine mammals. By symbolically adopting a dolphin, you will make a meaningful contribution to this important research."
Why you'll love to adopt a Pacific white-sided dolphin from Ocean's Initiative:
Adopt a Pacific white-sided dolphin (Sagmatias obliquidens) often spotted in the Great Bear Sea, along the coast of British Columbia, Canada
Choose from a roster of 8 dolphins to adopt
Your dolphin adoption kit includes a personalized adoption certificate, a photograph and the story of your dolphin, and an Oceans initiative dolphin sticker
Get update of future sightings of your dolphin or its pod
Choose to adopt for a year, two years, or for life
Get a chance to name a dolphin for yourself or as a tribute to some
Dolphin adoption price: $40-$250
Name a dolphin price: Starts at $750
---
If you love supporting organizations that help our ocean, you should also check out these posts:

Adopt a Wild Animal and Track It: 11 Wildlife Adoptions for Ocean Lovers
10 Best Adopt a Shark Programs That Are Fin-tastic
10 Best Adopt a Sea Turtle Programs That Are Turtley Awesome
10 Best Adopt a Whale Programs That You Whale Love
10 Best Adopt a Whale Shark Programs That Protect Them
10 Best Adopt a Penguin Programs That Save The Adorable Sea Birds
10 Best Adopt a Coral Reef Programs That Save Our Oceans
10 Best Adopt A Seal Program That Will Have Your Seal of Approval
10 Best Adopt a Seahorse Programs You'll Love To Support
9 Best Adopt a Manta Ray Programs You Can Support
8 Best Adopt an Octopus Programs for Cephalopod Lovers
8 Best Adopt a Polar Bear Programs that are Bear-y Cool
7 Best Adopt a Manatee Programs

22 Amazing Ocean Companies Saving Our Seas
10 Saving The Ocean Bracelets You'll Want to Wear and Share
Pin this for later!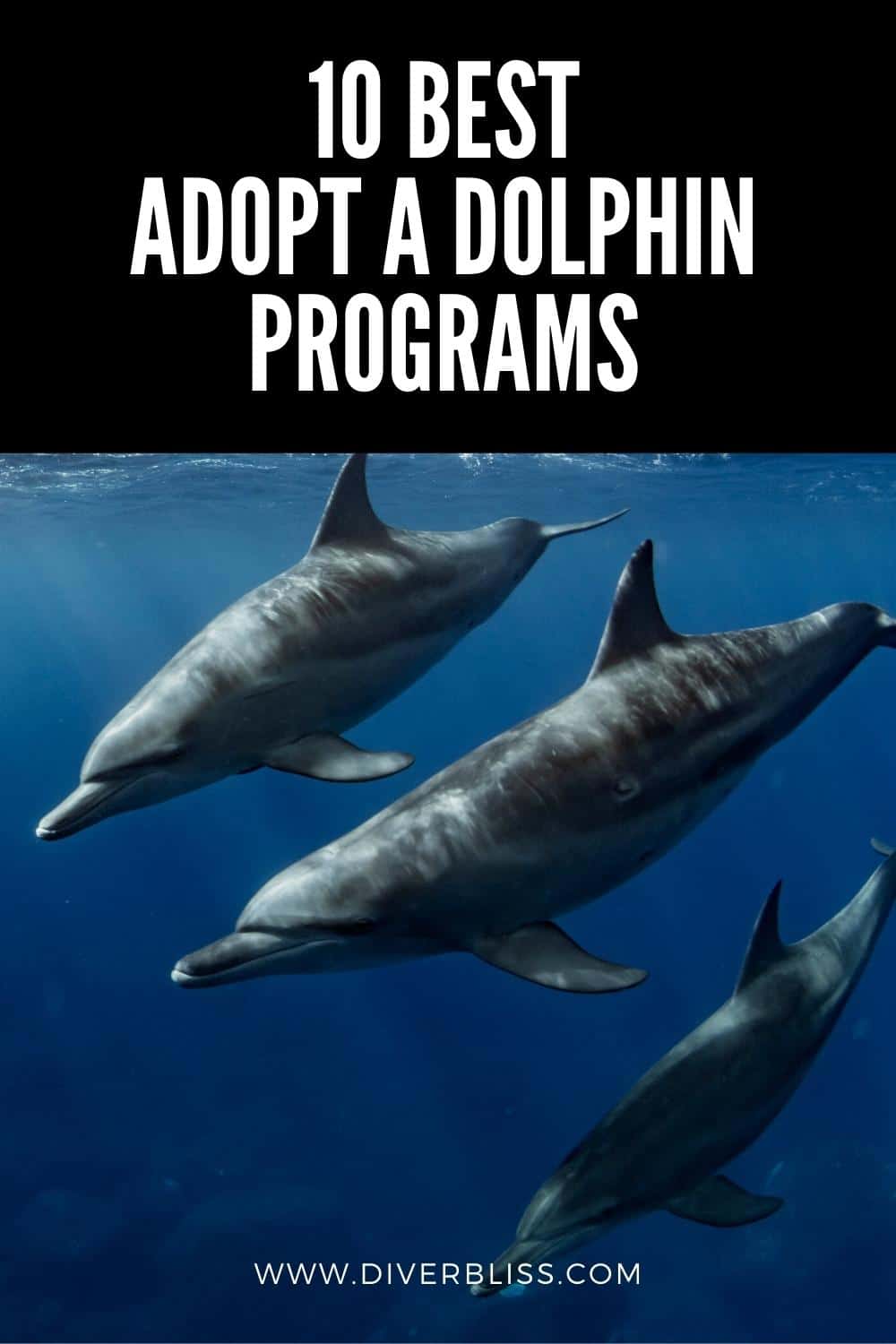 Do you know of any other dolphin adoption programs in your own country that weren't mentioned on this list? Leave a comment below!