Do you love manta rays and are looking for a way to help save them? Then you should adopt a manta ray!
Adopting a manta is only symbolic. You do not keep or take home a manta ray. They do belong to the ocean after all, but you can help improve their lives by contributing to scientific research and conservation efforts.
Both species of manta rays, giant manta rays (Mobula birostris) and reef manta rays (Mobula alfredi), are currently listed, respectively, as endangered and vulnerable by the IUCN. The future of manta rays is at risk due to threats like illegal fishing, marine pollution, and mass tourism that impact manta ray populations and habitats.
When you sponsor a manta ray, you donate to a non-profit organization whose primary mission is to study them and protect them. In return, these manta ray conservation groups give you recognition for helping their cause.
Sometimes they also include special gifts as their way to say thank you which is why symbolical manta ray adoptions can be wonderful gifts for manta ray lovers. They can be given for birthdays, holidays, or for no reason at all.
Aside from adopting them, some programs allow you to even name manta rays. This is a wonderful idea if you'd like to honor someone you hold dear or simply because you want to contribute more toward manta ray conservation. And you have to admit, having a manta named after you or someone important to you sounds very cool.
If you're looking for a fun and meaningful way to help manta rays, then you can support these adopt a manta ray programs.
1. Manta Trust
"Manta Trust is a UK-registered charity that coordinates global mobulid research and conservation efforts. Our mission is to conserve mobulid rays, their relatives, and their habitats, through a combination of research, education, and collaboration."
Why you'll love adopting a manta ray through Manta Trust:
Choose to adopt from a list of manta rays regularly sighted in the Maldives
The digital adoption pack includes a bio and digital poster of your adopted manta ray, a fact file to learn about the biology and ecology of manta rays in the Maldives, and an activity and games pack for an interactive learning experience.
Includes a personalized adoption certificate and option to include a personalized e-card for gift giving
Price: £25
---
2. Marine Megafauna Foundation
"Your manta ray adoption will help us to research and protect these globally endangered rays."
Why you'll love adopting a manta ray through Marine Megafauna Foundation:
Your adoption supports manta rays as a species, rather than a specific individual
Receive a personalized symbolic adoption e-certificate in PDF format which you can print or forward to your gift recipient
Get a subscription to MMF's Ocean Giants Magazine for updates on manta ray conservation efforts
Your name or adoptee name will be acknowledged in the Ocean Giants Magazine.
Your manta ray adoption is tax-deductible in the USA since MMF is a registered 501(c)(3) non-profit conservation organization
Price: $49
---
3. Manta Caribbean Project
"The Manta Caribbean Project is dedicated to taking a multidisciplinary approach to the conservation of manta and mobulid rays, and their habitat in the Caribbean Sea through robust science and research, while raising awareness and providing education to the community and stakeholders."
Why you'll love adopting and naming a manta ray through Manta Caribbean Project:
This manta ray adoption package will allow you to name a Manta ray from the Mexican Caribbean
Choose from over 100 manta rays that needs to be named
Receive naming rights, personalized adoption certificate, and a digital download pack with infographics about manta rays and mobulas
Get updates about the manta rays in the Mexican Caribbean
Price: $150
---
4. Micronesian Conservation Coalition
"Our Adopt a Manta program allows you a closer look into the behavior and lives of specific manta rays while helping us continue to research and protect them."
Why you'll love to adopt a manta ray through Micronesian Conservation Coalition:
Choose from several adopt a manta ray packages with different perks and privileges
Most basic package entitles you to a personalized adoption certificate and fun facts about manta rays which is great for gifting to your family and friends
Highest package goes towards satellite tagging for manta rays to track their movements a great option for groups and companies who want to support manta ray conservation efforts
Prices: $50, $100, $500, $1500, $2000, $5000
---
5. Raja Ampat Sea Center
"Our Adopt a Manta program enables you to support the conservation of these extraordinary marine species in Raja Ampat, Indonesia"
Why you'll love to adopta a manta ray through Raja Ampat Sea Center:
By adopting a manta, you help further understand Raja Ampat's manta rays, through ongoing population monitoring, identification of critical habitats and advising on more effective management & protection of these species.
Raja Ampat Sea Center collaborates with Marine Megafauna Foundation for their research programs
Manta ray doption includes naming rights, an electronic adoption certificate, sightings updates, fact file about manta rays, and recognition on MantaMatcher.org
Choose from a list of mantas in Raja Ampat that needs to be named
Price: €175
---
6. Manta Matcher
"MantaMatcher is the first global online manta ray database, managing manta ray sighting and identifications worldwide."
Why you'll love adopting a manta ray through Manta Matcher:
Adopt a manta ray, give it a nickname, and receive updates each time it's spotted
Funds raised by adopting a manta are used to maintain the manta database and to support new and existing research projects for mantas
Price: $3 – $100
---
7. Kokomo Island Adopt a Manta Ray Initiative
"To help raise awareness and protect the Fijian manta population, we launched the Kokomo Manta Conservation Project, encompassing a Manta Tagging Project, Manta Identification Work, an Adopt a Manta Initiative, and Sustainable Manta Interactions in collaboration with the Manta Project Fiji."
Why you'll love adopting a manta ray through Pelagios Kakunjá:
Adopt a manta initiative by Kokomo Island is in collaboration with The Manta Project Fiji of Manta Trust
Offered to guests of Kokomo Island Fiji as an opportunity to support global efforts to research and protection of mantas
Supporters of the program will also be acknowledged in any scientific publications of the research.
Price:
Want to know what it's like to swim with manta rays? Read about my experience swimming with mantas in Fiji!
---
8. Misool Foundation
"Adopting a manta is a great way to support the Misool Manta Project which carries out critical scientific research into the manta populations of Misool, Indonesia"
Why you'll love to adopt a manta ray through Misool Foundation:
Your donation allows you to name your manta
Receive a personalized manta adoption certificate and
Get updates when your manta ray is resighted.
You'll be the guardian of your chosen manta for 12 months and you can make annual extensions to this
Price: $200
---
9. Pelagios Kakunjá
"Pelagios Kakunjá is a non-profit organization created in 2010 with the main goal to study and protect sharks and mantas in Mexico."
Why you'll love adopting a manta ray through Pelagios Kakunjá:
Affordable donation that go towards the implementation of conservation strategies for these species here in Mexico.
Receive a digital adoption certificate, photo and species fact-sheet
Price: $50
---
Learn more about manta rays by reading my post on Manta Ray vs Stingray: How To Tell Them Apart
If you love supporting organizations that help our ocean, you should also check out these posts:

Adopt a Wild Animal and Track It: 11 Wildlife Adoptions for Ocean Lovers
10 Best Adopt a Shark Programs That Are Fin-tastic
10 Best Adopt a Sea Turtle Programs That Are Turtley Awesome
10 Best Adopt a Whale Programs That You Whale Love
10 Best Adopt a Dolphin Programs You Should Support
10 Best Adopt a Whale Shark Programs That Protect Them
10 Best Adopt a Penguin Programs That Save The Adorable Sea Birds
10 Best Adopt a Coral Reef Programs That Save Our Oceans
10 Best Adopt A Seal Program That Will Have Your Seal of Approval
10 Best Adopt a Seahorse Programs You'll Love To Support
8 Best Adopt an Octopus Programs for Cephalopod Lovers
8 Best Adopt a Polar Bear Programs that are Bear-y Cool
7 Best Adopt a Manatee Programs

22 Amazing Ocean Companies Saving Our Seas
10 Saving The Ocean Bracelets You'll Want to Wear and Share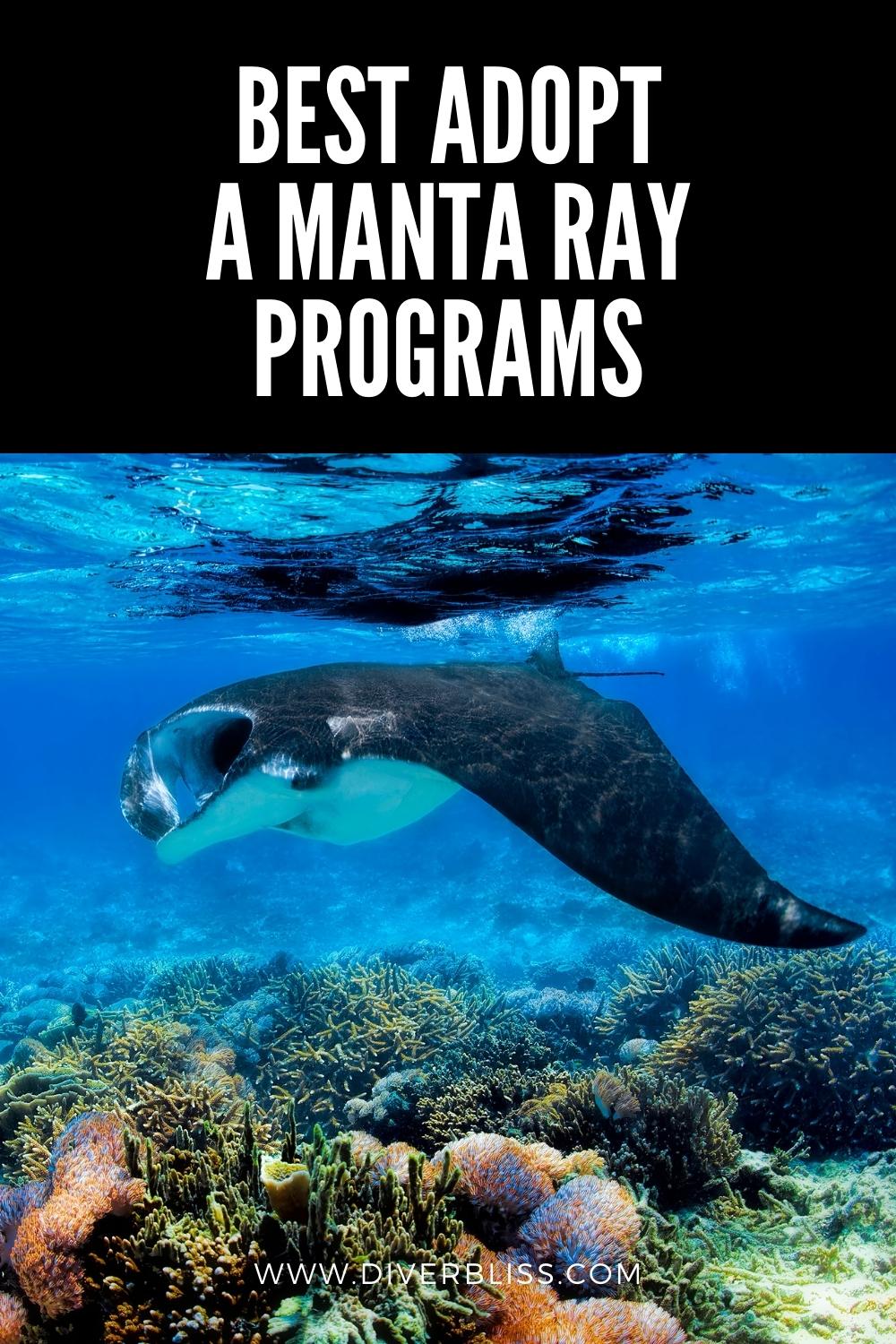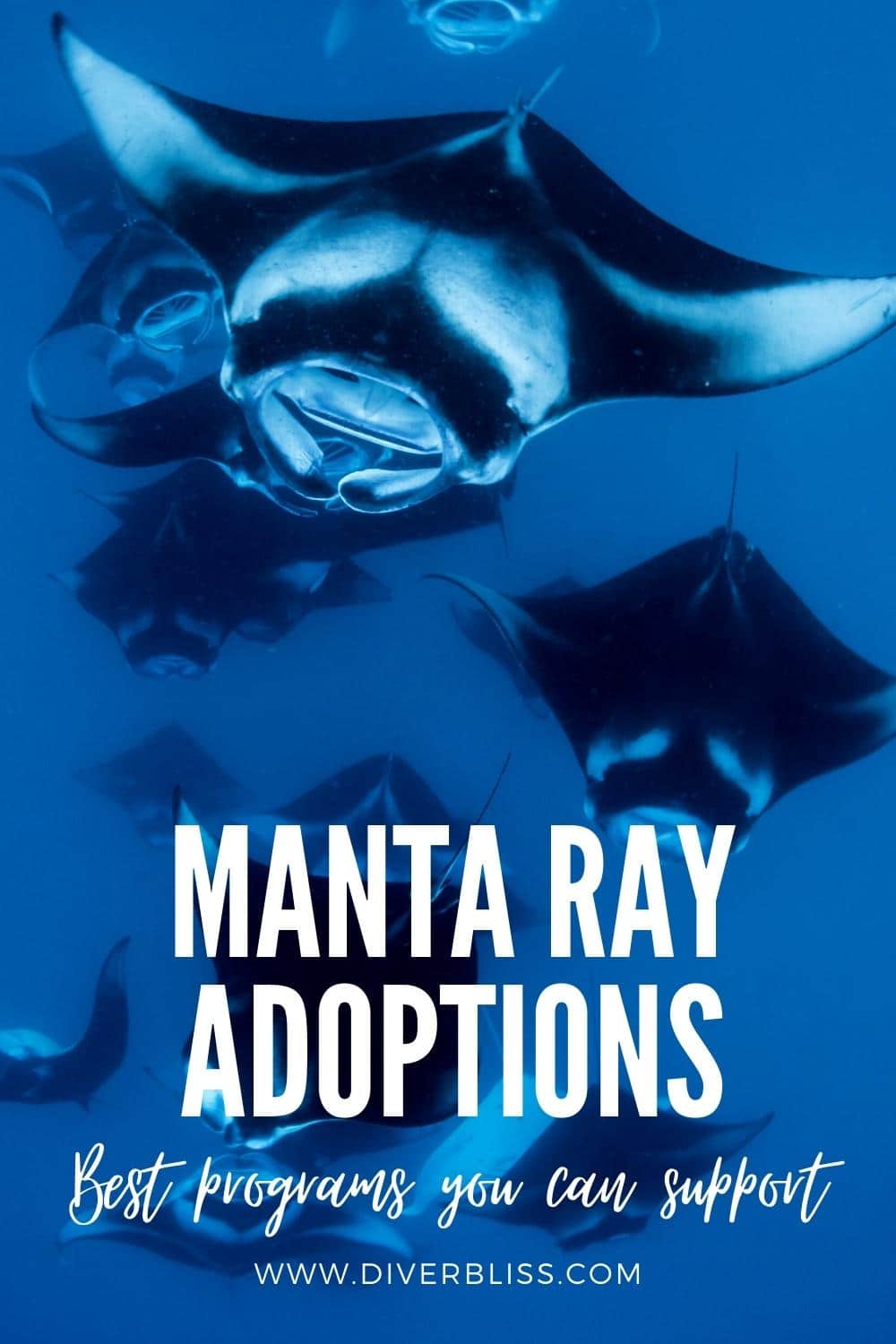 Have you symbolically adopted a manta before? Do you know of any other manta adoption programs in your own country that we should know about? Leave a comment below!