This post focuses on the different adopt a penguin programs you may want to support. It lists the different organizations that help protect and save penguins.
With their tuxedo-like plumage and distinct waddle, penguins are one of the cutest animals in the world. There are currently 18 recognized species of penguins in the world and, sadly, many of these species are listed by IUCN Redlist as Threatened. These beautiful sea birds are either Vulnerable or Endangered of becoming extinct. Natural predation and illegal egg harvesting are just some of the things that threaten the survival of many penguins.
Climate change is another major threat to the penguin species. As the poles continue to warm, sea ice ecosystems are at risk of being lost or permanently altered. This negatively affects the penguin population as this is where they eat, live and breed.
Penguins are necessary to a functioning and healthy ecosystem. While they are not on the top of the food chain, they keep biological populations in balance. The decrease in penguin population has a cascading negative effect on our planet which is why it is important to protect them.
For as long as temperatures on our planet rise, the penguins' lives will be at risk. If we want to save penguins, we must protect not just the species but most especially their sea ice habitats.
One way to do this is by symbolically adopting penguins through non-profit ocean conservation groups. Penguin adoptions mean you are supporting an organization that works toward the protection of these sea birds and their habitats. These marine conservation organizations have made it their mission to protect penguins through various research, education, and conservation programs.
They are among the best conservation groups that encourage ordinary citizens to get involved. For an affordable adoption fee, you, your family, or your friends, can sponsor a penguin that needs your help. Schools, companies, or other organizations can also symbolically adopt a penguin as a philanthropic effort.
These penguins for adoption are also unique gifts for penguin lovers. Adopt a penguin gifts, in the form of digital files or physical presents, can easily be purchased to give as gifts for yourself or for others.
When you adopt a penguin you will not receive a real live penguin though. After all, penguins are better left in the wild or with experts who can properly care for them.
If you want to save the penguins, you can support one or all these 10 adopt a penguins programs instead.
1. Penguin Foundation- Sponsor a Little Penguin
"Symbolically adopting a wild Little Penguin at Phillip Island means you will become an official penguin guardian. Little Penguin guardians contribute to securing a brighter future for these iconic seabirds by supporting scientific research and conservation efforts."
Why you'll love to sponsor a penguin through Penguin Foundation:
You will receive a digital adoption pack containing a personalized adoption certificate and a little penguin fact sheet
Get updates quarterly through their newletter to find out how your donation has helped the little penguins in Australia
Choose how your donation will be used. Your donation can provide care for sick and injured little penguins, can fund scientific research to better understand infectious diseases that may affect little penguins, or can fund conservation activites to help little penguins
Choose to donate one time, monthly or yearly
Virtual penguin adoptions make wonderful gifts for environmentalists
Adoption Price: $25-$500
---
2. Southern African Foundation for the Conservation of Coastal Birds (SANCCOB)- Adopt and name a penguin
"The Southern African Foundation for the Conservation of Coastal Birds' (SANCCOB) primary objective is to reverse the decline of seabird populations through the rescue, rehabilitation and release of ill, injured, abandoned and oiled seabirds."
Why you'll love the penguins for adoption from SANCCOB:
Choose from 3 adoption packages where you can adopt a penguin, name a penguin, or adopt a penguin egg!
Receive a special letter of thanks from 'your' chosen bird, and a certificate of adoption which includes a photograph and details of your chosen penguin, via email
Your donation helps cover the rehabiliation costs like food and medication so your bird can grow strong enough for release back into the wild
You are welcome to schedule a visit with your adopted penguin during normal working hours
Adoptions are valid for one year from the date of issue so you can adopt a new bird the follwing year
Adoption Price: South African Rand 300-1000
---
3. Falkland Conservation- Adopt a penguin gift pack
"By adopting a penguin in the Falkland Islands you are making a valuable contribution to our practical conservation activities."
Why you'll love to adopt a penguin from Falkland Island.
The penguin adoption gift pack includes a welcome letter, information booklet on the king penguin colony at Volunteer Point, king penguin photo, king penguin pin badge, and a king penguin postcard, a personalised adoption certificate, a Wildlife Conservation in the Falkland Islands magazine, and newsletter updates.
You can opt to also name a penguin
Choose to adopt a King Penguin in the Falkland Islands for 1 year only or every year
Adoption Price: £29
---
4. Galapagos Conservation- Penguin Postal Adoption
"By purchasing a Galapagos penguin adoption today, you can help to protect this species and other wildlife on the Islands."
Why you'll love adopting a penguin through Galapagos Conservation:
You will be adopting the world's only penguin species to live north of the Equator. Galapagos penguins, unlike other penguins, can survive tropical climate because of the cold water currents that circulate around Galapagos.
Receive a fact file full of information about the Galapagos penguin, a personalized certificate and a soft penguin toy.
Your donation goes towards Plastic Pollution Free Galapagos program that assess the impact of plastic on penguins and other marine species
The recipient may also receive species-specific adoption emails and email updates via a monthly e-Newsletter about the conservation work in Galapagos
Fantastic gifts for scuba divers who have dived or dream of diving in Galapagos Islands.
Adoption Price: £35.00
---
Do you love the idea of being able to track penguins, you can check out this bracelet from Fahlo where you can buy a bracelet with a real penguin to track. A portion of the proceeds from The Passage Bracelet is donated to Global Penguin Society. (Use the code: DIVERBLISS20 to get a discount on your penguin tracking bracelet.)
5. UK Antarctic Heritage Trust- Adopt a Gentoo Penguin
"Your adoption will support the monitoring of the penguin colony and conservation on site at Port Lockroy. With your help we can protect areas of the island from human interaction and continue studying the breeding success of the gentoos every year.
Why you'll love adopting a penguin from UK Antarctic Heritage Trust:
Receive a gentoo postcard sent from Antarctica, a gentoo cuddly toy, a fact booklet and welcome pack, an adoption certificate, and gentoo update from Port Lockroy
Your donation supports a gentoo penguin study which was started over 20 years ago by British Antarctic Survey
Adoption Price: £75.00
---
6. Newquay Zoo- Adopting a penguin in the UK
"The waddle of Humboldt penguins at Newquay Zoo contributes to the breeding population in zoos worldwide."
Why you'll love adopting penguins from Newquay Zoo:
Your adoption supports the Humboldt penguins as a species rather than individuals.
It supports the zoo's breeding program
Basic adoption includes an adopter's certificate, a fact sheet about the penguins, a thank you letter, a photograph of a penguin, and your name displayed in the zoo for 12 months
Adoption Price: £35- £64
---
7. Aquarium of the Pacific- penguins adoption gifts
"Your animal adoption helps fund our many education and conservation initiatives, animal rehabilitation work, and important animal breeding efforts. Support a penguin today to help provide them with the best medical care available."
Why you'll love sponsoring penguins from Aquarium of the Pacific:
Basic adoption includes a special adoption certificate, animal updates and event invitations
Upgrade your adoption to include items like: a plush animal, an aquarium tote bag, aquarium admission tickets, behind-the-scenes tour tickets, and animal encounter tickets
Adoptions are fully tax-deductible
Adoption Price: $25-$1000
---
8. Defenders- Penguin Adoption Kit
"Your adoption helps Defenders continue to be a powerful advocate for legislation and policies combating climate change by reducing greenhouse gas emissions, promoting clean energy, and protecting vital wildlife habitat from being exposed to increased fossil fuel development."
Why you'll love to adopt a penguin from Defenders
Basic adoption includes a certificate and photo
Upgrade your adoption to include an eco-pal penguin plush toy
Gifting options available
Adoption Price: $25-75
---
9. World Wildlife Fund- Adopt an emperor penguin chick
"World Wildlife Fund (WWF) works in nearly 100 countries and is supported by more than 1 million members in the United States and more than 5 million globally. Your donation provides general support and makes you a member. 83% of spending is directed to worldwide conservation activities."
Why you'll love sponsoring a penguin from WWF:
The basic penguin chick adoption kit includes an adoption certificate and photo, a species card and gift box.
You can upgrade your adoption and receive a cute penguin plush toy in your adoption package
You can also Donate to WWF and receive an optional penguin-themed email certificate This option is great if you want to donate but do not want to receive gifts and trinkets.
Adoption Price: $25-$250
---
10. Oceana- Adopt a Penguin
"All donations go toward making our world's oceans healthier and safer, for generations to come."
Why you'll love adopting a penguin from Oceana
Receive a cookie cutter, and personalized adoption certificate
Your donation will supports Oceana's campaigns to combat climate change and the expansion of offshore drilling and oil spills, and protect critical habitats of penguins.
Unique gift for penguin lovers
Adoption Price: $20
---
If you love supporting organizations that help our ocean, you should also check out these posts:

Adopt a Wild Animal and Track It: 11 Wildlife Adoptions for Ocean Lovers
10 Best Adopt a Shark Programs That Are Fin-tastic
10 Best Adopt a Sea Turtle Programs That Are Turtley Awesome
10 Best Adopt a Whale Programs That You Whale Love
10 Best Adopt a Dolphin Programs You Should Support
10 Best Adopt a Whale Shark Programs That Protect Them
10 Best Adopt a Coral Reef Programs That Save Our Oceans
10 Best Adopt A Seal Program That Will Have Your Seal of Approval
10 Best Adopt a Seahorse Programs You'll Love To Support
9 Best Adopt a Manta Ray Programs You Can Support
8 Best Adopt an Octopus Programs for Cephalopod Lovers
8 Best Adopt a Polar Bear Programs that are Bear-y Cool
7 Best Adopt a Manatee Programs

22 Amazing Ocean Companies Saving Our Seas
10 Saving The Ocean Bracelets You'll Want to Wear and Share
Pin this for later!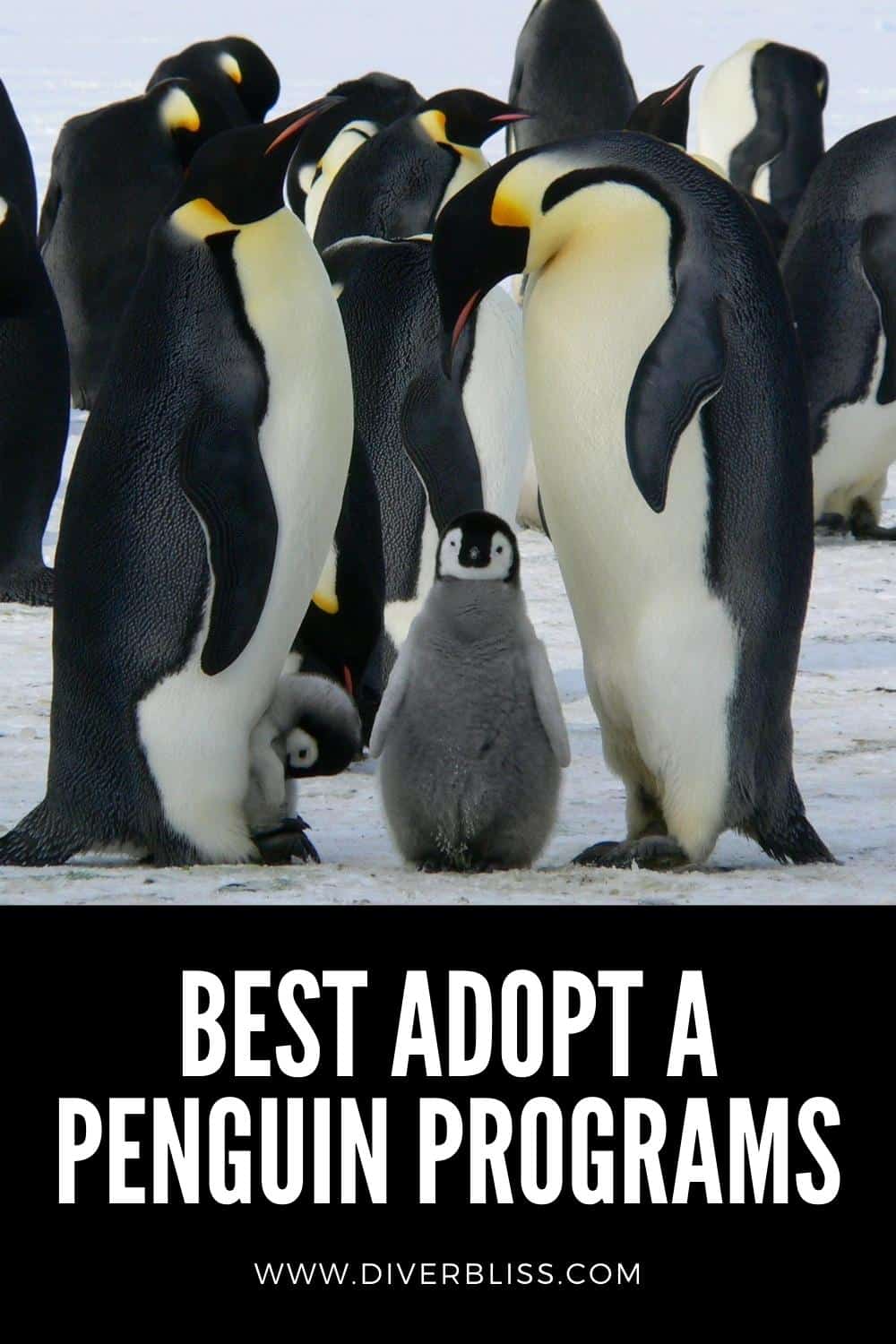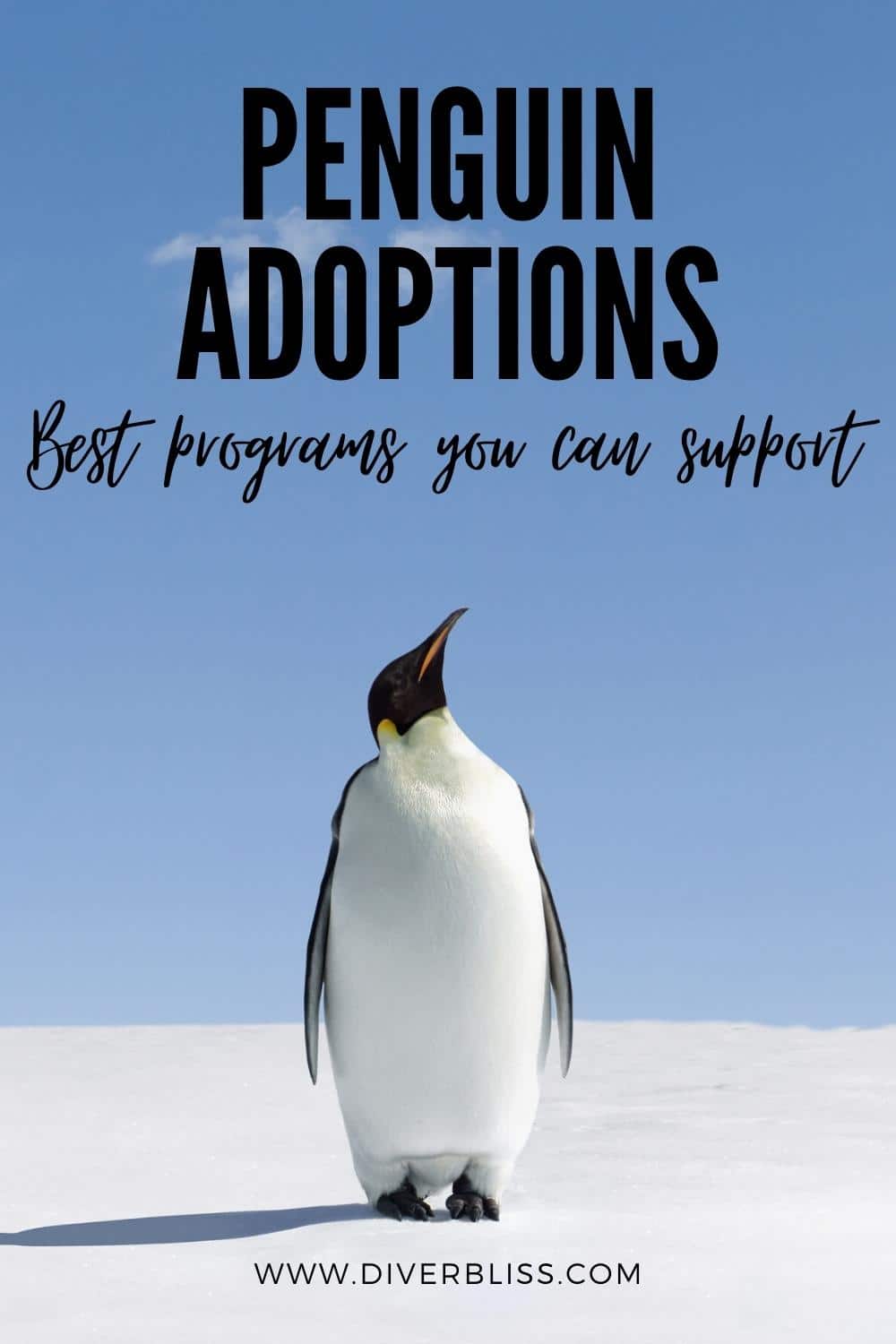 Have you symbolically adopted a penguin before? Do you know of any other penguin adoption programs in your own country that needs to be supported? Leave a comment below!