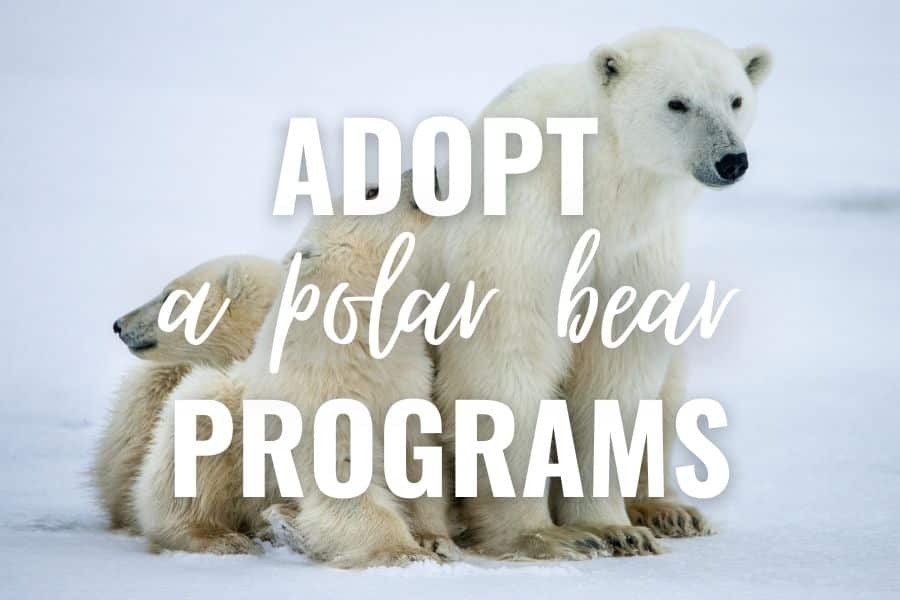 The links below may be affiliate links. If you shop through them, I'll earn a commission at no additional cost to you. For full information, please see my disclaimer here.
This post focuses on the different adopt a polar bear programs you may want to support. It lists the different organizations that help protect and save polar bears.
Weighing up to 1430 pounds and growing as much as nine feet in length, polar bears (Ursus maritimus) are the largest bear species and the biggest land carnivores. While they live on land, they are considered marine mammals as they spend most of their time in the sea ice habitats to hunt for food.
Populating the arctic regions like in north Canada, Greenland, Norway and Russia, polar bears are considered vulnerable to extinction as a result of climate change. The sea ice where polar bears hunt is rapidly melting and slowly forms year after year which leaves polar bears less time to search for food.
The decrease in polar bear populations has a cascading negative effect on our planet which is why it is important to protect them. As apex predators, they keep biological populations in balance. They are necessary to a functioning and healthy ecosystem.
For as long as temperatures on our planet rise, the polar bears' lives will be at risk. If we want to save polar bears, we must protect not just the species but most especially their sea ice habitats.
One way to do this is to symbolically adopt a polar bear through non-profit ocean conservation groups. Polar bear adoptions mean you are supporting an organization that works toward the protection of these species and their habitat. These marine conservation organizations have made it their mission to protect the polar bears through various research, education, and conservation programs.
They are among the best conservation groups that encourage ordinary citizens to get involved. For an affordable adoption fee, you, your family, or your friends, can sponsor a polar bear that needs your help. Schools, companies, or other organizations can also symbolically adopt a polar bear as a philanthropic effort.
These polar bear adoptions are also wonderful gifts for polar bear lovers. Adopt a polar bear gifts, in the form of digital files or physical presents, can easily be purchased to give as gifts for yourself or for others.
When you adopt a polar bear you will not receive a real live polar bear though. After all, polar bears are better left in the wild or with experts who can properly care for them.
If you want to save the polar bears, you can support one or all these 8 adopt a polar bear programs instead.
1. Polar Bears International- Virtual Polar Bear Adoptions
"We're dedicated to conserving polar bears and the sea ice they depend on. Through media, science, and advocacy, we work to inspire people to care about the Arctic, the threats to its future, and the connection between this remote region and our global climate."
Why you'll love to virtually adopt a polar bear from Polar Bears International
Receive a beautiful personalized eco-certificate to email to someone special
Eco-adoptions are virtual which means no shipping is required
Choose from various polar bear adoption certificate designs
Makes a perfect gift for environmentalists who are conscious of their carbon footprint!
Adoption Price: $25
Polar Bear International has a collaboration with Fahlo where you can buy a bracelet with a real polar bear to track. If you are looking for a Polar Bear Tracking Bracelet, check out The Venture Bracelet. This is a unique bracelet that helps save our oceans.

(Use the code: DIVERBLISS20 to get a discount on your Polar Bear tracking bracelet.)
---
2. Defenders- Polar Bear Adoption Kit
"Your adoption supports our work to protect the fragile Arctic ecosystem by fighting climate change through vital research and policy work, advocating a ban on all drilling in the region, and pushing for polar bears to gain the full protection they deserve under the Endangered Species Act."
Why you'll love to symbolically adopt a polar bear from Defenders
Basic adoption includes a certificate and photo
Upgrade your adoption to include an eco-friendly polar bear plush toy
Gifting options available
Adoption Price: $25-75
---
3. World Wildlife Fund- Adopt a Polar Bear Kits
"World Wildlife Fond (WWF) works in nearly 100 countries and is supported by more than 1 million members in the United States and more than 5 million globally. Your donation provides general support and makes you a member. 83% of spending is directed to worldwide conservation activities."
Why you'll love to save a polar bear through WWF:
The basic polar adoption kit includes an adoption certificate and photo, a species card and gift box
You can upgrade your adoption and receive a polar bear plushies and other gift items in your adoption package
You can also Donate to WWF directly and they will send an optional polar bear themed email certificate. This option is great if you want to donate but do not want to receive gifts and trinkets.
Adoption Price: $25-$250
---
4. Oceana- Adopt a Polar Bear Cookie Cutter
"To best protect polar bears and other marine life, Oceana is focused on addressing all of the threats affecting the Arctic. Your symbolic adoption supports our campaigns to stop the expansion of offshore drilling, destructive industrial fishing, and climate change."
Why you'll love adopting a polar bear from Oceana:
Includes a polar bear cookie cutter so you can bake adorable polar bear cookies
Also receive a personalized polar bear adoption certificate
Unique gift for polar bear lovers
Adoption Price: $20
---
5. National Wildlife Federation- Adopt a Polar Bear Program
"Your adoption is symbolic and your donation will be used where it is needed most to help protect America's wildlife."
Why you'll love the symbolical adopt a polar bear program of National Wildlife Federation:
With every polar bear adoption kit donation, the National Wildlife Federation will plant one tree to help protect and restore the wild places that nurture wildlife
All adoption packages includes a certificate of adoption and an 11″x14″ full-color poster
Adopt an polar bear gifts include polar bear plushie and calendar for higher priced packages
Adoption price: $25-$55
---
6. Earth Rangers- Adopt a Polar Bear Kit
"Every adoption kit purchased helps support scientists and conservation partners working on tangible projects that can make a big difference for animals at risk."
Why you'll love Earth Ranter's polar bear adoption program:
Polar bear adoption program support University of Alberta researcher Larissa Thelin as she examines the effects of climate change on polar bear populations
Adoption kit includes a plush toy, an adoption certificate, and a poster
Virtual gift item available via Earth Rangers App
Great gift for kids who want to get involved in conservation
Adoption Price: CAD 45
---
7. San Diego Zoo Wildlife Alliance- Polar Bear Adoption Packages
"Your symbolic adoption fuels community-led efforts to save polar bears. Earth's largest bears rely on sea ice to hunt, find mates, and raise their young."
Why you'll love to sponsor a polar bear via San Diego Zoo Wildlife Alliance:
Choose from 3 polar bear adoption packages starting with a virtual adoption
Upgrade to adoption packages that include polar bear gifts like a plush toy, a 5″x7″ photo card and San Diego Zoo Wildlife Alliance pin
Donations are used to protect mothers and cubs, keep populations healthy, and find ways for bears and people to peacefully coexist
Adoption Price: $25-$100
---
8. North Carolina Zoo Society- Adopt a polar bear
"Adopt a Zoo animal and become a partner in Zoo programs that help animals at home and abroad."
Why you'll love adopting a polar bear via North Carolina Zoo Society:
Your adoption lasts for a year, and every adoption package arrives with a personalized adoption certificate.
Higher-level adoptions includes special gifts item and privileges
The most basic package includes a personalized adoption certificate, zookeeper notes about the animal, a color photo of the adopted animal, while the highest donation level includes a VIP lunch tour at the Zoo
Adoption Price: $30-1000
---
If you love supporting organizations that help our ocean, you should also check out these posts:

Adopt a Wild Animal and Track It: 11 Wildlife Adoptions for Ocean Lovers
10 Best Adopt a Shark Programs That Are Fin-tastic
10 Best Adopt a Sea Turtle Programs That Are Turtley Awesome
10 Best Adopt a Whale Programs That You Whale Love
10 Best Adopt a Dolphin Programs You Should Support
10 Best Adopt a Whale Shark Programs That Protect Them
10 Best Adopt a Penguin Programs That Save The Adorable Sea Birds
10 Best Adopt a Coral Reef Programs That Save Our Oceans
10 Best Adopt A Seal Program That Will Have Your Seal of Approval
10 Best Adopt a Seahorse Programs You'll Love To Support
9 Best Adopt a Manta Ray Programs You Can Support
8 Best Adopt an Octopus Programs for Cephalopod Lovers
7 Best Adopt a Manatee Programs

22 Amazing Ocean Companies Saving Our Seas
10 Saving The Ocean Bracelets You'll Want to Wear and Share
Pin this for later!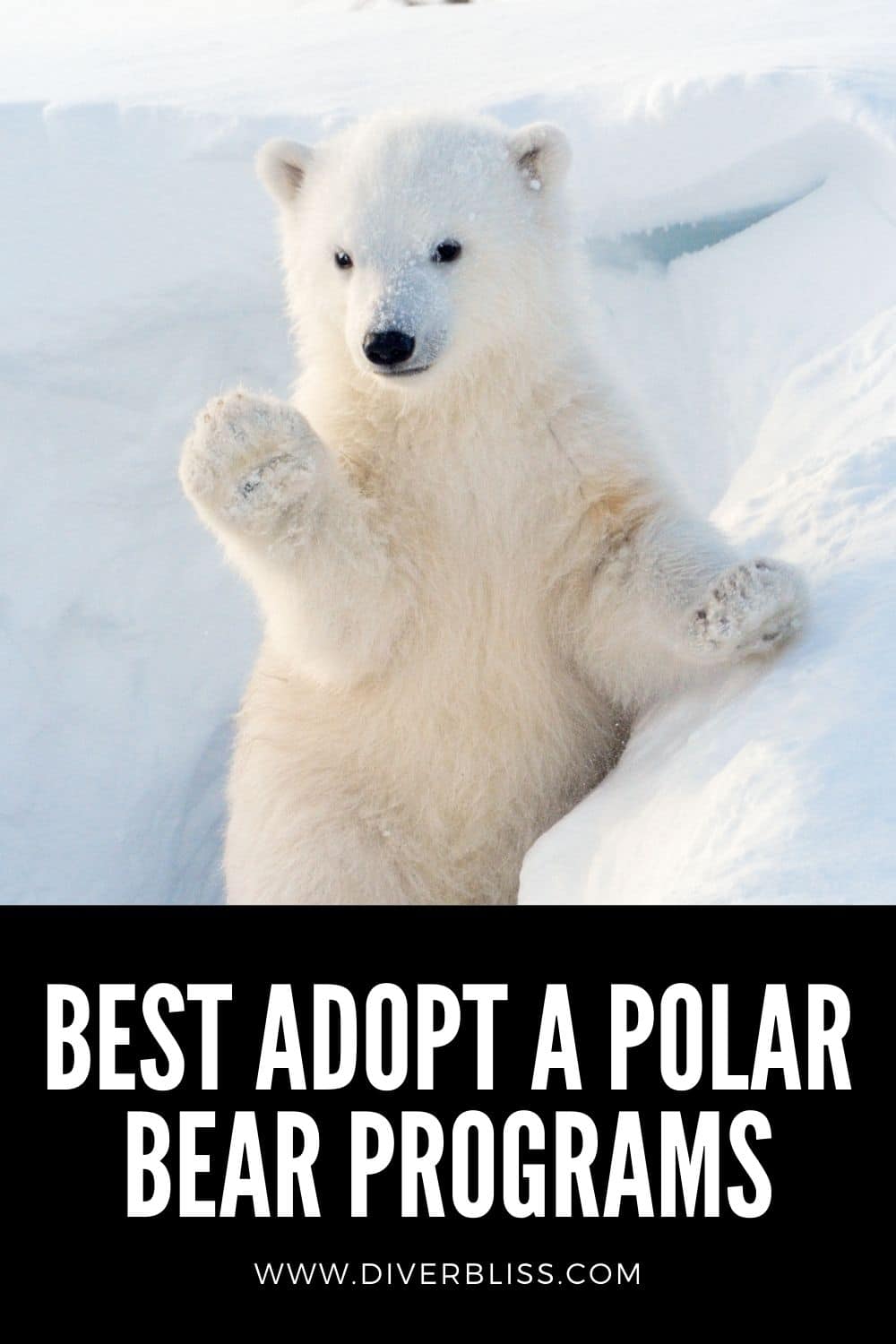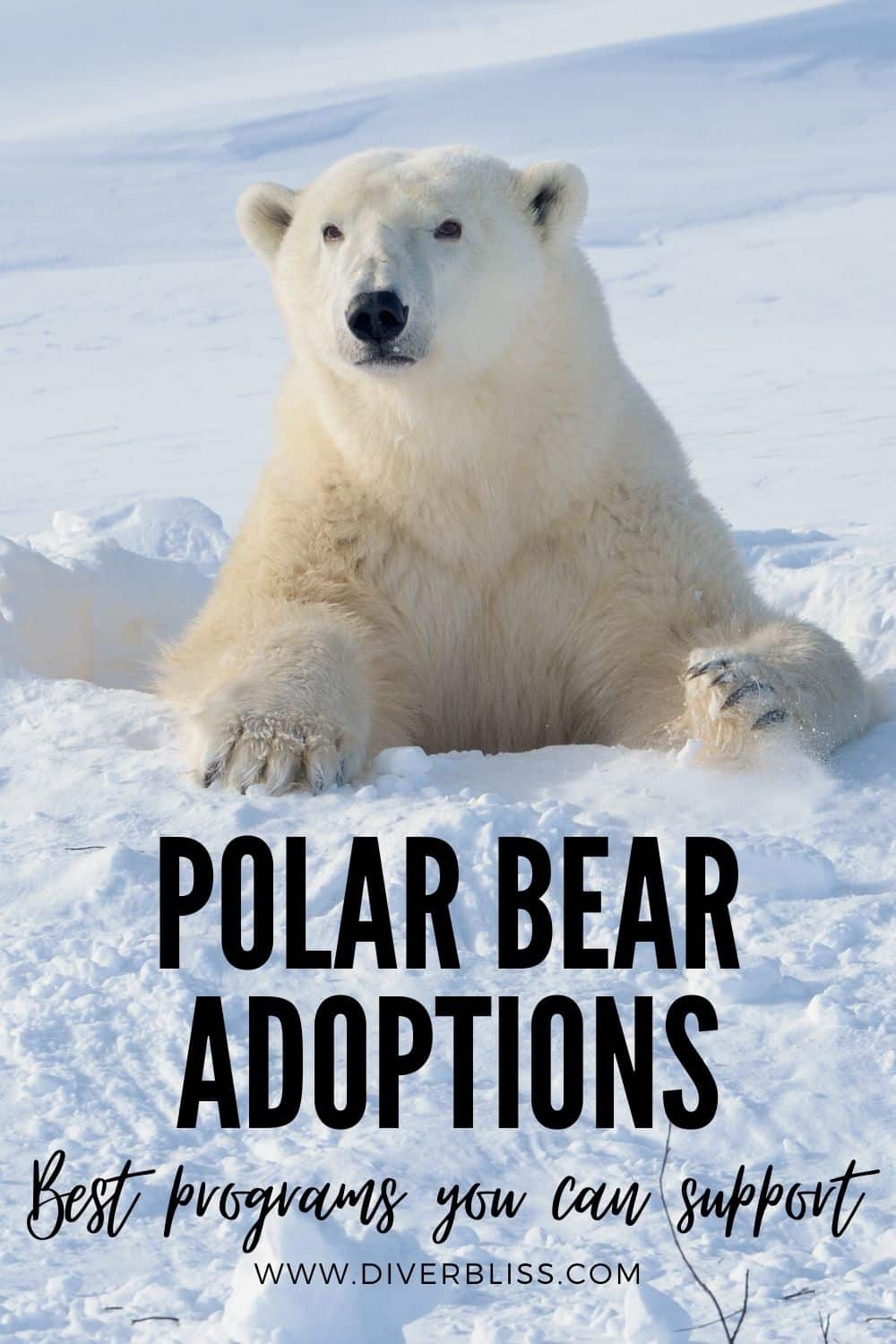 Have you symbolically adopted a polar bear before? Do you know of any other polar bear adoption programs in your own country that needs to be supported? Leave a comment below!
The links above may be affiliate links. If you shop through them, I'll earn a commission at no additional cost to you. For full information, please see my disclaimer here.