This post focuses on the different adopt a seahorse programs you may want to support. It lists the different organizations that help protect and save the seahorses.
Seahorses are considered to be one of the most fascinating creatures in our oceans. Unlike other fishes, seahorses are monogamous and mate for life. Then when it is time to produce offspring, the female seahorse deposits the eggs into a pouch in the male's body. This makes seahorses among the few species in which the male carries and gives birth to their young.
You can find seahorses all over the world, living in shallow tropical and temperate waters. They love to anchor themselves to seagrasses and corals. Unfortunately, due to human activities, the seahorse population continues to be threatened. Agricultural, industrial, and sewage run-off can make coastal reefs and seagrass beds inhabitable for seahorses.
Aside from the loss of habitats, seahorses are captured and sold in a massive global trade. There is a huge demand for seahorses because they are used in traditional medicine. Dried seahorses are believed to boost virility and cure impotence.
If these continue, seahorse populations will severely decline and it might be too late.
Seahorses prey on bottom-dwelling organisms and in turn, they are preyed upon by other sea creatures. Removing them from their habitats disrupts or causes an imbalance in the ecosystem. This is why it is important to protect them.
And also, because they're just darn cute!
If you would like to help save a seahorse, you can symbolically adopt a seahorse through ocean conservation groups. Seahorse adoptions mean you are supporting an organization that works toward the protection of these species.
These marine conservation organizations have made it their mission to protect the seahorse species through various research, education, and conservation programs. They are among the best ocean-focused foundations that encourage ordinary citizens to get involved.
For an affordable adoption fee, you, your family, or your friends, can sponsor a seahorse that needs your help. Schools, companies, or organizations you belong to can also symbolically adopt a seahorse for philanthropic purposes.
These seahorse adoptions are also wonderful gifts for seahorse lovers. Adopt a seahorse gifts, in the form of digital files or physical presents, can easily be purchased by anyone online.
When you adopt seahorses you will not receive a real live seahorse though. After all, seahorses are better left in the wild or with experts who can properly care for them.
If you want to save seahorses, support one or all these 10 adopt a seahorse programs instead. Keep reading to find out where you can adopt a seahorse, what perks you will receive by adopting them, and how much is it to adopt the seahorses.
1. World Wildlife Fund- Seahorse adoption kits
"World Wildlife Fund (WWF) works in nearly 100 countries and is supported by more than 1 million members in the United States and more than 5 million globally. Your donation provides general support and makes you a member. 83% of spending is directed to worldwide conservation activities."
Why you'll love adopting a seahorse from WWF:
The basic seahorse adoption kit includes an adoption certificate and photo, a species card and gift box.
You can upgrade your adoption and receive a seahorse plushies in your adoption package
You can also virtually adopt a seahorse and this package includes a donation to WWF. You will receive a seahorse themed email certificate. This option is great if you want to donate but do not want to receive gifts and trinkets.
Adoption Price: $25-$250
---
2. Mote Marine Laboratory and Aquarium- Adopt a seahorse
"At Mote, we're doing our part to help support seahorse populations by breeding seahorses and reducing the number that needs to be collected from the wild. Our seahorses are helping us understand more about the sea every day"
Why you'll love adopting a seahorse from Mote:
Money raised from the Adopt a Seahorse program directly benefits Mote Aquarium and the animals inside it
Entry level adoption includes an adoption certificate, a letter from the caregiver and a photo sent to you via email
Option to get a seahorse adoption kit which includes a personalized adoption certificate, a letter from the animal's caregiver, a photo of a seahorse with a fact sheet, and a seahorse plush toy
Adoption Price: $30 – $100
---
3. Seahorse Trust- UK Seahorse adoption scheme
"We have, through the work of The Seahorse Trust, found seahorses all around the British Isles. In 2008, after much campaigning, we ensured they are all protected under the Wildlife and Countryside Act."
Why you'll love adopting seahorses from Seahorse Trust:
Receive an information card of a specific seahorse you adopt, a Seahorse Trust pinbadge, a certificate of your seahorse adoption, a Seahorse Trust sticker, and a fluffy seahorse toy
Choose from a roster of 10 seahorse individuals found in UK waters
Donations can be claimed as a Gift Aid in the UK
Adoption Price: £24 for a minimum of 6 months
---
4. Seahorse Hawaii Foundation- Adopt and release a seahorse in the wild
"The Seahorse Hawaii Foundation is dedicated to saving the Art of the Sea through education, ocean conservation, propagation and release back into the ocean of the highly endangered Seahorses, Sea Dragons and Decorative Reef Fish. The Seahorse Hawaii Foundation currently has "The Worlds' Largest Living Gene Bank of Endangered Seahorses"
Why you'll love Seahorse Hawaii Foundation's Seahorse Adoption Program:
The Adopt a Seahorse Program is dedicated to releasing 50 pairs of seahorses each year in Marine Protected Areas (MPA's)
Dedicated to re-establishing seahorses in pristine reefs around the world, specifically in Puako, Hawaii, Tavarua, Fiji and Fua a motu,Tonga.
Contribution to the program is tax-deductible contribution as SHF is a 501(c)3 organization
Adoption Price: $2500
---
5. Dorset Wildlife Trust- Adopt a seahorse UK
"Your adoption will help us lobby for effective management of our Marine Protected Areas, enabling us to work with regulators and stakeholders to ensure the future of healthy seagrass meadows in the Studland Bay MCZ."
Why you'll love to adopt a seahorse from Dorset Wildlife Trust
100% of your seahorse adoption fee goes towards the Dorset Marine Conservation Fund which helps fund surveys and data gathering as well as increase the awareness of Dorset's marine environment.
Your seahorse adoption pack is immediately emailed nothing is physically shipped which reduces your carbon footprint.
Receive a digital certificate and seahorse leaflet
Donations can be claimed as a Gift Aid in the UK
Adoption Price: £15.00
---
6. Dolphin Discovery Center- Adopt a herd of seahorses
"Our Seahorse Conservation Project involves our dedicated Aquarist team breeding these amazing animals to supply to aquariums, therefore reducing demand for wild animals to be captured."
Why you'll want to support the seahorse adoption program with Dolphin Discovery
Your seahorse adoption helps fund the Seahorse Breeding Project which helps in the recovery of seahorse populations around the world.
Get to visit your herd of seahorses in their stable at the Bunbury Dolphin Discovery Centre
Choose from four different levels of seahorse adoptions suitable for individuals or groups
E-adoption entitles you to a photo of your stable of seahorses; fact sheet on the program; printable certificate; and eNewsletter, which you will receive within 48 hours
Adoption Price: $50-500
---
7. Marine Discovery Centre- Adopt and name a seahorse
"The Marine Discovery Centre is devoted to the preservation of our coastal environment. By educating students from an early age using engaging and discovery-focused experiences, we are committed to the protection of our coastal areas for many years to come."
Why you'll love adopting a seahorse from Marine Discovery Centre:
You will be adopting and naming a Pot-bellied Seahorse, which is the largest and most commonly seen seahorse in Southern Australia
Receive a personalised photograph and certificate of your creature, a signage within the Marine Discovery Centre with the chosen adopted name of your creature, a marine storybook featuring South Australian marine creatures
Visit and interact with your adopted seahorse when you visit the Marine Discovery Centre
Your donation goes towards providing quality care for the animals in the aquarium and educating the community about South Australia's marine environment
Adoption Price: AUS 50.00
---
8. Loveland Living Planet- Seahorse adoption packages
"When you visit or donate to the Aquarium, you become part of the effort to protect ecosystems across the globe."
Why you'll love the adopt a seahorse program in Loveland Living Planet Aquarium:
Choose from 4 different seahorse adoption packages
The most basic adopt a seahorse package includes an seahorse fact sheet, a personalized certificate of adoption, a colored photo of your seahorse, a magnet, and your name featured on the LLPA website and Adoption Wall.
Upgrade your seahorse adoption package and receive gift items like a seahorse plush toy, LLPAA bag, and 2 tickets to Loveland Living Planet Aquarium
Adoption Price: $25-$250
---
9. Florida Oceanographic Society- Seahorse adoption program
"Florida Oceanographic's Animal Adoption Program is a great way to support the Coastal Center."
Why you'll love adopting a seahorse from Florida Oceanographic Society:
Receive a seahorse Adoption Certificate, a seahorse Fact Sheet, a Subscription to e-newsletter, a Florida Oceanographic post card, and a plush Seahorse
A portion of your donation goes towards supporting animals that are being cared for by Florida Oceanographic Society
Adoption Price: $25
---
10. St. Augustine Aquarium- Adopt a Hippocampus erectus seahorse
"When people see and understand these incredible creatures, they will realize how critically important it is to protect them."
Why you'll love to adopt a seahorse at St. Augustine Aquarium:
The adoption includes a downloadable adoption certification and a Hippocampus erectus seahorse photo with description, and admission ticket to St. Augustine Aquarium
100% of your donation supports the aquarium by providing a wide variety of items such as fish-care services, food, equipment, supplies, aquarium programming, and ongoing expansion efforts
Adoption Price: $25
---
If you love supporting organizations that help our ocean, you should also check out these posts:

Adopt a Wild Animal and Track It: 11 Wildlife Adoptions for Ocean Lovers
10 Best Adopt a Shark Programs That Are Fin-tastic
10 Best Adopt a Sea Turtle Programs That Are Turtley Awesome
10 Best Adopt a Whale Programs That You Whale Love
10 Best Adopt a Dolphin Programs You Should Support
10 Best Adopt a Whale Shark Programs That Protect Them
10 Best Adopt a Penguin Programs That Save The Adorable Sea Birds
10 Best Adopt a Coral Reef Programs That Save Our Oceans
10 Best Adopt A Seal Program That Will Have Your Seal of Approval
9 Best Adopt a Manta Ray Programs You Can Support
8 Best Adopt an Octopus Programs for Cephalopod Lovers
8 Best Adopt a Polar Bear Programs that are Bear-y Cool
7 Best Adopt a Manatee Programs

22 Amazing Ocean Companies Saving Our Seas
10 Saving The Ocean Bracelets You'll Want to Wear and Share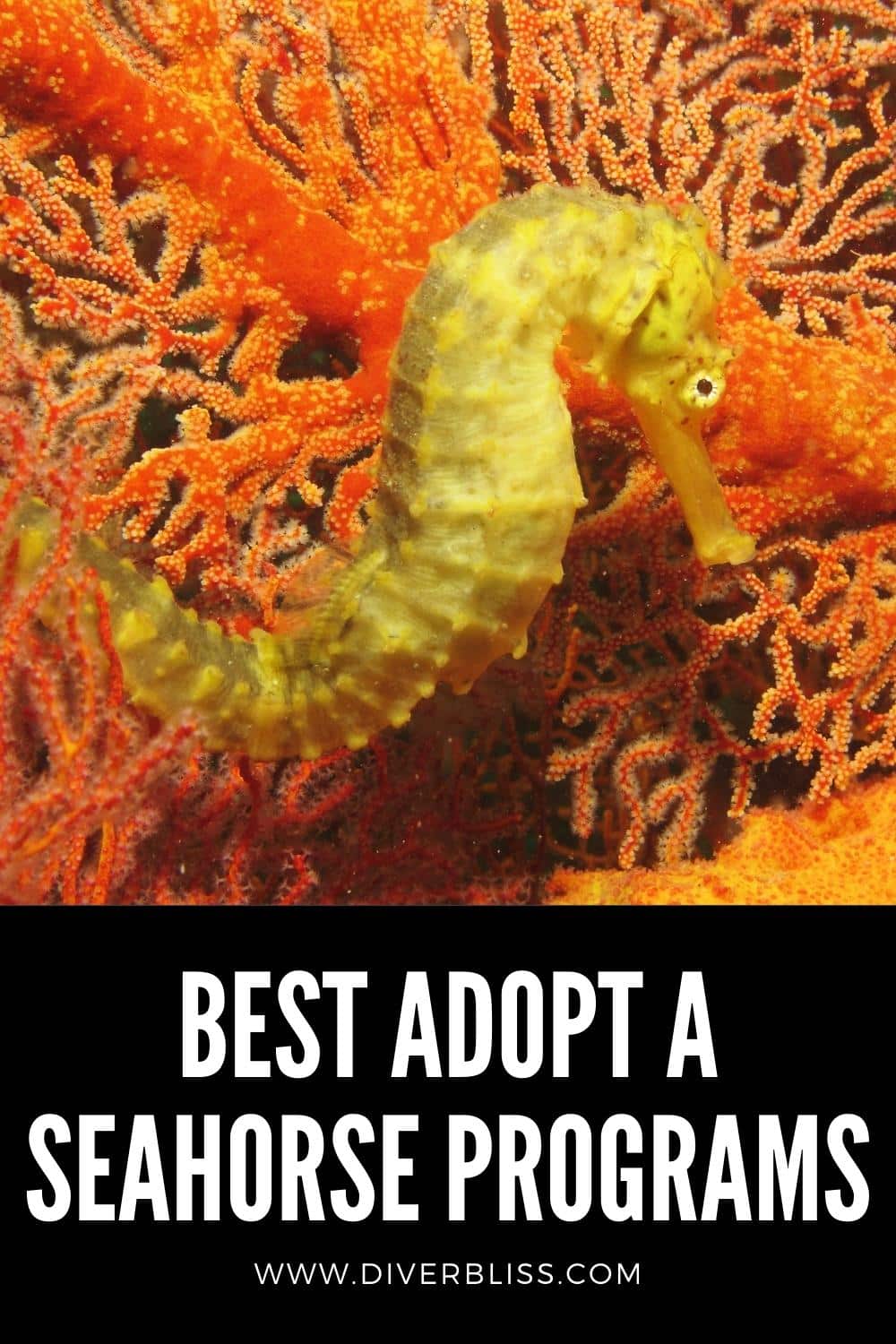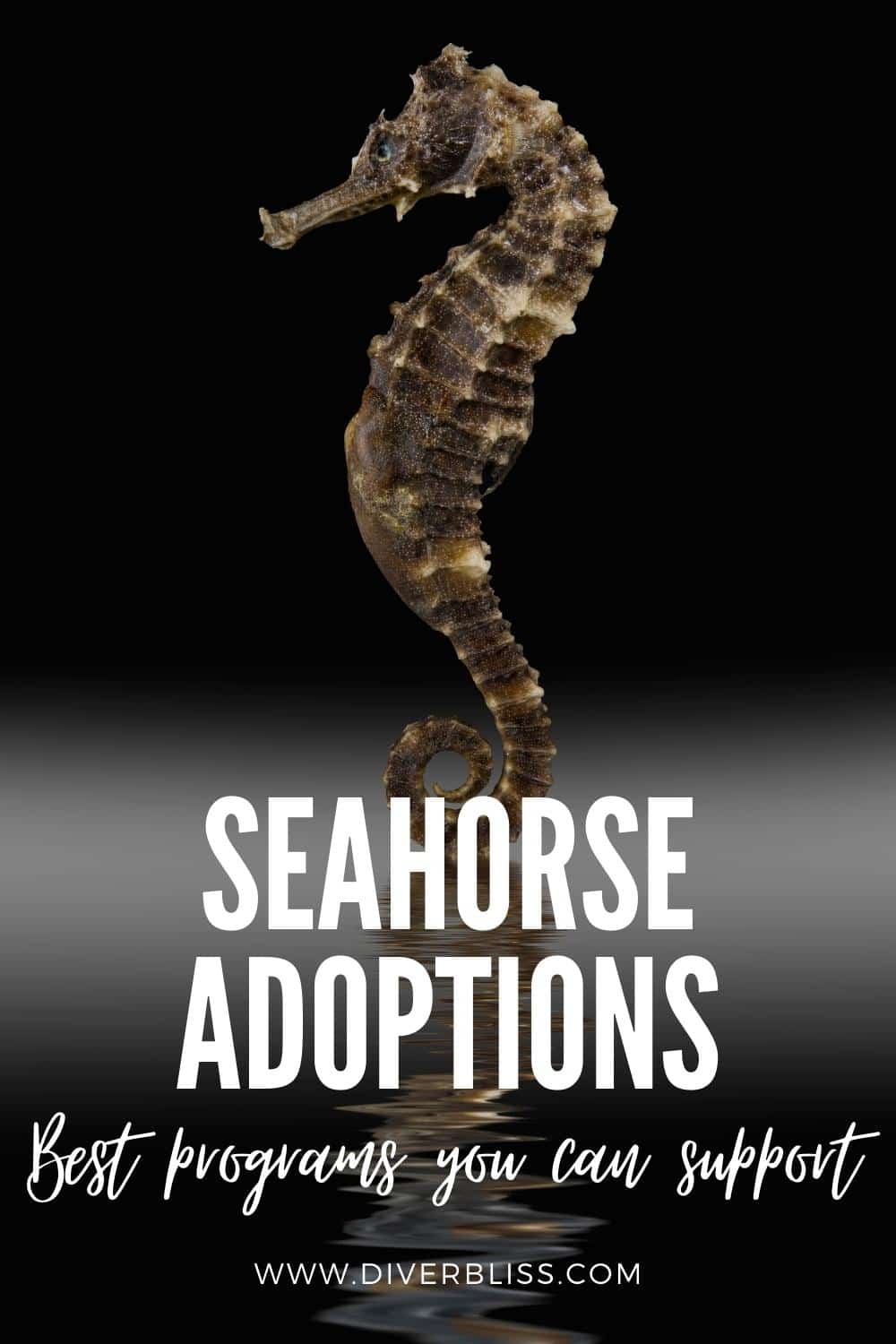 Have you symbolically adopted a seahorse before? Do you know of any other seahorse adoption programs in your own country that needs to be supported? Leave a comment below!