This post focuses on the different adopt a shark programs all over the world. It lists the different organizations you can support to help protect and save sharks.
The shark is one of the most loved creatures of the ocean. Humans love sharks so much that for centuries they've been hunted for their fins and meat.
For a species known to be older than dinosaurs, sharks are now disappearing at an alarming rate. It is estimated that more than 100 million sharks are killed annually because of "finning" practices.
There are more than 500 known species of sharks living in our oceans today. Each one plays a crucial role in the ocean's ecosystem. The decrease in shark populations has a cascading negative effect on our planet, which is why it is important to protect them.
Learn more about sharks by reading these 35 Fun Facts About Sharks.
If you would like to help save sharks, you can symbolically adopt a shark through non-profit ocean conservation groups. Shark adoptions mean you are supporting an organization that does care for them.
These marine conservation organizations have made it their mission to protect sharks through various research, education, conservation, and tagging programs. They are among the best shark foundations that encourage ordinary citizens to get involved.
For an affordable adoption fee, you, your family or friends, can sponsor a shark that needs your help. Companies or other organizations can also adopt a shark if they would like to engage in philanthropic efforts. These symbolic shark adoptions are wonderful gifts for shark lovers.
If you would like to save the sharks, here are the 10 best adopt a shark programs you can support today.
1. Shark Trust – Adopt a shark species
"We believe the best way to safeguard the future of sharks is through a solutions-based approach that promotes positive change. We achieve this through science, education, influence and action."
Why you'll love to adopt a shark from Shark Trust
Instead of adopting a single animal, your donation will help fund vital shark research and campaigns around the world
Choose from 4 adoption programs: Adopt a Basking Shark, Adopt a Whale Shark, Adopt a Great White Shark, And Shark Adoption to stop the overfishing of Blue Sharks, Shortfin Mako, smoothhounds, catsharks and Tope, in the Atlantic
Receive a Personalised Certificate, shark poster, fact sheet about your adopted shark and research project, shark bookmark, greeting card
Adoption Price: £25-£55
---
2. Shark Research and Conservation Program- Name a tagged shark
"Many populations of sharks are in great decline and need immediate scientific and conservation attention. However, researching these apex predators is neither easy nor cheap. To ensure SRC's satellite tracking study of sharks continues, please consider adopting a shark!"
Why you'll love to sponsor a shark from Miami Shark Research
For $50 you can name your own shark and receive the scientific data collected in the field that is unique to that shark. You will be given information on the shark species, size, gender and unique tag number for the shark you name.
For $3,000, you will be given the opportunity to name your shark and follow his/her movements on our website using an interactive Google Earth map. This fee covers costs of tracking via a satelite tag.
Encourages classes, schools, groups, corporation to collectively track and adopt a shark
Adoption Price: $50 and $3000
Miami Shark Research and Conservation Program collaborates with ocean-conscious companies like Waterlust to promote shark conservation.

If you're looking for cool gifts for divers and ocean lovers, Waterlust sells Tiger Shark apparel guaranteed to make you look good and feel good. 10% of profits from your purchase will go directly towards the Shark Research and Conservation Program (SRC) 
---
3. Saving the Blue- Tagged shark adoptions
"Our mission is to recover and restore a variety of threatened marine species while connecting people to ocean wildlife. We aim to promote green, sustainable living, through education, and outreach, both in-person and online."
Why you'll love the shark adoption program of Saving the Blue
Adopt individual sharks
No one else in the world will have the same tagged shark as yours
Choose from a list of different shark species that's been tagged
You will be sent a unique adoption certificate and tag ID
Your adoption certificate will be sent as a PDF to your email address
Adoption Price: $50-$2000
Saving the Blue has a collaboration with Fahlo where you can buy a bracelet with a real shark to track. If you are looking for a Shark Tracking Bracelet, check out The Voyage Bracelet.

(Use the code: DIVERBLISS20 to get a discount on your order.)
---
4. Defenders- Shark adoption to fight finning
"Your adoption supports Defenders' work to pass laws outlawing shark finning and the sale, possession and trade of shark fins in many states and countries. We also work through the Convention of International Trade in Endangered Species (CITES) to put a stop to unregulated shark fin trade, and gain greater protection for declining shark species."
Why you'll love to sponsor a shark from Defenders
Basic adoption includes a certificate and photo
Upgrade your adoption to include a shark plush toy
Gifting options available
Adoption Price: $25-75
---
5. Shark Angels- Name and adopt a shark
"By adopting a symbolic shark, you are helping to support our efforts to raise awareness of the critical issues sharks face and by doing so, protect these and other threatened species."
Why you'll love the shark adoption program of Shark Angels:
All shark adoptions include the options to name your shark
Be featured on the "shark adoption wall" which lists all other adopters
Choose from 3 levels of adoption: Virtual Symbolic Shark Adoption, Original Shark Adoption, Shark Adoption Deluxe Package
Adoption Price: $25-$150
---
6. Shark Steward- Adopt a shark
"Donations go to identifying and tracking reef sharks in and around marine protected areas in South East Asia, monitoring and providing data to increase permanent protection."
Why you'll love this shark adoption program from Shark Steward
Receive a custom certificate with a full color image and details
Supports dive ecotourism-based citizen science at our conservation centers
Adoption Price: $100
---
7. Oceana- Adopt a Shark
"Oceana campaigns around the world to protect and restore shark populations. Your symbolic adoption helps us push for bans on shark finning, species-specific management plans, and reduced deaths from bycatch."
Why you'll love to adopting a shark from Oceana
Includes a shark plush stuffed animal, shark cookie cutter, and personalized adoption certificate
Your donation will help protect these iconic animals from shark finning and being caught as bycatch. 
Adoption Price: $20-$75
---
8. Galapagos Conservation Trust- Adopt a hammerhead shark
"By adopting a Galapagos species, you are joining a like-minded community of people committed to protecting the Enchanted Isles and its wildlife."
Why you'll love adopting a hammerhead shark from Galapagos:
Supports the Endangered Sharks of Galapagos programme, which seeks to increase protections for shark species within and outside the Galapagos Marine Reserve
Receive a fact file full of information on hammerhead shark, a personalised certificate and a soft toy
Digital hammerhead shark adoption is also available
Option to add a book about hammerhead sharks or Galapagos
Adoption Price: £20-£35
---
9. Marine Megafauna Foundation- Adopt a whale shark
"Our work has led to whale sharks, and their habitats, receiving protection in multiple countries."
Why you'll love to adopt a whale shark from Marine Megafauna Foundation:
Receive a personalized PDF symbolic adoption e-certificate to print or forward to your gift recipient
Get a subscription to MMF's Ocean Giants Magazine & our conservation updates.
Ocean-friendly digital adoptions avoid packaging waste, and enable fast delivery
Makes for great gifts for whale shark lovers
Adoption Price: $49
---
10. World Wildlife Fund- Adopt a great white shark
"World Wildlife Fond (WWF) works in nearly 100 countries and is supported by more than 1 million members in the United States and more than 5 million globally. Your donation provides general support and makes you a member. 83% of spending is directed to worldwide conservation activities."
Why you'll love sponsoring a shark from WWF:
The basic shark adoption kit includes an adoption certificate and photo, a species card and gift box.
You can upgrade your adoption and receive a shark plushies in your adoption package
You can also Donate to WWF.  send an optional Great White Shark themed email certificate This option is great if you want to donate but do not want to receive gifts and trinkets.
Adoption Price: $25-$250
---
If you love supporting organizations that help our ocean, you should also check out these posts:

Adopt a Wild Animal and Track It: 11 Wildlife Adoptions for Ocean Lovers
10 Best Adopt a Turtle Programs That Are Turtley Awesome
10 Best Adopt a Whale Programs That You Whale Love
10 Best Adopt a Dolphin Programs You Should Support
10 Best Adopt a Whale Shark Programs That Protect Them
10 Best Adopt a Penguin Programs That Save The Adorable Sea Birds
10 Best Adopt a Coral Reef Programs That Save Our Oceans
10 Best Adopt A Seal Program That Will Have Your Seal of Approval
10 Best Adopt a Seahorse Programs You'll Love To Support
9 Best Adopt a Manta Ray Programs You Can Support
8 Best Adopt an Octopus Programs for Cephalopod Lovers
8 Best Adopt a Polar Bear Programs that are Bear-y Cool
7 Best Adopt a Manatee Programs

22 Amazing Ocean Companies Saving Our Seas
10 Saving The Ocean Bracelets You'll Want to Wear and Share
Pin this for later!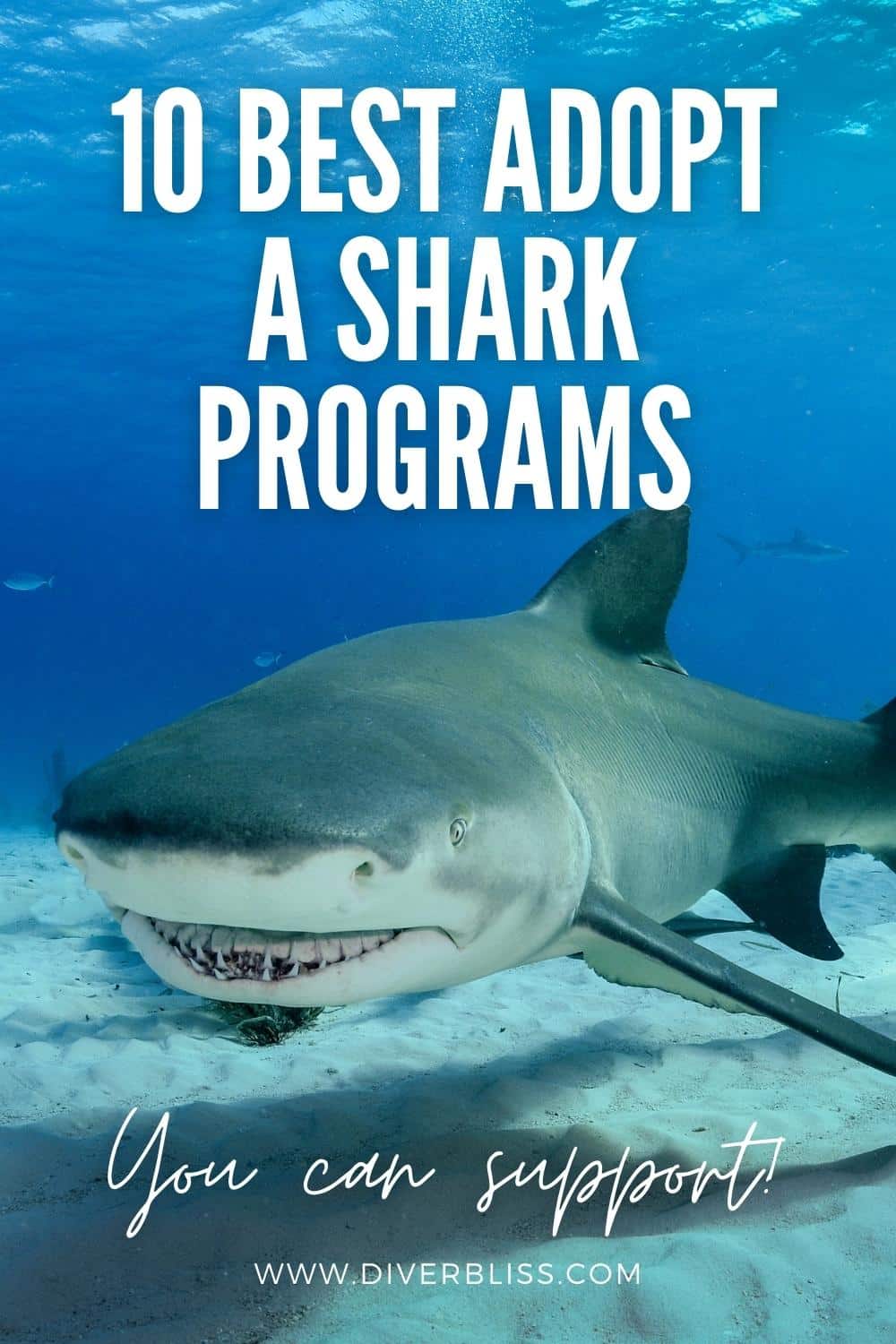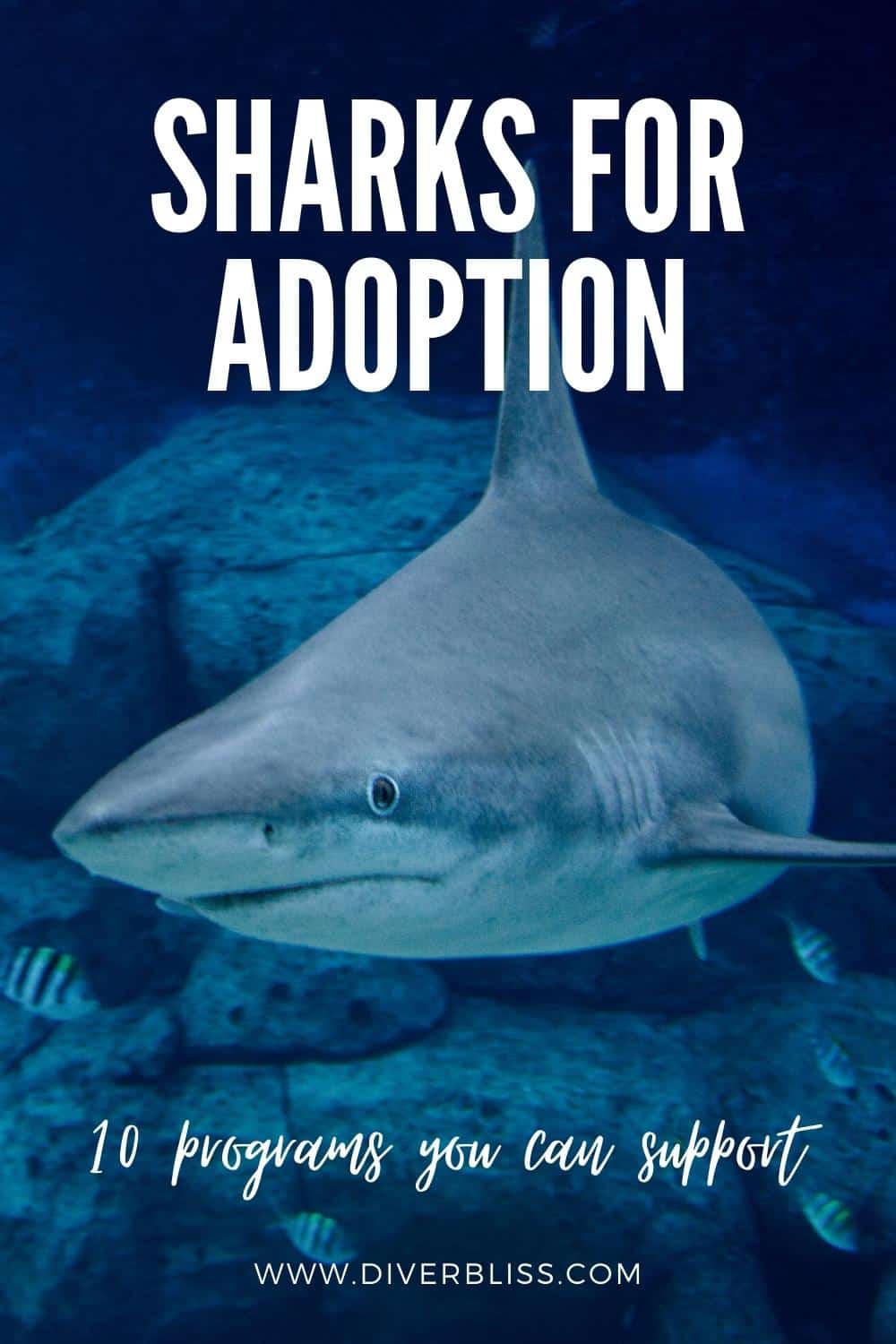 Have you adopted a shark before? Do you know of any other shark adoption programs in your own country? Leave a comment below!