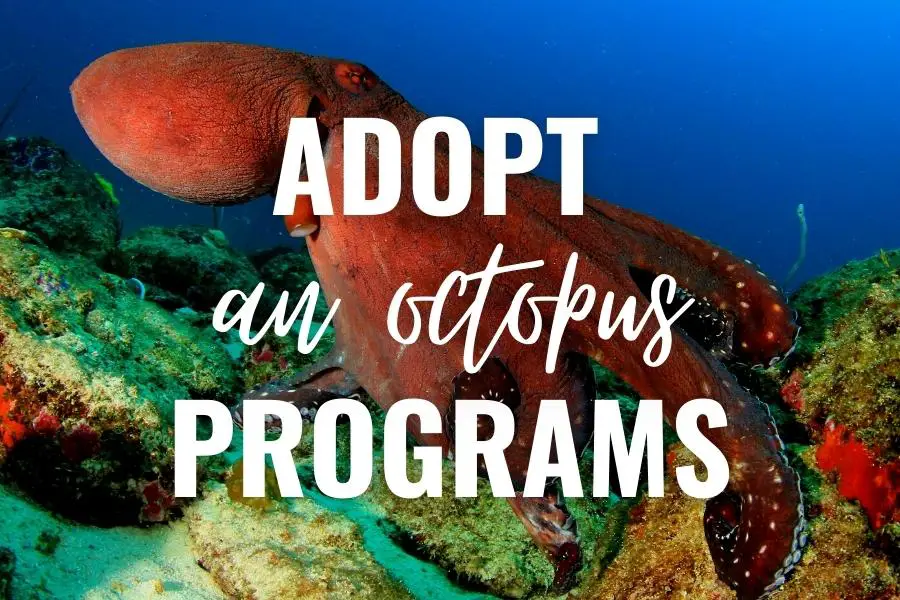 The links below may be affiliate links. If you shop through them, I'll earn a commission at no additional cost to you. For full information, please see my disclaimer here.
This post focuses on the different adopt an octopus programs all over the world. It lists the different organizations you can support to help protect and save octopuses.
The octopus is considered one of the most smartest animals on the planet. But despite their eight strong tentacles and ability to camouflage, these agile cephalopods cannot escape the destruction caused by humans.
Octopuses continue to be vulnerable to overfishing, by catch and habitat destructions. Pollution, bottom trawling and climate change continue to threaten their lives and their homes.
There are more than 300 known species of octopuses living in our oceans today. Each one plays a crucial role in the ocean's ecosystem. The decrease in octopus populations has a cascading negative effect on our planet which is why it is important to protect them.
If you would like to help save an octopus, you can symbolically adopt an octopus through non-profit ocean conservation groups. Octopus adoptions mean you are supporting an organization that works toward the protection of these species.
These marine conservation organizations have made it their mission to protect the octopus species through various research, education, and conservation programs. They are among the best ocean-focused foundations that encourage ordinary citizens to get involved.
For an affordable adoption fee, you, your family or friends, can sponsor an octopus that needs your help. Schools, companies or other organizations can also symbolically adopt an octopus if they would like to engage in philanthropic efforts.
These symbolical octopus adoptions are also wonderful gifts for octopus lovers. They can easily be purchased online. Adopt an octopus gifts may be in the form of digital files or physical presents that will be mailed to you.
And no, you will not be sent a real live octopus when you adopt one!
If you would like to save an octopus, here are the 8 best adopt an octopus programs you can support today.
1. World Wildlife Fund- Octopus adoption kits
"World Wildlife Fond (WWF) works in nearly 100 countries and is supported by more than 1 million members in the United States and more than 5 million globally. Your donation provides general support and makes you a member. 83% of spending is directed to worldwide conservation activities."
Why you'll love WWF's octopus adoption kits:
The basic octopus adoption kit includes an adoption certificate and photo, a species card and gift box.
You can upgrade your octopus adoption kit and receive a octopus plushies in your adoption package.
You can opt to simply virtually adopt an octopus where you'll be sent an octopus-themed email certificate This option is great if you want to donate but do not want to receive gifts and trinkets.
Makes a wonderful gift for scuba divers who love octopuses
Adoption Price: $25-$100
---
2. Oceana- Adopt an octopus gift packages
"Oceana works to protect marine animals such as the octopus from harm by stopping cruise ship pollution and advocating for clean, safe energy solutions. All donations go toward making our world's oceans healthier and safer, for generations to come."
Why you'll love adopting an octopus from Oceana:
Your donation will help protect octopuses whose habitats are being destroyed by boats that trawl the ocean floor.
Different adoption prices that includes octopus-inspired gifts like an octopus cookie cutter or octopus plush toys
All adoption packages include a personalized adoption certificate
Adoption Price: $35-$100
---
3. Loveland Living Planet Aquarium- Adopt a giant Pacific octopus
"When you visit or donate to the Aquarium, you become part of the effort to protect ecosystems across the globe."
Why you'll love adopting a giant Pacific octopus from Loveland Living Planet Aquarium:
Choose from 4 different octopus adoption packages
The most basic adopt a giant Pacific Octopus package includes an octopus fact sheet, a personalized certificate of adoption, a colored photo of your octopus, a magnet, and your name featured on the LLPA website and Adoption Wall.
Upgrade your octopus adoption package and receive gift items like an octopus plush toy, LLPAA bag, and 2 tickets to Loveland Living Planet Aquarium
Adoption Price: $25-$250
---
4. Mote- Adopt an octopus
"All of the money raised from the Adopt an Animal program directly benefits Mote Aquarium and the animals inside it!"
Why you'll love to symbolically adopt an octopus at Mote:
Choose from 2 octopus adoption packages
The basic octopus adoption includes a digital Adoption Certificate and a photo of the animal with fact sheet
Upgrade your donation to receive an adopt-an-animal window cling, letter from the octopus' caregiver, and an octopus plushie
Adoption Price: $30-$100
---
5. National Wildlife Federation- Adopt an octopus kits
"Your adoption is symbolic and your donation will be used where it is needed most to help protect America's wildlife."
Why you'll love the symbolical adopt an octopus program of National Wildlife Federation:
With every octopus adoption kit donation, the National Wildlife Federation will plant one tree to help protect and restore the wild places that nurture wildlife
All adoption packages includes a certificate of adoption and an 11″x14″ full-color poster
Adopt an octopus gifts include octopus plushie and calendar for higher priced packages
Adoption price: $25-$55
---
6. St. Louis Aquarium Foundation- Sponsor an octopus gifts
"Adopt-an-Animal from the St. Louis Aquarium Foundation and your donation supports conservation efforts to protect the adopted species in its native habitat."
Why you'll love to adopt a giant pacific octopus from from St. Louis Aquarium Foundation:
Digital octopus adoption includes a printable PDF adoption certificate, 5×7 octopus photo and fact sheet, and octopus activity page

Higher tier octopus adoption packages include adoption certificates, activity pages, photos, magnetic picture frame, octopus plush, totebags and digital commemorative fish
Other species are available for symbolical adoptions
Adoption Price: $25-$250
---
7. The Zoo Society- Adopt a Giant Pacific Octopus
"The Zoo Society provide support for Zoo and Aquarium exhibits, education programs, scientific research, conservation activities, animal care, and capital."
Why you'll love the adopt a giant Pacific octopus program of The Zoo Society:
Simple donation that includes a personalized Certificate of Adoption, an octopus plush toy, an octopus fact sheet and 5″x7″ photo of your adopted octopus.
When you sponsor an octopus, you have the option to symbolically adopt other species for an affordable price
Your donation helps support Point Defiance Zoo & Aquarium in Tacoma, Washington
Adoption Price: $50
---
8. St. Augustine Aquarium- Adopt an Atlantic octopus
"When people see and understand these incredible creatures, they will realize how critically important it is to protect them."
Why you'll love to Adopt an Atlantic Octopus at St. Augustine Aquarium:
The adoption includes a downloadable adoption certification and octopus photo with description, and admission ticket to St. Augustine Aquarium
100% of your donation supports the aquarium by providing a wide variety of items such as fish-care services, food, equipment, supplies, aquarium programming, and ongoing expansion efforts
Adoption Price: $15
---
Pin this for later!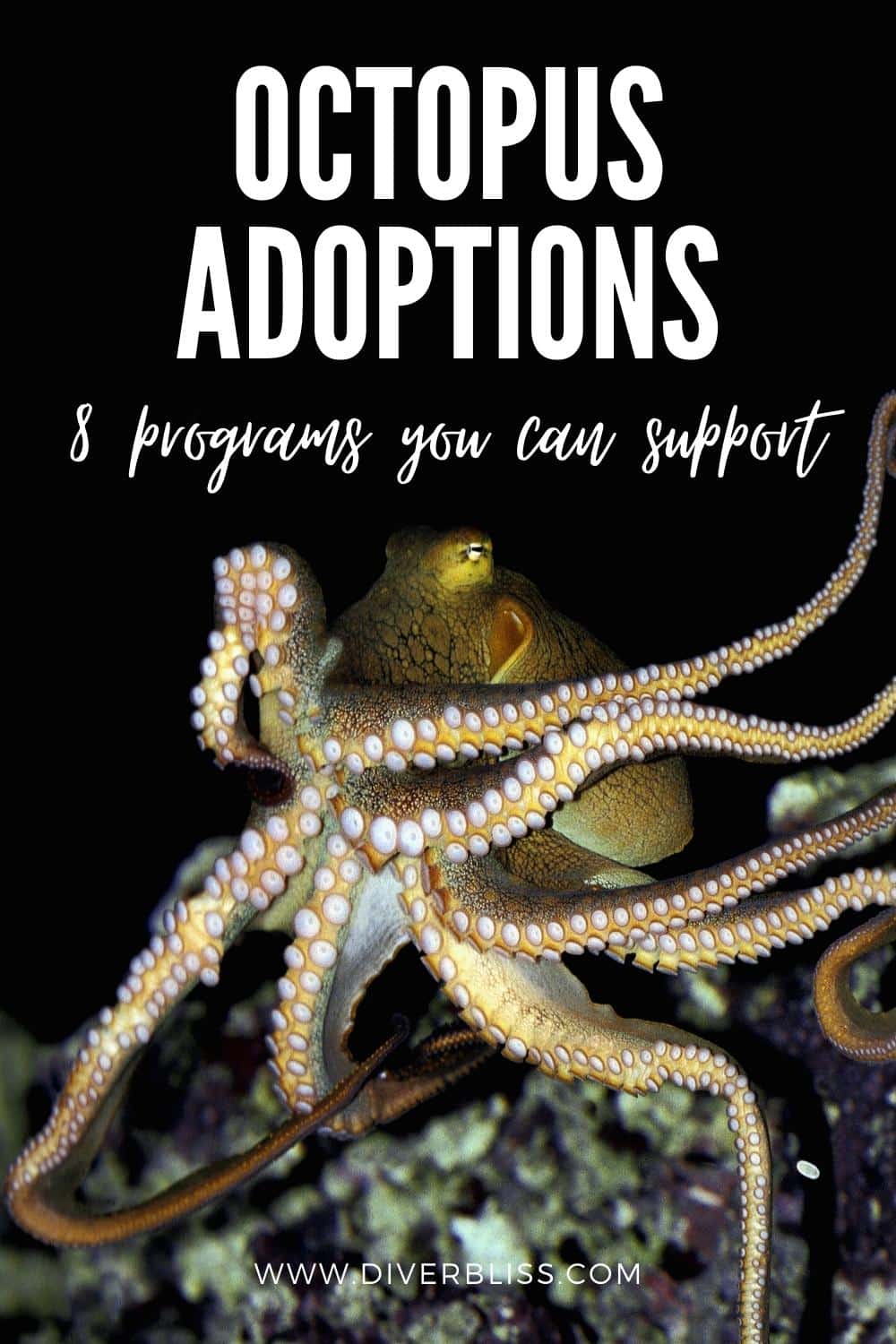 If you love supporting organizations that help our ocean, you should also check out these posts:

Adopt a Wild Animal and Track It: 11 Wildlife Adoptions for Ocean Lovers
10 Best Adopt a Shark Programs That Are Fin-tastic
10 Best Adopt a Sea Turtle Programs That Are Turtley Awesome
10 Best Adopt a Whale Programs That You Whale Love
10 Best Adopt a Dolphin Programs You Should Support
10 Best Adopt a Whale Shark Programs That Protect Them
10 Best Adopt a Penguin Programs That Save The Adorable Sea Birds
10 Best Adopt a Coral Reef Programs That Save Our Oceans
10 Best Adopt A Seal Program That Will Have Your Seal of Approval
10 Best Adopt a Seahorse Programs You'll Love To Support
9 Best Adopt a Manta Ray Programs You Can Support
8 Best Adopt a Polar Bear Programs that are Bear-y Cool
7 Best Adopt a Manatee Programs

22 Amazing Ocean Companies Saving Our Seas
10 Saving The Ocean Bracelets You'll Want to Wear and Share
Have you symbolically adopted an octopus before? Do you know of any other octopus adoption programs in your own country that needs to be supported? Leave a comment below!
The links above may be affiliate links. If you shop through them, I'll earn a commission at no additional cost to you. For full information, please see my disclaimer here.