Dive lights, also known as divers torches, underwater flashlights, scuba diving lights, are used by scuba divers to illuminate a space while exploring the underwater world. Scuba diving flashlights or dive torches are specially designed so they can be submerged for long periods of time underwater. Dive lights are not your typical waterproof flashlights as they made to withstand the water pressure at deeper depths.
Recreational scuba divers who are interested in night diving, blackwater diving, wreck diving, cave or cavern diving should have their own scuba diving light as part of their dive kit. While you can easily rent a waterproof flashlight from your dive shop, most often what they offer is pretty basic and might not be what you want or need. It is worth it to have your own dive torch especially if you want to experience the other fun aspects of scuba diving.
If you're looking to buy a dive torch for the first time or want to upgrade your current dive light, then this post if for you! I have put together 10 of the best dive lights for recreational scuba divers. Continue reading if you need help choosing which scuba light is the right one for you!
Why do divers use a dive light?
Recreational and technical scuba divers use diving lights for various reasons. While diving in the dark or in low visibility environments, dive torches can help divers see, communicate, and navigate better. Having a dive light on hand can help make their dives safer.
Dive torches are commonly used by scuba divers for night diving. However, its use is not limited to that. Even during the day, scuba divers use their underwater dive lights to explore areas where natural sunlight is not able to reach.
Scuba lights are extremely helpful for the different environments and types of diving scuba divers engage in. When they are diving in wrecks, caverns, or caves, scuba divers use their waterproof flashlights to help them see better in these enclosed spaces.
Scuba diving lights are also useful in showing the true colors you see underwater. Remember that the deeper you go underwater, the colors start to "disappear." Your waterproof flashlight can help bring back colors lost in deeper waters. This is why many underwater photographers and videographers, use powerful underwater lights to help create beautiful underwater imagery.
In your case, why and how will you be using your dive torch? Do you just need it for a night dive or do you want to use it for something more? These are just some of the things you need to consider when choosing your diving light.
What should you look for in a dive torch?
I can still remember the first dive torch I had purchased. Or rather it was purchased for me right before my first night dive in Coral Cay. I didn't know anything about waterproof lights then and they just asked me if I wanted one for Php750 (approximately USD15). Having bought regular lights for way cheaper, I thought USD15 was pricey for a flashlight that can be submerged in water.
Boy, was I so wrong. Little did I know then that it was, in fact, the opposite. What I got was a very cheap waterproof flashlight for diving.
Had I done my research first, I definitely would not have chosen that light for myself. It was bright yellow made of plastic material. It used 3 type-c batteries which made it bulky and heavy. It dimmed easily and was only really good for night diving. All, I can say is that I will not recommend it to anyone!
After that, I wised up and bought a dive torch that I'm so much more happy with. If you don't want to make the same mistakes that I did, here are the some factors and features you need to consider when buying a scuba diving light:
Brightness (Lumens)
Beam angle
Batteries and Run-time
Unique Features (Design/ Weight / Size / Colors / Mounts/ Etc.)
Price
Brightness
When it comes to assessing underwater dive lights, you will most likely encounter the term "lumens." This refers to the amount of light you are getting from a bulb. The higher the lumens, the brighter the light. The lower the lumens, dimmer the light.
Dive light brightness can go from as low as 200 lumens to as high as 20000 lumens. The ideal brightness level will vary depending on where you go diving and what kind of diving you do. For recreational fun divers, an underwater flashlight in the 700-1000 lumens range would be a good place to start for your primary or main light.
If you are diving in environments where water is clear and visibility is great, you can make do with a dive light with minimal lumens output. In some cases, 200 lumens can actually work. But while it might work, you might not be so happy with the performance.
If there are many particles in the water, making it murky, you will definitely be needing a brighter scuba light. When you dive in places where visibility is bad, you will definitely want a dive light with higher lumens rating.
As someone who has been unsatisfied with a dive torch with low lumens, I now tend to favor dive lights that can give me at least 1000 lumens. In my experience, once you've gone brighter, it's a bit harder to go back to dimmer lights. While you want something bright, just also be careful not to over do it. You also don't want to "blind" the people with you. And some animals will also flee or hide when the light is extremely powerful.
A dive torch with 1000 lumens or higher works great while scuba diving at night, entering caverns, penetrating easy wrecks, and doing some beginner level underwater photography and videography.
Recommended reading:
15 night diving tips to overcome your fear of diving in the dark
85 underwater photography tips for beginners
Beam Angle
A diver's torch beam angle determines how big or small of an area will be lit by your underwater flashlight.
Dive lights with narrow beam angles are perfect for looking into nooks and crannies. Dive torches with a narrow beam is helpful when you want to draw attention to the cool sea creatures you encounter. The concentrated light can also help in communicating better with other divers as you point out things underwater.
Diving lights with wider beam angles are perfect for extremely low light areas or conditions. Wider light beams covers a bigger area. The light is basically more spread out. If you are night diving or in enclosed spaces, a wider light beam will help you see potential hazards in your immediate surroundings. If you're into underwater videography, a wider beam is great for illuminating an bigger scene you want to capture on camera.
Mode
The most basic scuba diving flashlight will only have 1 mode which is the light you see when you turn on the device. Nowadays, dive torches can have different modes that will give you different light intensities for different dive conditions. Some dive lights will have 2 or more modes (low, medium and high light settings). Others will also have SOS mode for emergency situations.
Some divers will be happy with a flashlight with one mode, while others will be much happier with the versatility of having different settings at their convenience.
Batteries and Run Time
Your dive torch is pretty much paper weight without the batteries. You can find diving lights that run on regular disposable batteries or one that has rechargeable batteries. While rechargeable diving lights tend to be more pricey upfront, they are actually more economical in the long run. They are also better for the environment too as you are not throwing away batteries as often.
Another feature you should is if the waterproof flashlight are factory sealed or not. Some rechargeable dive lights have their batteries "built-in" so you cannot remove or swap batteries every after a dive. According to manufacturers, this lessens the possibility of water leaking in the unit. The downside of this is you might need to wait between dives to recharge the unit and enter the water with a fully-charged battery.
Another important battery feature you need to look into is the run-time or how long you are able to use the lights at its highest setting. While a typical fun dive lasts from 45 minutes to an hour, will it be able to work if you want to do longer dives? When doing your night dive, will your light be able to last long enough to accommodate your water entry and exit? Will the light last long enough to be used during an emergency situation?
Unique Features (Weight / Size / Design/ Colors / Mounts/ Etc.)
Aside from the previously mentioned factors, a good waterproof flashlight for diving is one that fits well in your hands and is easy to use while underwater. The actual user experience is one you should greatly consider. Some dive lights might be hard to control while wearing dive gloves. Or some have reported buttons or switches getting stuck.
Asses if the product size and weight will be suitable for you especially when you are carrying and wearing other gear with you. Bulky and heavier dive lights can affect the way you maneuver underwater. So find something small and compact, but powerful. If you travel often, look for a travel-friendly sized dive torch.
As you already know, scuba diving is a physically demanding activity so you should also get a dive light made with a sturdy materials. Cheaply made underwater flashlights can break easily, form cracks, and are prone to leaks. Choose one that can survive the rugged outdoor lifestyle of a scuba diver.
Waterproof flashlights for diving are often rated to 100 meters. Recreational divers can only dive up to 40 meters so depth rating on underwater torches shouldn't be much of an issue. But just to be sure, double check how deep they've been tested on.
Other features that dive lights might have that you should consider are:
colors for easier identification
having a battery light indicator so you can be warned if battery is running low
ability to switch beam angles between narrow and wide at your convenience
multi-use for different environment and dive conditions you enjoy doing
availability of other mounts so you can dive hands-free or place the flashlight somewhere else
Price
The cost is definitely a deciding factor for anyone buying a dive light. You can definitely find dive lights below $50 but when it comes to scuba gear in general, you get what you pay for. If you want to get quality lights that performs well and most important are reliable then it's absolutely worth it to pay a little bit more.
Now that I've laid out some factors you should consider when buying your primary or main dive lights, I've narrowed it down to this list. I have only included lights that have met the following criteria:
It should have at least 1000 lumens.
It has multiple modes.
It should last at least 1 hour in its highest settings.
It has a battery indicator.
It is a rechargeable dive light.
It is light-weight and compact.
Reasonably priced.
With these in mind, here are the top recreational diver lights for 2022.
Best Dive Lights for 2023
Brightness: 1200 lumens
Angle: Wide 85° beam angle with a soft edge
Modes: Level 1 (120 lumens), level II (300 lumens), level III (600 lumens), level IV (1200 lumens)
Run Time: 20 hrs on level I, 8 hrs on level II, 4 hrs on level III, 2 hrs on level IV
Switch Type: Button with battery life indicator
Depth Rating: 328 feet (100 meters)
Battery Type: rechargeable Li-ion 18650 battery
Net Weight: 5.71 oz (162 grams) including battery
Dimensions: 4.97" length x 1.40" diameter (126.3 mm x 35.5 mm)
Inclusions: Big Blue Dive Light, battery, lanyard, charger, red and Yellow filter, mounting clip
Things to love about this divers torch:
Made of anti-corrosive anodized aluminum alloy
Easily switch from narrow to wide which makes it versatile for different dive conditions

Good battery life especially at low settings

Additional accessories like filters and mounting clips included
Has a built-in

SOS / emergency settings
Why you might not love this divers torch:
The price may not be within your budget
---
I have tried and tested a similar Big Blue dive light and I absolutely love using it. Very handy not just for night dives, but also penetrating easy wrecks, and while doing underwater photography. I've been using mine for more than three years now and take it with me in every dive. I highly recommend this brand. Here's a video of Big Blue 1200 lumens dive light during my night dives in the Philippines.
Brightness: 1200 lumens
Angle: 60-degree flood and 12-degree spot underwater beam angles
Modes: floodlight (1200 lumens), spotlight (500 lumens_
Run Time For Floodlight: 1 hour 10 minutes at 1200 lumens, 2 hours 20 minutes at 600 lumens, 4 hours 4 minutes at 300 lumens
Run Time for Spotlight: 1 hour 50 minutes at 500 lumens, 3 hours 40 minutes at 220 lumens, 7 hours 20 minutes at 125 lumens
Switch Type: Buttons and magnetic slide control
Depth Rating: 328 feet (100 meters)
Battery Type: 2 Lithium-ion batteries
Net Weight: 8.96 oz (254 grams)
Dimensions: 4″ length x 2.1″ diameter (101.6 mm x 53.4 mm)
Inclusions: Sola Dive 1200 S/F Light, Batteries, Charger, Handstrap
Things to love about this scuba diving light:
Dual beams (wide and spot) and multiple power settings (high, medium, low) for each mode
Includes hand-strap mount for hands-free mobility
Compatible with other mounts (ball mount, pistol grip, YS mount, and Locline) used by different kinds of divers
The magnetic slide makes it easy to control even with gloves on.
Factory-sealed batteries are built-in
Why you might not like this scuba diving light:
Built-in batteries so might need some time to recharge between dives.
Has had complaints of flooding
---
Brightness: 1300 lumens
Angle: 8-degree angle, narrow, long-range beam angle
Modes: 2 lighting modes, the high mode 1300 lumens and the low mode 380 lumens
Run Time: 1 hour 25 minutes on full power, 4 hours 30 minutes on low power
Switch Type: Side button switch with battery level indicator
Depth Rating: 492 feet (150 meters)
Battery Type: 18650 Li-ion rechargeable battery (3400mAh)
Net Weight: 4.8oz or 136grams (excluding battery)
Dimensions: 5.59" length x 1"diameter x 1.4" diameter head (142mm × 25.5mm × 35.5mm)
Inclusions: Orca D530 dive lights, 18650 USB rechargeable Li-ion battery (3400mAh), charging cable, lanyard, three waterproof o-rings
Things to love about this diving light:
A narrow beam is great to see into holes, caves, and cracks
Safety lock function to prevent the flashlight from turning on accidentally (ex. While in your travel bag)
Can easily be charged using a USB micro cable so you can even charge using your laptop or power bank while on the go.
Works well as a primary and a secondary dive torch
Affordable price
Why you might not like this diving light:
A narrow beam isn't so great if you want to do underwater videography for a large area
Slow charging via USB micro cable
---
Brightness: 2000 lumens
Angle: 16-degree spot beam angle
Modes: High, Medium, Low
Run Time: 1 hour 30 minutes on high, 3 hours on medium, 6 hours on low
Switch Type: Button with indicator
Depth Rating: 328 feet (100 meters)
Battery Type: 3400 mAh Lithium-Ion
Net Weight: 3.99 oz (113g)
Dimensions: 4.21" length x 1.26" diameter (107mm x 32mm)
Inclusions: Apecs luna mini dive torch, USB cable charger, wrist lanyard, Apeks branded reusable zippered case
Things to love about this scuba dive torch:
Available in 4 fun colors (Green, Purple, Orange, Gray)
Small and compact size makes it great as either a primary and a secondary torch
Dedicated SOS Strobe for emergency use in or out of the water
No need to open the torch to recharge the battery, which reduces the possibility of leaks
Can also be used outdoors for camping trips or keeping in your car in case of emergencies
Why you might not like this scuba dive torch:
Premium pricing
Might be too small for divers with bigger hands
---
Brightness: 1050 lumens
Angle: 12-100° Variable Beam Angle
Modes: High (1050 lumens), medium (525 lumens), low (315 lumens), Emergency Strobe
Run Time: Maximum of 2 hours
Switch Type: Side switch with battery indicator
Depth Rating: 328 feet (100 meters)
Battery Type: 18650 Rechargeable Li-ion battery
Net Weight: 6.8″ length x 1.7" diameter (172.7 mm x 43.1mm)
Dimensions: 9.2 oz (261 grams) without batteries
Inclusions: Tovatec Fusion 1050 Video LED Dive Light, lanyard, 18650 Li-ion battery, charger, spare o-rings, USB cable for charging, padded case
Things to love about this scuba diving torch:
Aluminum housing with rubberized Grip
Adjustable angle beam from 12° for technical diving to a wide 100° for photography or video The light head can be removed to expand the beam width to 140°
Allows you to switch between 3 lights settings and has an emergency strobe
Can be mounted on a tray arm with a Fusion light adapter (sold separately)
There is also a battery carrier for 3 x AAA Alkaline batteries (AAA batteries not included).
Why you might not like this scuba diving torch:
Short run time or battery life
---
Brightness: 1200 lumens
Angle: 10° Beam Angle
Modes: 100% / 50% / 25% / SOS / Strobe
Run Time: 1 hour 30 minutes on highest mode
Switch Type: Button with battery indicator
Depth Rating: 330ft (100m)
Battery Type: 18650 rechargeable lithium battery
Net Weight: 6.7 oz (190 grams)
Dimensions: 5.6″ length x 1.31″ diameter (142.2 mm x 33.3 mm)
Inclusions: Kraken Sports NR-1200 Diving Light, lanyard, battery (3400mAh), charging cradle, spare o-rings
Things to love about this scuba light:
Option to charge 2 ways- via a micro USB cable directly into the battery or using a regular style battery charger cradle.
5 lighting modes to choose from
Compact size and multiple light modes make it great as a main or back up dive light
Why you might not like this scuba light:
minimal 10° beam angle if you're into wide angle underwater videography
---
Brightness: 1300 lumens
Angle: 8 deg. ultra-narrow spot beam (6 deg. underwater)
Modes: full power 1300 lumens, half power 650 lumens, quarter power 325 lumens, blinking (once per second at full power), SOS (blinking signal at full power)
Run Time: 55 min on full power, 1 hour 50 minutes on half power, 3 hours 40 minutes on one-quarter power, 19 hours on Emergency Blink, 22 hours on SOS
Switch Type: Button with battery life indicator
Depth Rating: 330 feet (100.6 meters)
Battery Type: 18650 rechargeable Li-ion battery (2600mAh)
Net Weight: 6.14oz or 174 grams (excluding battery)
Dimensions: 6.2" length x 1.8" diameter (157 mm x 46 mm)
Inclusions: Sea Dragon Mini 1300S dive light, Rechargeable 18650 battery (2600 mAh), USB battery charger, USB cable, wrist lanyard w/ BCD clip, two spare o-rings, o-ring lube
Things to love about this scuba torch:
5 light modes for different conditions including emergency situation
powerful light source at 1300 lumens for a reasonable price
includes wrist lanyard and BCD clip and extra o-rings
Why you might not like this scuba torch:
run time is less than 1 hour on the 2600mAh battery
narrow-angle beam
---
Brightness: 1000 lumens
Angle: 60 degree flood underwater beam angle
Modes: High (1000 lumens), Medium (500 lumens), Low (250 lumens), Camp (125 lumens), SOS (250 lumens)
Run Time: 1 hour 30 minutes on high
Switch Type: Button with battery status indicator
Depth Rating: 394 feet (120 meters)
Battery Type: Lithium ion batteries
Net Weight: 6.28 Ounces (178 grams)
Dimensions: 4.9" length x 1.9" diameter (124.5 mm x 48.3 mm)
Inclusions: GoBe 1000 wide light head, GoBe Fast-charge body, GoBe FC USB charge cable, Lanyard
Things to love about this diver's light:
5 lighting modes
Can be mounted using a Loc-Line, Ball, YS, Bar, and Handstrap (sold separately)
Allows you to swap the lightheads to another model if you prefer a different light angle type, or intensity.
Great for lighting large areas and photo/video content
Has a patented cooling design that allows you to use it as a handheld flashlight on land
Why you might not like this diver's light:
Battery run time 
Integrated battery system- If you're taking videos and you run out of power, you have to wait to recharge instead of swapping out batteries.
---
Brightness: 2400 lumens
Angle: 12° to 75°
Modes: max power, reduced power, flashing
Run Time: 2 hours at maximum power, 5 hours at reduced power
Switch Type: electromagnetic system
Depth Rating: 328 feet (100 meters)
Battery Type: Li-Ion 26650 inside the torch, rechargeable via Micro-USB.
Net Weight: 20.95 oz (594 grams)
Dimensions: 8.1" length x 2.4" diameter (206mm x 62mm)
Inclusions: Seac R40 Dive Light, Lanyard
Things to love about this diving torch:
Very bright at 2300 lumens
Aluminum dive torch with tempered optical glass.
Zoom Adjustable light beam angles from 12° to 75°
Switch lock to prevent accidental ignition
Why you might not like this diving torch:
a bit long and heavier compared to other recommendations on this list
---
Brightness: 1000 lumens
Angle: 12° beam angle
Modes: 100%, 50%, SOS Strobe
Run Time: 1 hour on full power, 2.1 hours on half power, 3.5 hours on SOS strobe
Switch Type: Push button with battery life indicator
Depth Rating: 328 feet (100 meters)
Battery Type: IT18650-A Li-Ion 2600mAh rechargeable battery
Net Weight: (does not specify)
Dimensions: 6″ length (152.5 mm)
Inclusions: Sherwood ST1000 dive flashlight, padded case, IT18650-A Li-Ion 2600mAh battery, Charging cable
Things to love about this dive torch:
Made from Aircraft Grade Aluminum Triple Ridge Seal Integrated USB charger
Basic three modes
Simple and reliable makes it great as a primary and a secondary scuba diving flashlight
Why you might not like this dive torch:
---
Do I need to get a secondary or back up light?
For your own piece of mind and safety, having a secondary light or backup light is the smart thing to do. If you are diving at night, in caves or enclosed spaces, you should take a backup light in case something happens to your primary or main light. Dive gear can malfunction anytime. Even if you pay for a more expensive dive light, it does not guarantee your safety.
Some divers will choose a backup light that is of the same quality as their primary light. But you can also carry one that is less bright and has lesser features if you are trying to save some money. Find one that you can easily stow in your BCD pocket or clip to one of the D-rings in your BC. What's important is that it is reliable and will perform during an emergency. It should be able to help you safely exit the water should your main light fail.
Aside from carrying secondary or backup lights, you can also bring your own scuba tank marker lights. This is a small light beacon you can attach to your tank so it is easier to see divers in the water. To learn more about this diving accessory, you can check out my list of best dive tank marker lights.
How to take care of your dive light
When scuba gear malfunctions or doesn't perform as they should, often times it was because it was not properly maintained. You need to take care of your dive light the same way you take care of your other dive gear and equipment– with lots of love!
Make sure to rinse your dive light in fresh, clean water after each dive.
Dry it completely before storing it.
If batteries can be removed, take them out from the flashlight. If you don't intend to use the flashlight for months, recharge the batteries to make sure they still fully function. Batteries can die when left unused for long periods of time. Here's an explanation of why your batteries degrade over time.
When preparing your dive torch before a dive, double-check the o-rings. Grease the o-rings as recommended by the manufacturers. Make sure the o-rings are cleaned and correctly positioned. To prevent flooding, check all seals and make sure that no hair, fibers, or small particles are stuck in between any openings.
When traveling, remove the batteries to prevent your flashlight from accidentally switching on. If it has a travel mode setting, activate it. You can also use a protective case to prevent it from bouncing around your luggage while in transit.
Don't forget to fully charge your dive lights before entering the water.
Pin this for later!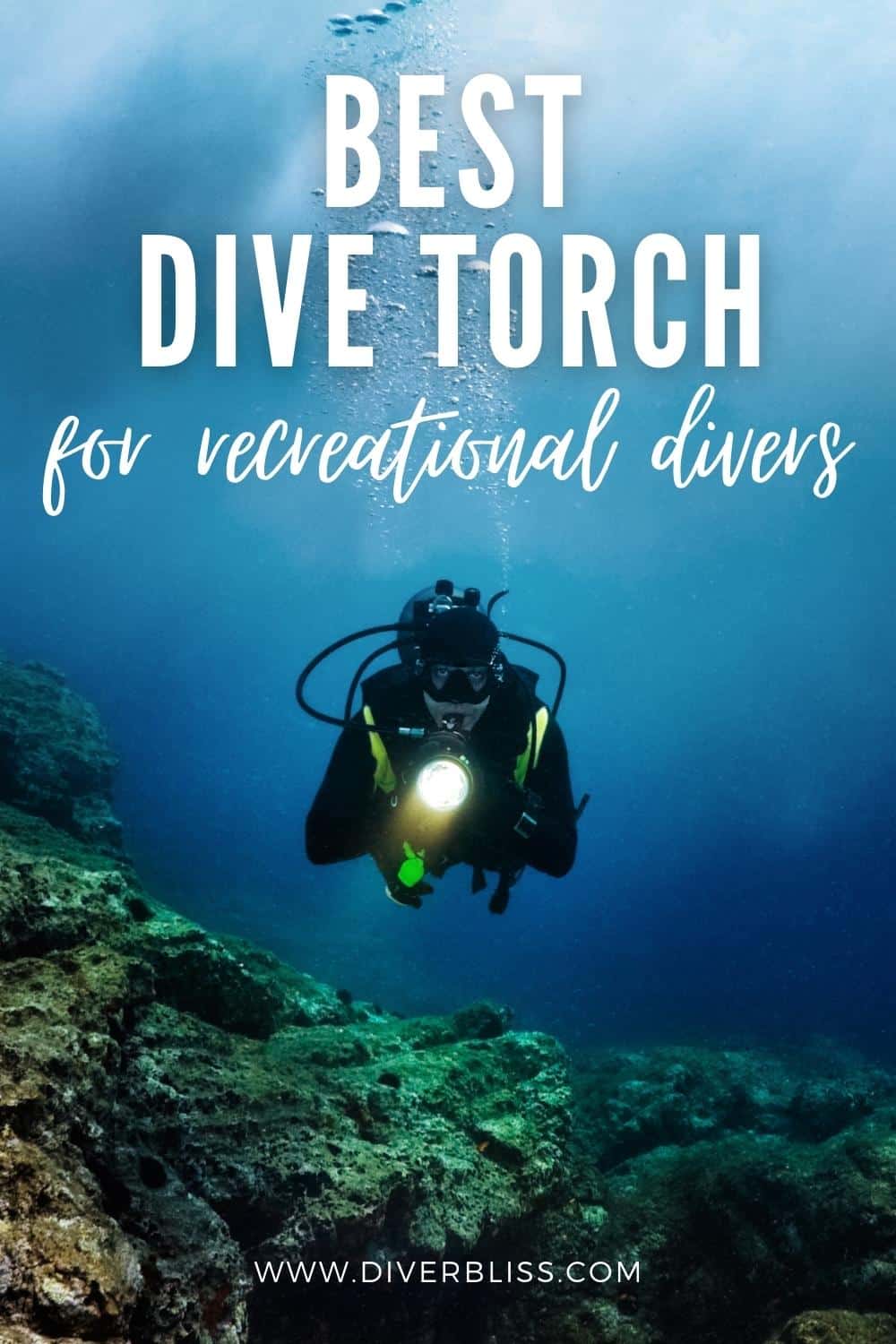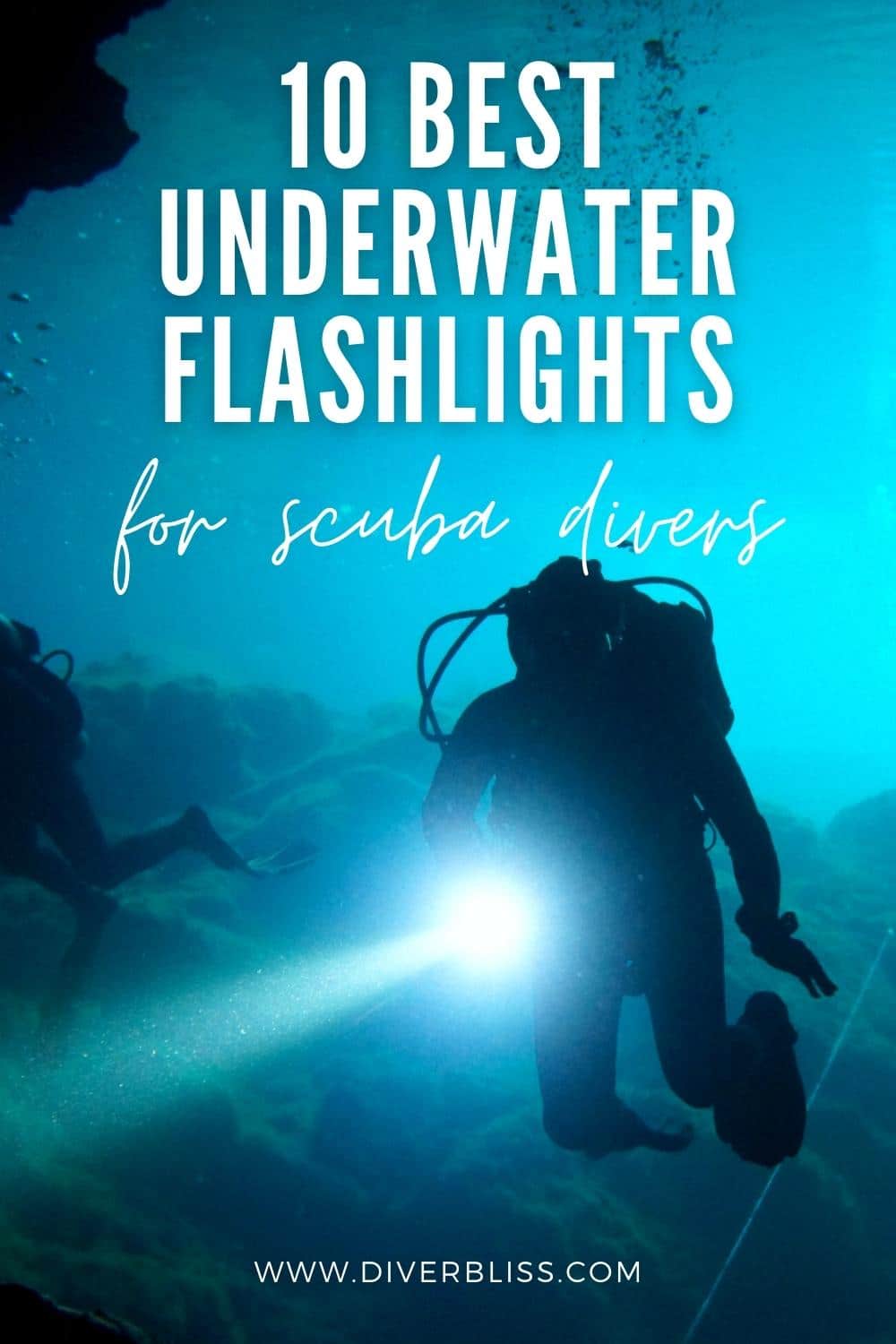 Which underwater dive light do you currently use for diving? Which of these dive lights would you want to add to your scuba kit? Leave a comment below!