Looking for a dive map to decorate a room or give as a gift to an ocean enthusiast you know? Here are the most beautiful maps of the best dive sites in the world.
---
It's 2022 and just when you thought you'd be out scuba diving once again, you find yourself still stuck at home.
You're probably sick and tired of staring at the same space all day for the past year. So why not brighten up your place with decorative elements that make you happy and excited.
A good-looking room can help get rid of any stress and anxiety. And with the pandemic and recession disrupting our lives, we definitely need to get rid of all that bad vibes.
If you can't go diving yet then let's bring the diving to you. One thing you can do to instantly elevate your personal space is by having a dive map in your room.
Benefits of having a dive map in your space
A scuba map in your home will not only brighten up your place but can also lift up your spirits. Dive maps can be a great way to enhance a color scheme in your room. It can transform a bland living space into one that is more stimulating.
A dive sites map can also serve as a beautiful souvenir of your favorite place on earth. Each time you look at a local dive map you are reminded of wonderful memories from your time in the underwater world. And this could instantaneously cheer you up!
Dive maps are also wonderful reminders of the places you've visited and the places you still plan to explore. Many individuals use push pin dive maps to indicate where they've been. It inspires them to travel to the places on their bucket list.
A map of dive sites around the world is also a wonderful tool for learning. You can find out what to expect, see, and experience by looking at a dive map.
You can easily personalize your home by displaying a dive map. For an affordable price, you can make your house homier and more "you" by adding a beautiful custom map. It can show someone that you are a scuba diver and that you enjoy scuba diving around the world.
When friends and family are able to visit, scuba diving maps are great conversation starters too. A scuba map is not your typical map so it will definitely catch your guest's attention. Diving maps can help them break the ice and initiate a discussion with you about scuba or our ocean.
Now that I've convinced you that scuba maps are pretty cool to have, here are some eye-catching dive maps that you should hang on your wall!
Dive Map by Awesome Maps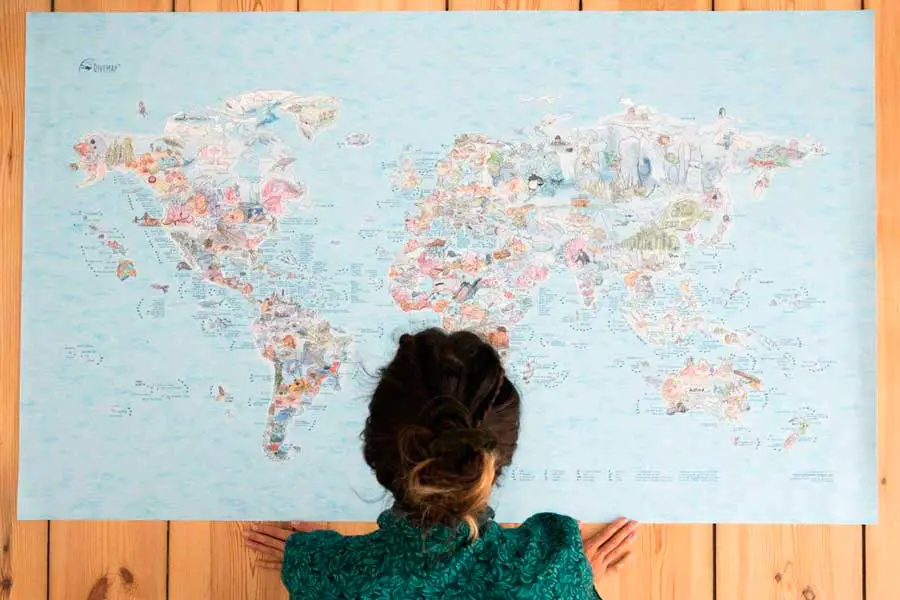 Awesome Maps is a company based in Germany that specializes in making lifestyle-based world maps. They have maps for individuals who are into specific activities and hobbies like surfing, paragliding, hiking and of course diving!
The Dive Map by Awesome Maps was hand-drawn by the team's illustrator, Lars. It features over 500 dive spots and areas around the world. This dive sites map also includes information about the type of dive and underwater features in the area.
This scuba map also shows you the diverse world of diving from tiny macro critters to the gentle giants of the sea. The wonderful illustrations and details poured into this diving map truly make it awesome. If you're looking for a map of the best dive sites in the world, this is the one for you.
The world scuba diving map is available in different mediums like paper and canvas. You can also have it mounted on a solid oak hanging frame to match the interior of your room. They also have a dive map towel and a foldable dive sites map you can take with you anywhere you go! Plan your travels and marvel at the beautiful world of diving with this Awesome Dive Map.
To get a scuba diver's opinion and perspective on this map, check out my post where I review the Awesome Maps Dive Map.
Get 10% off when you use the Magic Code: ARA
---
World Dive Maps by Salty Blue Spots
If you're looking for elegantly designed world dive maps, you can also check out Salty Blue Spots. The dive spots maps are designed by two Swiss scuba diving girls, Noemi and Manu. These talented women live in a land-locked country so they decided to create dive maps that remind them of the ocean even when they are at home.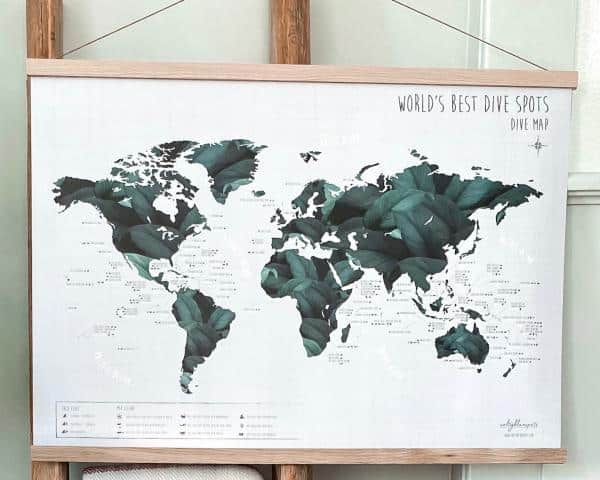 They have designed more than 20 dive maps for scuba divers around the world. They have world maps as well as dive maps for specific locations like: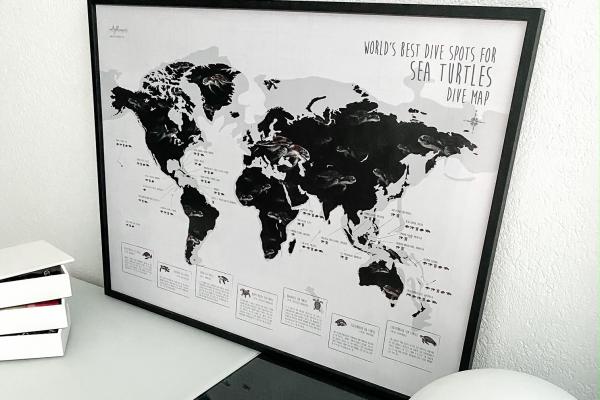 Their dive maps feature the most popular dive sites around the world, information about what to see underwater as well us the best time to go to each destination.
If you have a specific location in mind that they do not have in their current collection, Salty Blue Spots can make a custom dive map just for you!
Printed by their printing partner in Germany, the maps are only produced on demand and are FSC-certified. To be as eco-friendly as possible, your maps are also shipped climate neutral.
Salty Blue Spots world and local dive maps are essential scuba accessories for every divers home. It's a beautiful way to remind you of your favorite dive destinations anywhere in the world.
Get 10% off at Salty Blue Spots when you use the Coupon Code: DIVERBLISS
Personalized Scuba Dive Map by Wendy Gold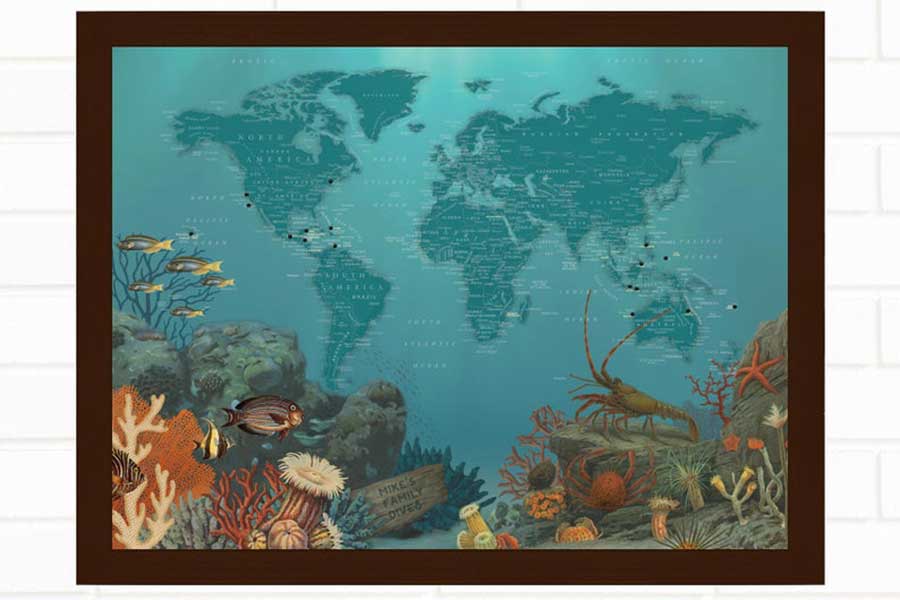 Another beautiful scuba diving map you need to check out is the scuba map by Wendy Gold. What makes this special is how you can customize the map with your name!
It highlights 21 worldwide diving locations and has beautiful underwater imagery in its foreground. You can get Wendy's world dive map in paper print, foam-mounted, stretch canvas, or framed. There are also 3 standard sizes (18″x 24," 22″x28″, 24″x36″) but you can also request bigger sizes so you can get the right size for your wall.
Wendy's dive map can also be personalized with the name of an individual, family, or couple, making it a perfect gift for those who love to experience the wonders of the sea. It already comes with map pins so you can easily mark the places you've been or plan to go next.
You might also want to check out Wendy's Ocean Current Vintage Maps. While it is not a dive map, this ocean-themed world map might be something you'll want for your home or as a gift for someone who loves the ocean.
---
Scuba Diving Maps By Great River Maps
The scuba diving maps from Great River Maps were by artist, Lisa Middleton. What started as a map restoration service for art collectors soon evolved into making custom maps for private estates, resorts, and regional attractions.
Lisa creates each piece of art with the help of cartographers, architects, colorists, and professional researchers. While she does not have an entire world dive map in her portfolio (yet!) she has beautiful maps of dive sites in the world.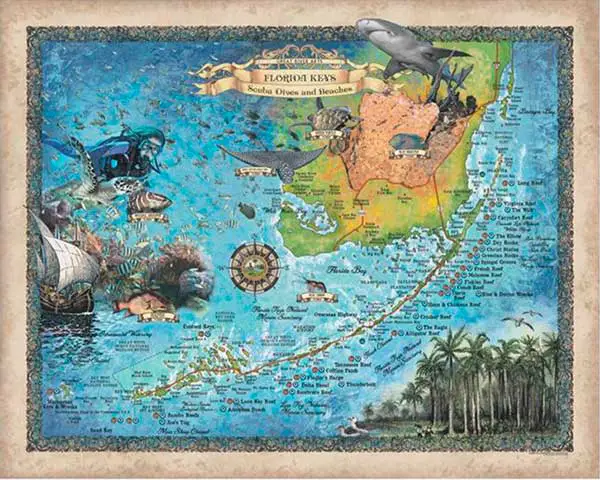 The Florida Keys dive sites map brilliantly depicts the coast of Florida. It showcases not only accurate map data but features the marine and terrestrial wildlife of the region. If you love diving or live in this part of the world, you will love Lisa's Florida dive site map.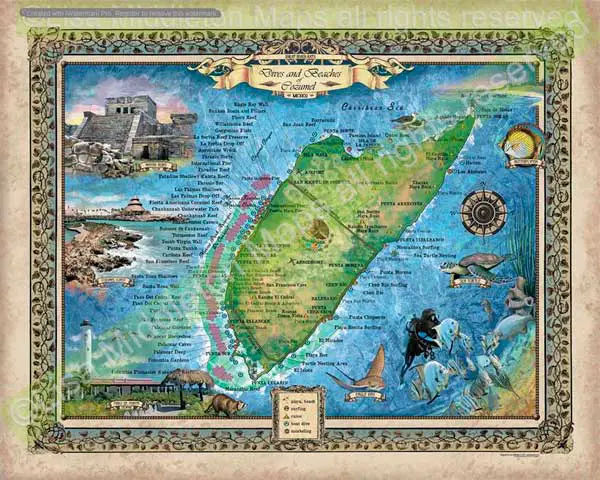 Lisa also has a Cozumel dive site map which makes a great gift for yourself or for the scuba diver in your life. It will remind you of your romantic Cozumel honeymoon or your solo travel adventure in the past. This carefully researched and exquisitely colorized scuba diving map will be a splendid addition to your room.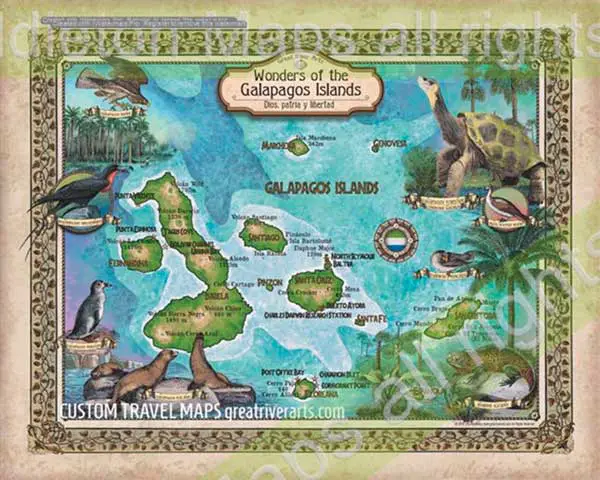 Another best scuba diving location in the world is Galapagos. If you're dreaming of this place or have fallen in love with the magical islands of the Galapagos, this might be the wall art you are looking for. Display your Galapagos islands map in your beach house or room and be reminded of the wonderful creatures you've encountered on your trip.
Lisa's scuba dive maps were hand-painted using refined watercolor techniques. When you buy her dive site map, you will receive an exact duplicate of her artwork. The maps are printed on acid-free paper made from 29% recycled material. It is available in different sizes and the printed version is perfectly consistent with the original painting.
If you want a scuba diving map like no other, you can also commission Lisa to do a completely original artwork of the dive site map. Her paintings include a certificate of authenticity and arrive numbered and signed.

---
Dive Site Maps by Gary Hovland
The maps designed by Gary Hovland feature some of the best scuba diving sites in the world like the Caribbean and Bonaire. Gary uses pen, ink, and watercolor on Arches watercolor paper to produce unique maps of the beautiful destinations on our planet. Using high-end inkjet printers and acid-free archival inks, the artworks are printed on museum-grade, archival paper.
While the maps do not include the exact dive site names in the region, his scuba diving site maps would absolutely delight any diver who has visited these places. Gary's dive maps are beautiful reminders of places that bring joy to many ocean lovers.
If you're looking for a custom map, you can contact Gary to create dive maps just for you!
---
Philippine Seas Dive Map by Daydream Republic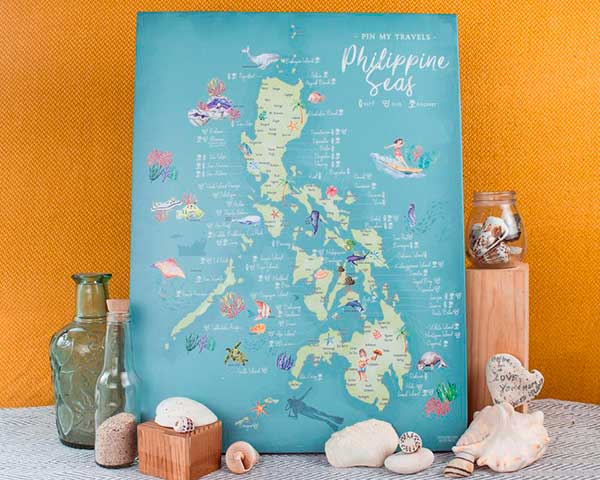 Another favorite dive map of mine, is one that features my home country, the Philippines! This dive map was designed by Daydream Republic in collaboration with Save Philippine Seas.
When you purchase a Philippine Seas Dive Map, 10% of the gross sales are donated to Save Philippine Seas' Earthducation- a program to increase conservation literacy among educators and teachers.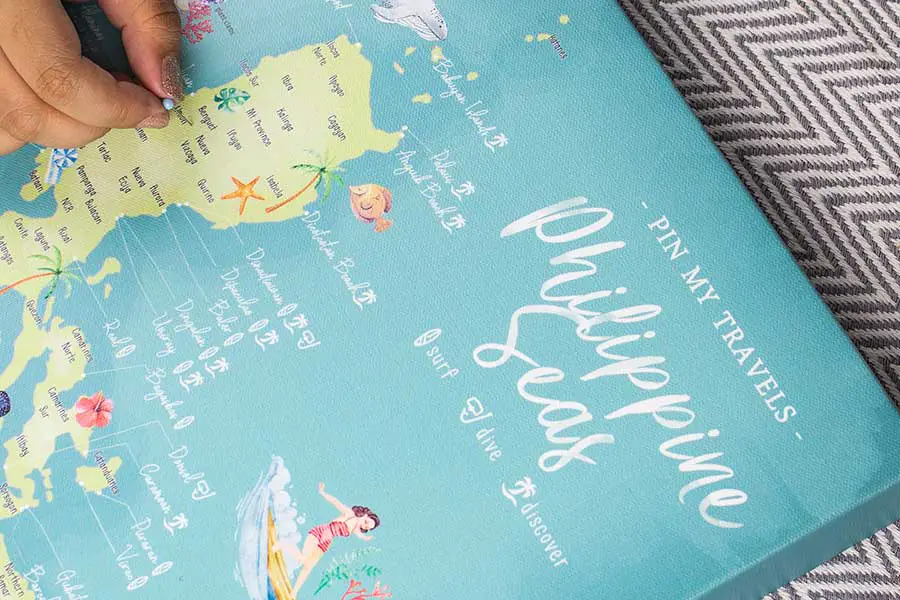 This dive map is perfect for daydreamers and travelers who love exploring the Philippines. It features the best dive spots as well as the best surfing and other travel highlights recommended by locals.
The dive sites map is printed on high-quality canvas with a corkboard underneath for easy pinning. It is secured with plywood and 1 inch-thick back framing. To make it more special, you can also personalize this Philippines diving map.
---
DIY Dive Maps
If the dive site maps above are not exactly what you are looking for, you can consider getting a travel map and making it your own.
I found these cool alternatives for people like me who love to travel and dive everywhere!
A world scratch map is an interactive way to show where you've been traveling and diving! Simply scratch off the gold coating on the map once you've visited a country. This is an ingenious way to keep track and show off your dive bucket list goals. World scratch maps are also great gifts for divers who plan to visit all countries in the world!
---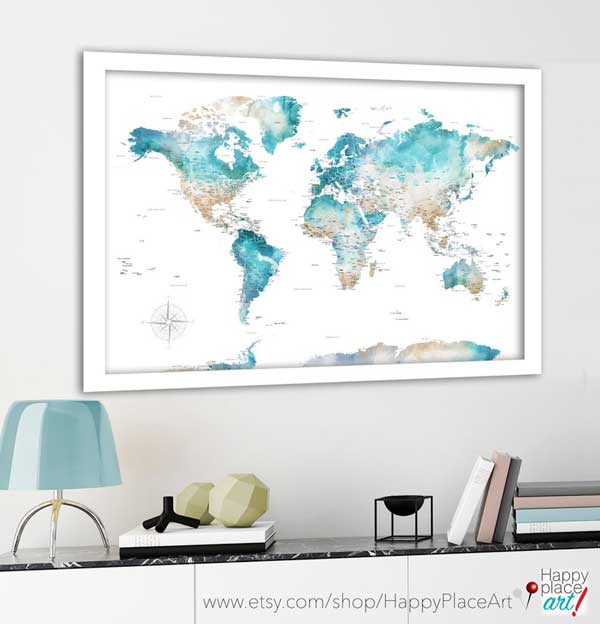 You can also get this ocean-colored map from Happy Place Art. While it is not a scuba diving map the colors might just be the perfect accent to your ocean-themed room or beach house.
The maps can be customized with your name. Or perhaps you can even include one of your favorite scuba diving quotes. If the watercolor design does not fit your interior, Happy Place Art has hundreds of map styles that you can personalize.
Map Pins for Your Dive Maps
If you like pinning on your maps, grab some push pins to make your map more fun. Here are some pins which I thought were different and cute!
You can use the push pins to highlight points of interest for you. Map pins can also help you keep track of all the places you have dived in.
Pin for later!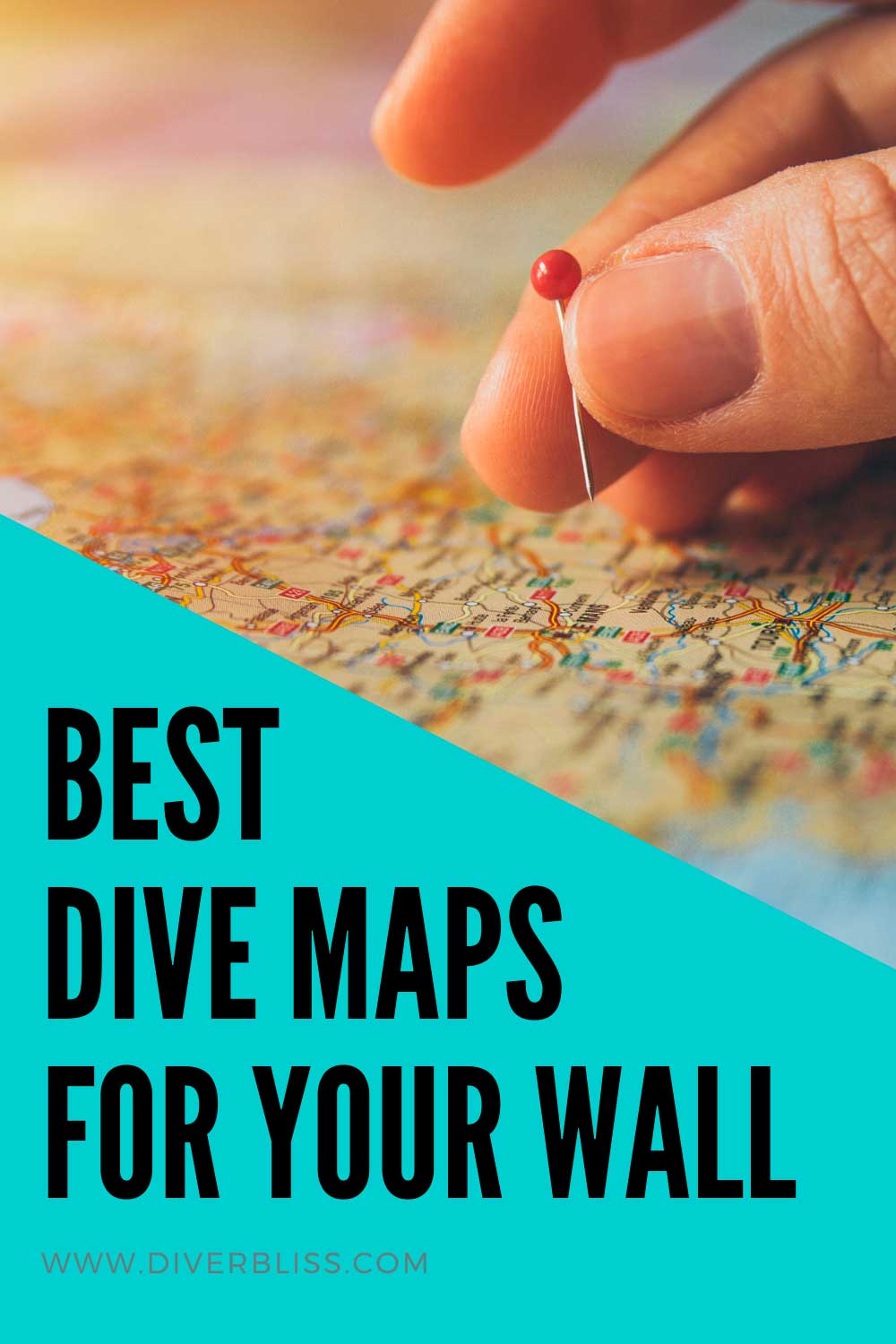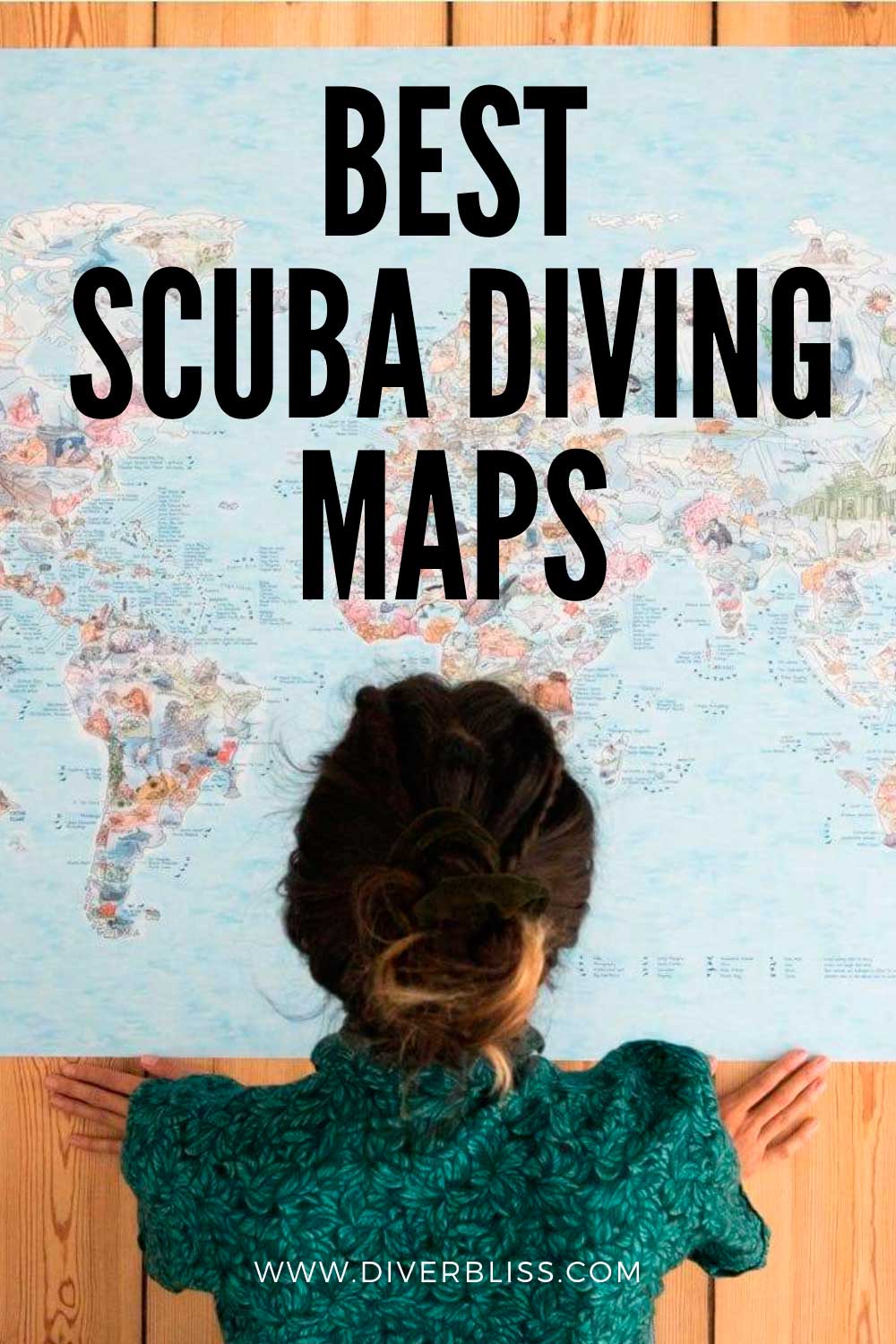 I hope these eye-catching dive site maps have inspired you to decorate your room and create a space that you love. And if you can't travel just yet, these dive maps can make you dream and plan for when you can.
Did any of these dive maps catch your attention? Which dive map did you liked the most and want in your home? Leave a comment below!