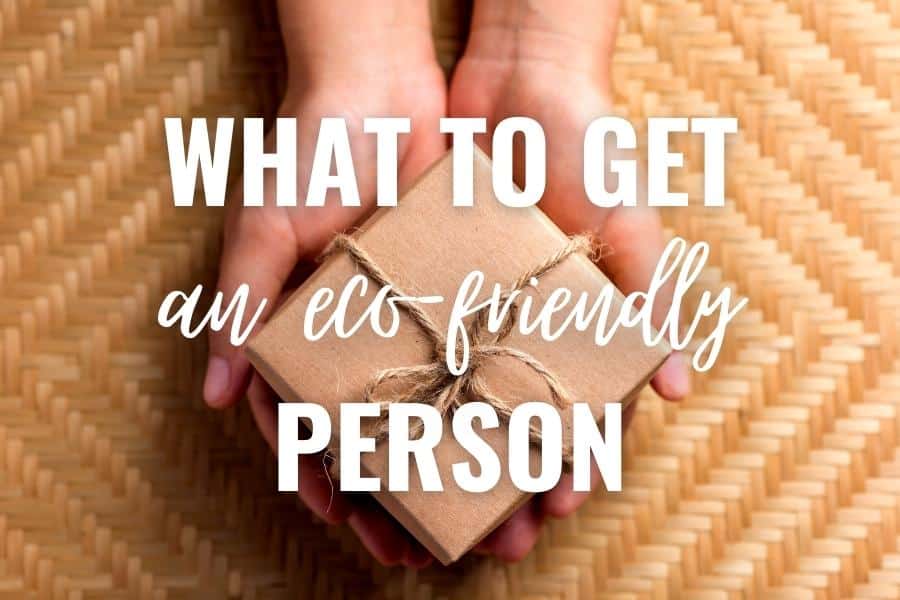 The links below may be affiliate links. If you shop through them, I'll earn a commission at no additional cost to you. For full information, please see my disclaimer here.
Gift shopping can be a challenging task for many people especially if you are trying to buy for someone who tremendously cares about the environment. If you have no clue on what to get an eco-friendly person, then this post is for you!
I've put together some of the best environmentalist gifts you can get for yourself, a friend, a family, or a loved one.
Eco-friendly people care about the planet in different ways. It could be by practicing sustainable living, reducing plastic waste, or choosing to be vegan.
If you want to show your love and appreciation to someone who is passionate about saving the planet, then give eco-friendly gifts that are aligned with their values and their causes as well.
Here are some of the best eco-friendly gift ideas for eco-warriors or earth lovers that you know.
1. Earthlove Box
Earth lovers rejoice as this gift box was made for you!
Earthlove is an award-winning eco wellness subscription box delivered to your door every season. This gift for environment lovers is packed with the best ethical, mindful, and sustainable self-care and home products that are good for you and the planet.
Sourced from artisans, makers, and small businesses in the US and Canada, Earthlove contains 6-8 eco-friendly products and one eco book to inspire you to care for the environment. The eco gift box also includes a guide with tips and eco-challenges to cultivate a more sustainable life.
Your gift includes carbon-neutral shipping and the boxes are in 100% post-consumer, compostable, plastic-free packaging so you can feel less guilty about receiving gifts.
Earthlove is a proud member of 1% for the Planet so a portion of the proceeds from each box is donated to a featured environmental non-profit. This is another reason why this makes a great gift for the eco-friendly people in your life.
---
2. The Gift of Climate Action from Ecologi
One of the biggest concerns of an environmentalist is how their choices impact the planet. So why not, give the gift of long-lasting climate action?
Through Ecologi you can give a gift that will offset someone's or your carbon emission. You can choose to fund projects proven to reduce your negative impact on the planet. From tree-planting to highly certified humanitarian and biodiversity protection programs, you can have a positive impact on the climate for as little as $10.50 / month.
Your environment-friendly gift will plant 12 trees per month for 3, 6, or 12 months depending on your gift purchase in reforestation sites around the world. It guarantees to reduce your carbon footprint through Ecologi's renewal energy and carbon-offsetting projects.
After purchasing the gift, you'll receive a gift certificate via email to send to/print out for your recipient. The gift certificate includes details that will allow them to access a personal online Ecologi profile. Here they will be able to track their impact on the environment via supported projects and watch their forest grow digitally.
---
3. Tinggly gift experiences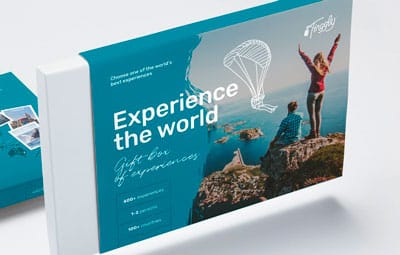 If you want a present that will leave you warm and tingly, you should definitely check out Tinggly. Rather than giving stuff, this gift company encourages you to give experiences instead.
You can choose from hundreds of activities all over the world where you can be one with nature.
If you like the ocean, you can go diving with thresher sharks in the Philippines or dolphins and whale watching in Dominica. For those who love the mountains, you can go on a hiking adventure in Rocky Mountain National Park or experience the longest zipline in Nepal.
A Tinggly gift will surely bring some happiness to eco-friendly travelers. When you purchase Tinggly gift, you are helping remove 11bs (5kg) of plastics from oceans, rivers, and lakes. They have also installed 2 trash traps in Bali and work with other ocean companies like Plastic Bank to remove the plastics from the environment. 
If you're worried about the carbon footprint that these experiences may have on the environment, Tinggly works with partners like ClimateCare.org and Planet Positive to offset any carbon negative impact you have on the planet by 200%. This means that you can enjoy the experiences guilt-free since Tinggly has invested in projects and technologies that have a positive impact on the environment. 
---
4. 4Ocean beach clean up kit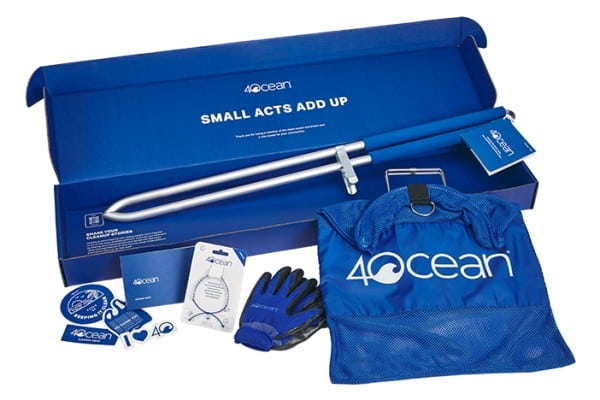 4Ocean is a social enterprise that aims to clean up plastics from the ocean with the help of local communities. While they are most known for their bracelets, they also have other environmentally friendly products to get you involved and be part of the solution.
For instance, this 4Ocean cleanup gear will get an eco-warrior excited to head to beaches and parks in no time.
If you are looking for gifts for the eco-friendly individual in your life, you should get this set that includes cleanup tongs, a premium cleanup bag with lid lock, a cleanup guide, cleanup gloves, and a signature beaded bracelet. It has everything you need to safely and properly do your own cleanup in your local area.
When you purchase this cleanup kit or any 4Ocean product, one pound of trash will be pulled out from oceans, rivers, and coastlines in the United States, Indonesia, Haiti, or Guatemala. This is why it is one of the best gifts to get beach lovers who care for the environment.
---
5. Waterlust Advocacy Apparel
These advocacy apparel from Waterlust are a brilliant way to engage the public about marine science. You will find designs inspired by whale sharks, parrotfishes, sea turtles, coral reefs, and more. Anyone wearing them can help raise awareness for the ocean species that they champion.
Waterlust's sunsuits, rashguards, dive leggings, board shorts are wonderful environmentally friendly gifts for ocean advocates. The fabric they use is made from 88% Repreve® RPET, which is recycled polyester made from post-consumer plastic bottles!
To top it all off, when you purchase a Waterlust product, 10% of the profits go to their conservation and research partners.
Waterlust is guaranteed to make any ocean activist look good and feel good in all their adventures.
Love supporting companies that advocate for the ocean? You can find more gifts for the eco friendly from this list of ocean companies saving the seas.
---
6. Conservation Master Class with Dr. Jane Goodall
Individuals who are passionate about the environment would have heard about Dr. Jane Goodall. She is best known for her conservation work with chimpanzees in the forest of Gombe in Africa. Her groundbreaking work with these primates has redefined species conservation to include the needs of the local people and the environment.
When you sign up for her first-ever online class, you can get exclusive access to 29 video lessons of Dr. Jane Goodall teaching conservation. She also shares her research on the behavioral patterns of chimpanzees and what she's discovered about herself and of others while working with them.
The Conservation Master Class will inspire you to take action- to right the wrongs, to heal some of the harm, and ultimately to make this world a better place. This is an amazing gift for environmentalists who want to learn more from one of the most remarkable and inspirational women in conservation.
---
7. Plant of the Month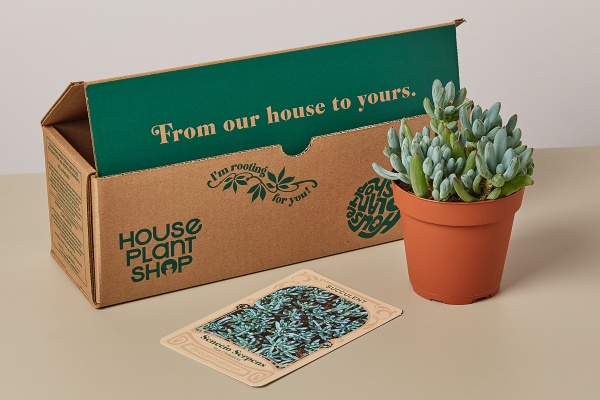 House Plant Box
House Plant Shop delivers a custom-crafted collection of house plants and house plant products straight to your home. Each month they put together a unique themed box so you can fill your home or room with a healthy houseplant grown in California.
Plants of the Month are excellent gifts for eco-friendly folks who live in the concrete jungle. They will love having a piece of nature right in their very home. Not only will it make any space beautiful but plants have been known to boost moods and reduce stress.
Plants also eliminate air pollutants, so it is good for both your health and the environment.
If you're looking for an earth-friendly gift idea for kids or teens, a plant is a good present to give them. Caring for plants can also teach them to care for the environment right from their very home. Start 'em young by challenging them to care for a tiny house plant and who knows they might find themselves caring for the entire planet.
Plant the seeds now for a better tomorrow and find those green thumbs of the next generation. This world will be better if we had more plant moms and plant dads filling every nook and cranny with more greenery.
---
8. Green-up Box

GreenUP Box
Living a more sustainable and eco-friendly life can be an overwhelming process for some people. To ease that burden of having to figure out what plastic-free or sustainable product to use, you can get yourself eco-friendly subscription boxes. These eco-gift boxes contain various eco-friendly products that have been curated and vetted by companies wh are concerned about the environment too.
The Green-up box will help you to say no to plastic in one area of your life at a time. Every 2 months, they will send you a box filled with 4-7 cruelty-free and ethically sourced, plastic-reducing swaps. Green-up will introduce you to sustainable alternatives to help you live a more eco-friendly life.
You can give this eco-friendly gift as a one-time purchase or you can give a full year subscription so you can send sustainable gifts to an eco-warrior the whole year-round.
This also makes great gifts for your family or your friends. It is a good way to encourage everyone you know to make better choices for our planet.
---
9. Fahlo animal tracking bracelets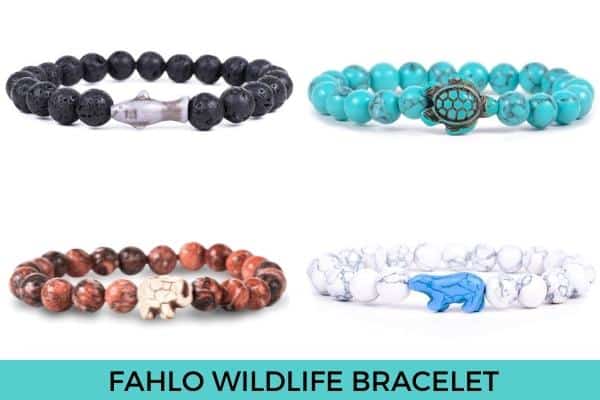 Another cool gift for environment lovers is Fahlo wildlife tracking bracelets. These bracelets come with a real animal to track and were made in partnership with non-profit organizations that works directly with these animals.
You can choose from 4 animal tracking bracelets- a shark, sea turtle, elephant, and polar bear. Together with the bracelet, you will be given its name, photo, and tracking information so you can check online where the individual animal is in the world. Then, a portion of all proceeds from these bracelets goes to research, and protection of these creatures.
When you buy a "Voyage" bracelet you'll be supporting Saving the Blue. These shark tracking bracelets make wonderful gifts for shark lovers.
The "Journey" sea turtle tracking bracelet supports Sea Turtle Conservancy. This is one of their most popular bracelets and are unique gifts for sea turtle lovers!
"Expedition" elephant tracking bracelet supports Save the Elephants, while "Venture" Polar Bear tracking bracelet supports Polar Bears International.
This interactive gift encourages you to learn more about specific species and how to protect them. They're perfect to give to those who are passionate about wildlife.
Use the code: DIVERBLISS20 to get a discount at Fahlo.
---
For more bracelets that help the environment, check out my post on Saving The Ocean Bracelets You'll Love to Wear and Share.
10. Planet Post
Planet Post is a good gift for environmentalists who wants to engage others on crucial issues like climate change, deforestation, and pollution. Students learning about the environment or educators teaching about environmental issues will enjoy these eco-friendly gift boxes.
You can subscribe to Planet Post each month to receive clear infographics, links to research, and informative videos about global environmental issues. These are necessary tools so you can educate yourself, your friends, and your family about the problems our world is facing. You will also receive 3-4 eco-friendly gift items to help you reduce waste and pollution.
What makes this environmentally friendly gift unique is it includes postcards, stamps, and addresses to people you can write to so your voice can be heard. For instance, you may be asked to write your representative about environmental laws they are lobbying or raise your concerns with companies that are contributing to the worsening global problems.
The Planet Post gift box aims to inspire you and others to play an active role in helping save our planet.
---
11. Awesome Maps eco-towels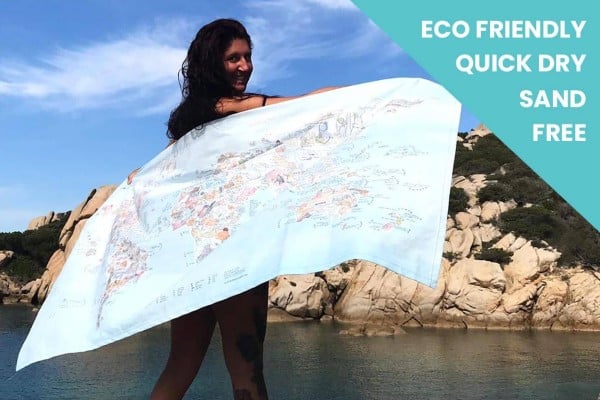 Another wonderful gift idea for environmentalists is these world map towels that would remind them of the planet they care about. Each Awesome Map towel is a reminder of the breathtaking landscapes and vast seas that we need to protect.
These huge towels (71″x37″, 180×95 cm) are eco-friendly as they are made with OEKO Tex 100 certified. This means that the fabric has been tested and certified to be free from harmful levels of more than 100 substances known to be harmful to human health.
This lightweight, quick-drying, and absorbent towel is a useful present for the adventurer that you know. It is available in different designs to fit every kind of world traveler.
Use the magic code: ARA to get a discount on Awesome Maps
---
12. Vegancuts monthly snack box
If you're looking for gifts for environmentalists who do not consume anything derived from animals, check out this Vegancuts snack box. This carefully curated and vetted gift box is 100% vegan and cruelty-free. It can be challenging to find vegan products, and this box has made it easier for you.
You will receive more than ten of the best vegan snacks, meal items, and drinks. From savory mac and cheese and delicious hummus crackers to sweet vegan chocolate and desserts, the Vegancuts snack boxes will make vegan living easier and fun!
Plant-based food and snacks will always be enjoyable presents for environmentalists who care for animals.
---
13. Tree & Journal personalized eco-friendly journal
This personalized journal complemented by a gorgeous bamboo fountain is a one-of-a-kind gift for earth lovers.
The pages are FSC certified paper which means that the paper used is made of responsibly sourced wood fiber. The cover is made of natural bamboo and is FSC certified as well.
You can give this journal set to environmentalists who love to write and ponder on their thoughts. The beautiful notebook might inspire them to write down ideas on how to save the planet. And it can help them to articulate their thoughts and feelings on environmental issues we are facing.
When you purchase one of these notebooks from Tree&Journal, a portion of its proceeds goes to TreeSisters which supports reforestation programs within the tropics through feminine nature-based leadership. It will also be shipped to you plastic-free which is a must for every eco-conscious online shopper.
---
14. Crunchy Mama Box
Crunchy Mama is a sustainable and eco-friendly gift you can get for yourself or a loved one. It is a self-care box that offers a highly curated selection of healthy snacks, clean beauty products, eco-friendly home goods, wellness items, accessories, and more.
As the name suggests, Crunchy Mama is an excellent environmentalist gift for women like your mamas, grandmas, your favorite teacher, or your best friend. The products included in this environmentally conscious gift box are tested for sustainability, performance, and efficacy.
Crunchy Mama supports women-owned, small, and eco-friendly businesses that make clean, healthy products and are motivated by a cause. Any eco momma will enjoy opening these eco-friendly presents they can receive each month.
---
15. Vegan cork wallet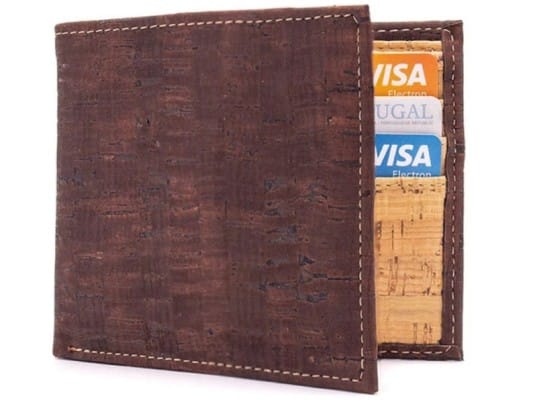 For environmentalist gifts for men, this handmade vegan cork wallet from Cork Culture USA is a wonderful choice. It is made out of high-quality cork from Portugal.
You can give this eco-friendly, sustainable, biodegradable, and plant-based wallet as a gift to your dad, brother, husband, boyfriend, or best friend. They will love using this soft, lightweight and durable, and also a PETA-approved Vegan product.
Because it is made from the bark of trees, it is naturally waterproof which makes it easy to clean and maintain.
---
16. Bamboo Switch eco-friendly starter kit
The Bamboo Switch bathroom starter kit is one of the best gifts for environmentalists who want to make the easy switch to a more sustainable lifestyle.
The Bamboo Switch set includes an organic bamboo toothbrush, a bamboo toothbrush stand, charcoal teeth whitening powder, All Natural tooth tabs in a glass jar plus refill pack, charcoal-infused bamboo floss, bamboo cotton facial rounds, and bamboo facial rounds holder. Each item in this bundle is compostable, reusable (glass jars), or recyclable (bristles).
Zero waste starter kits are practical eco-friendly gifts for Christmas, birthdays, and other special holidays. It's a fantastic way to help people become environmentally friendly as well.
Use the coupon code: DIVERBLISS to get 10% discount on Bamboo Switch
---
17. Pure Earth Pets
Did you know that dogs can be earth-friendly too?
Another unique earth-conscious gift you can get is this subscription box from Pure Earth Pets. This box is filled with sustainable toys, natural treats, and other goodies for man's best friend.
This is a paw-some present for the eco-friendly pet owners who care for their pup and the planet. Any dog lover will love receiving this eco-friendly gift box filled with goodies from small businesses across the US.
---
18. Suds & Co. shampoo and conditioner set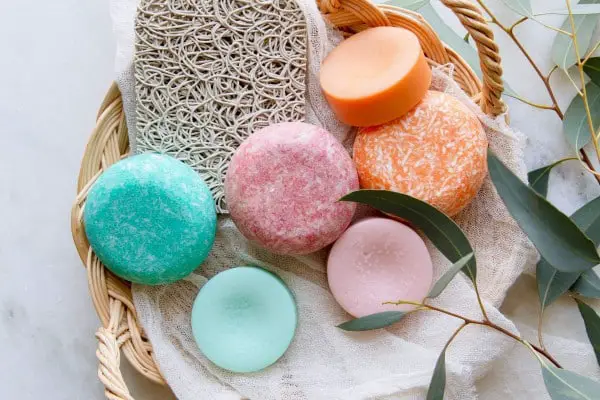 Zero waste shampoos and conditioners are practical environmentalist gifts for women. By using plastic-free and eco-friendly shampoo and conditioners, you drastically reduce plastic waste and chemicals that end up in waterways, landfills, and oceans.
This Zero Waste Shop shampoo and conditioner set already includes 3 shampoo bars and 3 conditioner bars that are packed full of nutrient-rich ingredients that will leave your hair feeling healthy and clean. They are all vegan, cruelty-free, palm oil-free, and free of fragrance, preservatives, fillers, and silicone. Basically, all the goodness eco-friendly people are all looking for.
These plastic-free shampoo and conditioners are also wonderful to include in your eco-friendly travel kit essential. Their compact size and solid shape make them ideal to take with you while on the go. Any eco-friendly person will love the idea of using less plastic even while traveling.
If you like this eco haircare gift, you may also check out my list of eco-friendly brushes and combs that you can also give as gifts for environment lovers.
---
19. Scorvia eco-friendly cork yoga mat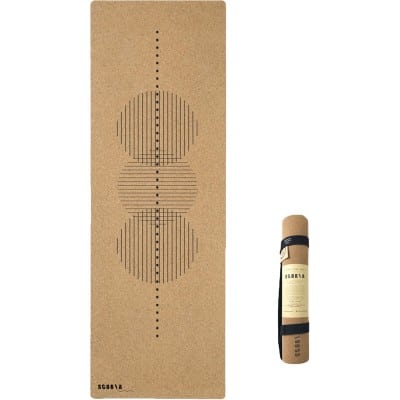 Level up your yoga practice and your life by using this eco-friendly yoga mat. Most exercise mats are made with vinyl or other materials that are bad for the environment, but this yoga mat from Scoria is om-azing.
Comprised of anti-microbial and sustainably harvested cork with a natural rubber backing, it is perfect for yoga, mediation, and other exercises. This is the perfect gift for yogis or those who care about their well-being and the well-being of the planet.
---
20. Bitti Gitti electric-free wooden smartphone speaker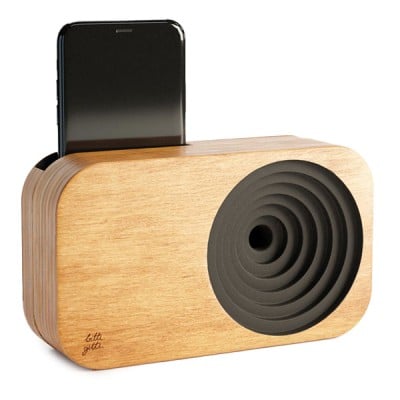 Enjoy music and podcasts with this earth-friendly speaker made in Instanbul! Handcrafted from sustainably sourced birch wood, this wooden speaker from Bitti Gitti will allow you to amplify sound from your smartphone speakers without the use of electricity or batteries!
This tech-free sound system is the perfect gift for the eco-friendly music lover! It comes with a cotton pouch so you can bring it for camping, beach trips, and picnics.
---
21. Pela compostable case for gadgets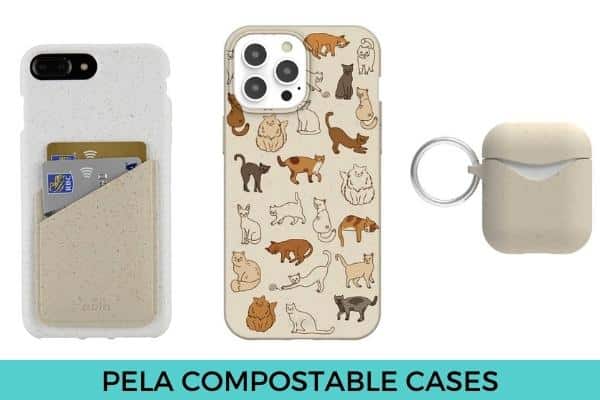 Featured Pela products:
London Fog Phone Case Card Holder
London Fog Kitty Cats Iphone Case
London Fog AirPods Case
Every time you upgrade your phone or want a different look, you end up buying and throwing your mobile phone accessories. This contributes to the billions of plastic mobile accessories that end up in landfills. To address this growing problem, Pela Case created the first-ever compostable phone case.
Made from Flax shive and a plant-based biopolymer, you can style your gadgets in a more eco-friendly way.
Pela makes mobile cases and accessories for both iOS and Android phone models. So the next time you think about gifting yourself or someone the latest iPhone or Samsung, you should get a Pela case to go with it.
---
22. Dorsal sterling silver turtle and wave rings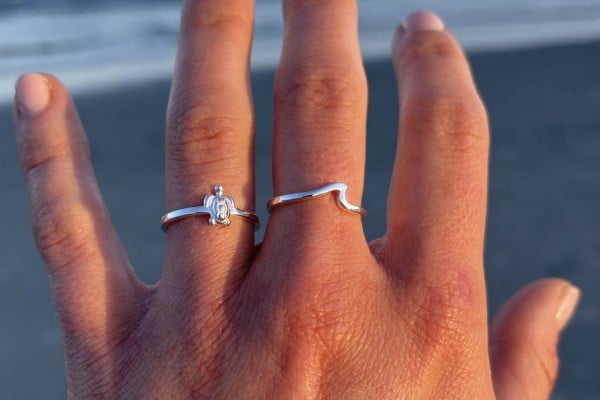 The Tsunami Ring and Sea Turtle Ring are beautiful pieces of jewelry for ocean lovers. The rings are adjustable and are made of sterling silver. When you purchase these rings, Dorsal donates 15% of its profits towards coral reef restoration and ocean conservation projects. They remove 1 pound of plastic from the ocean.
They have partnered with Empower Eco to collect plastics from beaches and waterways. Their partners at Coralive.org are involved in coral reef restoration projects. And they support The Ocean Agency, which is a non-profit organization dedicated to marine research and conservation.
Designed to remind us to protect the ocean, these rings will make excellent gifts for ocean environmentalists.
Use the coupon code DIVERBLISS to get a 15% discount on your first order at Dorsal!
---
23. Raw Elements reef-safe sunscreen
Reef safe sunscreens are useful gifts for ocean environmentalists like scuba divers, surfers, and other water sports enthusiasts.
Most sunscreen nowadays contains chemicals that may harm the body and the planet. But with Raw Elements USA you can have fun under the sun without worrying about chemicals entering your skin and entering the ocean. This sunscreen pack is plastic-free too so you don't have to worry about single-use plastic entering the ocean or landfills.
Any outdoorsy, eco-friendly person will love lathering up their skin with Raw Element's environmentally friendly sun block.
---
24. Udemy Courses on Environment and Conservation
Many eco-friendly people do not like receiving presents that just end up in the trash so give them a gift that will never go to waste- the gift of knowledge.
Udemy offers a wide range of course that eco-conscious individuals will surely enjoy taking. These courses are diverse and are readily available online at affordable prices. This is an amazing gift for the eco friendly person who loves learning.
Here are some environment and conservation courses you can give as gifts:
---
25. Symbolical wildlife adoptions
Did you know that you can symbolically adopt wildlife? While you cannot take them home, adopting wildlife means you are supporting or contributing to the preservation of a species. It is a creative way to donate to a non-profit organization in a form of a gift.
In exchange for your financial support, these foundations will give you certificates or gifts as their way to say thank you. Some wildlife adoptions even include naming rights if you would like to give honor to someone.
Adopting wildlife is a wonderful way to show support and to raise awareness for the creatures on our planet. It is one way to help protect and conserve endangered species.
You can check out these lists of adoption programs for fun and meaningful gift ideas for earth lovers.
Adoptions are only optional, direct donations under the name of the eco-warrior can be a thoughtful gift to give as well.
---
26. Sponsor their scuba diving lessons
If you know someone who is passionate about the environment, why not treat them to a scuba diving session or better yet a scuba diving certification?
One of the benefits of scuba diving is finding other like-minded people who care about the environment. Scuba divers are among the most environmentally conscious people you can find. So if you are looking for a community to belong to, scuba diving might be the one for you.
Scuba diving will allow you to explore and protect the oceans that makeup 70% of our planet. And there is no better gift than to see the wonderous life under the sea.
If you know somebody who is already a scuba diver, you can also give dive courses as a gift. You can also take up a PADI Aware course that will teach you to make every dive count for the protection of the ocean. You can also take Distinctive Specialty Courses for marine life lovers.
---
26. Join them in an environmental event
One of the best gifts for environment lovers is the gift of time. Offer to spend time with them doing what they love the most- being one with nature and saving the planet. Not only will it be meaningful but it will be priceless for both of you.
Look within your local areas for environmental events you can join together.
Take note of environmental celebrations like World Ocean's Day in June and International Coastal Cleanup in September. Invite them to go to these events and take an active role in conservation.
You can also join groups and organizations that encourage environmental activism. Becoming a member of these groups can be instrumental to your cause. You can be part of a bigger movement where you can find help and support.
Remember the best eco gifts are the ones you didn't buy!
---
Additional tips for buying presents for environmentalists
Shop local to minimize your carbon footprint.
Buy your gifts from one place when possible to avoid additional packaging waste and costs.
Shop from environmentally conscious and sustainable stores. If you are shopping online, you can check out this list of eco-friendly online stores

for more gift giving options.

Consider how each item is made, produced and shipped.
Get creative with your gifts, not everything has to be brought.
Check your own home as you might be able to regift something you never used or rehome an item you no longer need.
Use recyled or upcycled gift packaging. Avoid buying more wrapping paper or using plastic. If you do need to buy gift wrapping, choose one that can be reused. Most likely your eco-friendly gift recipient will find a way to use it again.
Ask them what they want and what they need. You might be getting them something that they have or something they won't use at all and that's just wasteful.
Do you have Pinterest? Pin this for later!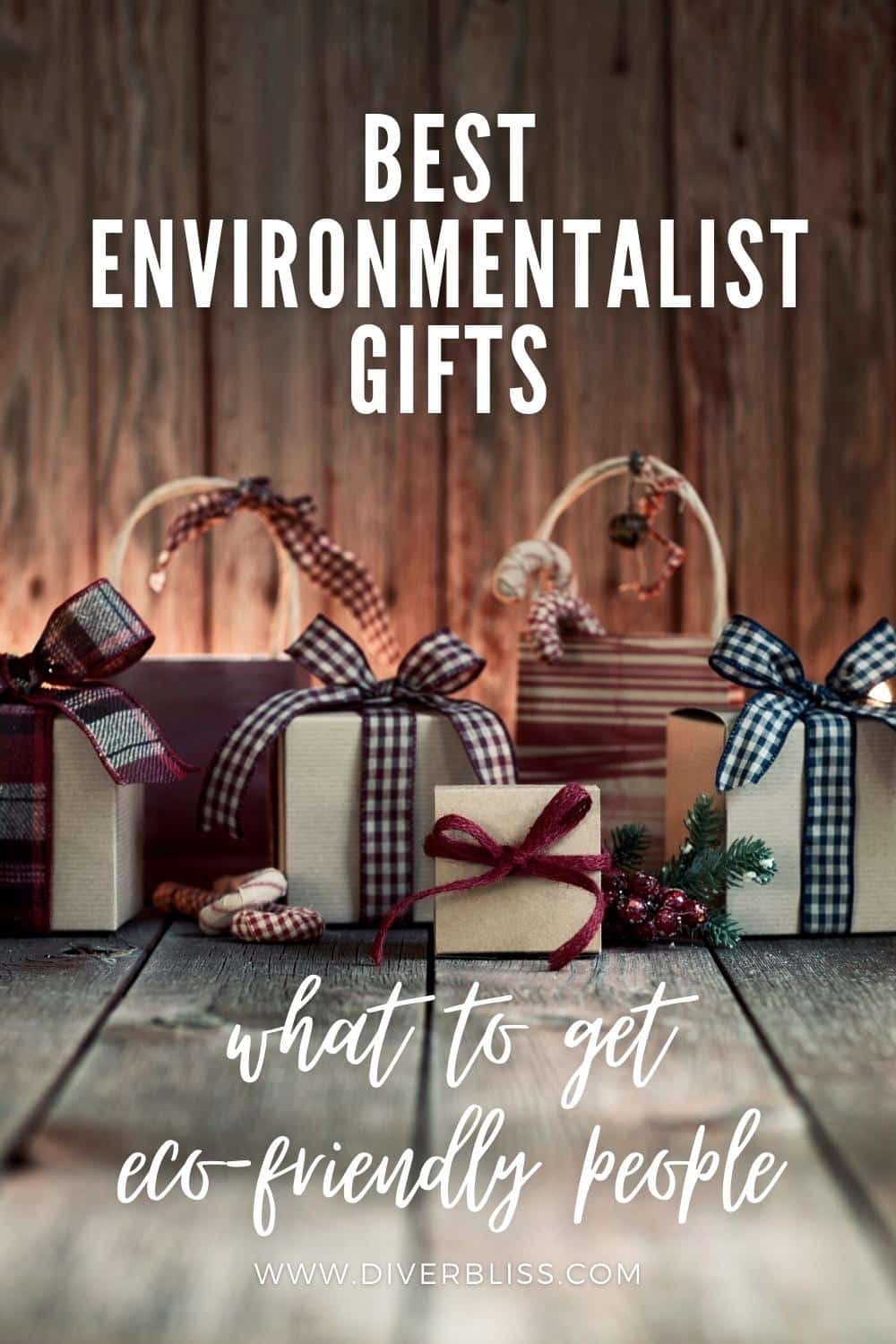 Were these environmentalist gift ideas helpful for you? Do you have other recommendations on what gifts to give earth lovers and eco warriors? Leave a comment below!
The links above may be affiliate links. If you shop through them, I'll earn a commission at no additional cost to you. For full information, please see my disclaimer here.