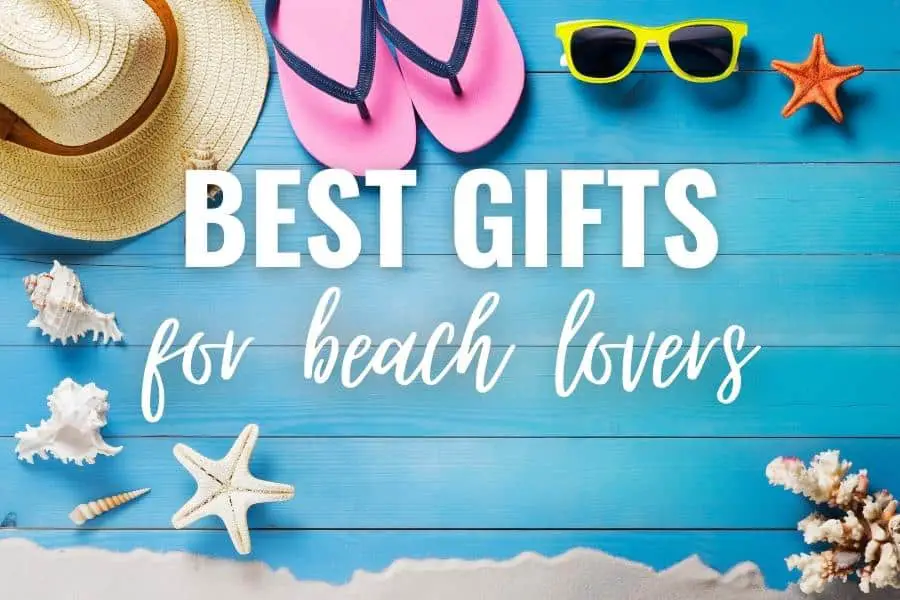 The links below may be affiliate links. If you shop through them, I'll earn a commission at no additional cost to you. For full information, please see my disclaimer here.
Are you struggling to find the perfect present for someone who loves beaches? Then this article is for you!
---
When I am not in the ocean diving, snorkeling or surfing, I do enjoy spending my time on the beach. There's just something special about having the sand between your toes and hearing the sound of crashing waves on the shore. The beach always rejuvenates the soul and this is why so many people including myself love spending their days on the ocean side.
As someone who loves the beach, I know exactly what good gifts to get fellow beach addicts out there. In this gift guide, you will find the best gifts for beach lovers in your life. You will find a good selection of gifts that are beautiful, unique, practical, and fun. Also included are beach gift ideas ranging from affordable to luxurious.
If you need suggestions on what presents to get someone who loves some sun, sand, and sea, then, continue reading for the best beach lovers gifts
Gifts for beach lovers
Here are recommendations if you're looking for the best gifts for the beach lover. These are perfect to give for your family and friends who simply loves spending the entire day playing on the sand and lounging under the sun.
1. Sun Ninja Pop Up Beach Tent
---
2. Comiso Waterproof Bluetooth Speakers
---
3. Awesome Map Eco-towels
---
4. Safego Outdoor Lock Box Safe
---
5. Sandproof Beach Blanket
---
6. Raw Elements USA Summer Pack
---
Unable to travel to the beach? Check out this list of the best travel subscription boxes for when you are stuck at home!
Fun beach gifts
Here are some gift ideas to make every beach trip more enjoyable. These fun beach gifts are suitable for both men and women who love the coastal
7. GoPro HERO10 Black
---
8. Bounty Hunter TK4 Tracker IV Metal Detector
---
9. DJI Mini 2 Drone
---
10. Inflatable Lounger Air Sofa Hammock
---
Beach themed gifts for her
If you're stumped as to what to get a beach girl, then here are some beach gift ideas for her. These beach themed gifts for women are perfect to give on birthdays, Christmas, anniversaries, valentines day, mother's day, and more!
11. Beachly Subscription Box
For more suggestions on beach gift boxes that will cure your ocean blues, check out my list of best beach subscription boxes.
---
12. PortoVino Beach Wine Purse
---
13. Moss Rose Beach Swimsuit Cover-up
---
14. Pura Vida Sta Cruz Bracelet Set
---
15. Nomadix pinstripes changing poncho
---
For more ideas on beach jewelry, check out my article on the most beautiful ocean jewelry beach lovers would love to wear
Beach gifts for him
Not sure what present to get men who love some sea, surf, and sand, then here are some beach-themed ideas for him. These beach gift ideas for men are perfect to give on birthdays, anniversaries, valentines day, father's day, and more!
16. Beach Recliner Chair
---
17. Tourit Leak-Proof Cooler Backpack
---
18. Beach Changing Mat
---
19. Waterlust Board shorts
---
20. Fahlo track a sea turtle bracelet
---
For more suggestions on gifts to give men who love the beach, check out my gift guide for scuba diving men.
Gifts for beach house
Do you need help on what to buy for someone who's bought a beach house or already lives in one? Here are some of the best beach house gift ideas for your family or friends. These are great to presents to give during a housewarming get-together, a holiday celebration, wedding reception, and more.
21. Starfish and Sand Dollars Tic-Tac-Toe Board Game
---
22. Personalized beach inspired charcuterie bundle from FifthDesign
---
23. Sea Side Wood Sculpture by Art Glamour Sligo
---
24. Welcome Beach Wreath by Beautiful Mesh
---
25. Sea Glass Chandelier by Coastal Radiance Lites
---
Another good way to decorate your beach home is to put a map on the wall. Check out this post on the best dive maps that you might want to give as a gift.
Eco-friendly beach gifts
Beach lovers love to keep their favorite place on earth clean! Here are some eco-friendly gifts you can get for yourself, a friend, or a family member.
26. 4Ocean Cleanup Combo
---
27. Waterlust refillable water bottles
---
Help save our beaches by reducing your plastic consumption every day. Here are 101 ways you can say no to plastic.
Pin this for later or share with a friend who loves the beach!
Was this gift guide helpful in finding the best beach lovers gifts? What gifts do you recommend for people who loves seasides and coasts? Leave a comment below!
The links above may be affiliate links. If you shop through them, I'll earn a commission at no additional cost to you. For full information, please see my disclaimer here.