If you're trying to grow your diving Instagram account, one of the things that you must take advantage of is using hashtags. In this post, I will share with you some tips on using hashtags as well as a list of the best scuba diving hashtags I use on Instagram!
How do I use hashtags on Instagram?
If you're not familiar with hashtags, they are basically a user-generated tag that helps users easily find messages with a specific theme or content. A hashtag is used in social media like Twitter or Instagram by using the number sign, pound sign or hash symbol, #, together with the keywords you want to use.
In Instagram, you can add hashtags in the captions or comments of your post. Your posts with hashtags will be visible on the hashtag page for all users to see. This is with the condition that your account is set to public. Private accounts who post with hashtags will not show up publicly in hashtag searches.
If you are growing your Instagram account to advocate for the ocean, using hashtags is probably one of the easiest things you can do to help increase exposure. Hashtags allow more audiences to see your content depending on their searches. This helps increase the number of views to your diving Instagram account.
Use Relevant Hashtags
When using hashtags, make sure that the keywords you are using are highly relevant to your post.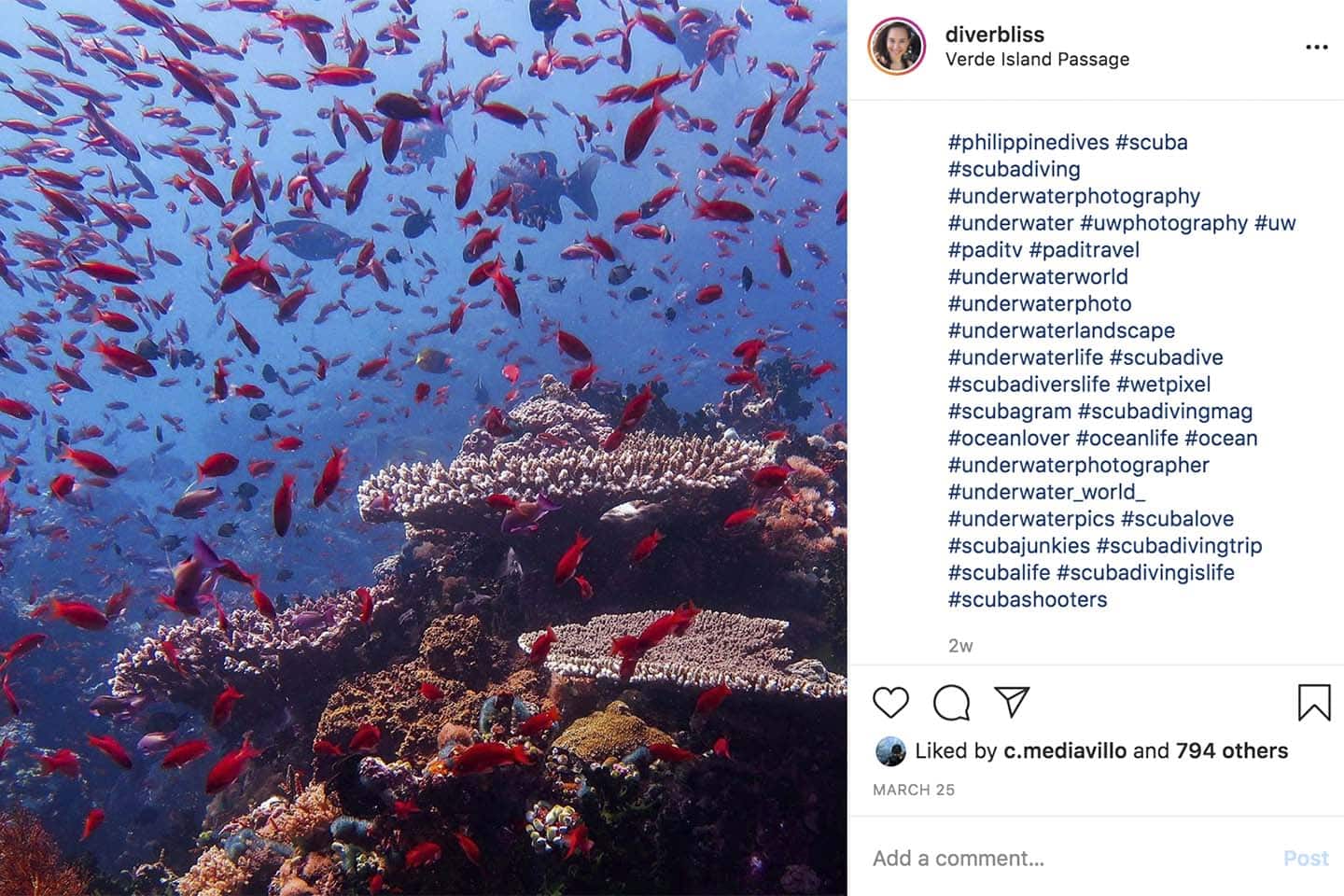 To maximize the benefits of using hashtags, think of the industry you are in, the brands that may be featured in your content, your audience, and location.
Refrain from using generic keywords to avoid your images/videos from being lost in the mix. For instance #instagood is among the most popular hashtags on Instagram, although popular, your post will have to compete with 1.1 billion other posts.
This brings me to my next point.
Check the Number of Posts Per Hashtags
When choosing what hashtags to use, take a look at the number of posts it has. You can find the number of posts by doing a search before hand.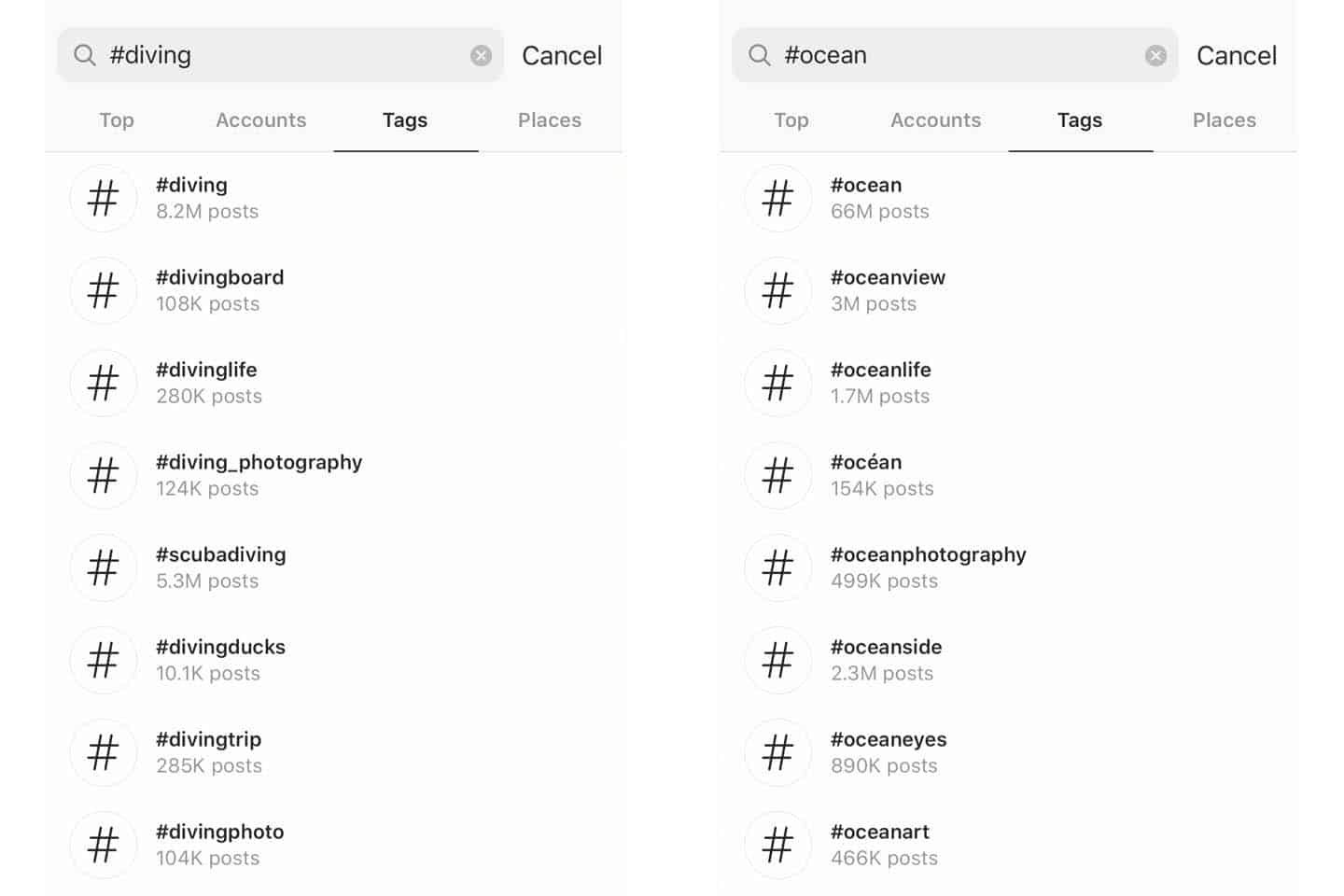 Large number of posts means that the hashtag is popular. It is being used more which can translate to more views. However, competition is high and it is harder to rank. Your photo or video will most likely get bumped down the search results quicker.
On the other hand, hashtags with small number of posts means competition is lower. There is a better chance for your content to rank and appear in the TOP posts. Since fewer people use the hashtag this could also mean that your photos appear longer in the "Recent" post under the hashtag.
Instagram allows you to include 30 hashtags for IG Posts and 10 hashtags for IG Stories. I would recommend that you maximize exposure by using all the allowable hashtags. Do a mix of small and big numbered posts for hashtags so you get the best of both worlds.
Do not use Banned Hashtags
Did you know that there is also such a thing as banned hashtags?
Instagram bans hashtags if it is prone to community abuse or goes against their community guidelines. So once in a while do check if Instagram has included your hashtag in the banned list.
For instance, #bikinibody #saltwater #sunbathing #tanlines all seem to fit my scuba diving and ocean-inspired Instagram account. However, these are actually banned hashtags. Constant use of them might result to lower engagement and for Instagram to block your account.
500 of the best hashtags for divers and ocean advocates
With these tips in mind, here are possible ocean-inspired and scuba diving hashtags you can use for your Instagram!
Scuba Diving Hashtags
If you love posting about scuba diving, here are some of the best scuba diving hashtags you can use.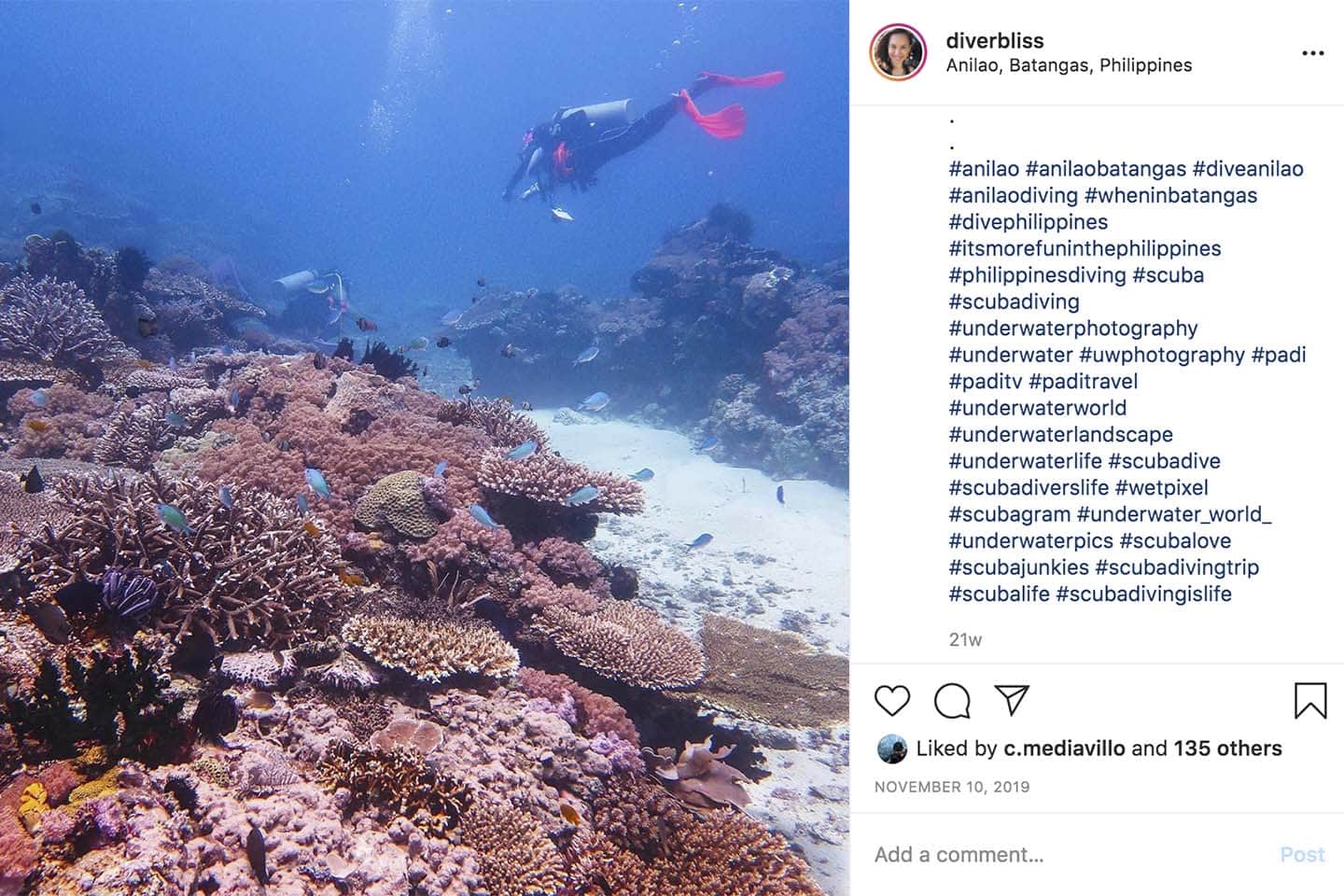 #blackwater
#buceo
#cavediving
#diverbliss
#divessi
#divetheworld
#diving
#divingisfun
#divingmagazine
#divingpassport
#divingphoto
#divingtime
#divingtrip
#iamssi
#instadive
#instadiving
#kings_underwater
#muckdiving
#nightdive
#nightdiving
#padi
#paditravel
#paditv
#plongee
#plongée
#realdiving
#scuba
#scubadive
#scubadiving
#scubadivingaddicts
#scubadivingblog
#scubadivinginternational
#scubadivingislife
#scubadivingismylife
#scubadivinglife
#scubadivingmag
#scubadivingmagazine
#scubadivingphoto
#scubadivingphotography
#scubadivingphotos
#scubadivingpic
#scubadivingtrip
#scubaearth
#scubafun
#scubagear
#scubagram
#scubalife
#scubalifestyle
#scubalovers
#scubaphoto
#scubaquality
#scubasphere
#scubatravel
#scubatrip
#scubaview
#scubawonders
#scubaworld
#sidemount
#tauchen
#tecdiving
#techdiving
#technicaldiving
#water_of_our_world ⁠
#wreckdiving
I also recommend using hashtags that are related to scuba brands like #padi, #suunto, #aqualung, and many more, if you are a fan of their products.
You can also check to include locations to your hashtags for instance instead of just using #dive you can use #PhilippineDives. Or instead of just using #scubadiving you can also use #scubadivingindonesia. Research which hashtags are being used based on dive destinations.
Scuba Diver Hashtags
This hashtag list focuses of scuba divers. Great to be used if people are involved in your photo or video.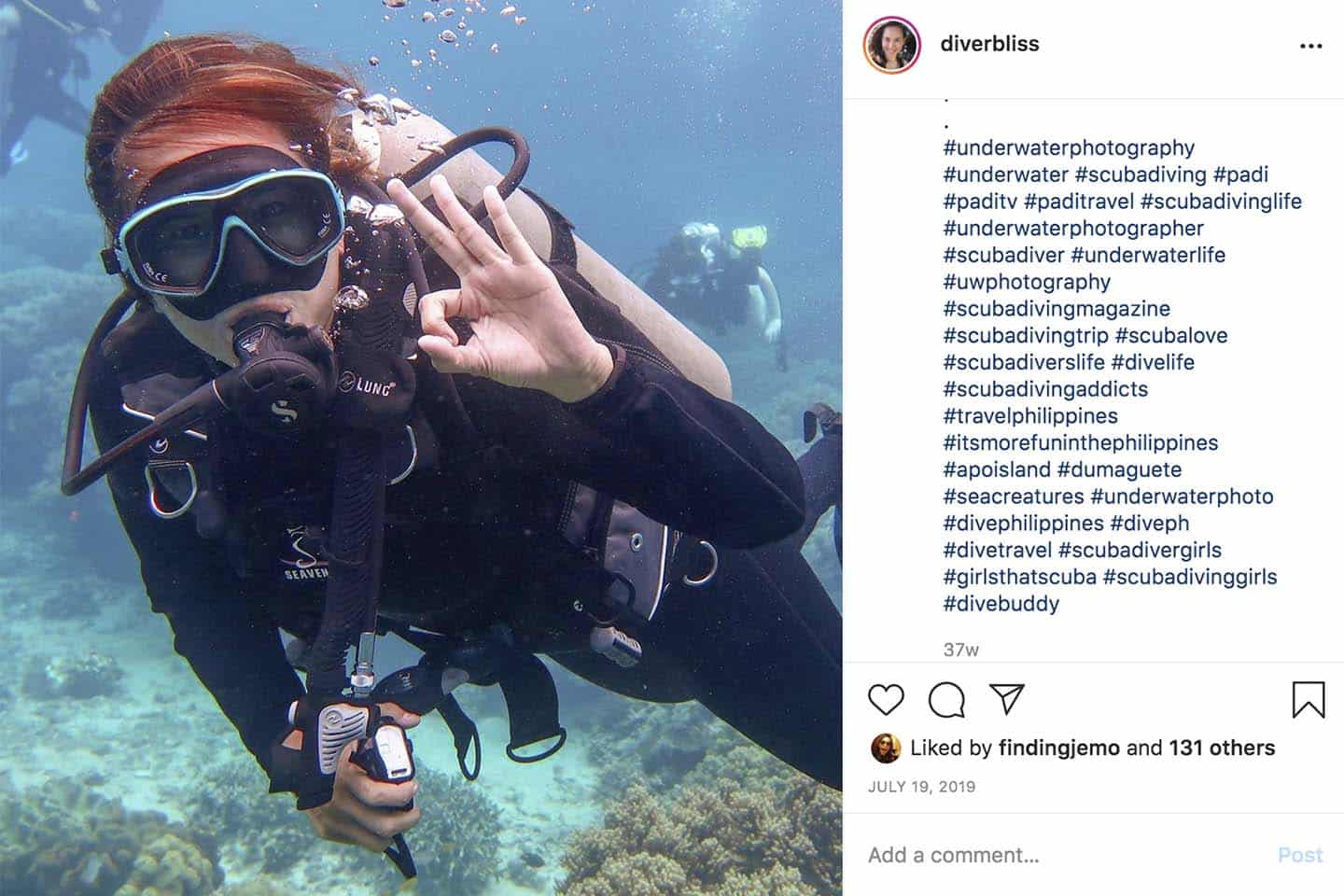 #divebuddy
#divemaster
#divers
#divingwithfriends
#girlsthatscuba
#girlsthatscubadive
#girlsthattechdive
#ilovediving
#scubaaddict
#scubaaddicts
#scubabuddy
#scubadiver
#scubadivergirl
#scubadivergirls
#scubadiverlife
#scubadivers
#scubadiverslife
#scubadivinginstructor
#scubadivingwomen
#scubagirl
#scubagirls
#scubaholic
#scubajunkie
#scubajunkies
#scubamaster
#scubanation
#scubapro
#scubasquad
#scubatravellers
#techdiver
Struggling to come up with captions for your Instagram? Check out my list of 100 Best Scuba Diving Quotes.
Freediving Hashtags
These freediving hashtags are perfect for those who go scuba diving but prefer to explore the ocean by freediving or snorkeling.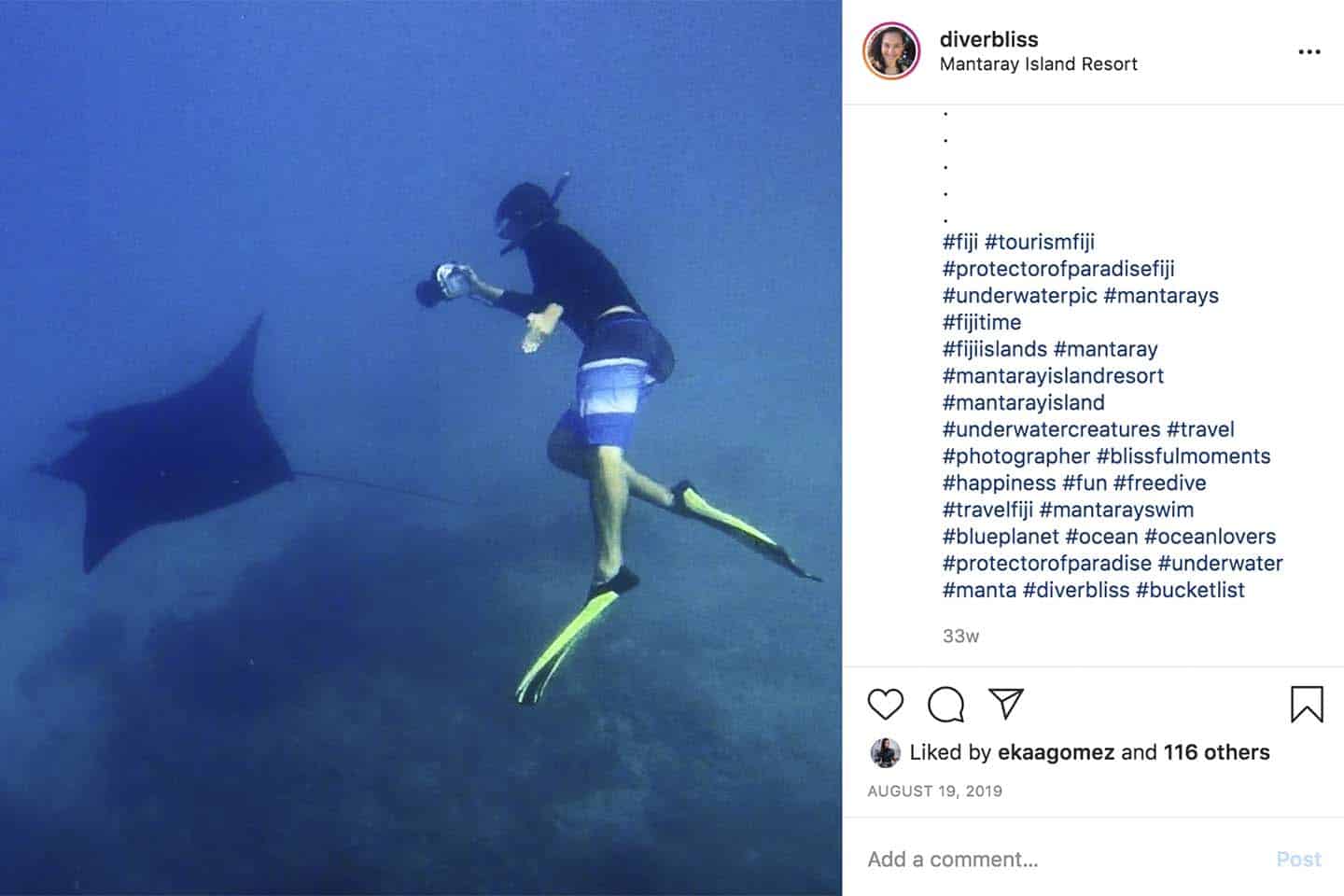 #apnea
#divetosurvive
#freedive
#freedivephoto
#freedivephotography
#freediver
#freediverlife
#freedivers
#freedivetraining
#freediving
#freedivingart
#freedivinggirls
#freedivinglife
#freedivingphoto
#freedivingphotography
#freedivingtraining
#fundive
#girlsthatfreedive
#onebreath
#skindive
#skindiver
#skindiving
#snorkelaroundtheworld
#snorkeling
#snorkeling????
#snorkelling
#snorkling
Underwater Photography Hashtags
Here are some of the best underwater photography and videography hashtags divers have been using on their Instagram posts.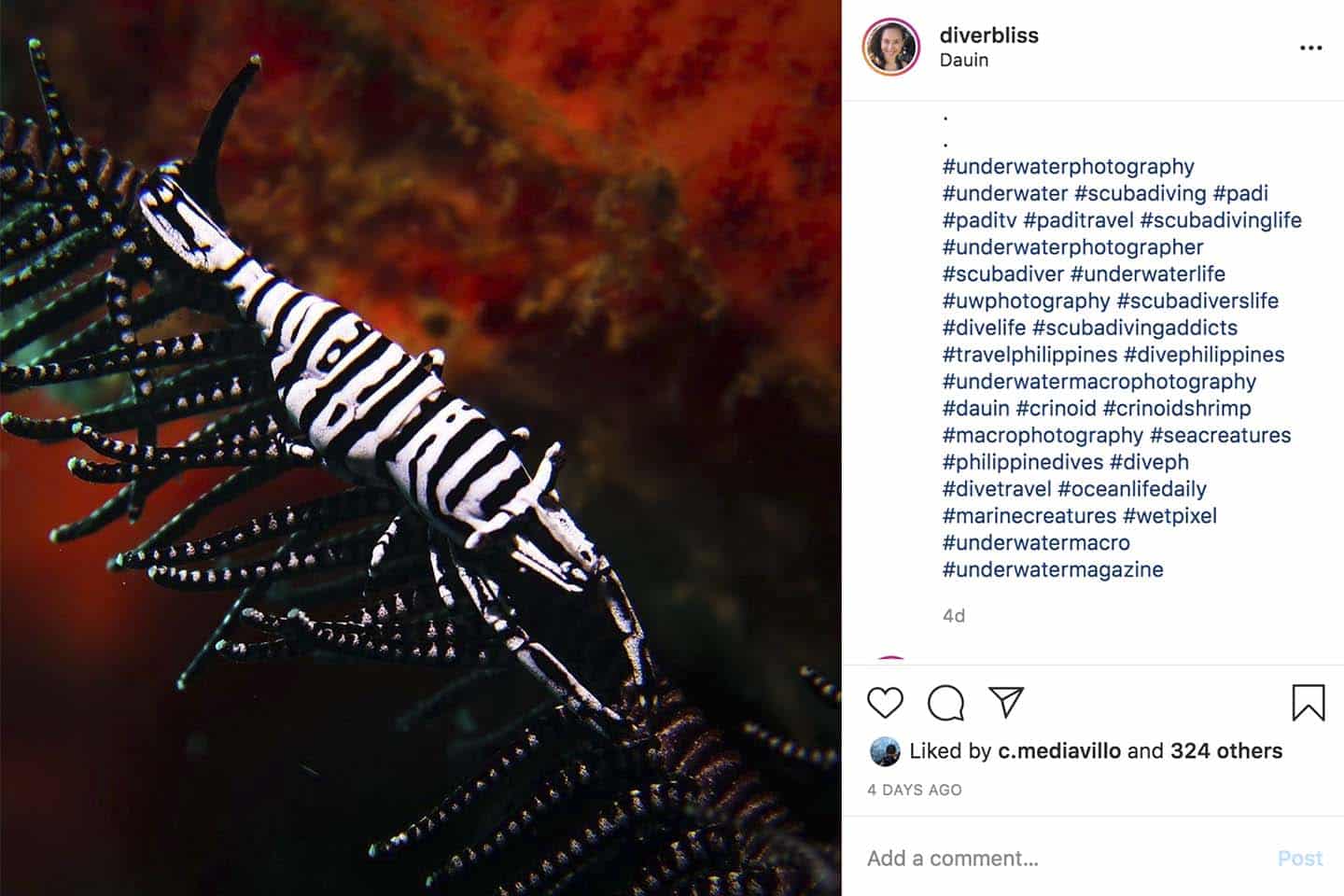 #divephotography
#scubaphoto
#scubaphotographer
#scubaphotography
#scubashooters
#scubasnapshots
#scubavideo
#undersea
#underthesea_perfection
#underwater
#underwater_is_life
#underwater_world
#underwater_world_
#underwateradventures
#underwatercinema
#underwateremotions
#underwaterexplorer
#underwaterfilm
#underwaterfilming
#underwaterfootage
#underwaterfun
#underwatergram
#underwaterimages
#underwaterlicious
#underwaterlife
#underwaterlove
#underwatermacro
#underwatermacrophotography
#underwatermagic
#underwaterparadise
#underwaterphoto
#underwaterphotograph
#underwaterphotographer
#underwaterphotography
#underwaterphotos
#underwaterpic
#underwaterpics
#underwaterpicture
#underwaterpictures
#underwaterselfie
#underwatershot
#underwatershots
#underwatervideo
#underwatervideographer
#underwatervideography
#underwaterworld
#uw
#uwmacro
#uwmacrophotography
#uwphoto
#uwphotographer
#uwphotography
#uwphotosociety
#uwpics
#uwpublishing
#uwvideo
#uwvideography
#wetpixel
You can also include hashtags of your favorite camera and video brands you used to capture your awesome footage. Once in a while, I use the hashtag #canong7xmarkii since that's the camera I use for my shots.
For more underwater photography tips and inspiration, read this post on the 15 Amazing Women Underwater Photographers You Should Follow on Instagram.
Sea Hashtags
Since diving often involves enjoying the sea, I included these sea hashtags as well!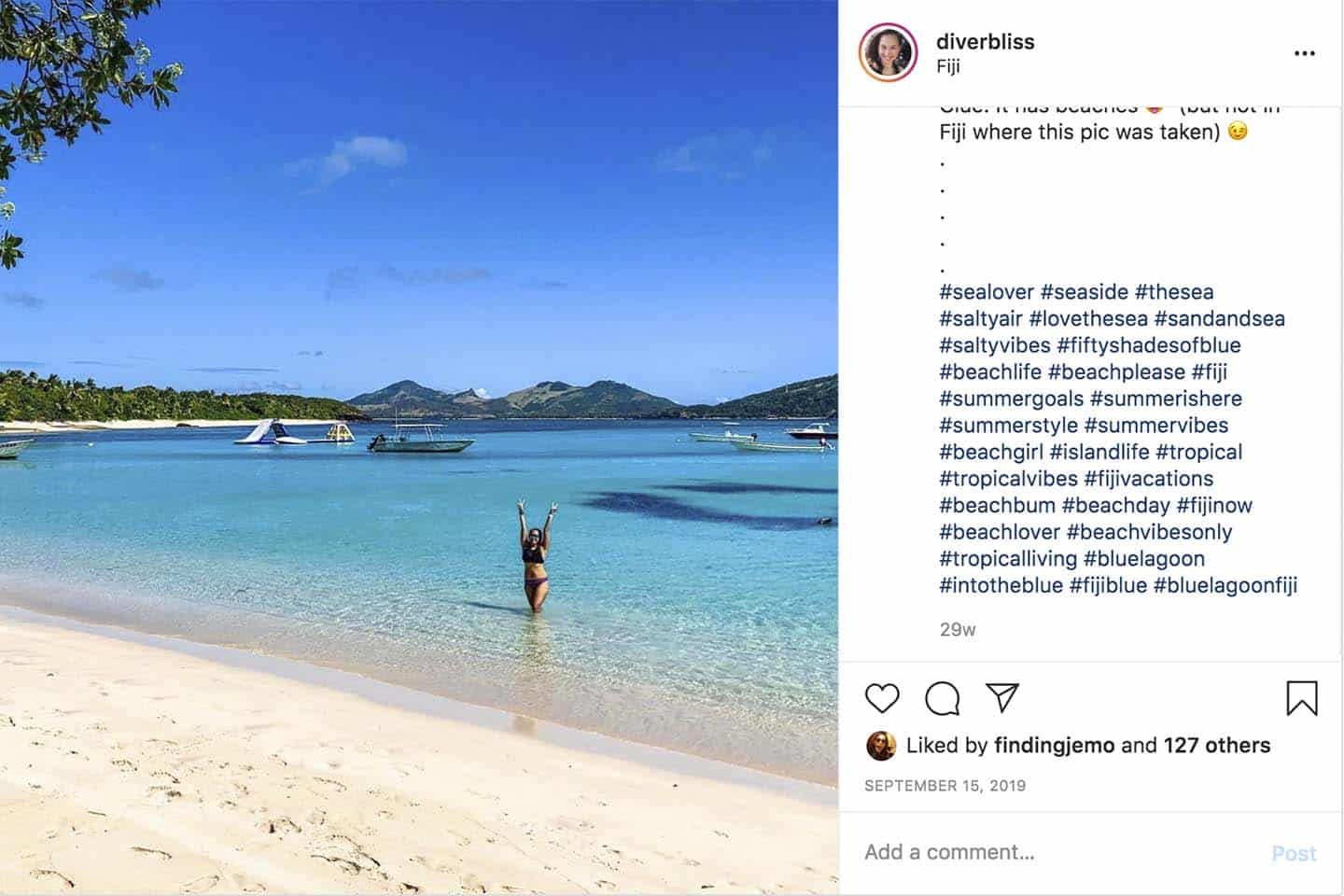 #beautifulsea
#bluesea
#blueseas
#deepbluesea
#deepsea
#fiftyshadesofblue
#ilovesea
#lovesea
#lovethesea
#saltyair
#saltyvibes
#sandandsea
#seaandsky
#sealover
#sealovers
#seaphoto
#seaphotography
#seaporn
#seascape
#seascapephotography
#seaside
#seastheday
#seavibes
#seaview
#seawaves
#sunandsea
#theperfectwave
#thesea
#wavescrashing
If you're looking for more captions for your sea and ocean photos on Instagram or Facebook or Twitter, you can check out my posts on: 200+ Sea and Ocean Captions for Instagram
Ocean Hashtags
Here are some Ocean Hashtags you can use instead of just using #ocean which has over 66 million posts!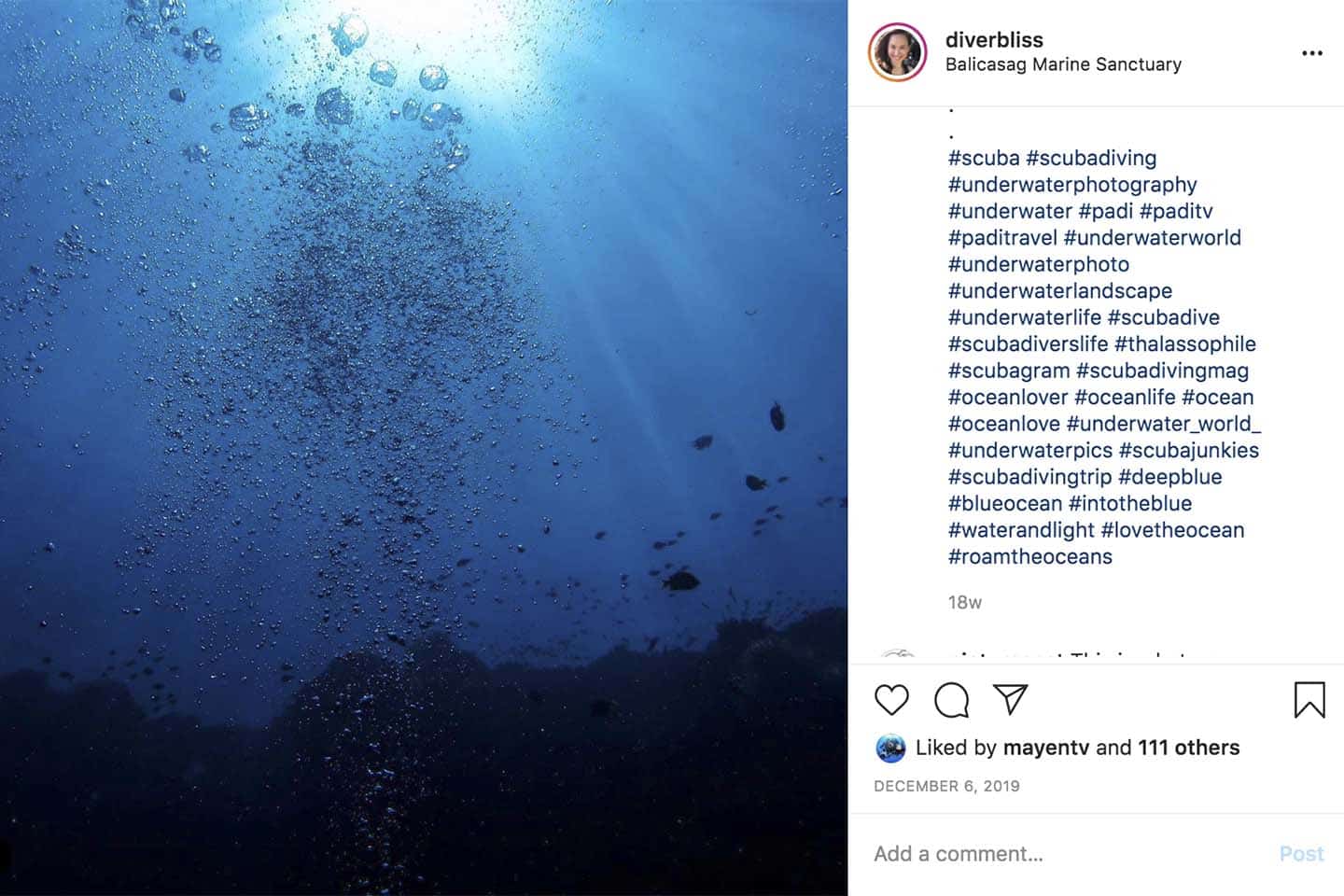 #aquaholic
#blueocean
#bluewater
#clearwaters
#deepblue
#discoverocean
#discoveroceans
#intotheblue
#lovetheocean
#madeofocean
#ocean
#oceanbreeze
#oceanchild
#oceanholic
#oceanholics
#oceanlife
#oceanlifestyle
#oceanlove
#oceanlover
#oceanlovers
#oceanminded
#oceanphotography
#oceanphotos
#oceans
#oceanscape
#oceantherapy
#oceanvibes
#oceanview
#oceanviews
#oceanworld
#oneocean
#ouroceandaily
#paradiseisland
#roamtheoceans
#saltescape
#tides
#turquoisewater
#waterandlight
#waterlust
Beach Hashtags
As a diver, beach hashtags are a must! I do enjoy posting photos of the beaches I visit. Once in a while I also post selfies of me enjoying the beach life! Here are some beach hashtags you can use for your island vibe photos.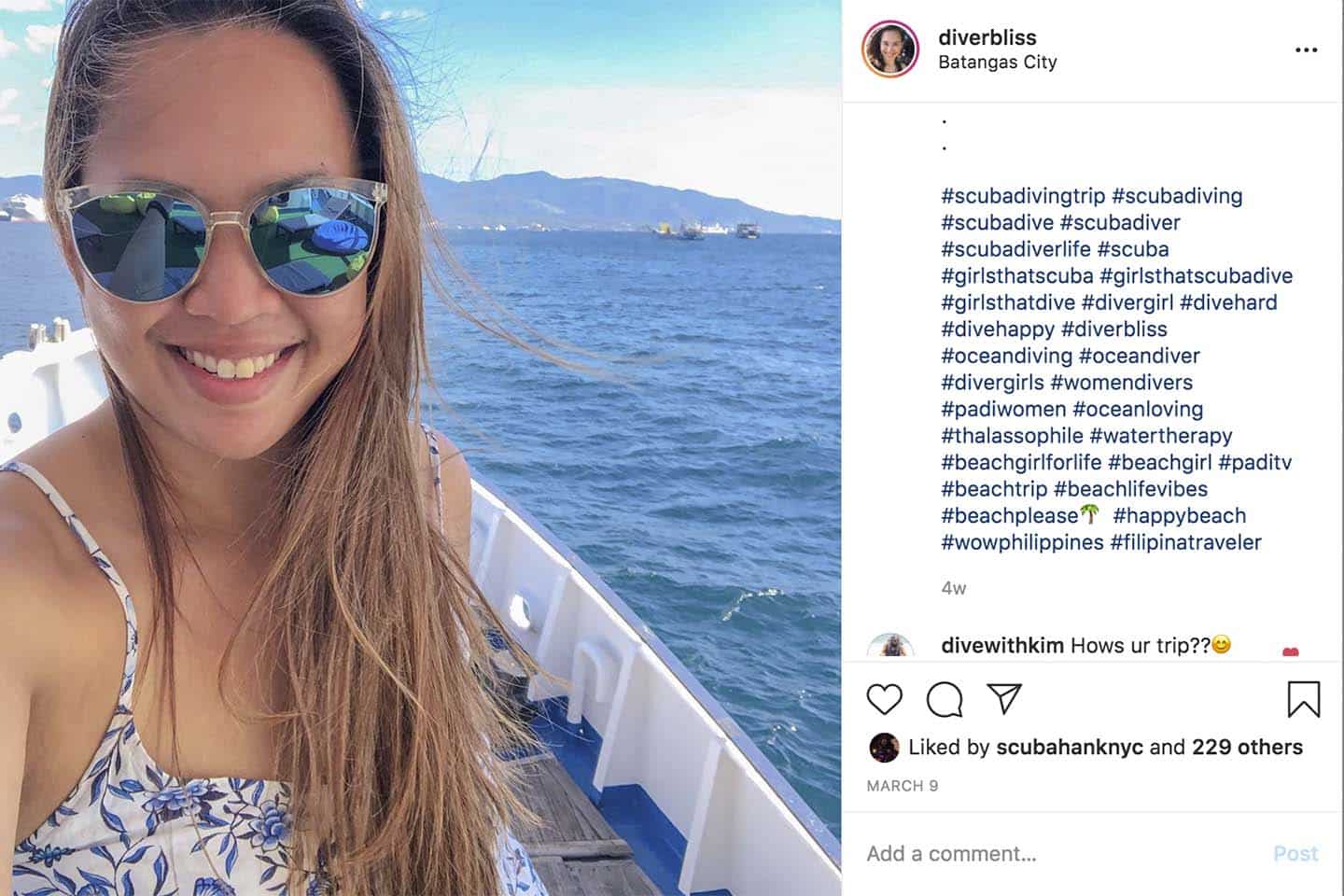 #atthebeach
#beachbum
#beachdayeveryday
#beachdays
#beachdaze
#beachescape
#beachesofinstagram
#beachesoftheworld
#beaching
#beachlover
#beachphotography
#beachscape
#beachsunrise
#beachsunset
#beachsunsets
#beachtherapy
#beachtime
#beachvacation
#beachvacay
#beachvibes
#beachview
#beautifulbeach
#bythewater
#dayatthebeach
#ilovethebeach
#islandlove
#islandparadise
#lovethebeach
#missingthebeach
#palmtrees????
#palmtreesandsunshine
#palmtreesfordays
#paradisebeach
#paradiseisland
#saltyhairdontcare
#sandinmytoes
#summervibesonly
#sunkissedskin
#sunsetonthebeach
#takemetothebeach
#tropicalisland
#tropicalparadise
#tropicalvibe
#tropicalvibes
#tropics
#walksonthebeach
#whitesandbeach
Pro-tip: Combine your beach hashtags with an Inspirational Beach Quote or Beach Caption.
From Sunrise to Sunset Hashtags
I'm a sucker for sunsets and often use #sunset but there are over 240 million posts on it already. If you want other sunrise or sunset hashtags or even anything in between in reference to the sun, here are your other options.
#baskinginthesun
#catchingrays
#chasingsunsets
#cloudysunset
#enjoyingthesunshine
#enjoythesunshine
#getsomesun
#hellosun
#ig_skylovers
#ig_skyvibes
#ig_sunrisesunset
#live_your_sunsets
#lovethesunshine
#lovingthesun
#raw_skies
#sky_sea_sunset
#skycolors
#skycolours
#skyonfire
#soakingupthesun
#soakupthesun
#splendid_horizon
#sunandsand
#sunchaser
#sunnydaysahead
#sunonmyface
#sunrise_and_sunsets
#sunrise_madness
#sunrise_pics
#sunrise_shotz
#sunrise_sunsets
#sunrise_sunsets_aroundworld
#sunriseoftheday
#sunrisephoto
#sunrisephotography
#sunriseporn
#sunrises
#sunrisesky
#sunset_sunrise_beautiful
#sunsetaddict
#sunsetchaser
#sunsetclouds
#sunsetgram
#sunsetlovers
#sunsetmadness
#sunsetoftheday
#sunsetporn
#sunsetskies
#sunsetsofinstagram
#sunsetview
#sunshinemakesmehappy
#sunshinestateofmind
#sunshinetherapy
#sunworshipper
#unlimitedsunset
#vitamindtherapy
#world_bestsky
Do you need help with your Instagram engagement? Increase interactions with your followers by using IG stories. Here are some examples of IG Story Game Templates you can use on your Instagram account!
Sea Animal Hashtags
My favorite subjects to feature on my account are the cool marine life I see in the deep sea! Here are some animal hashtags you can use for those special encounters.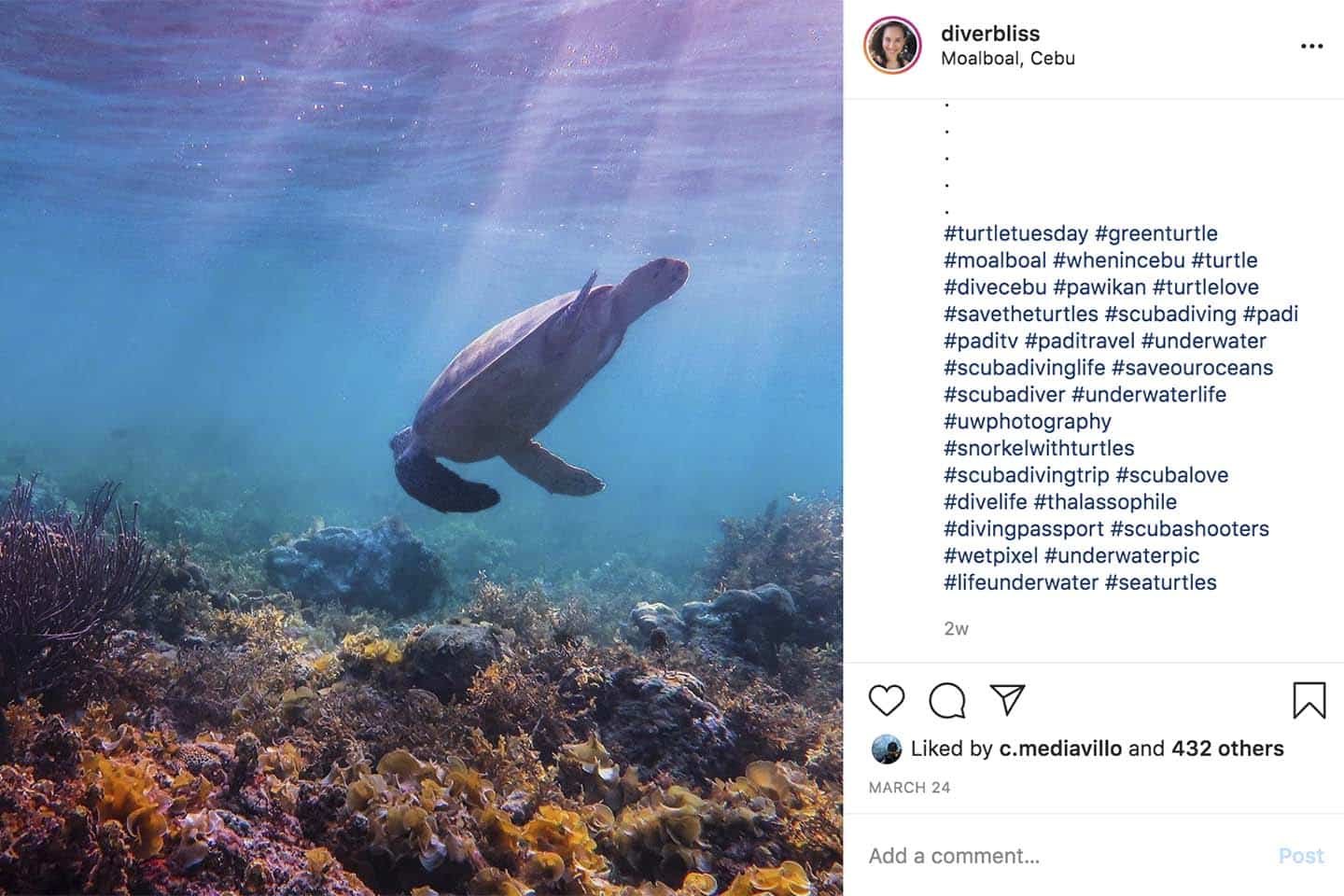 #bottlenosedolphin
#butterflyfish
#cetacean
#cetaceans
#clownfish
#coral
#coralreef
#corals
#crustaceans
#cuttlefish
#deepseacreatures
#dolphin
#dolphinlove
#eagleray
#fishes
#frogfish
#greatwhiteshark
#greenseaturtle
#greenturtle
#hammerhead
#hammerheadshark
#humpbackwhale
#humpbackwhales
#ilovenudis
#killerwhales
#mantarays
#marineanimals
#marinebiodiversity
#marinebiology
#marinelife
#marinemammals
#marinewildlife
#morayeel
#nudi
#nudibranch
#nudibranchs
#oceancreatures
#oceanwildlife
#octopus
#octopus????
#orca
#orcawhale
#parrotfish
#pufferfish
#pygmyseahorse
#reef
#schooloffish
#seaanemone
#seaanimals
#seacreature
#seacreatures
#seahorse
#seahorses
#sealife
#sealion
#sealions
#seaslug
#seasnake
#seastar
#seaturtles
#sharkdiver
#sharkdiving
#sharklife
#sharklove
#sharklover
#sharksofinstagram
#sharkweek
#starfish
#stingrays
#tropicalfish
#turtlegram
#turtlelife
#turtlelove
#turtlelover
#turtlesofinstagram
#turtlethursday
#turtletuesday
#turtleturtle
#undersea
#uwlife
#whales
#whaleshark
#whalesofinstagram
#whalewatch
#whalewatching
Once in a while I also include scientific names for my sea animal hashtags. For instance instead of just using #nudibranch, I include #chromodoris for some variety and specificity.
I also like posting animals on specific days like #turtletuesdays and #frogfishfriday. These hashtags are usually created by animal lovers to create more awareness. So find out if there are other animal specific days you can use.
Ocean Conservation Hashtags
Since marine conservation is part of my personal advocacy, here are some ocean conservation hashtags to choose from. It's a great way to be found by like-minded individuals who are also into conservation.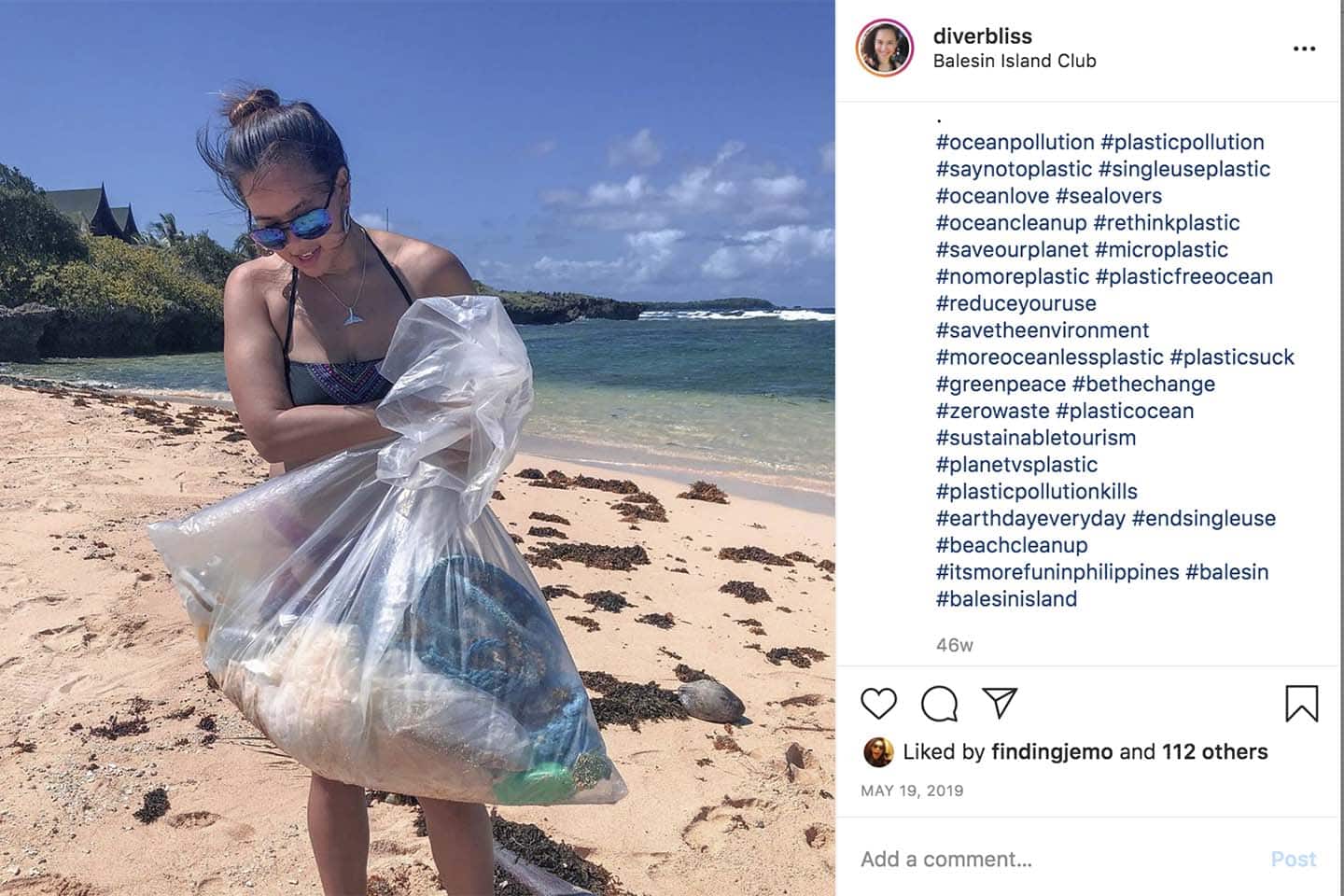 #4ocean
#blueplanet
#cleanoceans
#climatechange
#climatechangeisreal
#climatecrisis
#ecoconscious
#environmentallyconscious
#environmentallyfriendly
#globalwarming
#marinebiologist
#marineconservation
#marinescience
#noplanetb
#oceanconservation
#oceanography
#oceanoptimism
#protectouroceans
#protectourspecies
#saveocean
#saveoceans
#saveourbeach
#saveourocean
#saveouroceans
#saveourseas
#saveoursharks
#saveseaturtles
#savesharks
#savetheocean
#savetheoceans
#savetheoceanwildlife
#savetheseaturtles
#savethewhales
#scubadiveroceanplanet
#sharkresearch
#turtleconservation
Protip: Use quotes to help get your message across! Here are 35 of the most thought-provoking ocean plastic pollution quotes of all time!
Plastic Hashtags
One of the major problems our oceans are facing today is plastic. In fact, I live in a country with a huge plastic problem. I often post about the plastic that I pick up in my dives and to reach a wider audience, I use plastic hashtags.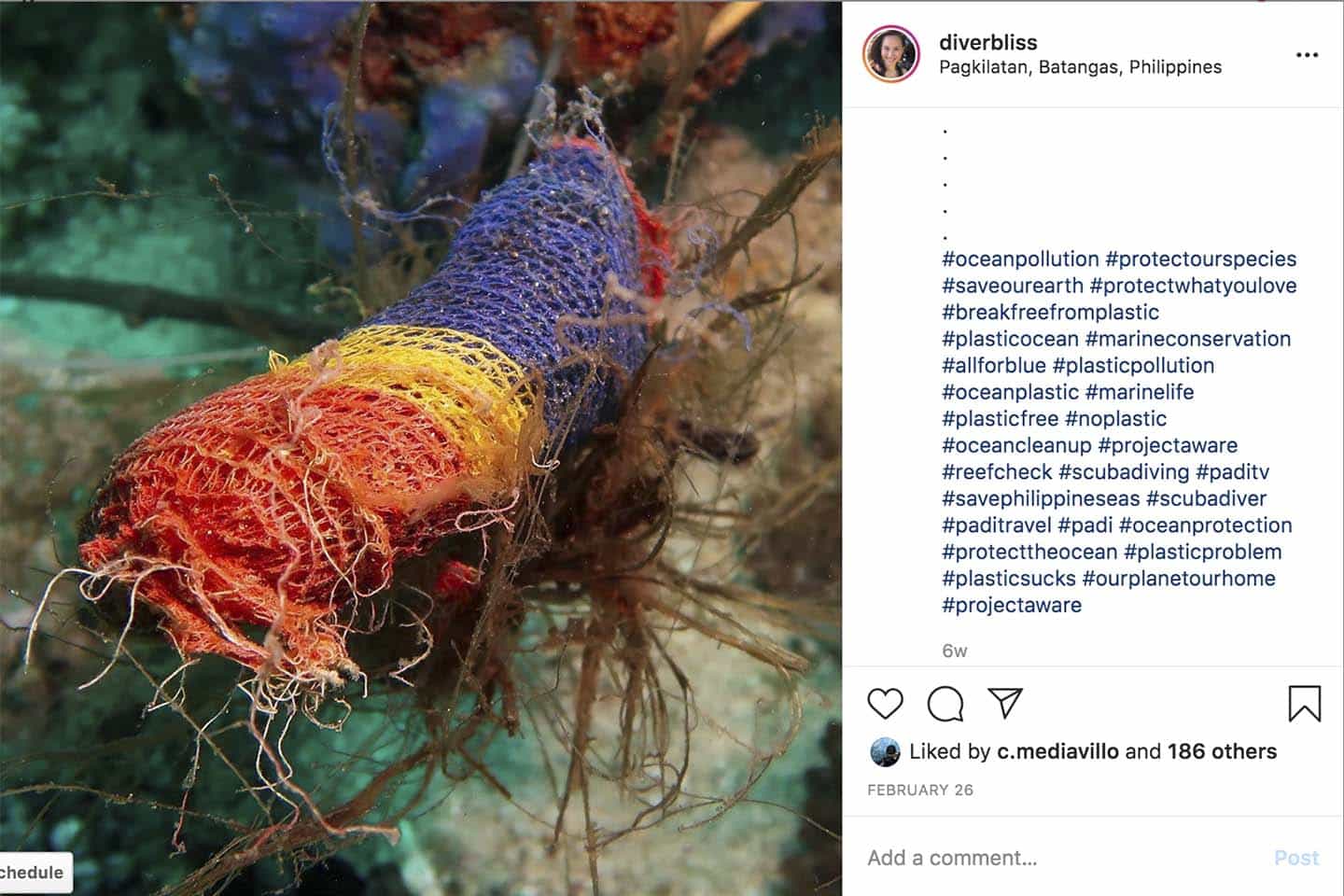 #banplastic
#choosetoreuse
#ecoconscious
#ecofriendlyliving
#endplasticpollution
#noplastics
#oceanpollution
#planetorplastic
#plasticbattle
#plasticfreeforthesea
#plasticfreejuly
#plasticfreelife
#plasticfreeliving
#plasticfreeoceans
#plastickills
#plasticocean
#plasticpollutes
#plasticpollution
#plasticsucks
#plasticwaste
#reduceplastic
#reducewaste
#refusesingleuse
#saynotosingleuse
#singleuseplastic
#waronwaste
#wastefreeliving
#waterpollution
---
As an additional tip, I recommend you create different hashtag sets that you can use depending on your ocean niche. For instance, I have a set specifically for general scuba diving hashtags. I have another set for macro photography hashtags. And another for video posts. This save me time when posting.
I also recommend that when you do choose a hashtag from the list above, double-check if the photos that appear under the hashtag match the photos you are posting.
---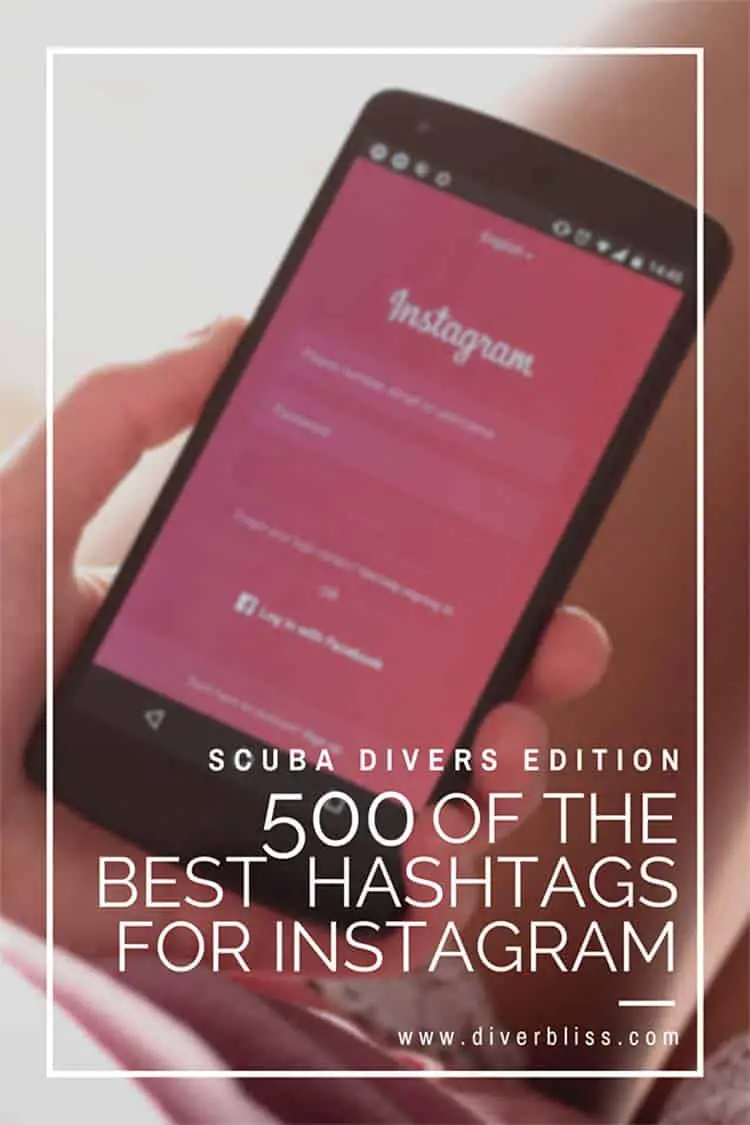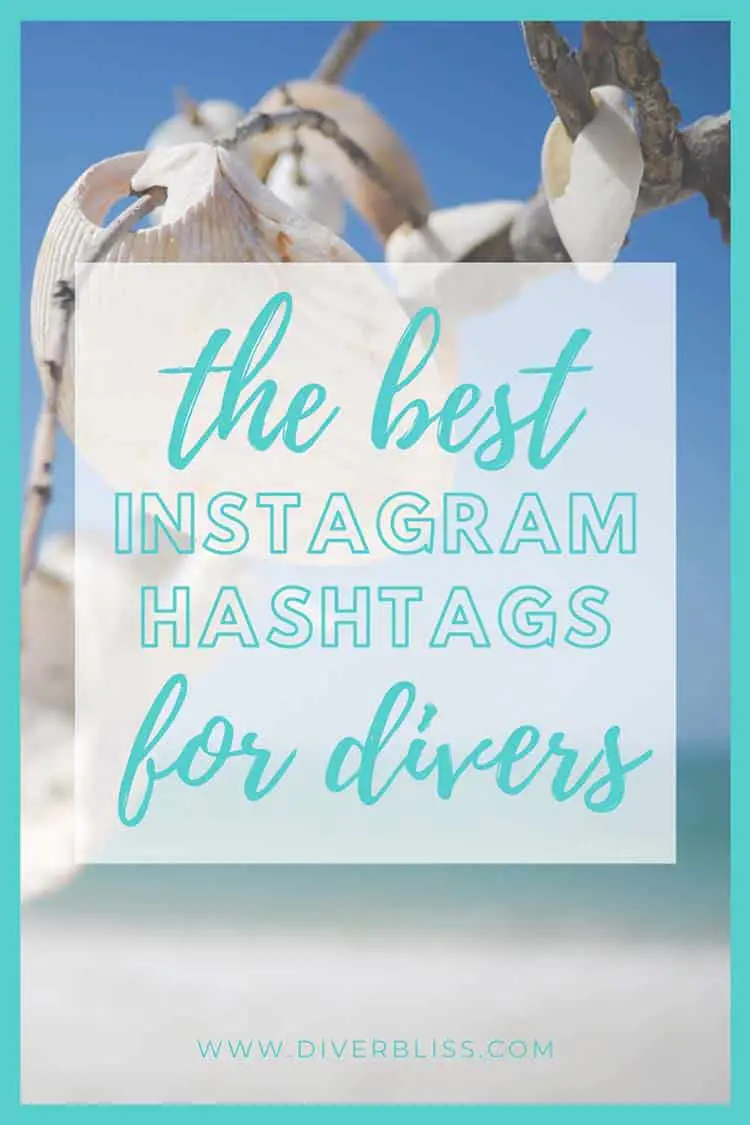 Hope you find this helpful! Happy hash-tagging!