In this post, I will share with you the best scuba diving camera for beginners. If you're struggling to decide on what the best underwater camera is for you, then continue reading for some tips and recommendations.
One of the most common questions I get asked is "What underwater camera do you use?" or "What camera do you recommend for scuba diving?"
While it is easy to blurt out the brand and model, the truth is sometimes it's not as simple as that. I have purchased several "first scuba diving cameras" mostly because of the many stages of diving and learning I was in.
To help you determine the best scuba diving camera for you, I will share with you my personal experience, thought process and considerations when choosing my first scuba diving camera.
I will share with you how I ended up with the brands and models I now use as well as my experience with using them. Hopefully, my personal experiences will help you choose the best scuba diving camera for you.
This list contains recommendations for scuba divers who have minimal or no experience in photography. If you want to take an underwater camera with you on your next dive trip, here are my top recommendations for the best scuba diving cameras for beginners:
Best Underwater Action Cameras
Best Underwater Compact Cameras
This list has been updated based on the latest models in the market and my personal choices which I would consider buying at this point in time.
My Personal Choice of Underwater Camera for Scuba Diving
After a ton of research on what was the best scuba diving camera for beginners, I ended up purchasing a Nikon AW130 as my first point-and-shoot underwater camera. This was back in 2016.
Nikon Coolpix AW130
I decided to get this particular model because of the following reasons:
Point and shoot camera which meant I didn't have to think about the settings.
It had an underwater mode which helped reduce the blue or green color cast at certain depths.
Excellent depth rating. It is a waterproof camera that can go up to 100 feet. This was a huge consideration for me as I did not want to buy an underwater housing due to bulkiness and budget constraints. When the Nikon AW130 was released it had one of the best depth ratings going 10 feet deeper than its competitors in the waterproof camera category.
It fit my budget. I didn't want to purchase anything expensive. At the time of purchase (in 2016) I was only diving one 1-2x a year.
Easy to travel with for someone who liked traveling light. The unit itself could fit in my pocket and it didn't have a bulky charger.
I could use it for other outdoor activities and not just for diving.
For me, the major downside of getting the Nikon AW130 was that there was limited opportunities to grow as an underwater photographer. I realized that I also enjoyed sharing my dives to a larger audience and ultimately wanted to advocate for the ocean.
And while the Nikon AW130 was great to document memories, you can only do so much with a point and shoot camera in terms of quality. I also realized that I enjoyed taking underwater videos as much as I loved photography. I did not consider this when I purchased the Nikon AW130.
While it was able to deliver as mentioned above eventually I felt very constrained and limited. I had quickly outgrown the Nikon AW130 because of my desire to create and share my work.
I would recommend it to someone who just wants photos for keepsake purposes. The Nikon AW130 is great for anyone who does not have a background in photography but simply wants some souvenir of their adventures underwater.
Canon Power Shot G7X Mark II + Fantasea Housing
When I realized I enjoyed both underwater photography and videography, I decided it was time for another upgrade. After doing another round of research on the best scuba diving camera for beginners, I decided to get a Canon Power Shot G7X Mark II with a Fantasea Underwater Casing (my review).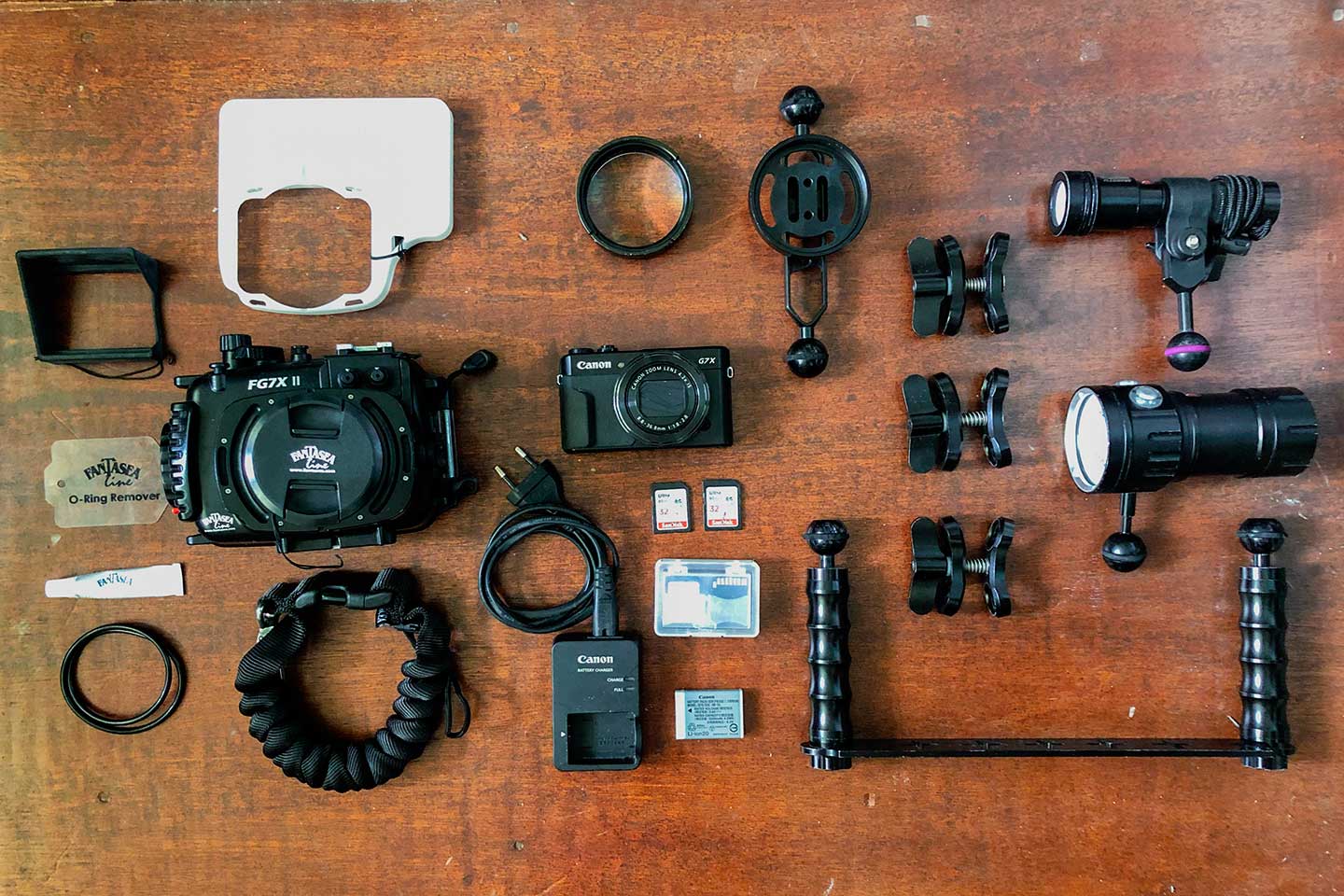 This underwater camera for scuba diving checked almost all the requirements I had.
Able to take quality photos and videos
Able to shoot in RAW for post-processing
Multiple camera settings like Manual Mode that will allow me to shoot in different conditions on land and underwater
Versatile so I can use it for both scuba diving and travel photos
Fits my budget
Compact and easy to travel with
Something I can use with strobes and wet lenses
I have been using this underwater camera since 2018 and have no complaints. Most of the photos and videos you see on my website were taken using this underwater camera. I think this is the best underwater camera for scuba diving because it's been able to deliver in terms of quality and budget.
Check price of Canon Power Shot G7X on Amazon | B&H Photo Video
Check price of Fantasea FG7X II on Amazon | B&H Photo Video
Best Underwater Action Cameras Recommendations for 2023
From the time I purchased my underwater cameras a few years ago, many newer models have been released into the market. Here are my top choices for point and shoot, underwater cameras that are simple to operate and use.
Camera Specifications Comparison:
Specifications
Nikon Coolpix W300
GoPro Hero 11
Insta360 X3
Max Resolution
4608 x 3456
5599 x 4927
Effective Pixels
16 megapixels
27 megapixels
72 megapixels
Sensor Size
1/2.3″ (6.17 x 4.55 mm)
1/1.9″
1/2″
ISO
Auto, 125-6400
White Balance
5 Presets with Custom White Balance
Photo Format
Jpeg
Raw
DNG
Video
Up to 4K
Up to 5K
Up to 5K
Focal Length
24–120 mm
6.7 mm
Optical Zoom
5x
Max Aperture
F2.8–4.9
F1.9
Screen Size
3″
2.27″ Touch LCD
& 1.4″ Color LCD
2.29 "inches" (5.8cm)
Live View
Yes
Yes
Yes
Battery Life (shots)
280
81 minutes
Built-in Flash
Yes
No
No
Aperture Priority
No
No
No
Shutter Priority
No
No
No
Manual Mode
No
No
Yes
Waterproof
Up to 30m (100ft)
Up to 10m (33ft)
Up to 10m (33ft)
Year Released
May 2017
September 2022
September 2022
Check Price
Amazon
Amazon
Amazon
Check Price
not available
B&H Photo Video
Insta360
Nikon Coolpix W300
The Nikon Coolpix W300 is a waterproof, freezeproof, shockproof, and dustproof camera you would want to take with you in your adventures. It can take 4K Ultra HD video and 16 MP photos. It has 20 common Scene Modes like Night Landscape or Portrait. Additional features include built-in GPS, eCompass, altimeter, depth gauge Wi-Fi®, and Bluetooth®.
If you're considering getting a Nikon AW130, I would recommend upgrading to this instead. This is the more recent and upgraded version of that model.
This camera costs one of the more affordable underwater diving cameras for beginners in this recommendation list.
Nikon W300 Pros
waterproof up to 30m (100 feet) so no underwater casing is required
Underwater Scene Mode to enhance colors
easy to use for different activities
budget-friendly
4K video recording
Nikon W300 Cons
waterproof only up to 30m limited to use for deeper dives
short battery life
limited options for accessories
---
GoPro Hero 11
The GoPro is a popular choice as an underwater action camera for beginners. I have a GoPro Hero 9 and I am very happy with the dive videos I've taken on them.
The GoPro Hero 11 is an excellent choice for an underwater camera for scuba divers. With its stunning 5.3K video resolution, divers may record their exploits in vivid depth and color. Because of its sturdy waterproof housing, scuba divers can bring their Go Pro for up to 60 meters (196 feet)
This underwater camera makes it easy for divers to concentrate on their dive while still recording breathtaking scenes.
Go Pro Hero 11 Pros
point and shoot easy to handle
front-facing LCD perfect for selfies underwater 1.4-inch front color display,
action camera great for any outdoor activity above or underwater
can deliver quality videos up to 5K
great for wide-angle
larger sensor which allows for an expansive field of view that gives you an extra-large canvas for your creativity
availability of casing and accessories
Go Pro Hero 11 Cons
waterproof to only 10ft, underwater housing required
challenging to take macro or close-up shots, will need to purchase accessories
additional costs for GoPro housing and accessories
---
Insta360 X3
For scuba divers who are interested in capturing immersive footage underwater, the Insta360 X3 is a game-changing piece of equipment. Because it is capable of capturing 360 degrees, it makes it easy for even inexperienced users to generate amazing content.
The user only needs to point and shoot for the camera to capture the entire scenario, which opens up a wide variety of editing options and provides numerous points of view. Its underwater housing enables diving to depths of up to 50 meters.
Because of the camera's portability and durability, it is ideal for traveling and engaging in extreme activities. The Insta360 X3 provides you with a new point of view and improves the documentation of your dive adventures.
I have one myself and highly recommend using it. Read my full review of the Insta360 X3 as an underwater camera.
Insta360 X3 Pros
Immersive 360-degree footage
point-and-shoot functionality, making it easy to capture content for beginners and experienced divers
Insta360 app makes it easy to produce amazing content
travel-friendly compact and lightweight design
has underwater mode that color-corrects the footage at certain depths
Insta360 X3 Cons
Dive housing can be seen in some shots
Dive housing can produce condensation after prolonged use
fisheye lenses can cause distortion and warping of the image, which may not be suitable for certain types of video projects
Editing 360-degree footage can be time-consuming and require technical skills,
---
Best Underwater Compact Camera for Beginners Recommendation for 2023
If you have a bit more experience with photography and are looking for something that will give you opportunities to grow as an underwater photographer, here are the three compact diving cameras you might want to consider.
Camera Specifications Comparison:
Specifications
Olympus Tough TG6
Canon Powershot G7X MIII
Sony Cyber-Shot DSC-RX100 VII
Max Resolution
4000 x 3000
5472 x 3648
5472 x 3648
Effective Pixels
12 megapixels
20 megapixels
20 megapixels
Sensor Size
1/2.3″ (6.17 x 4.55 mm) BSI-CMOS
1″ (13.2 x 8.8 mm) BSI-CMOS
1″
(13.2mm x 8.8mm) BSI-CMOS


ISO
Auto, 100-12800
Auto, 125-12800 (expandable to 25600)
Auto, 125 – 12,800
White Balance
6 Presets, 4 custom WB for Photo Only
6 Presets with Custom White Balance
10 Presets with
Custom White Balance
Photo Format
Raw and Jpeg
Raw and Jpeg
Raw and Jpeg
Video Format
Up to 4K
Up to 4K
Up to 4K
Focal Length
25–100 mm
24–100 mm
24–200 mm
Optical Zoom
4x
4.2x
8.3x
Max Aperture
F2–4.9
F1.8–2.8
F2.4-4.5
Screen Size
3″
3″
3″
Live View
Yes
Yes
Yes
Battery Life
340
235
260
Built-in Flash
Yes
Yes
Yes
Aperture Priority
Yes
Yes
Yes
Shutter Priority
No
1/2000 – 30 sec
1/2000 – 30 sec
Manual Mode
No
Yes
Yes
Waterproof
Up to 15m (50ft)
No (purchase UW housing)
No (purchase UW housing)
Year Released
May 2019
July 2019
July 2019
Check Price
Amazon
Amazon
Amazon
B&H Photo Video
B&H Photo Video
B&H Photo Video
Olympus Tough TG6
The Olympus Tough TG6 is a favorite among scuba divers. While it does not have a manual setting mode, its macro capabilities are the rave among divers. It is also considered to be in the budget-friendly price range among the three with a basic setup costing below $1000.
You can easily upgrade your camera set up by adding 67mm thread wet lenses and strobes.
Pros
waterproof to up to 50 feet so you can use it without a case for shallow dives
underwater casings are available if you dive deeper
allows for additional accessories like wide-angle lenses and strobes
built-in underwater mode setting
comparatively longer battery life
4K Video
budget-friendly
Cons
has a smaller sensor at 1/2.3″
no manual mode
confusing menus according to some users
If you would like to purchase an Olympus underwater housing, you can check Amazon or B&H Photo Video for the best deals.
---
Canon Power Shot G7X MIII
As previously mentioned, I currently use the Canon G7X MII which is the predecessor of the Canon Power Shot G7X MIII. The biggest difference between the two models is the 4K capabilities of the latest one.
Compared to the Olympus TG6, the Canon Power Shot G7X M3 is a bit more pricey at an estimated cost of USD750 for the camera and at least USD400 for the underwater casing. However, the bigger sensor, resolution, and its other feature like manual mode might be worth the additional cost for you.
I would recommend the Canon Power Shot G7X Series to anyone who wants to grow as a photographer. Similar to the TG6, the underwater casing available for the Canon G7X series allows for wide and macro 67mm wet lenses and filters. You can also add strobes and video lights to help enhance your photos and videos.
Canon G7X MIII Pros
quality photos and videos
underwater pre-sets and manual mode settings
variety of choices for underwater casing and accessories
considered to be one of the best vlogging cameras in the market
Canon G7X MIII Cons
requires underwater housing
shorter battery life compared to its predecessor
more expensive compared to the the MII considering the minimal upgrades
If you would like to purchase an underwater housing for Canon G7X Mark 3, you can check Amazon or B&H Photo Video for the best deals.
---
Sony Cyber-Shot DSC-RX100 VII
Most underwater photographers are split between the Canon's G7X Series and the Sony RX100 Series. In terms of camera specifications, there are not much difference between the two. So in my opinion it boils down to brand loyalty and pricing.
As someone who has been a Canon user most my life, brand was the reason why I ended up NOT purchasing the Sony RX 100. Using a Canon interface and menu was more simple for me. After trying the Sony RX100 in a camera store, I realized I did not want to go through the pains of having to learn a completely different interface. My familiarity with the brand was a big tipping point for me.
Another factor is pricing. The latest Sony RX100 VII is more expensive and it can be hard to justify the huge pricing disparity against the Canon G7X MIII. The Sony RX100 VII can retail at approximately USD1300 and underwater housing is approximately USD350 for the Fantasea FRX100 VI Limited Edition Housing.
Pros
quality photos and videos
excellent reviews from underwater photographers
variety of choices for underwater casing and accessories
better battery life and focal length compared to the Canon G7X MIII
Cons
requires underwater housing
more expensive than its competitors
If you would like to purchase underwater housing for Sony Cyber-Shot DSC-RX100 VII, you can check B&H Photo Video for the price.
---
Want to know what some of the professionals are using? Check out this post where these photographers share what cameras they use: 15 Amazing Women Underwater Photographers You Should Follow on Instagram
Criteria for Choosing the Best Scuba Diving Camera for You
If you are buying a scuba diving camera for the first time, it helps to be clear on the following things:
why you want to get into underwater photography and your objectives
the budget you are working with
setting your requirements for camera features
Let's get into the details below.
What are your underwater photography goals?
There are many reasons why scuba divers get into underwater photography or videography. You might want to do it just as a hobby while others might want to make money from photography.
Are you just using it just for your own personal memories? Maybe you want it to remember your dives and have something to look back to. Maybe once in a while, you want to show your family and friends what you did on your dive vacation.
You might be someone who is obsessed with logging your dives and maybe you want photo records of the different marine creatures you saw and where you saw them.
Does the thought of capturing what you experience underwater and showing it to the rest of the world excite you? Maybe you want to use your photography to create awareness about our oceans.
Or maybe you already know a bit of photography and want to expand your skills and experience.
You might be a scientist or researcher and you need to buy an underwater camera for the first time for your work. Or maybe you dream of becoming a professional underwater photographer or videographer someday and don't know where to start.
Understanding how you will be using your underwater camera will help you narrow down your options.
How much are you willing to spend on a diving camera?
One of the biggest considerations when buying an underwater camera for scuba diving is the price. Buying underwater photography gear can be addicting and expensive!
Knowing your photography goals will help you plan long-term and avoid costly mistakes. You could be buying something within your budget only to find out it's not meeting your photography objectives.
When you're buying an underwater camera you will also have to consider the underwater housing and accessories you will need to buy. While you do not need to buy everything at the same time, these are things you might want to consider budget-wise.
It's great if you have a large disposable income and money is not an issue. But if you are not so lucky, then you need to find a good balance between what you think is the best underwater camera for you to achieve your goals while considering what you can afford.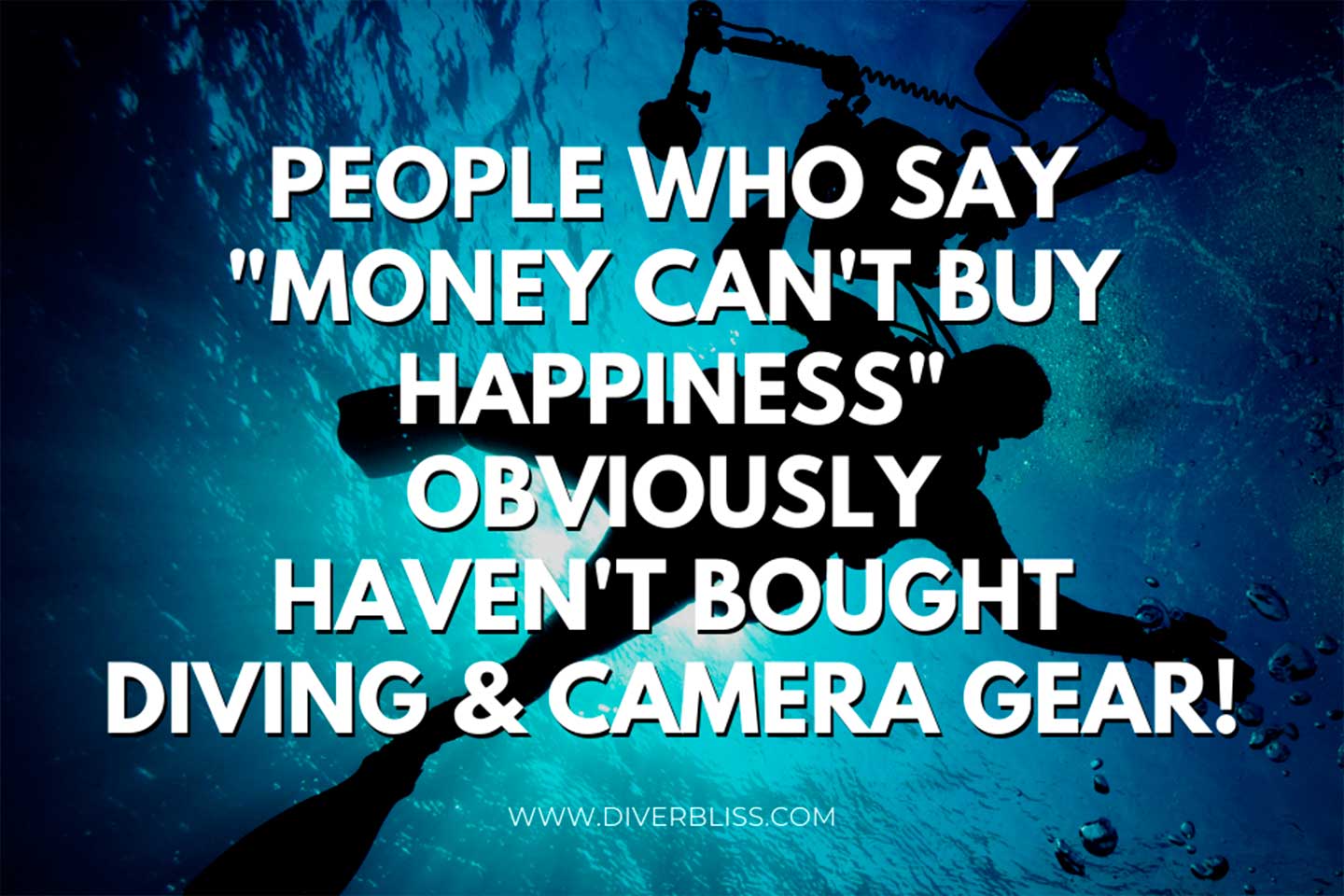 Remember that a more expensive camera will not always mean better photos or videos. Underwater photography and videography require skills, talent, and experience. Many photographers are able to capture award-winning shots even by using underwater cameras recommended for beginners.
Tip: Write down all the needs and wants you have for your underwater set up. This will give you an idea as to how much you might be spending if you decide to go with a specific brand and model.
What should you consider when buying an underwater camera?
Type of Camera
There are a lot of underwater cameras you can choose from depending on where you are in your photography journey. Underwater cameras can be loosely classified as DSLRs, Mirrorless, and Compact.
DSLR Cameras work like the traditional film camera except it's digital. It uses the optics and mechanism of a single-lens reflex camera (SLR) with a digital imaging sensor serving as its film. Because of these mechanisms DSLRs tend to be heavier and bulkier.
The mirrorless camera is a recently developed camera. With the main difference is that it no longer contains a mirror that the DSLRs need to capture images. Instead light goes directly into the image sensor and you can get a preview of the image on the electric viewfinder or LCD monitor. Mirrorless cameras tend to be lighter and less bulky than DSLRs.
Mirrorless cameras and DSLR have more features and stronger shooting capabilities which is why professionals prefer using either of these two. Another distinct differentiation of mirrorless and DSLR cameras is having interchangeable lenses. Having the option to change lenses that can make a huge difference in the outcome of an image. Because they are able to produce higher quality images and videos they are generally more expensive.
Compact cameras as the name suggests are smaller-sized cameras. They are basically point-and-shoot cameras that do not require you to have much experience and photography knowledge to use them. Action cameras can also be classified in this category.
While they're simple to operate compact cameras can still deliver quality results depending on the features and how much you are willing to pay.
If you have little to no knowledge and experience in photography or videography, compact cameras are a good place to start for beginners. They're affordable and easy to use.
Quality of Pictures and Videos
Depending on your underwater photography goals, the quality of pictures and videos of each camera will play an important role in your decision-making. To help you decide, you can check the specification resolution, effective pixels, and sensor size of each model you are considering.
Is it a bad indicator if these specifications have "lower values"? Not necessarily! Again it all boils down on your personal goals and preference.
Photo Format
There are a lot of scuba diving cameras available on the market and another important consideration is their ability to shoot in JPEG and in RAW.
While some people might be content with shooting in JPEG, you might want to consider having a camera shooting in RAW especially if you intend to post-process your work. To get the correct colors you will have to use software like Photoshop or Lightroom to enhance your image.
You can still edit JPEG photos, however, according to experts, shooting in RAW is better because it retains more information about the captured scene.
Video Format
You might want to check the video capabilities of your camera if you intend to take underwater video footage. Find out what size and quality your videos are able to take. Shooting in the 4K setting seems to be all the rage now, but you might just be content with shooting in High Definition (HD) Settings.

If you are planning on selling your clips as stock footage, then you might need to find a camera that can deliver the highest quality possible. You might also want to consider what format or minimum requirements you will need if you intend to do some video editing work.
Shooting Modes
Another criterion that you might find important is the shooting modes available. While some of you might be happy with a simple point-and-shoot camera, others might want something that has an aperture priority or manual setting.
Having a manual mode gives photographers more freedom and flexibility when it comes to camera settings. You can assign your own aperture, shutter speed, ISO, and many more settings. This gives you more control over the output of the photo.
Custom White Balance
You probably learned in your open water scuba diving course that at certain depths colors "disappear" or change. The deeper you go, the more blue or green everything seems.
As a photographer, you'll even be more conscious of this. To compensate you can use accessories like video lights, strobes, and filters. But you can also use your camera's white balance.
If you know how to use your custom white balance setting, you can calibrate how your camera sees colors at any depth. The colors are rendered with more accuracy which is super important in underwater photography.
Some cameras are able to give you custom white balance while others will not have this feature. The ability to set custom white balance is something you should consider when buying an underwater camera for beginners.
Underwater Housing and Accessories
Another consideration for choosing is the availability of underwater housing and accessories.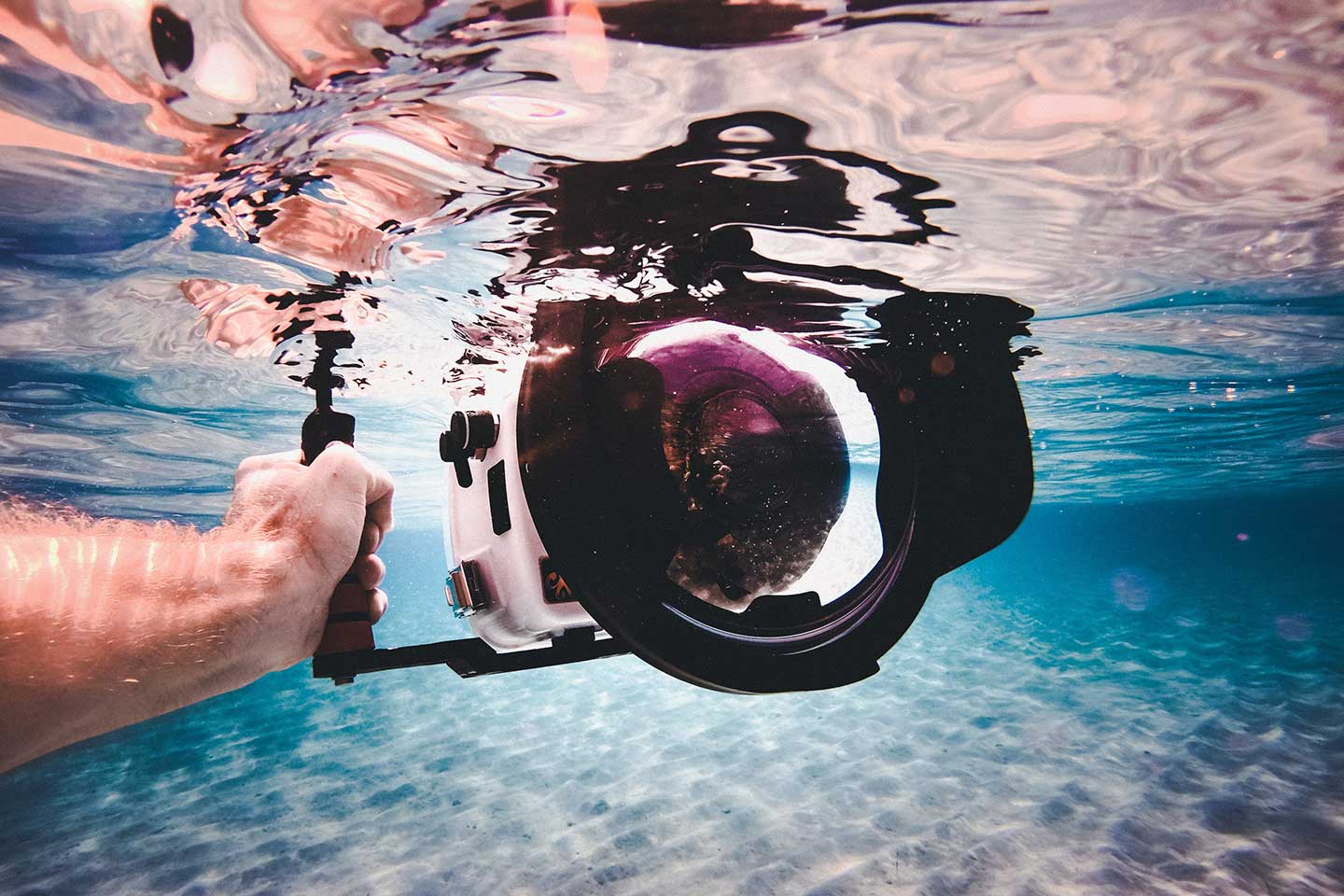 If you are buying an underwater camera for scuba diving for the first time, you might be surprised to know that some camera models can only go to certain depths without an underwater casing. And if you do want to bring the best camera for you, most likely you will need to buy underwater housing and it can get pretty pricey!
Having options and alternatives is always good so you can choose what fits your style and budget. There are several companies that specialize in underwater camera housing and they sell camera cases for specific models.
Being able to use underwater accessories like strobes, video lights, trays, wet lenses, and filters, might be important for you. You might want to choose a camera and underwater casing that will allow these upgrades down the road.
Over-all User Experience
Are you able to use the buttons of the camera properly? Is the menu easy to navigate? Are the LCD screens or viewfinder easy to use? Do I have to keep changing the batteries often?
Remember that you will be using this camera underwater while thinking about 100 million other things about scuba diving.
Find out what other divers are saying about their experience while using the camera in different dive conditions. Sometimes the specifications look great on paper however, the user experience might indicate otherwise.
If you are still window shopping, you should visit a camera shop that will allow you to explore the model you are eyeing and see for yourself how you feel while using it. This is also helpful when buying underwater casing and accessories as well.
Related Articles:
5 Underwater Photography Mistakes You Can Easily Avoid As A Beginner

10 Underwater Photography Etiquettes You Need to Master

85 of the Best Tips on Underwater Photography for Beginners
Was this post helpful in finding the best underwater camera for scuba diving? Pin it for later!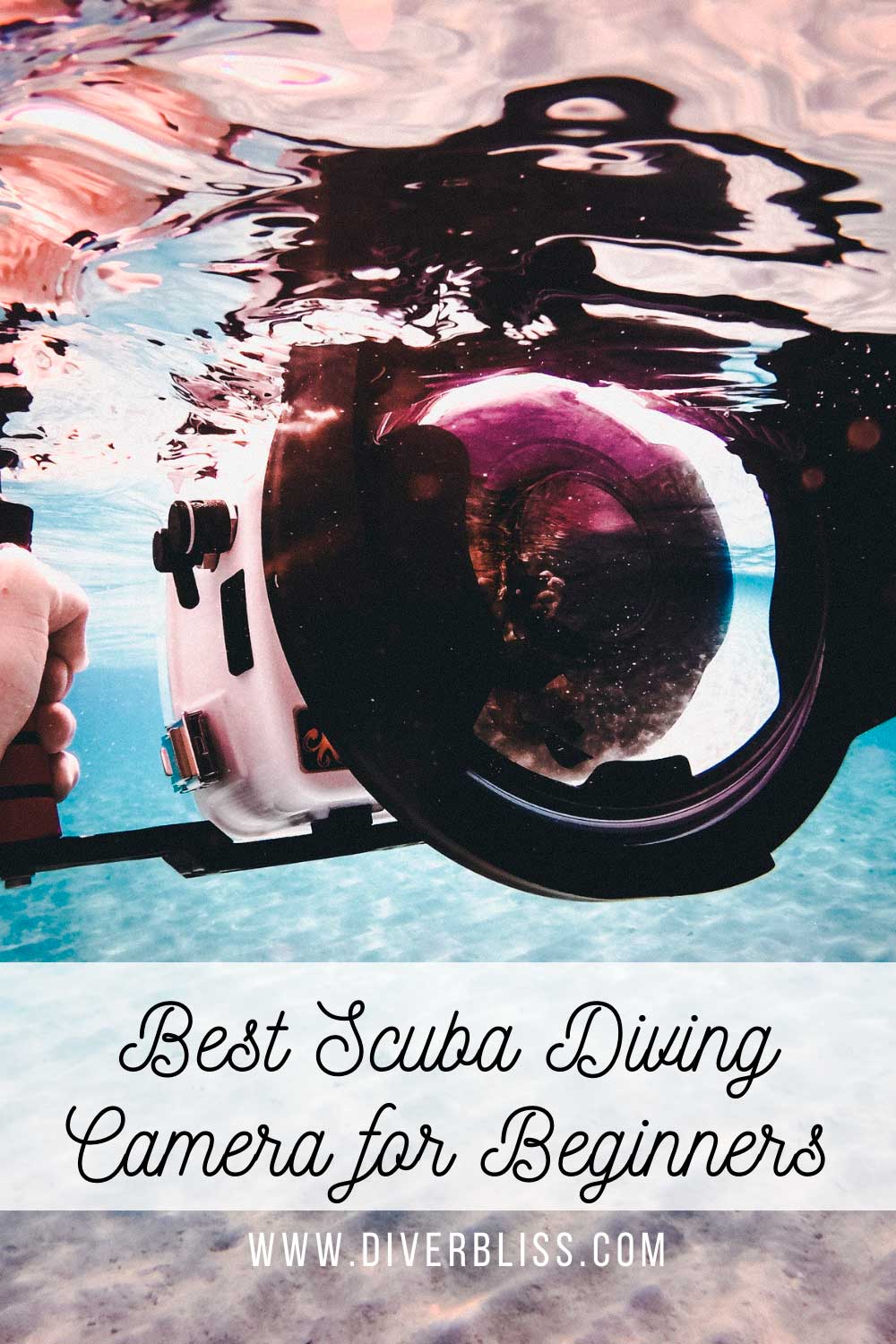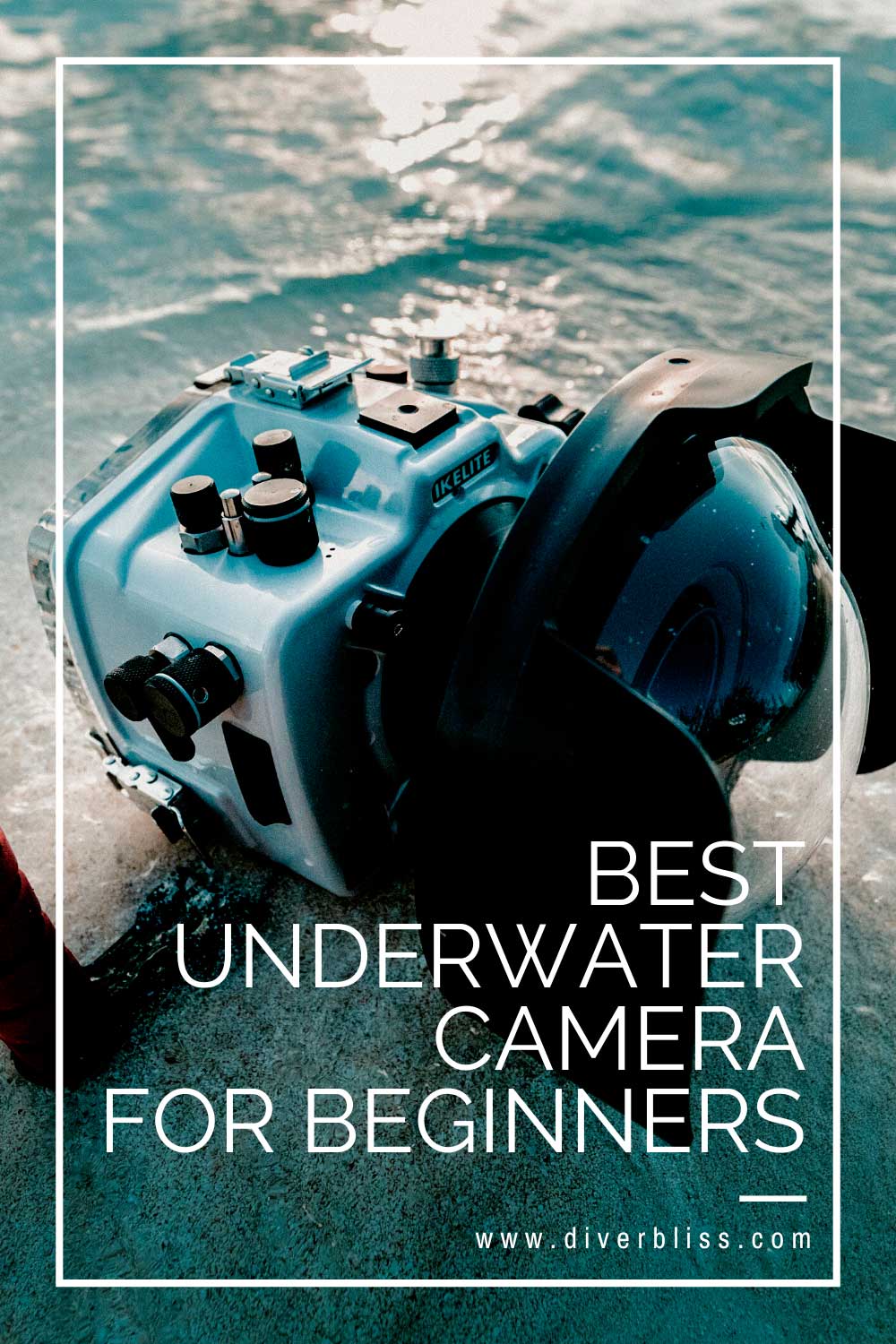 Which underwater camera do you use? Do you have a recommendation for the best scuba diving camera for beginners? Leave a comment below!