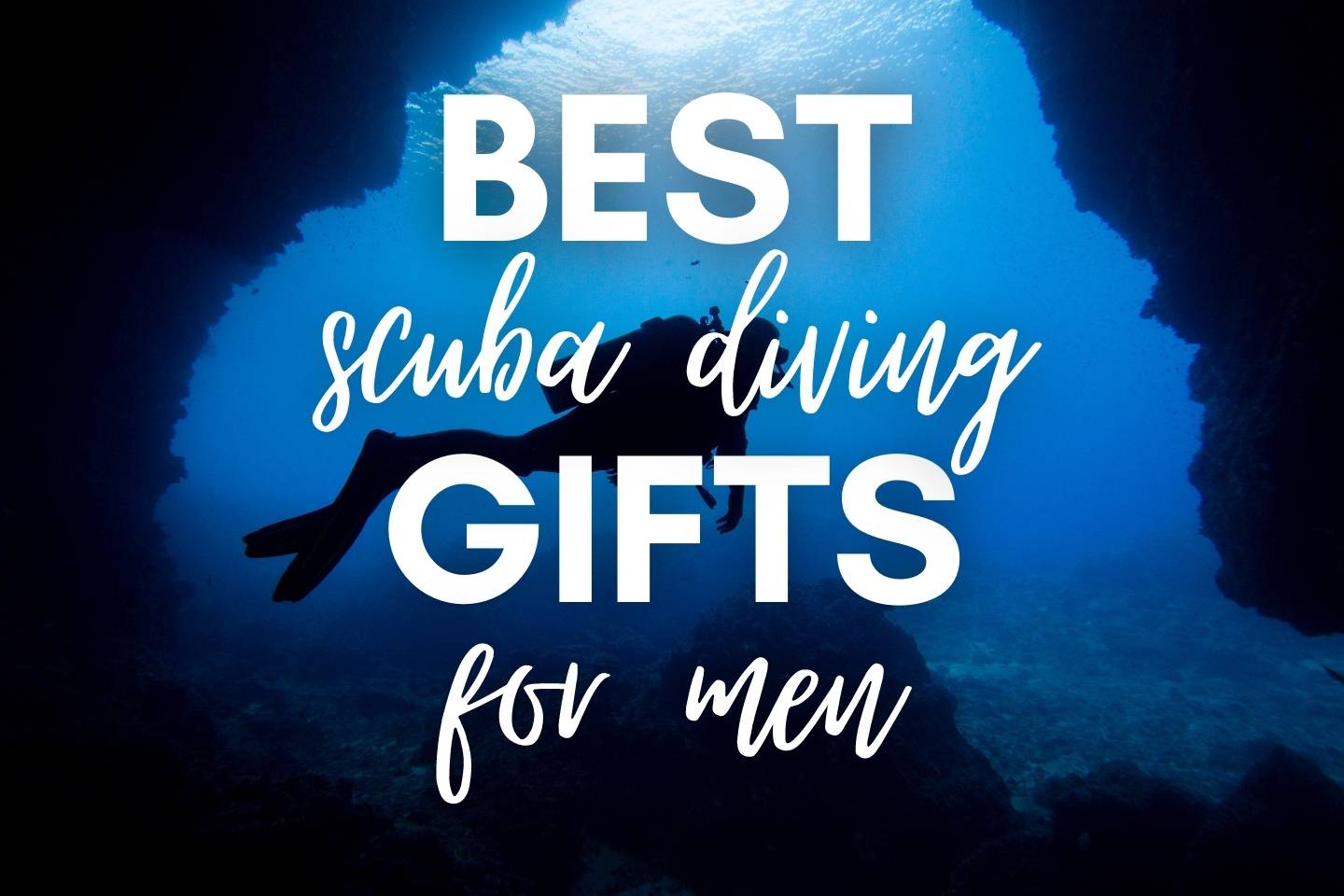 The links below may be affiliate links. If you shop through them, I'll earn a commission at no additional cost to you. For full information, please see my disclaimer here.
If you are looking for the best scuba diving gifts for him, then this article is for you! In this gift guide, you will find scuba diving and ocean-inspired gift ideas for men.
Are you one of those people who struggle with buying gifts? And most particularly buying presents for guys who love to scuba?
You are not alone.
After releasing my 40 Best Scuba Diving Gifts for Women, a bunch of people started asking if I had a list of diver gifts for men. At first, I thought I didn't need to make one as scuba diving is a male-dominated activity. So there isn't exactly a lack of options for men when it comes to diving-related products.
But turns out I was wrong.
Some of you are still having a hard time finding scuba gifts for men. Because maybe you're tired of the same suggestions you see on the scuba gift guide online? Perhaps you don't know anything about scuba diving?
Or maybe you just don't know anything about men!
Kidding aside, let me help you with that dilemma.
If there's a special occasion and you're not quite sure what to get your best friend, colleague, boyfriend, fiance, husband, brother, or dad who loves to dive then you should check out this amazing list of best scuba diving gifts for men.
This list will have gift suggestions on what you can give as a birthday gift, a graduation gift, thank you gift, anniversary gift, Christmas gift or gift for no reason at all to the special guy in your life who loves to go scuba diving.
No doubt that among these highly curated scuba gifts for men, you'll be able to find something appropriate to give your favorite scuba diver.
Scuba Gifts for Him
When it comes to buying scuba diving gifts for men, you can never go wrong with getting him scuba diving equipment and accessories! Here are some suggestions on scuba diving gifts for him that he can take in trips!
1. Akona Pro Scuba Diving Regulator Bag
---
2. TankH2O Insulated Scuba Tank Water Bottle
---
3. Shearwater Research Perdix AI
---
4. Waterlust Boardshorts
---
5. Spacefish Army Octopower Rashguard
---
7. GoPro Hero 10
---
8. Wetsuit Changing Mat
---
Personalized Scuba Diving Gifts for Him
Are you one of those people who think that personalized gifts are better? Here are some customizable gifts you can give your male friend or family member who loves to scuba.
Personalized gifts are always a hit as it makes the ordinary into extraordinary. People love receiving gifts that were made specifically for them. And who doesn't like a gift item that has their name on it?
---
10. Personalized Diver's Logbook by Dive Proof
---
11. Custom Waterproof 3M Sticker Labels for His Scuba Diving Gear by Active Trends
15. GoHanger "Dive Master" Travel Scuba Hanger by Div3BoyStore
---
16. Scuba Diving Photo Collage by CollagemasterCo
---
---
Diving Gifts for Dad
Are you looking for diving gifts for dad or your granddad? Check out these cool gifts you can give them on their birthday, father's day, Christmas or any other dad celebration!
17. Citizen Eco-Drive Promaster Diver Men's Watch
---
18. Scuba Diver Parking Sign by Lizton Sign Shop
---
19. Scuba Diver Whiskey Glass by HandicraftsBG
---
20. Funny Diver Mug by Gimme Gift Ideas
---
21. Diving Dads are Cooler Tshirt by Edgy Shop
---
22. This Is What A Badass Diver Looks Like Apron by GiftedTurtlesUK
---
Clothing and Accessories for Men Divers
Here are some scuba diving gifts for him that he might want to wear when he is not diving.
23. Killer Whale Anatomy Sweatshirt by Life Shines
---
24. Sea Floor Map NeckTie by Cyberotics
---
27. Save the Sea Turtles Pura Vida Bracelet
---
If you would like to give bracelets for men, check out this post about bracelets that save the ocean.
28. Socks that Protect Sharks by Conscious Step
---
29. Shark-skin inspired eco-friendly mobile phone case
---
30. Fountain of Youth Recycled Hat
---
31. Nudibranch Cufflinks by Dive4Jewelry
---
For more ideas on scuba diving gifts for men, check out my article on the most beautiful ocean jewelry divers would love to wear
---
Novelty Scuba Diving Gifts
Here are some unconventional scuba gifts you can get him!
32. World Dive Map by Awesome Maps
Love the idea of decorating his man-cave with a dive map? Read my post on the Best Dive Maps You Would Want In Your Room.
---
33. DRYFOB Waterproof Car Key FOB Container
---
34. Decompression Chamber Sign by Vintage Signs
---
35. Scuba Diver Tentacle Attack Bookends by Knob Creek Metal Arts
Know a diver who loves to read? Here is my ultimate list of the best scuba diver books.
---
36. "Who cares you're on scuba time" Wooden Clock by Story Cabin
---
Gift Experiences for Him
Gift experiences are great gifts for divers! Here are some scuba diving gift ideas that he might want to receive.
37. Adopt a Manta
---
38. Pay for His Dive Certification
---
39. Surprise Him with a Liveaboard Trip
---
For more travel gifts for divers, check out my list of best travel subscription boxes. Perfect for those who love to travel but currently cannot do so!
40. Tinggly Experience for Him
---
Do you need more suggestions on what presents to give people who love the sands, sun and sea? Check out my posts on Best Beach Subscription Boxes.
Author's Notes: Due to the current Covid-19 situation, please order your scuba gifts ahead of time. Many items on this list support small businesses and may require some lead time to make. Some of the brands mentioned are also based in different countries, please check with them directly on the expected time of delivery.
Pin this for later!
What's on your scuba diving gift wish list? Do you have other recommendations for diver gifts for him? Leave a comment below!
The links above may be affiliate links. If you shop through them, I'll earn a commission at no additional cost to you. For full information, please see my disclaimer here.