Dive hair? I do care!
Is your hair constantly getting in your way while scuba diving? Are you trying to figure out what to do with your hair while underwater? Or perhaps the constant diving and day out under the sun leaving you with dry and damaged hair.
In this post, you will find the best scuba diving hair care tips to address your big audacious hairy problems while scuba diving!
These tips are also applicable for those who don't know what to do with long hair when snorkeling or freediving.
As someone who has been scuba diving with long hair over the years, I've picked up a thing or two, or in this case, eleven tips that can help you deal with diving hair problems.
Continue reading to get advice on scuba diving hair protection from saltwater and sun damage.
1. Freshwater first and after
One diving hair care tip that's been proven to work is getting your hair wet with fresh water first before taking a dunk in the ocean.
Allowing your hair to absorb fresh water first prevents it from soaking up all the salty water. The impact of saltwater damage to your hair will be less when your hair has been pre-soaked with fresh water.
It is also recommended that after your dive, you should rinse out your hair immediately with fresh water so any excess saltwater on your hair will be washed away. Even if you're on your surface interval, if you have access to fresh water, rinse as thoroughly as you can.
---
2. Use hair ties
For women divers dealing with long hair, one of the easiest solutions is securing your long mane with hair ties. Some divers will be okay with using one tie often doing a ponytail or a braid.
I used to put my hair into a braid or a bun but I noticed it was prone to breaking and tangles if I did it this way.
For the best hairstyle for scuba diving, I recommend using multiple hair ties down the length of your hair. This prevents your long hair from flying all over the place and getting in your face while underwater. I do this technique by putting my long hair into a high ponytail and then every 2 inches I add another hair tie. Depending on how long your hair is, you will end up having several ties down its length.
Here are some recommendations on hair ties you can get:
Terra Ties
Most hair ties are made with synthetic rubber and polyester, while the Terra Ties are biodegradable hair ties. If you're a diver concerned with plastic use, these are a great plastic-free alternative for your zero waste scuba diving hair care routine!
Mermaid Hair Tie by RealLifeMermaidShop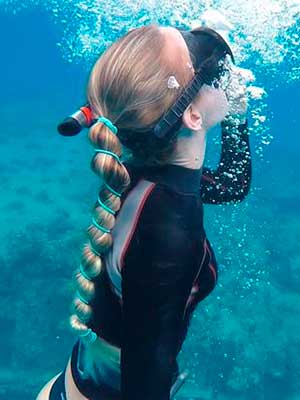 One of the coolest scuba diving hair accessories that I discovered is this hair tie called The Real Life Mermaid Hair Tie. It consists of two circular elastic bands connected by a single strand of elastic.
First using the larger band, secure your hair close to your head as you would a ponytail. Then, wrap the elastic strand around your long hair from top to bottom. Finally, secure your hair by tying the smaller band around the base.
This is a great alternative to doing a braid that can cause tangles. And it looks pretty too with all the possible colors available. These hair ties are practical gifts for mermaids with long hair.
---
Rip Tie Tangle Free Hair Ties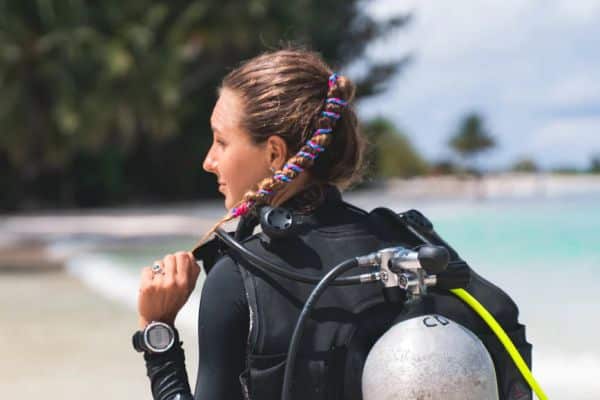 If you like the idea of securing your long hair with elastics, you can also check out Rip Tie Hair. It's similar to The Real Life Mermaid Hair Tie but instead of one strand, it has a long braided elastic that you can wrap around your hair.
The product was designed by a fellow scuba diver, Sarah, so you know that it's been tried and tested to work in and out of the water. Rip Tie Hair comes in various lengths so it can keep your hair streamlined and smooth no matter how long your hair is. It is available in various colors so you can buy it in your favorite color or to match your favorite scuba diving outfit.
You can also buy the Rip Tie Hair in sets or packs, which is great if you want to get your dive buddies who also have long hair dive problems.
---
Recycled Scrunchies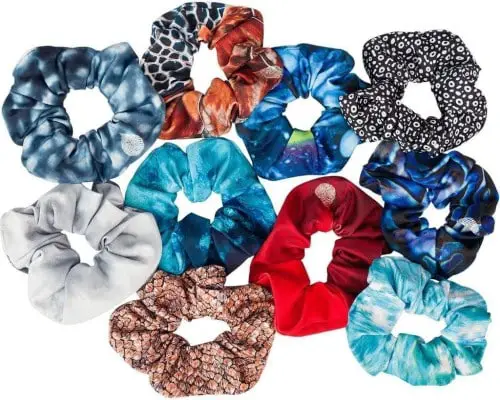 Scrunchies, which are elastic hair ties covered with fabric, are also effective in keeping your hair away from your face. Because the hair ties are covered in fabric, it's also more gentle on the hair.
These scrunchies from Waterlust are made from leftover recycled material. Instead of throwing away fabric scraps they use on their leggings, they turned them into hair accessories instead. The fabric are quick-drying and moisture-wicking, so you don't have to worry about your scrunchies remaining wet.
---
3. Secure with a headband
Another way on how to wear your hair when scuba diving is to use a headband. If you have short hair or dealing with bangs, wearing scuba headbands can be a great solution especially if your hair is getting in your face.
If you also notice that your hair always gets between your mask and your face while clearing your masks, wearing a dive headband can help solve this problem as well.
Here are some recommendations on where to get your scuba diving headbands.
Manta Mayhem Headband by Space Fish Army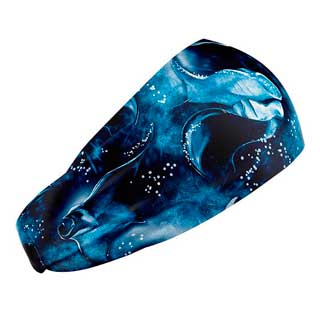 Is your hair causing mayhem underwater? Then get yourself some Space Fish Army Manta Mayhem Diving Headband.
Not only will it effectively keep your hair out of your face while scuba diving but it is also a fun addition to your diving ensemble. The headband can also serve as sun protection for your scalp when you're out of the water.
The watercolor artwork on this diver headband was designed by local Hawaiian artist Danielle Burnside. It was inspired by the Kona Manta Night Dive.
Space Fish Army also carries other designs inspired by the ocean. You can check the headband collection here.
Ocean Hairbands by Nudiwear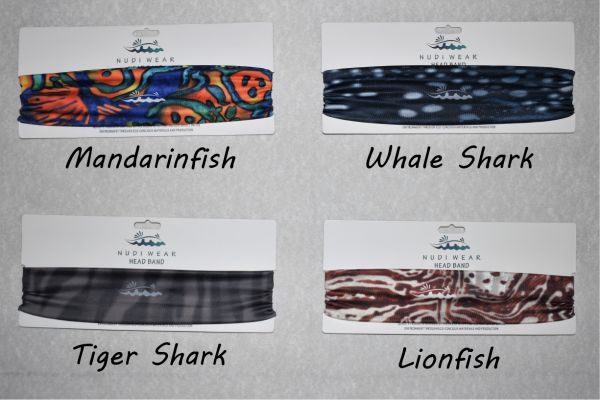 You can also get scuba headbands from Nudiwear. They have 4 designs featuring marine life like mandarinfish, whale shark, tigershark, and lionfish. Eco-conscious divers might love this hairband as it is made from approximately three 16-oz certified post-consumer recycled plastic bottles. 
Scuba Headband by Sewing Waves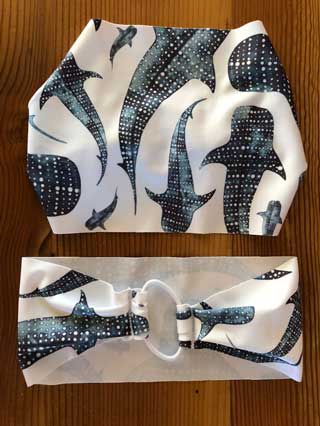 Sewing Waves also carry cute ocean-inspired scuba diving headbands. They carry designs with marine life illustrations such as whalesharks, hammerheads, octopus and many more.
If you're looking for unique dive accessories that will allow you to stand out underwater (and above), these diving headbands should do the trick!
---
4. Wear a dive buff for your hair
Dive buffs are versatile accessories that can protect not only your hair but also your face, head, and neck while on a dive trip. Because of the effective coverage area, dive buffs are effective in keeping your hair out of your gear and your face.
Women with long hair can get extra protection by using a scuba hair wrap. Simply tuck your hair under a dive buff to keep it from your face. It will also lessen the chances of hair snagging on your tank, BCD or regulator during dives.
Dive buffs are also effective in protecting your hair and skin from sun and wind exposure during surface intervals.
Waterlust Sun Mask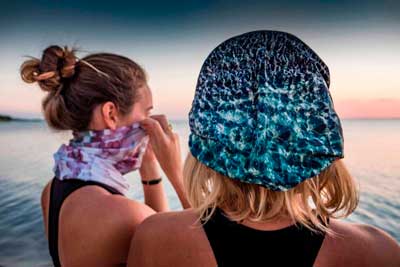 The Waterlust Sun Mask comes in fun and unique prints inspired by nature.
They are 100% chlorine, sun, salt water, and sunscreen resistant and rated at 50+ Ultraviolet Protection Factor (UPF) to keep your face, neck, and head protected from the elements.
The eco-conscious divers will love these dive buffs as Waterlust makes use of lightweight fabric made from 5 recycled, post-consumer plastic bottles. Orders are shipped from Miami, Florida in eco-responsible packaging materials. And when you buy from Waterlust you are also supporting their scientific research partners.
These are some of the reasons why you should support this eco-friendly brand. They are among the ocean companies helping our planet through these little but impactful actions.
Scuba dive buff from Blue Adaptation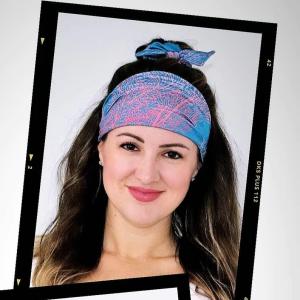 Blue Adaptation's scuba dive buffs are made from the excess fabric cuttings from their other products. The accessory is a great way to keep hair out of your face and masks when diving.
Made from their signature high-performance Italian techno-fabric, comprised of recycled post-consumer plastic bottles, their multifunctional headband also offers you protection from wind and sun exposure.
UV Skinz Bamboo UV Neck & Face Covering
This multi-functional accessory from UV Skinz can be worn in a variety of ways.  Measuring 18" in length, the bamboo UV neck and face covering can be used as as a face cover, neck gaiter, headband, hair wrap, bandana, sun hood, balaclava, beanie, or scarf. 
The fabric offers UPF 50+ Sun Protection and it is made from super soft bamboo viscose which is naturally breathable and anti-bacterial.  You can choose from several solid colors so it's easy to match with your dive ensemble!
Scuba Sister's neck gaiter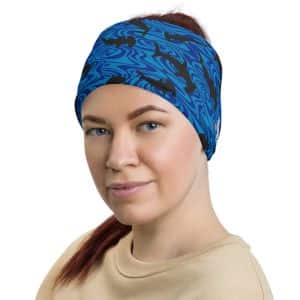 Scuba Sister's neck gaiters are another accessory you can use as a headband, bandanna, wristband, and neck warmer. Made 95% polyester and 5% elastane, this breathable and stretchy dive accessory can protect your neck, face, and head from stinging critters and sun over-exposure.
It comes in a variety of designs and colors that allows you to stand out regardless of the water-related activity you are engaged in. If you like matching your outfits from head to toe, Scuba Sisters have matching leggings or rash guard for a complete ocean inspired outfit!
Dive Buffs are also practical gifts for women. Don't forget to check out my gift guide for women scuba divers.
---
5. Cover your mask straps
Is your mask strap pulling at your hair every time you take them out? Or maybe the straps are causing tension on your head and scalp? Masks strap covers are a quick fix to your diving hair problems.
If the rubber straps bother you during dives, you can get neoprene dive mask covers to protect your head of hair. They're more gentle and comfortable on the head compared to having the rubber straps directly on your scalp and hair.
Dive Straps are also a great way to identify yourself or your dive buddy underwater.
Here are some ideas as to where you can get your dive straps:
Girls That Scuba Colored Mask Strap Cover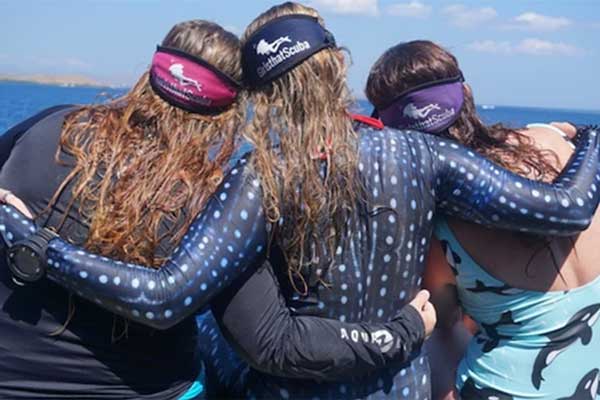 Girls That Scuba mask strap cover is made of high-quality neoprene material. It fits over your mask strap for added comfort and ease of use. You can choose from a variety of colors and designs. And best of all you can proudly show that you're part of the Girls That Scuba community.
Don't forget to check out their latest Whaleshark, Lionfish, Sea Turtle, and Blue-ringed Octopus mask straps and hair accessories collection.
Nudiwear Mask Straps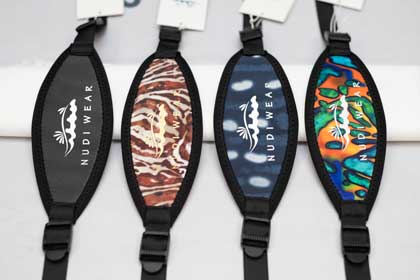 The Nudiwear Mask Straps are available in Lionfish, Mandarinfish, Tiger Shark, and Whale Shark patterns. They're comfortable to wear and easy to adjust. They completely replace the rubber straps which can constantly pull on your hair.
Personalized Mask Strap Cover
Personalized Mask Strap Cover are a must-have for scuba diving women with long hair who really wants to stand out. The neoprene mask straps are made to order and can include your name or text of choice.
Mandarin Fish Mask Strap Cover
I have a thing for Mandarin fishes so I knew I just had to include this colorful mask strap cover!
Like previously mentioned mask straps, this neoprene cover slips over your existing mask strap. To install, simply slide one end of your silicone mask strap out of its buckle. Then slip the strap through the neoprene cover. Once placed properly, re-thread the end of the silicone mask strap back through its buckle.
For more designs and options, check out this list of best scuba mask straps covers.
---
6. Wear diving hoods
Diving hoods not only give your hair protection but also give you extra warmth underwater. They're particularly helpful when diving in colder water temperatures.
Diving hoods also offer protection from jellyfish, sea lice, and other ocean critters that may attach to your skin or hair while scuba diving!
Dive hoods are a bit more snug and tight to wear around the neck and face to lessen the chances of cold water entering. They come in various thicknesses to ensure comfort and warmth underwater.
Waterproof H1 5/10mm Polar Evoluted Hood
This particular even features a 10mm double layered protection. The Waterproof H1 10mm includes the unique HAVS (Hood Air Venting System) which uses one-way valves to vent annoying air buildup in the hood.
Scuba Hood by Scuba Solutions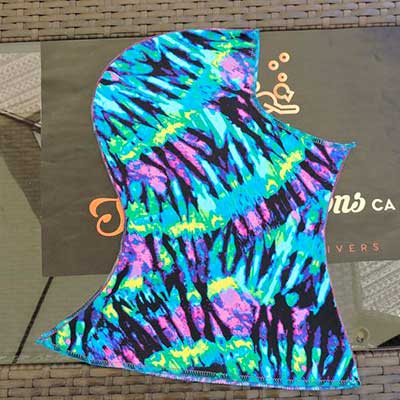 Unlike traditional dive hoods that come in black or some neutral color, the scuba hoods from Scuba Solutions come in bright and fun patterns. If you're diving in big groups or in popular dive locations, wearing these colorful dive hoods with make it easier for your dive buddy to identify you underwater. They are lightweight and extremely comfortable to wear.
ScubaPro Vest with Diving Hood
You can also opt to get your diving hood with a vest. This will give you extra warmth in your torso area making dives more comfortable for you if you are particularly sensitive to cooler water temperatures.
7. Put coconut oil on your hair
Saltwater can easily strip away the natural oils your hair and scalp produce so another highly recommended scuba diving hair care tip is to put coconut oil on your hair.
All Good Organic Coconut Oil
Coconut oil is All Good, natural and safe to use! You need not worry about its harmful effects on your body or the environment. Apply coconut oil to your hair prior to your dive so it can serve as additional protection from salt water.
You may also coconut oil to treat your hair after a full day of diving. This will help restore some shine and moisture to your beautiful locks and will leave you smelling fresh and coconutty.
8. Put leave-in conditioner
Many women divers swear by using a leave-in conditioner to protect their hair.
As part of your scuba diving hair care routine, apply a leave-in conditioner to your locks before your dive. Do a french braid or wear a headband or hood to secure your hair during the dive.
After your dive, rinse your hair with fresh water. Re-apply your leave-in conditioner as needed.
You may also use a leave-in conditioner after the dive to restore your hair's shine and smoothness.
Stream to Sea Leave in Conditioner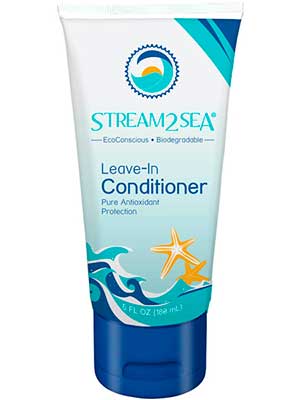 Stream2Sea Leave in Conditioner is a top choice among divers because it is safe for the reef. You need not worry about harmful chemicals entering the ocean due to its natural formulation.
Get a 10% discount on Stream2Sea when you use my special code: DIVERBLISS
Sun Bum Revitalizing Conditioner
Sun Bum Revitalizing 3 In 1 Leave In Hair Conditioner is safe for all hair types. It protects, detangles, and conditions your hair using natural ingredients such as Coconut Oil, Banana Pulp and Peel, Banana Leaf, Quinoa Protein, and Sunflower Seed Oil.
This spray also shields hair from the sun by providing protection from damaging UV rays, helping prevent your hair from becoming dull, brittle, and discolored.
9. Use hydrating hair masks
If you're dealing with damaged and dry hair, hair mask treatments are effective in restoring natural shine and strength.
Hair masks are formulated with oils, butter, and other nourishing ingredients that help restore lost moisture and repair damage caused by natural elements like salt water and the sun. You can use hydrating hair masks post-dive – all in the comfort of your own home.
After a long dive trip, I love using hair masks to treat my hair. It always leaves my hair feeling soft and smelling really good.
If you're working with extremely dry and damaged hair from scuba diving, here are some recommendations for hair masks you can try:
Coco & Eve Hair MAsque Bundle
The Coco & Eve That's A Wrap Bundle includes an award-winning hair masque, tangle tamer, and best-selling microfiber hair towel wrap. Designed to rescue your tired, dry, and damaged hair with just one wash, this hair care set will do wonders for your scuba hair.
The Coco & Eve Hair Masque works as a 5-in-1 miracle worker, hydrating, conditioning, and improving hair texture and shine. For an intense hydration boost, you can apply the Coco & Eve hair mask for several hours (or overnight). Use the detangler to remove any knots and wrap your hair with the super soft microfiber towel to avoid damaging your bed sheets and pillowcase during the treatment process.
Treat yourself to the luxury your hair deserves and bid farewell to post-dive hair troubles.
Hydrating Argan Oil Hair Mask
Restore your hair to its natural beauty with this hydrating argan oil hair mask. It is highly effective for all hair types including permed, natural, and curly hair.
This mask will help transform any scuba diving women's hair, leaving it deeply conditioned and hydrated.
On a daily basis, I also recommend using eco-friendly shampoo and conditioner. It is healthier for your hair and scalp as they do not contain harmful chemical ingredients. They are also better for the environment as you can get them plastic-free. Here is a list of the best zero waste shampoo and conditioner.
10. Gently dry with a hair towel
When it comes to diving hair care, one thing that can be overlooked by divers is how you dry your locks.
Many hair experts recommend ditching your regular terry cloth body towel and instead using towels specifically for drying hair. Wet hair is extremely vulnerable and fragile so it is best to use hair towels with fabric that does not pull or harm your hair even further.
Avoid rubbing your hair with a towel to make it dry quicker. This will just cause hair to frizz and break. Constantly applying direct heat to your hair with a hair drier is also not healthy for your hair either. When possible air dry and use a towel made for drying hair quicker.
AQUIS Water-Wicking Microfiber Hair Towel
Powered by a proprietary fabric, AQUIS microfiber hair towel dries all hair types in half the time. Just wrap, twist, and secure the button-loop closure to keep the lightweight hair wrap in place. After 10-20 minutes, unwrap the towel to reveal strong, ready-to-style hair. This simple change in your hair care routine can help eliminate frizz, damage, and breakage from friction and heat.
If you are eco-conscious, you'd be delighted to know that this ultra-durable towel lasts through 100s of washes without breaking down or releasing microplastics or toxic dye into water systems.
11. Use a hair detangler
When taking care of your mermaid-hair, don't just use a regular comb or brush. The wrong kind of brush can pull at your hair, get caught in tangles, and cause strands to break. Using a detangling brush or wide-tooth comb can help remove knots and tangles.
The Glide Thru brush is gentle on both wet and dry hair. Ordinary bristle brushes work by ripping through and pulling out the knotted hair instead of gently separating it! The unique cone-shaped plastic bristles of the detangler work to separate the hair sideways instead of down, gently unraveling even the toughest tangles.
The Glide Thru brush works on various hair types- straight, curly, natural, thin, thick, kinky, oily, frizzy, extensions, and even wigs.
For a more plastic-free hair brushing, check out this post on the best eco-friendly hair brushes and combs.
Everyone's hair is different so find a diving hair care solution that works for you. I have long, fine, and colored hair so I do a combination of things to help deal with salt and sun damage from scuba diving.
You might have to do some trial and error at first but I hope this list gives you some ideas on what you can do to keep your hair beautiful before, during, and after a dive.
Because admit it, diver hair, we do care!
Pin this for later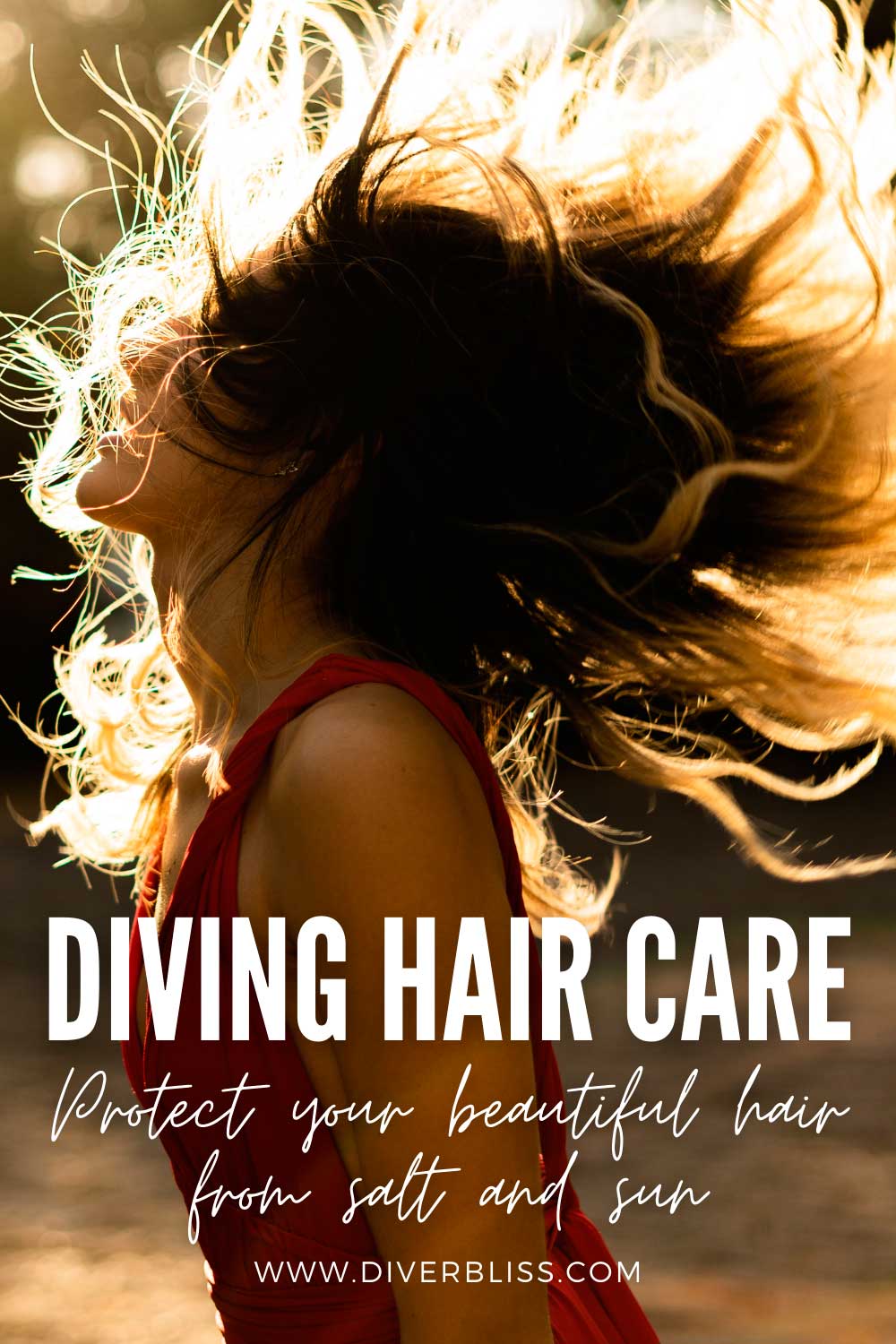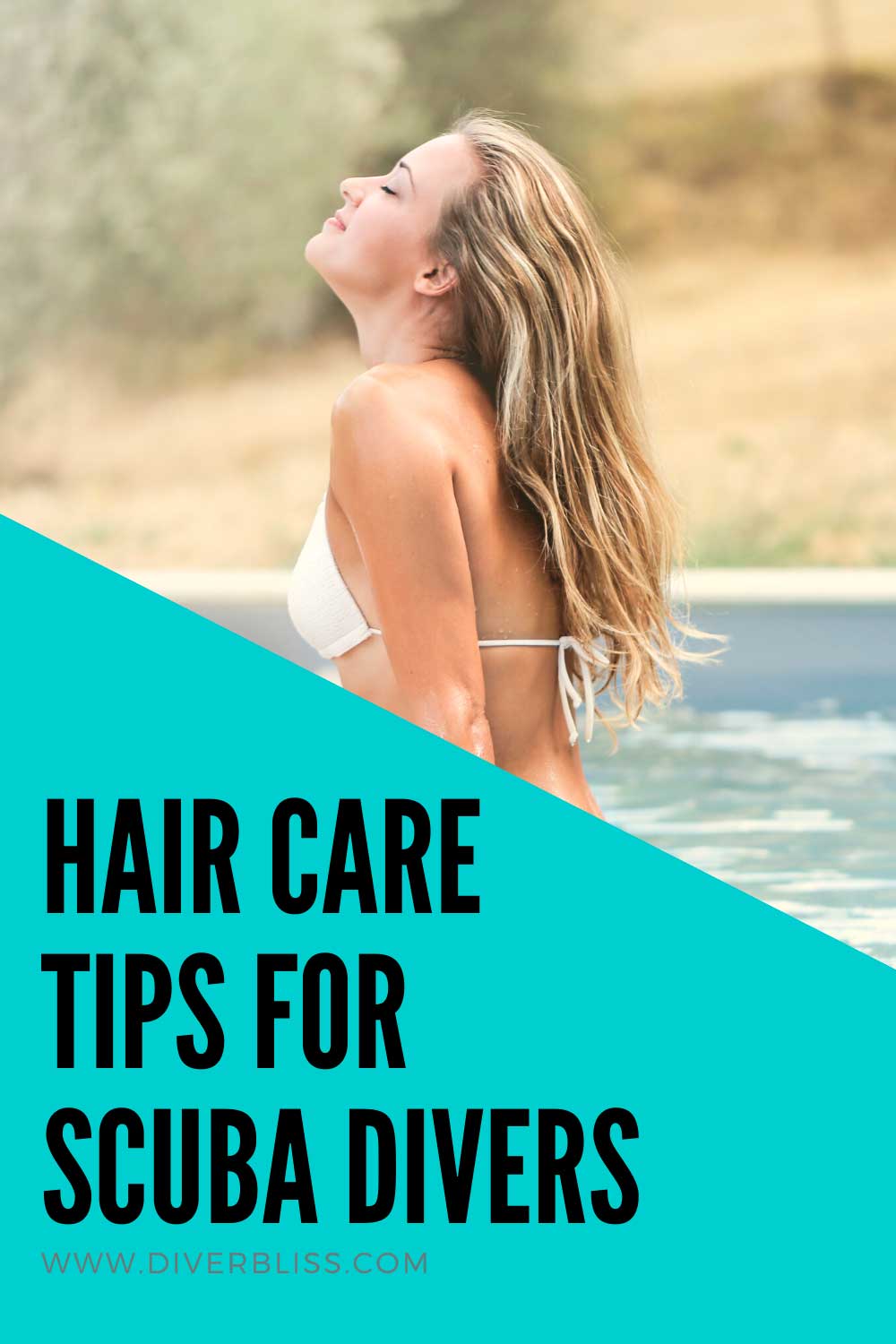 What do you do for your scuba diving hair protection? Do you have your own diving hair care tips not listed above? Leave a comment below!