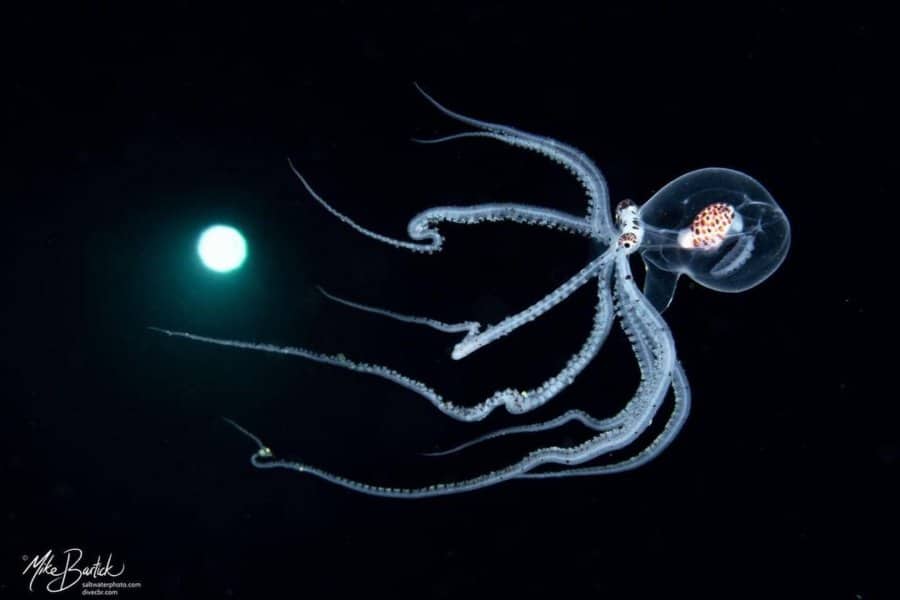 The links below may be affiliate links. If you shop through them, I'll earn a commission at no additional cost to you. For full information, please see my disclaimer here.
As a scuba diver, I am constantly searching for new and fascinating diving experiences. That is why I was so eager to experience my first blackwater dive.
I have heard of blackwater diving for some years now but never got the chance and courage to try it until I went diving in Romblon.
In this post, I will share with you my experience and insights on doing a blackwater night dive for the first time. If you're interested in trying it out for yourself or simply want to learn more about diving in blackwater, then this post is for you.
What is blackwater diving?
Blackwater diving is a type of scuba diving that takes place at night in the open ocean at depths ranging from 20 to 40 meters (60 to 120 feet). It is sometimes called an offshore blackwater dive, or open ocean blackwater dive, blackwater night dive, or blackwater drift dive, because of the nature the dive.
Using a small boat or buoy, scuba divers tether themselves or float with the current while marine life from the depths of the ocean ascends towards the surface. During a blackwater dive, various deep-sea species that are rarely seen during the day emerge from the dark abyss. In these deepest parts of the ocean, thousands of colorful pelagic and planktonic creatures float to the surface every night to feed and breed.  
Divers have to use their dive lights and other gear to find their way and figure out where they are in the open ocean, while searching for pelagic creatures. This makes blackwater diving harder than a regular night dive. For blackwater diving to be safe, scuba divers must be able to control their buoyancy well and be comfortable diving at night.
Why do divers love doing blackwater dives?
Experienced divers and photographers love blackwater dives because of the bizarre and rare creatures like jellyfish, squids, salps, and even critters in their larvae stages. There is always an element of surprise when you're diving in the dark and waiting for creatures to emerge out of nowhere.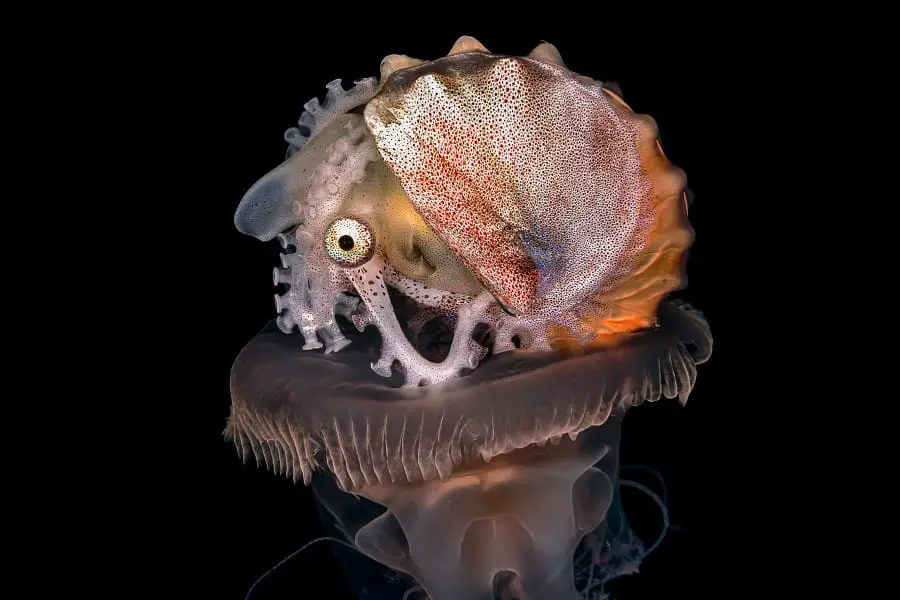 In my experience, it was like stepping into a whole new galaxy. In the darkness, you could see all these tiny creatures floating and glowing, like tiny stars and planets in a pitch black outer space. It was fascinating, thrilling, and peaceful all at the same time.
In addition to the cool animals you might see, blackwater diving is a fun activity that lets you test your limits. You need to overcome any fears you have, practice drift diving, and have good buoyancy control while diving in the dark.
For some divers, the biggest appeal is simply learning more about the secrets of our ocean. The fact that just 5% of the ocean has been explored makes the prospect of blackwater diving even more exciting.
What creatures will you see during a blackwater dive?
One of the highlights of these dives is the opportunity to witness the abundance of plankton present in the water. Plankton are tiny organisms that are carried by currents and tides. During the night, a phenomenon known as diel vertical migration occurs. This is when plankton and bigger animals like squid and krill rise from the depths of the ocean.
Blackwater diving allows you to witness this incredible spectacle, as well as encounter a variety of other alien-like creatures such as fish larvae, juvenile fish, squid, salps, jellyfish, and octopus. It's not uncommon to even spot larger pelagic species like dolphins or sharks passing by. The opportunity to witness these diverse and fascinating creatures hunting and being hunted is one of the reasons why blackwater diving is so popular among enthusiasts.
Additionally, blackwater diving also offers the chance to observe macrolife in its various stages of development. You will encounter juveniles of all sorts of animals, such as crabs, shrimp, seahorses, octopus, cuttlefish, and many other species of fish that have yet to settle on the reef.
Most reef inhabitants start off in the water column, often camouflaged against predators by being transparent and possessing other bizarre mutations that make them harder to prey on. This makes for a truly mesmerizing and otherworldly experience, unlike any other, and it offers fantastic opportunities for photography of these unique and elusive creatures.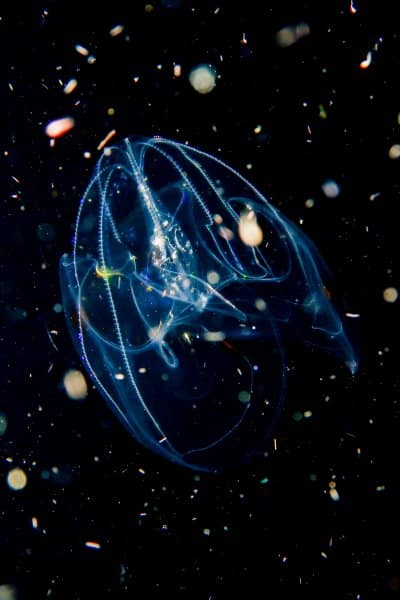 What happens during a blackwater dive?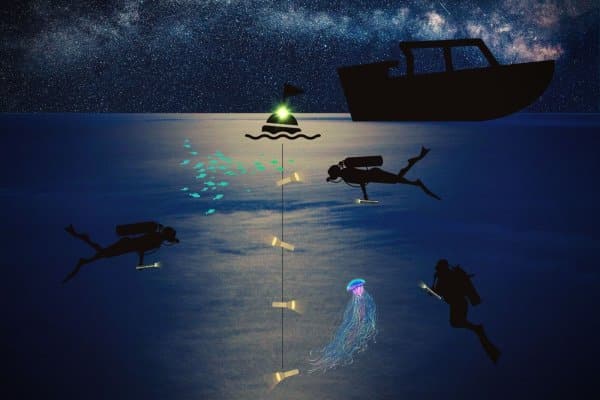 There are different ways to do a blackwater dive. Some dive shops or liveaboard drop a line and require the divers to be tethered or clipped to these lines. While others allow you to swim freely within a certain area below a buoy or a boat.
During my blackwater dive in Romblon, I experienced the latter. Here's what happened during my blackwater dive:
My buddy and I attended a dive briefing explaining what will happen during the dive. Any questions, clarifications, and concerns were brought up and these were addressed by our guide.
After checking our gear, we boarded the boat to go to the dive site.
Once we found the spot, the dive guide deploys the special buoy setup used for blackwater diving. This buoy had a blinking light so boats can see it in the dark. The buoy also had a rope line with dive lights every 5 meters. This line with lights not only attracts the critters but also served as our depth guide and reference point.
We backrolled into the water one by one, and once everyone was ready, we descended for our blackwater dive.
After 60 minutes of drift diving our guide signaled us that it was time to ascend. We did our safety stop and exited the water several hundred meters away from where we had started.
It is important for divers to follow all dive safety guidelines and to stay with their dive group during the dive. Follow the procedures set by the dive shop you will be diving with.
Is it scary to do a blackwater dive?
Blackwater diving may be fun and gratifying, but it's not for everyone. Some divers fear night diving in deep water with little vision and strong currents. The unknown, deep water, currents, and marine life may make a blackwater dive "frightening."
Divers should be honest about their skills and experience and only conduct a blackwater night dive if they feel competent. It's better to dive with expertise and comfort than to push yourself and feel overwhelmed. Uncovering the unknown and the potential to see exotic marine creatures make the dive particularly memorable, but it's not for everyone.
As a seasoned diver, I find blackwater diving to be an exciting experience. I honestly felt scared at first, but diving with other experienced dive guides and a trustworthy dive shop put my nerves at ease.
Scared to do a night dive? Read my post on What is night diving like?
Is blackwater diving dangerous?
Blackwater diving, like any other sort of diving, has its own hazards and risks. It's important to know about these dangers and take steps to make sure a dive is safe.
If you are going scuba diving in blackwater, you will be diving in an open ocean where you can't see the bottom. For many divers, this can be more difficult as there is nothing solid under or beside you for a reference point.
You can also expect stronger currents that can be confusing as well as riskier for any diver. With your limited field of vision at night, you might also have difficulty navigating. It is very common to feel disoriented while doing a blackwater night dive.
Although the marine life in black water may be fascinating, many of them can also be dangerous sea creatures that you should avoid. Jellyfishes can appear out of nowhere and can sting you.
To reduce these dangers, make sure you have the necessary skills and knowledge to do a blackwater dive. Always respect the marine environment and approach anything you see with caution. Only dive with a trusted dive center, and always follow dive safety recommendations.
Where can I experience blackwater diving?
Blackwater diving usually takes place in tropical areas with strong currents and a lot of marine life in the water column. Hawaii, Florida, Philippines, Indonesia, Palau, Cozumel, and Roatan are some of the popular places for blackwater diving.
Blackwater diving in Kona, Hawaii, USA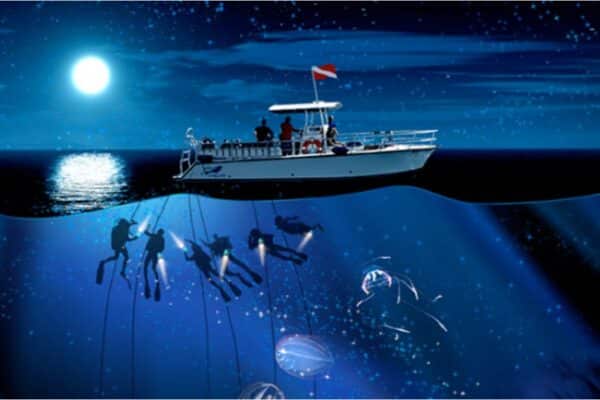 Hawaii's crystal clear and warm waters are a paradise for divers looking to explore the deep sea. The diverse marine life that inhabits these waters makes it a prime destination for blackwater diving.
The concept of blackwater diving was actually first introduced by Jeff Milisen, who is the co-owner of Jack's Dive Locker in Kona. He not only wrote the book A Field Guide to Blackwater Diving in Hawaii but also created the PADI Pelagic Magic Diver Course, which is one of the distinctive specialty courses you can take should you wish to get a certification in blackwater diving.
So if you're looking for a dive shop that has the most experience when it comes to blackwater night dives, Jack's Dive Locker would be one of them.
Blackwater diving in West Palm Beach, Florida, USA
Pura Vida Divers offers Black Water Drift Dives every week. These one-tank night dives allow participants to witness the largest migration on the planet as they drift effortlessly in the Gulfstream. The trips depart at 7:30 PM and during the 90-minute dive, participants will drift in 130-200 meters (400-600 feet) of open ocean water.
Blackwater diving in Romblon, Philippines
Three P Dive Resort, located on Romblon Island, Philippines, offers divers an unparalleled blackwater diving experience in the open waters of the Romblon Pass. The Island of Romblon is well-known among underwater photographers for its rare macro creatures and the blackwater critters never disappoints.
My first black water dive was with Three P and it was a mindblowing experience. The resort is well-equipped and staffed by a team of experienced dive guides who are committed to providing a safe and enjoyable experience for blackwater divers.
If you find yourself diving in Romblon never pass up on a chance to do a blackwater dive with them. You can read my Three P Dive Resort Full Review to learn more about my experience.
Blackwater diving in Anilao, Philippines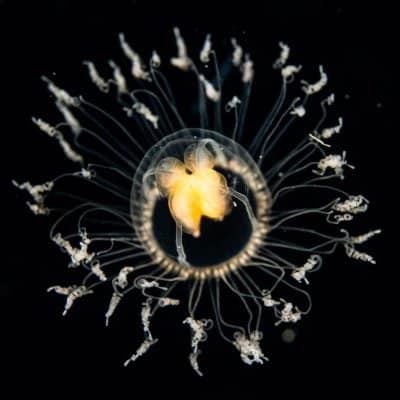 Crystal Blue Resort pioneered blackwater diving in the Anilao. CBR is one of the most reputable dive shops for underwater photographers when it comes to blackwater diving since they use bathymetric maps, local knowledge, and expertise to determine some of the greatest locations and times to perform these dives. Paper nautilus, blanket octopus, pelagic seahorses, larval jacks, jellyfish, 10-foot salp chains, moon jellies, and flying fish, are some of the blackwater subjects often spotted while blackwater diving in Anilao. Blackwater diving excursions are only for advanced divers with a minimum of 50 dives. The excursion includes 1 or 2 dives and the blackwater dive costs $55 per person per dive for 2 or more divers.
Blackwater diving in Puerto Galera, Philippines
Asia Divers, a dive shop located in Puerto Galera, offers blackwater diving for those looking to explore the mysterious depths of the Verde Island Passage. Suspended in the pitch black water, divers are able to witness an array of alien-like creatures rising from the deep areas of what has been dubbed as "the center of the center of marine biodiversity." Divers have the opportunity to see a wide variety of jellies, squids, and salps while blackwater diving in Puerto Galera. In addition, they may also encounter rare and unusual creatures, such as the paper nautilus and pelagic sea snake.
Blackwater diving in Palau
If you find yourself in Palau, you can do a blackwater dive with Palau Siren Liveaboard. The dives take place well offshore, over abyssal depths, and are done from a boat. The wind and ocean conditions must be calm for these dives to take place. The strong lights are suspended from the boat to a depth of 10-15m to attract plankton and various marine life. Divers are tethered to a line on a boat for their safety.
Blackwater diving in North Suluwasi, Lembeh, Indonesia
Murex Resorts offers divers the opportunity to experience the thrill of blackwater diving in the open ocean in North Sulawesi. From Murex Manado and Murex Bangka, divers head out into the open ocean to explore the depths and encounter the rarely seen critters that live there. Bright lights are suspended in the water column at various depths, up to 25 meters, to attract plankton which in turn attracts intriguing and rarely seen larvae stage critters.
Blackwater diving in Thailand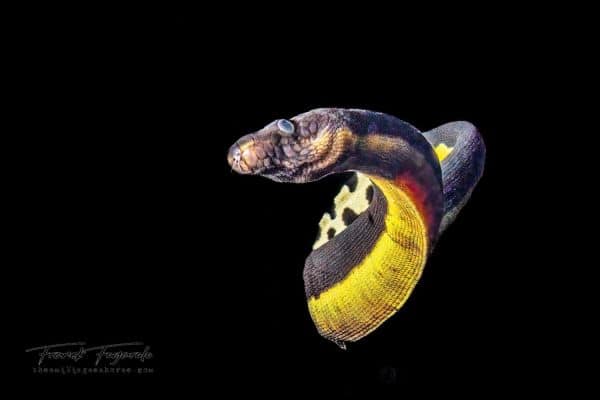 The Smiling Seahorse Liveaboard offers blackwater diving in Thailand. It is offered on every Similan Islands liveaboard cruise. Their blackwater diving takes you to the edge of the continental plate, a few hours west of the Similan Islands. Blackwater diving in the Andaman Sea offers a unique and rare opportunity for divers to encounter and photograph a variety of creatures, such as jellyfish, plankton, and larvae that are not commonly found in other types of dives. Bigger species are less common but one can still encounter juvenile stages of various species of Andaman Sea fishes, gastropods, cephalopods, and crustaceans if one looks carefully.
Blackwater diving in Roatan, Honduras
West End Divers, located in Roatan, is the first dive center to offer black water diving in the island. Roatan's location, with depths approaching 10,000 feet just a stone's throw offshore, makes it the perfect destination for this type of diving. The blackwater dives in Roatan is not for the inexperienced, the faint of heart, or those subject to vertigo or those who have issues with the dark. Only advanced divers with night diving experience are welcome on these blackwater expeditions.
Blackwater diving in Cozumel
Ocean Nomads is the first dive operator in Cozumel to offer the unique and exhilarating experience of blackwater diving. The dive takes place a few miles off the shore. Divers are attached to a line as they look for rare open ocean animals and pelagic critters that drift by. You must be an advanced diver with 50+ logged dives if you want to try blackwater dive in Cozumel and the cost of blackwater diving in Cozumel is USD 85.
At these places, dive centers and liveaboard dive boats often offer trips for blackwater diving. When planning a dive, safety should always be your top priority. Doing your research will help you have a safe and fun time.
What are the requirements for blackwater diving?
Blackwater night diving can be a challenging and interesting experience, but divers need to have the right skills and experience to do it safely.
Most dive shops and liveaboard dive boats that offer blackwater diving will require divers to have at least an advanced open water diving certification. This is because blackwater diving typically involves diving to deeper depths and in less predictable conditions than other types of diving.
It is important for divers to not just have some experience with night diving, but also be comfortable and confident diving at night.
Divers need to have good buoyancy control so they can stay in the same place in the water column.
Some dive shops will ask you to do a checkout dive first so they can assess if you have the skills to do a blackwater dive.
It is always a good idea for divers to have dive insurance, especially when participating in more advanced types of diving such as black water diving. This can provide financial protection in case of an accident or injury.
It is always best to check with the dive shop or liveaboard dive boat regarding their specific requirements for blackwater diving as it varies for each location.
If you're struggling with night diving, read my post on 15 Night Diving Tips to Overcome Your Fears of the Dark
What special gear do you need for blackwater diving?
In addition to the standard scuba diving gear, there are a few additional pieces of equipment that may be helpful for blackwater diving:
Dive lights: Blackwater diving often takes place at night, so it is essential for divers to have a reliable dive light in order to navigate and orient themselves in the water. It is recommended to carry a main light and a backup light. Read my post on 10 Best Dive Lights for Recreational Scuba Divers if you need to get a new one prior to your night dive.
Scuba tank marker lights: To help mark or locate divers in the water, and make it easier for the dive boat or raft to spot you.
Surface marker buoy: A surface marker buoy (SMB) is a brightly colored inflatable tube that helps to mark the diver's position and make them more visible to the dive boat or raft. This would be very useful especially if you get lost at sea.
Dive computer: Make sure that you have a dive computer that can easily help you track your dive time and depth. Dive computers that constantly have the backlight on work best so you can easily check your dive profile.
Full-body wetsuit: It is a good idea to wear a full-body wetsuit to protect yourself from stinging animals. Water temperature also drops at night so the extra length can help keep your extremities warm.
Dive hood: These can also keep your head warm while diving at night. Wearing hoodies can keep small planktons and wriggly critters from going into your hair or touching your neck or face.
Underwater camera: Not required but highly recommended! The creatures found during blackwater diving are often not found in a typical night dive so take advantage and photograph the cool critters you see. Check out my post on Best Scuba Diving Cameras For Beginner Underwater Photographers for some ideas.
If you don't have these, you can check your dive shop if it is included in the package or if you can rent them.
Before going on a blackwater dive, it's important for divers to make sure that all of their gear is in good shape and that they know how to use it. Blackwater diving can be a challenging and tough experience, and having the right gear can make all the difference in having a safe and enjoyable dive.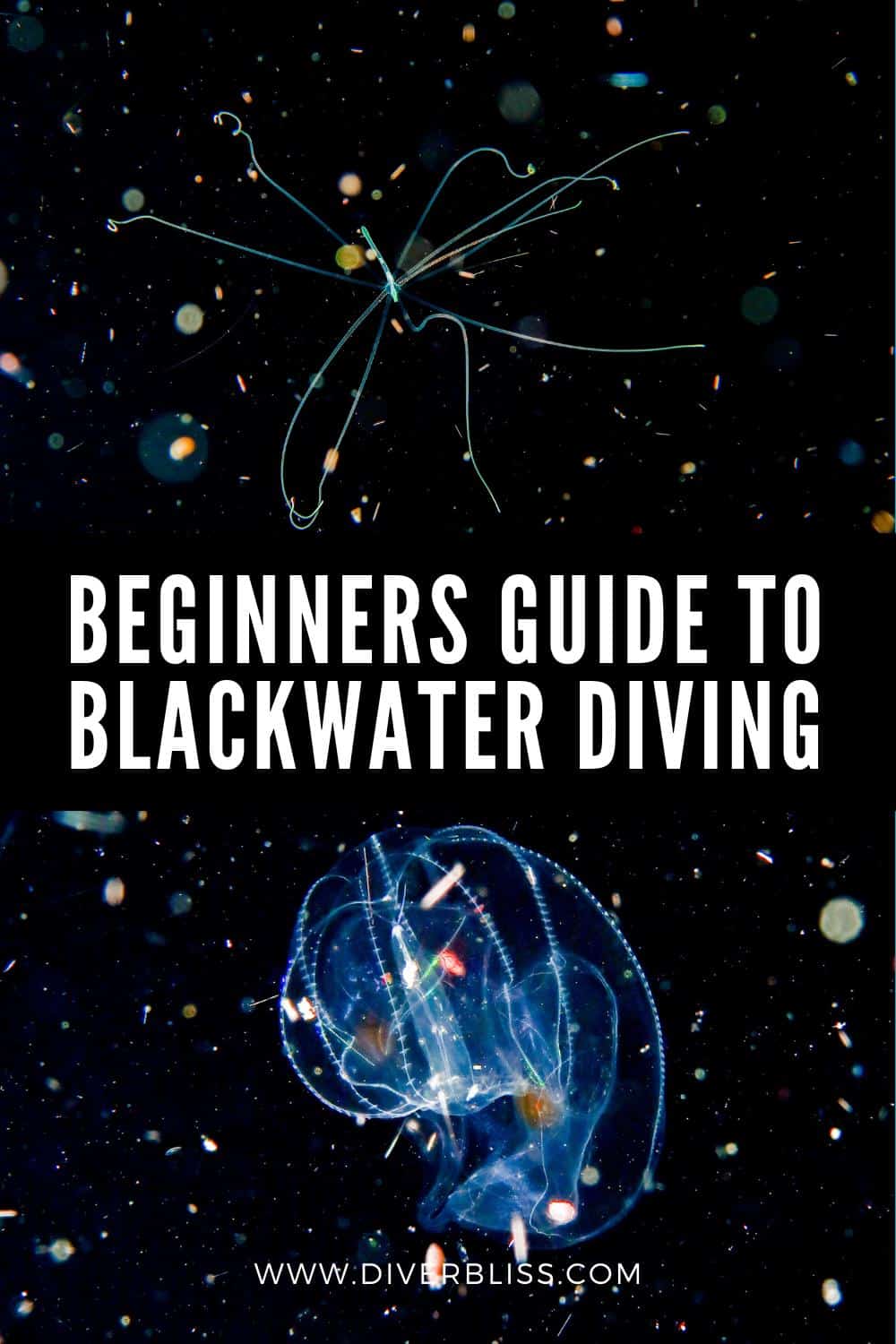 The links above may be affiliate links. If you shop through them, I'll earn a commission at no additional cost to you. For full information, please see my disclaimer here.