Last January 2022, I had the opportunity to dive in Anilao again. This time around, I stayed at Bontoc Bed and Breakfast Anilao. My dive buddy, Maire, loves diving with them so I wanted to see what the fuss is all about.
Together with Maire's daughter and cousin, our group of 4 arrived in Anilao a little after 6 AM. Jorge one of the owners and also our divemaster (DM) for the weekend, greeted us upon arrival.
He assisted us by bringing our dive gear to the dive shop which is located on the ground floor of the 5-story guesthouse and showing us to our rooms.
Since this was not Maire's first visit, they settled in one of the rooms on the second floor. I opted to get one of the rooms on the upper floors. I heard the view was amazing which was a huge selling point for me.
Bontoc Seaview Rooms
On the way up to my room, I noticed a lot of Igorot-inspired decorations which explains why the place was called Bontoc. I later learned that the guesthouse is an homage to the province in the north where Jorge's wife's family is from.
Jorge led me to the topmost floor which made me feel like I was indeed hiking up the Mountain Province. I was panting by the time I reached my room but this was quickly forgotten once I saw the view of Balayan Bay.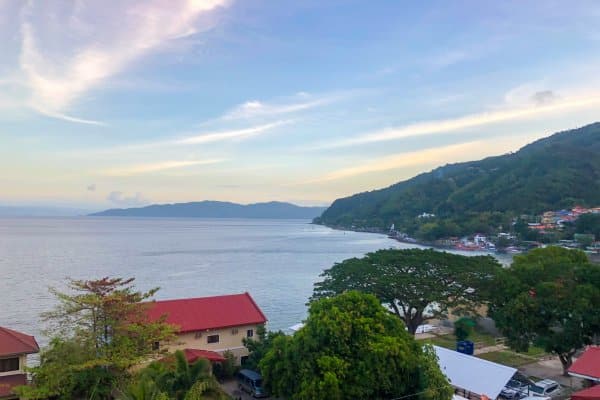 Jorge then showed me my room which also left me mesmerized. I was so surprised that I was given a family room even if it was just me staying. What shocked me, even more, was that I didn't have to pay extra.
I do not know if they upgraded me for free without telling me or if it's simply how they do it there. But it was a refreshing change compared to all the other resorts in Anilao I've stayed in where they basically charge more depending on the number of occupancy or room type.
Like the rest of the house, the room I stayed in was also inspired by Igorot culture.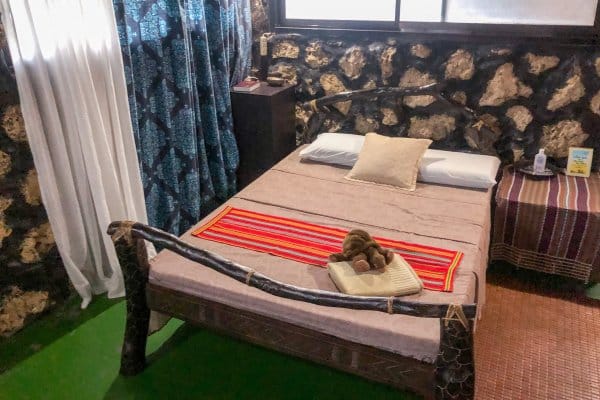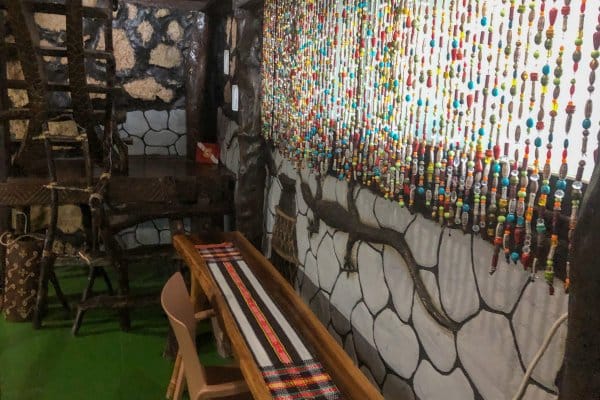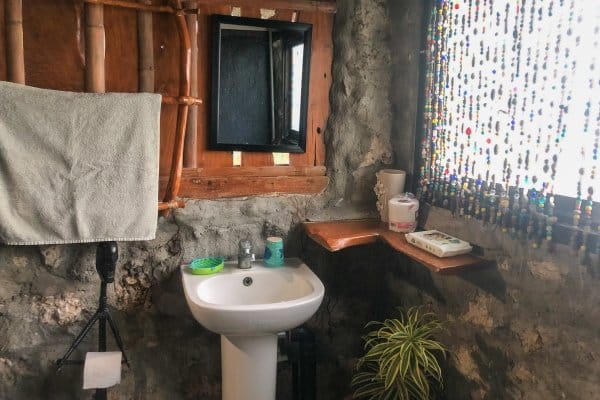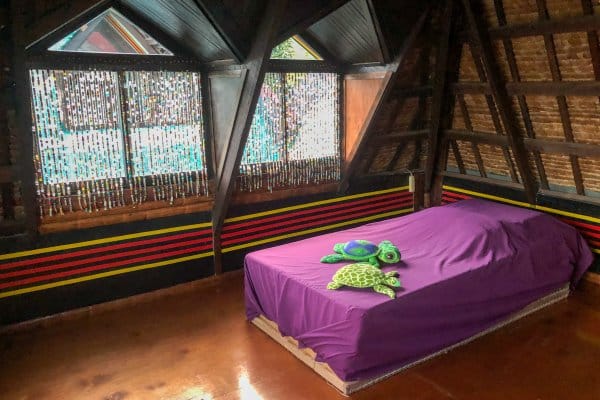 Bontoc Seaview Food
Another reason to love Bontoc Anilao is their food. All meals come in a set and we pretty much get surprised as to what will be served for each meal. Each meal will have a variety of dishes and if there's something that you particularly like you can ask for more.
It's basically buffet-style but individually served. A protocol they must have implemented due to Covid-19.
There wasn't any meal that I didn't enjoy and I even asked for seconds for some of the dishes.
Meals are served in the common area on the third floor with a fantastic view of the bay.
Here are some of the food we had while staying in Bontoc.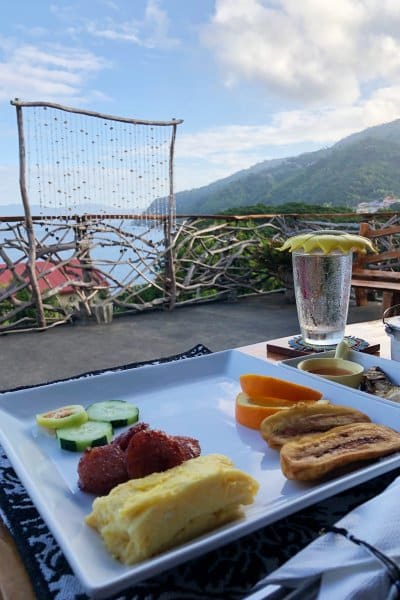 Bontoc in Batangas Scuba Experience
After settling in and having our first breakfast of the day, we headed to the dive shop to get ready for the first dive. The guesthouse is located about 50 meters from the shore so there is a bit of walking required. Since the guesthouse is in an elevated location, you will need to walk down to the beach for the shore entry.
Jorge and his wife, Abby, would take our gear down for us. Our BCD, tanks, regulators, and fins would be ready for us by the time we reach the shore. And after an hour of diving, Abby will be waiting for us to help carry the gear back.
If you're a bit out of shape like me, you'll need a bit of getting used to going up and down the steps between Bontoc and the reef.
I did a total of 4 dives during my weekend at the Bontoc guesthouse. I didn't have any particular requests and I simply wanted to get in the water and practice my photography. While I didn't expect much, the weekend turned out to be more special than I had anticipated.
Bontoc house reef
The Bontoc house reef has an amazing macro life. In fact, Jorge's winning photo in the recent Anilao Photo Shootout was taken in that same spot. We did two dives in the house reef and Jorge showed us some of the tiny critters like shrimps, nudibranchs, and gobies that reside in it.
The area is a popular entry point for freedivers as well so we saw several of them going up and down their buoys.
At one point, much to the freedivers and my delight, we also saw a sea turtle just munching on some corals, proving once again why Anilao is one of the best places to swim with sea turtles.
Here are some of the other critters I encountered in the Bontoc house reef.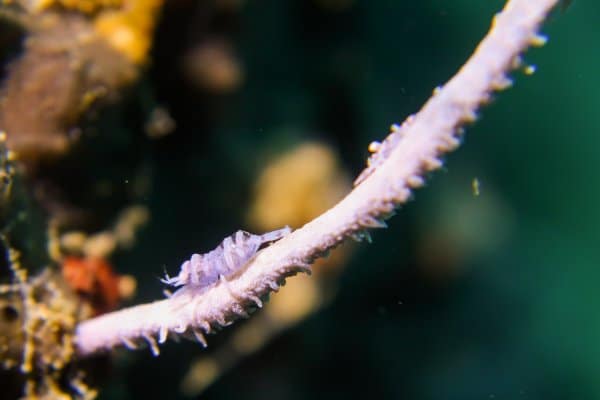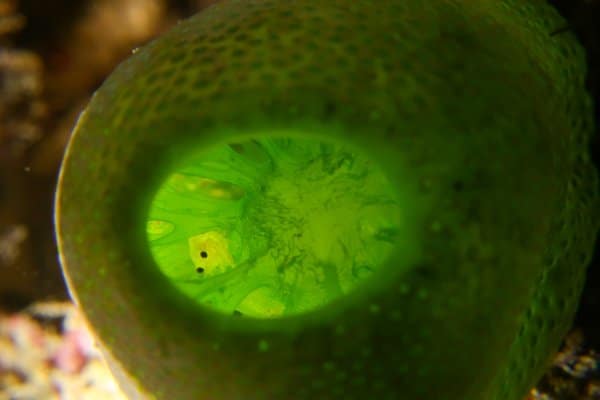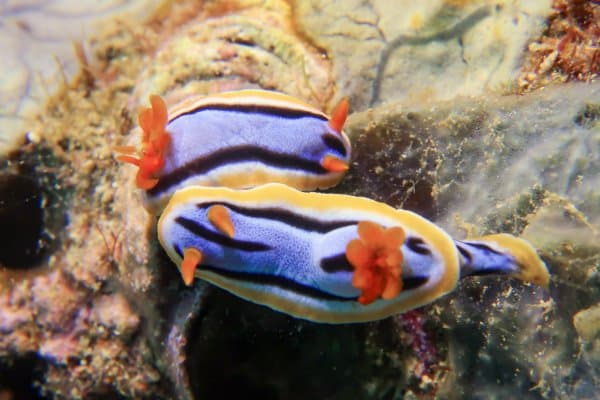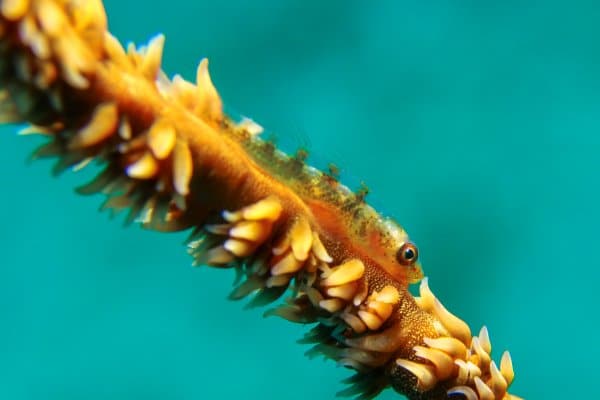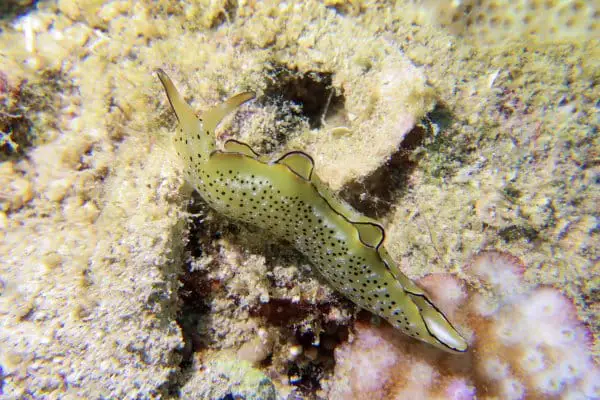 Mandarinfish
Another cool dive site that you can access while staying in Bontoc Anilao is a site called Mandarinfish. This site is named after the adorable and colorful dragonets that can be found here. If you want to witness the spectacular Mandarinfish mating ritual in Anilao, this is the best place to go.
When I heard that one of my favorite fishes can be found just a few meters away from Bontoc, I immediately jumped on the chance to visit them. Coincidentally, this turned out to be my 200th dive so it made the experience even more memorable.
Maire decided to sit this one out and it was only Jorge and me who headed to the site. He warned me that we might not encounter the mandarinfish as the area has become a popular site for freedivers. Their presence in the past few months may have spooked them away.
We headed to the site a few minutes before the sunset as the mandarinfish tends to be shy and only shows up at dusk.
While waiting for the perfect time to see them, we swam around the area and Jorge took some photos of me to commemorate my 200th dive!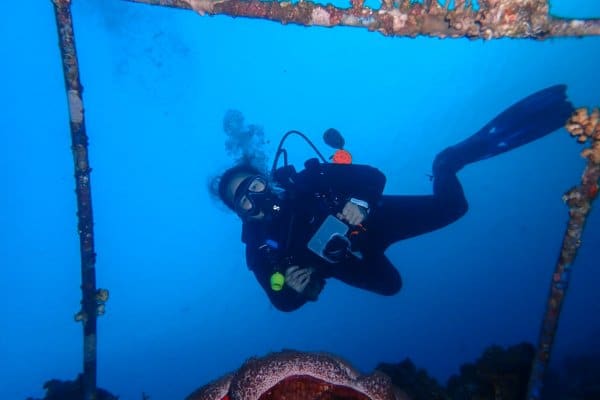 After our short photo session, we headed back to an area of the reef with a huge patch of branching corals. The mandarinfish loves hiding there so we carefully hovered and kept a watchful eye for the tiny mandarinfish.
To our delight, they started showing up.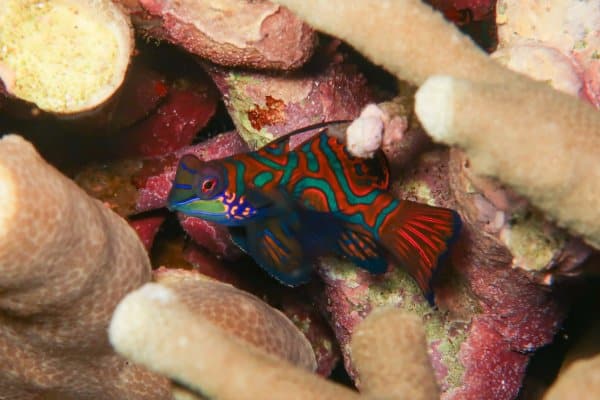 With our red lights glowing over the reef, we even witnessed a couple of mandarinfish mate.
While I wasn't able to capture them mating, I was just happy to see them once again. We stayed there for about 30 minutes and decided to finish the rest of the dive which then became a night dive.
I wasn't able to take as many photos because at this point I was feeling cold at  26°C (78.8°F) and I was just eager to get back home.
I did see several sea slugs, crabs, and shrimps. And a tiny bobtail squid that squirted itself as soon as I shone my light on it.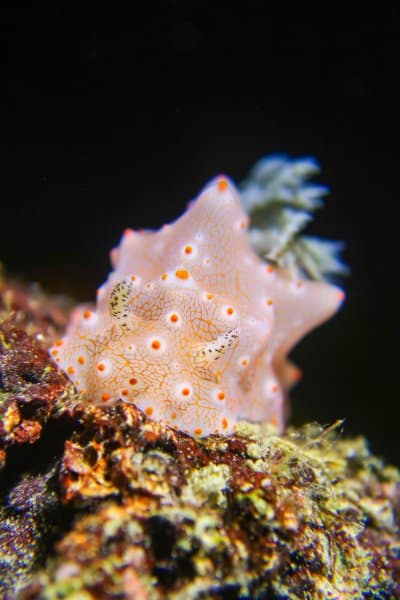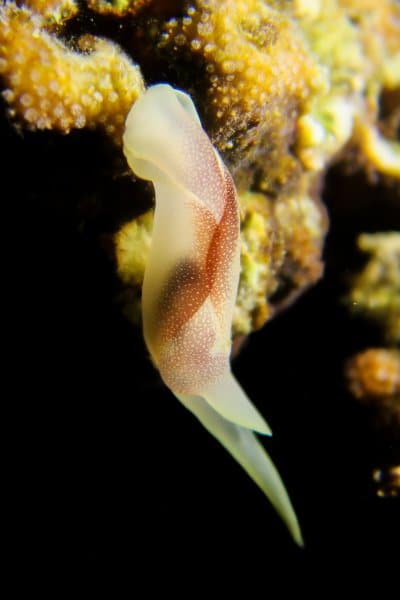 Cathedral
In the morning, we decided to do our dive at the Cathedral which was also a few hundred meters from Bontoc. This was also a special dive for me as this was the first time I was visiting the famous Anilao Cathedral site.
This dive site is among the first dive sites established in Anilao. The site is located right next to Dive 7000 which is also one of the first dive resorts in Anilao. Many scuba divers have visited this site, except for me, until now.
The site is known for the two distinct mounds that look similar to the twin spires of a cathedral and smack in the middle is a stone cross covered in algae, corals, and sponges. The cross itself holds special meaning as it was apparently blessed by Pope John Paul II and was planted by former Philippine President Fidel Ramos.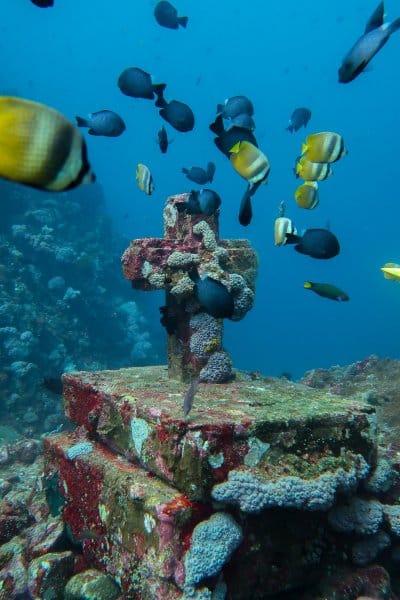 Another significant aspect of the site is that the cement block just below the cross holds the remains of Dr. Tim Sevilla. He was the owner of Dive 7000 and is considered to be the "Father of Diving in Anilao".
He was one of the pioneers of diving in the Anilao and showed the world the wonders and charms of not just the Cathedral but also the rest of Anilao. He loved the Cathedral site so much that he asked to be buried there.
One of the things you'll notice in this dive site is the number of butterflyfishes, angelfishes, and sergeants that didn't seem to get spooked by divers. In fact, when we arrived the fishes swarmed around us which I thought was a very odd fish behavior.
As it turns out, many dive guides have introduced fish feeding practices in this dive site to impress their guests. The fishes associate divers with having food so they will surround you even if you don't have anything to feed them. (I am not sure how often this still happens but if you see your guide doing so, please remind them not to do this.)
After taking a few photos and enjoying the site, we noticed another group arriving and the current picking up. We made our way back to Bontoc and passed through some sandy patches with bommies filled with reef life.
Here are some of the creatures we encountered: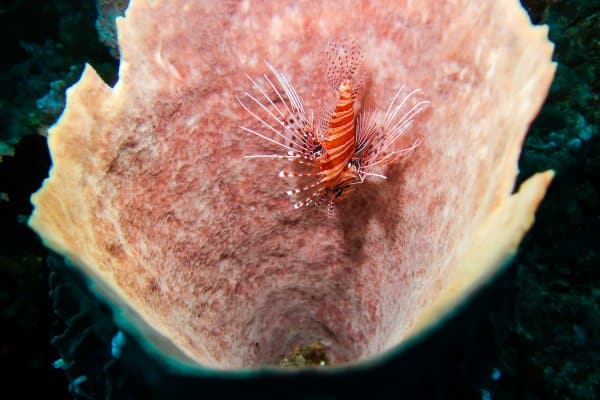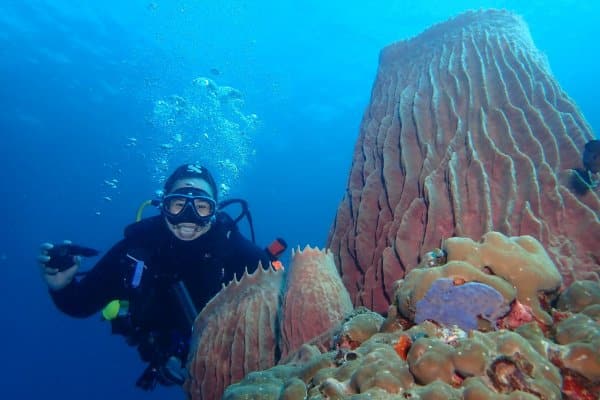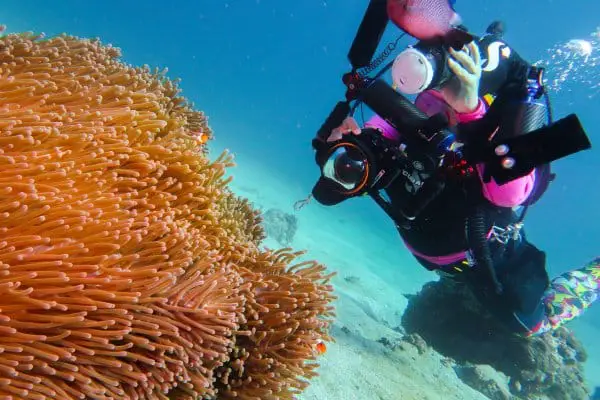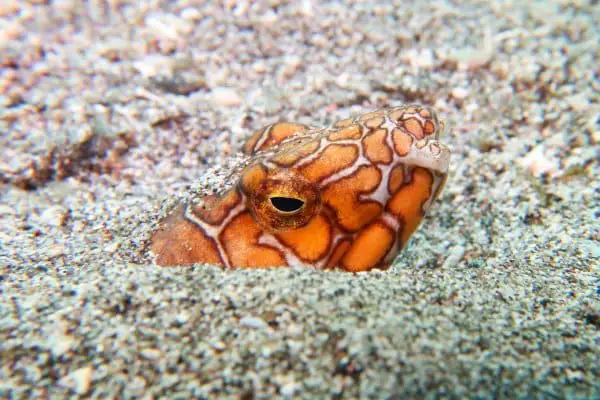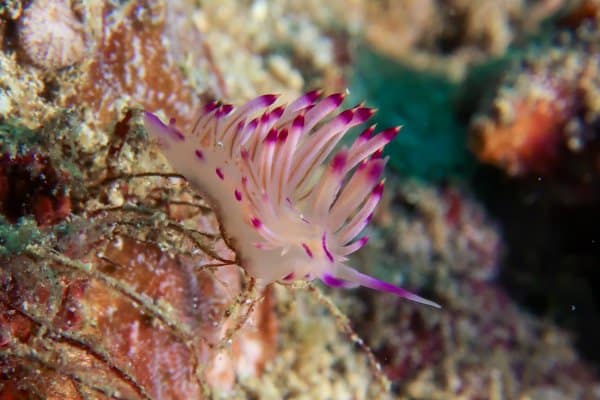 If you would like to know more about the other things you might see while diving in the Philippines, check out my post on 100 Marine Life in the Philippines that you must see.
How much did I spend diving with Bontoc in Anilao?
By far, this is one of the most affordable diving I've done in Anilao. For four dives with room and board, my total bill was only Php6525. These were all shore dives though which is why the fees are not as high compared to boat diving.
With these rates, good food, beautiful accommodations, and good diving a few meters away from the guesthouse, I'm not surprised why my dive buddy stays here almost every month.
| | |
| --- | --- |
| Item | Cost |
| Meals and Accommodations | Php 3050 |
| Dive Master Fee for 3 Dives with 2 Divers | Php 1425 |
| Dive Master Fee for 1 Dive with 1 Diver | Php 950 |
| 4 Tanks | Php 1000 |
| Total Expenses in Bontoc | Php 7025 |
Please keep in mind that the rates above were from January 2022. This may change without notice.
You may refer Bontoc Seaview Guesthouse website for their current rates.
What to pack for Anilao diving?
Here is the standard dive gear I bring while diving in the Philippines. You can rent gear through Bontoc if you do not have your own. Bontoc diving and rental rates can be found here.
My Scuba Diving Gear
Regulator: Scubapro MK25 Evo, C300 and C200 2nd Stage
BCD: Aqualung Axiom
Mask: TUSA M-212 Freedom Ceos
Snorkel: TUSA SP-170 Platina Hyperdry II
Booties: Poseidon Pink Dive Boots
Fins: Problue
Wetsuit: Seavenger
Vest Hoodie: Scubapro Hybrid Hooded Vest
Dive Watch: Suunto D4i Novo
Dive Knife: Aqualung Blunt Tip Knife
Dive Leggings and Rash: Blue Adaptation Coral Sea Fan

My Underwater Camera Gear
Underwater Camera: Canon G7X Mark II
Underwater Camera Housing: Fantasea FG7XII
Video Lights: Big Blue AL1200XP
Underwater Action Camera: GoPro Hero9
360 Camera: Insta360 X3

> Canon G7X Mark II full review
> Insta360 X3 underwater camera review
> Scuba diving camera recommendations for beginners.

Dive Insurance
Divers Alert Network (DAN)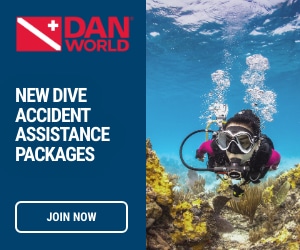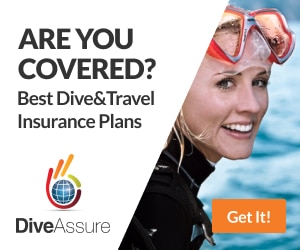 Need travel insurance for your trip? Get a quote from Safety Wing.
If you're traveling and diving in the Philippines for the first time, make sure to read my post on Philippine Packing List: What to Bring to Your Dive Trip.
My Final Verdict
Will I dive and stay here again? Most definitely.
I loved the homey vibe of the place and that they genuinely made me feel like I was an old friend visiting their home. Staying with Bontoc felt like I was part of their family and that we were just hanging out and diving in between.
My favorite dive and stay experiences are when I actually get to share a meal and dive with the people running the place and just talk diving the whole day long. That hands-on and personal touch is something that you can experience while staying at Bontoc in Batangas.
And to be honest, with the affordable pricing for Anilao standards, it's really hard to say no! If you want to experience Anilao, one of the best scuba diving spots in the Philippines, and want to do it on a friendly budget, Bontoc in Batangas is something you should consider.
Bontoc Bed and Breakfast Anilao Contact Details
Bontoc Seaview Guesthouse
Sitio Punta, Barangay Bagalangit, Mabini, Batangas, Philippines 4202
+63 917 8144703
+63 936 9275759
bontocseaviewguesthouse(a)gmail.com
Bontoc in Batangas on Facebook
Bontoc Website