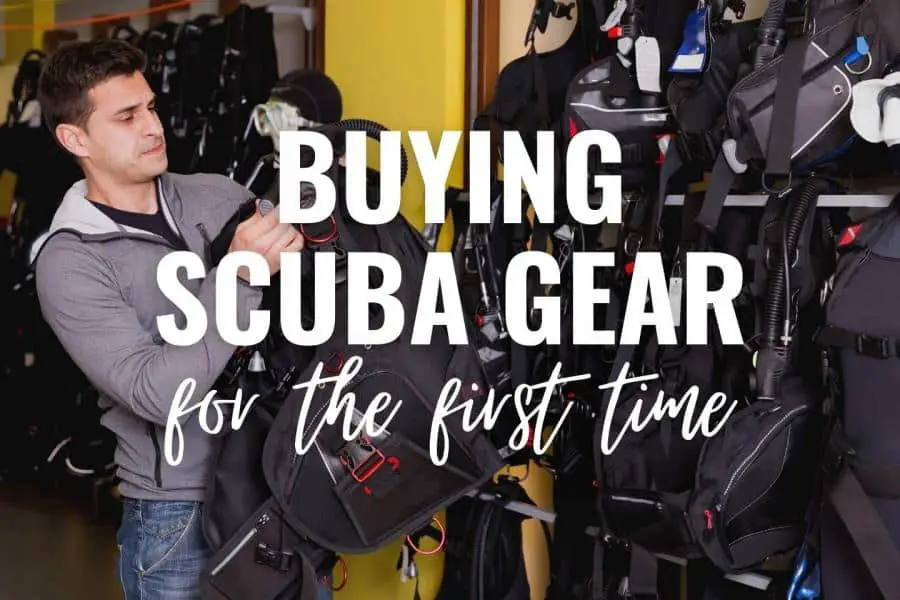 The links below may be affiliate links. If you shop through them, I'll earn a commission at no additional cost to you. For full information, please see my disclaimer here.
Buying scuba gear for the first time and not quite sure where to start? In this post, I will share with you some tips to make gear shopping a little less intimidating for new divers.
After completing your scuba diving course, there are usually two things that happen:
You're either excited to get back in the water. Or start regretting what you got yourself into after realizing how addicting and expensive diving could be!
Once you've accepted this and embrace the joys of diving, there comes a time in every diver's life where they ask themselves: Should I keep renting or should I buy dive gear?
For a lot of divers, the process of buying gear for the first time can be overwhelming. If money really isn't an issue, then good for you! But if you're like me and most scuba divers who are working on a budget, then what do you buy first? When every piece of scuba equipment is important, should you prioritize one over the other?
In this post, you will find out:
When you should start buying your own scuba gear.
Why you should buy your own scuba gear
What you need to consider when buying scuba diving equipment
What scuba diving gear you should buy first
Where to buy your scuba diving gear
So let's get to it!
Should I rent or should I buy dive gear?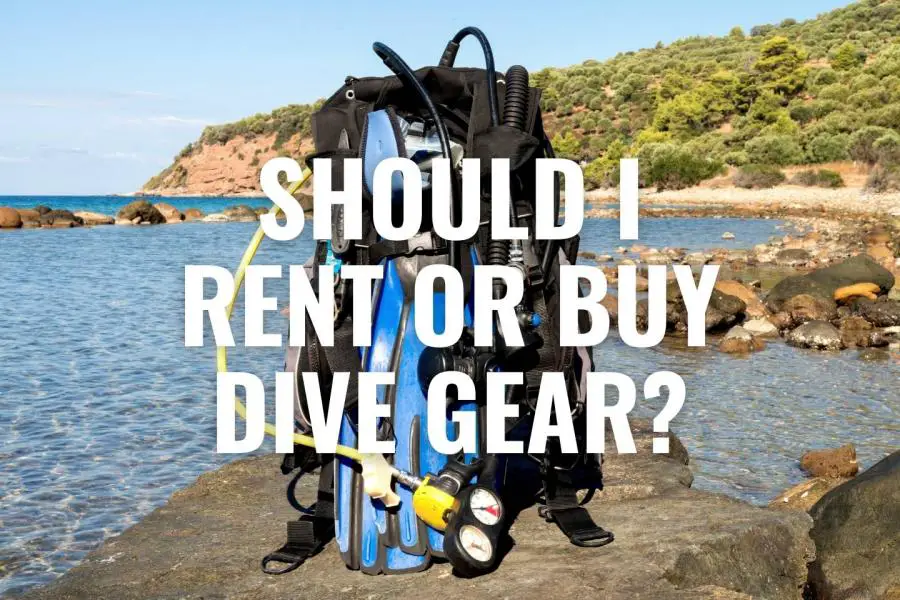 It depends. There is no definitive answer to this as each person is different. Many divers after getting their scuba diving certification just end up renting dive gear every time they scuba. While others buy their entire scuba dive kit from the start.
The right time to buy gear really depends on you and your commitment to scuba diving. It really is a case-to-case basis and there are many things you need to consider when buying your own gear.
On a personal note, for the longest time, I was renting scuba gear due to budget constraints and the frequency of my dives. I would only go on scuba diving trips 2-3 times a year and it didn't make sense for me to invest hundreds of dollars for something I wasn't sure I was going to use long term. I honestly didn't want to commit to it.
Eventually, after having my heart broken, my obsession with scuba took a turn. I realized diving made me happy and I wanted to do it more often. It finally made sense for me to finally invest in my own gear especially when I started this scuba diving blog. I had dive goals I wanted to achieve and I felt like having my own dive gear would help me towards that. At the end of the day, I saw it as an investment towards a future I envisioned for myself.
Simply put, the right time to buy gear is when you (and your wallet) are ready.
Reasons to keep renting dive gear
Here are some of the reasons why most people prefer to rent dive gear.
Cost
One of the most common reasons why divers keep renting is the initial cost of buying scuba equipment. If you intend to buy a basic kit, it could cost at least USD1500. This can be a very expensive investment for a lot of people.
Uncertainty
If you're not sure how often you will be diving it might make sense to simply rent gear at the start of your scuba journey. It will also allow you to try out gear to find out if you like or don't like the brand or model. Renting gear can help you in your decision-making process as it allows your to test different dive equipment first before buying.
Convenient while traveling
Another benefit of renting is being able to travel light. When you rent gear, you simply go to your destination without having to travel with extra luggage for your dive equipment. You can avoid having to pay excess baggage fees and also not worry about your precious dive gear getting lost in transit.
Gear maintenance
If you own your own gear, after each dive you will have to take care of rinsing, cleaning, and drying your equipment. Then, to ensure that your dive equipment is functioning as should, it is important to have your dive gear serviced and checked. This will cost money too. When you rent, you don't have to worry about these things.
Reasons to buy your own scuba diving equipment
Here are the benefits of buying your own scuba diving equipmen and why you should consider buying already.
Improve your scuba diving skills
When you have your own set of diving equipment, you can focus of your dive skills based on the dive gear that you have. You can easily improve your trim, adjust your weights, work on your finning technique and other scuba skills. You can take away the distractions and anxiety of trying to figure out how to use a different set of gear each time your rent.
Hygiene
Having your own scuba diving gear means you don't have to worry about some stranger's bodily fluids on your scuba equipment. While most dive shops follow sanitary guidelines when it comes to gear rental, you can never be too sure. If the thought of sharing a regulator with some stranger or wearing a wetsuit someone else peed on gives you the heebie-jeebies then buying scuba gear is for you.
Comfort and Fit
Scuba rental shops usually carry specific brands and models which doesn't always fit all body shapes and sizes. This can cause you discomfort and ruin your dives. Protective gear might not give you the insulation you need. Fins can cause you blisters and masks might leak. If you have your own dive gear, you can prevent these problems. Buying scuba gear means you get to dive with equipment that fits you perfectly.
Quality Guarantee
When you rent dive gear, you can't be too sure of how properly maintained the dive equipment are. You might end up in a shop that has old and questionable scuba gear. When you buy your own gear, you can buy a brand and model you trust and know. You will also be responsible for how well you clean and maintain them and how often you get them serviced.
Peace of Mind
One of the biggest benefits of buying scuba gear is having peace of mind. Your dive anxiety can be reduced when you have your own gear. There is less worry when you are diving with the equipment you are familiar with already. When you have your own gear, you end up taking care of it and you'll know its history and use.
Things to consider when buying scuba gear for the first time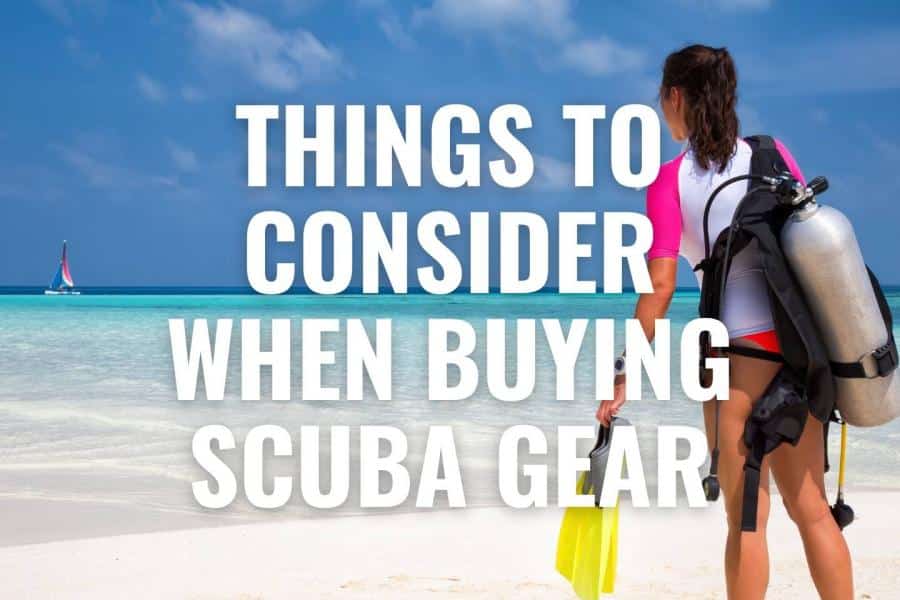 Now that you've finally decided to buy scuba diving gear, there are many things you need to consider so you're guaranteed you're buying the right gear for you.
1. What kind of diving do you do?
First, assess the kind of diving you do. You should consider the following:
Where you go diving
Scuba diving environment
Types of scuba diving that you do
Do you dive in tropical or temperate waters? Do you prefer saltwater or freshwater environments? Are you doing shore entries or boat dives? Will you be traveling with your dive gear?
These are just some of the things you need to keep in mind as some dive equipment are made for better efficiency and performance in certain conditions.
2. How often do you go diving?
Another thing to consider is how often you go diving. Do you go on dives every weekend or frequently? Or are you a seasonal diver going once a year on a dive trip. If you are the former, you might need to invest in dive equipment that can take a beating. If you are the latter, perhaps buying travel-friendly gear is the way to go.
3. What budget are you working with?
The biggest consideration for a lot of people is budget. Scuba gear can be very expensive so if money is an issue for you, you need to factor this in. You might even want to buy your scuba gear gradually or consider buying second-hand gear from divers who are looking to upgrade or have lost interest in scuba diving.
4. What brands are available in your local area?
While there are many awesome scuba brands in the market, your preferred brand might not be available in your local area. When you are buying scuba gear, consider buying from local shops. This helps the local economy and also guarantees that should be there be issues with the product you can get support locally as well.
5. What after-sales service is available?
When buying scuba gear, you would also want to check what is included in the warranties and repairs. Does the brand have a local distributor or service center that will assist you if you need to send in your gear for maintenance? Will you be able to easily find part replacements if needed?
6. What are your long-term diving goals?
Since buying dive gear will leave a significant dent in your wallet, think long term and consider what kind of diving you plan to do in the future. Do you have interests in improving your underwater photography skills or perhaps want to get into technical scuba diving? Or perhaps you are working towards becoming a scuba diving instructor.
If so, you might want to do deeper research into what gear you need to buy for these specialized scuba activities. This way you don't have to keep spending and buy the correct one the first time around.
What Scuba Diving Gear You Should Buy First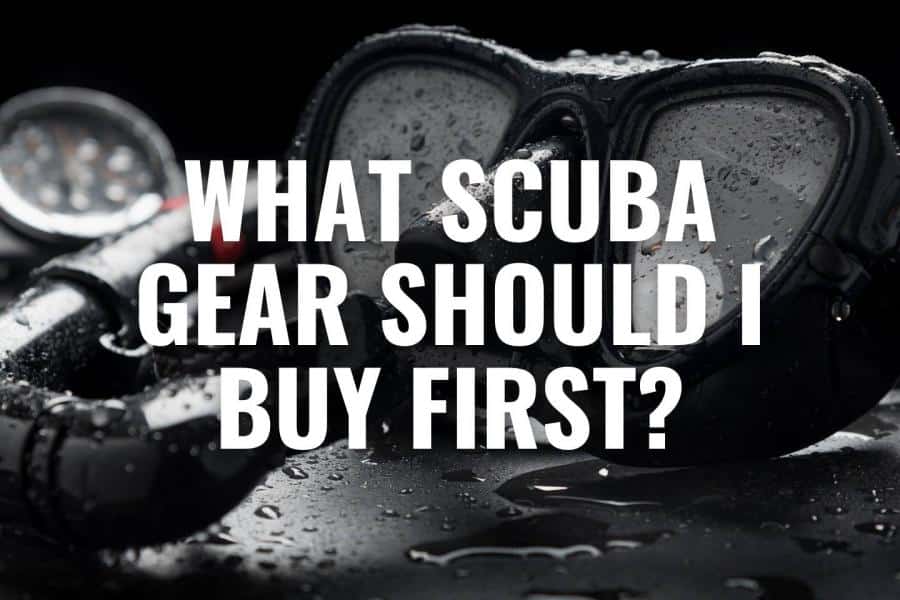 So what scuba diving equipment and gear should you buy first? Of course, if you have the budget, it won't really matter as you can buy it all in one go! However, if you gradually want to build your dive kit, I would recommend starting with the more affordable scuba diving equipment first and gradually working towards the big-ticket items.
1. Mask, Snorkel and Fins
Start your dive kit by purchasing your own mask, snorkel, and fins. Among the scuba essentials that you will need to purchase eventually, these three items are the easiest to purchase and they're also the most affordable.
They're also the most practical items to get as you can use them as-is for snorkeling. It is important to note though that while these can be used for snorkeling, make sure that the fins you purchase are for diving. Snorkeling fins are made differently and will not be great for scuba diving.
Mask, snorkel, and fins are also easy to take while traveling, having your own snorkeling set can save you some money while on vacation. You can just hit the beach at your convenience and explore the underwater world. So even if you don't intend to go scuba diving, having these three items will be a good purchase.
2. Wetsuit
For your next purchase, you should consider getting a wetsuit that fits you properly. For the main reasons that dive shops will not always carry correct sizing and fit for you, and they might not be maintained well. And can you just imagine the number of people who might have peed in your wetsuit rental? Yikes!
While some divers will probably have no issues with these, it's definitely a huge issue for me as someone who has struggled for the longest time with body issues. Having my own wetsuit wherever I go greatly reduced my anxiety and embarrassment when it comes to finding the right-sized rental suit.
Oftentimes, rental wetsuits don't fit me correctly or are not properly maintained which can be uncomfortable during dives. And besides, it's so much better peeing in your wetsuit instead!
3. Dive Computer
The next purchase you should look into is getting your own dive computer. While a lot of divers recommend getting one right away, many consider buying a dive computer to be a big investment. For a new diver who is still unsure on how much diving they want to do, spending on a dive computer might be something they'd want to hold off for a while.
However, if you're ready to purchase your next high-priced dive equipment, you should consider getting your dive computer next. This piece of equipment will keep you safe while scuba diving as it gives your real-time information about your time and depth underwater. It can help lower the risk of decompression sickness and warns you if you are diving beyond your limits.
Surprisingly, many dive shops do not offer dive computers as part of their basic rental gear so having your own will really come in handy. For the longest time, I would dive relying on my dive guide's computer, which in hindsight was actually a really bad idea as that was his dive profile and not mine.
If you value your own safety, then you should have your own dive computer on every dive.
4. Regulator and BCD
The Regulator and Buoyancy Control Device (BCD) are two of the most important and possibly the most expensive scuba diving equipment you will be purchasing. These are essentially your life support so take time to research the best regulators and BCD for you.
I would recommend purchasing your regulator first for the sake of hygienic and safety purposes. While most dive shops follow sanitation protocols and frequently service their gear, having your own regulator can be more reassuring. You can have some peace of mind knowing when you last serviced your gear. Regulators are also easy to bring with you, so if you're traveling you need not worry about taking up too much space.
To complete your scuba essentials, you can choose between a jacket-type or back-inflate BCD. Most dive shops will carry a jacket-type BCD so you can easily rent and test different kinds until you find the right one for you. Many divers argue that back-inflate is better so it is something that you should also consider. If you know someone who owns one, ask to borrow or try it out!
5. Dive Accessories
When it comes to dive accessories, you should purchase them as needed or when the opportunity arises. While some are not essentials, they're nice to have and would make you look forward to diving.
If you were to buy dive accessories, while renting the rest of your gear, I would recommend that you get yourself your own dSMB. Many dive shops do not include dSMBs in their rental so for your safety get one for yourself.
If you enjoy night diving, then having your own scuba torch will also save you money from rental fees. Here are some of my recommendations for the best dive lights for recreational divers and best scuba tank marker lights.
A dive knife will also come in handy, especially if you dive in locations where marine life entanglements from nets are a common occurrence.
I must confess that even before I got my own set of BCD and Regulator, I bought myself an underwater camera first. While underwater cameras are definitely not scuba essentials, it made me look forward to diving. So, it is, in a way, essential for me.
Regardless of what you end up with, for your mask, snorkel, fins, wetsuit, BCD, regulator, and dive gear in general, always remember to choose based on your safety and comfort.
My Scuba Diving Gear
Regulator: Scubapro MK25 Evo, C300 and C200 2nd Stage
BCD: Aqualung Axiom
Mask: TUSA M-212 Freedom Ceos
Snorkel: TUSA SP-170 Platina Hyperdry II
Booties: Poseidon Pink Dive Boots
Fins: Problue
Wetsuit: Seavenger
Scuba Leggings: Ocean Spirit by Aurora Wetsuits (For a 10% discount, use Coupon Code: DIVERBLISS)
Vest Hoodie: Scubapro Hybrid Hooded Vest
Dive Watch: Suunto D4i Novo
Dive Knife: Aqualung Blunt Tip Knife

My Underwater Camera Gear
Underwater Camera: Canon G7X Mark II
Underwater Camera Housing: Fantasea FG7XII
Video Lights: Big Blue AL1200XP

Click here for my Canon G7X Mark II full review
Click here for scuba diving camera recommendations for beginners.

Dive Insurance
Divers Alert Network (DAN)
Where to buy scuba diving equipment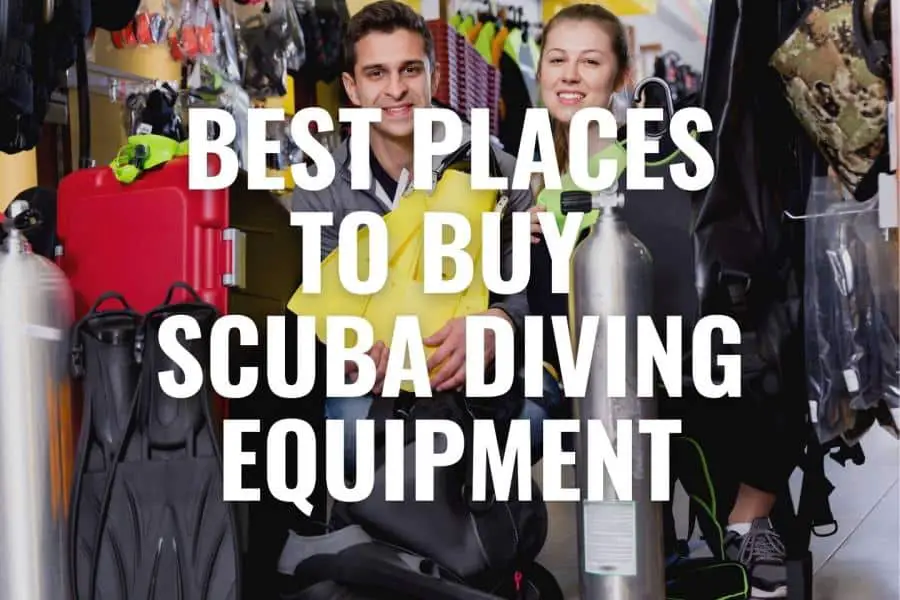 Now that you know what scuba gear to buy first, here are some of the best places to buy scuba equipment.
Buy dive gear from your local dive shops
A quick online search will tell you the nearest dive store near you. I am a huge advocate of buying local and supporting small businesses, so visit the dive center in your community or city. Buying locally will allow you to try on gear and make sure it fits you perfectly.
It's important to build rapport with your local dive gear shop as they will be the ones you most likely will approach for your repairs and service needs. Local dive shops will also almost always extend special packages and promos to their loyal customers. So having a relationship with them, can actually come in handy.
You can also learn a lot about the diving equipment by talking to the shop themselves. Oftentimes, they will have the best consumer insights and feedback about certain products. Having face-to-face conversations about dive gear pros and cons and their customer's experience with the product can help you in your buying process.
If you are in the Philippines, here is a list of Dive Shops to Buy Scuba Diving Gear.
Shop online
Shopping online is also a great way to buy scuba diving gear and equipment. If you already know what you want, watch out for flash or clearance sales. Sign up to their mailing list as many shops send coupon discount codes to get you to purchase.
You can also check your favorite online gear shop during special holidays as they might have some special offers. Black Friday or Cyber Mondays are also huge sales days for many online retailers. If you like buying on Amazon, there is also Amazon Prime Day that you should watch out for.
Shop second hand
Buying second-hand scuba diving gear is a great way to save money. Many scuba divers are looking to upgrade their gear or get rid of gear they are no longer using. It is very common to find people who have only used their scuba gear a few times and decided to sell due to a variety of reasons. There many groups on Facebook and online that sell second-hand scuba diving equipment so you should definitely check those out.
I had actually acquired both my regulator and BCD second-hand from my PADI rescue diver instructor who was helping another student sell gear. And this saved me a lot of money.
Always exercise extra precaution when buying scuba gear online. This can be a hit and miss and there could be scammers out there and you end up losing more. I felt confident with my second-hand purchase as I knew the person I was purchasing from.
Dive Shows and Exhibitions
Dive shows and exhibitions are also a great place to buy scuba diving gear. Not only do you get to learn more about the products you want to buy, but it's also a good place to buy at a discount.
Many brands launch new products in these venues and offer good deals for scuba divers visiting the event. Many dive shops also bring inventory and sell their excess stock at bargain prices. So if there is a dive expo happening near you, make a quick visit if you're looking for awesome scuba diving gear deals.
Pin for later!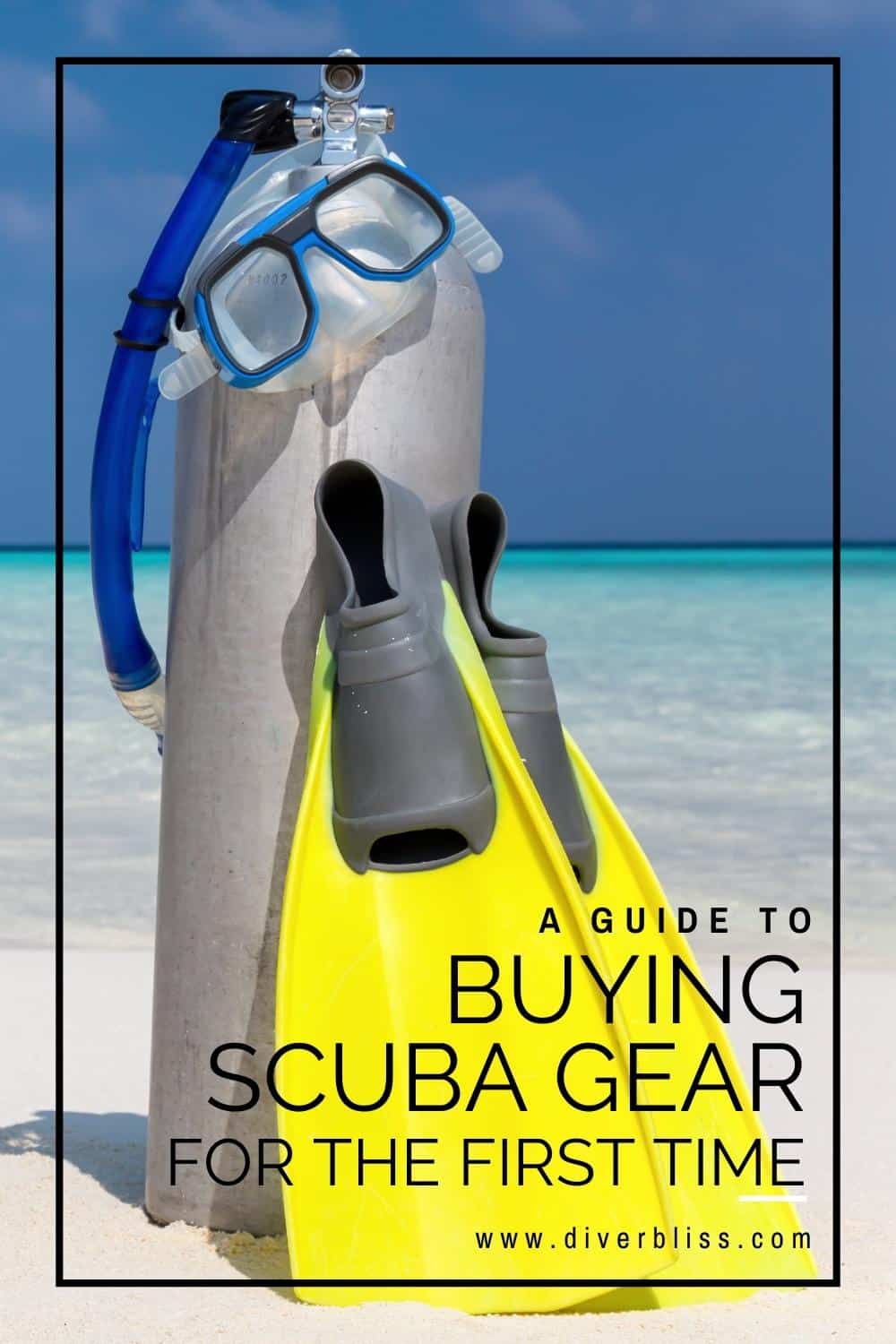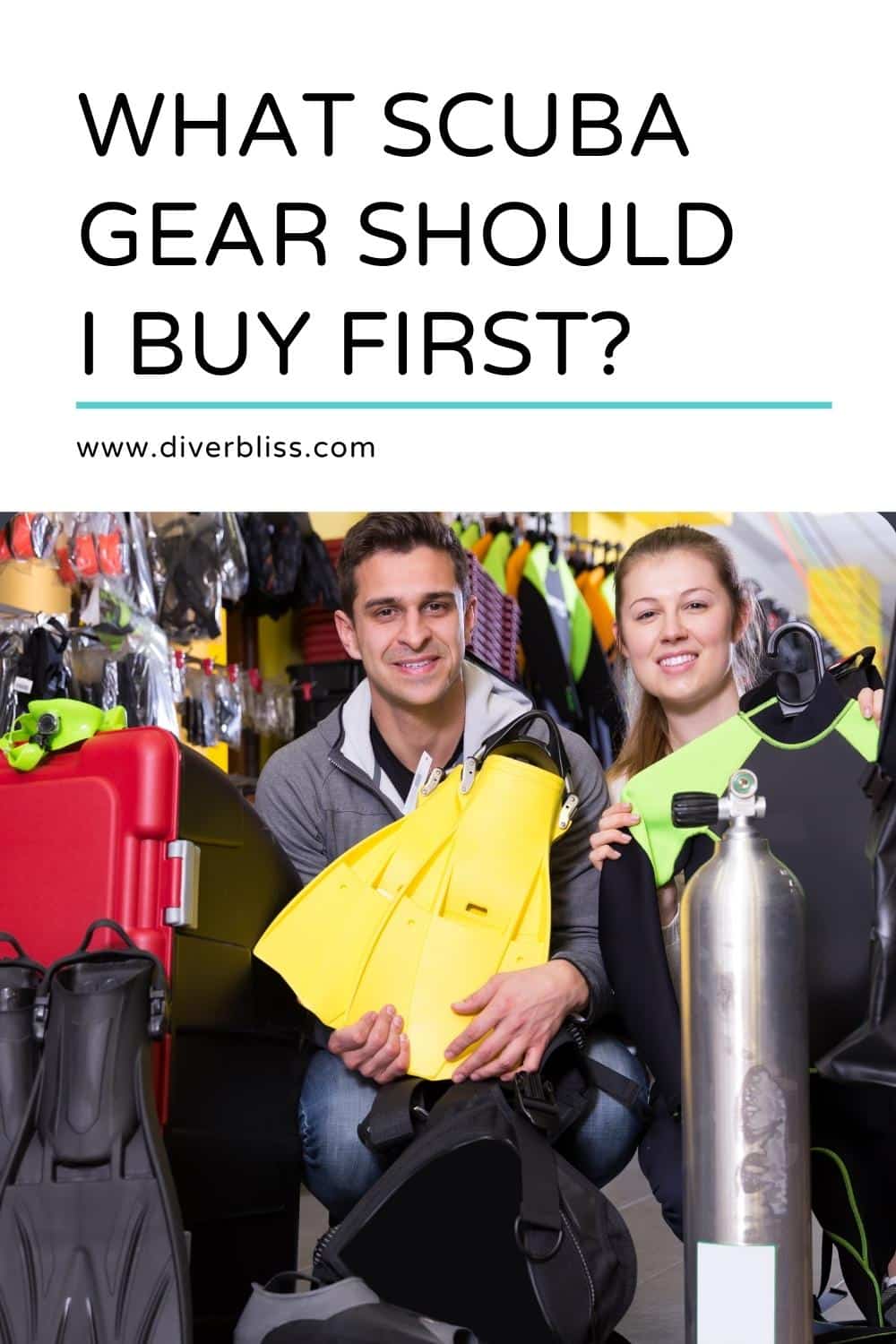 Now that you've read through my guide to buying scuba gear for the first time, my last piece of advice is this:
Do not feel rushed and pressured into buying certain brands and models. Take your time and do your research. What may be the best for one person might not be the best for you. Each person's diving style and circumstances are different so choose what is best for you.
What was or will be your first scuba gear purchase? Leave a comment below!
The links above may be affiliate links. If you shop through them, I'll earn a commission at no additional cost to you. For full information, please see my disclaimer here.