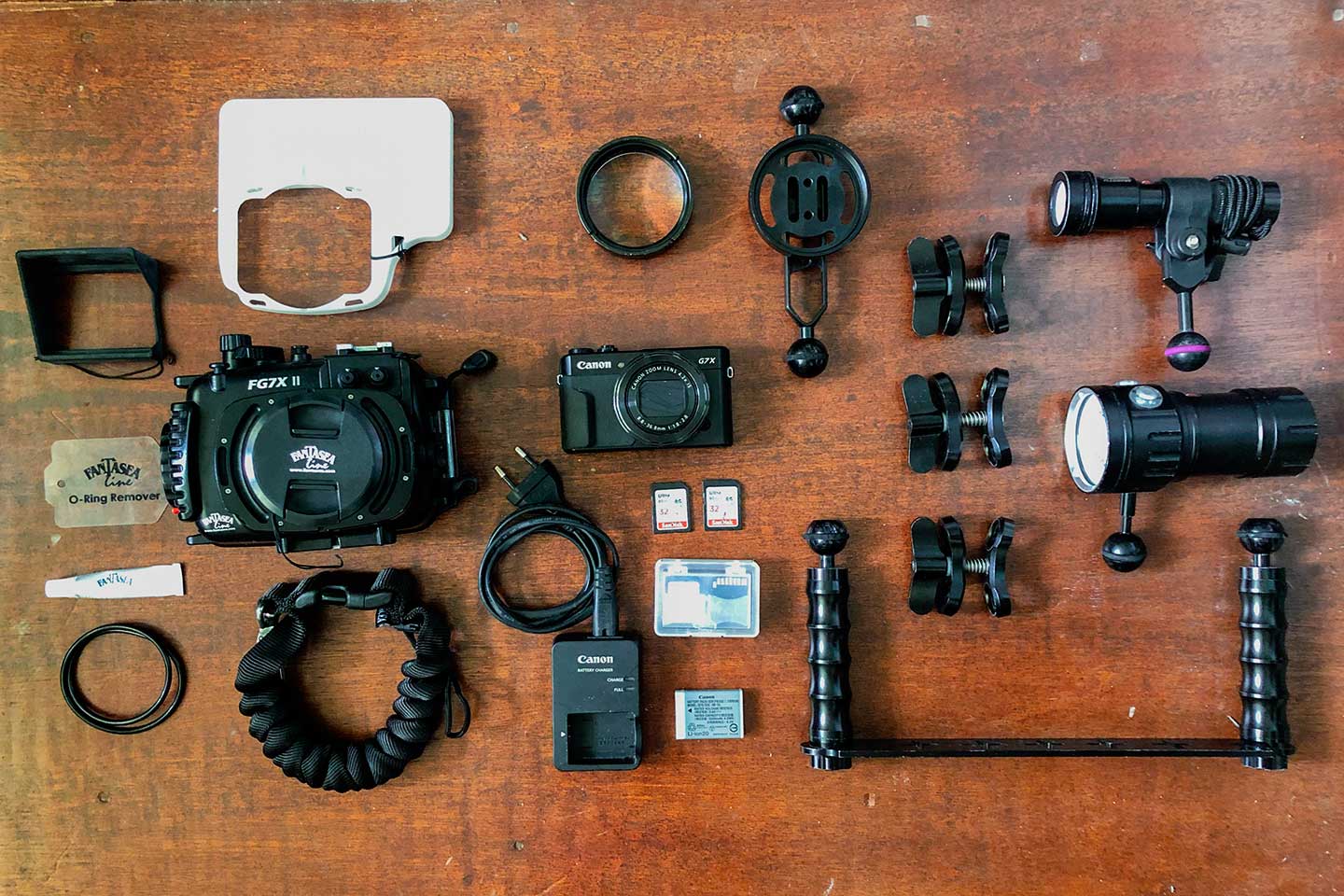 The links below may be affiliate links. If you shop through them, I'll earn a commission at no additional cost to you. For full information, please see my disclaimer here.
In this post, I will go into detail on the camera I use while scuba diving. Keep on reading for my Canon G7X Mark II underwater review plus additional recommendations on underwater housing and accessories.
---
I can no longer count the number of times someone has left me a comment on an Instagram post or private messaged me on Facebook to ask: "What camera do you use?"
Since so many of you are curious, I thought it was about time to just create an entire post about my current underwater camera- the Canon Power Shot G7X Mark II with Fantasea Underwater Housing.
I personally think it is the best underwater camera for beginner photographers!
Of course, I am biased as I haven't really tried out ALL the underwater compact cameras in the market. But, I have been using this camera for two years now and have been happy with the results so far.
I cannot recommend it enough to fellow divers wanting to invest in a great underwater camera.
This article will cover what the Canon G7X MII has to offer underwater photographers and the underwater housing I recommend you can use together with it. I will also share a list of underwater accessories you can use together with your Canon G7X Mark II so that you can grow as an underwater photographer.
So keep on reading!
Canon G7X Mark II Review with Photos and Videos Samples
One of the best ways to see how a camera performs is by seeing actual samples of the photos and videos taken by regular scuba divers like me! Here are some sample photos and videos I have taken using a Canon G7X Mark II and Fantasea housing.
Canon G7X Mark II Underwater Photos
It's important to point out that these Canon G7X Mark II photos have undergone some editing. I have made some adjustments to the brightness, contrast, and color saturation to enhance the photos.
When I shoot using ambient light, the colors are usually more blue or green than I would like so I edit them to add more red or magenta. This allows for the colors to look more accurate. I use Adobe Lightroom Mobile version to edit my photos.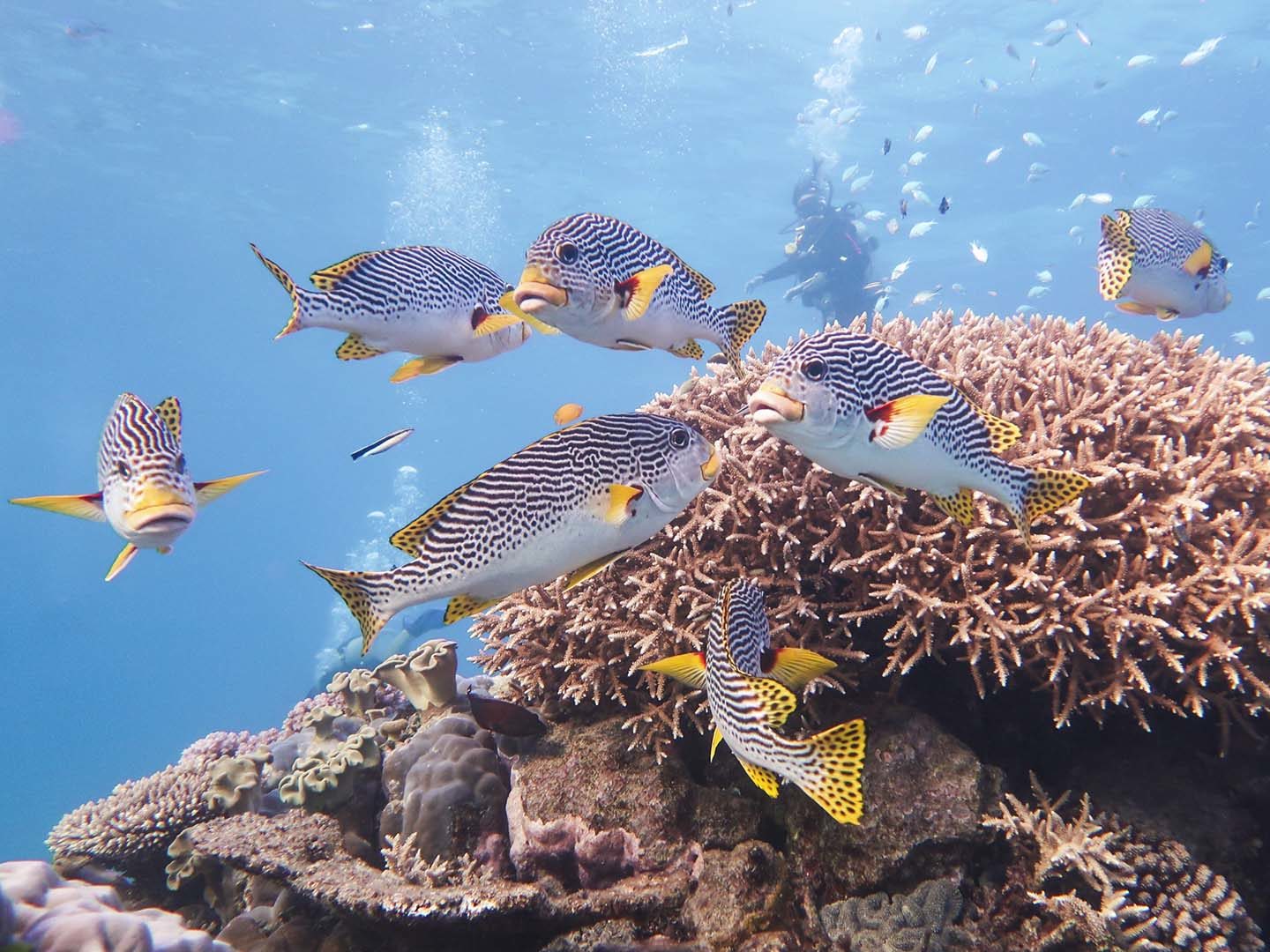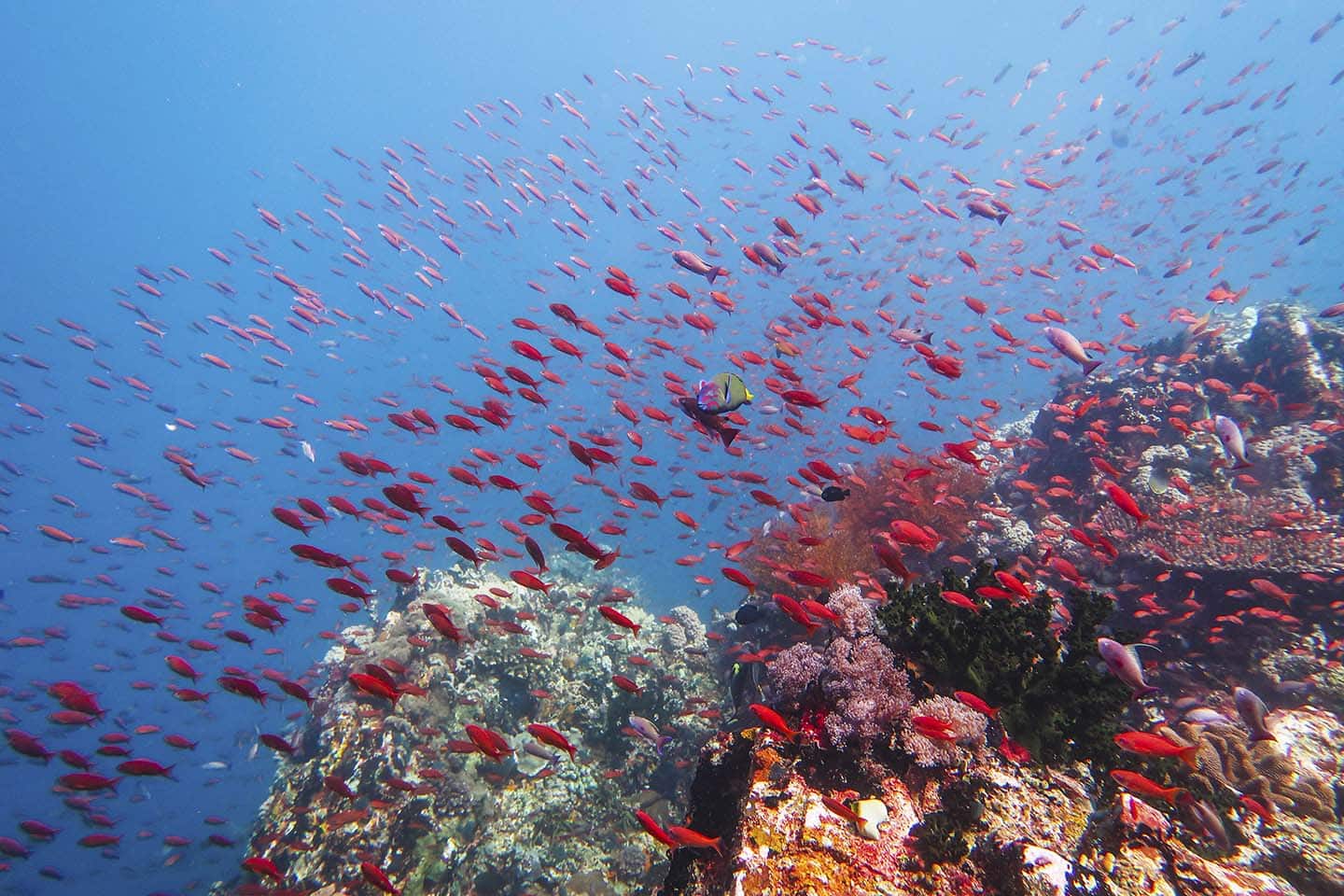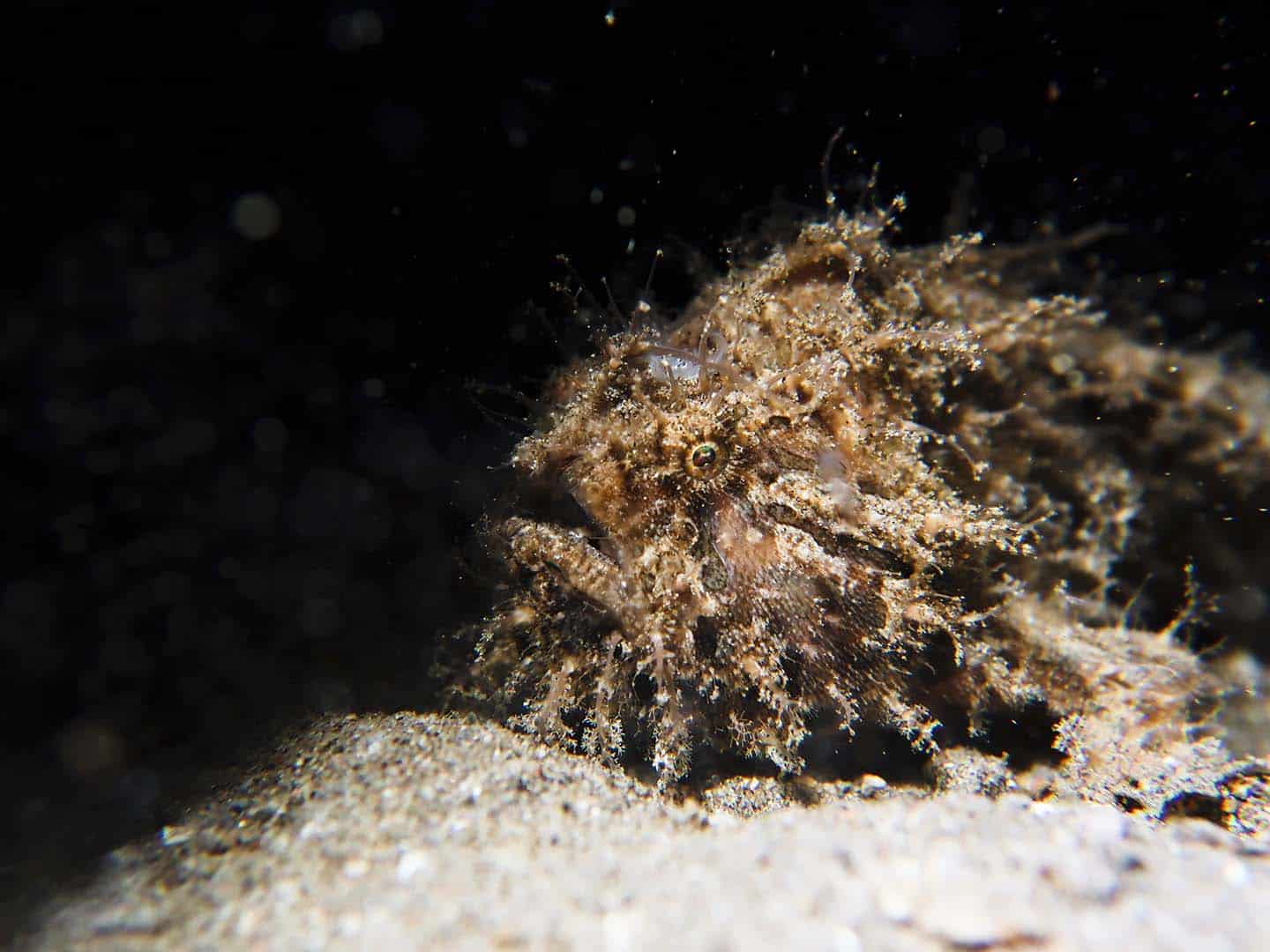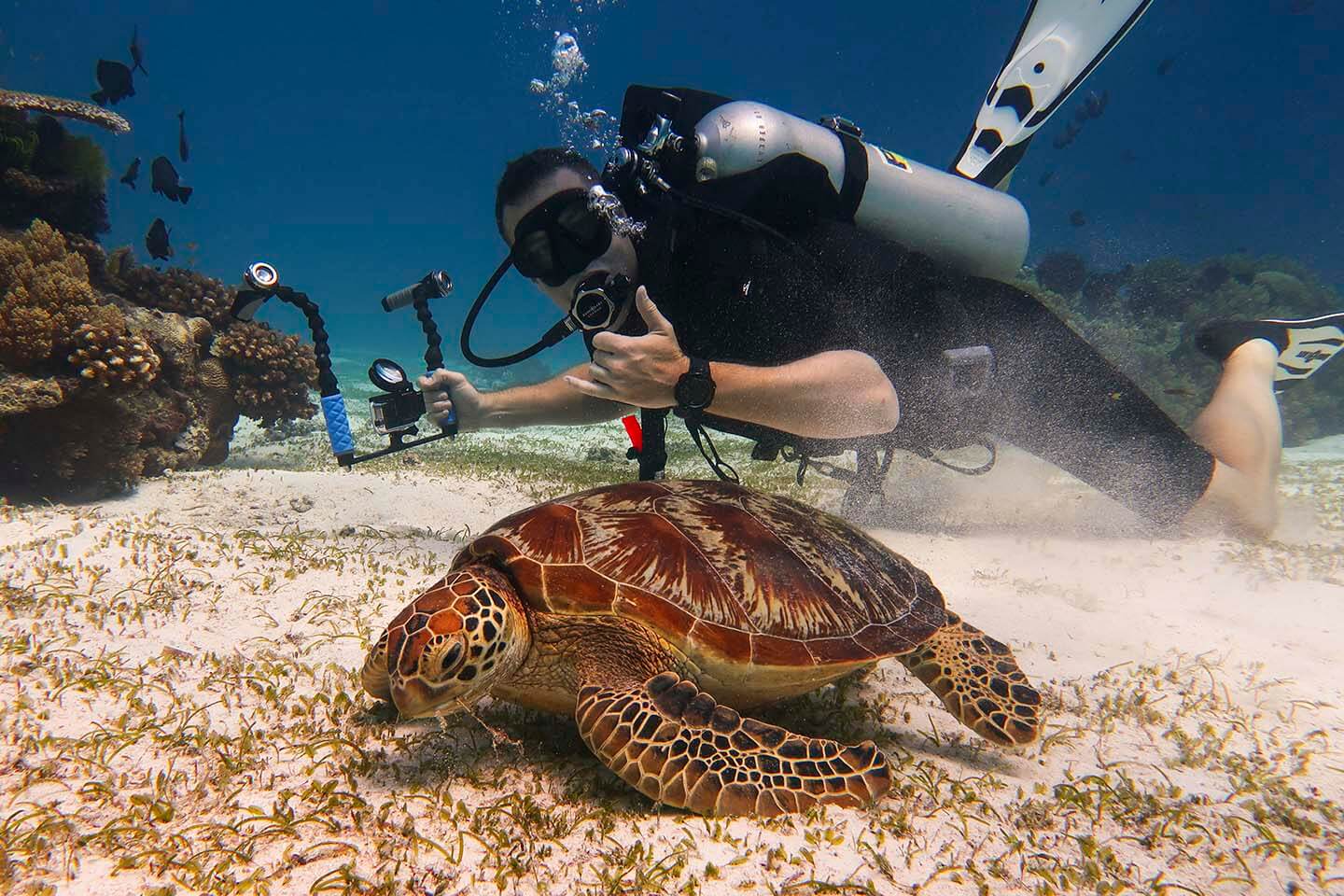 If you want to see more sample photos, do check out the specific posts I linked under each photo. Those articles will have more photos of the different dives I did with the Canon G7X MII with Fantasea Underwater Housing.
Canon G7X Mark II Underwater Videos
Here are sample Canon G7X Mark II Videos from my previous trips. Again these have been edited and some might contain footage from my iPhone or my action camera that I also use when making my travel videos.
But the majority of the underwater video clips were taken with a Canon G7X Mark II and Fantasea underwater housing.
First Video Captured: This was taken in the Great Barrier Reef. It was the first dive video montage I've ever created and the first time I've used the video mode of the Canon G7X M2.
Wide Angle Videos: Most of the footage of my scuba diving in Apo Island was also taken with a Canon G7X Mark II with Fantasea Housing. While I did have video light, the intensity was too weak and barely lit up the scene as I was capturing wide shots. Most of the shots here were taken using natural lighting.
Macro Videos: When I was doing these macro shots, I was using a diopter that was attached to my Canon G7X Mark II Fantasea Housing. I was also using Big Blue Video Lights.
To edit, I used iMovie for the Australia video and Final Cut Pro for my Dauin and Apo Island dive videos. If you want to see more scuba diving videos shot with my Canon G7X Mark II, you can check out my YouTube Channel. Don't forget to subscribe!
I have been using this underwater camera since 2018 and have been happy with the quality results I get from it. Most of the photos and videos you see on my website were taken using this underwater camera.
So what makes the Canon G7X Mark II so special?
Canon Power Shot G7X Mark II Camera Specifications
The Canon Power Shot G7X Mark II is a powerful compact camera that was released into the market in February of 2016.
The G7 X Mark II uses Canon's high-performing DIGIC 7 image processor which enables it to perform much better than its predecessor, the Canon G7 X. The improved image processor, which is essentially the brain of the device, allows it to work faster and better.
The Canon G7X Mark II has a sleek, compact body but boasts of a large (1″ BSI CMOS) sensor that delivers excellent photo and video quality.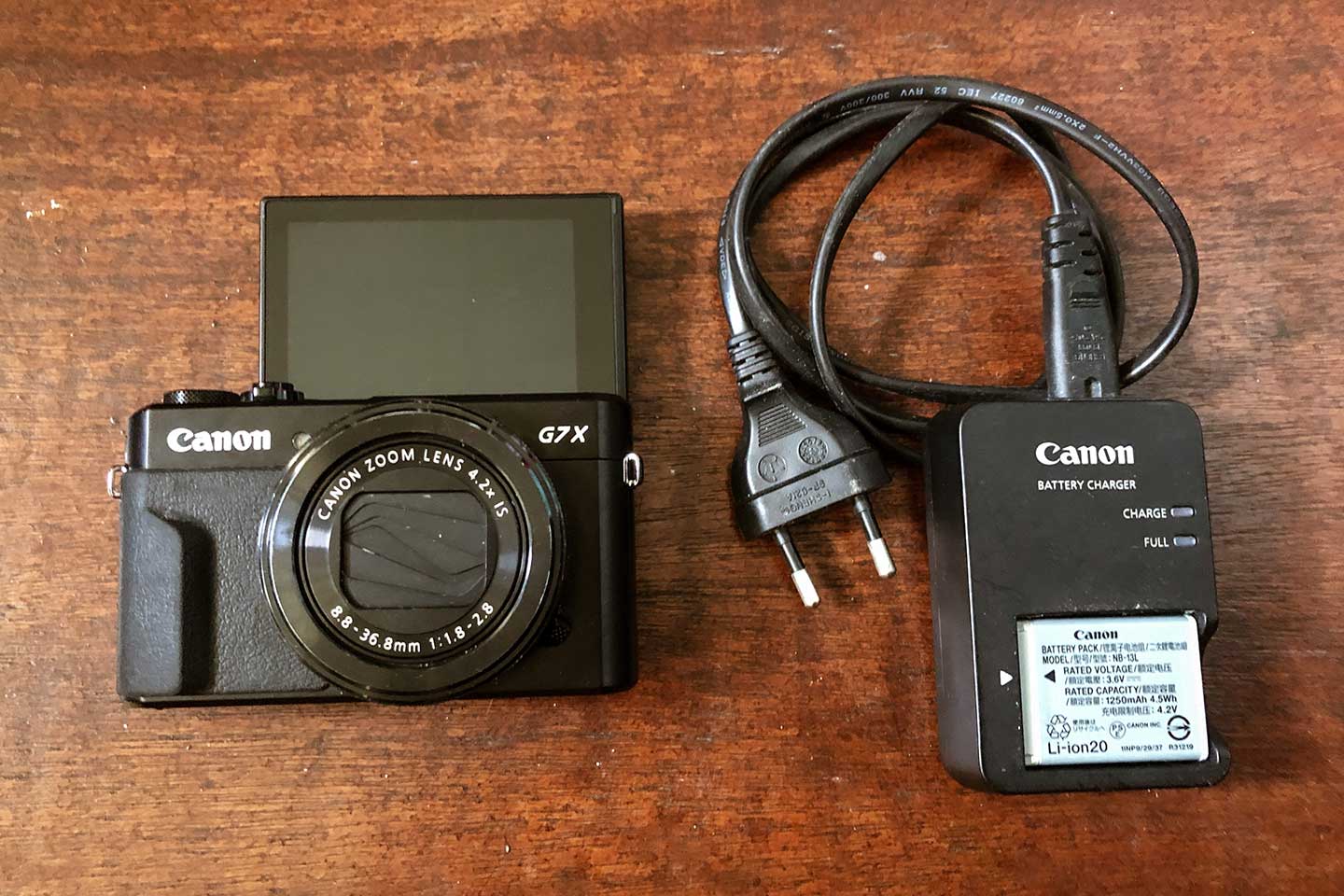 Here are some more technical specifications of the Canon G7X Mark II which convinced me to purchase this awesome camera:
| | |
| --- | --- |
| Specifications | Canon Powershot G7X Mark II |
| Max Resolution | 5472 x 3648 |
| Effective Pixels | 20 megapixels |
| Sensor Size | 1″ (13.2 x 8.8 mm) BSI-CMOS |
| ISO | Auto, 125-12800 (expandable to 25600) |
| White Balance Settings | Auto (including Face Detection WB), Daylight, Shade, Cloudy, Tungsten, Fluorescent, Fluorescent H, Flash, Underwater, Kelvin Settings, Custom White Balance 1 & 2 |
| Photo Format | RAW and Jpeg |
| Video Format | MP4 1080p Full HD video recording |
| Focal Length | 24–100 mm |
| Optical Zoom | 4.2x |
| Max Aperture | F1.8–2.8 |
| Focusing | Manual Focus and Auto Focus: Single, Continuous, Servo, Touch AF Available |
| Screen Size | 3″ touchscreen LCD with 3:2 aspect ration, tilt-type feature |
| Live View | Yes |
| Battery Life | 235 |
| Built-in Flash | Auto, Manual Flash On / Off, Slow Synchro |
| Aperture Priority | Yes |
| Shutter Priority | 1/2000 – 30 sec |
| Manual Mode | Yes |
| Other Shooting Mode | Standard Movie, Short Clip, Manual Movie, Time-Lapse Movie, iFrame Movie, Custom, Smart Auto, Hybrid Auto, SCN (Portrait, Self-Portrait, Panning, Star, Handheld Night Scene, High Dynamic Range, Oil Painting Effect, Water-Painting Effect, Miniature Effect, Toy Camera Effect, Background Defocus, Soft Focus, Grainy B/W, Underwater, Fireworks), |
| | Check Price on Amazon | Check Price on B&H Photo Video |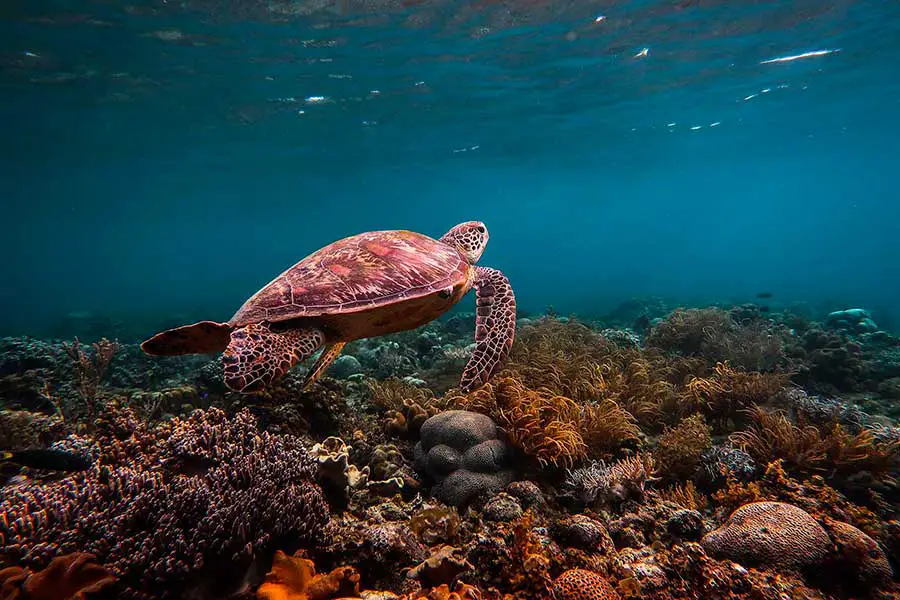 Canon G7X Mark II versus Other Underwater Compact Camera
As you can tell, the Canon G7X Mark II is loaded with amazing features and capabilities. But if you're wondering why I ended up choosing this particular brand and model among all the underwater dive cameras in the market, then here's a bit of a backstory.
In 2018, I decided to go scuba diving more frequently and to start this scuba diving blog. The Nikon AW130, which I had been using since 2016, no longer met my underwater photography and videography goals. It only made sense to buy another underwater compact camera that would suit my new purpose and lifestyle.
At that time, I was also looking at the Olympus Tough TG5 and the Sony RX100 V.
It took me weeks of research before I finally decided the Canon G7X Mark II with the Fantasea Underwater Housing was the right one for me.
So how exactly did I get to that point?
In a previous article, I shared some tips on how to choose the best scuba diving camera for the first time, and I followed that thought process.
Be clear on what you want and need
It was clear to me what I wanted for my next dive camera. These were my requirements:
An underwater camera that can produce great videos and photos since I enjoy creating both types of content.
A camera that was versatile and allowed me to grow as a photographer underwater as well as on land. The camera must have a manual setting, custom white balance, and can shoot in RAW format.
An underwater camera that has multiple options when it comes to underwater housing and accessories.
A dive camera that won't break the bank. Initially, I was willing to initially shell out at the most USD1500 for my basic underwater camera set up. (Warning: Diving and underwater photography, is an expensive hobby! So be ready to spend!)
Canon G7X Mark 2 versus Olympus Tough TG5
Keeping my criteria in mind, I immediately ruled out the Olympus Tough TG5 among the three models I was eyeing. Despite having many good reviews from other diver friends, I felt that the Olympus Tough TG5 did not have what it takes to meet my photography and videography goals, underwater and on land.
The Olympus Tough TG5 has a smaller photo sensor compared to the Sony RX100 V and the Canon G7X MII. And to top it off the Olympus TG5 does not have a Manual setting, which was also a huge deal-breaker for me.
While the TG5 definitely fits my budget, I was still willing to pay a bit more just to have more features and camera specifications that meet my needs.
Canon G7X Mark 2 versus Sony RX100 V
Now comparing the Sony RX100 V and the Canon G7X MII, these two were a bit more in the same caliber when comparing compact cameras. They both had similar technical specifications and met most of the requirements I was looking for.
One of the major differences was that the Sony RX100 V had 4K Video settings while the Canon G7X MII was only shooting in HD. However, this was not a big deal for me since the Canon G7X MII still produced quality videos. In fact, the Canon G7X MII was considered to be one of the best vlogging videos in the market even if it was not a 4K camera.
At the time when I was looking to purchase an underwater camera and housing, the Sony RX100 V bundle was coming out to be a little bit more expensive than the Canon G7X MII set. So that was another strike against the Sony RX100.
The biggest turning point for me was when I tried using the camera. As someone who has been a Canon user for most of my life, I struggled with using Sony's menus and navigation.
I realized I was going to need more time to just adjust to a different user interface. Which to be honest, I didn't have the patience to do at that time.
Price, user experience, and maybe a bit of brand loyalty to Canon were the reasons why I did not get the Sony RX100 V as my scuba diving camera.
---
In conclusion
I chose the Canon G7X Mark II because it met every requirement that I had. It has been able to deliver in terms of quality and affordability. I've been pleased with the overall results of the photos and videos I've produced because of it. I definitely would recommend this camera to any scuba diver wanting to venture into underwater photography.
---
Canon G7X Mark II Accessories
Canon Battery Pack NB-13L
One of the things I would recommend if you plan to shoot loads of content is to purchase an additional Canon Battery Pack NB-13L. Battery life was my biggest issue with the Canon G7X Mark II camera.
I tend to take a lot of footage any chance I get so I quickly run out of juice. My batteries would only last for 1.5 dives depending on how good and how long the dives are.
I would recommend buying extra batteries for your Canon G7X MII especially if you're a bit trigger happy like me. I have 3, I put on rotation when I have a full day of diving.
---
Memory Card
The Canon PowerShot G7 X Mark II has only one SD card slot that is limited to UHS-I speeds. Make sure that your memory card is compatible to the camera. The SanDisk 64GB Extreme PRO SDXC UHS-I Card is currently one of the best in the market that will work on your Canon G7X MII. I recommend purchasing several of these cards so you can use them in rotation.
While some people might think this is too many, I tend to swap out cards every time I swap out batteries. This is just an extra precaution I take, just in case my camera floods during the dive. At the end of the day, I back up these memory cards on my Macbook or hard drive.
If you don't bring a backup drive or personal computer during your dive trips, I recommend getting more memory cards. Don't put all your photos on one memory card. Like the saying goes, "don't put your eggs in one basket!"
Memory cards can get damaged and corrupted. While this hasn't happened to me while using Sandisk Memory Cards, you can never tell with technology, right? The last thing you want is losing all your vacation photos because you stored all of it in one memory card.
---
Canon G7X Mark II Underwater Housing
Is the Canon G7X Mark II waterproof?
No, the Canon G7X Mark II is not waterproof. If you intend to use it underwater you will need to use underwater housing or casing to protect it from water damage. Brands, like Fantasea, Ikelite, and Nauticam, offer underwater housing for the Canon G7X Mark II to make it waterproof.
Since the Canon G7X Mark II is a popular choice among underwater photographers, there are several companies that make underwater housing for this model. Having options is always a good thing.
Here are my recommendations for your Canon G7X Mark II underwater housing:
Canon G7X Mark II Fantasea Housing – My Recommendation
For my Canon G7X Mark II underwater housing, I use the FG7X II Housing. This Canon underwater housing is made by Fantasea Line, an international company that has been manufacturing underwater photography equipment.
Their main customers are water-sports enthusiasts like scuba divers. And they've been developing products for almost 40 years so they are familiar with the demanding needs of underwater photographers.
Fantasea specifically designed FG7X II Housing for the Canon G7 X Mark II compact camera. It is ideal for diving and snorkeling since its functional design is compact and durable.
Here are other features of the Canon G7X Mark II Fantasea housing that you might also love:
can bring your camera up to depths of 60 meters or 200 feet
has double o-ring protection for a watertight seal
comes with a moisture detector and alarm- a great feature for those worried about flooding their cameras!
has a 67mm thread port ring so you can attach a wide or macro 67mm wet lens or filters to your underwater housing
lower price range compared to its competitors
made by a reputable brand that always delivers quality products.
Recently Fantasea Line released the FG7X II A which has the the Hybrid Vacuum Safety System. This allows the diver to confirm that the housing has a watertight seal prior to diving.
The Fantasea Housing comes with excellent user reviews but also with an affordable price tag compared to its competitors.
---
Alternative Underwater Housing for Canon G7X Mark II
If you're not completely sold on the the Canon G7X Mark II Fantasea Housing you may want to take a look at these other alternatives that have received good reviews from other underwater photographers.
Ikelite Underwater Housing for Canon G7X MII
Here are some unique features you might want for your Canon G7X MII underwater housing that the Ikelite Underwater Housing offers its users:
built with top quality materials and tested for fit and function for up to 200 feet (60m)
ultra sensitive shutter lever
front rubberized grip make the system a pleasure to hold and shoot with or without an optional tray and handle
front-loading camera mounting system that makes installation and removal of camera easy
uses two double-passivated stainless steel locking lid snaps to create a watertight seal.
---
Nauticam NA-G7XII
Here are some features you might want for your Canon G7X MII underwater housing that Nauticam NA-G7XII offers its users:
solid aluminim body that can go up to depths of 100 meters or 330 feet
2-stage shutter lever system provides outstanding feel of the half press and full press positions of the G7X Mark II shutter release button
vacuum check and leak detection system
---
Canon G7X Mark II Underwater Accessories
One of the many reasons why I like the Canon G7X MarkII underwater is the possibility of adding on underwater camera accessories.
While I initially only purchased the camera and underwater housing, I knew down the road, I would want t to improve my underwater imagery by adding accessories.
Before purchasing I made a mental list of possible underwater accessories like video lights, underwater strobes, underwater wet lenses, and camera tray that would be available for me to purchase when the time comes.
Underwater Camera Lanyard
One of the things you should purchase together with your underwater camera and housing is a lanyard. You would want to attach an underwater camera lanyard to your BCD. This serves as a leash to your expensive underwater camera equipment.
There might be instances where you might need to let go of your camera underwater and the last thing you want is for it to be floating away from you. The underwater camera lanyard gives you the security to let go of your rig especially during an emergency situation while diving.
Make sure to get something durable with heavy-duty metal clips. You don't want them breaking off in strong currents.
---
Underwater Clamps, Arms and Tray
If you intend to shoot using artificial light then getting underwater trays, arms and clamps would be a sensible thing to purchase next.
I had purchased my tray from Aliexpress because I was being cheap. While it works, it's not the best one as I am constantly adjusting and tightening screws underwater. I didn't think it mattered, but it does. It can be a nuisance and I'm constantly worried my tray and housing will detach.
If you can afford it, get a good quality tray.
Underwater Strobes
While I currently do not own underwater strobes it is on my list on what to purchase next! I asked some underwater photographer friends and here are some suggestions for quality and affordable underwater strobes:
I've included packages with trays and arms in this list just in case you're looking for an entire set.
If you intend to purchase underwater strobes individually, don't forget to purchase fiber optical cable. This connects your camera via your underwater housing to your strobes.
---
Underwater Video Lights
I currently use BigBlue Lights AL1200 XWP. While they're great for close-range shots and night diving, they're pretty much useless for further subjects since it is only rated at 1200 lumens.
Lumens measure how much light your underwater torch is emitting. The higher the lumens the brighter it is.
I ended up getting a 2nd video light from Aliexpress to try. It is estimated to be 18000 lumens but it seems inaccurate. Not surprising as it was only less than $100 so the lumens rating is probably not as advertised!
Again, lesson learned: don't get "cheap" lights!
So here are some underwater video lights I am considering to purchase next, which you might want to purchase too:
---
Underwater Wet Lenses for Canon G7X Mark II
The Canon G7X Mark II is a compact camera, which means you cannot interchange lenses. However, underwater photographers have an option to use wet lenses which you can add on and attach to the underwater housing.
Wet lens are designed so that water can flow and have a layer of water in between the port and the back of the lens. This special design allows underwater photographers to switch or remove wet lenses while in the water.
Macro wet lenses also known as diopters can give you the extra magnification you need to capture the tiniest critters in the ocean. Wide wet lenses will give you a wider shot that your Canon G7X MII is not able to take.
Since I am using the Canon G7X Mark II Fantasea Housing that has a 67mm port, I can only use a 67mm macro or wide wet lenses for an exact fit.
My latest wet lens purchase was a i-Das UCL-02 diopter which I purchased from a local dive store.
If you want to purchase a wet lens here are some recommendations:
---
Latest Hassle-free Bundles Canon G7X Mark Series
Canon G7X Mark III- Latest Model
As of posting this article, Canon has already released the Canon G7X Mark III. If you are thinking of getting the Canon G7X II you might also want to consider getting the upgraded version- The Canon G7X Mark III. This newer model uses a DIGIC 8 Image Processor and it has 4K video capabilities already.
---
Underwater Housing and Accessories for Latest Canon G7X Mark Series
Here are some of the latest underwater housing and accessories compatible with the Canon G7X Mark III. If you intend to purchase the Canon G7X MIII, make sure that the underwater housing you buy is compatible with it.
While accessories like trays and artificial lights are compatible with different camera brands and models, remember that underwater housings are built to fit each camera model.
Below are some Canon G7X Mark III housing and accessories that you might want to just grab and go. It has everything that you might need depending on the stage of photography you are in. And, of course, depending on your budget!
| Fantasea FG7X III Vacuum Underwater Housing for Canon G7X III | Fantasea Underwater Housing for Canon G7X III w/Inon S-2000 | Ultimate Packate: Fantasea FG7XIII Underwater Housing for Canon G7X III w/Dual Inon S-2000 |
| --- | --- | --- |
| | | |
| Package Includes:1 x FG7X III Underwater Housing,1 x Vacuum Valve (pre-installed),1 x Vacuum Pump,1 x Hand Lanyard ,1 x Diffuser, 1 x Moisture Alarm,1 x LCD Screen Shade,1 x Lens Port Cover, 1 x Hand Strap | This package includes a Canon G7X III Underwater Housing by Fantasea with Inon S-2000, Mounted on a Ocean Tray Flex | This is the ultimate package at its best value! It is an All-in-1 Kit that has everything you need (camera not included) to dive into the water and start taking awesome photos and videos. This package includes FG7XIII Underwater Housing for Canon G7X III Camera, Ocean Tray Set, Dual Inon S-2000, Wide Angle Lens and a +12.5 Super Macro Wet Lens to help you get those amazing pictures that you want. |
| Shop on Amazon | Shop on Amazon | Shop on Amazon |
---
---
If you found this article useful, please PIN it for later. Or send to a friend who might be looking to buy an underwater camera!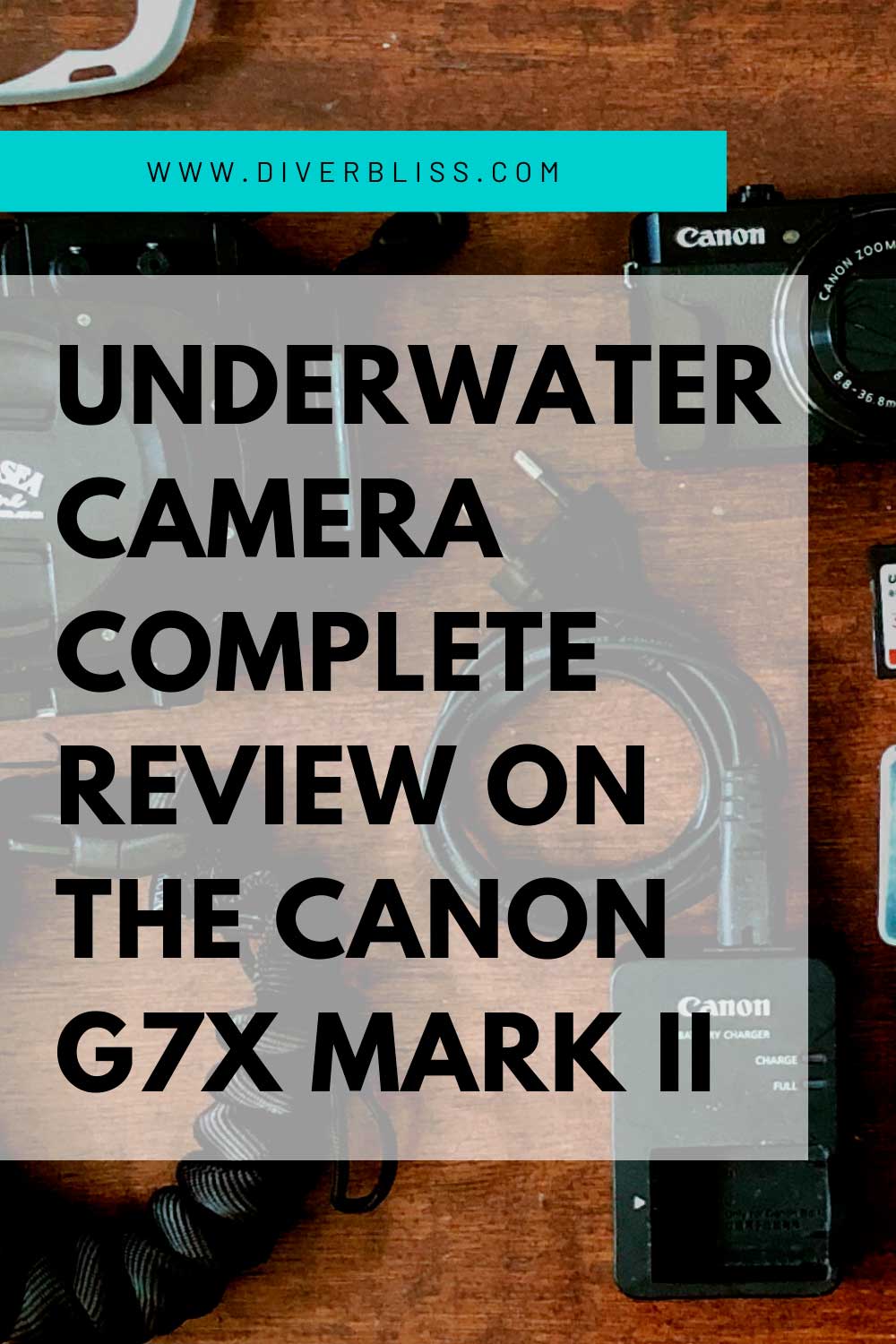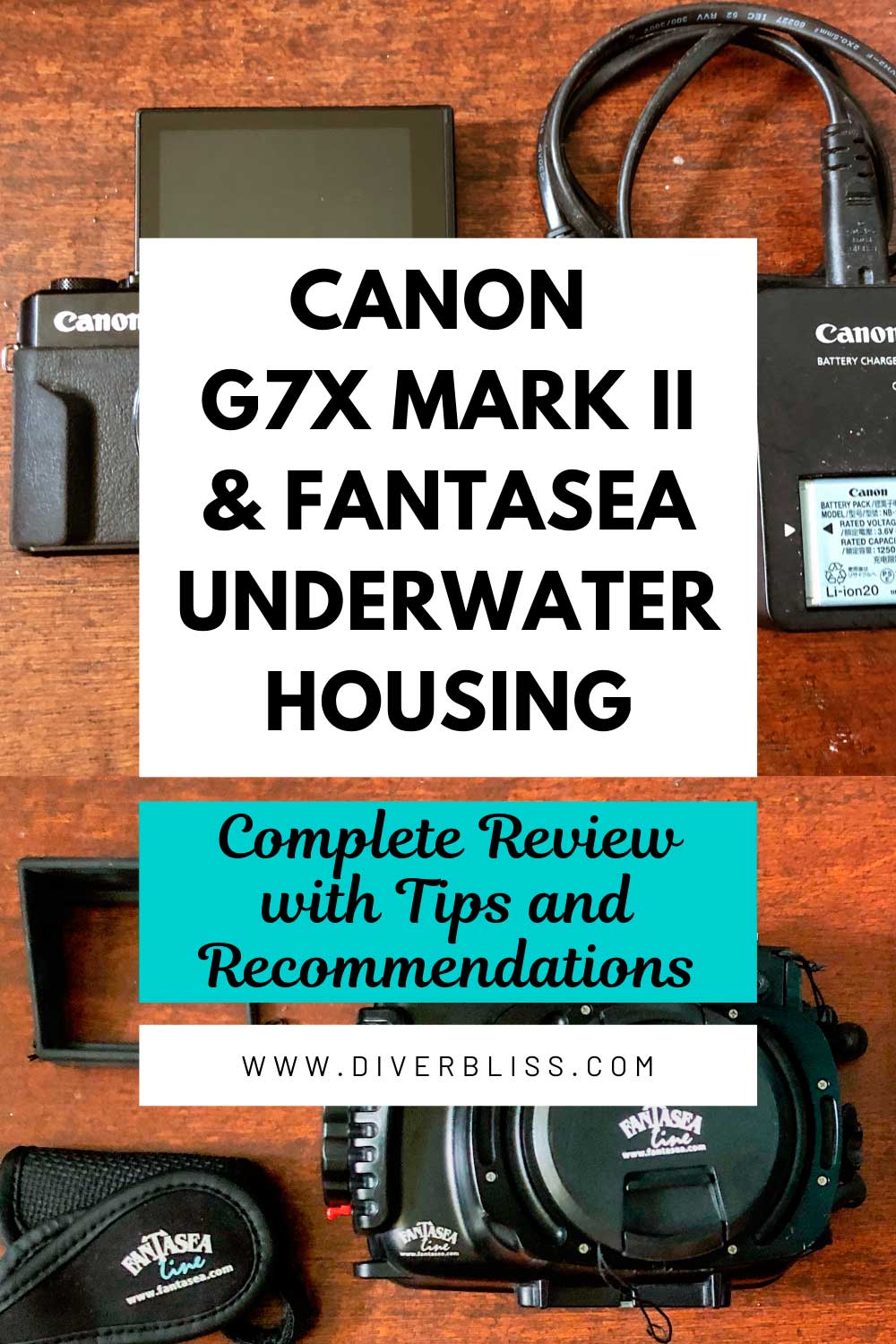 On a final note, I hope that my Canon G7X Mark II review and recommendations have helped you with what to get for your next dive camera! Remember that behind every good photo is a good camera but behind every great photo is a great photographer taking it.
Related post you might want to check out:

5 Underwater Photography Mistakes You Can Easily Avoid as a Beginner

10 Underwater Photography Etiquettes You Need to Master

10 Ways You Can Make Money As An Underwater Photographer
If you have questions and concerns about this camera, leave a comment below!
The links above may be affiliate links. If you shop through them, I'll earn a commission at no additional cost to you. For full information, please see my disclaimer here.