Having grown up in a family of scuba divers, I have always been interested in taking up scuba diving. Learning how to scuba dive was on my bucket list for the longest time. I never got to tick it off until one of my best friends and travel buddy, Jem, told me that she was getting a dive certification for free!
She was given a diving scholarship in Coral Cay Conservation. This was awarded to Filipinos interested in conservation and volunteer work in the Philippines. The one-month volunteer work was in Southern Leyte and it involved a lot of scuba diving and reef surveys!
As part of their agreement with their host country, the Philippines, CCC grants scholarships to Filipinos to help further their conservation efforts.
Not a lot of people know about this program so it's by word of mouth that Filipinos find out about this amazing program. Jem learned about it from a friend, I learned about it through Jem and I told a friend about it who also joined the program eventually.
As of 2020, Coral Cay has permanently closed their operations in the Philippines due to Covid-19 pandemic. If you would like to scuba dive in Napantao, read my guide on Scuba Diving in Napantao Marine Sanctuary.
Application Process for Coral Cay Conservation Scholarship
I immediately sent in my application in January of 2013 and wrote a letter expressing my intention and why I should be chosen. I was a bit worried that they would not accept my application since my background was neither environment or marine-related.
A week after, I received an email saying I was accepted in the program!
The following weeks leading up to the volunteer program, I had to fill out more forms, take some medical tests, figure out when I can come over and get dive insurance. As I had to run my business, they agreed to let me start my scholarship in August of 2013.
Going to Napantao, Southern Leyte
My lola (grandmother) is from Leyte so it's not the first time I've visited the province. However, Napantao in Southern Leyte where Coral Cay Conservation is located was completely new to me.
The faster but more expensive option to go to the campsite is to hire a van to take you all the way. As I was traveling alone and did not want to shell out Php4000 (at that time), I opted to travel cheaply.
From Tacloban, Leyte, I went to the bus terminal and rode a van heading to Sogod. I told the driver that I needed to take a bus to San Ricardo so asked him to watch out for buses heading there so I can transfer.
Luckily, while en route, the driver found me a bus so I switched transportation. Since the bus to San Ricardo terminates past Napantao where Coral Cay Conservation is located,  I was advised to be dropped off at Habay. I told the bus conductor to drop me off at Habay.
From Habay, I hired a habal-habal (motorbike) to take me to the Coral Cay Conservation site. About 4 hours after I left Tacloban, I finally made it to the campsite at dusk.
Scholarship Program of Coral Cay Conservation
Orientation
The first few days in Coral Cay Conservation Philippines site involved orientation with our Field Base Manager, Claire. The Field Base Manager is basically the big boss on site.
Claire took care of everyone. She gave me a tour of my temporary new home. She explained our daily and weekly schedules. And she explained the camp rules and our individual responsibilities.
Explorer Care Program
I was also required to pass the Explorer Care Program (ECP). Since we were in a relatively remote area, I had to know basic first aid.
I learned what to do in minor injuries like wounds and burns. I practiced CPR on a fake dummy. And I learned that you don't pee on a jellyfish sting!
Learning how to Scuba Dive
Once I passed the ECP training, I was re-assigned to the onsite PADI Dive Instructor, Kirk, for Open Water Certification.
Coral Cay Conservation Philippines provided the learning materials and the entire dive kit for me to borrow. I didn't have to worry about workbooks and scuba gear. I was a scholar after all.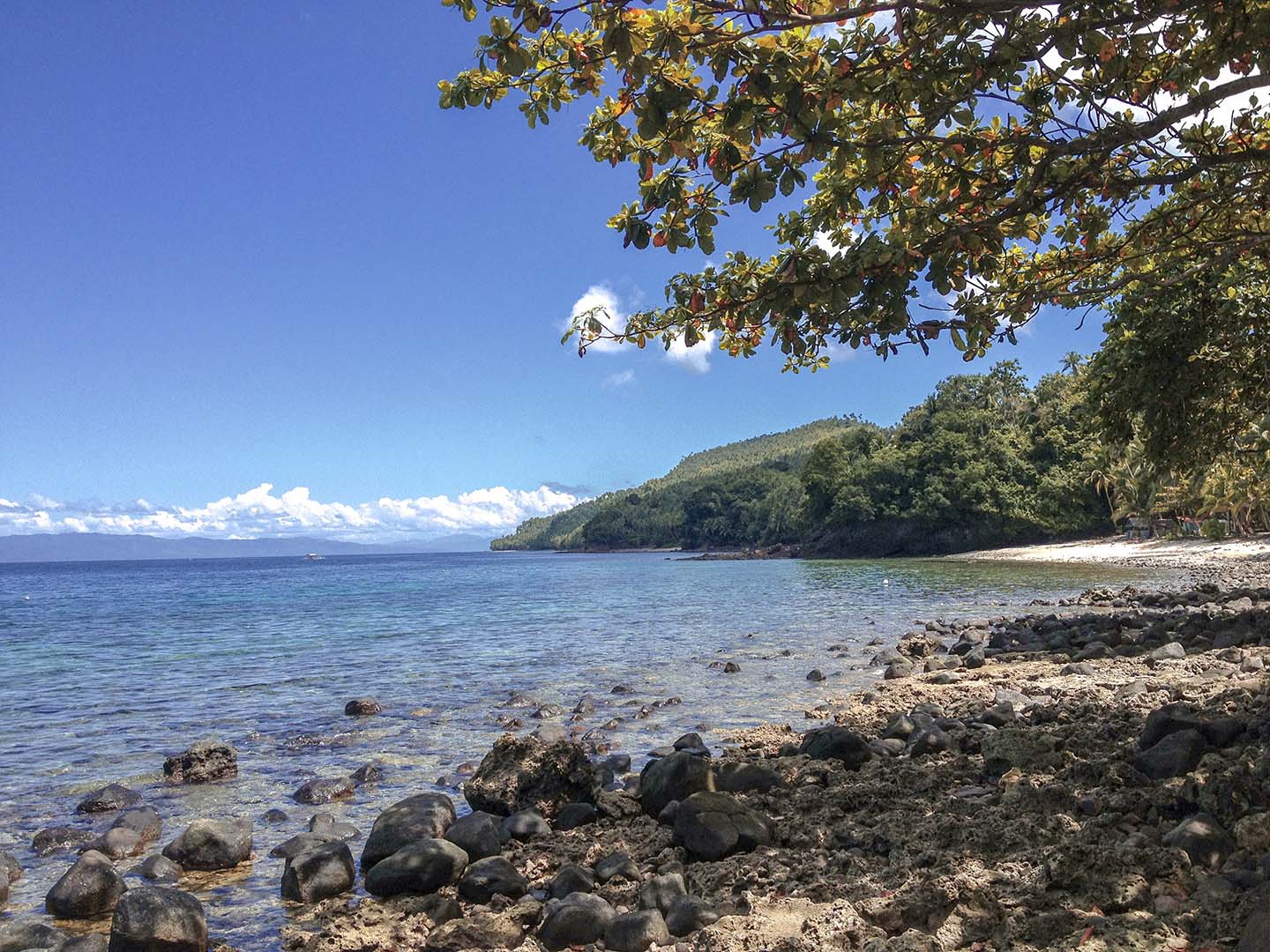 Prior to Coral Cay, I have never done any Discovery Scuba Diving courses so this was really the first time I was going scuba diving.
Unlike most scuba diving lessons that start of in swimming pools, I had to do my first scuba in the ocean!
Walking on the rocky shore, fully-geared up for the first time was not easy. I may have fallen on my ass a few times! But once in the ocean, everything was better. As I have always loved being in the water, learning how to scuba dive and completing my PADI Open Water (OW) course was easy and enjoyable for me.

Part of the program was also getting my PADI Advanced Open Water (AOW) certification before I can do the reef surveys- the primary work of volunteers in Coral Cay Conservation.
We did 5 Adventure Dives, namely, Peak Performance Buoyancy,  Fish Identification, Underwater Naturalist, Underwater Navigation, and Deep Diving.
Although there is a long list of Adventure Dives one can choose from to get an AOW certification, these were chosen to help in our reef surveys.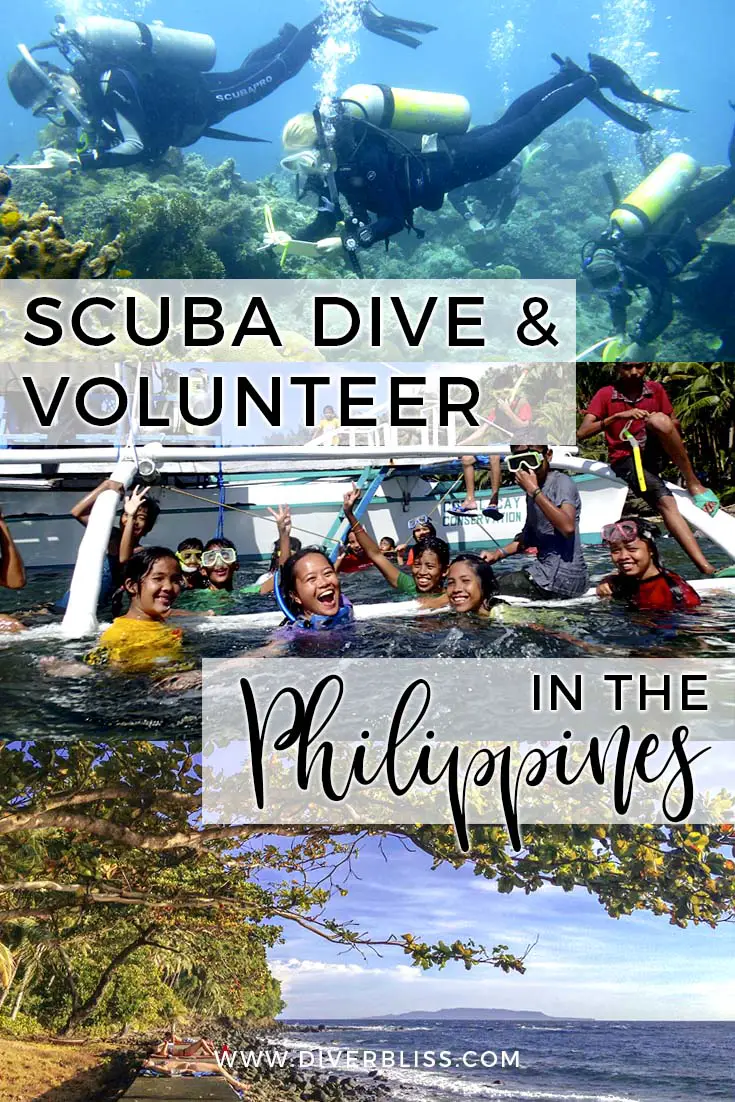 Skills Development Programme
After a week of completing all dive certifications, I was transferred to Tom for the Skills Development Programme (SDP). Tom is the Project Scientist in charge of teaching me all the nerdy science stuff and doing reef surveys in Napantao.
To be honest this was the most challenging part for me. It involved a lot of science terms that I was not familiar with.
For us to do a survey, we were required to know the different hard corals, fishes, invertebrates and substrates. There was a lot of memorization involved and I had to take exams to make sure I knew all aspects of the survey by heart.
I remember spending my free time and surface intervals studying so I could just pass my tests. If I failed one part, I had to re-do it until I passed it. At the time of my expedition, the survey volunteers were required to memorize 30 kinds of hard corals and 48 kinds of butterflyfishes!
Imagine having to think about scientific names while maintaining neutral buoyancy and safety while underwater!  Though challenging it has its rewards. I learned a lot of tips on how to be an eco-diver and I got Reef Check certified after.
Safety first
Diving was almost every day. On weekdays, we did 2-3 survey dives per day. On Saturdays, we did recreational/fun dives. And on Sundays, we take a break from the ocean.
Buddy checks are strictly enforced because safety is a priority on site. We had to do a thorough buddy check before each dive. we cannot skip a buddy check, even if we are so used to gearing up.
A shore martial gives briefing every dive and all our air and time profiles are recorded before and after dives.
They're very strict that some dives, if we go beyond 18 meters our dives are immediately aborted!
One time during a recreational dive, Billy, another volunteer, was briefly dragged by the current to more than 18 meters! their buddy team had to end their dive even if they were only 5 minutes into the dive. Of course, we all teased him about it afterward.
But given our remote location, it is better to be safe than sorry!
Life in Napantao
It's not always studying and surveys on site.  Some nights we have movie nights or game nights. On Saturday nights, since there was no diving the next day, we would go to the village "bar" for some karaoke and to drink Red Horse beer or Tanduay rum.
During my stay, we even got to paint our dive boat. We spent an afternoon easing her into the ocean.
On one Sunday, we also rented a jeep to go to a local swimming hole in the neighboring town.
Life in the campsite tested me in ways I've never imagined. A week into eating chicken, veggies and rice everyday, I was already craving for some burgers and fries. I did lose some weight though!
I, like most people in the camp, missed warm naked showers and bathroom plumbing. You see, we had to get water from the ocean to flush our toilets and the only freshwater was in the communal outdoor shower.
We all hated chores especially on Sundays when we had hangovers. But for me, doing chores on-site was way better than doing chores when we were in our home in the city.
I was used to certain indulgences since I lived in Manila. I thought I'd be homesick but surprisingly not once did I feel that.
More volunteer perks!
Napantao was always filled with laughter, praises and support from other volunteers. I had a reef to dive in that was so beautiful I'd wish everyday to stay underwater for hours. We have a seawall where we could lounge about to get a nice tan whilst having conversations with new found friends.
Everyday, we had the most beautiful sunset that my family and friends living in the city would be envious of. And at night the fireflies and stars glowed beautifully enthralling me to reflect about life. 
Being part of the Coral Cay Conservation scholarship program was truly a blessing. It still is one of my favorite life experiences.
During my volunteer work with Coral Cay Conservation in Southern Leyte, I was able to learn and accomplish so much about scuba diving, marine conservation, and myself.
I thought a one-month scholarship was too long, but I wished I could have stayed longer. More than anything, this sparked in me the desire to do more for our marine environment. Although the program ended too quickly, it was really just the beginning for me.
Read: 11 Tips for Sustainable Travel in the Philippines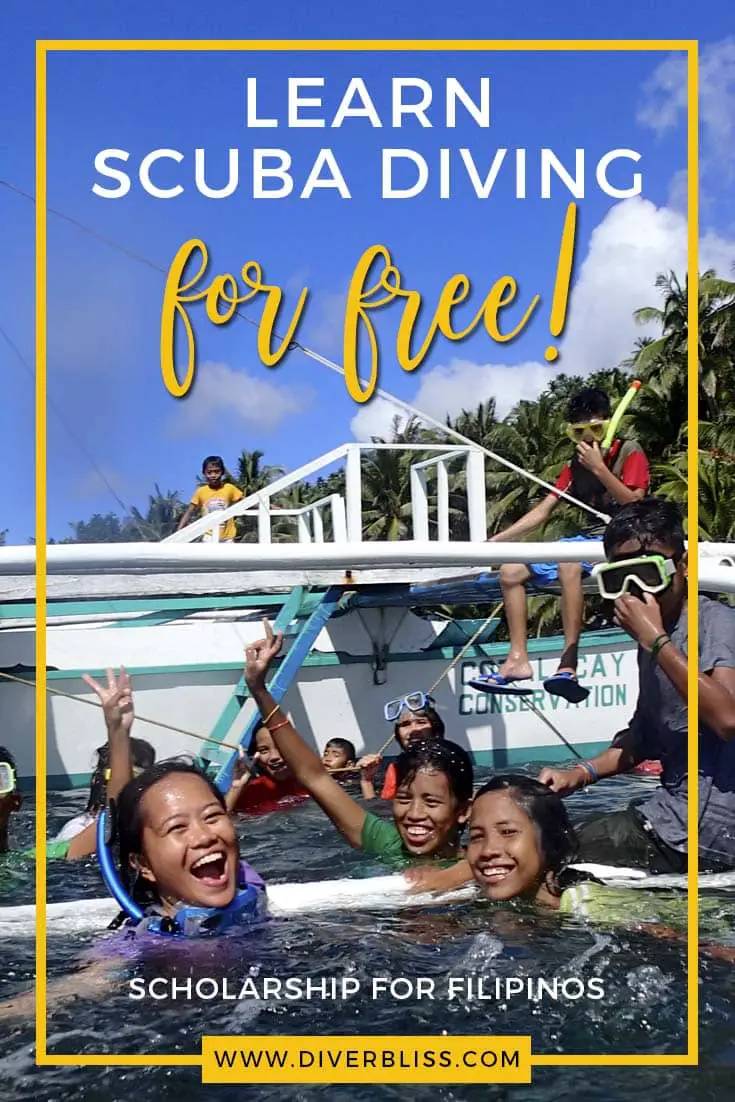 Thank you, Jem, for some of the photos in this post!
This is the start of my underwater journey, what about you?
How did you get started?

Do you also want to learn how to scuba dive?

Don't forget to leave a comment below!