Dive Sibaltan, established in 2017, has pioneered scuba diving in Sibaltan, a coastal village, 41 km northeast of El Nido town. It is the first dive center in eastern El Nido and has been instrumental in promoting Sibaltan as a diving destination in the Philippines. The biggest attraction here is encountering reef manta rays (Mobula alfredi).
The Philippines is a hotspot for manta ray sightings, with popular dive sites like Manta Bowl in Ticao Pass and Tubbataha Reefs Natural Park. However, these places tend to be seasonal, with Manta Bowl being best visited from December to May, and Tubbataha Reefs accessible only by a liveaboard from March to June. Furthermore, these dive sites are not suitable for beginner divers as they require an advanced open water certification due to the deep dives and strong currents.
On the other hand, Sibaltan is a beginner-friendly and newly discovered diving spot in the Philippines that stands out for its manta ray encounters. Thanks to its shallow depth of 13 meters and light currents, Sibaltan is an ideal location even for Open Water Divers seeking to witness these majestic creatures up close.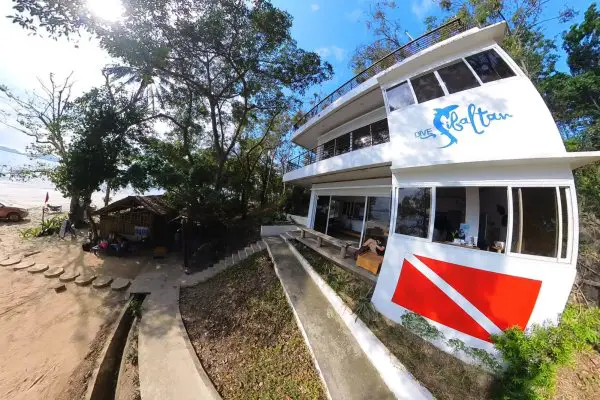 While I have snorkeled with manta rays in Fiji, I was yet to encounter one up close while scuba diving. So when I heard that Sibaltan was one of the places to scuba dive with manta rays in the Philippines, I knew I just had to make my way there.
Sustainable Dive Tourism
Dive Sibaltan's dedication to sustainable tourism is truly admirable, making it a great destination for eco-conscious scuba divers.
When the team of Dive Sibaltan realized that manta rays frequented the area, they started to practice citizen science where they took photos of the manta rays for identification and recording.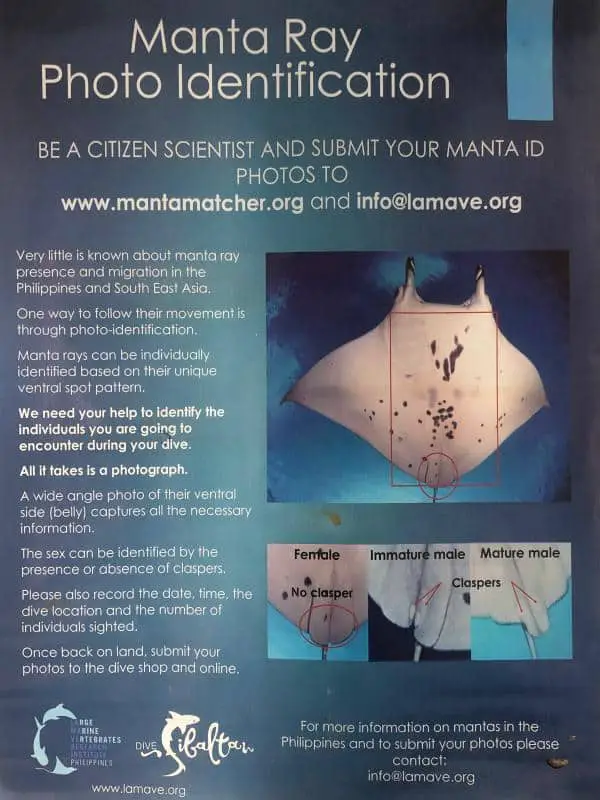 This led to a partnership with the Large Marine Vertebrates Research Institute Philippines (LAMAVE), a Marine Conservation NGO in the Philippines. LAMAVE's involvement in the area allows for the monitoring and protection of manta rays, which helps promote the sustainability of the marine ecosystem in the region.
As part of their sustainability practices, Dive Sibaltan, with the help of LAMAVE, conducts a mandatory manta dive briefing before every dive. The briefing includes some facts about manta rays as well as a some guidelines on how to interact with these majestic creatures. They follow the National Regulations for Manta Ray Interactions ensuring a safe and enjoyable experience for both divers and mantas.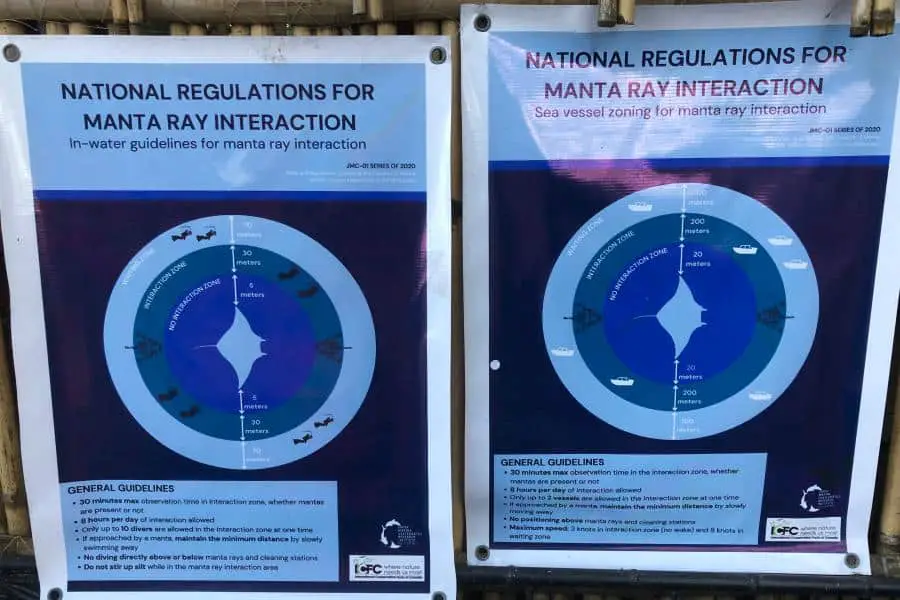 Here are some of the in-water guidelines for manta interaction:
30 minutes max observation time in interaction zone, whether mantas are present or not
6 hours per day of interaction allowed
only up to 10 divers are allowed in the interaction zone at one time
if approached by a manta, maintain the minimum distance by slowly swimming away
do not touch or chase the mantas
no diving directly above or below the manta rays and cleaning stations
do not stir up silt while in the manta ray interaction area
For photographers or videographers, do not use strobes or video lights
Diving with Manta Rays in Sibaltan
After the manta ray dive briefing, we took a 15-minute boat ride to reach the manta dive site called "Saan Ka?", which means "Where are you?" in Filipino. The dive site is appropriately named because it can take a while for mantas to show up or most of the time underwater is spent looking for them.
We did a backroll entry and descended to depths of 10-13 meters. We leisurely made our way to the first manta cleaning station looking in every direction to look for the mantas. There are four manta cleaning stations, which are basically coral bommies in the middle of sandy terrain.
Because we couldn't be sure that we would see manta rays, we had to spend a lot of time waiting. If they weren't there, we had to keep moving from one cleaning station to the next in the hopes of finding them.
After the first half hour of the dive, I was losing all hope. I distracted myself by observing whatever I can on the sandy bottom. I encountered a lot of blue spotted sting ray, which made the dive a bit more interesting but it wasn't the ray that I wanted to see.
As we got to the third cleaning station, I noticed a shadowy figure hanging over the area. And there it was – a manta ray!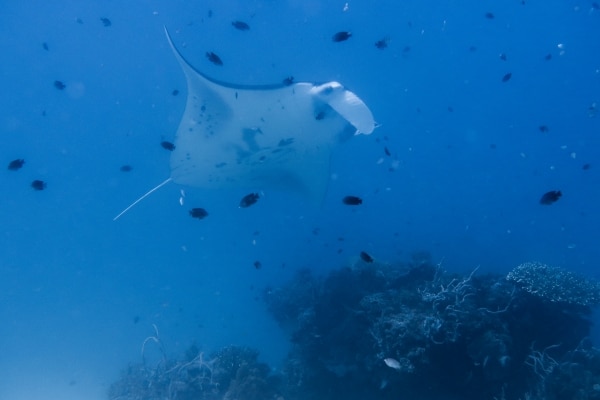 I kept my enthusiasm under control so as not to startle the manta rays, but the delight I felt within wanted to burst out of me.
The manta hovered over the cleaning station. Sometimes it swam in circles as the smaller fish feasted on the parasites and dead skin on the manta ray.
To my delight, it suddenly moved in my direction. Curious by nature, the manta ray probably found me just as intriguing. I didn't move from where I was and stared in astonishment as it cruised by my side.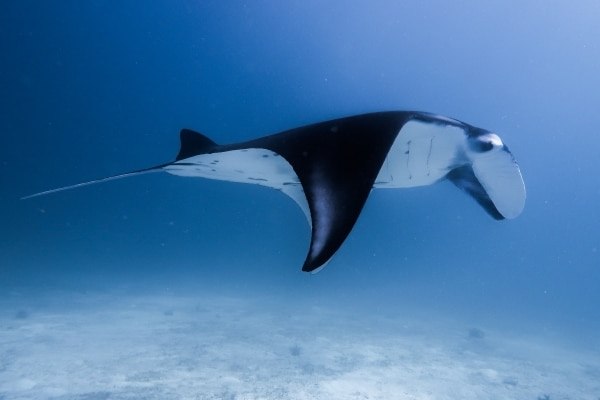 Undoubtedly, this was one of the most memorable marine life encounters I've had underwater.
As there appeared to be no other manta in the cleaning station, we followed it. We found it hovering in the first manta cleaning station where we got to observe more of its fascinating cleaning behavior.
With our tanks running low on air we ended our dive on a high for having a successful manta ray sighting.
Dive Sites in Sibaltan
While Sibaltan is slowly gaining a name for manta ray interaction in the Philippines, I strongly recommended that you also check out the other diving sites in the region.
Because of its remote location, many of the areas haven't even been explored or remain untouched by scuba divers. They are constantly discovering new dive sites in Sibaltan and its underwater terrain is just waiting to be explored.
During my trip to Sibaltan, I got to explore three dive sites. Aside from Saan Ka, Dive Sibaltan took me to Wild Wild East and Kalaparan.
1. Saan Ka?
While most of the area is a sandy bottom, there are some rock and coral formations that serve as a cleaning station for the manta. Aside from the manta rays, I also spotted several blue spotted ribbontail stingray and a green sea turtle at this dive site.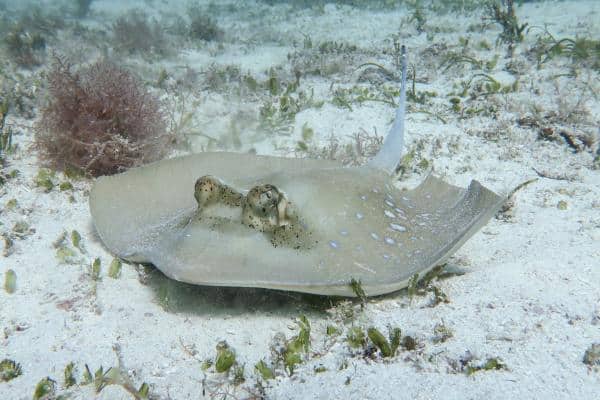 According to LAMAVE, their underwater cameras have also captured some dugongs and eagle rays visiting this dive site in Sibaltan.
Recommended reading: Manta Ray vs Stingray: How To Tell Them Apart
2. Wild Wild East
After diving in Saan Ka, I thought that nothing could top that experience. But I was wrong.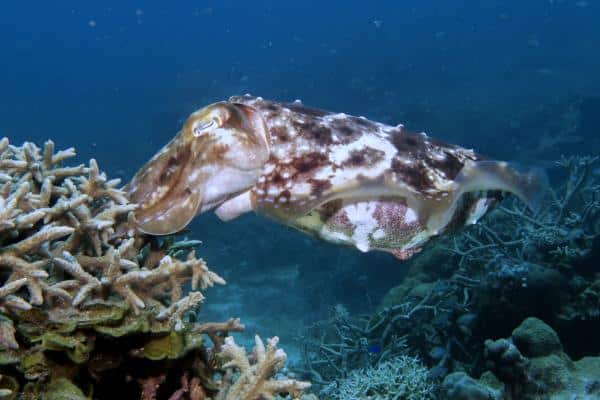 As someone who loves diving in coral reefs and seeing colorful reef fishes darting in and out of their homes, I knew upon descend that I would love Wild Wild East.
The coral growth, diversity and density in this dive site in Sibaltan were truly mind-blowing.
Five minutes into the dive, we saw a giant cuttlefish and the biggest marble I have ever seen in my life.
In that moment I knew this dive site was worthy of its name- it was definitely WILD.
3. Kalaparan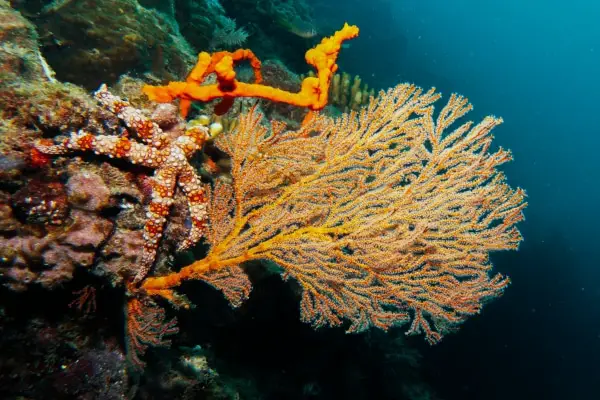 I also got to dive in which was admittedly compared to my experience in Saan Ka? and Wild Wild East was not the best. While it had some interesting features I did notice some degradation on the reef. The coral coverage and amount of fish were not as abundant. I saw damage from fishing equipment and even a Crown of Thorns infestation.
This dive site in Sibaltan was somewhat underwhelming, but it served as a stark reminder of the urgent need to advocate for sustainable tourism and ocean conservation in the area. Especially in a region where harmful methods like dynamite and cyanide fishing are still widely used, it is crucial to promote sustainable fishing practices. Educating local communities about their role and impact can help in the preservation of marine ecosystems for future generations.
Overall, Sibaltan offers an exceptional diving experience for both beginner and experienced divers, with a chance to encounter the magnificent reef manta rays and discover unexplored reefs. If you're looking for a unique diving experience in an off-the-beaten-path location, Sibaltan is a must-visit destination.
Dive Sibaltan Prices
If you wish to experience diving in Sibaltan, here are the rates:
| | | | | |
| --- | --- | --- | --- | --- |
| Dive Sibaltan Packages | | Price in PHP | | Price in USD |
| 2 Fun Dives | | Php 4300 | | USD 86 |
| 2 Fun Dives with Lunch | | Php 4550 | | USD 90 |
| 3 Fun Dives with Lunch | | Php 5000 | | USD 100 |
| 4 Fun Dives with Lunch | | Php 7000 | | USD 140 |
Conversion used : USD1 = Php50
The packages includes the following:
Gear Rental
Boat and dive master
Snacks, coffee and drinking water
VAT
A minimum of 2 divers are needed for each trip.
Prices do not include Environmental Fee for Linapacan, Taytay or El Nido.
Dive Sibaltan also offers PADI Scuba diving courses. You may contact them directly for their rates.
When is the best time to go scuba diving in Sibaltan?
The best time to go diving in Sibaltan is from March to May. During these months, the waters are normally calmer and warmer, and the visibility is better. This creates optimal diving conditions and allows divers to completely appreciate Sibaltan's underwater splendor.
It is crucial to note, however, that you can dive Sibaltan all year round. While visibility may be limited during the rainy season, you can still see the incredible marine life that Sibaltan has to offer.
Recommended reading:
Amihan and Habagat: Diving Seasons in the Philippines Explained
Best Time To Dive in the Philippines + Monthly Guide on Where to Go
How to Get to Sibaltan
Via Puerto Princesa
From Manila or Cebu, you can fly to Puerto Princesa via Air Asia, Cebu Pacific, or Philippine Airlines. Then make your way to San Jose Terminal in Puerto Princesa and take a shared van that can take you directly to Sibaltan for Php700. You can also charter your own private van for Php6000.
The journey from Puerto Princesa to Sibaltan will take at least six hours.
Via El Nido
From Manila, you can fly to El Nido via Airswift. Then make your way to El Nido Transport Terminal in Corong-Corong. From the terminal, take a shared van to Sibaltan for Php200. You can also book a private tricycle for Php 1,500 or private van Php 2,000.
What to pack for Diving in Sibaltan
Here is the scuba equipment and dive gear I brought when I went diving in Sibaltan
My Scuba Diving Gear
Regulator: Scubapro MK25 Evo, C300 and C200 2nd Stage
BCD: Aqualung Axiom
Mask: TUSA M-212 Freedom Ceos
Snorkel: TUSA SP-170 Platina Hyperdry II
Booties: Poseidon Pink Dive Boots
Fins: Problue
Wetsuit: Seavenger
Vest Hoodie: Scubapro Hybrid Hooded Vest
Dive Watch: Suunto D4i Novo
Dive Knife: Aqualung Blunt Tip Knife
Dive Leggings and Rash: Blue Adaptation Coral Sea Fan

My Underwater Camera Gear
Underwater Camera: Canon G7X Mark II
Underwater Camera Housing: Fantasea FG7XII
Video Lights: Big Blue AL1200XP
Underwater Action Camera: GoPro Hero9
360 Camera: Insta360 X3

> Canon G7X Mark II full review
> Insta360 X3 underwater camera review
> Scuba diving camera recommendations for beginners.

Dive Insurance
Divers Alert Network (DAN)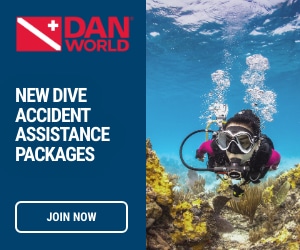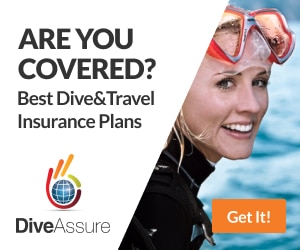 Need travel insurance for your trip? Get a quote from Safety Wing.
If you're traveling and diving in the Philippines for the first time, make sure to read my posts on
Ultimate Travel and Dive Guide to the Philippines
Philippine Packing List: What to Bring to Your Dive Trip.
Dive Sibaltan Contact Details
If you wish to experience diving in Sibaltan, here is their contact information.
Telephone: +63 995 272 3499 / +63 917 534 0737
Email: divesibaltanelnido(a)gmail.com
Website: https://www.divesibaltan.com
Address: Dive Sibaltan, The 'white house' on the beach, Sibaltan Beach, Sibaltan, El Nido, Palawan, Philippines