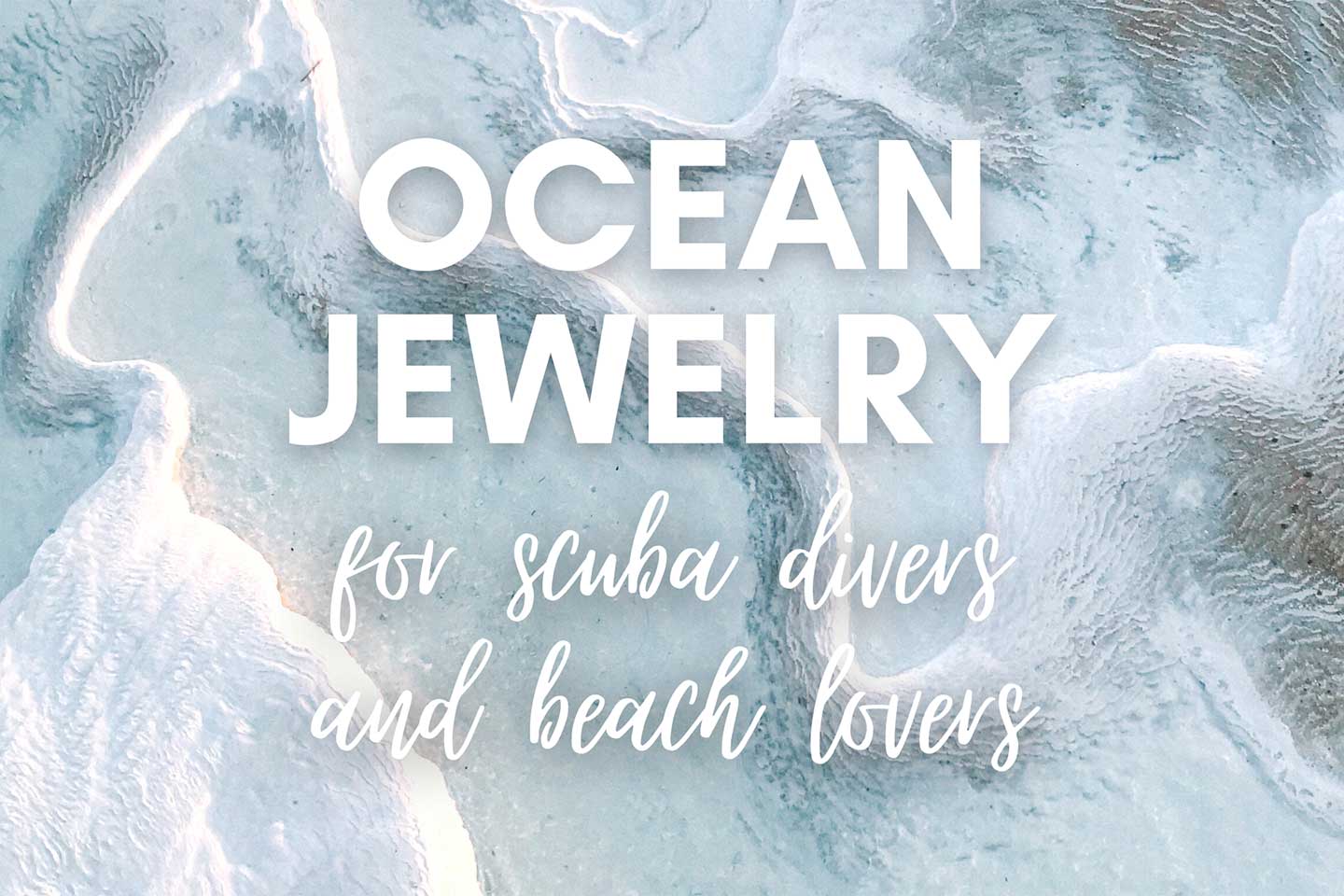 The links below may be affiliate links. If you shop through them, I'll earn a commission at no additional cost to you. For full information, please see my disclaimer here.
If you're looking to buy ocean jewelry for yourself or jewelry for a scuba diver, beach lover, or ocean lovers, then read this article to find out some of the most exquisite handmade ocean-themed jewelry pieces you can own today.
---
For centuries, jewelry has been worn by humans for different reasons. Some wear it as a status symbol in society while others wear it to indicate their personal status and affiliations. Many wear jewelry to express themselves as it can be indicative of who they are and what they stand for.
Jewelry can also be used to show your feelings and affections towards someone. When you give someone jewelry it is as if you are giving them a piece of yourself to take with them wherever they go.
Whatever the reasons may be, if you're looking for ocean-themed necklaces, bracelets, anklets, rings, and more, then continue reading!
I've put together this list of talented artists who specialize in handmade ocean-inspired jewelry from all over the world. Their creations are absolutely spectacular. So I must warn you. By the end of this post, you might end up buying a gift for yourself or for a thalassophile you care for deeply.
Here are some of the most beautiful handmade ocean jewelry scuba divers would surely love to wear.
1. Arosha (Israel)
Arosha Taglia is an Italian designer, painter, art director, sculptor and digital artist based in Israel. His designs are characterized by flowing, ergonomic, refined shapes, brightened by spots of diamonds, pearls, and colored gemstones.
Arosha's ocean-inspired jewelry is a reflection of his passions for modern art and interests in underwater life. His Coral collection represents the living sculptures of corals and his fascination with their shapes.
If you're looking for unique ocean-inspired engagement rings, wedding bands, statement necklaces, and earrings that you will treasure for a lifetime, Arosha's creations might be the ocean jewelry you've been looking for!
---
2. Big Blue by Roland St. John (USA)
Big Blue was started by Roland St. John, an underwater videographer who has filmed the most spectacular marine life around the world. Using his footage for reference, he turns images of marine life into life-like sculptures in the form of jewelry and home decor.

Roland is a supporter of many ocean conservation groups like The Sea Shepherds Conservation Society, Shark Angels, and Ocean Artist Society. His passion for the ocean has led him to use his creations to help protect threatened species around the world.
You can see in his beautiful creations his love for many marine wildlife species like manta rays, seals, dolphins, whales, sharks, turtles, and many others.
If you're looking for marine life jewelry and accessories, you can check out Roland's diverse portfolio. He offers more than 100 pieces of ocean-themed jewelry for scuba divers and ocean advocates like himself.

---
If you love wearing or giving bracelets for a cause, check out this post on Saving the Ocean bracelets.
3. Dive4Jewelry (Australia)
Dive4Jewelry is owned by a father-daughter tandem, Peter and Amy Shek, who are based in Australia. As scuba divers themselves, every piece they make is inspired by the ocean and the underwater creatures they have come to love in their adventures. They have made it their mission to provide high-quality handcrafted marine jewelry at affordable prices.
Their diverse collection of sea life jewelry are crafted in sterling silver or solid gold. Whether you are buying for a loved one or just spoiling yourself, Dive4Jewelry has beautifully designed jewelry for divers and ocean lovers at reasonable prices. If you're looking for scuba diver gifts for men and women, Dive4Jewelry has plenty to offer.
For more recommendations on gifts for shark lovers, check out my post on:
Best Shark-themed Gifts
Best Gifts for Whale Shark Lovers
---
4. Driftland (Russia)
DriftLand jewelry is made by lampwork master, Lada Tazetdinova from St. Petersburg, Russia. She describes Driftland jewelry as, "the song of the sea and the wind, the breath of rain and the dance of snow, the music of love, and wandering." Her glass ocean-inspired jewelry collection is reflections of happiness, freedom, and impermanence.
Using metal and glass drops, she creates ocean-themed jewelry that is unique and unrepeatable. While they look fragile and delicate, the glass jewelry is kiln annealed for strength and durability to ensure it will last you a long time.
Her handmade ocean-inspired jewelry is a very romantic reminder of the sea. They make great gifts for divers and ocean lovers.
Lada was kind enough to extend a discount to my readers, so use my 10% discount code: DIVERBLISS in her Etsy shop if you want one of her creations.
---
5. Lita Sea Glass Jewelry (USA)
Lita Sea Glass Jewelry is made using 100% authentic beach-found sea glass and sterling silver. Sea Glass is basically glass discarded into the ocean then undergoes natural buffing. Glass that's been thrown in the ocean breaks apart and the small pieces get smoothed by the sand and sea. Once it is washed up on shore, the beach glass can be collected and turned into jewelry.
The handmade beach jewelry is created by Carla Garro, also known as Lita. She envisions that each beautiful keepsake she makes embody that tranquil feeling one gets when in the ocean. Lita specializes in timeless, elegant jewelry styles. With her affordable prices, her sea-inspired jewelry is perfect to be gifted to friends and family or to yourself.
If you're looking for one of kind jewelry for beach lovers, you can find an amazing selection of sea glass necklaces, bracelets, anklets, and earrings in her online shop and several retail partners. Customizable sea glass engagement rings and sea glass mother's rings which make perfect gifts for women divers, are also available too.
---
Do you need more suggestions on what presents to give people who love the sands, sun and sea?
Check out my posts on:
Best Beach Subscription Boxes
Best Gifts for Beach Lovers
6. Moi and Zoe (Turkey)
Moi and Zoe Jewelry is made by architect and sculptor Osman Alkan. Handcrafted all the way from Turkey, the beach-inspired jewelry from Osman's studio are truly one of a kind.
To come up with the most gorgeous beach jewelry, he uses exotic woods from all over the world and combines them with blue, green, white epoxy mixtures similar to the colors of the sea. No two handmade ocean jewelry will be exactly alike.
And what's also fascinating is that some of his beach themed jewelry has a glow-in-the-dark feature. If you are a scuba diver who loves seeing bioluminescence, you will enjoy wearing Osman's creations that mimic a glowing ocean at night. You can check the video of the jewelry glowing in the dark in Osman's Instagram account.
---
7. Oore (USA)
Oore was founded by jewel artist, Uma Gordin, who finds inspiration from nature. After taking metalsmithing classes, she decided to sell custom-made fine jewelry. She loves working with sterling silver, gold, and various gemstones to come up with alternative engagement rings for people who don't want the traditional look.
Oore's sapphire barnacle ring, The Ursula, and Queen of the Sea Ring are just some of the exquisite rings you can find in her collection. No doubt, any mermaid would love to have a unique and bespoke ocean-themed ring on her finger.
So, if you're thinking of proposing to your unconventional scuba diver girl, Oore's ocean-inspired engagement rings might just make her say "Yes!"
---
8. The Difference Coin Jewelry (USA)
The Difference, founded by Michael Vincent, is a jewelry company that makes use of coins from almost every country in the world. They hand-cut the coins and then use a high-quality plating finish of 14 Karat Gold and Rhodium to create beautiful pendants.
Many coins from around the world have the most beautiful sea life designs. You can find coins with popular ocean creatures such as turtles, whales, dolphins, and sea horses, which make these handmade marine wildlife jewelry even more attractive to divers and ocean enthusiasts.
The coins also represent a time and place in history so many divers make it their souvenir for the places they've visited and dived in. These scuba diver jewelry are not only exquisite gifts you can give to someone or to yourself but they're also rare mementos since many of the coins are no longer in circulation.
---
For more recommendations on gifts for sea turtle lovers, check out my post on the unique sea turtle gifts.
9. The Sea Slug and Kraken (USA)
The Sea Slug and Kraken was started by a fellow real-life mermaid, Starsha Battrick. Using materials like glass-like durable resin, recycled acrylic, and sustainable wood, she makes jewelry that is meant to bring awareness to the beautiful and fragile ocean world.
Her collections are diverse and eccentric. You can find not only ocean necklaces and earrings but also mermaid crowns and statement pieces which are wonderfuls gifts for mermaid lovers!
Starsha's styles vary from light and whimsical to dark and mystical.
Many of her creations are inspired by the weird and wonderful creatures you can find beneath the waves. If you're looking for gifts for nudibranch lovers, presents for whale fanatics, or anything in between, her quirky and colorful jewelry designs are always a huge hit among ocean lovers.
From tiny critters to large marine animals the beautiful handmade scuba diver jewelry of The Sea Slug and Kraken is absolutely one of its kind.
---
10. World Treasure Designs (Australia)
World Treasure Designs was started in 2010 by Nick Thorp, an Australian jeweler, and scuba diver. Inspired by the region's abundant marine life, Nick's designs are dedicated to celebrating and protecting the oceans he spent most of his life in. Each ocean-inspired jewelry is handcrafted to create a precious keepsake guaranteed to last forever.
As an eco-conscious company, World Treasure Designs uses 100% recycled gold and silver to lessen its impact on the planet. They are also a member of 1% for the Planet, so they donate at least 1% of sales to ocean conservation efforts every year.
If you're looking for finely handcrafted ocean-themed jewelry with a conscience, World Treasure Designs might have the perfect keepsakes for you and the people you love.
---
If you like the idea of supporting businesses that saves our ocean, check out my article on: 19 Amazing Ocean Companies Saving Our Seas.
How to care for your ocean jewelry
Ironically, while your jewelry is inspired by the ocean, many jewelry makers recommend that you don't wear your jewelry when going for a swim. Scuba diving jewelry is best worn on dry land and not while scuba diving.
Saltwater and chlorine can easily damage your wearable art pieces so do take them off before getting in the water.
Many people have also lost valuable jewelry in the water so just take them off before you go dive into the ocean.
You should also avoid getting chemicals on your ocean jewelry. Sunscreen lotions and tanning oils might tarnish your jewelry and make them look dull and ugly.
Remember that dirt and small rocks are abrasive and can create scratches on your jewelry. If you're playing in the sand, just take them and store in a safe place to avoid loss or damage.
Clean your ocean jewelry regularly. Even your own sweat and body oils can make it lose its shine and sparkle.
Store your jewelry in a clean, dry, and secure place. You can get a jewelry tray with compartments and dividers to prevent pieces from scratching each other.
You might want to occasionally visit a jeweler for a maintenance check-up. Your ocean jewelry might have loose gemstones and clasps.
Each jeweler has their own tips on taking care of your ocean jewelry. this vary depending on the materials they used to crate you trinkets and treasures. Heed their advice as they will know best.
---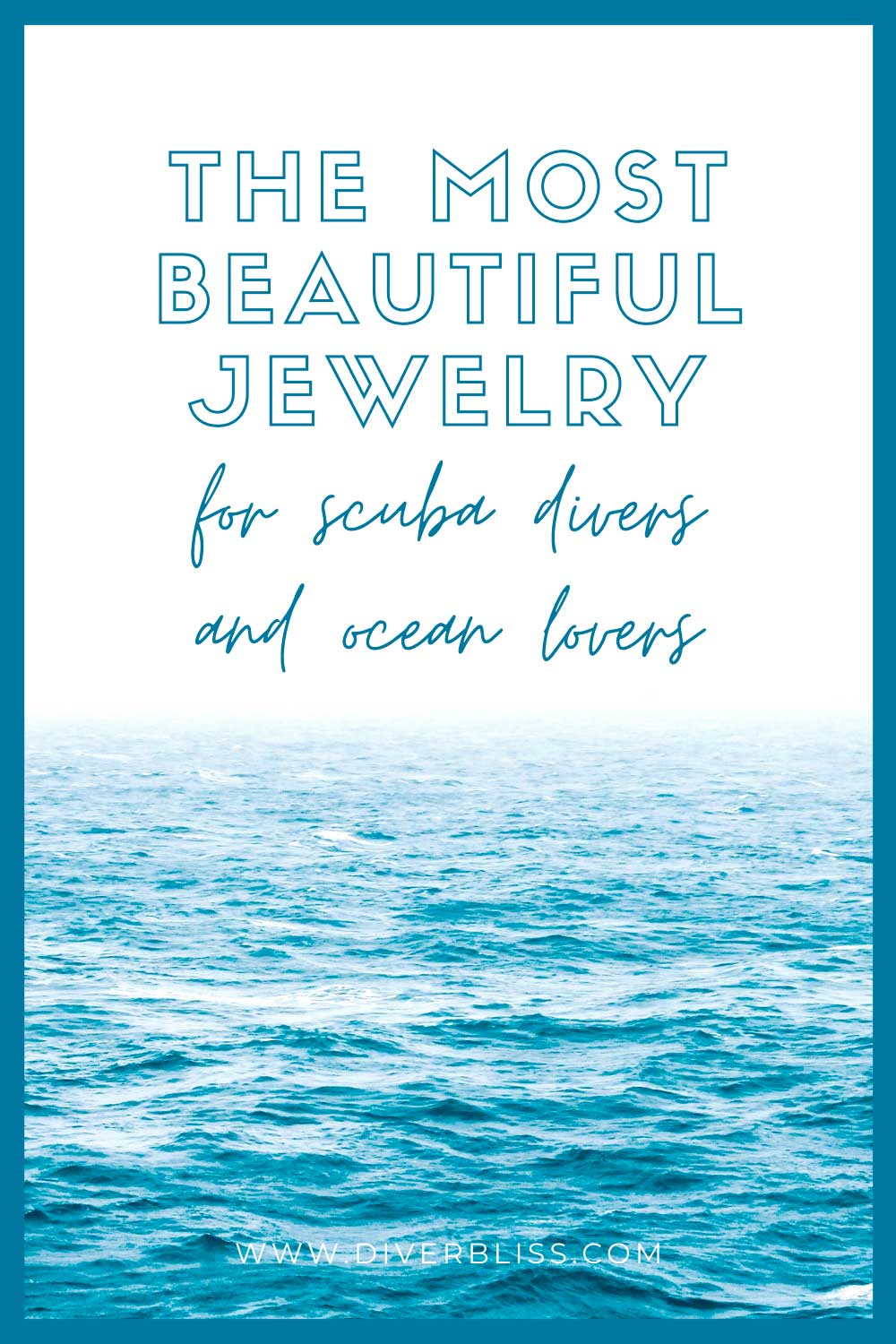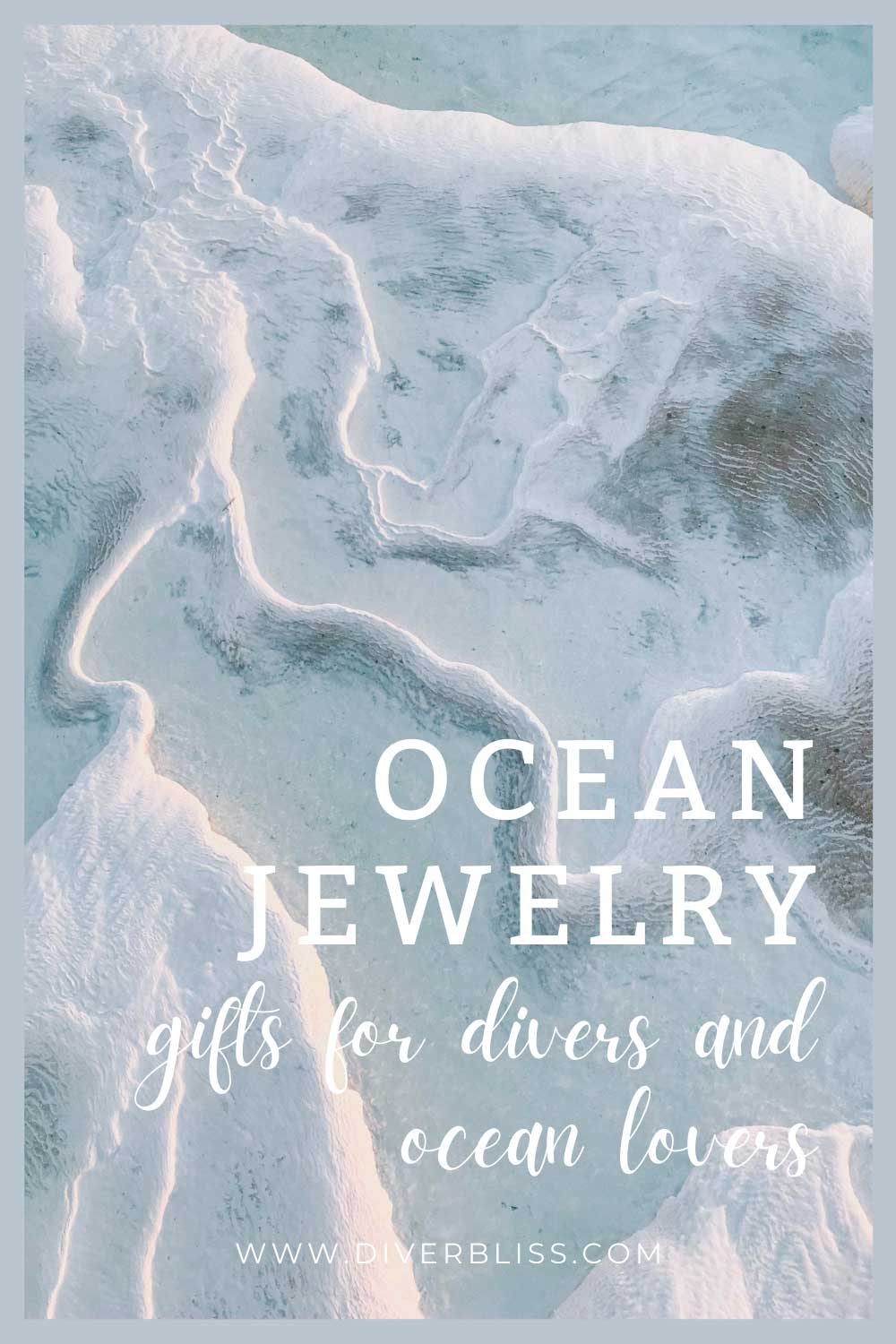 If you're a person who's formed a connection to the sea, wearing ocean jewelry can be a way to tell others about its importance to you. So wear your ocean jewelry proudly. Use it to start a conversation. Or better yet, break the ice, and talk about conservation.
Which ocean jewelry for divers were you drawn to the most? Do you have a piece of favorite ocean-themed jewelry you love wearing every day? Why do you wear your ocean jewelry? Leave a comment below!
The links above may be affiliate links. If you shop through them, I'll earn a commission at no additional cost to you. For full information, please see my disclaimer here.