In this article, I will share with you the importance of backing up your travel photos and videos and how to backup photos while traveling.
Imagine this, you're on an epic adventure you've dreamt of for ages. You've invested in a new camera and taking pictures left and right to document every experience. You are filming from every possible angle for the vlog video you intend to send to friends and family. You simply don't want to miss out on anything.
And just when you thought everything was perfect, something terrible happens! Your camera gets stolen or you lose the memory card that has everything you've ever captured.
In your eagerness to go scuba diving, you forget to check on your underwater camera and it floods, destroying everything.
All your hard work gone in seconds.
So what do you do?
Well, in this post and I will share with you how you can securely back up your photos while traveling!
Prevention and preparedness are key, after all.
In my many years of traveling and diving, I have lost several memory cards, damaged and even flooded my camera. Priceless memories, immortalized in photos and videos, gone forever.
And let me tell you, just remembering those bad incidents still makes my heart sink! I have made these costly mistakes but thankfully you don't have to.
Don't let your hard work go down the drain because of careless mistakes you could have easily prevented. If you practice in your life one of the most important travel photography tips I'm about to share, you can save yourself some misery and heartache.
How to backup photos while traveling
Whether you're an amateur or professional photographer there are many reasons why you should back up your photos. You could be sentimental and consider your photos as priceless keepsakes. Or maybe it is your source of income and your livelihood depends on it.
If your photos are valuable to you you would want to keep them safe, there are many ways you can go about this depending on your travel style, budget, and personal objectives. Here are the tried and tested ways on how to backup photos while traveling to your dream destinations.
1. Use several reliable memory cards
One of the best ways to backup photos while traveling is making sure that your memory cards are reliable and of good quality in the first place. I once lost files on a trip to Cambodia because my memory card failed on me. It was some unknown brand that came free with the camera. Since then I only use brands that I am familiar with and have had good reviews.
Using multiple memory cards with lower data storage versus using just one with a high data storage is another photo backup tip you can follow. This way if something happens to the memory card, you only lose a few files and not the entire photo collection of your trip.
When I am traveling and taking lots of photos and videos, I switch out memory cards on a daily basis. Then, if I am diving, I swap out my memory cards as often as I change my batteries. This is a precautionary measure I make in case I flood my camera on the next dive. At least if my underwater camera gets water damaged, I won't lose all the photos from the previous dives.
Keep your memory card in a safe and secure container before and after use. I have lost memory cards because I've misplaced them or tucked them somewhere and they fell out. You can get a memory card case to keep yourself organized and to protect your sensitive memory cards.
The card cases can be stored separately from all your other things so if someone steals your camera bag, you'll still have your memory cards with you.
2. Backup to your laptop
It is simply not enough to store your photos in your memory cards, as these things experience wear and tear from use. The easiest way how to backup photos while traveling is to transfer them to your laptop. This is one of the best tips for travel photographers that I've always practiced and recommend to others.
As I usually work while traveling, I always carry my Macbook Pro with me. At the end of each day or when it is convenient, I immediately transfer my photos and videos onto my computer. You can and should do this as well especially nowadays when affordable, lightweight, and travel-friendly laptops are readily available. Never use or format your memory cards unless you're double or triple checked you've backed up your files.
What I like most about this method is that I can backup photos while traveling without an internet connection. Since I like going to untouristic locations and remote places, connecting to the internet can be challenging. Having my laptop makes backing up hassle-free.
3. Backup to your other mobile devices
If you want to backup photos without using a laptop, you can backup to your iPad or iPhone instead. You can backup to your Apple mobile phone or tablets by importing photos and videos using adapters. From an SD card or digital camera, your iOS mobile devices will be able to backup photos while traveling with the help of these camera adapters or card readers:
For Android smartphone and tablet users, you can make use of an On The Go also known as OTG Cable to connect your camera or memory card reader to your Android device. Once connected, you can backup your photo and video while traveling without having to use a computer.
Many cameras nowadays also have Wi-Fi or Bluetooth capabilities which makes transferring photos to mobile devices easier. This is another way to backup photos while traveling without a computer or internet.
My Canon G7X Mark II has this capability so while I am in the middle of nowhere I am able to transfer photos to my iPhone without using camera adapters or connecting cables. I love this feature because I am able to immediately edit photos on Adobe Lightroom Mobile then share on Instagram my underwater adventures after each dive.
4. Backup using an external hard drive
Aside from downloading your photos on your computer or mobile device, you can make it a practice to also use an external hard drive to backup photographs and videos. This is another way to backup photos while traveling without the internet.
While some might recommend using USB flash drives to back up photos while traveling, I find them to be more unreliable. They're also easier to lose and misplace. This might work for short-term solution but I would never rely heavily on them
You can get a portable hard drive that can store a copy of all your photos and videos. Hard drives nowadays are more reliable, affordable, and can accommodate large amounts of data. You can even get hard drives with up to 5TB of data storage. Some portable hard drives like the LaCie rugged external hard drives are tested to be drop, crush, rain resistant which is perfect for adventurous individuals.
If you want to backup your photos while traveling and you don't have a laptop with you, avoid using someone else's computer to download your files. You might end up getting some nasty virus that could destroy everything you have.
Instead, get an external hard drive that will allow you to transfer pictures from your camera directly to the backup device. For instance, the WD 3TB My Passport Wireless Pro Portable External Hard Drive will allow you to backup photos while traveling without a computer. It has a built-in SD card reader and USB ports that will allow photo and video transfers to the hard drive without having to plug it into a laptop.
This is the solution for photographers who don't like bringing computers while traveling or for those who have limited storage space on their mobile devices.
5. Use an online backup while traveling
Another effective photo backup method while traveling is using cloud storage.
Cloud storage is a form of computer data storage in which the digital data is stored in a remote physical location. Your photos and videos are sent to multiple secured servers that are managed and maintained by a service provider.
Some cloud storage is free but has a storage limit. So if you need more storage space, you can get an affordable monthly subscription plan which will allow you to upload and store more content, and retrieve your photos and videos any time you want.
This kind of backup will require you to have an internet connection which can be an issue while traveling. However, once you're connected online, you can easily upload and send your photo files to cloud storage for safekeeping.
If anything should happen to the physical photo backups you have while traveling, having a secure cloud backup can give you some peace of mind. With cloud storage, your memories and anything you have worked hard for are secure somewhere else.
As an iPhone user, I have an iCloud subscription so my phone automatically backs up while I'm on the go. I use my phone a lot to take pictures and videos so it makes sense for me to invest in more iCloud storage for my phone.
I've also started using SmugMug as my online photo backup, which as it turns out also has an iOS App that will allow me to back up my iPhone. I'm gradually uploading my 30,000+ phone images already! It also has an app for Android so you can use that too for backing up your phone.
Once I have my thousands of images sorted out, I also intend to use the platform for my underwater and travel photography portfolio. I can upload photos where family and friends can not only see my travel photos but also order prints and images if they wanted to. I have always wanted to showcase and sell my photography in a more professional manner and SmugMug was created exactly for that.
You can easily build a photo website on SmugMug so whether you're an amateur or a professional you not only have a photo back up but also a platform to show your stunning travel photographs.
If you want to check it out for yourself, you can get your free SmugMug 14-day trial today, and save 15% on a new account.
What to consider when choosing the best way to backup photos while traveling
When choosing the best way to backup photos while traveling, there is no hard and fast rule. You need to take a look at many factors and considerations to choose what is BEST FOR YOU.
I will not be able to tell you that you should follow and implement all the suggestions I have listed here. For one, I didn't do that either. I do a mix of backup practices that work for my lifestyle and the kind of traveling that I do and you should do the same.
However, to make the process easier, here are some things you need to consider when choosing the best way to backup your photos and videos while traveling.
1. Budget
There are so many photo backup options nowadays from cheap to high-end, and based on the experience you do get what you pay for. Penny pinching might save you money now, but it might cost you more later on. In my experience, it is worth it to pay a little bit more for a tried and tested backup plan than to save a few bucks for a questionable method.
Some photo backup options might not be within your budget either so only spend within your means. Do your research and you will find the best photo backup for you that fits your budget.
2. Storage capacity and other product specification
When choosing the best way to backup your pictures and videos while traveling, you should definitely consider the storage capacity and other product specifications. How much memory it can store is usually the top concern but you will have to look at the technical and physical specs of your backup product or service to ensure that you are buying the right one for you.
Will the memory be enough as a backup? Is it compatible with my devices? Is it fast enough? If you shoot photos in RAW or videos in 4K formats, which have bigger file sizes, will it be supported by your backup device? Is the backup device bulky or lightweight? How do these backups perform in extreme weather temperatures and environments?
These are just some of the things you need to ask yourself when choosing the best backup for you.
3. Travel location and activities
Another thing to consider is where you will be traveling to and what you will be doing there.
Are you going to a remote tropical island where there could be no internet and electricity? Or perhaps you'll be climbing a mountain or camping in a forest, so in these cases, you might want to consider how much weight and valuables you will be taking.
Maybe you are a thrill-seeker which means you need a photo backup system that can survive the kind of rugged or adventurous life that you have.
The kind of travel lifestyle you practice can help you determine the best way to backup photos while traveling.
4. Duration of your travels
Are you a weekend traveler or will you be traveling for weeks or even months at a time? How long you will be on the road can determine what you need to buy or take with you while you are on the go.
Some travelers will carry light and then invest heavily in photo backups at home. While others might just want to take as much storage with them as they are completely nomadic and travel all year round.
5. How important the photos and videos are to you
At the end of the day, I think this is the most important question you need to ask yourself: How important are these pictures and videos to me?
Some people will be happy with one backup, while others, like me, will have a back of their backup. And then get another backup because you just never know.
Whether your photos are for personal use or professional use, ask yourself how much they are worth to you. The more valuable they are to you, the more you'll be willing to invest towards securing your photos and videos.
While I can't assure you that these tips are foolproof, they will surely reduce the chances of loss and regret. Trust me, you'll thank me later that you did back up your photos while traveling.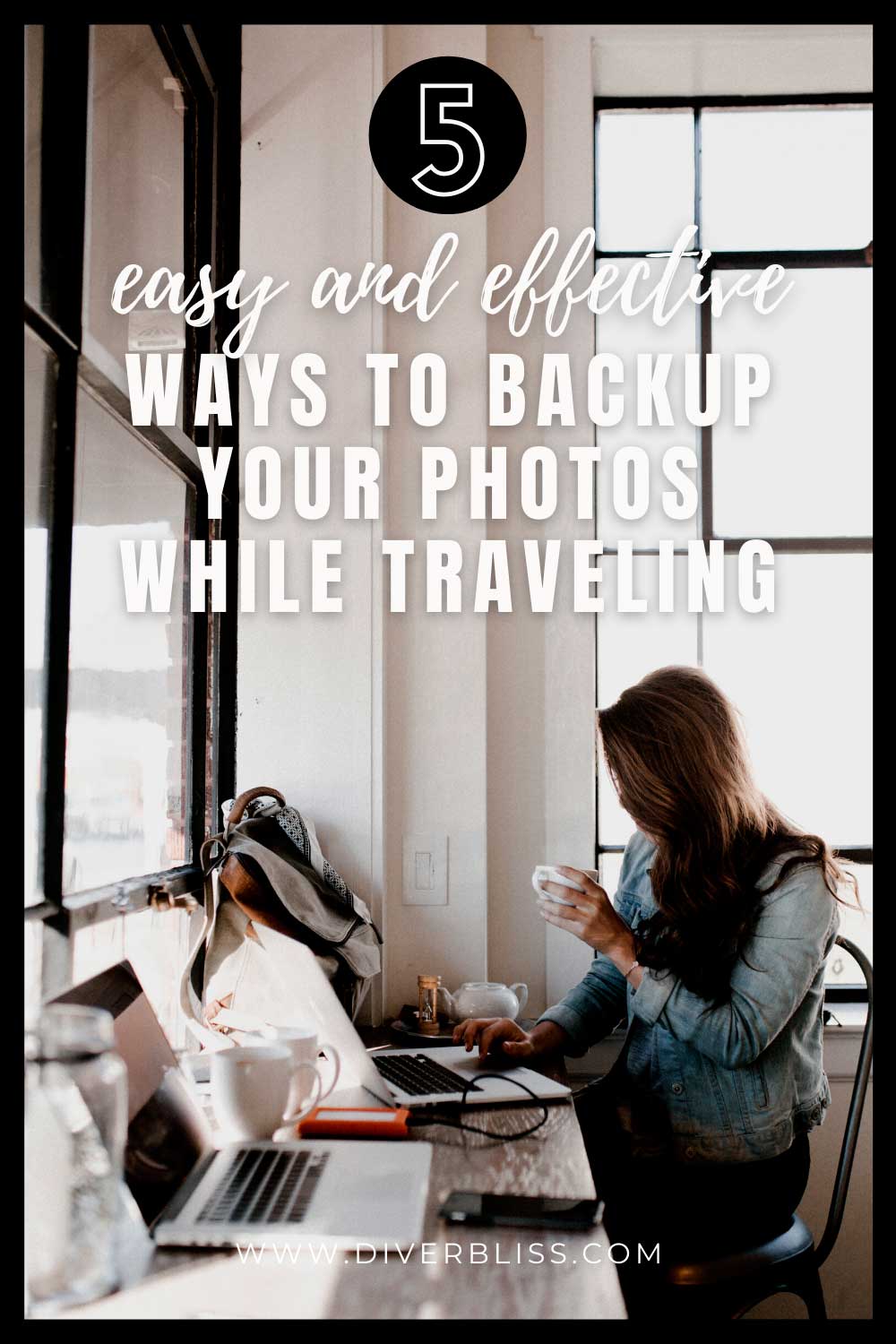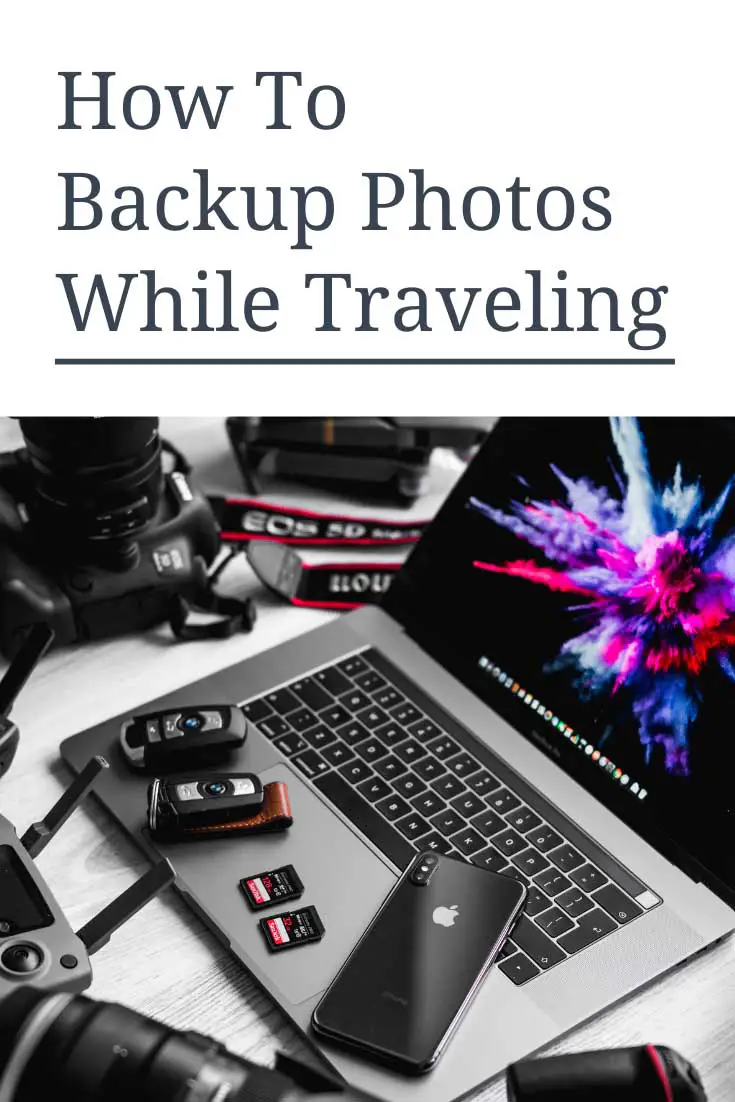 Have you ever lost photos and videos while traveling because you failed to backup? What photo backup method do you recommend the most? Leave a comment below!