Last September 18, I participated in the International Coastal Cleanup Event which took place in Layag Resort, Batangas. It was a 1-day event but my dive buddy, Maire, and I decided to stay for 3 days and 2 nights to do some additional dives.
We were itching to get our fins wet since our last dive in July for PADI Women's Dive Day. It was also my birthday month so I wanted to celebrate by doing what I love doing – scuba diving!
On Friday the 17th, we left Manila at 5 AM and made our way to Layag Resort Batangas.
We immediately noticed that it was a farther drive compared to the other dive shops we've visited in Mabini before. We drove up and then down the winding road of the mountain until we reached what looked to be a beach with no Layag Resort insight.
For a moment we were scratching our heads as to why Waze (the app) wanted us to go into the ocean. Thankfully, we found a local who told us to drive down the tiny path and past the docked bankas, to find Layag Dive Resort.
In hindsight, I think that's why Layag Resort is located in a place called "Secret Bay."
The resort was indeed in a hidden place!
Checking in at Layag Resort Batangas
We parked right in front of the dive resort and were immediately welcomed by staff who helped us unload our bags.
We were directed to the reception/ dining hall where we also found Ross, the event organizer, having breakfast.
After saying our hi's and hello's, we presented our vaccination cards and negative Antigen Test Results, and registerd at the StaySafe.ph app.
We were asked to fill out some standard dive forms. And I think it's worthy to note that they are one of few dive shops I've encountered in the Philippines who actually asked for our dive insurance provider and number.
Once we completed the check-in safety procedures, we were given our room keys and were shown to our room.
Layag Resort Room
We were assigned to a lower ground room which I liked. Upon entering, I immediately noticed that the room smelled fresh and clean.
We settled in and of course checked out the amenities. The air-conditioned room included three beds, a cabinet shelf, a long desk with drawers, a flat-screen TV, and a private bathroom with towels and basic toiletries.
The room was occupied by me, Maire, and Ivy, our other roommate who arrived later that day. Considering there were three women sharing the space, I felt there was ample space for all our things for the weekend.
Since we were on the lower floor, we did not have a seaside view or a balcony but we did have a sliding door which was convenient for entering and exiting our room. The sliding door didn't have a working lock so we pretty much used the sliding door to access our room. We didn't lose anything but it can be a security concern especially when we were outside most of the time.
Because we were out diving the whole day, we only really did enjoy the room at night.
I appreciated that we could set the air conditioning to a comfortable temperature. The blankets were cool on the skin but also kept me warm.
My only complaint with the bed was that there were not enough pillows! I would have loved to have at least 2 full pillows instead of the decorative one. I also wasn't sure if they even replaced the covers on those so I felt iffy using them.
I was also guaranteed a good night's sleep because the Wi-Fi signal from the dining area does not reach the rooms. Mobile LTE signal is also intermittent. When I wanted to browse the internet right before bed, I had difficulty connecting, so I was forced to sleep instead.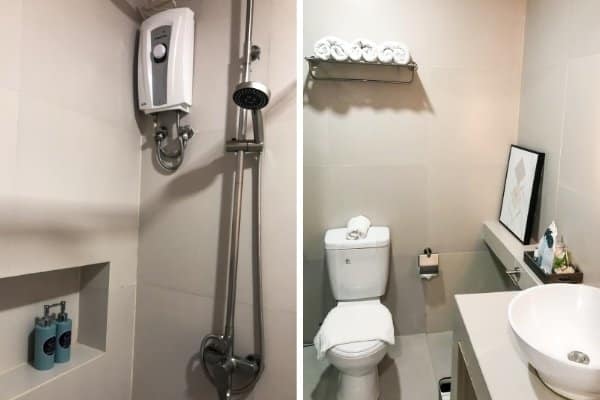 Our private bathroom was equipped with hot and cold showers. I liked that they tried to go plastic-free as much as possible.
No single-use plastic sachets insight! Instead, their shampoo and body soaps came in refillable containers.
They also had complimentary hands soaps and facemasks wrapped in glassine paper, which I think was a nice touch.
The bathroom also has a bidet which I think should be a must in any decent hotel bathroom.
We did have an incident though with a pipe bursting in our bathroom. This happened when we were on a dive so we returned to a very flooded bathroom. Upon discovering the accident, we told the staff and they immediately took action to fix it.
Does Layag Resort have a free Wi-Fi?
Yes, there is free Wi-Fi in Layag Resort. The free Wi-Fi is available in the common and dinning area.
Is Layag Resort in Batangas pet-friendly?
Yes, Layag is pet-friendly! But prior to your visit, please get permission from the management if you would be allowed to take your dog.
On the weekend we were there, several guests brought their pets. We were joined by 6 well-trained and well-behaved dogs. The smaller dogs were allowed to roam freely, but the bigger dogs were always on a leash with their owners.
Is there a pool in Layag Resort Batangas?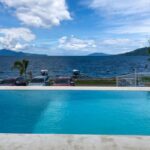 Yes, there is a pool in Layag Resort Batangas. The pool can be used by all guests.
If you intend to do laps or lounge in the pool, it may not be ideal to do so when there are scuba divers using it for their training.
What is Layag Resort's Check in and Check out times?
Standard check-in time is 2 PM and check-out time is 11 AM. However, you may request early check-in or late check-out subject to availability. Additional charges may apply.
I was not aware of this rule prior to the visit but we were given an early check-in and late checkout on our last day free of charge! This allowed us more time for diving which I appreciate.
Layag Dive Resort Room Rates
If you would like to stay in Layag, here are the estimated room rates for one night in their deluxe or superior room. Room prices include breakfast and use of pool.
| | |
| --- | --- |
| Room Rates per Night | Price |
| Deluxe for 2 Persons | Php 4,690 |
| Superior for 2 Persons | Php 4,490 |
| Extra person | Php 1,500 |
IMPORTANT: Prices may change without prior notice. Please contact Layag Resort for their pricing and promos. You may also check availability on Agoda.
Layag Resort Food
If you stay in Layag Resort Batangas, you basically have no other choice than to order from their menu. There are no other restaurants or resorts nearby, unless, you are willing to drive out of the bay to the nearest one.
But you need not worry about options as they have a good variety of Filipino and international food cuisines.
For breakfast, Layag Resort offers your typical Filipino "-silog" meals which is basically, a meat viand plus sinangag or garlic fried rice, and 2 itlogs or eggs.
I tried their Adobo Flakes and Longanisa (Filipino pork sausage) which were very tasty and filling. They also have Tocino, Tapa, Fried Bangus, Corned Beef options.
If you do not want rice for breakfast, they have an American breakfast option which includes pancakes, bacon and eggs.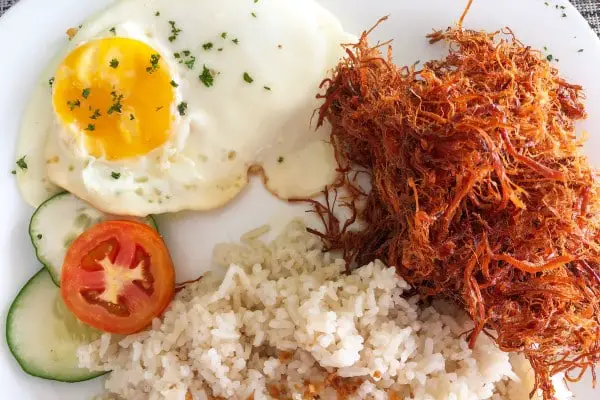 For lunch or dinner, you can order popular Filipino dishes like Lechon Kawali, Pork Binagoongan, Adobo.
But they also have other cuisines like Japanese for those craving ramen and rice bowls, Italian for pasta and pizza lovers, American for burgers and fries.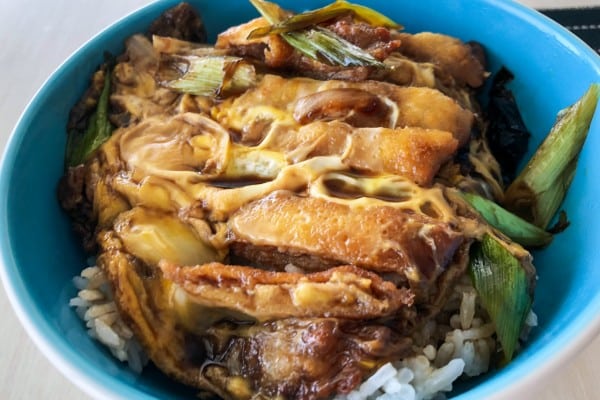 If you're craving something light, they also have soups and sandwiches.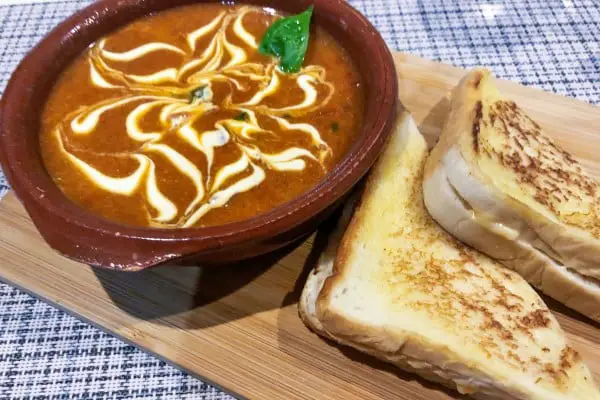 Soft drinks, juices, fruit shakes, and alcoholic beverages are also available.
Coffee and tea are available for free all day long.
Because we were part of an event most of our meals were part of a set menu. So we were given samples of their different dishes. Our set meals for International Coastal Cleanup Day included a soup dish, 3 "ulam" or viands, and rice.
Their food servings are very generous and I almost always never finish the food they served me. You can expect to pay around 250-500 for a dish on their menu.
Layag Resort Batangas Dive Shop
During my stay, I found out that Layag Resort was previously known to divers as "Halo." In the past years, it underwent some renovation, rebranding, and new management.
I do not know how Halo was set up, what it looked like and how their dive services was but I can say for certain that I thoroughly enjoyed diving with Layag Resorts Dive Shop.
I had done 7 dives with them during the weekend. 3 fun dives on Friday, 2 Cleanup dives during International Coastal Cleanup day on Saturday, and 2 fun dives on Sunday.
Based on my experience, here are the things I love about diving with Layag:
Spacious dive shop
One of the things I liked about Layag dive resort is the spacious area where we can set up our dive gear. It was a very good place to hold a big dive event as there was ample space for social distancing.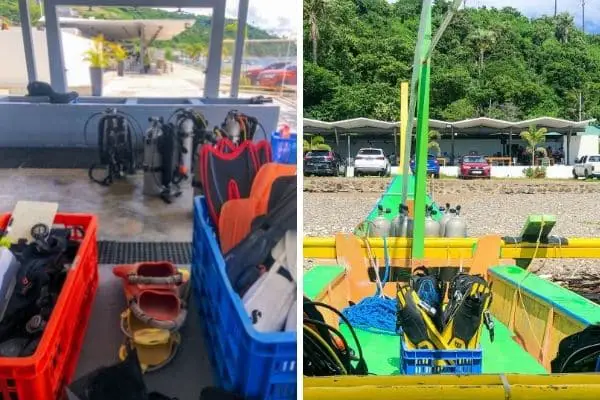 2. Seaside location and accessibility
If you've gone diving in Anilao before, many of the dive shops are located along a mountain side. This meant having to frequently go up and down a lot of staircases. This can be inconvenient especially if you're going back and forth between the dive shop, your room, the dining area, and then the beach.
Layag dive resort is strategically located by the sea side and the layout of the resort is relatively flat so moving around was easy. There was not a lot of stairs which I liked.
The shore location also gives you a direct access to a popular dive site called Secret Bay so you can do as much shore diving as you want.
3. Awesome DMs, attentive staff, and boat crew
On our first day, Dayne took us out for our first dive in Secret Bay. I had difficulty equalizing for the first time ever. While I almost wanted to abort the dive, she stayed with me and guided me until my ear adjusted. She constantly checked on me throughout the dive which I appreciated.
On the other dives, we got reassigned to Divemaster Jimmy who took care of us during our fun dives and during the International Coastal Cleanup Dives.
I liked that he listened to my concerns about the dive sites we were visiting and was willing to change locations. On our last dive, I expressed concerns about the currents and so he recommended diving in a different location instead.
I also noticed that Jimmy would also pick up whatever trash we found in the ocean during the fun dives. I thought this was commendable as I rarely see dive guides doing this.
Like most dive shops in Anilao, it's pretty much concierge diving and the staff and boat crew pretty much do everything for you. After initially setting up my own gear, for the rest of the dives everything else was done for me.
From setting up the tanks, making sure my dive gear was on the boat, helping us to get in and out of the water, and then rinsing the gear after.
One thing I would recommend though for better experience is having towels in the dive boats especially during surface intervals to keep as warm. Snacks and warm beverages would be nice too and perhaps something that was not packed in single use plastic.
Other than that minor thing, the Layag staff and boat crew of Blue Eagle and Salam were fantastic.
Scuba dive sites in Anilao
If you are interested in scuba diving in Anilao, you have over 50 dive sites to choose from.
During my stay in Layag Resort, I went to Secret Bay, Aphol's Point, Bubbles Mainit, Twin Rocks to do some fun dives. Our cleanup dives took place in Minilog and Caban Cove.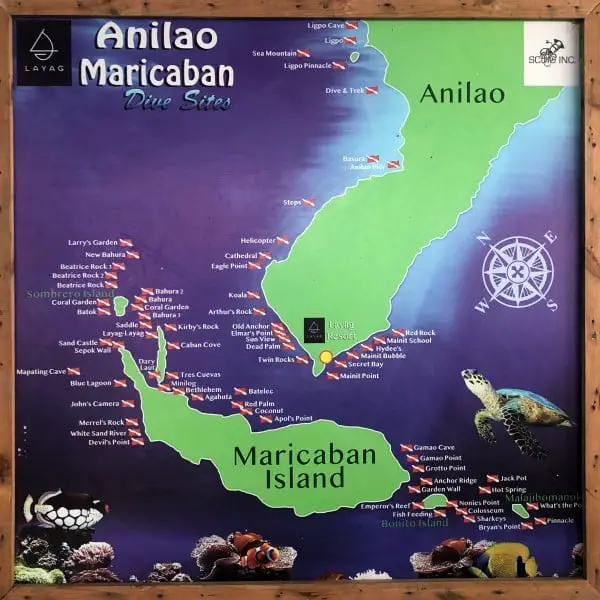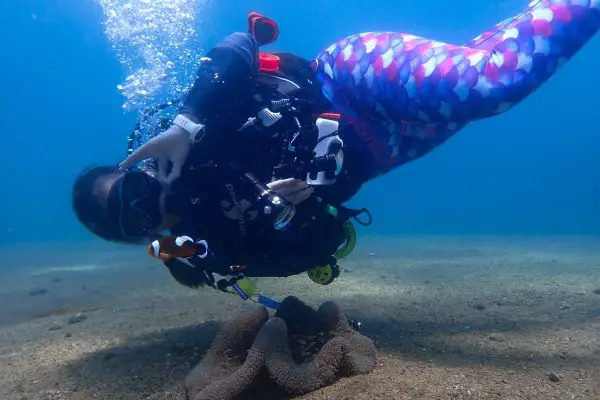 First dive was a shore entry to Secret Bay. It's reminded me of muck diving in Dauin as it was mostly sandy area. It's supposed to have really good macro but because I was having ear problems I couldn't fully appreciate this site.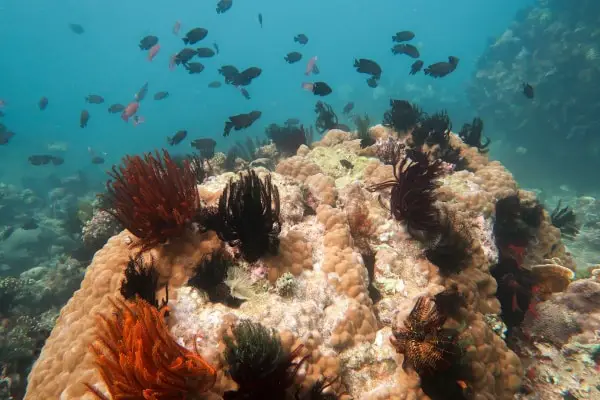 Our second dive was in Aphol's point. It was my first time to visit this site and encountered new critters I've never seen before like a popcorn shrimp in an anemone and a scorpion fish with looked like it had claws for walking.
Our third dive was a night dive in bubbles mainit. It was actually the first time I scuba dived at night in Anilao and of course I loved it. Some of the critters we spotted are a crocodile fish, a whip coral shrimp, and a goby.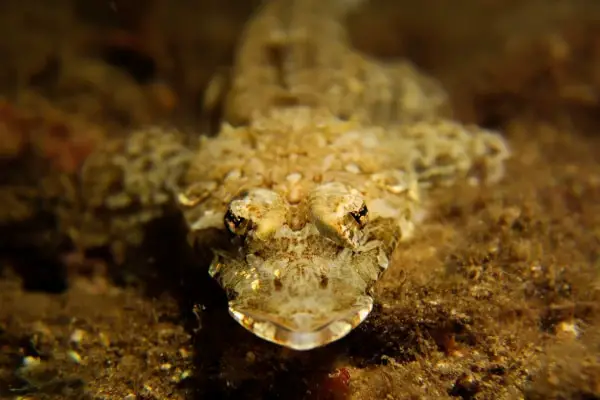 To learn more about night diving, read my posts on "What is night diving like?" and also check out my article on night diving tips if you're thinking about diving in the dark!
On Saturday, we did cleanup dives in Minilog and Caban Cove. To see what it was like, check out this video:
On Sunday we returned to bubbles mainit and got to appreciate the actual bubbles being released from the ocean floor. It wasn't so obvious during the night!
Our last dive was in Twin Rocks where we found lots of nudibranchs and a colorful reefscape.
Watch this video to see some of the cool things I saw while scuba diving in Anilao with Layag Resort.
If you would like to know more about the other things you might see while diving in the Philippines, check out my post on 100 Marine Life in the Philippines that you must see.
Layag Resort Batangas Dive Prices
Here are the different rates you will be charged for dive courses, scuba gear rental, and boat fees. Pleae note that prices may change without prior notice. These were the rates given to me at the time of writing.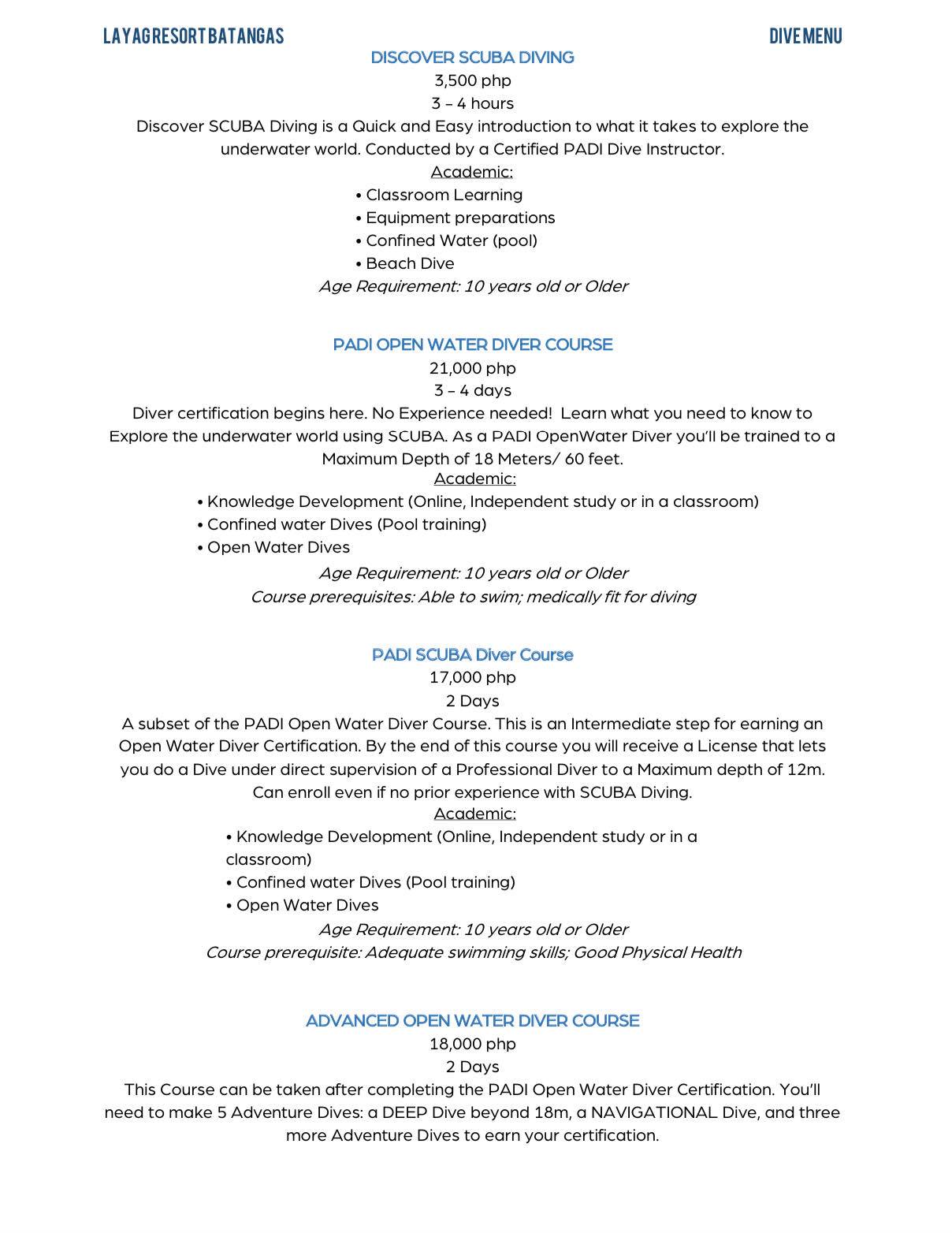 PADI Dive Courses Prices in Layag Resort Batangas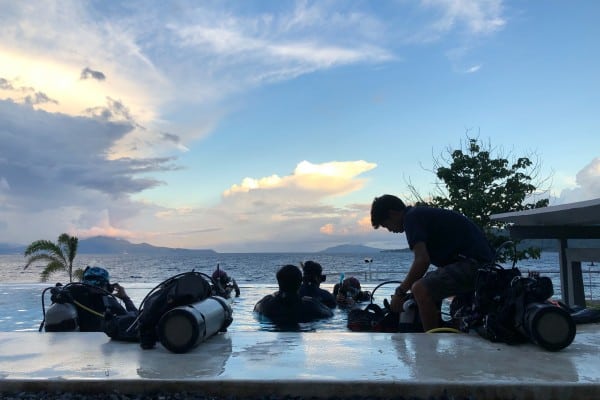 | | |
| --- | --- |
| Scuba Diving Course | Price |
| Discover Scuba Diving | Php 3,500 |
| PADI Open Water Diver Course | Php 21,000 |
| PADI Scuba Diver Course | Php 17,000 |
| PADI Advanced Open Water Course | Php 18,000 |
| Rescue Diver Course | Php 21,000 |
| Dive Master Course | Php 55,000 |
*Prices does not include dive pass and boat rentals
Dive Equipment Rental in Layag Resort Batangas
| | |
| --- | --- |
| Dive Gear Rental | Price |
| Tank Rental | Php 250 |
| Tank Rental Refill | Php 150 |
| Nitrox (32% and 36%) | Php 450 |
| BCD | Php 350 |
| Regulator | Php 350 |
| Mask and Snorkel | Php 200 |
| Fins | Php 150 |
| Weights (1-10 LBS) | Php 100 |
| Weights (11 LBS and up) | Php 150 |
| Wetsuit | Php 250 |
| Booties | Php 150 |
As I bring my own dive gear, I only paid to rent dive weights.
Boat Rental in Layag Resort Batangas
When diving in Anilao, it is very common that the boat fees are charged separately and is split between the number of divers in the boat. Here are the Layag Resort boat rates.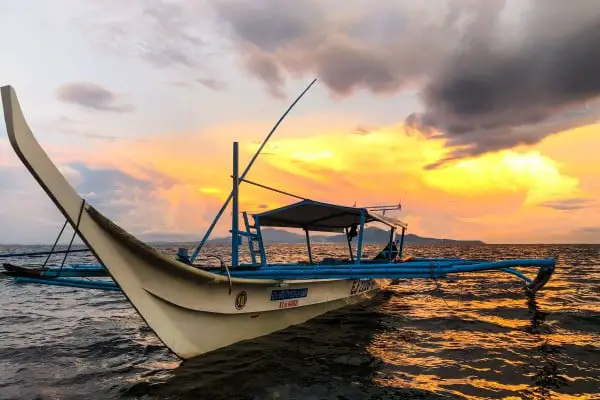 | | |
| --- | --- |
| Boat Rental | Price |
| 1-2 Dives within Mabini | Php 3,000 |
| 3 Dives within Mabini | Php 4,000 |
| Cross channel additional fee | Php 1,500 |
| Dive Pass* | Php 200 |
* Dive Pass is required by Municipality of Mabini per day
You can also access Verde Island from Anilao. If you are interested in diving in Verde Island, kindly coordinate directly with Layag Resort for the rates.
Sustainability Efforts
While scuba diving in different places, I am very conscious about the eco-friendly practices dive resorts have implemented in their establishment. Especially when you're a dive resort advocating for the ocean.
With Layag hosting a ocean clean up event, it was important for me to see that they stand for what they advocate no matter how small they are.
What they did right:
Lessen single use plastic in the rooms by providing refillable pitchers, refillable complimentary shampoo and soap
What they can work on:
As a heavy coffee drinker, I noticed that they still used creamers in sachets something that could be easily avoided if they bought in bulk.
Their fruit shakes were also served with plastic straws some thing which could be avoided if they use reusable instead.
Boat snacks and drinks during surface interval came in single use plastic.
Their kitchen and restaurant department could probably work on their ways to say not to plastic.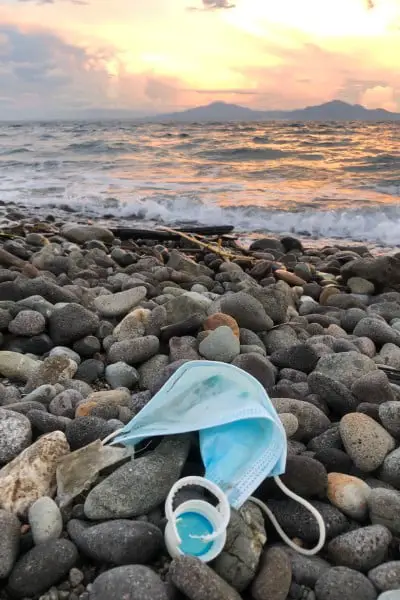 One of the things I noticed was the amount of plastic on their shore, I thought it was ironic that we were doing a dive clean up and yet their beachfront was littered with trash.
I think that if Layag Resort is serious about supporting ocean clean-ups they should start in their own front yard and not just wait for events like International Cleanup Day to do so.
I am reminded of a Mantaray Island Resort in Fiji where they put eco-bin stations around the resort to encourage staff and guests to do beach cleanups on their own while staying in the resort.
Covid-19 Safety Protocols
Diving in Anilao is allowed when the area is under General Community Quarantine (GCQ) or Modified General Community Quarantine (MGCQ). Prior to your visit to Batangas, make sure to get a resort booking confirmation and a negative rapid antigen test result 48-72 hours prior to travel.
A valid ID and negative Covid-19 testing results must be presented while checking into the resort.
Some resorts may only allow guests from 18-65 years of age. As the Covid-19 safety protocols are always changing, kindly contact Layag Resort directly for specific requirements.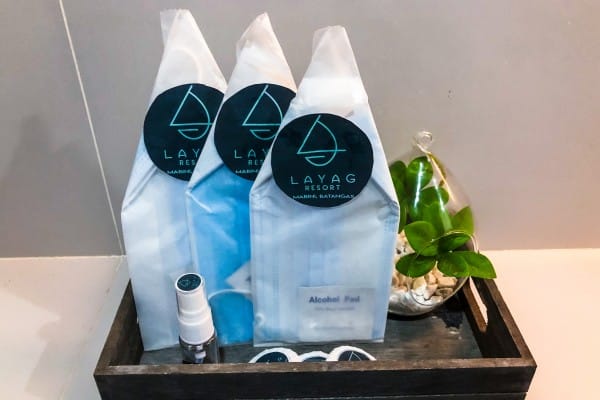 Safety protocols I've observed in Layag Resort
Staff were wearing masks but guests were not wearing them at all times. However, most areas were open and had good ventilation. We wore masks when we remembered.
We were given mask sets in our room, but we did not really touch it. We brought and used our own supply. It was a nice touch to have that option but also a bit ironic given we were there for an event called "Unmask the Ocean"
Food was served ala carte and utensils were wrapped in individual sleeves.
There were hand sanitizers in some areas but not really a lot. I only noticed 1 in the reception area. Would have been nice if there were more. Maybe per table so we're reminded to sanitize more often. I ended up carrying my own alcohol spray instead.
Our dive boat usually had 4-5 divers, a DM and 3 boat crews.
How much did I spend at Layag Dive Resort
After staying for 3 days and 2 nights in Layag with 7 boat dives, I spent around Php 16,074. Here is the breakdown of what I spent on.
| | |
| --- | --- |
| Dive Gear Rental | Price |
| Day 1: 3 Fun Dives (DM and Boat Rental) | Php 3,000 |
| Day 2: International Coastal Cleanup Event* | Php 5,500 |
| Day 3: 2 Fun Dives (DM and Boat Rental) | Php 2,700 |
| Dive Pass (2 Days) | Php 400 |
| Tank Rental (5 Fun Dives) | Php 1,250 |
| Weights Rental (3 Days) | Php 300 |
| Superior Room for 3 Pax (Extra Day) | Php 2164 |
| Katsudon (Day 1 Lunch) | Php 390 |
| Tomato Soup (Day 1 Dinner) | Php 250 |
| San Mig Light Beer | Php 120 |
| TOTAL Expenses | Php 16,074 |
* International Coastal Cleanup Package: Overnight Stay Triple Sharing, 4 set meals, 2 boat dives, sponsored goodies
To be honest, I wasn't so pleased with how the check out went. As soon as we got back from our last dive, we requested the billing so we could pay. Even after we were done eating and packed our gear they still hadn't produced our bill.
The summary of expenses was also printed on 2 pages of paper which I found to be wasteful.
When we were presented with the bill it was incomplete and didn't include fees for the additional fun dives that we had. We were told that it was separate and to ask Ross, the organizer of the event, for the breakdown of the additional fun dives.
I ended up paying 4000+ on my credit card for the additional room, food, and gear rental. While the remaining Php 5,500 event and Php5,700 DM and boat fees were paid in cash directly to Ross a few days later.
I do not know if this was a common practice with the resort but I found the arrangement to be strange. Normally by the end of the trip, I would have an idea how much I had spent over the weekend but this was not the case for this dive trip.
What to pack for diving in Anilao
Here is the scuba equipment and dive gear I bring while diving in the Philippines.
My Scuba Diving Gear
Regulator: Scubapro MK25 Evo, C300 and C200 2nd Stage
BCD: Aqualung Axiom
Mask: TUSA M-212 Freedom Ceos
Snorkel: TUSA SP-170 Platina Hyperdry II
Booties: Poseidon Pink Dive Boots
Fins: Problue
Wetsuit: Seavenger
Vest Hoodie: Scubapro Hybrid Hooded Vest
Dive Watch: Suunto D4i Novo
Dive Knife: Aqualung Blunt Tip Knife
Dive Leggings and Rash: Blue Adaptation Coral Sea Fan

My Underwater Camera Gear
Underwater Camera: Canon G7X Mark II
Underwater Camera Housing: Fantasea FG7XII
Video Lights: Big Blue AL1200XP
Underwater Action Camera: GoPro Hero9
360 Camera: Insta360 X3

> Canon G7X Mark II full review
> Insta360 X3 underwater camera review
> Scuba diving camera recommendations for beginners.

Dive Insurance
Divers Alert Network (DAN)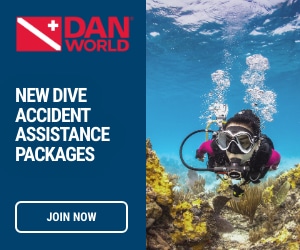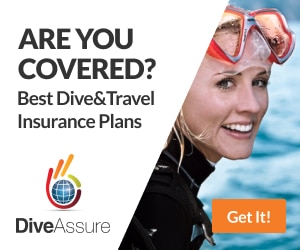 Need travel insurance for your trip? Get a quote from Safety Wing.
If you're traveling and diving in the Philippines for the first time, make sure to read my posts on
Ultimate Travel and Dive Guide to the Philippines
Philippine Packing List: What to Bring to Your Dive Trip.
---
How to get to Layag Resort
Due to the pandemic, the safest and best way to get to Layag Resort in Batangas is through private transportation. Most scuba divers nowadays take their own cars to avoid exposure to Covid-19 and avoid any issues at checkpoints.
Layag Resort has free car parking available for its guests. If you do not have your own vehicle, you can coordinate with Layag for shuttle services. They also have a special partnership with Hertz Philippines so you can rent a car or have someone drop you off at the resort.
Layag Resort Batangas Contact Details
If you would like to stay in Layag Resort, check availability on Agoda.
You may also contact Layag through the following:
Mobile Number (Smart): +63 (919) 009 0893
Mobile Number (Globe): +63 (917) 192 6529 or +63 (956) 735 4140
Email: [email protected]
Facebook: https://www.facebook.com/layagresortbatangas/
Instagram: https://www.instagram.com/layagresortbatangas/
Have you stayed in Layag Dive Resort? What was your experience like? Would you recommend it to a friend? Leave a comment below!