When I got my scuba diving certification I did not know that there was such a thing called liveaboard diving. I always thought that scuba divers either did a shore or boat dive and at the end of the day they would return back on shore and enjoy the comforts of their resort.
In one of those surface intervals (you know the one where we share our dive experiences and dreams), someone dropped the word "liveaboard."
Being a newbie diver, this terminology was completely foreign to me.
My more experienced dive buddies explained that if I wanted to dive Tubbataha, which is one of the best dive destinations in the Philippines, I can only do so on a liveaboard. I was told that the liveaboard is basically a huge dive boat that will take divers to Tubbataha where they will spend 5 days diving. And it would cost a lot money!
While that was the gist of it, I realized later on that there was more to liveaboard diving than that.
In this post, I will share with you some of the knowledge and experience I've gained while going on liveaboards dive trips. If you're completely new to liveaboard diving and have no clue what it is all about then this post is for you.
Continue reading for the complete guide on liveaboard diving for beginners.
What is liveaboard diving?
Liveaboard diving, also known as a dive safari or dive charter, is scuba diving on a vessel that will allow you to dive and stay for more than one night. Many divers go on liveaboard trips because it allows them to access the most remote and often the best dive sites in the world.
A typical liveaboard runs for a week but you can find charters with longer or shorter itineraries. When you go on a liveaboard, you can expect to just eat, sleep, dive, and repeat all day long. You are guaranteed to do multiple dives a day.
You can expect to feel a bit pampered when you go on a liveaboard. Not only will you get spoiled with the fantastic diving, but you'll also get to stay in clean and comfortable rooms, eats delicious chef-prepared meals, and have a worry-free vacation while doing so.
Liveaboard diving is a type of diving that all scuba divers can enjoy. Around the world, there are hundreds of liveaboard destinations and liveaboard vessels to choose from.
---
What is a liveaboard dive boat?
A liveaboard dive boat is basically a floating dive resort that will take you to the best dive sites in the world. As the name suggests, it will allow you to "live aboard" comfortably while you are out at sea.
Liveaboard dive boats are designed with scuba divers in mind. The typical diving liveaboard vessel will have cabins, bathrooms, common areas for lounging, a kitchen, a dining area, a dive deck, and other facilities to make living on a boat pleasant for scuba divers.
While on board, the highly experienced crew and dive professionals will take care of almost everything for you. They will make you feel at home and make sure you experience the best of what a dive destination has to offer.
---
Why you should go on a liveaboard dive trip
Dive remote locations
One of the perks of going on a liveaboard is it will give you the opportunity to dive in places that can only be accessed by boat. There are many dive destinations in the world that are so remote that getting there could take hours or even a day.
The liveaboard makes it possible for divers to not just get there but also do multiple dives for several days. For instance, when I went to Tubbataha Reefs Natural Park, it took 10-12 just to get there. We stayed for 5 days in the area and did 18 dives total.
Visit several dive sites in one trip
When you go to these remote locations there will be a lot of dive sites and special underwater highlights that you'd want to experience. Staying for a day will not be enough time for you to fully appreciate what a destination has to offer.
Some liveaboards also offer routes that allow you to visit multiple regions or islands at a time. There are liveaboards that offer very unique itineraries that will you can visit many of the places that are on your dive bucket list.
Time Saver
If you're pressed for time and don't like planning trips, liveaboards are a great option for you. All liveaboard will have a set itinerary and schedule that rarely changes. And all you need to do is pay and show up.
For instance, in the Philippines where inter-island travel can be a logistical nightmare, there are liveaboards that will take you to three to five islands known for their diving. If you did the trip on your own, it will probably take you weeks just to visit all of them. But with a liveaboard, you can spend less time commuting and more time relaxing and diving.
Mind-blowing wildlife encounters
One of the biggest reasons why divers go on liveaboards is the chance to encounter wildlife that they have never seen before. It is possible that your usual diving ground doesn't give you the opportunity to see lush and healthy coral reefs or big pelagic creatures. By going on a liveaboard you can go to areas on a specific season and see an animal on your critter list.
For instance, the Maldives is a popular liveaboard destination if you want to encounter sharks, mantas, and rays. In Galapagos, you can encounter huge sharks, marine iguanas, and the Galapagos penguins. If you go to the Banda Sea, you might encounter schooling hammerhead sharks in October to November.
Gain dive experience
Going on liveaboards is a great way to rack up those hours underwater. Since you will be diving almost 3-4 times a day, you will be able to log more dives and experiences. Liveaboards will also expose you to different diving environments and conditions which will help you become a better diver.
You experience different types of diving when you go on a liveaboard. Maybe one dive will be in a wreck or a cavern. And the next you'll be drift diving on a gorgeous coral-covered wall. Then to cap off your day, a night dive with mantas.
It is possible to gain all these wonderful experiences in just one trip.
Learn new skills
Many liveaboards offer dive courses when you go on a trip. If you've been thinking of taking a course but haven't been able to do so because of time constraints, you can check with the liveaboard company what courses they offer onboard. You can use the time between dives to learn something new.
I've seen divers complete their Advanced Open Water Certification and Nitrox Certification while on a liveaboard.
Gain new friends
Going on liveaboards is one of the best ways to gain new friends in the diving community. You go on board as strangers and the next thing you know you're planning your next dives together. And it's not just other guests but also the crew.
I know people who have gained not just new dive buddies but even gotten into romantic relationships after going on a liveaboard!
Aside from gaining new friends, joining a liveaboard is a good way to bond and spend quality time with your existing friends and significant others.
Stress-free all-inclusive package
Liveaboard companies are very transparent with their prices and what is included. Accommodations, meals, dives, 24/7 service are all built into the price. And everything is paid upfront so you don't get shocked by the bill by the end of your trip.
If you go on a regular 1-week holiday, you'll have to worry about where you're going to stay, where you'll have your next meal, how you'll get there and more. On a liveaboard, everything is fixed for you. It is an easy and convenient solution, especially for people who don't like planning trips.
---
Why you should NOT go on a liveaboard dive trip
Cost
One of the biggest drawback of going on the liveaboard is the price. You can expect to pay at least $1000-2000 upfront to go on an liveaboard dive expedition. Some liveaboards charge much higher depending on the destination and the liveaboard vessel.
This is only the cost for the liveaboard trip and does not include other travel expenses you may incur along the way.
For many divers, this is a luxury they simply cannot afford.
Time
A typical liveaboard trip can run for 1 week and some divers might have difficulty finding the time to go on one. Maybe they have work or family commitments they cannot leave for too long. While there are short liveaboards trips available, you will still need to allocate some time for travel. So even if the liveaboard runs for 7 days you might need to take a vacation leave for much longer.
Confined environments
While liveaboards are designed to make living at sea comfortable for divers, it might still be out of your comfort zone. Living on a boat in the middle of nowhere can trigger some anxieties for some people.
If you're a bit of an introvert there are only a few spaces on board you can escape to if you need some alone time. Living in close quarter with a bunch of strangers, for long periods of time, might not be for everyone.
Sea sickness
While there are ways to avoid sea sickness, some people are just more prone to them more than others. Everybody responds differently when at sea. I know divers who never get them and I've have heard stories of divers still feeling sick despite the motion sickeness medicine and remedies they've tried.
Highly addictive
Once you gone on your first liveaboard and enjoyed it, there's a high probability that you'll want to keep going on them. After a week of non-stop diving and being spoiled and pampered by the crew, liveaboard diving can ruin "normal" diving for you.
When you've dived in one of the best dive sites around the world, you'll want to go on more liveaboards to see what else is out there.
---
Liveaboard diving requirements
Liveaboards will have different scuba diving requirements depending on the dive destination and the difficulty of the dives.
Some liveaboard destinations may have more challenging environments so you must be at least an Advance Open Water certified to be able to go. In some cases, you will also be required to have a minimum number of dives logged. This is to ensure that you have gained enough experience to safely enjoy each dive site.
Many of the best dive sites feature reefs and wrecks way beyond 18 meters so it's important that you are certified to go on deep dives. In many places, you can encounter ripping currents that new divers might not be able to handle. Night diving is also offered on some liveaboard and this might be something an open water diver might not be able to do.
But this shouldn't discourage you as there are also destinations that are suitable for new divers. Even if you are only certified as an Open Water Diver (or its equivalent), many liveaboard boats will gladly include you in their dive expeditions.
In fact, some destinations are so easy that they even allow snorkelers to join the trip. One good example of this is the Great Barrier Reef. Some dive students even complete their certification while on the liveaboard because of how beginner-friendly the dive sites are.
---
Where to go on your first liveaboard
There are hundreds of liveaboard routes to choose from and there is no straight answer for this.
Some people choose to save up and go to a dream dive destination. This is what I did in 2018 when I went diving in the Great Barrier Reef for the first time. I wanted to make it special so I decided to go on a liveaboard trip.
Other divers go somewhere that's close to where they live or somewhere that is familiar. Going on a liveaboard trip can be a daunting experience for some. By going somewhere close and familiar, you are able to test the waters first and see if this is something you enjoy.
You may also choose to go on a liveaboard that's already within your budget. Liveaboard trips can be very expensive depending on the destination and the vessel. If you're eager to try liveaboard diving already, this can be a deciding factor on where you should go for your first liveaboard.
For other divers, it doesn't matter where as long as you are with people you know. Traveling to unknown places and living on a boat with a bunch of strangers can be nerve-wracking. If this is you, there's absolutely nothing wrong with just tagging along with friends for your first liveaboard trip, regardless of where that may be.
Here are some of the destinations you can check out where liveaboard diving is available.
---
When is the best time to go on a liveaboard dive trip?
You can go on a liveaboard anytime! Liveaboard companies go on dive safari the whole year round so it is really a matter of when you are available.
Naturally, some destinations will have an off-season where weather may not be as great or the marine life you are expecting to see is spotted less often. Most dive travel guides can help narrow down when the best time to go for certain features.
Most liveaboards also schedule their routes and itinerary based on when the best time to go to specific places. This is to ensure you have a great time and come back for more.
---
What to expect when you go on a liveaboard dive trip
How long is the average liveaboard trip?
On average, a liveaboard trip lasts 5-7 days depending on the destination. Shorter or longer trips are also available.
In the past, I've done a 3-day weekend liveaboard where we left port on Friday afternoon and arrived on Sunday afternoon. The longest I've done was a 7-day liveaboard trip to Tubbataha.
There are longer liveaboard trips too that run for 10 days or more.
How many dives a day can you do on a liveaboard?
Again this varies per liveaboard and the itinerary, but usually, you can do 3-4 dives a day. Some liveaboards are able to offer up to 5 dives per day.
What is the daily schedule like on a liveaboard?
When you go on a liveaboard you can expect a full day of eating, diving and rest.
Your day starts at the crack of dawn, with a light snack and some coffee or tea while doing your dive briefing. Soon after you'll be in the water for your first dive. After a 45 to 60-minute dive you'll return to the liveaboard with a full breakfast waiting for you.
After breakfast, you'll find yourself putting on your dive gear again and heading out for your second dive. When you get back on board, lunch will be served and you'll get a bit of free time after. You can take a nap, sunbathe, read a book, or back up your underwater photos.
In the afternoon, you'll head out again to do your third dive. Snacks are served after and before you know it you'll be back in the water for your fourth dive of the day. Sometimes instead of an afternoon dive, the fourth dive will be a night dive.
Dinner is served followed by some social activity like playing games or sharing stories while having some drinks.
A day on a liveaboard can look something like this:
| | |
| --- | --- |
| 6 AM | Wake up time + Light morning snack |
| 7 AM | Dive 1 |
| 8 AM | Breakfast |
| 10 AM | Dive 2 |
| 12 PM | Lunch |
| 1:30 PM | Dive 3 |
| 2:30 PM | Light afternoon snack |
| 3:30 PM | Dive 4 |
| 7 PM | Dinner / Socials |
| | Lights out |
Sample Schedule on a Liveaboard
While there is a schedule that is followed, it is up to you if you'd like to participate in the activity or not. It is perfectly alright to skip dives especially if it becomes too exhausting for you. Just inform your dive guide and buddy of your decision so they can adjust accordingly.
Do you need to own gear before you book a trip?
If you don't have your own set of scuba diving gear, you can easily rent gear from the liveaboard. Some liveaboards include this in their pricing while others will charge you for the gear rental.
Prior to the trip, the liveaboard will usually ask you if you will be needing gear rental or not.
If you would like to get your own dive gear before your liveaboard trip, check out my post on Guide to Buying Scuba Gear for the First Time. It might make more sense to get your own dive gear before the trip as gear rental on board can get very expensive.
Do you dive from the liveaboard vessel itself?
The liveaboard will take you to remote dive destinations but in many cases, your liveaboard will anchor or moor somewhere farther away from the sites to avoid reef damage. You will take a tender or a smaller boat to the dive sites that are usually a few minutes away. You will enter the water by doing a backroll.
In some places, there will be no need to take a smaller boat to the sites. Some liveaboard vessels are designed so divers can do a giant stride entry from a platform located at the back of the boat.
Who will I be diving with on a liveaboard?
You will encounter different kinds of divers on your liveaboard. Some will have more experience than you and some might even be dive professionals themselves who are on vacation. Most often a liveaboard trip will be composed of both local and international divers.
Some liveaboards are very exclusive and can only accommodate a few divers at a time, but there are some that carry 50 or more passengers.
If there are a lot of divers on board, the dive guides will usually assign you to a smaller dive group. People who already know each other are usually grouped together during dives, but if you are a solo traveler you will be matched with other solo travelers.
What are the rooms or cabins like?
Each liveaboard's cabin size and amenities will vary depending on the boat's size and layout.
Some will have tight spaces while others will be a bit more spacious. Some liveaboards might have air conditioners or a nice port hole for ocean views, while others will be very basic and al fresco style. Some liveaboards will have rooms with their own ensuite bathroom while some others will have communal bathrooms.
Liveaboards cater to all sorts of divers with different needs, wants, and budgets. If it's in a lower price range, you can expect your room to be a bit more simple. If it's in the higher price range, you can expect a more luxurious cabin.
Essentially, just like in everything, you will get what you paid for.
What kinds of food do they serve on a liveaboard?
Liveaboards have a dedicated chef who will serve a variety of dishes using ingredients that are available locally. Most liveaboards will prepare a mix of both local and international cuisines to cater to the palettes of their guests coming from all over the world.
If you are vegetarian, vegan or have any dietary requests, most liveaboards will be able to accommodate. Prior to the trip, you can inform them of your dietary needs.
Can you join a liveaboard trip if you don't have a dive buddy?
While it is usually better to dive with someone you already know, being buddyless is not a reason for you to miss out on a trip of a lifetime. You can book your dream liveaboard trip even if you don't have a dive buddy with you. The dive guides on board can help buddy you up with another guest who is traveling solo as well.
Will you have to share a cabin, if you're traveling solo?
Each liveaboard is different. If you are traveling solo, some liveaboards have the option where you can pay a bit more for single room occupancy.
Some liveaboards will have room sharing options so you don't have to pay extra. In many cases, they do try to room divers of the same gender together. But this is not always guaranteed.
If you are a female solo traveler and you are not comfortable having a male roommate, inform the liveaboard of your preference. Remember that you will be living on the boat for some time, and you should feel comfortable and safe in your room.
---
How much to go on a liveaboard trip?
Nowadays. it is easy to find a liveaboard trip for every budget. You can find a liveaboard for as low as $400. But you can also find one that goes higher than $4000.
There are many factors that affect the price of a liveaboard trip, like the destination, the duration, the type of accommodation, the meals served, the dive services, and more.
Liveaboard packages can range from budget to luxury and everything in between.
When going on a liveaboard trip there are also other expenses to consider.
Travel expenses
Another huge expense when going on a liveaboard trip is the travel expenses before and after your liveaboard cruise.
Most liveaboard trips will require you to go to a port that is located away from your home. You will have to take some other form of transportation like a plane, a car, a train or another boat just to get there. Traveling just to get to your liveaboard will cost you money.
You will also have to book accommodations and allocate a budget for food while you are traveling. And almost always, since you are already in a new place, you will end up exploring the local area and maybe buy a souvenir or two. These things will be an additional expense for you too.
Additional dive services
Aside from the liveaboard trip itself, you may have to pay extra for gear rental, Nitrox tanks, Dive courses, and other additional dive services.
Diving permits or environmental fees
Some destinations also charge diving permits and environmental fees which is paid directly to the local government.
Fuel surcharge
You can also expect to pay fuel surcharges, especially with the rising prices of petrol.
Gratuities
Tipping the crew is always appreciated when you go on a liveaboard trip. Each liveaboard and destination is different so ask what their recommended amount is when it comes to tipping. Usually, it is 5 to 20 percent of the package price. So if you'd like to tip, you need to factor this in your budget.
Dive and Travel Insurance
Make sure to get insurance as well so you're covered while traveling and diving. Remember that for liveaboard destinations hospitals and emergency facilities may be scarce or hard to find. Getting dive and travel insurance can give you that extra peace of mind in case of an emergency. You can check out Divers Alert Network (DAN) and DiveAssure for their different dive and travel insurance plans.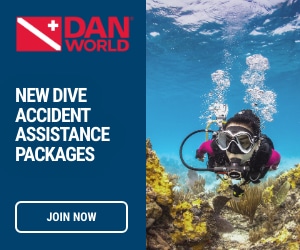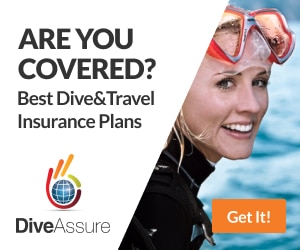 You can also check SafetyWing that has some basic coverage for scuba diving activities. It is an international travel medical insurance that can cover you while you are outside your home. COVID-19 coverage is also included!
---
Where to find the best deals for a dive liveaboard?
We all want a good deal especially when we're planning a dive holiday. Here's how you can find good deals for a liveaboard trip:
Book direct
The best deals are often offered directly by the liveaboard themselves. It's very common for them to offer discounts for those who book early. These discounts are usually announced on their newsletters and social media pages. Make sure to follow them on Instagram or Facebook, or sign up for their mailing list.
You can also go to dive expos where the liveaboard is participating and almost always, they have some special promos going on.
Occassionally, liveaboards also have last-minute cancellations and to fill in the slots they also give discounts. I know someone who was able to score a liveaboard trip for half the price when he booked the day before the departure. It doesn't always happen, but it can happen!
anLombard Booking Platforms
You can also check out Liveaboard.com and Divebooker.com where you can book hundreds of vessels to 45 different destinations around the world. Almost all the liveaboards are on that platform and it has all the information you might need to make the right decision.
On the platform, you can find liveaboards that may be offering discounts. It's very easy to navigate and use and you might even discover new routes and liveaboards you've never considered before.
Dive groups or communities
It is very common for dive professionals to charter the entire liveaboard and invite people they already know. Because they basically rented the boat, they are able to get a good price for people who join their trips. If you are part of a dive group or community this is something you can organize with your friends.
If you're familiar with Girls That Scuba, they organize similar trips like Red Sea Liveaboard Diving or Raja Ampat Liveaboard Trips. Their group tours always get fully booked. If you want priority access and want to get on one of their trips, you can get a Girls That Scuba membership so you can have first dibs when they announce their trips. The membership also gives you a 5% discount on their liveaboard partners.
---
How to choose a liveaboard boat?
Once you've chosen where you're going, you now have the daunting task of choosing the liveaboard vessel that will take you there.
For newer destinations and routes, there will only be fewer or maybe even only one vessel to choose from. Which makes choosing so much easier!
But for some established and popular liveaboard destinations, you will find a roster of liveaboards to choose from. This can be very intimidating and confusing especially if you are going on a liveaboard for the first time.
Look for recommendations
When choosing which liveaboard to book, you might want to ask your dive friend which one they recommend based on their own experience. This can easily narrow down your choices as it's already been vetted by actual divers you trust.
If none of your friends have gone, you can ask online dive forums and scuba diving Facebook groups for their own experiences. Many divers also post their trips on social media. You can make a search on Instagram or Youtube to help you make a shortlist. You can even go to the extent of leaving a comment on their photos or videos to ask what the trip was like.
Personal recommendations from others will be a good indicator if it's a liveaboard you'll want to book or avoid.
Budget
Once you've narrowed it down check if it fits your budget. While it may come highly recommended by other divers, it might be way too much for what you had in mind.
The great thing about liveaboards is that there are some that can you book a year or two ahead of time. This will give you time to save up and prepare for a major expense.
Itinerary
Next check the itinerary and schedule. Again, each liveaboard will have different durations and routes. Some might even offer land trips as part of their itinerary while others will strictly be diving.
Safety Features
One of the things that many divers don't check is the safety features on board. Remember that you will be going to remote areas so the liveaboard should be equipped to handle emergencies.
Some boats will have more safety features than others, but for your own peace of mind, do check if you are comfortable getting on board with what they have and don't have.
For me, I check if the liveaboard boat, at the very least, have first aid kits, oxygen, fire alarms, fire extinguishers, life vests, emergency rafts, and a satellite phone or a way to contact emergency first responders.
Try to find out if the liveaboard has history when it comes to diving accidents and see how they responded.
Accommodations
Check if the liveaboard cabins are comfortable for your standards and reasonable for what you are paying for. The inclusions for each cabin will be different.
Food
When it comes to food, there rarely has an issue and you will be well fed on board. The biggest consideration is if you have a dietary requirement. Check with the liveaboard how flexible they are and what you can expect should you wish to book with them.
Number of divers
Find out how big the vessel is and how many divers it can accommodate. For some divers, having too many people on board can ruin the experience. While for others, the more the merrier!
Diver-to-dive guide ratio
Some liveaboards will have a high diver-to-dive guide ratio with a guide handling 8 divers at a time. Some will have 4 divers to 1 guide. And some won't even have guides!
When I went on my first liveaboard, I failed to check this and found out later on that the dives were self-guided. This meant that it was just me and my dive buddy and it was up to us to navigate and explore the dive site.
If you are not comfortable with this setup, you can ask the liveaboard if you can hire your own guides for additional costs.
Additional services offered
Always check the inclusions and fine print.
Some liveaboards might include gear rental while others will charge extra.
Some liveaboards include Nitrox on their pricing while others will charge you extra for it. Some don't even offer it at all.
Some liveaboards might offer alcoholic drinks for free. Some might charge you based on your consumption or even charge corkage. Some due to country location, might not even allow it.
The published rates might be higher for some liveaboard boats but it includes everything you need. You might go for a more affordable liveaboard, only to pay a bit more for all the extras at the end of the trip.
---
What to pack for a liveaboard?
When it comes to packing for a liveaboard trip, always pack light. Space is very limited on board so take only the essentials.
In my experience, you will spend most of your time in your swimsuit and dive gear so there is no need to bring the fancy clothes and shoes. While space is limited, it's still best to bring your own dive gear to save on rentals and also for your own comfort.
For a more detailed list of things to pack, check my post:
More liveaboard diving tips for beginners
Here are some additional advice if you're going on a liveaboard for the first time:
No matter how used you are to riding boats, take the motion sickness pills or the necessary precautions to avoid sea sickness at the start of your trip.
Take advantage of the check out dive to familiarize yourself with how the liveabaord is run, to check your own gear, and to get a feel of the people you will be diving with. Leave your underwater camera first so you can focus on the diving and getting into the groove of things.
If you have new diving gear, familiarize yourself with it even prior to the trip. Dive with it before going on the liveaboard so you can address any problems you have with it.
At the start of the trip, your liveaboard will give you a schedule they follow. For the trip to go smoothly, all guests are expected to adhere to it. Always be on time. Do not be that diver who is always late and is disrespectful of other people's time.
Always attend the dive briefings. Sometimes it may feel redundant, but pay attention anyway.
No matter how "easy" the dive sites seem to be always, bring your own dSMB or emergency signal device. The ocean is very unpredictable and you never know if a current will appear out of nowhere and carry you away.
Be aware of your behavior and don't be that diver no one wants to dive with.
If you're diving with a camera, make sure to observe proper underwater photography etiquette.
Take care of your health. Even if you are supposed to be on vacation, being on a liveaboard can be very exhausting. Diving 3-4 times a day can be physically demanding so, keep hydrating, eat well and take rests. It's okay to skip some of the dives.
If it is available, dive on Nitrox as it has plenty of benefits, especially when doing multiple dives. Divers who dive on Nitrox also observed feeling less tired after dives. It will extend your bottom time at a given depth compared to regular air. And essentially, you'll have less nitrogen intake which reduces the chances of decompression sickness. If you are not yet certified, get your Nitrox certification prior to the trip to make the most out of your liveaboard trip.
Communicate any concerns in a respectful manner. If you're not happy with your experience or you are having issues with the service or the people on board, speak with the boat manager or cruise director about it. Don't allow it to fester and let it ruin your trip. It's okay to speak up and let them know if something is not to your liking, but do so in a respectful manner. Give feedback immediately so the people involved can do something about the situation.
Be patient and flexible. Not everything will go according to plan. And don't expect everything to run smoothly. Even the most expensive liveaboards can encounter problems when you are in the middle of the sea.
Bring a positive attitude. Nobody wants a "negative nancy" on board. Have fun, create memories and make new friends. If you want to have an awesome liveaboard trip, that is completely up to you.
Pin this for later!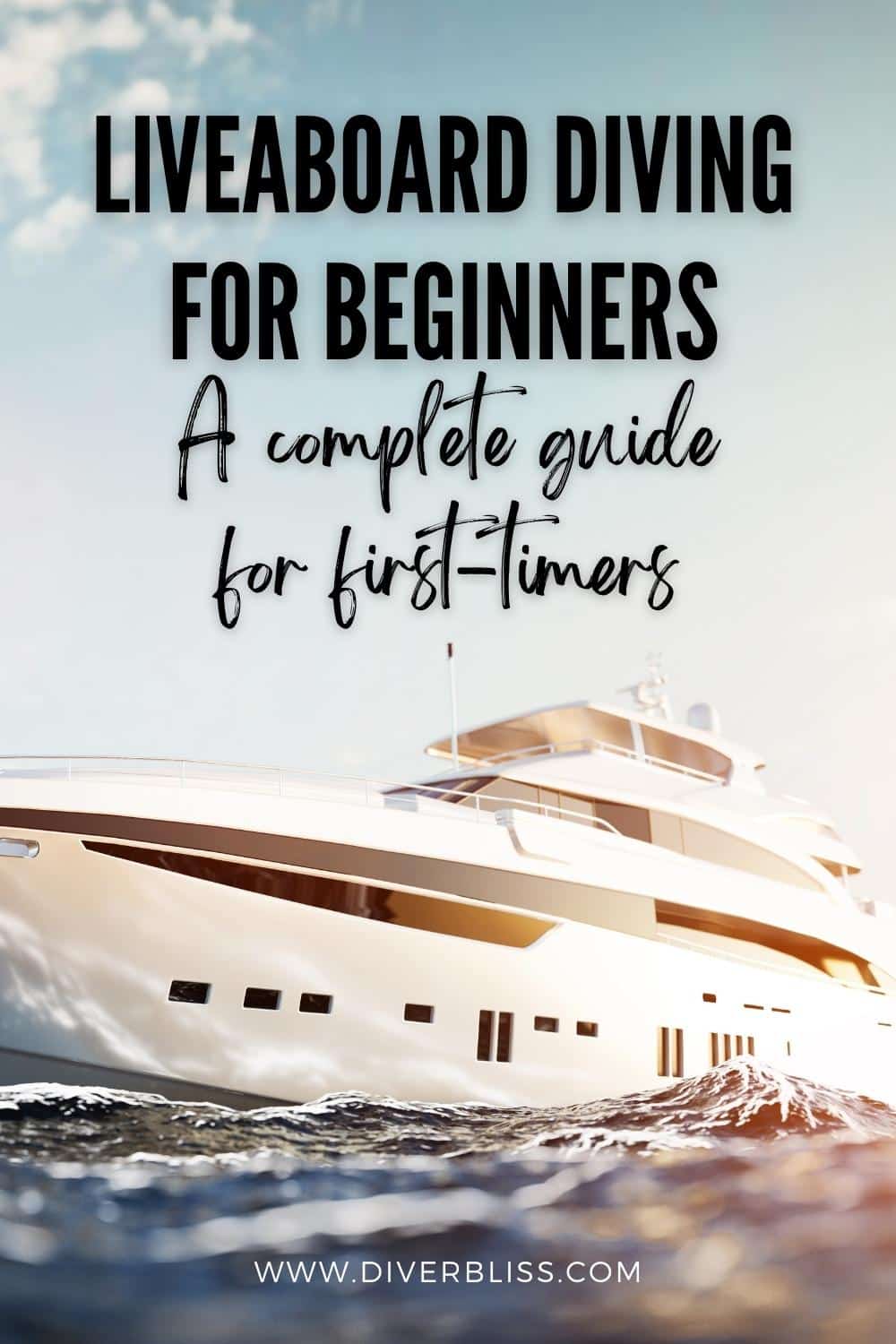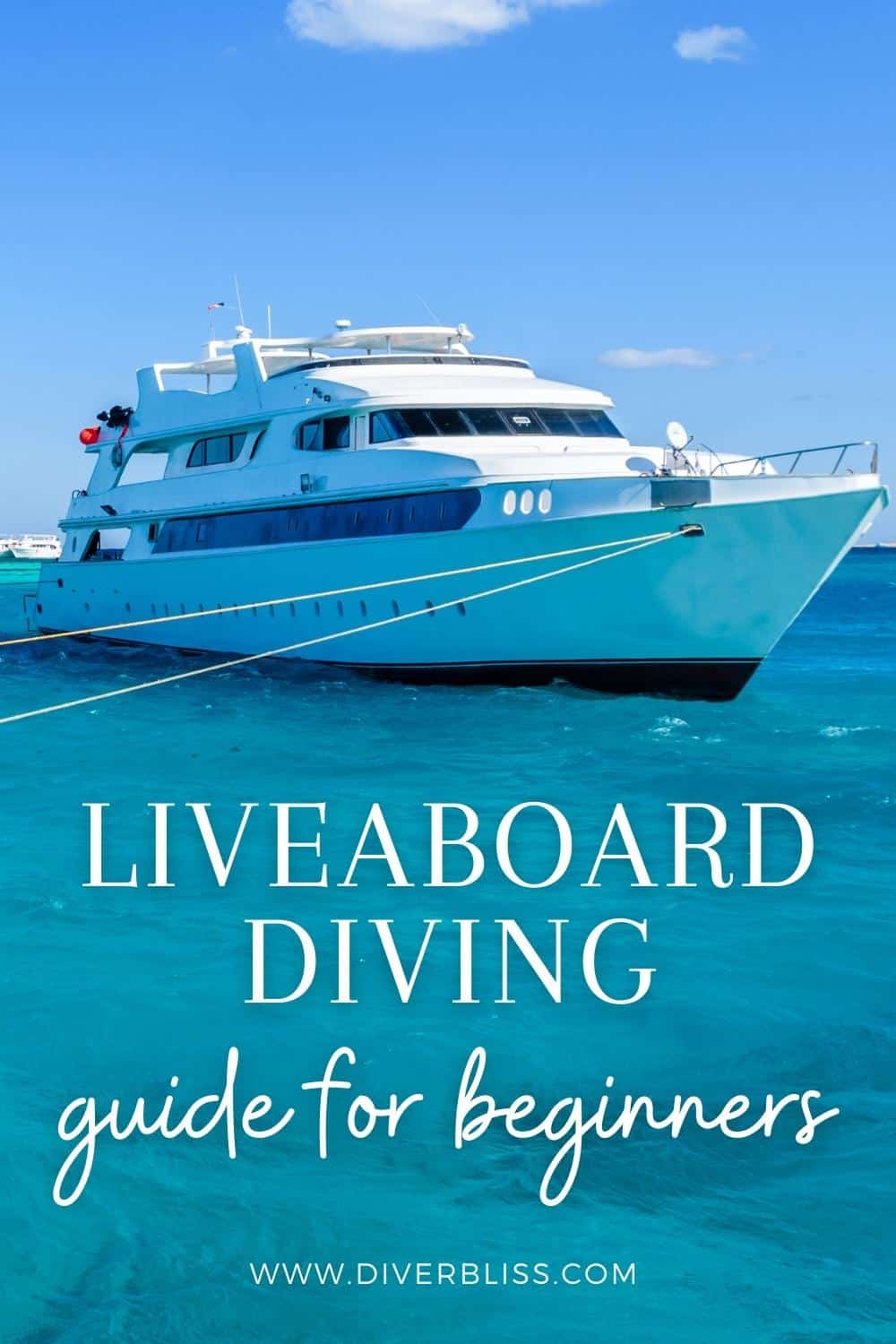 Was this liveaboard diving guide for beginners helpful for you? Do you feel ready to go on your first liveaboard diving trip? Did it answer all your questions about scuba diving liveaboards? Leave a comment or question below!