The Philippines is a country that has a rich and diverse marine environment. It is home to a wide variety of marine life, including fish, mammals, and birds. Numerous ecosystems like coral reefs, mangroves, and seagrass beds are constantly under threat from various human activities. Overfishing, pollution, habitat destruction, and climate change are some of the challenges that the Philippine seas are facing today.  
Several marine conservation organizations in the Philippines work to address these threats and protect the country's coastal resources and ecosystems. They do this through various means, including scientific research, education and outreach, advocacy, and community involvement. 
By raising awareness about the importance of marine conservation and working to protect the country's marine resources, these groups aim to ensure that the Philippines' marine environment remains healthy and thriving for future generations.
There are several ocean conservation groups in the Philippines that are dedicated to protecting and preserving the country's marine resources and ecosystems. 
You've probably heard of the bigger and more established ocean conservation groups like:  
Oceana Philippines: This organization works to protect and restore the world's oceans through science-based campaigns and advocacy efforts.
Greenpeace Philippines: Greenpeace is a global environmental organization that works to defend the natural world and promote peace. In the Philippines, the organization focuses on issues such as overfishing, plastic pollution, and climate change.
World Wildlife Fund (WWF) Philippines: WWF is a global conservation organization that protects the planet's biodiversity. In the Philippines, the organization focuses on issues such as marine conservation, sustainable agriculture, and climate change.
But there are many other other conservation groups in the Philippines that you've probably never heard of! 
In this post, I will share with you the different non-profit organizations that help save and protect our ocean resources in the Philippines. If you're looking for some ocean conservation volunteer opportunities in the Philippines or simply want to support a good cause, you should get in touch with these NGOs.
1. Marine Conservation Philippines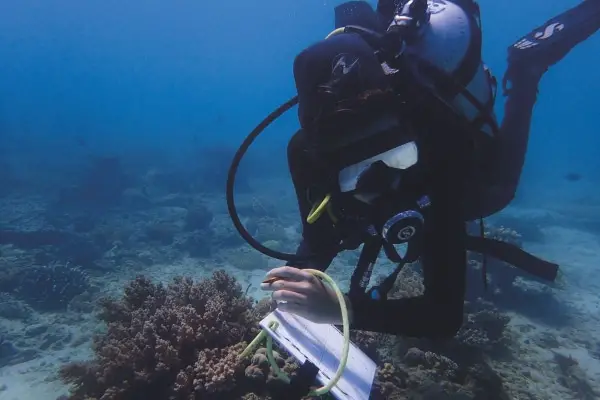 Marine Conservation Philippines (MCP) is a non profit NGO established in 2015.  The organization is providing ecological monitoring assistance and solutions to local government units, as well as government agencies like Bureau of Fisheries and Aquatic Resources (BFAR) and Department of Environment and Natural Resources (DENR).   
Year-round, local and international volunteers can apply to join the organization in the capacity of citizen scientists, (for a minimum of six weeks) and take part in the work. Most volunteers are already certified scuba divers by the time they join the organization, but non-divers are able to join too.   Scuba courses and training is provided during the first two weeks, after which volunteers spend time with the staff biologists to learn to be able to take part in the underwater work, contributing data on reef health, reef resilience and growth or loss of fish stocks.  Typically volunteers are fully immersed in the work and providing valuable data by their third or fourth week. 
The data that volunteers help collect, help answer questions on the effectiveness of coral reefs in providing food security and other ecosystem services. The data collected is shared with government partners, but is also shared through a pioneering open-source data portal, accessible by everyone, reporting on changes to coral reefs in near real-time.  
Due to the extensive, yet very specialized training, each volunteer receives, MCP achieves extremely high data accuracy, and the program is considered to be industry-leading in teaching the layman to meaningfully participate in scientific work underwater. 
In addition to providing monitoring services and training to government partners, MCP runs various other programs in mangrove reforestation, and in combating ocean plastics.  To date, together with a partner NGO, a full-time team of former fishermen has removed more than three million pieces of garbage from beaches, mangroves, and estuaries. 
Aside from planting mangrove forests to combat carbon emissions, MCP is also promoting vegetarianism to help reduce greenhouse gasses and land usage. (meat production actually has a pretty hefty impact on the environment, so aside from your wallet and health, eating less meat is pretty good for the planet too.)  As such, to promote alternative vegetarian recipes to the classic Filipino diet that's often very heavy on meat, MCP surprisingly is behind veggioke.com, and has one of the most visited websites worldwide on vegetarian recipes.
Official Name:  Marine Conservation Philippines
Address:  MCP Compound, Bay Lutoban, 6218 Zamboanguita, Negros Oriental. 
Contact Number:  +63 927 66 333 00
Website: www.marineconservationphilippines.org
Email:  info(a)mcp.email
This NGO has a special place in my heart as I did volunteer work here! You can read about my 2 week volunteer experience with MCP here.
2. Institute for Marine Research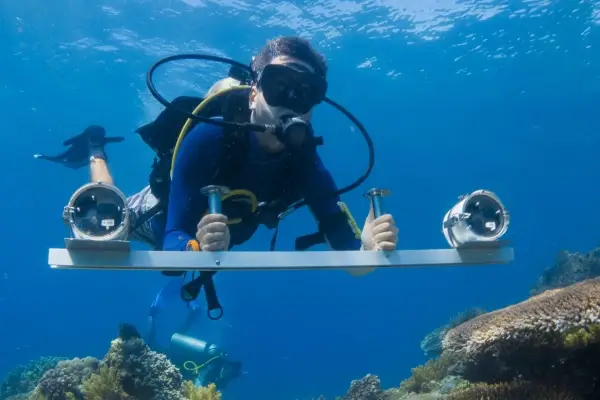 The Institute for Marine Research is a grassroots non-profit organization established in Dauin, Negros Oriental in the Philippines. Their goal is to use long–term and fine-scale research in order to get a more in-depth view of reef health.
Their high-tech methodologies are used in the leading coral reef institutes around the world. The institute uses this scientific evidence to identify areas of concern that they further study in order to produce locally lead marine conservation initiatives.
The IMR was founded by marine biologists Rafael Manrique and Chelsea Waters. After working in conservation around the world, they developed a vision for a research center based on the concept of evidence-based conservation through science. In 2018 they were able to make this vision a reality in the Philippines.
The Institute knows these conservation strategies are important to implement in coastal communities like Dauin that are already feeling the first effects of global climate change. They plan on being there and providing scientific knowledge to the local government units in order to work together to create effective marine management plans. They have plans for fighting Crown of Thorns invasions and are currently putting together a plan for addressing the declining coral cover on the reef.
If you want to get involved with the Insitute for Marine Research you can visit their website and find a selection of courses. There are courses for people just dipping their toes in marine conservation that require no previous marine biology or dive experience.
If you are looking to become a dive professional in a marine science and conservation setting then the Divemaster and Instructor courses might be just what you are looking for. For marine scientists they offer Fellowships or you can even do your masters with them.
Contact Details
Official Name: Institute for Marine Research
Address: Km 12.5 Bulak, Dauin, Dumaguete 6217
Contact Number: +63 917 110 0421
Website: www.institutemarineresearch.org
Email: info(a)institutemarineresearch.org
3. People and the Sea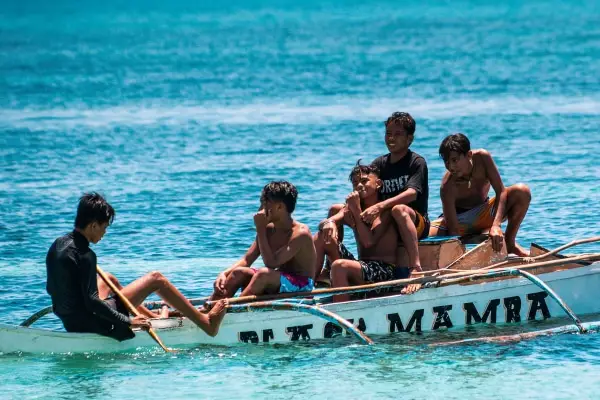 People and the Sea Marine Conservation Foundation is based in Malapascua Island and had been operating since 2015. The organization was created out of a passion for the marine environment and a desire to see it conserved for future generations while still offering a sustainable livelihood to communities that rely on it.
The organization's founders, Ian and Axelle were in Malapascua when Typhoon Yolanda hit in 2013. They personally observed the difficulties the community experienced and the damage to the marine ecosystem. They wanted to support the local community to build a self-reliant, sustainable marine environment.
People and the Sea have developed a systematic approach to marine conservation, with the inclusion and participation of the community and all local stakeholders. Multiple activities are tested, piloted, and implemented to reach sustainable solutions adopted by all. They organized the activities within five programs: marine sciences, solid-waste management, sustainable fisheries, education, and economic
resilience. All these programs provide a direct impact on the people on the island in terms of improved welfare and better environmental health.
Some key indicators of People and the Sea actions are 5000 hours of scientific diving, removing 10-15 tons of waste per month while running the island's solid-waste management system (in cooperation with the local government), and the training of fisherfolk on the removal of Crown of Thorns and the maintenance and monitoring of an artificial reef structure. The organization has introduced a savings club to the community, supports the development of a Homestay Association, and teaches environmental science to children each month.
Currently, People and the Sea is actively working in Malapascua island and is in the process of establishing other sites in the province of Biliran in Eastern Visayas. If you want to be involved, support, or donate, you may check their website.
Contact Details
Official Name: People and the Sea
Address: Barrio Proper, Logon, Daanbatayan, Cebu 6013
Contact Number: +63 916 214 2074
Website: https://www.peopleandthesea.org/
Email: info(a)peopleandthesea.org
If you would like to learn more about Malapascua Island, read these posts:
Malapascua Diving: Ultimate Guide for Scuba Divers
Thresher Shark Diving in Malapascua, Cebu
Gato Island Diving: Exploring a Different Side of Malapascua
4. Balyena.org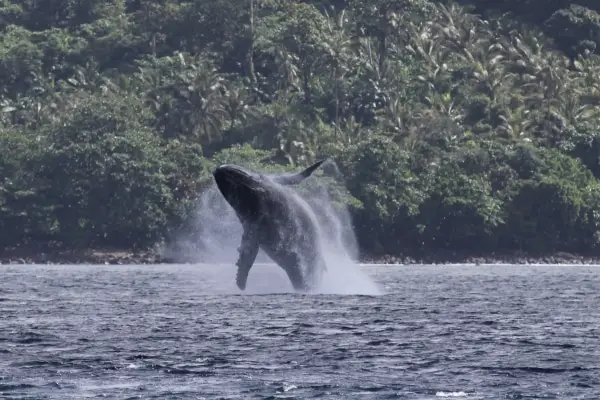 BALYENA.ORG is an all Filipino non-profit organization whose mission is to support the conservation of whales, dolphins and porpoises, and their habitats in the Philippines. They research on these amazing marine mammals in our waters to understand how they live, where they live and what threatens them, in order to protect and conserve them.
BALYENA.ORG is a group of like-minded people who met while working for WWF-Philippines. When the humpback whale project of WWF-Philippines ended, they wanted to continue the work so they applied for research grants and invited former colleagues and friends to help as volunteers.
The idea of establishing BALYENA.ORG came about a couple of years later, with the goal of sustaining the research work on humpback whales. It was such important work that had to be continued so they found ways to continue the survey year after year.
Later on, when they also started doing educational outreach in the schools on the islands. They wanted to increase the awareness and knowledge of the youth about the amazing marine life, especially the whales living in their waters. They help the oceans by investigating and understanding the different marine mammals that live within it.
Through their educational outreach activities, they also help people understand the importance of protecting whales, dolphins, other marine animals, and the oceans. Balyena.org is the only Filipino-led group that focuses on whales and dolphins in the country. They have been producing good science which we disseminate through publications, presentations in conferences and participation in workshops. They contribute and share their data to relevant government agencies such as BFAR in order to increase understanding and conservation of cetacean species.
Their humpback whale research and conservation project in the Babuyan Marine Corridor is the longest-running, continuous cetacean research in the Philippines. Through their work, they have put the Philippines on the map of the humpback whale science and conservation community world. They have also contributed to the identification of several areas in the country as Important Marine Mammal Areas.
Their major project sites are in the Babuyan Marine Corridor in Cagayan, northern Luzon, and the Bohol Sea in Central Visayas.
You can help by volunteering with us for their different projects. You can also help by supporting our fundraising campaigns, such us our adopt-a-whale program, Pabaon: Camiguin Norte Scholarship program, and buying our merchandise.
Contact Details
Official Name: BALYENA.ORG
Address: Paseo del Mar, Barangay Pangdan, Jagna 6308, Bohol
Contact Number: +63 038 5318604
Website: www.balyena.org.ph
Email: info(a)balyena.org.ph
Do you love whales and want to help protect them? Check out these symbolic whale adoption programs you can support.
5. Earth Island Institute Asia-Pacific
The Earth Island Institute is a global organization that advances awareness on environmental issues, grassroots environmentalism, and environmental activism for the protection, conservation, and rehabilitation of the environment.
David Brower, a prominent American environmentalist, founded the Earth Island Institute in San Francisco, United States in 1982. Together with other creative and devoted environmental activists, Brower established an organization to assist the efforts of audacious individuals with great ideas for restoring, preserving, and nurturing the environment.
Through environmental education and advocacy, the Earth Island Institute builds environmental leadership. Their programs, publications, and activities contribute to the biological and cultural variety that supports the ecosystem.
The Earth Island Institute implements the International Monitoring Program (IMP) in the Philippines, which monitors the largest tuna firms in the region to ensure that their fishing operations adhere to the strictest sustainability requirements. Additionally, the EII-Phils manages an onboard surveillance program for all tuna fishing enterprises.
EII Asia-Pacific conducts campaigns frequently to educate the public on animal welfare and the environment. Together with other environmental and animal welfare groups, EII Asia-Pacific runs campaigns against keeping dolphins in captivity and teaches people about how cruel it is to keep intelligent animals for human entertainment.
Earth Island works with communities in the Philippines to promote environmentalism at the grassroots level. Farmers, fishermen, and indigenous people have their support as they are the stewards of our environment.
EII Asia-Pacific is engaged in campaigns against the continuous use and spread of wasteful single-use plastics, marine pollution, and the destruction of our marine biodiversity, including the reclamation projects in Manila Bay that have a negative impact on the country's ecosystem.
You can support the Earth Island Institute advocacy by donating or being a volunteer. You can also help and support education and information campaigns to protect and conserve our environment. And encouraging people not to purchase tickets for dolphin shows and other entertainment venues that keep wild animals in captivity.
Contact Details
Official Name: Earth Island Institute Asia-Pacific
Contact Number: +63 908 490 9483
Website: https://www.earthisland-ap.org
Email: savedolphinsph(a)gmail.com
Do you love dolphins and want to help protect them? Check out these symbolic dolphin adoption programs you can support.
6. The Mead Foundation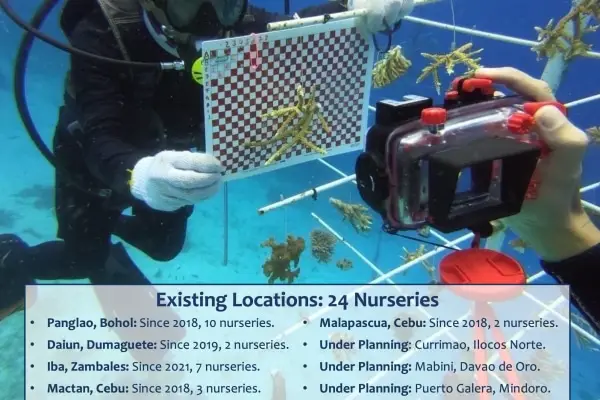 The efforts of The Mead Foundation ("TMF") started in 2015, informal activities of Ben Mead and his family focused on medical and community initiatives. It was in 2018 that The Mead Foundation was formally registered as a Foundation when it engaged in reforestation initiatives with Globe Telecom.
In that same year, The Mead Foundation was asked to lead a new marine conservation initiative. Living Planet Aquarium, a large US non-profit based in Salt Lake City, Utah, approached Ben and asked to partner on an initiative for coral reef restoration using a technique known as coral fragmentation that had been developed in Florida.  This program, which is called Coral Rescue, initially started in Cebu (Mactan, Malapascua) and soon expanded to Panglao in Bohol, and Dauin in Negros Oriental and has proven very successful with large areas of reef replanted with rescued corals.
In 2020, The Mead Foundation commenced its move towards integrated marine conservation which is a holistic approach to area conservation.  Led by its Director of Conservation, Karen Chan, The Pawikan Project, TMF's sea turtle conservation program, formally launched in October 2020, and by January 2021, TMF also launched Coral Rescue Zambales.
To make Coral Rescue possible they opened up Finn's Dive, a non-profit dive operation in cooperation with Sundowners Beach Villas in Botolan, Zambales. All proceeds are channeled back into supporting the conservation initiatives.
Currently, The Mead Foundation is implementing a program known as "An Integrated Approach to Marine Resource Conservation and Sustainable Fisheries Management, to Strengthen Coastal Communities in Zambales", which is funded by the Australian Embassy's Department of Foreign Affairs and Trade (DFAT). This program takes the existing Coral Rescue initiative one step further by combining it with a coral spawning/sexual propagation technique to revive the degraded areas of the reef.
TMF also reached an agreement with the Municipality of Iba, Zambales, to take over the management and administration of a Marine Protected Area, known as Kalangga Reef, and conduct all these restoration activities within the MPA as well as support the MPA's management and enforcement as a fish sanctuary.  As the program in Zambales enters its third year, the progress is very positive and promising as an integrated model to be replicated around the Philippines.
As of November 2022, The Mead Foundation launched its latest site in Currimao, Ilocos Norte, as part of the CSR initiatives of a large solar power facility owned by Nuevo Solar Energy Corporation (NSEC), a joint venture of Vena Energy and Meralco. This site has commenced with a Pawikan Project Ilocos Norte, and has plans to expand for the integration of coral reef restoration and the addition of Finn's Dive Ilocos Norte. 
The Mead Foundation hopes that their integrated marine conservation program can become a model that can be replicated around the Philippines.  The focus for 2023 and beyond will increasingly act as a capacity builder; teaching those who are interested to replicate the holistic approach to marine conservation in their local communities could come and learn the necessary skills and tools to bring back to their location of concern.
You may support the foundation by availing of our SCUBA diving services and cleaning the coral nurseries. If you would like to donate to the foundation, please get in touch with them directly.
Contact Details 
Official Name: The Mead Foundation, Inc. 
Contact Number: +63-917-511-1210 
Website: https://www.mead-foundation.org 
Email: karen(a)mead-foundation.org 
Did you know that you can adopt a coral? Check out these symbolic coral adoption programs you can support .
7. Sagip Pawikan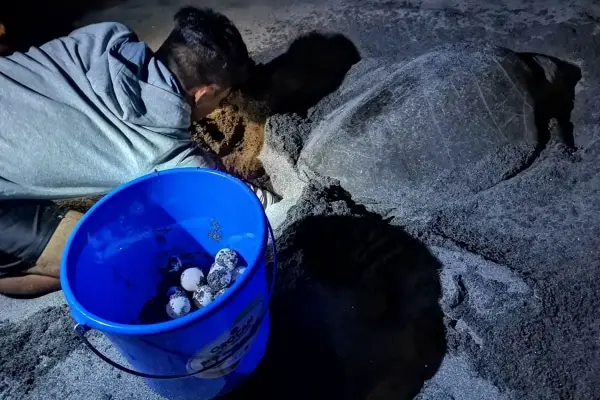 Sagip Pawikan is a non-profit organization located at Sitio Fuerte, Poblacion, Morong, Bataan. This marine conservation group in the Philippines is composed of fishermen who live along the coast of Morong. Their main conservation efforts are focused sea turtles, locally known as pawikan.
Morong's shoreline has been a nesting ground for two species of turtles, the Olive Ridley and Hawksbill turtles, so they educate the community on how to properly and safely interact with the sea turtles.
The locals are encouraged to clean the beaches of debris and clear the shoreline for the nesting sea turtles. They make sure that there are no obstacles that prevent the mother turtles from nesting. The locals also know to give the pawikan space to lay her eggs in peace and not to disturb any of the nests.
Sagip Pawikan makes sure that the sea turtles' eggs are safely transferred to the hatchery in Fuerte. This is to avoid poaching and preying. The sea turtles are monitored until they are ready to emerge from the sand and crawl back to the sea in peace.
Since starting the NGO in 1995, they have released over eighty thousand (80,000+) sea turtle hatchlings.
If you like their mission, you can join as a volunteer or donate directly to Sagip Pawikan.
Official Name: Sagip Pawikan Sitio Fuerto Association
Address: Sitio Fuerte, J. Luna St., Poblacion, Morong, Bataan
Contact Number: +639094085127 or +639951056648
Website: https://www.facebook.com/BantaySagipPawikan
Email: sagippawikan.sitiofuerte(a)gmail.com
You can also check out these 10 Best Adopt a Sea Turtle Programs That Are Turtley Awesome.
8. LAMAVE (Large Marine Vertebrates)
LAMAVE (Large Marine Vertebrates) is a Filipino non-government organization dedicated to conserving marine megafauna. The team at LAMAVE is made up of individuals from diverse backgrounds, but they are united by a shared passion to ensure a secure and prosperous ocean for marine life and people.
LAMAVE was founded in 2010 as a marine mammal research expedition in the Bohol Sea, a deep water trench in Central Visayas known for its strong currents and upwellings. It quickly became apparent that the Bohol Sea was a hotspot for marine megafauna, hosting not only cetaceans but also whale sharks, manta rays, and turtles. As a result, LAMAVE diversified its research efforts to encompass these other marine taxa and expanded its conservation impact across the country.
To date, the team at LAMAVE has worked with governments and communities in over 9 provinces to conserve marine megafauna in the Philippines.
Since 2012, LAMAVE has been supporting the creation and enhancement of Marine Protected Areas (MPAs), identifying priority areas for conservation and understanding sharks and rays' spatial ecology in the Philippines and the Coral Triangle.
Their whale shark conservation efforts are focused on different sites across the country, including Donsol, Oslob, Southern Leyte, and Palawan. They have research projects on three sea turtle species: Green Turtle, Hawksbill Turtle, and Olive Ridley in Panglao, Apo Island, Cebu, and Northern Palawan. And they have also been working on their Manta Ray Research and Conservation Projects in Ticao Manta Bowl, Northern Palawan, and Sulu Sea in Bohol, as part of their wider initiative to conserve and restore manta and devil ray populations in the Philippines.
LAMAVE is dedicated to the use of science, people, and knowledge in protecting the oceans and the species that call them home. They believe that through collaboration and education, they can secure a sustainable future for marine life and the people who rely on it.
Volunteers play a crucial role in LAMAVE's research & conservation projects. They have trained more than 250 volunteers from over 30 countries, so you can apply as a volunteer yourself if you would like to participate in conservation efforts in the Philippines.
Official Name: Large Marine Vertebrates Research Institute Philippines
Address: Tejero Jagna, Bohol, 6308
Website: https://www.lamave.org/
Email: info(a)www.lamave.org
9. Save Philippine Seas
Save Philippine Seas (SPS) is a non-profit organization that aims to mobilize seatizen-led initiatives to conserve the seas in the Philippines. As the world's second largest archipelago, the Philippines is heavily dependent on the sea for livelihood, food, tourism, and economy. SPS aims to bridge the gap between scientists and the general public by empowering Filipinos towards collective action and behavior change.
SPS began as an online platform in 2011 as a response to a large-scale illegal wildlife trade case. It then officially became a non-profit organization in 2013 under the name Philippine Seatizens, Inc. The organization is run by a small team of dedicated and passionate seatizens and is supported by project-based volunteers.
One of their projects is the Sea and Earth Advocates (SEA) Camp, an intensive environmental education and leadership program for youth aged 18-23 years old. The program aims to raise awareness on coastal and marine issues, promote pro-environmental behavior, and build a network of marine conservationists in Southeast Asia. Another project is the Haquathon, a national search for individuals, groups or organizations that create tech-based solutions to address coastal and marine-related sustainability issues.
Save Philippine Seas are always looking for volunteers who can help with campaigns. If you are a researcher, writer, photographer, blogger, graphic designer, illustrator, or open to output-based volunteer work, you can get in touch with them with your services.
Official Name: Save Philippine Seas
Website: https://www.savephilippineseas.org
Email: info(a)savephilippineseas.org / savephseas(a)gmail.com
Marine conservation in the Philippines is crucial for protecting the country's diverse and abundant ocean life. The organizations highlighted in this blog are working tirelessly to preserve the coral reefs, sea turtles, and other species that call the Philippines' waters home.
However, preserving these marine ecosystems is not just the responsibility of conservation groups, but of each and every one of us. By being mindful of our actions and making conscious choices, we can all play a role in protecting the Philippines' coastal treasures for generations to come.
Whether it's through supporting conservation groups, reducing plastic usage, or simply being more informed about the issues facing our oceans, every little bit helps in the fight to save our seas.