Ocean pollution is one of the most pressing environmental issues of our generation. Every day, an overwhelming amount of plastic enters our oceans. They kill marine life and contaminate our water, and threaten our very existence. 
Faced with these problems, many individuals all over the world felt the need to step up and do something about it in the best way they can. With their passion for the ocean and equipped with their own unique skill sets and expertise, they have built companies and business enterprises that are on a mission to help our oceans. 
In this article, I share with you some of the businesses that are saving our seas. These ocean-conscious brands were started by individuals who wanted to make a difference in our environment. From beach cleanups, helping marine animals, and supporting other non-profit organizations, these companies have inspired many others to do the same for our oceans.
Through their undeniable love for the ocean and their dreams of a better and bluer planet, they created waves of change in their own communities around the world. 
Here are some of the most inspirational ocean companies working hard to reduce plastic pollution,  protect marine life, and save our seas for future generations.
1. 4Ocean
Founded by Alex Schulze and Andrew Cooper in Bali, Indonesia, 4Ocean aims to clean up plastics from the ocean with the help of local communities. Materials recovered from the sea are used to develop new and innovative products that raise awareness about the ocean plastic crisis. 
In 2015, they introduced the 4Ocean bracelets which help fund their global ocean clean-up operation. The 4Ocean bracelets also educate about the different marine life that needs our protection.  While they are best known for their bracelets, 4Ocean has expanded their merchandise to include eco-friendly products that will help you use less plastic and to encourage you to help clean the ocean.  
When you purchase a 4Ocean product, one pound of trash will be pulled out from oceans, rivers, and coastlines. To date, they have pulled more than 15 million pounds of trash in the United States, Indonesia, Haiti, and Guatemala.
Shop on 4Ocean For a 10% discount, use coupon code: DIVERBLISS
---
2. Waterlust
Waterlust began as an experimental project by ocean science graduate students. They wanted to engage the public about marine science in an entertaining, fun, and informative way. Using clothes as their canvas to tell stories about the marine environment, Waterlust was born. 
This small, family-owned, ocean-loving company was started by  Patrick and Fiona Rynne, and Laura Graham. As scuba divers, kiters, sailors, and surfers themselves, they create purpose-driven clothing for men and women like them.
Made from 88% Repreve® RPET (recycled polyester made from post-consumer plastic bottles) fabric, their suits, rashguards, dive leggings, board shorts are perfect for those wanting an ocean-friendly clothing alternative. 
Their advocate apparel features different marine science topics that they champion. You will find designs inspired by whale sharks, parrotfishes, sea turtles, coral reefs, and more. When you purchase a Waterlust product, 10% of the profits support conservation and research partners.
Learn more about Waterlust.
---
3. Raw Elements USA
Founded by Brian Guadagno, Raw Elements USA has protected the skin of many ocean lovers from the harmful rays of the sun. But not only that, their special formulation has also protected the ocean from harmful chemicals. 
Raw Elements is a sustainable business focused on creating ocean-friendly sunblock. If you are looking for the best plastic free reef-safe sunscreen, you should definitely check out this ocean-friendly company. 
In 2019, Raw Elements USA also founded World Reef Day to remind consumers, businesses, and organizations around the world of the fragile ocean ecosystem. Celebrated every 1st day of June, this day is meant to bring awareness about the delicate coral reefs and to inspire us to protect them. 
Shop Raw Elements on their Website | Amazon | Eco-Roots
---
4. Tinggly
Do you want to give stories, not stuff? Tinggly is a gift company that encourages you to give experiences instead of things.
Founded by Linas Ceikus and Alex Gibb, Tinggly was born so people can share happiness through experiences.  You can buy a Tinggly gift voucher, which can be used with their travel partners from around the world.
If you want a present that will leave you warm and tingly, you should definitely check out this eco-friendly company. You can choose from hundreds of activities like diving with thresher sharks in the Philippines and dolphins and whale watching in Dominica. And if the recipient of your gift is not into those things, they can always go on a cooking workshop in New York or tour a brewery in Boston.
When you purchase Tinggly gift, you are helping remove 11bs (5kg) of plastics from oceans, rivers, and lakes. They have also installed 2 trash traps in Bali and work with other ocean companies like Plastic Bank to remove the plastics from the environment. 
If you're worried about the carbon footprint these experiences may have on the environment, Tinggly works with partners like ClimateCare.org and Planet Positive to offset any carbon negative impact you have on the planet by 200%. This means that you can enjoy the experiences guilt-free since Tinggly has invested in projects and technologies that have a positive impact on the environment. 
If you're looking for the best environmentalist gifts, you should definitely consider getting a Tinggly experience.
Learn more about Tinggly.
---
5. Fahlo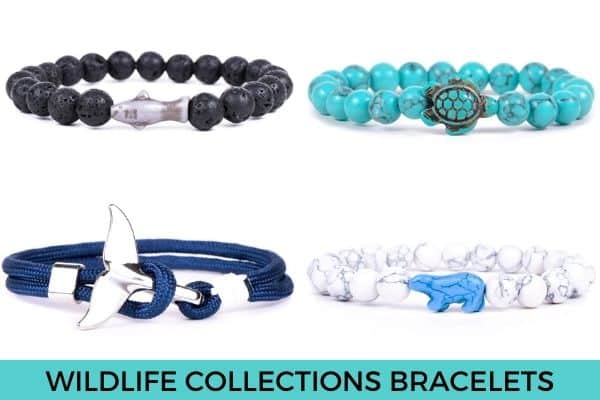 Fahlo, formerly known as Wildlife Collections, is a company that partners with non-profit organizations to create bracelets that support conservation efforts.
Every Fahlo bracelet comes with a real animal to track. You will be given its name, photo, and tracking information so you can follow your animal's journey.
The "Voyage" Shark Tracking Bracelets are totally jaw-some gifts for shark lovers. The "Journey" Sea Turtle Bracelet comes with a tracker too, and is no doubt a unique gift for sea turtle lovers. And the Tailfin Bracelet though it doesn't have a tracker raises awareness for Orca Research Trust and make wonderful gifts for whale lovers.
This interactive gift encourages you to learn more about specific ocean animals like sharks and sea turtles. The bracelets are beautiful reminders of animals that need our protection.
Since 2018, Fahlo has also donated thousands of dollars to wildlife foundations like Saving the Blue, Sea Turtle Conservancy, and Polar Bears International.
Click here to get your wildlife tracking bracelet. Don't forget to use the code: DIVERBLISS20 to get a discount at Fahlo.
---
6. Stream2Sea
Stream2Sea was founded in 2015 in Wauchula, Florida by a fellow scuba diver, Autumn Blum. After a dive trip to Palau she realized that the products we were using had many ingredients that could be highly toxic to us and the fragile aquatic ecosystem.
Teaming together with other environmentally conscious individuals, Stream2Sea creates sustainably made sunscreen for scuba divers, kayaker, swimmers, hikers, campers, skiers, and basically any outdoor enthusiast on the planet.
As an ocean-conscious brand that is committed to helping the planet, Stream2Sea is Protect Land + Sea Certified, which means that their sunscreen has been tested and proven to be safe for fishes and coral larvae.
While Stream2Sea was first known for their coral reef-safe sunscreen, they have expanded their portfolio to offer other sustainable and reef-safe products like biodegradable skin and hair products and non-toxic hand sanitizers.
To further reduce their impact on the environment, Stream2Sea also makes use of sustainable and eco-friendly packaging on their products.
Click here to shop on Stream2Sea. Get a 10% discount on Stream2Sea when you use my special code: DIVERBLISS.
---
7. Blue Adaptation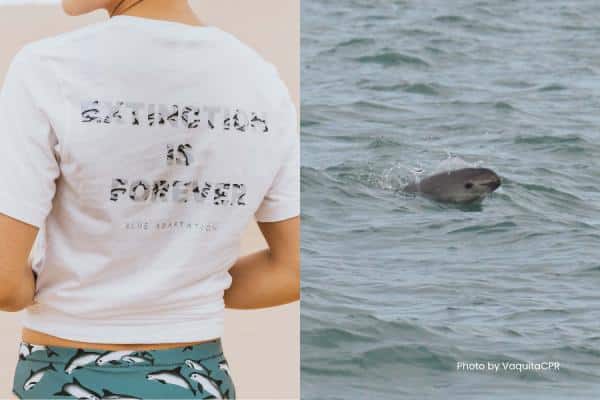 Blue Adaptation is an ocean-inspired, sustainable swimwear brand founded by divemaster and
designer, Jamie Dietrich. After working in the NYC fashion industry for nearly a decade, her soul longed to reconnect with nature and do more meaningful work.
It was while diving on a marine conservation sabbatical in the tropics, that she became completely captivated by the underwater world. From the vivid colors of a coral reef to the ornate patterns adorning all the fish, she felt compelled to share this beauty with others and envisioned an eco-apparel line that would mirror the sea.
There's purpose beneath the surface of this brand. While aiming to minimize their environmental impact,
Blue Adaptation focuses on the conscious creation of responsible apparel. They produce small runs,
support ethical manufacturing, utilize recycled and regenerated fabrics whenever possible, employ a
waterless printing method, and ship plastic-free.
They've also introduced a charitable program called "Prints with Purpose", where awareness is raised for
important causes, an associated capsule collection is designed, and then up to half (50%) of the proceeds are donated to dedicated organizations making a difference in those areas. "Save the Vaquita" is the first initiative within the program, highlighting the critically endangered vaquita porpoise and directly supporting the impactful work of Sea Shepherd Conservation Society.
Learn more about Blue Adaptation
---
8. Nomadix
Nomadix is company that helps save our ocean by making high-quality towels made from post-consumer recycled materials.  This awesome towel brand was created by Chace Petersen, Zack Helminiak, and Hunter Robinson,  three friends who knew the importance of having less gear so they have more space for adventure. 
They didn't just want to make a towel that can fit their active lifestyle, they needed it to be environmentally friendly as well. As surfers and campers themselves they have seen the increasing amount of plastic waste in their travels and they knew they had to do something about it. And, so Nomadix was born. 
Their sustainably made and meticulously designed towels, changing ponchos, and festival blankets replace the need to take separate towels for all the activities you love doing.
Nomadix also contributes to 1% For the Planet, so you can enjoy your adventures on land or at sea knowing that you're supporting an eco-conscious brand. 
Learn more about Nomadix
---
9. Sand Cloud
Sand Cloud is an ocean-conscious brand on a mission to save marine animals. Founded in San Diego, California by  Steven Ford, Brandon Leibel, and Bruno Aschidamini, amassed a huge social media following because of their colorful handmade Turkish beach towels. Their followers also loved that they donated 10% of their earnings to non-profits that preserve the ocean and its inhabitants.  
Since 2014, Sand Cloud has consistently raised funds and awareness for several ocean conservation groups. Marine Conservation Institute, The Surfrider Foundation, Pacific Marine Mammal Center, San Diego Coastkeeper, Hawaii Wildlife Fund, Ocean Connectors are some of the organizations they've supported.
Shop Sand Cloud on Amazon.
---
Do you need gift ideas on what to get people who love the sands, sun, and sea? Check out my posts on Best Beach Subscription Boxes and Best Gifts for Beach Lovers.
10. Bureo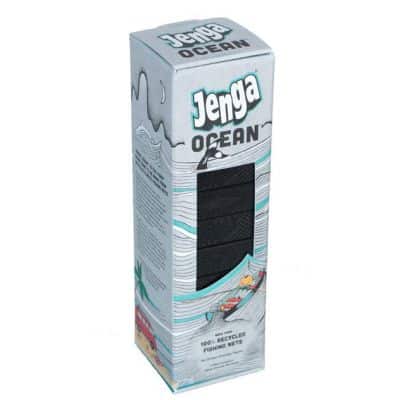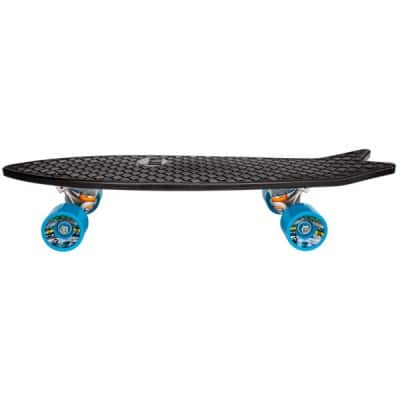 Bureo is an ocean company that makes products using discarded fishing nets. Its co-founders, David Stover, Ben Kneppers, and Kevin Ahearn, introduced Net Positiva, which is an incentive program for local fishing communities in Chile to collect plastic fishing nets from the ocean.
These discarded nets are cleaned, separated by material type, and sent to their processing facility to be melted into NetPlus® recycled pellets. The pellets are then formed into quality products. Bureo works with companies to incorporate these NetPlus® recycled plastic net pellets into their supply chain.
They've worked with Patagonia to integrate the recycled material into their hat brims and textile. Humanscale has made the first ergonomic task chair made with recycled fishing nets. With the help of Bureo, Costa Sunglasses came up with a sustainable eyewear collection. Carver Skateboards now sells a skateboard incorporating 50 square feet of recycled fishing nets.  And Jenga®  even has an ocean edition game made from 100% recycled fishing nets.  
Shop Bureo on EarthHero.
---
11. Pela Case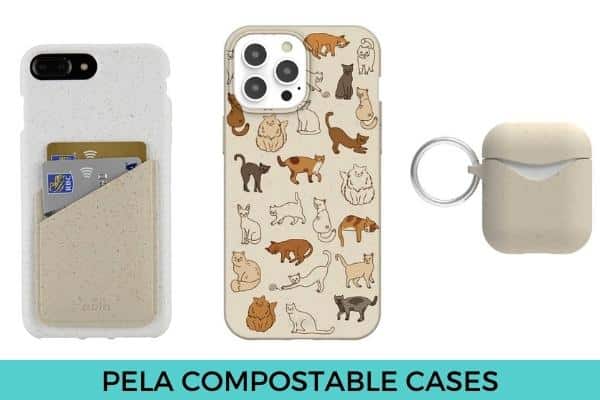 The story of Pela began in 2008 when Jeremy Lang was vacationing in Hawaii with his family and saw firsthand the damage plastic was doing to our oceans. When his son, Cole, dug up some plastic on the beach he knew that he had to do something to protect our planet not just for his children but for the future generation to come.
The opportunity to make a difference came when Pela saw a huge plastic problem the mobile industry was creating.
Every time you upgrade your phone or want a different look, you end up buying and throwing your mobile phone accessories. This contributes to the billions of plastic mobile accessories that end up in landfills and oceans.
To address this growing problem, Pela created the first-ever compostable phone case. Made from Flax shive and a plant-based biopolymer, you can style your gadgets in a more eco-friendly way.
With a vision to create a waste-free future, Pela Case also makes other sustainably made products that is better for the environment. Aside from Pela phone cases, they also make iPad cases, smartwatch straps, AirPods cases, Sunglasses, and more.
To date, they have sold millions of these biodegradable mobile cases which equate to 587,280 pounds of plastic that were prevented from entering the waste stream.
Click here to learn more about Pela Cases and Accessories.
---
12. United by Blue
United by Blue is a sustainable outdoor apparel brand founded by Brian Linton in 2010. This ocean company promises that for every product sold, they will remove one pound of trash from oceans and waterways. Through their company-organized and hosted cleanups, they have collected more than 3.6 million pounds of trash. 
As a Certified B-corporation, they are proof that fashion can be a force for good. United by Blue puts our blue planet first, through their commitment to sustainable materials, ethical manufacturing processes and zero-plastic policies. If you're looking for eco-friendly products for your adventures and travels, do check out United by Blue.
Shop United by Blue
---
13. Fourth Element
Among the biggest ocean advocates are surfers and divers. But when they engage in these sports, sometimes they have no choice but to wear neoprene wetsuits. This protects them from the cold waters but it is not exactly the most eco-friendly attire.
This is where Fourth Element's Ocean Positive Products comes in. Founded in 1999 by scuba divers Paul Strike and Jim Standing, they created an ocean company that not only used the latest fabrics technology but also addressed environmental issues that came along when building a business. 
Knowing the negative ecological impact of neoprene, this ocean-friendly brand made wetsuits and swimwear from recycled plastics from the sea. They use fabrics made from ECONYL® recycled Nylon and their "surface" wetsuit is made using natural rubber and recycled plastic bottles. When you wear a Fourth Element suit, you and the ocean will no doubt get the added layer of protection you both need.
Learn more about Fourth Element
---
14. Bracenet
Bracenets began in 2015 after Madeleine von Hohenthal and Benjamin Wenke stumbled upon ghost nets in one of their dives in Zanzibar. Ghost nets are abandoned fishing nets that end up polluting and killing millions of marine life each year. Every year, 640,000 tons of fishing nets are lost or dumped in our oceans.
What started out as a vacation, turned out to be the beginning of an ocean-conscious business venture instead.  They returned to Germany with their bags full of recovered ghost nets and they started making bracelets from them.
Today, Bracenets works with marine conservation organizations like Healthy Seas and Ghost Diving to recover the fishing nets that have been lost or intentionally sunk. The nets are cleaned, processed, then handmade into statement pieces to raise awareness about ghost nets and ocean conservation. 
Learn more about Bracenet.
---
If you love wearing or giving bracelets with a cause, check out this post about bracelets that save the ocean.
15. Nurdle in the Rough
Nurdle in the Rough is an ocean jewelry company that creates one of a kind piece made from recycled plastic and silver. It was started by Kat Crabill in Hawaii, after seeing the coasts and beaches in her home island littered with plastic. 
Wanting to raise awareness about the plastic problem and its impact on wildlife, she started gathering plastic pieces from the shores of Hawaii. She then combines these plastic pieces with recycled silver, creating beautiful statement pieces for anyone who wears them. 
Learn more about Nurdle in the Rough.
---
Looking for more beautiful jewelry? Check out my post on the most beautiful ocean jewelry for beach lovers and scuba divers!
---
16. Hulya Swim
Hulya Swim is an eco-friendly swimsuit company found by Hannah Patten and Christina Firestone. Using recycled fabric made out of recycled ghost nets and other ocean debris, they help clean the ocean one bikini at a time. Each of their recycled plastic swimsuit may contain up to 30 plastic water bottles. 
Hulya Swim is also a 1% for the Planet partner. This means that 1% of gross sales each year goes to organizations like Ocean Rescue Alliance and the 1000 Mermaid Project.
Learn more about Hulya Swim.
---
17. Sea Morgens
Sea Morgens is an eco-friendly swimwear brand founded by British dive instructor Michelle Morgan. With a degree in fashion design, she created swimwear collections that are fun, comfortable, supportive and environmentally friendly. After witnessing firsthand the negative effects of single-use plastics, she knew she needed to create a business that is ocean-friendly. 
Sea Morgens makes use of recycled polyester and recycled nylon for their swimwear range. The recycled polyester is made of 100% regenerated yarn from PET bottles. While the recycled nylon is made from ECONYL® regenerated from waste materials such as fishing nets and fabric scraps. 
Aside from creating sustainable swimwear for women, SeaMorgens have teamed up with Marine Megafauna Foundation. When you purchase from their manta ray collection, 5% of the profits are donated to support research and protection of these threatened species.
Learn more about Sea Morgens.
---
Swimsuits are great gifts for divers and ocean lovers. If you would like more ideas on what to get for female ocean lovers, check out my gift guide for women scuba divers.
---
18. Vissla
Vissla is an ocean-friendly brand founded by Paul Naude, who happens to be the former Executive Director of Billabong. This company makes eco-friendly boardshorts for surfers and ocean lovers.
Vissla's board shorts are made of a material called Cocotex®, which is a special blend of coconut husks and recycled Repreve®  polyester. Surfers can not only surf in style but also enjoy every wave knowing that their boardies are made from more sustainable material.
Shop Vissla on Amazon.
---
19. Riz Boardshorts
Riz Boardshorts makes swimwear tailored from 100% recycled and recyclable fabric. This ocean-friendly company was started by Ali Murrel and Riz Smith in London. Combining Riz's expertise on designing beachwear and Ali's passion for protecting the ocean, they decided to create beautiful and environmentally friendly boardshorts for men. 
They also offer a riz-cycling program where you are encouraged to donate your old unwanted shorts for them to repair, recycle or rehome. This keeps the boardshorts from entering the landfills. 
Riz Boardshorts also supports the work of Marine Conservation Society by organizing beach clean events and making a donation to their cause. For every pair of shorts sold,  £1 is donated for efforts to protect our marine environment.
Learn more about Riz Boardshorts.
---
These eco-friendly boardshorts make great gifts for men. For more gift ideas, check out my gift guide for men scuba divers.
---
20. Sea2See
Having witnessed the consequences of plastic contamination in many developing countries, François van den Abeele, founder of Sea2See, saw an opportunity to turn recycled marine plastic into a pair of glasses. 
In 2015, sustainable options were almost non-existent in the optical sector so Sea2See pioneered the use of recycled ocean polymer in the optical industry. This paved the way for more brands to consider using sustainable materials for eyewear. 
Sea2See is a business that helps our oceans by empowering fishermen in Spain, France, and West Africa to collect marine plastics. 100% made in Italy, each frame is equivalent to 1 kg of recycled ocean plastic. 
Learn more about Sea2See.
---
21. Ocean Sole
Ocean Sole is a social enterprise that helps save the ocean by upcycling washed up flip-flops found along the beaches and waterways in Kenya. The idea began when It's founder, Julie Church, saw children making toys from discarded flip-flops. She encouraged the mothers to collect, wash and cut the slippers and turn them into colorful products. 
The concept was a massive success that they now employ nearly 100 low-income Kenyans. Ocean Sole has positively impacted the lives of the locals as well as help the environment. They aim to recycle a million flip flops a year to turn into toys and sculptures to be sold all over the world. 10-15% of their revenue also goes into beach cleanups, educational programs, and conservation efforts.
Learn more about Ocean Sole.
---
22. Lava Rubber
If you're an ocean lover with vast collection of old neoprene wetsuits that you don't know what to do with, then check out Lava Rubber.  Headed by Michael Briody, this ocean-friendly company began it's recycling project in 2009. They collected old suits or neoprene scraps from surfers, scuba divers, surf schools, marine institutes, outdoor retailers and even neoprene wetsuit manufacturers. 
Through a special manufacturing process, the neoprene is turned into what they call "Lava Rubber." Instead of these resilient materials going into landfills and oceans, they are upcycled into other useful products. They currently sell upcycled products like slippers, outdoor mats, yoga mats, coasters, trivets, coasters and more. 
Learn more about Lava Rubber.
---
These sustainable online stores are helping our oceans by shipping plastic-free! If you need to buy some sustainable products, check out these stores you can also support!

USA: EarthHero | EcoRoots | Life without Plastic | Zero Waste Store | Zero Waste Outlet | Bamboo Switch | Me Mother Earth | Eartheasy

Canada: Zero Waste MVMT | Smile Boutiques | Etee Shop | Plantish Future

UK: Battle Green Box | Plastic Free Zone | Bambootique UK

For more recommendations, you may also search my List of Zero Waste Stores Online to find the best eco-friendly shop nearest you.
Pin this for later!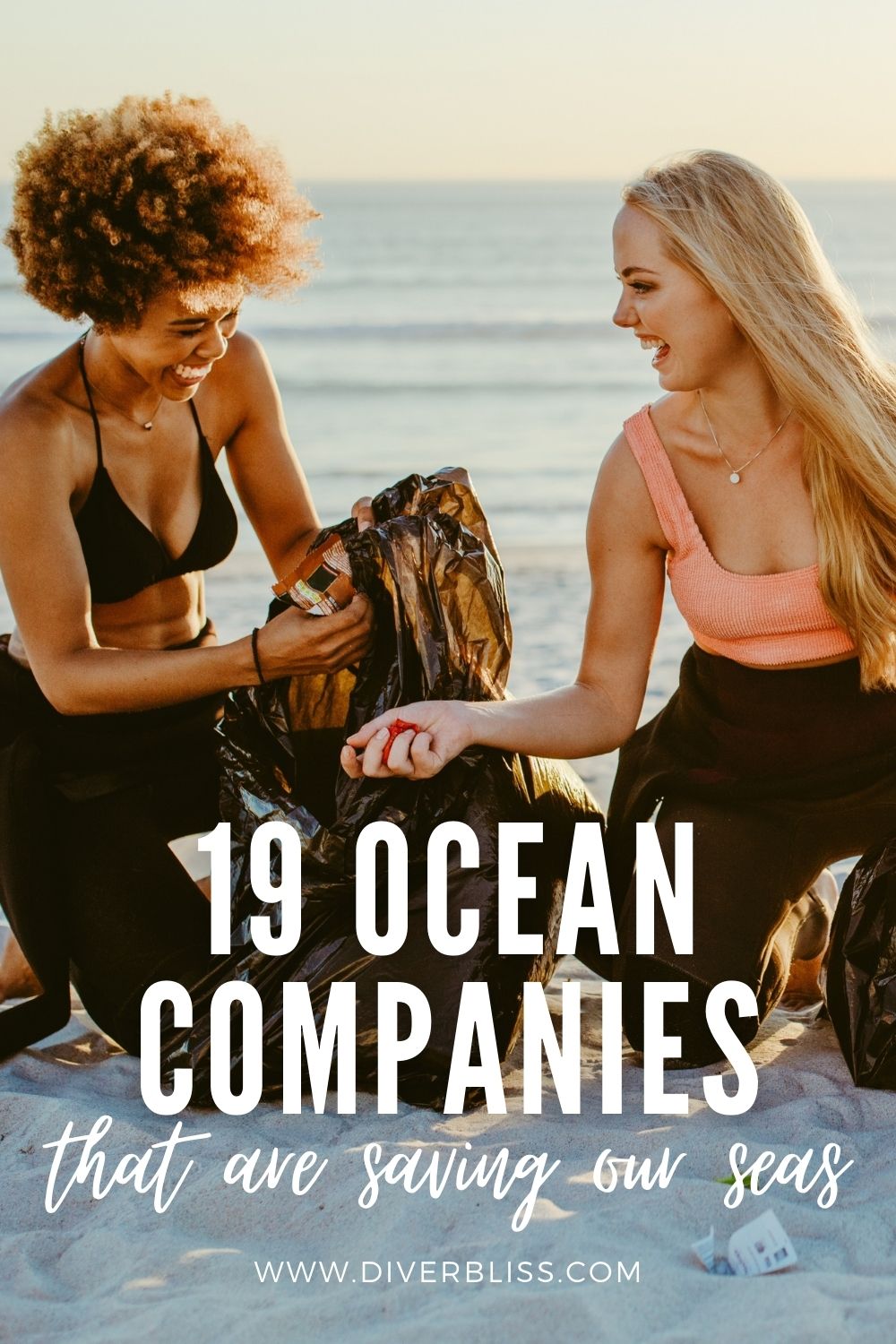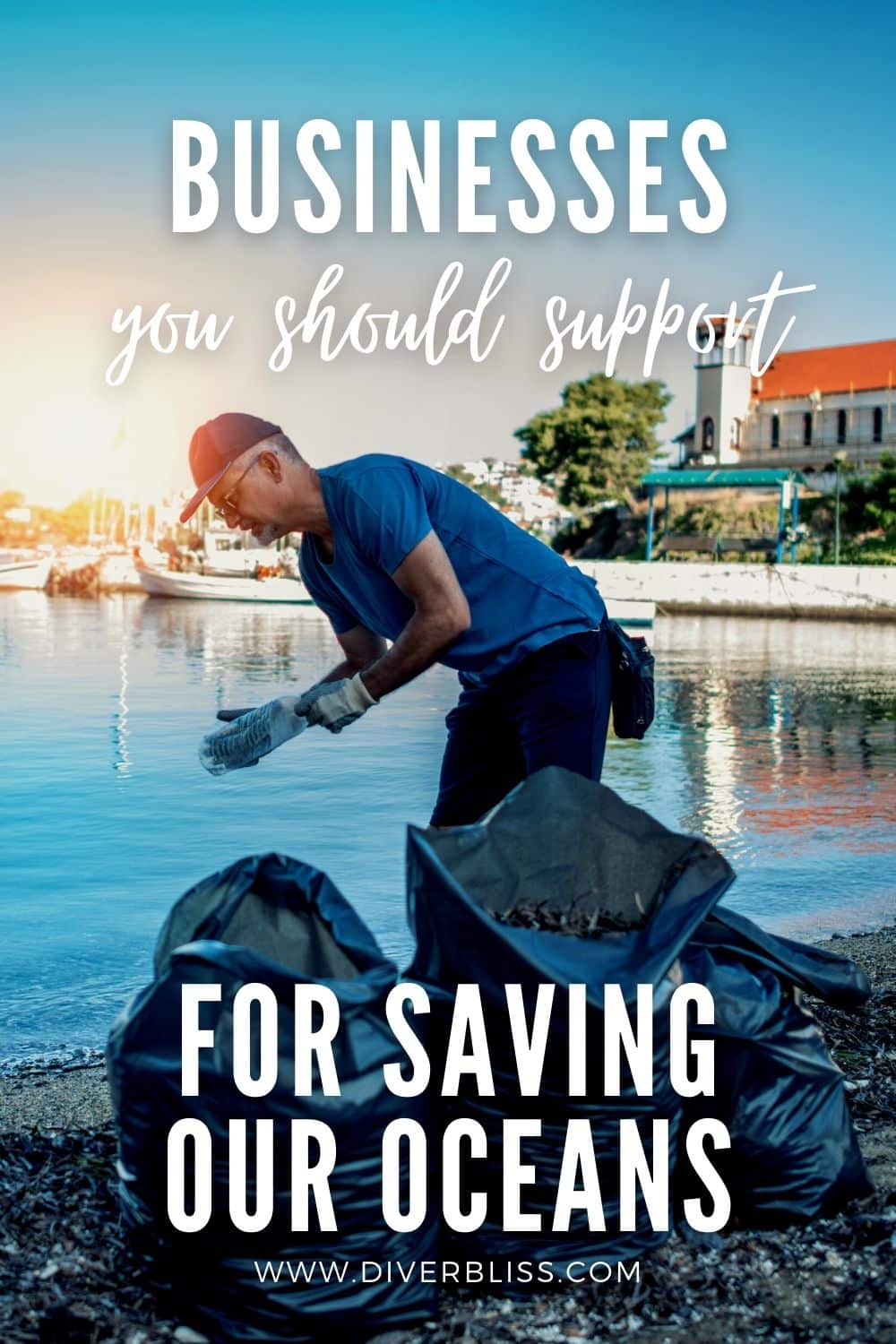 If you are looking for brands and businesses to support, I highly encourage you to buy from these ocean-friendly enterprises instead. Perhaps the next time you need to buy an article of clothing, a fashion accessory, or a gift for yourself or someone else, you can support a business that supports our ocean. 
I hope these ocean companies and the people behind them have inspired you to take action towards the protection of our seas. By saying no to plastic or supporting businesses and organizations that fight against it, you are making this world a better place. Remember that by using your own talents and unique set of skills you too can make a difference for the ocean.
Zero waste and eco-friendly guides you might want to read:
60+ Best Online Zero Waste Stores and Eco-friendly Shops
45 Easy Zero Waste Swaps for a Plastic Free Life
15 Best Zero Waste Starter Kits and Bundles
21 Zero Waste Travel Essentials
101 Ways to Say No To Plastic
Best Zero Waste Subscription Boxes
Best Zero Waste Reef Safe Sunscreen
Best Zero Waste Shampoo and Conditioners
Best Eco-friendly Hair Brushes and Combs
Best Zero Waste Period Products
Amazing Ocean Companies Saving Our Seas
10 Saving the Ocean Bracelets
27 Best Environmentalist Gifts: What To Get An Eco-friendly Person
What other ocean companies have you heard of and should have our support? What brands have you come across that are helping protect our seas? Do you have a for the ocean business idea you want to start? Leave a comment below!