If you've been diving for a while now, you've probably observed that divers are an eclectic mix of people bound together for their love of the underwater world. So, it's really not surprising that scuba instructors around the globe have created their own dive courses to cater to the diverse and growing community of divers.
Written by PADI instructors who have special scuba diving interest and expertise, PADI Distinctive Specialties offer a unique learning experience for divers who take them. These specialty dive courses are usually exclusive to a dive instructor or a dive area and require approval from PADI before it is offered to scuba divers. 
According to PADI, there are thousands of distinctive specialty courses all over the world that provide one-of-a-kind scuba diving experiences. The list of PADI distinctive specialties is so extensive that even PADI doesn't have a publicly published roster of all the distinctive courses out there.
So naturally, this made me curious.
In my research, I've found various lists of uncommon dive courses featuring a mix of fun and educational to unusual and outlandish.
One of the PADI distinctive specialty course list I saw, includes certifications like Underwater model, Underwater Pilot, Lava Tube Diver, Backpack Propulsion, Golf Ball Diver, Spacesuit Diver, Sinkhole Diver, Railroad Yard Diver, Sand Pit Diving, Underwater Game Player, Underwater Hockey, Underwater Wedding, Underwater Basket Weaving, and many more! (Source: PADI Blog)
Although, I wouldn't mind becoming a PADI Zombie Apocalypse Diver (because you just never know, right?!), I honestly don't see myself paying to get certified as an underwater basket weaver!
As my passion lies in learning more about marine life and ocean conservation, I would much rather put my time and money into scuba courses that are more aligned with my interests. So if you are like me, and you are a diver passionate about the different animal species of our seas and how to protect them, then you will absolutely love this amazing list of distinctive specialty courses.
Here are some of the best PADI Distinctive Specialties for scuba divers who love marine life. 
1. Manta Ray Diver Distinctive Specialty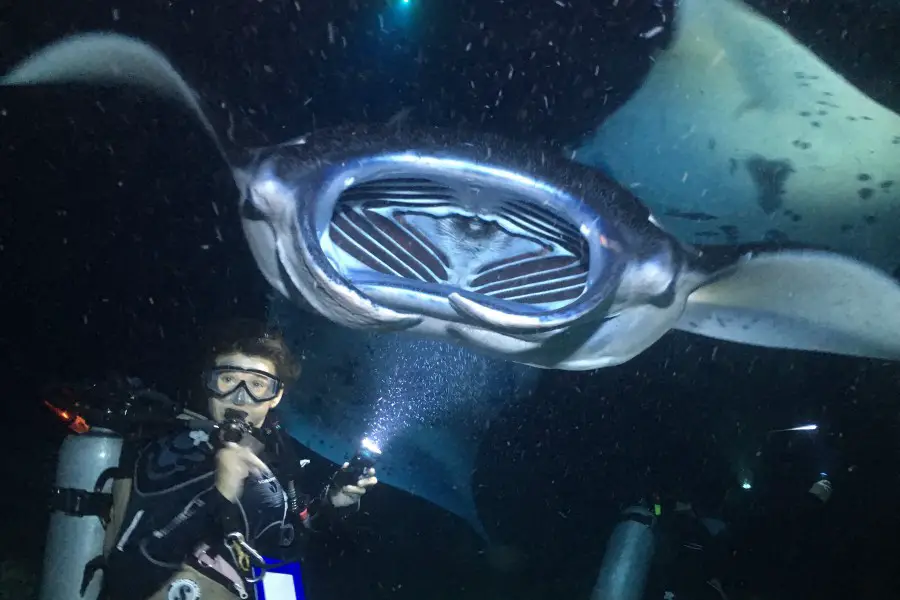 The PADI Manta Ray Diver Distinctive Specialty is a course aimed to familiarize divers with the skills, knowledge, hazards, and enjoyment of diving with manta rays. Since its launch in 1993, over 785 scuba divers have been certified as a Manta Ray Diver. 
The course was created by Wendy and Keller Laros who also co-founded the Manta Pacific Research Foundation, a non-profit organization is dedicated to research, education, and conservation of manta rays. In 2009, Manta Pacific was instrumental in enacting legislation making it illegal to kill or capture manta rays in Hawaii.
Nowadays, Wendy and Keller are more active in the manta ray conservation but the course they created is still offered exclusively in Jack's Diving Locker. Through the other Manta Ray Diver instructors, that Keller himself trained, you can expect the best manta ray education and experience when you take this PADI distinctive specialty course. 
The PADI Manta Ray Diver Distinctive Specialty costs USD 275 which includes a classroom session and two open water scuba dives. The course can be completed in one day. 
During the hour-long classroom session, you will learn about manta rays anatomy, scientific classification, defense behaviors, reproduction, feeding, and cleaning habits. 
After learning about the manta rays, you will be given a general dive briefing which teaches you proper techniques you should use when in the presence of manta rays. Students are taught conservation guidelines for snorkeling and scuba diving with manta ray. 
By the end of this distinctive specialty course, you should be able to identify individual manta rays and distinguish its gender. 
If you are interested in taking this course you should at least have an Open water or Junior Open water certification. You can take the course any time of the year as manta rays are found throughout Hawaii the whole year round. Weather in winter (November to April) may be colder and rougher from north swell so diving during this time might be more challenging for some. 
To learn more about this PADI distinctive specialty course, please get in touch with Jack's Diving Locker.
If you want to learn more about manta rays, check out my post on Manta Ray vs Stingray: How To Tell Them Apart
---
2. Thresher Shark Diver Distinctive Specialty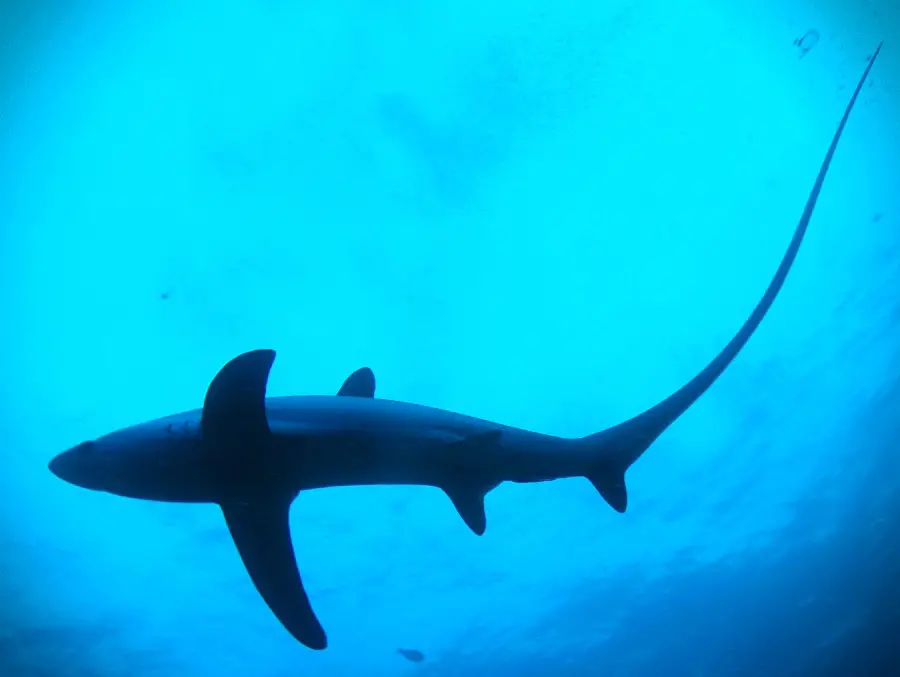 The thresher shark, or Alopias pelagicus is a type of mackerel shark or Lamniformes known for its huge scythe-like tail. Thresher sharks normally live in deep water and are nocturnal (night creatures), so they are not often seen by divers. 
However, if you travel to a tiny island in the Philippines called Malapascua, you can dive with thresher sharks almost every day. These amazing creatures can be found in Monad Shoal which serves as a feeding and cleaning station for the thresher sharks. 
Because of the high probability of seeing these elusive sea creatures, many divers travel to Malapascua just to see them. This gave Andrea Agarwal, owner and founder of Thresher Shark Divers the unique opportunity to do hundreds of dives with the sharks. After learning about them and consulting with PADI's educational consultants, the PADI Thresher Shark Diver Distinctive Specialty was born 
Since its creation in 2004, Thresher Shark Divers have certified more than 500 divers with this distinctive specialty. 
The course includes two academic presentations and two dives at Monad Shoal for PHP 8,500 or USD 175.
The first presentation focuses on the basic shark fundamentals like shark classifications and evolution, shark biology, social behavior, reproduction, and conservation. The second presentation goes in-depth and focuses on the thresher shark's biology and behavior. These are followed by 2 dives open water dives.
Applying what you've learned in the presentations, you will lead a dive in search of sharks and observe the thresher sharks you encounter. Afterward, you will add the information you've gathered to a shark database. 
Because the thresher sharks are usually found at 30-40 meters, Advanced Open Water or Deep Adventure Dive (or equivalent courses is a requirement for this certification. Nitrox is also recommended but not required. Weather permitting, you can become a certified Thresher Shark Diver within two days. 
If you wish to learn more about this PADI distinctive specialty, you may contact Thresher Shark Divers as they are the only dive shop offering this course. 
Heading to the Malapscua to see the thresher sharks? Read these posts to help you plan your trip:
Malapascua Diving: Ultimate Guide for Scuba Divers
List of 100 marine life in the Philippines you must see.
---
3. Vietnam Nudibranch Distinctive Specialty Course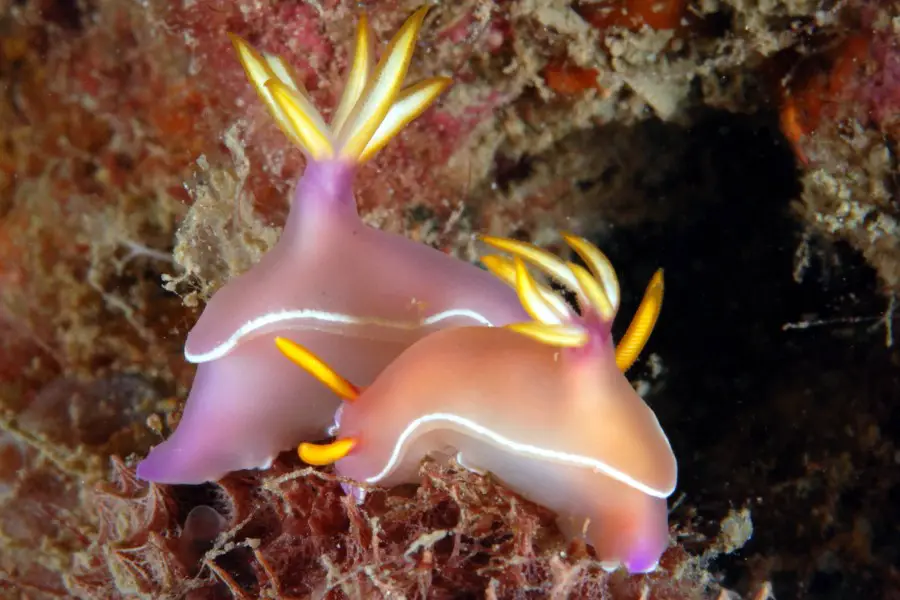 Do you love seeing nudes? Then, the PADI Vietnam Nudibranch Distinctive Specialty Course is the course for you! 
Developed by Jeremy P. Stein, a PADI Course Director and owner of Rainbow Divers-Vietnam, this specialty course is designed to be an introduction to the fascinating, but often overlooked realm of nudibranchs. Vietnam has a huge population of nudibranchs, many of which have yet to be recorded in reference manuals. The diverse families and species of nudibranch found in Vietnam makes it a great place to learn about these wonderful sea creatures.
The Distinctive Specialty – "Vietnam Nudibranch Specialist" –  includes knowledge development and 2 open water dives, which may be conducted in one day. Most divers are oblivious to these intriguing, beautiful critters, but after taking this course, you will have a better appreciation and understanding of them.
By the end of your course, you should be able to recognize and identify at least 3 different families and 10 different species of Nudibranchs. You should be able to explain what nudibranchs are, where they live and eat, how they reproduce and how they defend themselves. Divers taking this course should also be able to demonstrate appropriate & responsible diving practices & behaviour to minimize negative environment effects.
To become a Vietnam Nudibranch Specialist, the minimum requirement is to be a certified PADI Open Water Diver, PADI Junior Open Water Diver, or have equivalent or higher ratings. Qualified divers as young as 10 years of age can take this course for VND 5,000,000 (USD 220)
The course can be done the whole year round exclusively at Rainbow Divers, where they've certified more than a thousand Vietnam Nudibranch Specialists since 2005. 
Jeremy recommends looking for nudibranchs in Nha Trang and Whale Island from March to November,  Phu Quoc Island from October to March, and Con Dao Island from March to September. 
For more details on this PADI distinctive specialty course, you may contact Rainbow Divers.
Obsessed with sea slugs? Check out these 22 Best Nudibranch Gifts for Sea Slug Lovers
---
4. CoralWatch Coral Health Chart Distinctive Specialty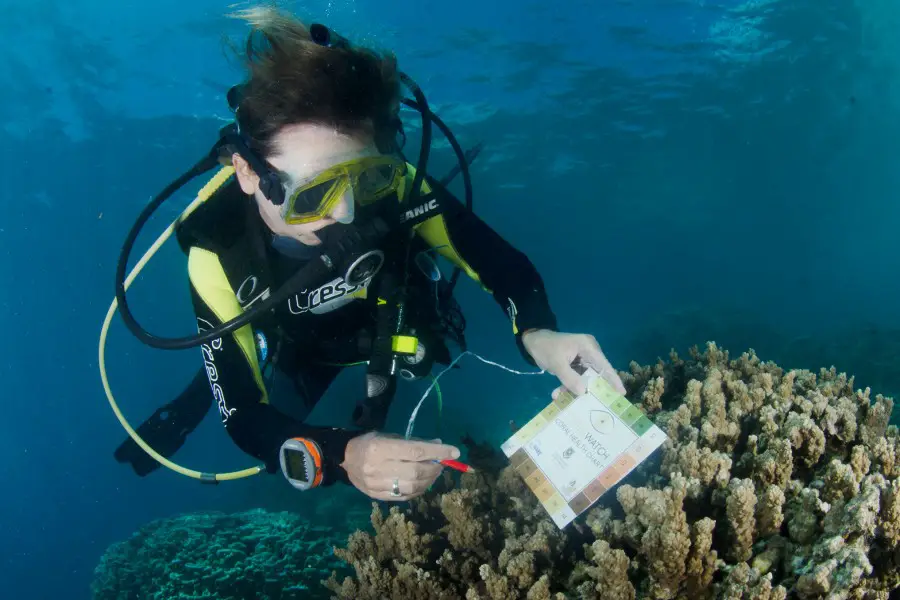 The PADI CoralWatch Coral Health Chart Distinctive Specialty was created to empower divers and snorkelers in coral monitoring. Created by Chris Roelfsema and Diana Kleine in 2010, the distinctive specialty teaches individuals to collect and submit data on coral reef health in their local area. 
By delegating these tasks to divers and snorkelers, scientists are able to collect information from as many places as possible over time. This helps better understand local and global patterns of bleaching and recovery and in turn, allows stakeholders to make well-informed decisions to best protect our reefs.
Because monitoring should be done the whole year round, you can actually take the course anytime. In fact, both divers and snorkelers can take this course. The minimum requirement for divers is you should be an Open Water Diver, while snorkelers need to be competent swimmers. 
During the course, students will be taught about corals, how to identify corals, why the reefs are important, and what are the common threats to coral reefs. You will learn about coral bleaching and how to monitor corals using the Coral Health Chart. 
You will learn how to get involved in a safe and non-invasive coral reef monitoring program which includes planning, organizing, and executing a coral health chart survey. And lastly, you will learn how to submit coral health data which contributes to science and conservation efforts. 
There are many dive schools that offer this course so the prices may vary depending on where you take it, you may contact CoralWatch for further information.
---
​5. Mola Mola Awareness Specialty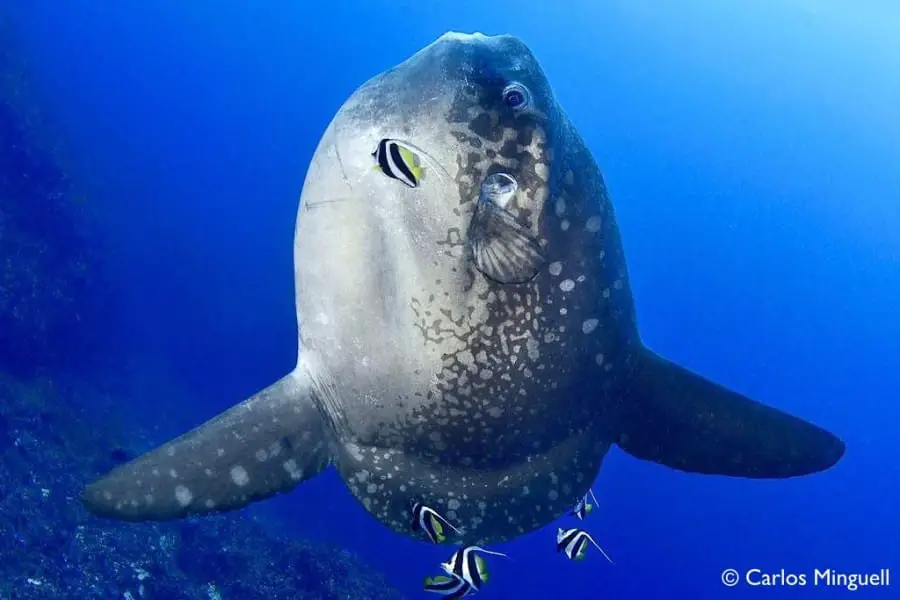 If the mola mola, also known as ocean sunfish, is on your dive bucket list, there's a good chance of seeing them in Nusa Penida, Bali, Indonesia. While there are plenty of dive shops that can take you to see these elusive creatures, it is only at Tamarind Divers where you can take a PADI distinctive specialty course that will teach you extensively about the biggest bony fish in the sea. 
Written by Paul Spratt in 2012, The PADI Mola Mola Awareness Specialty introduces you to this very special marine wildlife. The course covers topics about the mola species' key characteristics and behavior. It introduces you to the 5 different species of the mola family, with a focus on the Bali mola.
As a course that is endorsed by Project Aware, the PADI Mola Mola Awareness Specialty course also tackles the issues that are placing these wonderful creatures at risk. Divers who take this specialty learn how to properly interact with molas and how to protect them. When Paul created the course he hoped that his students would become champions for ocean conservation and protection,  most especially for the magnificent sunfish. 
To date, 26 divers have been certified with this distinctive specialty. If you want to be the 27th member of this exclusive club, the only prerequisite is that you are at least an open water diver. Having an Advanced Open Water certification would be beneficial as molas are often found in the 15 – 30 meter range. 
The price of the PADI Mola Mola Awareness Specialty is IDR 2,200,000 / USD 160. This includes the presentation, a manual, 2 dives, and all dive equipment rental. You can complete the course in one to two days, and you may even do the knowledge presentation in advance via a Zoom call. The best time to take the course is from July to October, when most Mola mola sightings in Nusa Penida occur.
If you wish to learn more about this unique PADI course, you may contact Tamarind Divers.
6. Coral Reef First Aid Distinctive Specialty
Written by Mark Goldsmith (PADI Course Director) in collaboration with Fundación Grupo Puntacana, the PADI Coral First Aid Distinctive Specialty teaches divers the principles and techniques needed for coral reef restoration. Approved by PADI in 2014, over 100 student divers have taken this course to help save our coral reefs.
The PADI Coral First Aid Specialty Course educates divers about the importance of coral reef particularly in developing countries and attempts to explain some of the reasons for the continuing depletion of the world's coral. The purpose of the course is to train recreational divers and various fisheries managers to become more directly involved in caring for these valuable resources. As traditional conservation techniques are no longer sufficient to stop the continuing degradation of the reefs, a more active role in coral conservation is necessary.
This distinctive specialty teaches recreational divers a restoration method known as Coral Gardening. Divers taking this course are taught how to rescue wild coral samples and grow them in a protected setting. After a short growing period, the tissues are returned to degraded reefs to promote natural sexual reproduction.
Since coral gardening is done in shallow water, the course can be done the whole year-round. However, you might need 2-3 days to complete the PADI Coral First Aid Specialty Course.
If you are interested in this certification, you need to be a PADI Open Water Diver and at least 12 years old. The course is currently being offered in Dominican Republic, Barbados, Grenada and possibly in some other islands in the region, as Mark had trained 14 others instructors to teach the PADI Coral First Aid Specialty Course. Price range for this course is between USD 200-300 depending on the number of students, as well as the instructor and dive location.
For more information about this distinctive specialty, you may contact Mark through Blue Vision Adventures.
---
7. Frogfish Specialist Course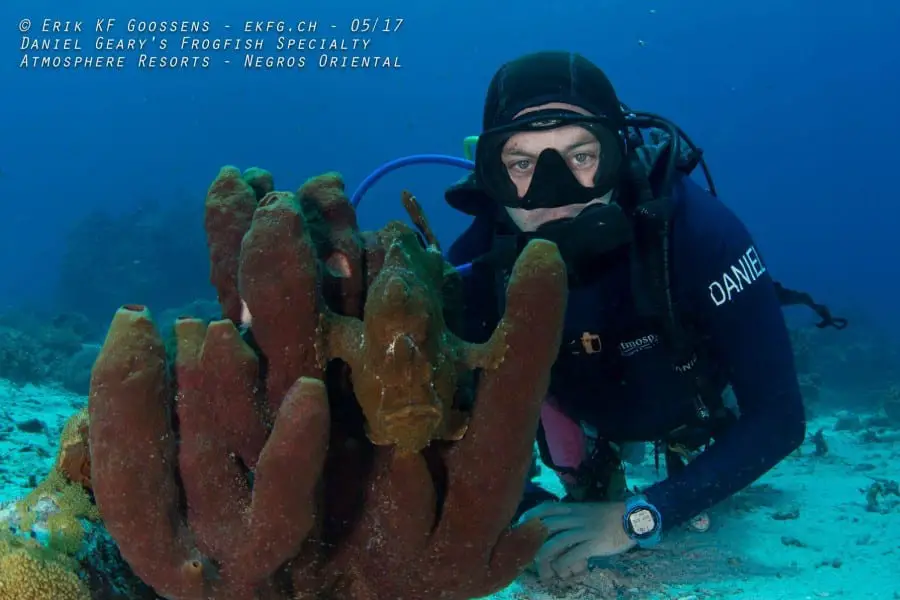 One might wonder, why would anyone want to learn about frogfish? 
Well, as it turns out this peculiar and weird-looking creature gets much love and attention from scuba divers. Frogfishes are so popular that in just a short span of 5 years,  Daniel Geary, known to many as Dr. Frogfish, has managed to certify over 130 PADI Frogfish Specialists in Dauin, Philippines. 
When asked why he created this course, he shares,
When you take the PADI Frogfish Specialist Course, you will be taught important scientists and discoveries, as well as, frogfish biology and ecology. The course also covers frogfish photography tips as they are after all a favorite subject of many underwater photographers. 
This PADI distinctive specialty course can be completed within one to two days. During this time you will have to attend a 1.5-hour classroom session, do two dives, and have a debriefing. By the end of the course, you should have at least a basic knowledge of a frogfish's life and behavior,  as well as the ability to identify 10 species with the use of a frogfish identification guide.
According to divers who took this course, they had become better at finding frogfish in their dives. (Sign me up please!)
If you want to earn the unique title of Frogfish Specialist, the only prerequisite is that you must be a  PADI Open Water (or equivalent) or PADI Junior Open Water (or equivalent) Diver. Being an advanced open water diver and nitrox certified can help increase your bottom time to find more frogfish! 
While you can find frogfishes in Dauin the whole year-round, it is recommended that you take this course between April and July. During these months, you can expect to see anywhere from 8 to 30 frogfish found over the two dives. 
Currently, PADI Frogfish Specialist Course is taught exclusively by Daniel in multiple dive resorts in Dauin. It costs PHP 7000 (USD 150) on top of your dive package. The dives, nitrox, and marine park fees are paid separately as this would depend on which dive shop you choose. 
To learn more about this course, you can read this interview with Daniel Geary on the PADI Frogfish Specialist Certification. Or you may directly get in touch with Dr. Frogfish on Instagram.
Want to learn more about diving in Dauin? Read my guide on muck diving in Dauin.
---
8. Pelagic Magic Diver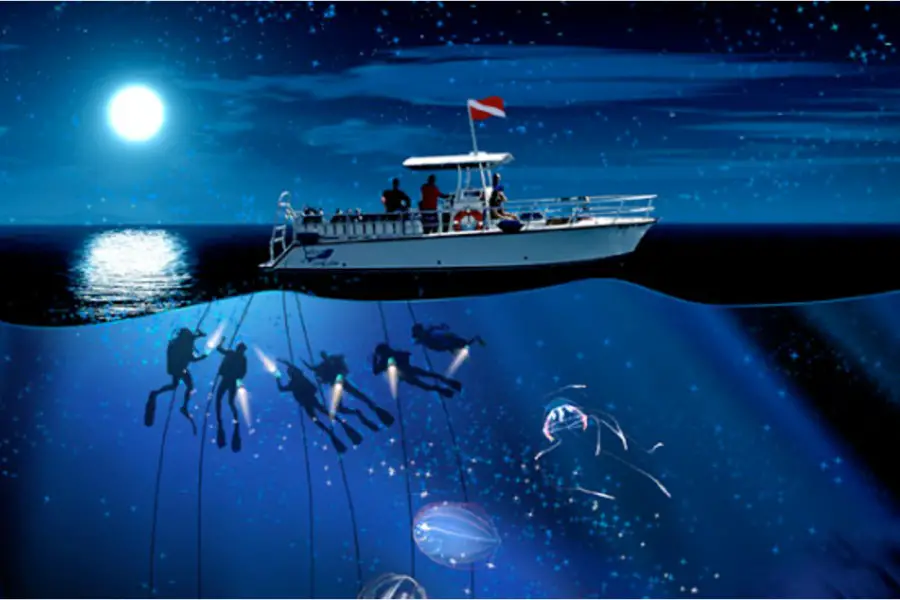 Every evening small marine organisms migrate from the chilly depths of the ocean to the surface waters. Divers, who are brave enough to suspend themselves in the dark abyss, are rewarded with extraordinary encounters of the weirdest and most wonderful pelagic critters of the sea. 
This type of diving is called blackwater night dive. It is gaining popularity around the world because of the bizarre animals you could see in the open ocean at night. If you are interested in learning how to safely do this and learn about the pelagic creatures you can encounter, then you should consider taking the PADI distinctive specialty course called Pelagic Magic Diver. 
Created by Jeff Leicher in 2016, this course teaches you how to use the tether system to safely enjoy blackwater night diving. Without the tether system as a "safety net" it's quite conceivable that divers could be lost from the boat or exceed safe depth limits. Because most divers have never been tethered on a dive, a good portion of the course focuses on learning how to use this mechanism. 
The PADI Pelagic Magic Diver will teach you how to adapt your vision to see the maximum amount of marine life during your night dive. You will also learn about the aquatic animals you are likely to see. And most importantly, you will learn how to avoid injury to yourself or the fragile pelagic ecosystem you will encounter.
If you wish to take the course and join the ranks of the other 65 divers who have been certified as a Pelagic Magic Diver, you must first be a certified open water diver. Jeff also recommends that you complete at least one night dive prior to doing the course. 
The PADI Pelagic Magic Diver Certification costs USD 450 which covers the fee for a formal classroom presentation, and two ocean boat dives at night. You can take the course all year round, but on rare occasions, the dives can be canceled due to high winds. 
To learn more about the Pelagic Magic Diver Distinctive Specialty Course, you may contact Jack's Diving Locker. The course is exclusively offered through them. 
Are you scared to dive in the dark? Here's a post about what night diving is like.
---
9. Crown of Thorns Management Divers Course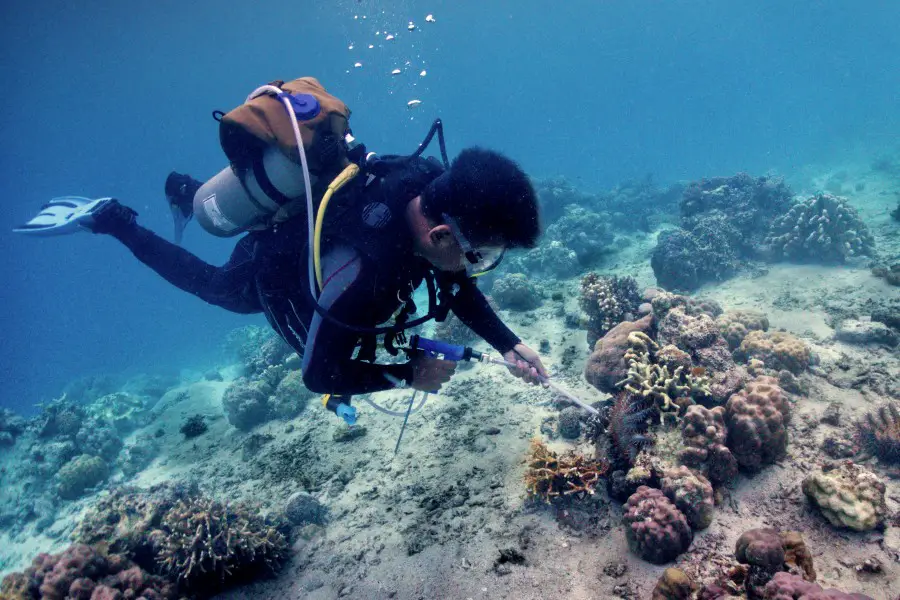 Approved by PADI in August of 2019, the Crown of Thorns Management Divers Course is one of the newer distinctive specialties on this list. Created by Lee A Ricketts, the course aims to educate divers about the Crown of Thorns Starfish and how to handle them in case of an infestation.
If you are not familiar with these species, the crown of thorns (Acanthaster planci), is a large echinoderm covered in thorn-like spikes that preys upon coral. Also known as COTs, these starfish have been known to annihilate large areas of coral reefs.
In many places around the world, like the Philippines where the course was created, it becomes problematic when the crown of thorn population grows out of control. While COTs play an important role in the ecological balance of the reef, in many cases they do a lot of damage by eating large amounts of corals in just a short period of time. 
Divers who take this PADI specialty course will learn about the Crown of Thorns species and the correct procedures to manage an outbreak. You will learn the correct methods for COTs monitoring so that you can track the progress and impact of your Crown of Thorns management efforts. 
If you live in an area where COTs outbreaks are common, then you will find this course informative and useful. The minimum requirement for certification is that you are at least 18 years old, a certified PADI Open Water Diver with at least 15 dives. 
The course costs PHP 12,500 (USD 260) which include the course material, assessment dive and 2 open water dives. You may take the course whole year round, and if there are no crown of thorns infestation, then, yay! Otherwise, a dummy COTs will be used for practice. 
For more details, you can contact Alegria Dive Resort in Cebu, Philippines where it is exclusively offered.
---
10. Whale Defender Distinctive Specialty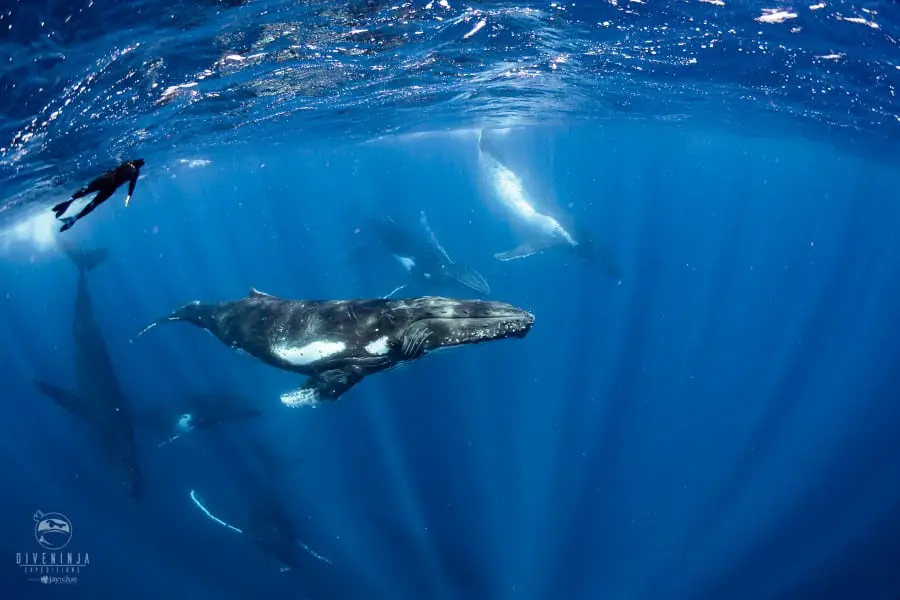 Whales play multiple, critically important roles in the health of our planet. In recent years researchers and scientists have begun to understand more how these remarkable creatures do so much to benefit life on earth. They help us combat climate change and are essentially a trillion-dollar asset to humanity in the eco-services they provide us.
But juxtaposed against the long, dark, and twisted, history of human and whale interactions, highlights why we need to act now. We need to be better at sharing our planet with the rest of its inhabitants, both above and below the water.
In 2020, the PADI Whale Defender Distinctive Specialty was created to inspire students to get involved in protecting whale populations around the world. Co-authored by Jay Clue, Mario A. Escalara, Maria Laura Marcias of Dive Ninja Expeditions in Los Cabos, Mexico, the course challenges you to critically think about marine conservation, and to take action towards helping protect whales, as well as our planet, in general.
The Whale Defender Distinctive Specialty course starts off by looking at how whales evolved into the beautiful ocean giants we know and love today. The course takes a look at the intertwined history of whales & humans; from ancient stories of sea monsters to the commercial whaling age.
As a whale defender, you will learn about the vital roles whales play in our oceans. Then, you will take a look at the current threats whales are facing today, what's being done to preserve their populations, and most importantly – how you can help protect these remarkable titans of the sea. Individuals who complete the course are trained to contribute to whale citizen science projects that help in the understanding of whales & cetaceans.
The course was designed as a dry course without any prerequisites. Anyone interested in whales could take part and learn more about them. Non-divers and divers, as well as children and adults, can take this ocean conservation course. You can take the course anytime. In fact, for those currently unable to travel, you can even take the course online through the Whale Defender Specialty Instructors who were exclusively trained by Dive Ninja Expeditions.
The PADI Whale Defender Distinctive Specialty certification costs USD 130. This covers the theory and workshop sessions with an experienced Dive Ninja instructor, as well as the PADI certification fees.  A donation also goes to support Project AWARE's ocean conservation work. For an additional fee, you may join a whale watching & whale swimming activity where it is legal.
The waters around the Baja peninsula are said to be home to more than one-third of the world's marine mammal species, making it one of the best places for whale interactions. If you want to take the course during whale watching season in Los Cabos & Baja California Sur, the best time is from mid-December through mid-April when you can see over 5 species of whales!
For more details about becoming a Certified Whale Defender, you can get in touch with PADI Torchbearer and Dive Ninja Expedition Founder, Jay Clue.
(Credit: Whale Photo by Jay Clue  for Dive Ninja Expeditions)
Are whales your favorite marine animal? You might also enjoy these posts:
10 Best Adopt a Whale Programs That You Whale Love!
25 Best Whale Gifts for Adults
---
While many of the distinctive specialty courses are exclusively offered in one dive shop or taught by one or a few instructors, there are some exemptions. Because of its popularity and necessity, some courses have been made available to other locations.  
Such courses are the PADI Shark Conservation Diver, Sea Turtle Awareness, Whale Shark Awareness, Coral Reef Conservation, and Invasive Lionfish Trackers Courses. If you are interested to take these courses, it is best to contact the nearest PADI center near you.
---
11. Invasive Lionfish Tracker
Mainly native to the Indo-Pacific region, the lionfish has become one of the most invasive species in other regions of the world. In places like the Atlantic Ocean, Gulf of Mexico, and the Caribbean, the lionfish do not have natural predators, so its population can grow at alarming rates. Lionfishes will literally eat their way through the reefs, decimating the native fish stocks and species that are endemic to these regions.
The lionfish invasion into these regions has been described as "the most devastating marine invasion in history." It was for this reason that Stephanie Wallwork, created the PADI Invasive Lionfish Tracker course in 2011.
Scuba divers as young as 15 years old with an Open Water Certification or equivalent can take this course. As an Invasive Lionfish Tracker, you will learn about the lionfish species and the negative effects it has on the reef in your region. You will learn how to safely capture a lionfish and remove them from the reef to prevent further damage.
The course will teach you how to properly carry and use the capture equipment without impeding the dive. This includes training to successfully collect and transport the lionfish to the surface without incident and injury. And then, you will also be taught how to euthanize any captured lionfish.
While the course originated in Turks and Caicos, this PADI specialty course has been taught throughout the region so more scuba divers can protect the reefs from the invasive lionfish. If you are diving in locations where lionfish are considered to be an invasive species, you should ask your local dive shop if they offer this course.
If you would like to gain your certification from the author of the course herself, you may contact Stephanie of Aqua TCI in the Turks and Caicos. Through them, the PADI Invasive Lionfish Tracker costs USD 335 per person, with a minimum of 2 people. The course includes your 2 dives, equipment, Nitrox for the second dive, all processing fees, manual, and a donation to the TCI Reef Fund.
---
12. AWARE Sea Turtle Conservation
For sea turtle lovers, PADI AWARE has created a Sea Turtle Conservation course so you can learn about basic sea turtle identification and conservation. The course will introduce you to the 7 sea turtle species common in the temperate or tropical waters and provide you with the knowledge and skills needed to identify turtles and record sightings.
Divers who take this course will have a better understanding of the importance of sea turtles to marine biodiversity. You will learn about the challenges faced by these endangered species and how you can help them thrive in the ever-changing marine environment.
The Sea Turtle Conservation distinctive specialty course also includes 2 open water dives where you get to put your sea turtle ID knowledge and skills to the test. As this is a course endorsed by Project AWARE, you will learn how you can protect sea turtles on a local and global scale.
If you're at least 10 years old and Open Water Diver or higher, you can enroll in the AWARE Sea Turtle Awareness Distinctive Specialty Course. You can check your local PADI dive center on where to best take this course.
Do you love sea turtles? Check out these posts:
10 Best Adopt a Sea Turtle Programs That Are Turtley Awesome
Unique Sea Turtle Gifts: 31 Gift Ideas for Turtle Lovers
Swim with Sea Turtles In The Philippines: 6 Best Places to Encounter Them
---
13. AWARE Whale Shark Awareness Distinctive Specialty
Learn about the largest fish in the sea by taking the AWARE Whale Shark Awareness Distinctive Specialty. This course familiarizes students with not only the physical characteristics, behavior and habitat of whales sharks but also conservation efforts for these gentle giants. You will also learn skills, procedures, and techniques, necessary when interacting with these gentle giants.
If interacting with whale sharks are on your bucket list then this is the course for you! Scuba divers as young as 12 years old with a PADI (Junior) Open Water Diver can get certified in this specialty.
The course includes two dives where you can practice passively observing these large creatures. You are expected to demonstrate how to safely dive with whale sharks, giving emphasis on buoyancy control, and recognizing and avoiding potential hazards within the environment.
To learn more about this distinctive course, you should contact a PADI dive shop near you.
Love whales sharks? These posts are for you!
10 Best Adopt a Whale Shark Programs That Protects Them
25 Best Whale Shark Gifts You'll Want For Yourself
9 Best Whale Shark Leggings For Your Active Lifestyle
​
14. AWARE Coral Reef Conservation Specialty
The AWARE Coral Reef Conservation Specialty is a non-diving certification course you can earn through PADI. Anyone interested in learning about the complex reef ecosystem can take this course.
Scuba divers, snorkelers or any ocean lover, can take sign up for Coral Reef Conservation Specialty. There are no prerequisites or age restrictions and diving involved to earn this certification. And some have even held online classes via Zoom so it is possibly one of the easiest certification you can earn.
By taking this course, you will learn, how coral reefs function, why they are important and why they are in trouble. The Coral Reef Conservation Specialty will help you appreciate the complexity of these habitats and will teach you how you can help conserve these vital systems.
Learn more about the PADI Coral Reef Conservation Specialty.
15. AWARE Shark Conservation
Do you love sharks and want to help protect them? Then the PADI AWARE Shark Conservation is the course for you. This course was designed to teach divers about the biology of sharks, understand the species and their evolution, and discover the important role they play in the marine ecosystem.
The shark dive course also tackles the threats and global issues that these apex predators are facing today. The purpose of the AWARE Shark Conservation course is to inspire you to speak up and act, and in doing so influence others to join the movement in protecting sharks.
To encourage more people to learn about sharks and how to save them, the Aware Shark Conservation Specialty Instructor and Study guides have been made available for divers and non-divers everywhere. This is only the course material so if you want to complete the course, you also need to complete 2 open water dives where you will learn responsible environmental guidelines for diving with sharks.
If you're a PADI (Junior) Open Water Diver who is at least 12 years old, you can get certified as an AWARE Shark Conservation Diver. As sharks are threatened world wide, this PADI specialty course has also been made more accessible and available to divers. You should contact your local PADI dive shop, if you are interested in taking this course.
Learn more about the AWARE Shark Conservation Course.
Love sharks? Check out these posts:
10 Best Adopt a Shark Programs that are Fin-tastic!
31 Best Shark Gifts That Are Totally Jaw-some!
Frequently Asked Questions About PADI Distinctive Specialties
What are PADI Distinctive Specialties?
PADI Distinctive Specialties are dive courses created by PADI instructors who have special scuba diving interests and expertise. These courses have been checked and approved by PADI and are often only offered to a specific local area.
Scuba divers who receive a PADI Distinctive Specialty Certification, can have their certification counted as one of the five specialties required for the PADI Master Scuba Diver Certification.
Why should you take a PADI Distinctive Specialty Course?
PADI Distinctive Specialty Courses are an excellent way to acquire knowledge and learn new skills in scuba diving topics that you are interested in. All over the world, you will find these unusual dive courses for all kinds of scuba divers. 
PADI Distinctive Specialties will also give you underwater experiences like no other. Especially when the courses have been written by instructors who are considered experts in their field, you can be sure to receive one-of-a-kind education and training.  
Because these unconventional courses are only offered in selected locations, only a few divers will hold the same certification as yours! In a way, having a distinctive specialty can be pretty exclusive! 
So, If you love collecting dive certifications, or crave for unique experiences in dive destinations you visit, then you should definitely check out the fun and unusual dive courses being offered in the local area. 
I am not certified under PADI, may I still take a PADI distinctive specialty course?
If you were trained under a different agency that is not PADI, you may still take a PADI distinctive specialty course. Your PADI dive instructor can check your dive certifications to check its equivalent to the PADI rating. If your certifications meet the prerequisites for the course, then you should be eligible to take it.
Can I write my own PADI distinctive specialty course?
If you are a PADI Scuba Diving Instructor, you may develop and teach a PADI distinctive specialty course. Aside from creating a course outline that is aligned with the PADI standards of diving, you should be able to show your background and experience in the course subject matter. For more details you should check this post for some tips on how to write a PADI distinctive specialty course.
Share this article to an ocean-loving, scuba diving friend, OR pin these for later!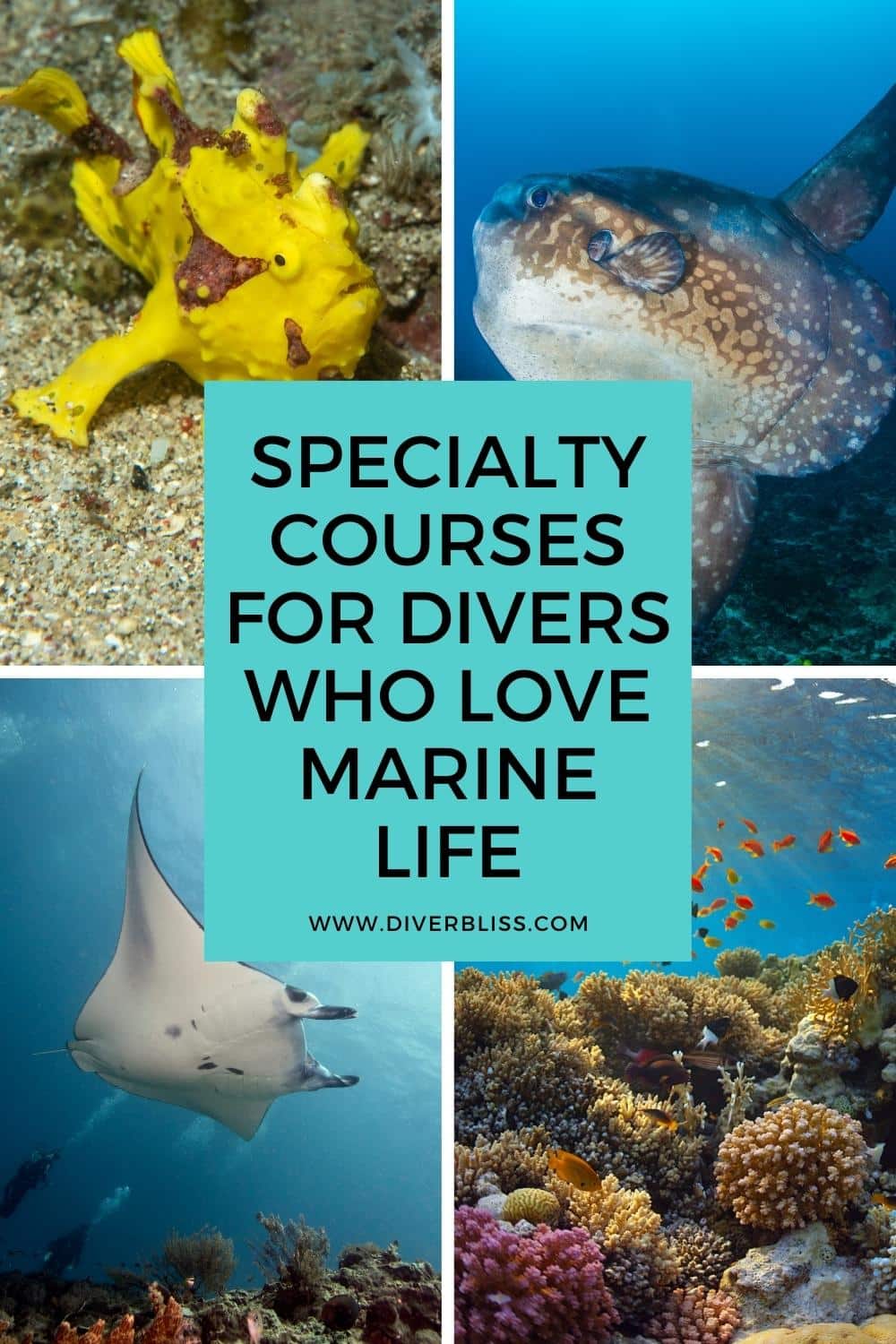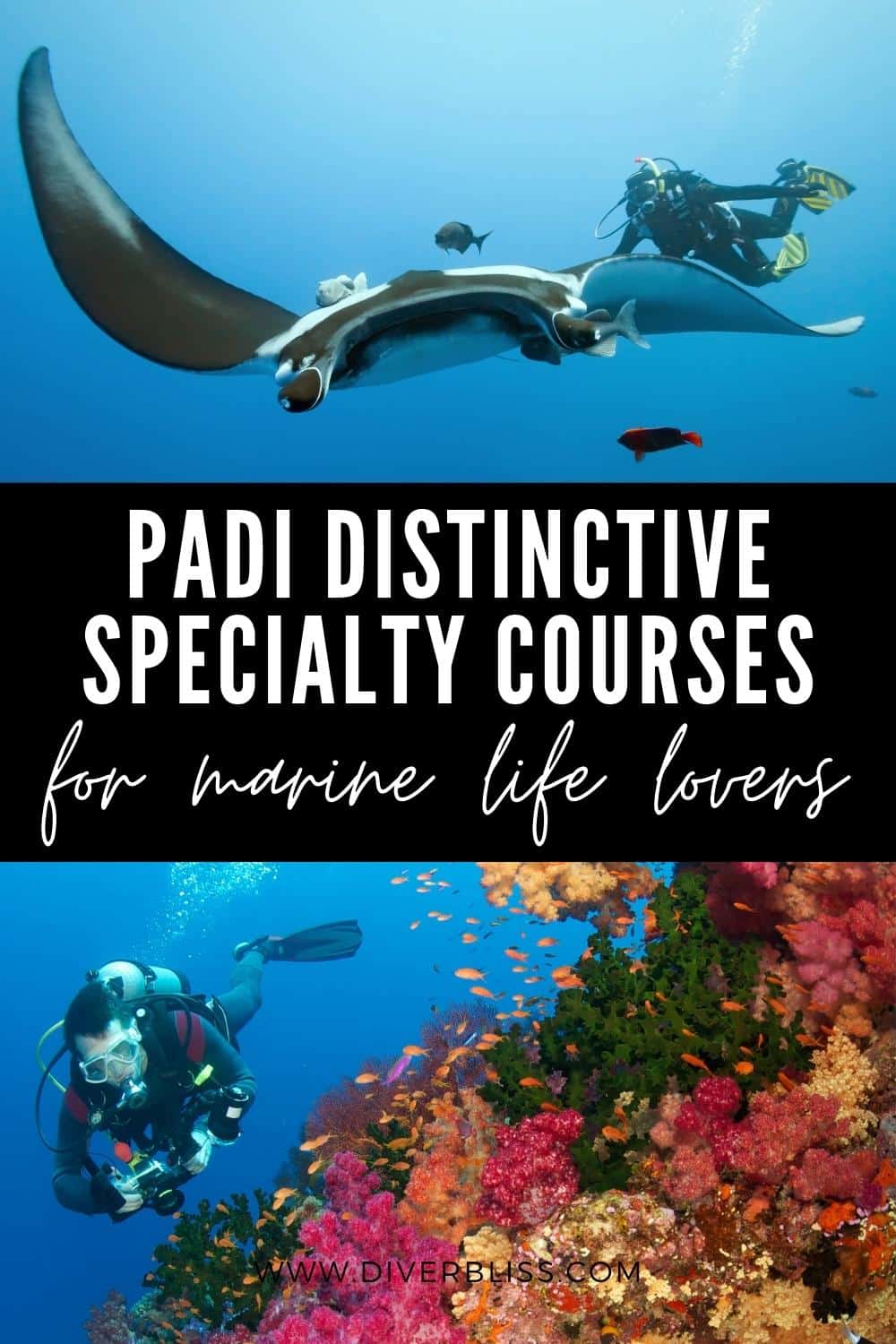 If you have been wanting to learn something new or experience something different then I do hope you consider taking one of these specialty courses for our oceans. Not only is it an excellent way to expand your scuba diving portfolio, but it's also a great way to meet divers who have the same interest as yours. If you have been wondering where to find divers who are passionate about the ocean conservation as much as you, now you know where to go or who to connect with!
Have you been certified with any of theses distinctive specialties, how was it?
What specialty dive courses that focuses on marine life and ocean conservation should be added to this list? Leave a comment below!