If you're scuba diving in Panglao, Bohol, a day trip to Pamilacan island should be on your itinerary.
Situated 12.5 kilometers south of Bohol, Pamilacan island that sits in Bohol Sea is part of the municipality of Baclayon. It is known for its white-sand beaches, island hopping activities, as well as dolphin and whale watching tours.
For scuba enthusiasts, Pamilacan Island diving is a must if you find yourself in this part of the Visayas in the Philippines. Some might even say that this is one of the best places to scuba dive in the Philippines.
Because of its distance from the main island of Bohol and the cost of going here, dive shops in Panglao do not visit this island on a regular basis. Unlike Balicasag Island which is just a 30-minute boat ride away from Alona Beach, getting to Pamilacan island takes twice as long.
Normally, dive operators would schedule their Pamilacan diving trips in advance and will only push through if a certain number of divers sign up.
Unless you're willing to pay more for an exclusive trip, I suggest asking the shops if there are dive trips to Pamilacan you can join. You can also suggest that they arrange one for you and their other guests that might be interested, so you can split the costs.
I have gone diving in Bohol thrice and every time I visit, scuba diving in Pamilacan island simply was not possible. Either it wasn't offered or it conflicted with my schedule.
So on my fourth dive trip to Bohol last April 2022, when I heard that Philippine Fun Divers had a confirmed diving trip to Pamilacan, I immediately jumped on the chance to go.
I had gone diving with Philippine Fun Divers so I knew that they were a good shop to go with for this kind of adventure.
On the day of the dive trip, I was asked to be in the shop by 8 AM. Four other divers arrived soon after and by 8:30 AM we were on our way to Pamilacan Island.
Despite it being our summer season, dark clouds loomed overhead and the possibility of rain threaten our excursion. It was an hour boat ride and I kept busy by looking for dolphins since they were known to show up here. Unfortunately, we did not see any.
Upon arrival, we quickly geared up and did our dive briefing.
Dive Sites in Pamilacan Island
There are only three dive sites in Pamilacan Island. According to our dive guide, Jessie, they've named North Point, West Point, and East Point.
Very creative don't you think?
East Point
Our first dive was in the East Point and we were told to expect heavy currents. Because we were in the middle of Bohol sea this was expected. The strong currents also attracted pelagic creatures like whale sharks and mantas to show up occasionally.
This was basically a drift dive over a sandy slope covered in colorful soft and hard coral. This dive site is also sometimes referred to as Dakit-Dakit, named after the small islet that can be found in this side of Pamilacan Island.
One by one, we entered the water by making a giant stride from the front of the banka. There was a slight current on the surface so we had to hang on to ropes as we waited for everyone to enter the water.
Once we descended we were gently pulled in and taken for a ride over the sandy and colorful slope. The experience felt like we were flying over a field of corals.
It was a leisure dive just riding the current but it was a bit challenging especially if you're into underwater photography like me.
There were many times that I had to swim against the current to take a shot. And even if I could sustain my position and focus on one subject, I couldn't stay for long either because the current put my dive buddies too far from me.
Visibility wasn't that great either that day. But I blame it on the bad weather that was affecting the region the whole week. Not only was there no sun overhead to light up the sea bed but there were also a lot of particles in the water.
Visibility was at around 10 meters which to me isn't so spectacular especially if you're used to at least 20 meter visibility while diving in the Philippines.
Nevertheless, it was still a beautiful, biodiverse and healthy dive site.
Here are some of the marine life in Pamilacan Island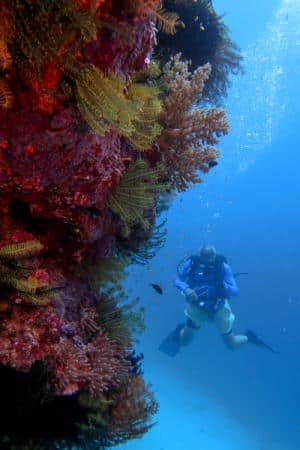 I did see a sea turtle that quickly swam away. The highlight of this dive was when I saw 2 black and white turtle-headed sea snakes (Emydocephalus annulatus) mating!
As it turns out it's very common to see them in this area as the dive site Cervera Shoal also known Snake Island sits close to this area. And there is plenty of this species there.
West Point
Our surface interval was spent having coffee and snacks on the boat. After an hour of rest, we headed to our next dive site- West Point. This part of the island is also known as Sanctuary as there is an area that is off-limits to divers. In the areas that divers can access, you can enjoy some macro life.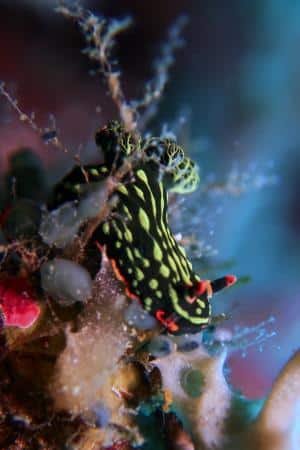 The current here was a bit tame which is ideal especially for macrophotography lovers. I did notice though that the water temperature felt colder. I actually wore my hood and at one point stopped shooting shooting because my hands felt numb.
North Point
As we were only there for two dives we did not get to see the third dive site- North Point. Others also refer to this site as Spanish Tower because of the remaining 200-year old Spanish fort that can be seen on this side of Pamilacan Island.
Our dives ended at around 12 and we soon made our way back to Alona Beach in Panglao Island, Bohol. We were back by 2PM.
If you'd like to learn more about the marine life you might encounter in Pamilacan Island, read these posts:
13 Dangerous Sea Creatures in the Philippines
Marine Life in the Philippines: 100 Sea Creatures You Must See
Water Temperature and Visibility in Pamilacan Island.
Water temperatures in Pamilacan Island fall between 24-30 degrees Celcius. If you're doing underwater photography, I recommend doing a 3mm full suit to keep you warm and protected. You can also encounter some dangerous sea creatures while diving in Pamilcan Island so I recommend wearing a full suit.
The visibility underwater varied depending on location. In some dives we experienced bad visibility (5 meters) due to the weather. Some sites have really good visibility of up to 20 meters or more.
When is the best time to go diving in Pamilacan Island?
You can go diving in Pamilacan Island all year round. But the best time to go is November to May as this is when there are less rainy days in general.
Because of its distance from Panglao Island, not all dive shops offer day trips to Pamilacan. If you're interested in doing a trip, inform your dive shop and perhaps they can arrange one for you.
Recommended reading:
Amihan and Habagat: Diving Seasons in the Philippines Explained
Best Time To Dive in the Philippines + Monthly Guide on Where to Go
How much does it cost to scuba dive in Pamilacan Island?
The entire dive trip to Pamilacan Island via Philippine Fun Divers costs Php3250 (USD65) which included the two boat dives, sanctuary fees, and light snacks.
What dive shops go to Pamilacan Island?
In the past, I did hear that there was a dive shop in Pamilacan Island itself. However, I do not know if they are still operational. With the pandemic and typhoon Odette, I am not sure if they've fully recovered and are taking on customers as of the moment.
I recommend taking the same route that I did, which is looking for a dive center in Panglao that goes on the island. You can check these dive shops for their schedules to Pamilacan Island:
You can also go on a Visayan Liveaboard to go scuba diving in Pamilacan island. Some Liveaboards include this in their itinerary together with other amazing dive sites in Visayan region of the Philippines.
You can check out these liveaboards for their routes that include Pamilacan Island diving:
What to pack for Pamilacan Island Diving
Here is the scuba equipment and dive gear I bring while diving in the Philippines.
My Scuba Diving Gear
Regulator: Scubapro MK25 Evo, C300 and C200 2nd Stage
BCD: Aqualung Axiom
Mask: TUSA M-212 Freedom Ceos
Snorkel: TUSA SP-170 Platina Hyperdry II
Booties: Poseidon Pink Dive Boots
Fins: Problue
Wetsuit: Seavenger
Vest Hoodie: Scubapro Hybrid Hooded Vest
Dive Watch: Suunto D4i Novo
Dive Knife: Aqualung Blunt Tip Knife
Dive Leggings and Rash: Blue Adaptation Coral Sea Fan

My Underwater Camera Gear
Underwater Camera: Canon G7X Mark II
Underwater Camera Housing: Fantasea FG7XII
Video Lights: Big Blue AL1200XP
Underwater Action Camera: GoPro Hero9
360 Camera: Insta360 X3

> Canon G7X Mark II full review
> Insta360 X3 underwater camera review
> Scuba diving camera recommendations for beginners.

Dive Insurance
Divers Alert Network (DAN)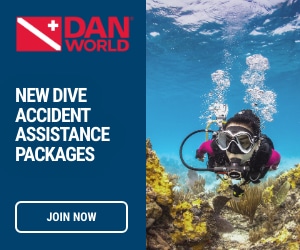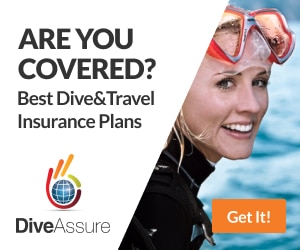 Need travel insurance for your trip? Get a quote from Safety Wing.
If you're traveling and diving in the Philippines for the first time, make sure to read my posts on
Ultimate Travel and Dive Guide to the Philippines
Philippine Packing List: What to Bring to Your Dive Trip.
I do hope that one of these days you get to experience scuba diving in Pamilacan Island too. If you haven't included it in your dive bucket list then you should do so already!
There is no doubt that I will be back to dive in this world-class dive destination in the Philippines.
Got Pinterest? Pin this for Later!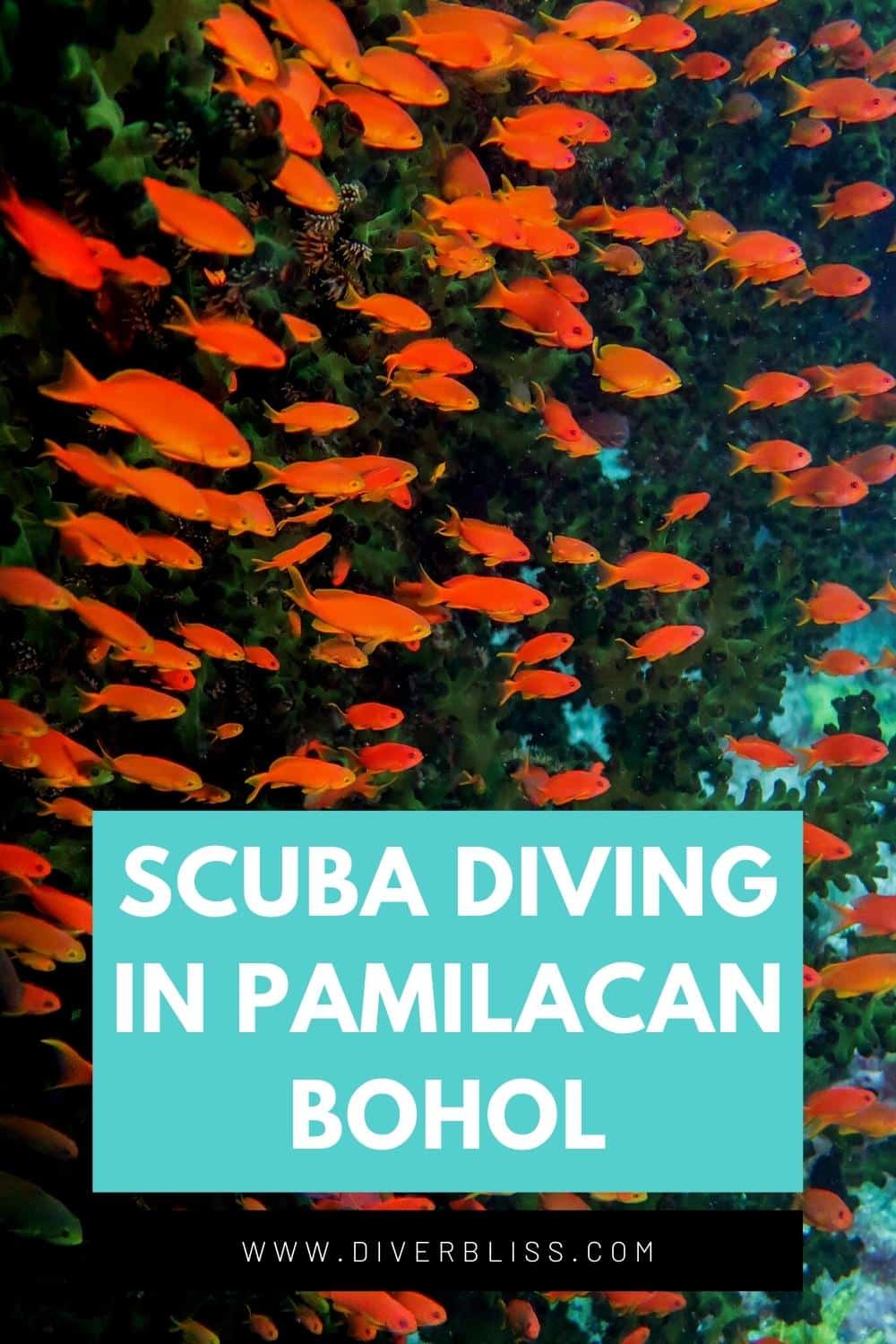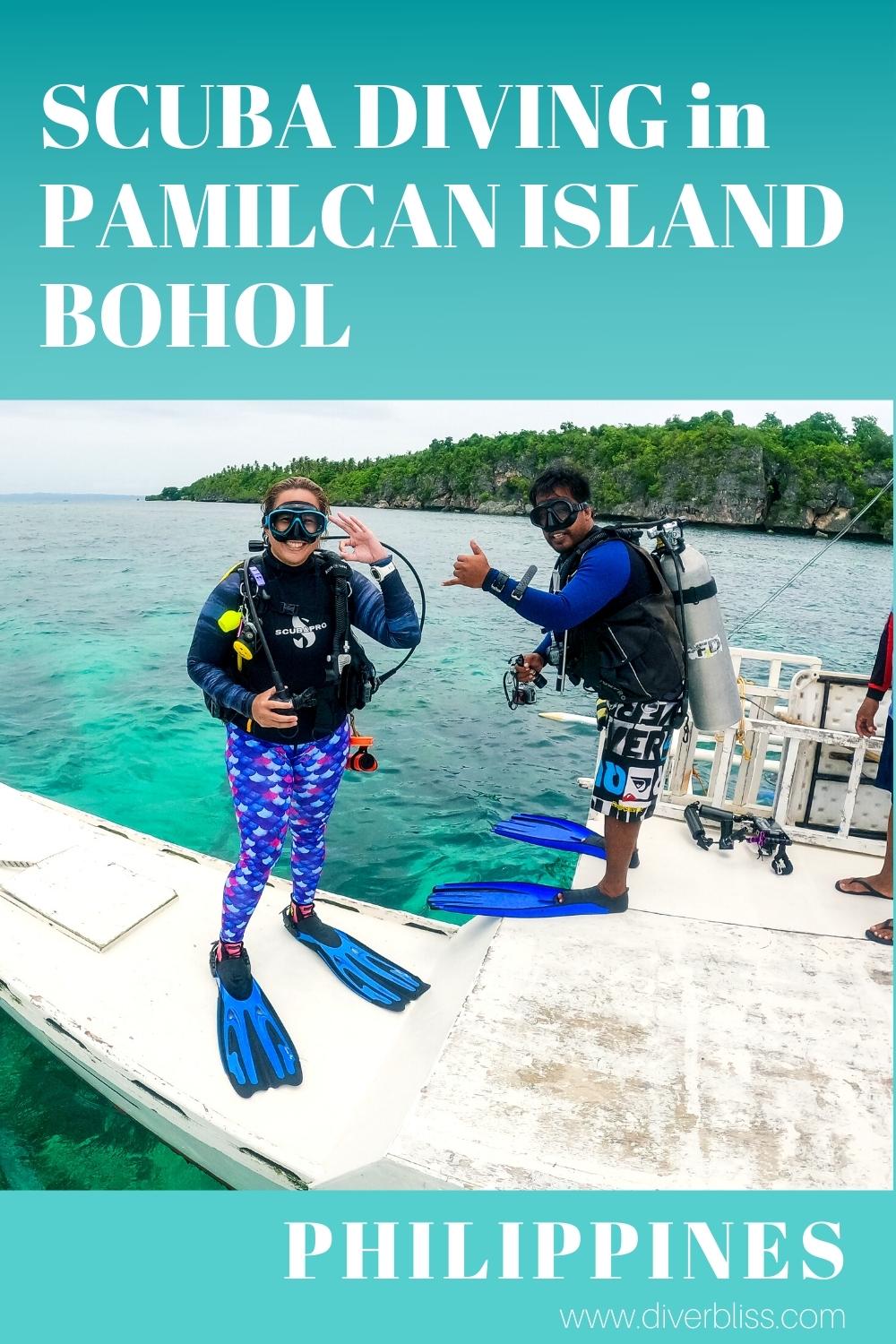 Have you been to Pamilacan Island? Would you include this in your bucket list? Leave a comment below!