While Moalboal is known for its Sardines Run, another diving heaven in Cebu is the tiny island of Pescador. Just 4 kilometers away from Panagsama Beach, located in the Tanon straight, is one of the most popular dive spots in the Philippines.
Blair and I had arrived in Basdiot, Moalboal the night before with the main goal to experience the sardines run and to dive Pescador Island.
We woke up at around 6 am and finally got a glimpse of Panagsama beach. It had rained the day before but thankfully the sun was out, giving us a warm welcome.
Preparing for Pescador Island
After breakfast, we headed back to Neptune Dive Resort, where we were staying, to arrange our dives. Their schedule for the day was to do Pescador Island and Tonga Point in the morning and the Sardines Run in the afternoon.
I had heard wonderful things about diving in Pescador Island and was glad that Neptune had it in its daily diving itinerary. Of course, we decided to do all three dives for the day. We didn't have much to do anyway, and we were there to dive.
After showing our certification cards, we filled out our diving forms and signed our waivers. Then, we were asked to return at 8:30 AM to get ready for our dives. We returned soon after and met Johnny, who was our dive guide for the day.
After setting up our dive gear, Neptune's crew loaded our equipment on the dive boat. At 9 in the morning, we boarded the boat to leave Panagsama beach to go to Pescador Island.
Going to Pescador Island to Dive
The 15-minute boat ride was leisurely and the weather couldn't have been any more perfect. When we arrived Pescador, I couldn't help but feel the excitement when I saw the turquoise blue water surrounding island.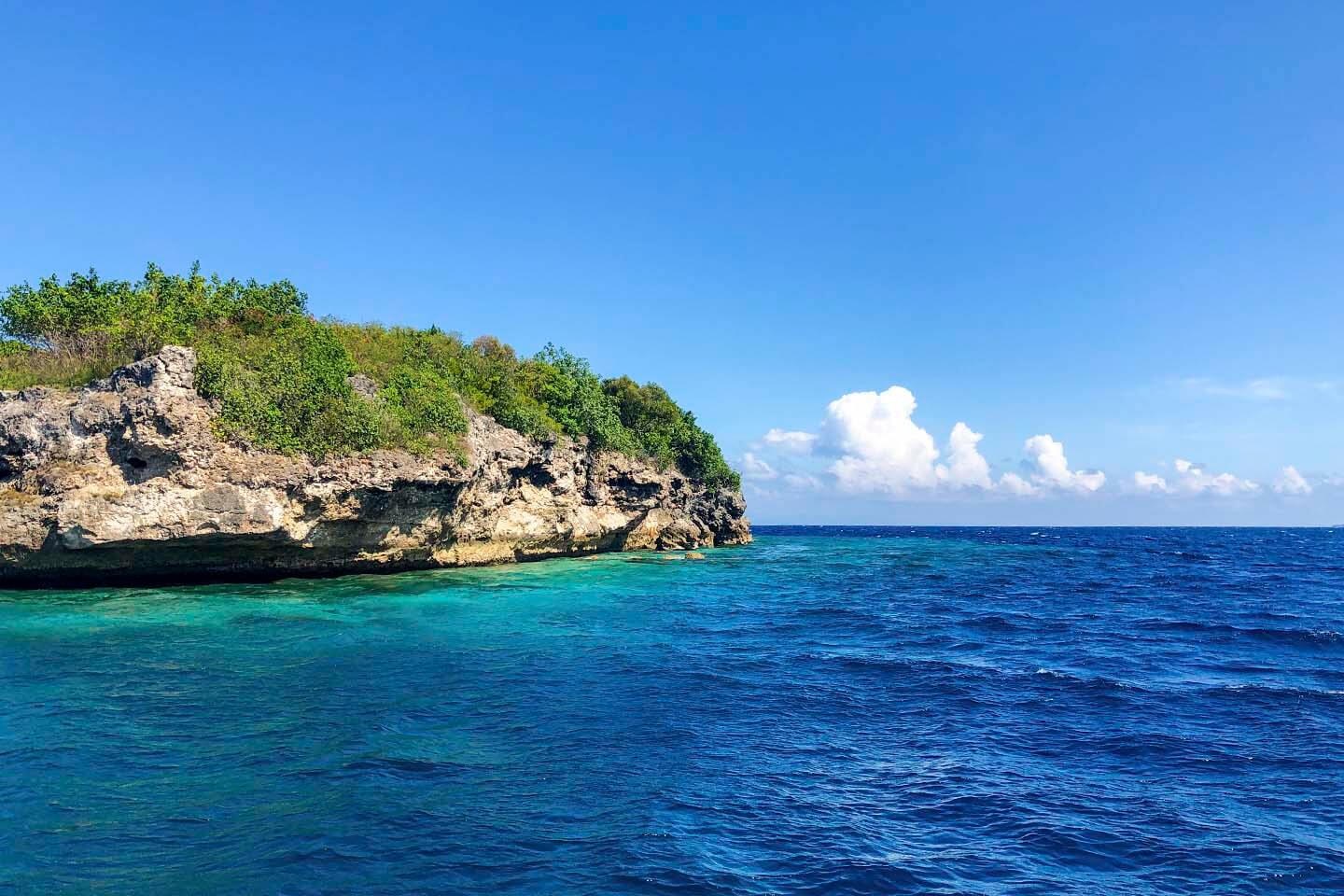 I knew that moment that Pescador Island diving was going to be so good.
While the boat captain searched for our dive spot, Johnny asked us to suit up and get ready to go in. Then, he gave us a dive briefing about the site and reminded us of safety procedures.
I was first to get into the water. And Oh. My. God.
The moment I submerged my head underwater to take a peek at the site, I could not believe how amazing the visibility was. I can clearly see why Pescador Island diving is a must thing to do when visiting Moalboal. The amount of fish I saw was simply jaw-dropping.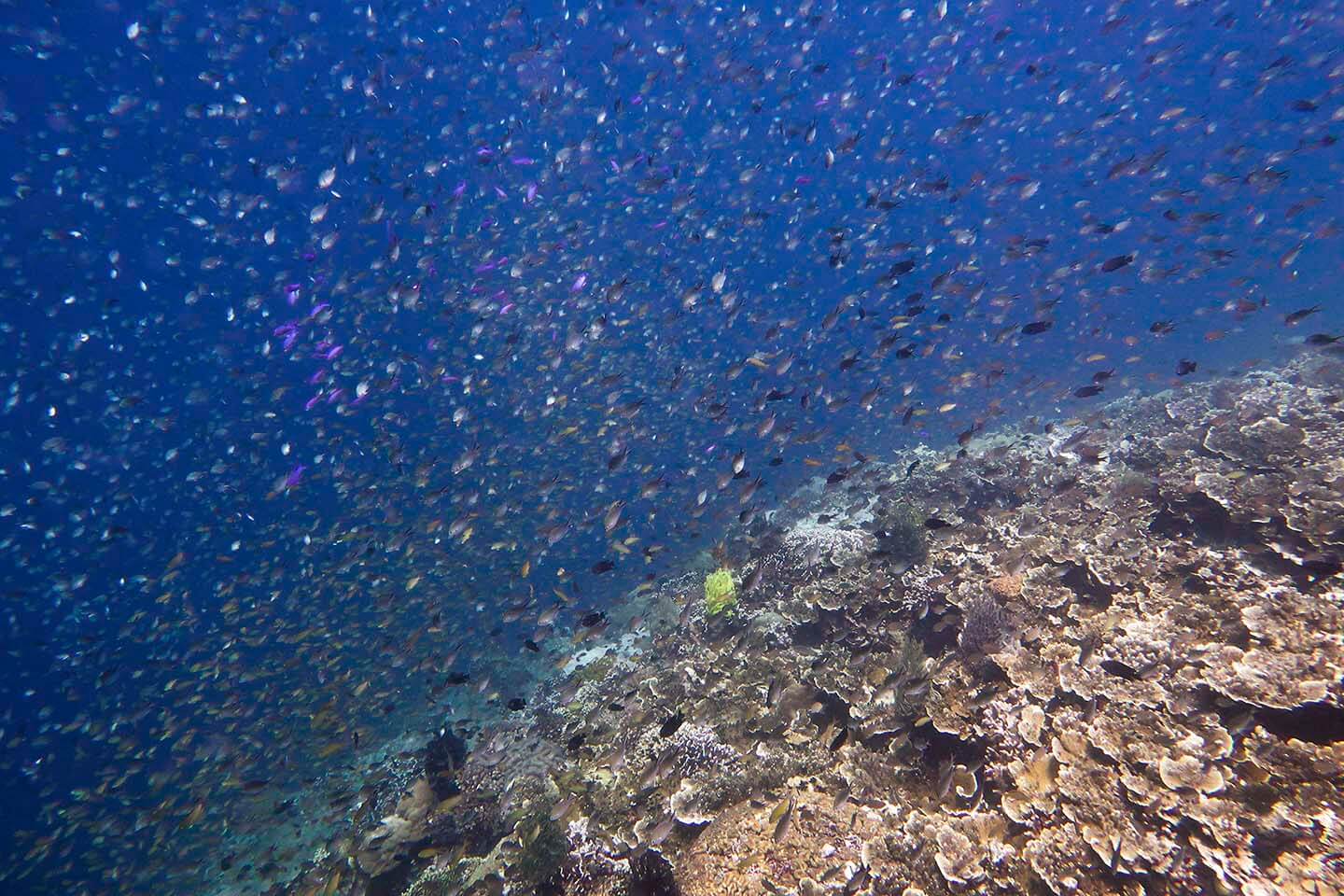 It is no wonder that the Spanish colonizers in the 1800s named it Pescador, which means fisherman. Because this area was absolutely teeming with marine life and the fishermen were probably having a field day visiting this place. In fact, a few years back the famous Moalboal sardine run was often found here until it moved closer to Panagsama beach.
Pescador Island Diving
"Bilis! Ang Ganda!!!" (Hurry! It's beautiful!!!) I exclaimed while waiting for everyone else to get in the water.
When everyone was safe and ready, we descend together and it was an absolute diver's bliss!
Johnny quickly spotted a giant frogfish for us to admire. I was surprised that he found one so quickly. Then soon after he found us a second frogfish fish. It was a smaller painted frogfish. Nevertheless, it was still a freakin' frogfish!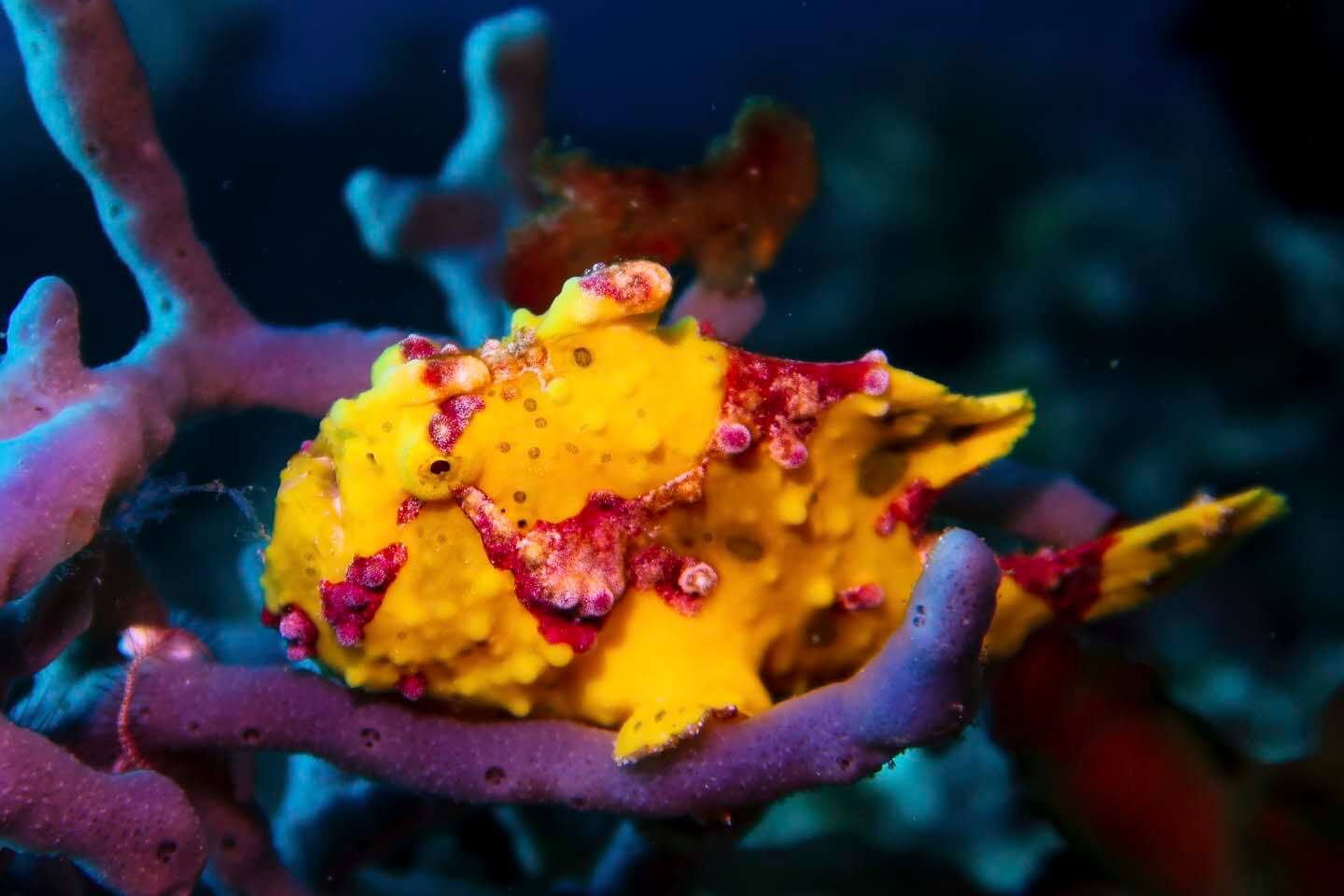 After the dive, I told Blair that he's very lucky because we saw not just one but two frogfishes and different kinds too! That rarely happens for me in dives, but I guess not when you are diving in Pescador Island.
Of course it wasn't just the frogfishes that were special.
The wall we dived in was covered with different kinds of corals and sponges. And reef fishes like anthias, fusiliers, butterflyfishes, and wrasses added to the explosion of colors underwater.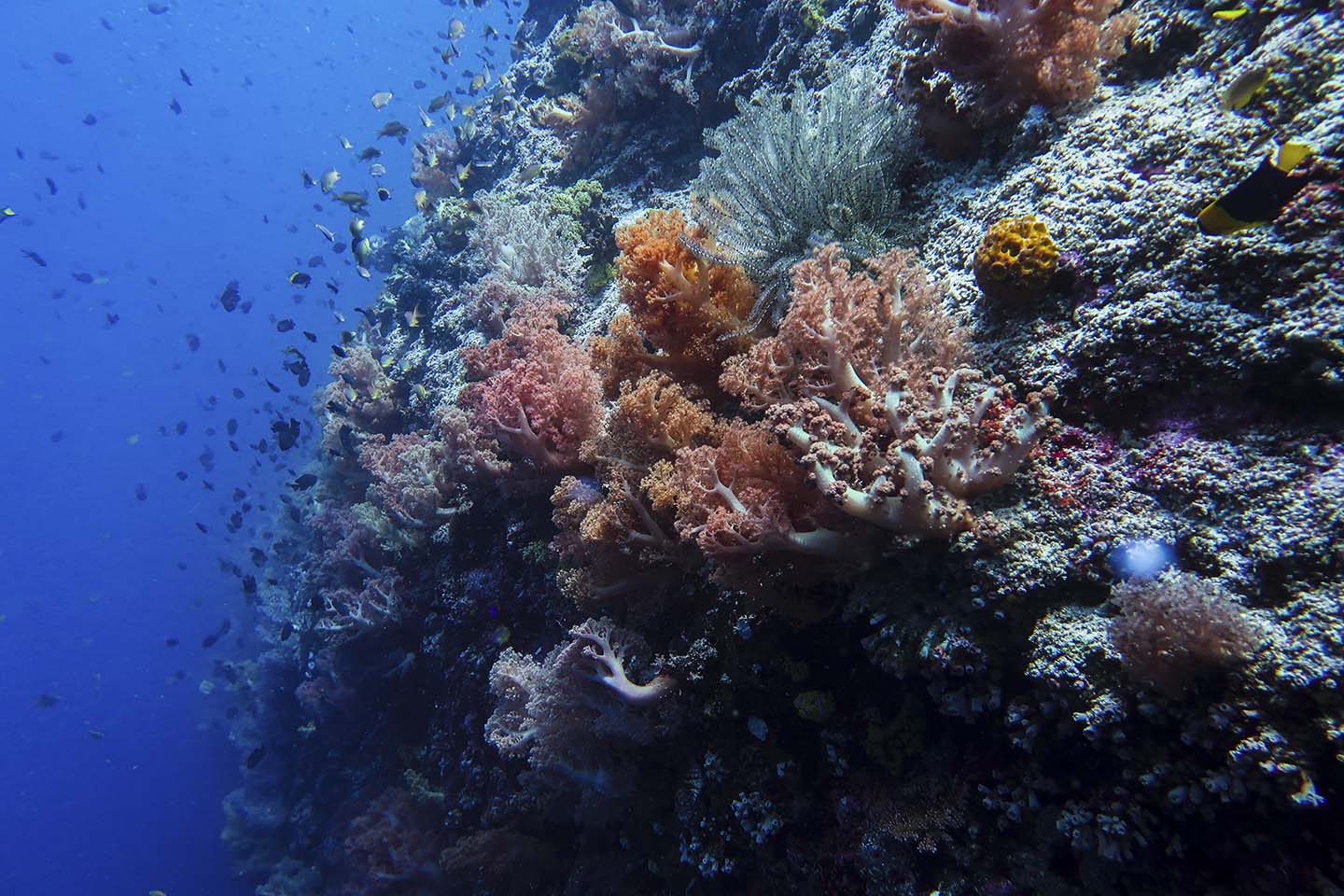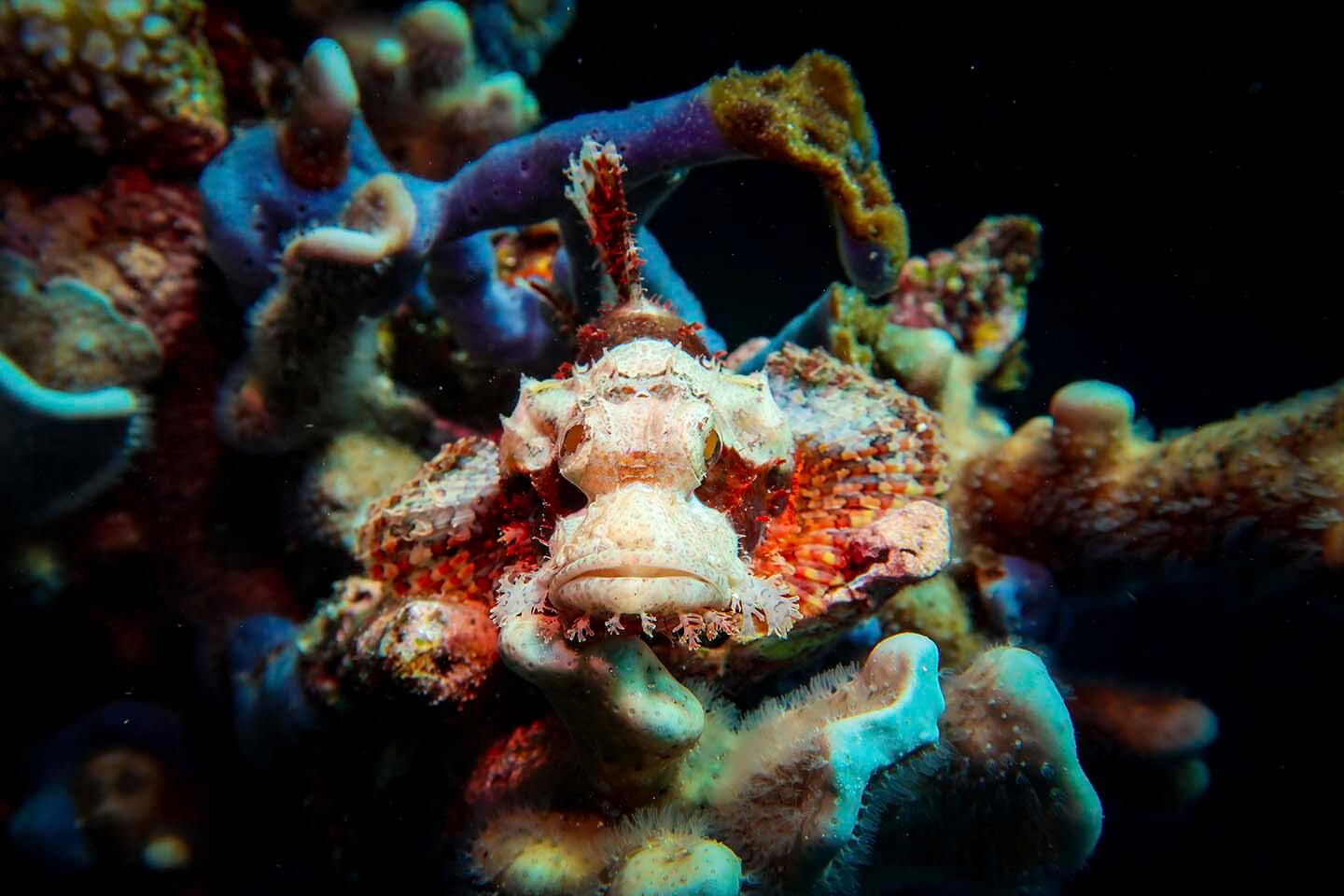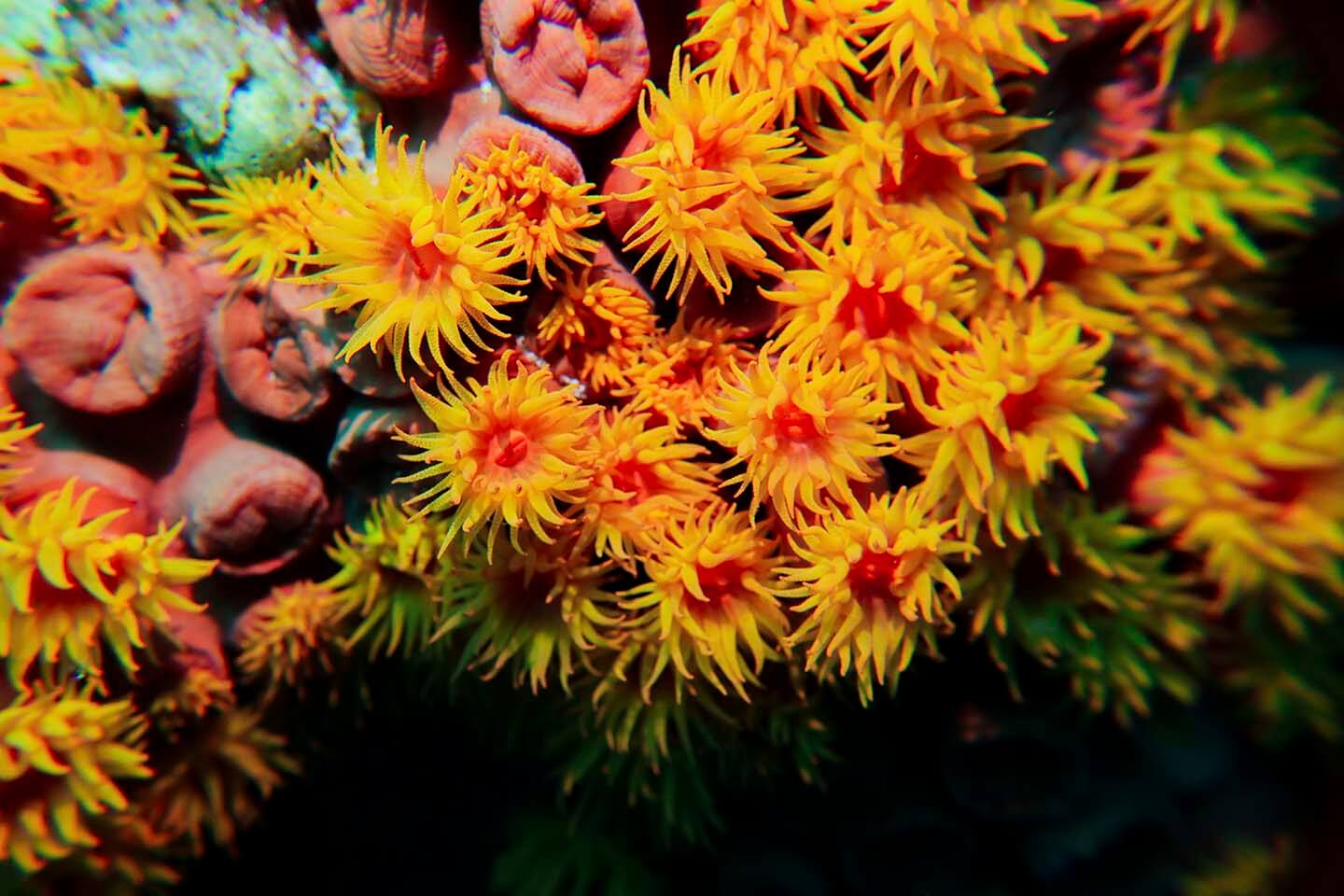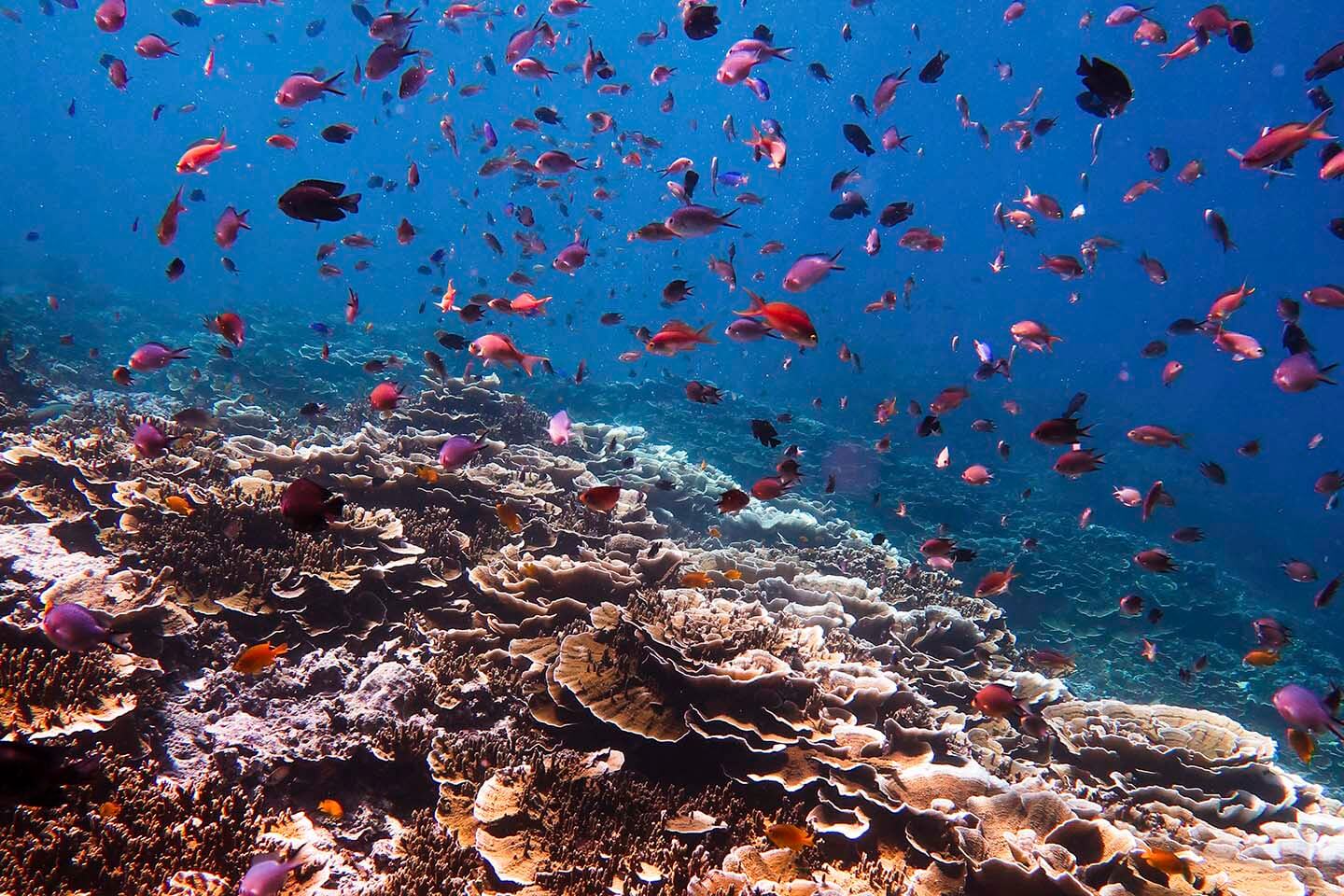 The dive was about 50 minutes long and my favorite part was towards the end when we did our safety-stop.
Johnny led us to a patch of corals, which I thought sat on an overhang and divers below us were blowing bubbles. Upon closer inspection, I realized the bubbles were coming out from the sand.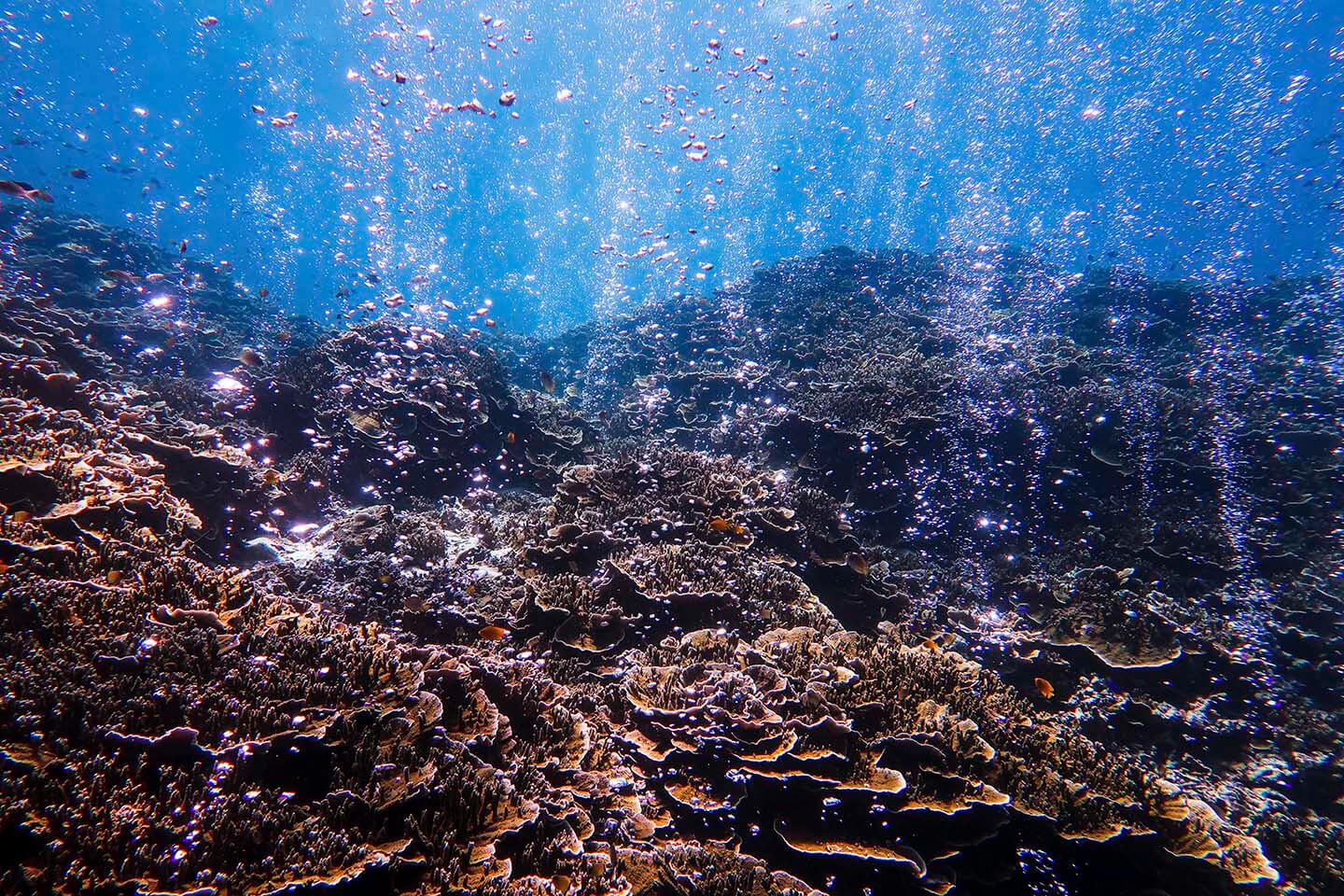 I had encountered similar geothermal activities while diving in Apo Island and diving in Anilao. However, it wasn't as fascinating as this one where you can see the bubbles above corals and fish swimming everywhere.
It was very calming and mesmerizing. And the perfect way to end our Pescador Island diving experience.
If you would like to know more about the other things you might see while diving in the Philippines, check out my post on 100 Marine Life in the Philippines that you must see.
Pescador Island Diving Season
You can dive the whole year round in the Philippines and in Pescador Island. But the best time to visit is during the dry season of November to May.
Blair and I visited Moalboal in October and we did experience some rain but for the most part it did not ruin our trip.
Recommended reading:
Amihan and Habagat: Diving Seasons in the Philippines Explained
Best Time To Dive in the Philippines + Monthly Guide on Where to Go
Pescador Island Dive Sites
There are 3 known dive sites around Pescador Island.
The dive sites ranges from 5 meters to 65 meters in depth and you can expect a visibility of 20 to 50 meters. Water temperature ranges from 24 to 30 degrees Celcius.
Cathedral
Cathedral highlights a magnificent cave that has a vertical swim through. The entrance starts at 28m entering into a vast chamber where sunlight shines in.
Pescador East
The dive in Pescador Easts starts at a plateau that turns into gentle slope covered in hard and soft corals. Then there is another drop off at 20meters. Elephant Ear sponges are particularly abundant here.
Pescador South
This dive site is a smooth wall dive down to 60m depth before reaching a sandy slope. Small caverns can be found on this dive site.
The dive site we visited during our dive was Pescador South. If we had more time, I would have loved to visit Cathedral.
Recommended Dive Shop for Pescador Island Moalboal
We dived Pescador Island with Neptune Dive Resort and highly recommend them as a dive operator.
There are actually several dive centers in Moalboal you can choose from that goes to Pescador. But we decided to book our stay and our dives in Neptune Dive Resort based on several recommendations.
Pescador Island Liveaboard Diving
Pescador Island is a popular dive destinations for several Philippine Liveaboard operator. If you would like to explore the best reefs in the Visayan region which includes diving in Pescador you can check out these liveaboards.
Atlantis Azores– Bohol Safari or Cebu Malapascua
Philippine Siren– Southern Visayas or Malapascua and the Visayas
If you are not familiar with what scuba diving liveaboards are, you can check out my post on liveaboard diving for beginners.
To learn more about travel and diving in the Philippines, make sure to check out my ultimate Philippine travel guide for scuba divers.
What to pack for Pescador Island Diving
Here is the standard dive gear I bring while diving in the Philippines.
My Scuba Diving Gear
Regulator: Scubapro MK25 Evo, C300 and C200 2nd Stage
BCD: Aqualung Axiom
Mask: TUSA M-212 Freedom Ceos
Snorkel: TUSA SP-170 Platina Hyperdry II
Booties: Poseidon Pink Dive Boots
Fins: Problue
Wetsuit: Seavenger
Vest Hoodie: Scubapro Hybrid Hooded Vest
Dive Watch: Suunto D4i Novo
Dive Knife: Aqualung Blunt Tip Knife
Dive Leggings and Rash: Blue Adaptation Coral Sea Fan

My Underwater Camera Gear
Underwater Camera: Canon G7X Mark II
Underwater Camera Housing: Fantasea FG7XII
Video Lights: Big Blue AL1200XP
Underwater Action Camera: GoPro Hero9
360 Camera: Insta360 X3

> Canon G7X Mark II full review
> Insta360 X3 underwater camera review
> Scuba diving camera recommendations for beginners.

Dive Insurance
Divers Alert Network (DAN)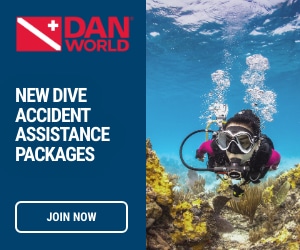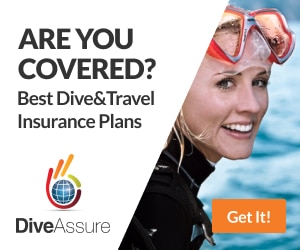 Need travel insurance for your trip? Get a quote from Safety Wing.
If you're traveling and diving in the Philippines for the first time, make sure to read my post on Philippine Packing List: What to Bring to Your Dive Trip.
Snorkeling Pescador Island
If you do not dive or you are traveling with a non-diver, you can still enjoy the reefs of Pescador Island by doing an island hopping tour. You can rent snorkeling gear and visit Pescador through a licensed tour operator in Moalboal.
If you are not a confident swimmer, make sure to wear a life jacket.
Pin this for later!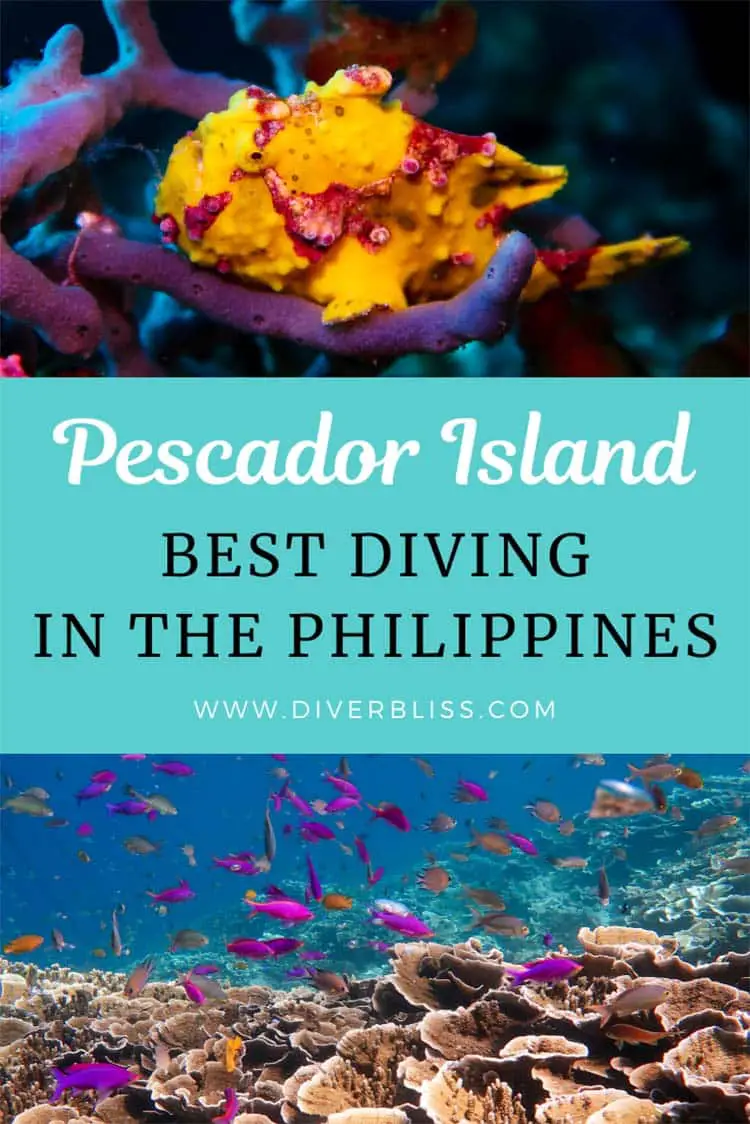 I hope this guide has convinced you to go diving in Pescador Island. It is truly one of the best diving spots in the Philippines and I am sure you would love it too!
Is Pescador Island diving on your bucket list now? What are you looking forward to seeing? Leave a comment below!