In this post I will walk you through a Philippines Packing List I put together to help you prepare for your scuba diving trip in the Philippines.
You've finally booked your ticket to the Philippines and can't wait to get on the plane. For months you've been imagining yourself lounging on the white-sand beach while enjoying a cold beer after a really spectacular dive. Everything is perfect until you realize you still have to do some packing! Ugh. Total buzz-kill!
But don't worry! if you have no idea what to pack, I've got you! I've put together a packing list for the Philippines to help you get ready for your scuba diving trip.
I have traveled around the Philippines and Asia over the past 10 years and the process of packing still makes me feel overwhelmed to this day. What do I bring? How can I fit all this without buying extra luggage weight? Should I just leave this? Will I be able to buy it from there?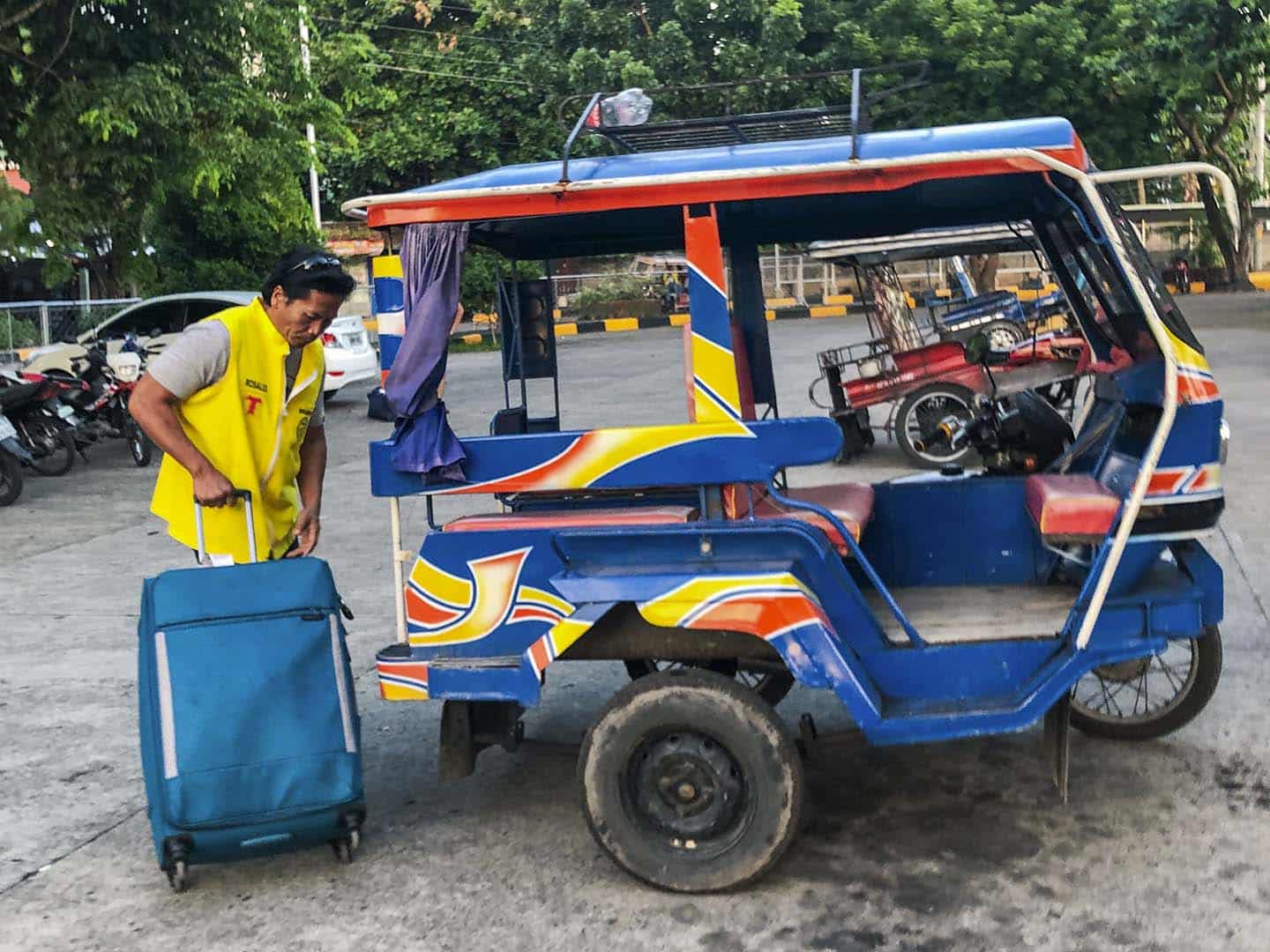 Continue reading if you want some tips and suggestions on what you should pack for your Philippines vacation. I will go through different travel essentials and recommendations so you don't feel overwhelmed or you don't overpack!
What to Wear in the Philippines
Shirts and Shorts– The Philippines gets really humid so pack light-weight and breathable clothing. When I'm traveling I leave my denim pants at home and stick to shorts and tops or light-weight dresses.
If you don't like wearing shorts, you can wear hiking or khaki pants. For women, leggings are a great alternative as well.
You can easily buy laundry bar soaps if you plan to do handwashing yourself. Laundry services can be found almost everywhere some charge as low as Php50 (Usd 1) per kilo. So you do not need to pack three weeks' worth of clothing.
Tip: Try to avoid wearing white while traveling since the dirt or stains are harder to hide. Traveling in the Philippines can get sweaty and grimy. You can get exposed to a combination of heat, dirt, rain, and mud. I find that colored clothes are better at keeping you look presentable at the least.
Underwear– not sure about you but I always pack my underwear!
Tip: Have your own laundry bar soap to wash your delicates and dry it in your room so you don't have to pack so much.
Swimwear– Another essential in our Philippines Packing List- your swimsuit! Never go to a tropical paradise without this! I usually pack 3 to 4 swimsuits depending on the duration of the trip. I hate wearing wet swimwear at the start of a day, so it's good to have them on rotation. And besides, during dive trips that all you wear anyway.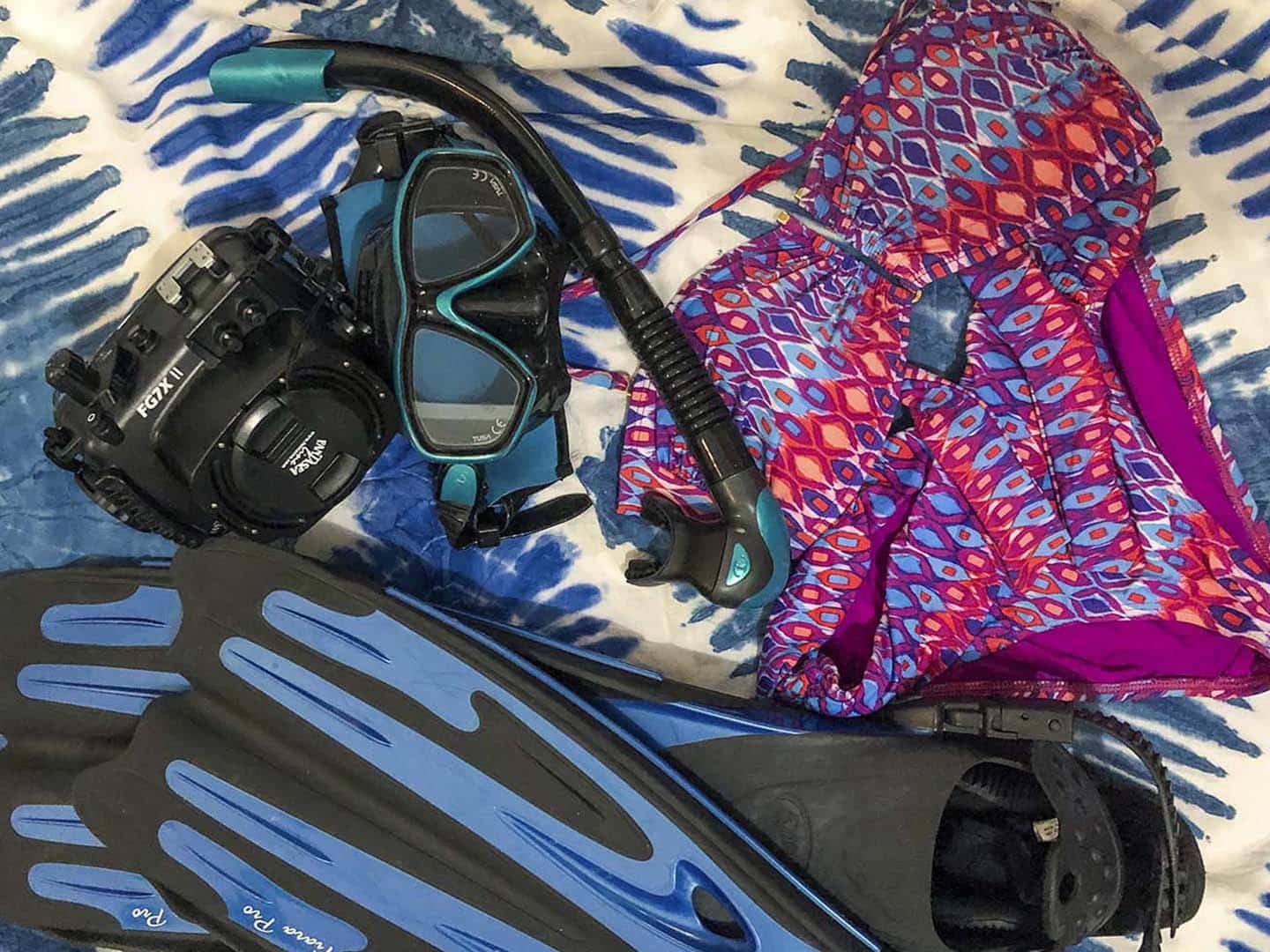 Tip: Put one swimwear in your hand-carry in case something happens to your check-in luggage. You can use this as a replacement for underwear! And, this ensures you can still go diving or enjoy the beach even if your luggage gets delayed or lost somewhere! You can always buy new clothes and just rent scuba equipment if needed. But good swimwear is hard to find.
Cover-ups or Sarongs – The Philippines is a catholic country so although some locations may be used to seeing swimwear and skimpy clothing, some locations may still be more conservative. If you plan to visit places of worship, observe the proper dress code as a sign of respect.
Do cover up if you are not on the beach or resort. A cover-up comes in handy to avoid unwanted stares. These are also useful for when you go island hopping or go on snorkeling trips.
I particularly love using sarongs as I think they're more versatile. They're great for drying after a swim. I can also use them when laying on the beach. And sometimes I even use them as a scarf.
Hoodie or Light Jacket– Take a light jacket preferably with a hood as it does rain. This also comes in handy when riding airplanes or doing long trips aboard an airconditioned vehicle.
Sunglasses- Eyewear with polarized lenses and UV protection is a necessity when it's sunny almost all year round. You'd be glad that you packed a pair of sunnies in your Philippine summer essential kit.
Hat- I usually carry a baseball cap for when I'm on the road. I prefer these over wide-brim hats as they're easier to keep and store when not being used.
If you want a wide-brim hat, I suggest to just buy locally so you don't have to worry about it getting deformed in your luggage. Handmade woven hats are also cheaper and I've seen some sold at less than Php250 ($5).
Jewelry– Leave your expensive jewelry at home. I know some couples even leave their wedding rings and wear a silicon ring band instead.
Flipflops/ slippers/ thongs- this is a must thing to pack if you are traveling to the Philippines. And possibly the only footwear you'll ever need while on vacation. No need to get expensive ones as they can get stolen- It has happened to me!
Shoes/ Sandals– Once in a while I do pack sturdier pair of sandals, rubber shoes, or sneakers depending on my itinerary. But unless you are going to a fancy event or plan to eat at a restaurant that has a strict dress code, I would leave the heels and fancy shoes at home.
Socks- If you bring closed shoes then bring extra socks as well. An extra pair is also handy for when you are doing multiple dives and want to avoid getting blisters.
Towels– Bring one for saltwater and another for freshwater use. Confirm with your accommodations if they will provide them.
Face masks– Wearing face masks in public areas is still mandatory. Most establishments will not allow you to enter premises if you are not wearing your face mask.
Toiletries and Personal Care Packing List for the Philippines
Please consider getting toiletries made of sustainable materials to reduce plastic and the diminishing of our resources.
Read: 11 Tips for Sustainable Travel in the Philippines
Deodorant- I'm putting this high on the Philippines Packing List because Filipinos are very sensitive to body odor. With the heat and humidity, you will be sweating a lot and might get "anghit" or bad body odor.
Filipinos tolerate very close personal contacts to the point that it might feel like an invasion of personal space. If you notice them cringing their noses or slowly walking away from you, you might need to reconsider your choice of deodorant!
Shampoo and Conditioner– If you are very particular with your brand then do bring your own supply as they might not be available here. Most accommodations can provide you with this but they come in plastic sachets which are very wasteful.
I suggest taking them in smaller travel-sized bottles to save on space. I'm sure you will not need 1 Liter of shampoo for your 3-week trip. I love taking my shampoo and conditioner bars. If you need some recommendations, here is a list of the best zero waste shampoos and conditioners.
Dental Care Kit- Pack your toothbrush, toothpaste, and even your floss and mouthwash if you want. Nobody wants bad breathe and you gotta keep those smiles sparkling as you take selfies of your vacation!
Hairbrush or comb + hair ties– Messy hair, don't care? Remember that Saltwater can leave your hair damaged and in a tangled mess. Here are some tips on how to care for your hair when spending a day diving or on the beach.
Facial Skin Care Products- Whether it's a two-step or ten-step regimen taking care of your skin should not go on vacation too. You'll be exposed to the harmful rays of the sun so take your cleansers and moisturizers.
Reef-safe sunscreen– Although we have some locally-made reef-safe sunscreen, I would suggest to bring your own reef-safe sunscreen as they are only available in selected places.
Lotion– exposure to sun and salt may leave your skin feeling dry so you need this to keep your skin moisturized. I personally like using coconut oil as it helps with my tan and it smells good!
After-sun lotion- If you are prone to sunburn, bring some aloe to soothe your skin after extreme sun exposure.
Birth Control or Contraception– be a responsible adult and bring your own supply. Your preferred brand might not be available over the counter.
Medicines and First Aid- Pack a small medicine/ emergency kit in your bag that has your preferred/ familiar brands of medicine. Also, include first aid kits like bandaids and anti-bacterial creams in case you get cuts and scratches while traveling in remote areas.
Some people might have more sensitive stomachs than others so bring antimotility medicine for diarrhea or food poisoning. Allergy medicine, pain relievers, and motion sickness pills are also good to bring.
Prescription medicine should be labeled properly. Bring extra just in case you have travel delays or you need to stay longer in the country. Medical Marijuana is illegal so make sure your luggage doesn't even have a trace of it.
Eyemasks and earplugs and sleeping pills– If you have trouble sleeping in new places, you will thank yourself for bringing these three things. You might end up staying in a nice resort only to find out the neighbors next door love singing karaoke until the wee hours of the morning. And unfortunately, the roosters don't just crow in the morning but all the time.
Wet wipes– public restrooms are hard to find so these will come in handy especially if you want to eat a snack while you're on the go. Wet wipes are also useful especially if you feel grimy from a day of activities under the sun. You can opt to get biodegradable wet wipes for an earth-friendly option. These things can easily be bought locally in drug stores.
Hand sanitizer– These are an absolute must for anyone traveling. I carry a bottle of alcohol wherever I go and spritz away. Take a 100ml bottle in your hand-carry. You can also get a hand sanitizer carrier so it's accessible and refillable.
Sanitary napkins, tampons or menstrual cup– Hey, ladies, I know we all hate it when our trip coincides with that time of the month but it shouldn't stop us from having fun!
Tampons are hard to find in the Philippines so make sure to pack your own. You might also want to consider switching to a menstrual cup as they're more eco-friendly! I also find that they're comfier to use than a pad or tampon especially while traveling.
For more feminine product recommendations, check out my post on eco-friendly menstrual products for a zero waste period.
Bug spray or lotion– Mosquitos love the Philippines ' tropic weather so protect yourself by wearing bug spray. Dengue, a viral infection transmitted through the bite of an infected female mosquito, occurs all year-round in the Philippines.
For more eco-friendly travels, check out this article on what essentials to include in your Zero Waste Travel Kit.
Scuba Diving Packing List for the Philippines
You can rent scuba diving gear and equipment if you are diving anywhere in the Philippines. But if you prefer bringing your own set here are the essentials to include in your bag:
Wetsuit / dive leggings / rash guards
BCD (Buoyancy Control Device)
Regulator Set
Fins (with boots)
Mask
Snorkel
Dive Computer
Surface Marker Buoys (SMB) and Emergency Signal Devices
Dive cards & log book
If you plan to rent, make sure to bring your dive certification cards and log book as proof of your experience. In case you need to buy a logbook before your trip, here's a list of the best dive log books.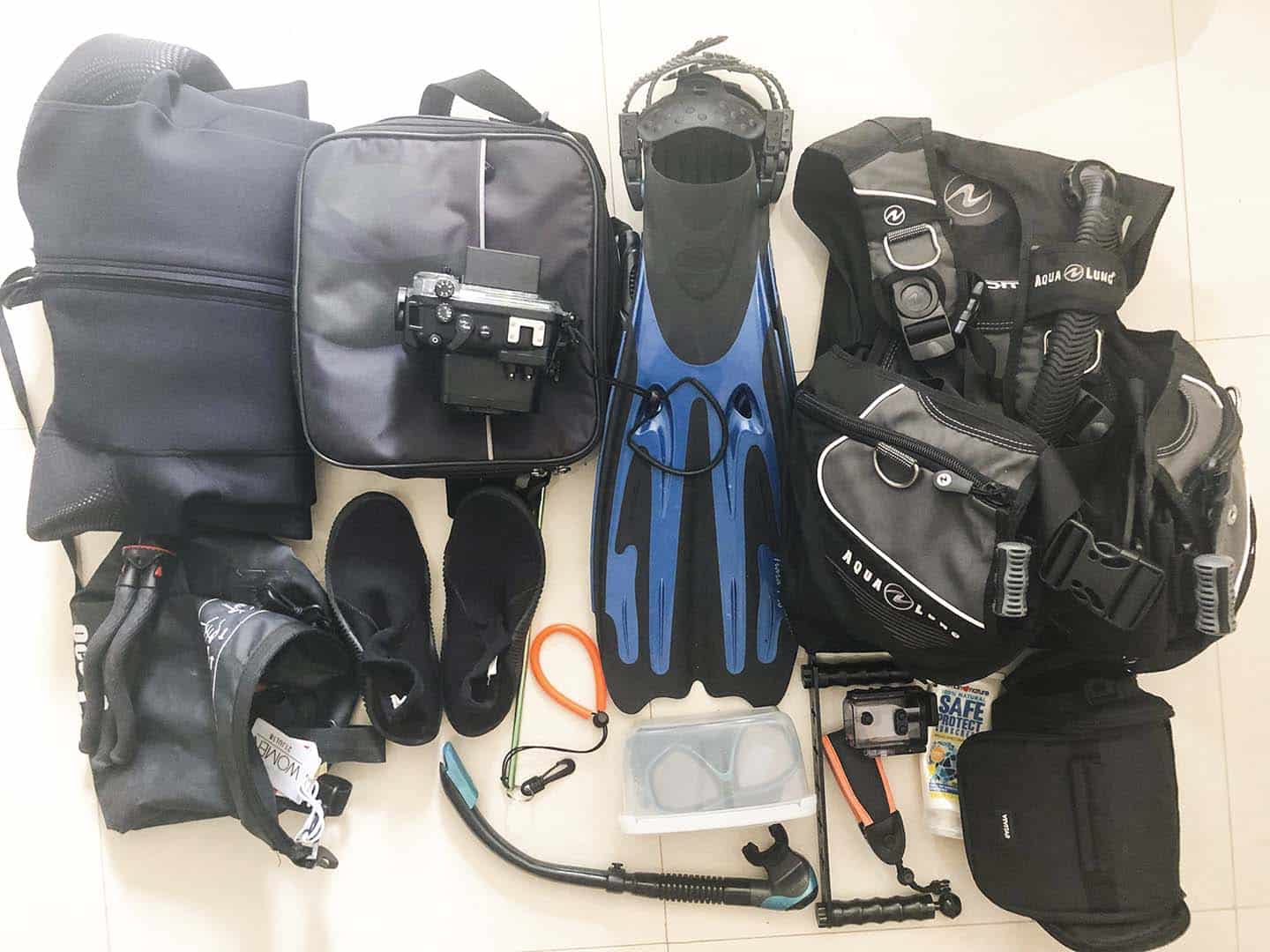 ---
Related Post:
DIVE SHOPS IN THE PHILIPPINES: WHERE TO BUY DIVING GEAR
---
Not necessary to bring:
Weights can be rented from dive shops.
Tank rental is already included in the diving fees.
Water is warm so no need to bring gloves. Most dive shops also discourage the use of gloves to avoid touching and contact with the reef.
Not necessary but great to bring:
Underwater camera- With the beautiful reefs and marine life in the Philippines, you're going to wish you actually had a camera underwater!
If you're just starting out and not sure what camera to bring, here are my top recommendations for the best scuba diving camera for beginners. Make sure the cameras can go down at depth that matches the level of diving you are doing.
I personally bring my Canon G7X Mark II for my travels and diving. I highly recommend this underwater camera since it's compact and affordable. I've written a Canon G7X Mark II review for you to check out if you're looking to buy a camera before your trip.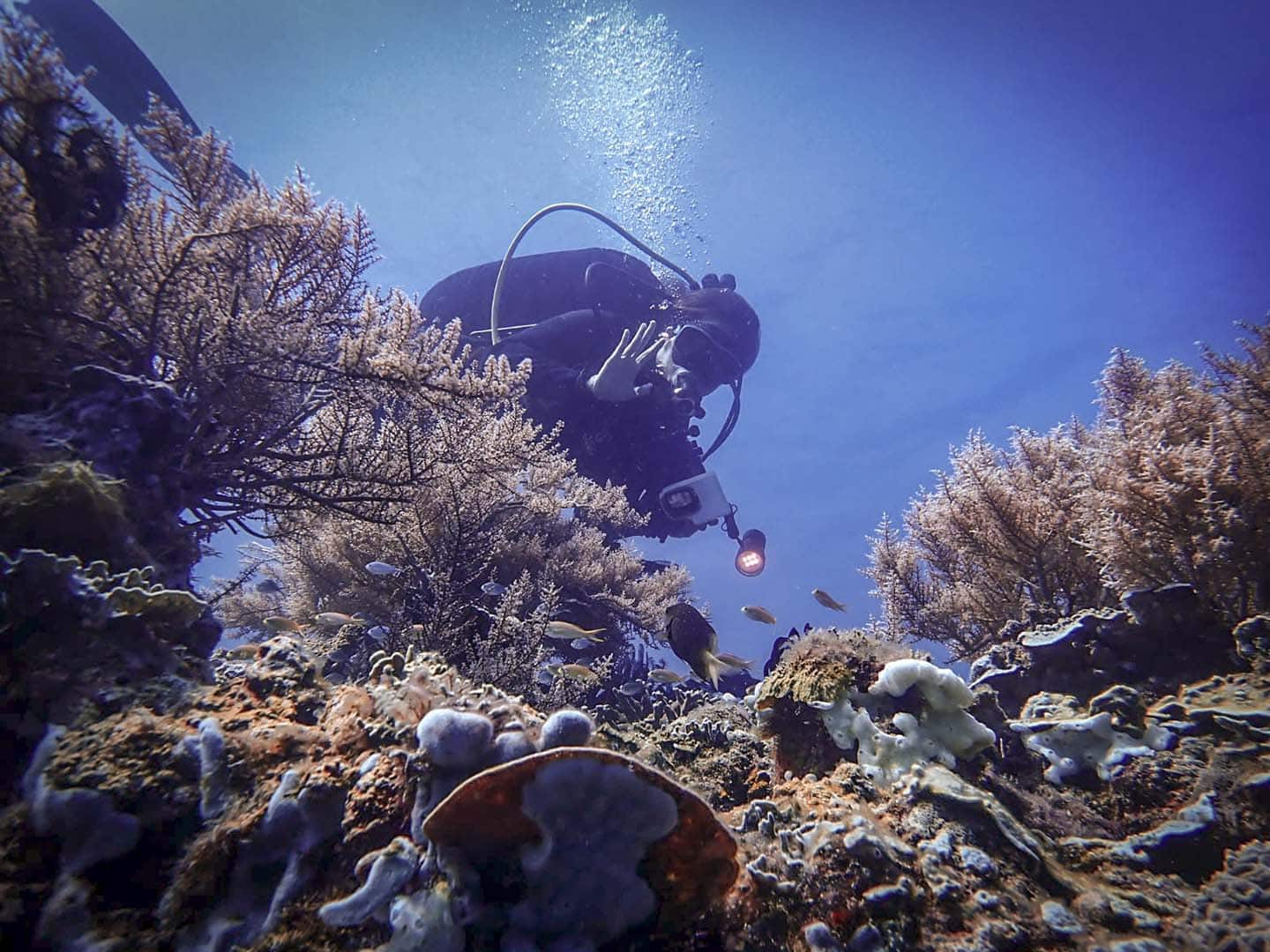 Dive Torch– If you have one take it and experience a night dive in the Philippines. If you do not have one, dive shops usually rent them out. If you need to purchase one before your trip, here are the 10 best dive lights for recreational divers.
Dry Bag– I recommend getting one as you will be going on a lot of boat rides during dives and possibly some island hopping. This will keep your valuables dry and protected. You can survive without it but it does give you peace of mind.
Save-a-dive Kit– If you are not familiar with this, it is basically your bag of spare gear or parts. Some people suggest bringing extra fin straps, extra masks, extra o-rings, bungie cords, tie wraps and anything that may fix or "save a dive" when something goes wrong with your dive gear. I personally don't carry one since I don't mind renting.
Mask defog– You can bring your own but you can also just ask from the dive shop. They usually use liquid soap to defog masks.
Dive Knife or Line Cutter– Occasionally you might see ghost nets while diving in the Philippines. These will come in handy when you need to rescue an animal from a ghost net. I carry an Aqualung Stainless Steel Blunt Tip Dive Knife.
Here are some additional tips to consider when packing for a scuba diving trip to the Philippines.
Water temperature is usually 24-30 Celcius. A 3mm wetsuit is the standard thickness in most dive shops. I personally prefer a long full wetsuit for warmth, especially when doing photography. It also gives you extra protection from elements or other dangerous marine creatures underwater.
Most dive shops use a Yoke valve for their tanks. If your regulator is DIN-compatible you might need to bring an adapter. So put an adapter in your diving packing list for the Philippines. Best to check with the dive shop if they have adapters available so you don't need to spend unnecessarily.
It's very common to do shore dives in the Philippines. For easier shore entry or exit, you might want to bring your booties with open-heel fins. If you only have full-foot fins, also consider bringing sturdy footwear that you can submerge in water.
Even if you are doing boat dives, you might still need to walk on a rocky shore to get to the dive boat depending. Check with your dive resort what kind of entries you will be doing.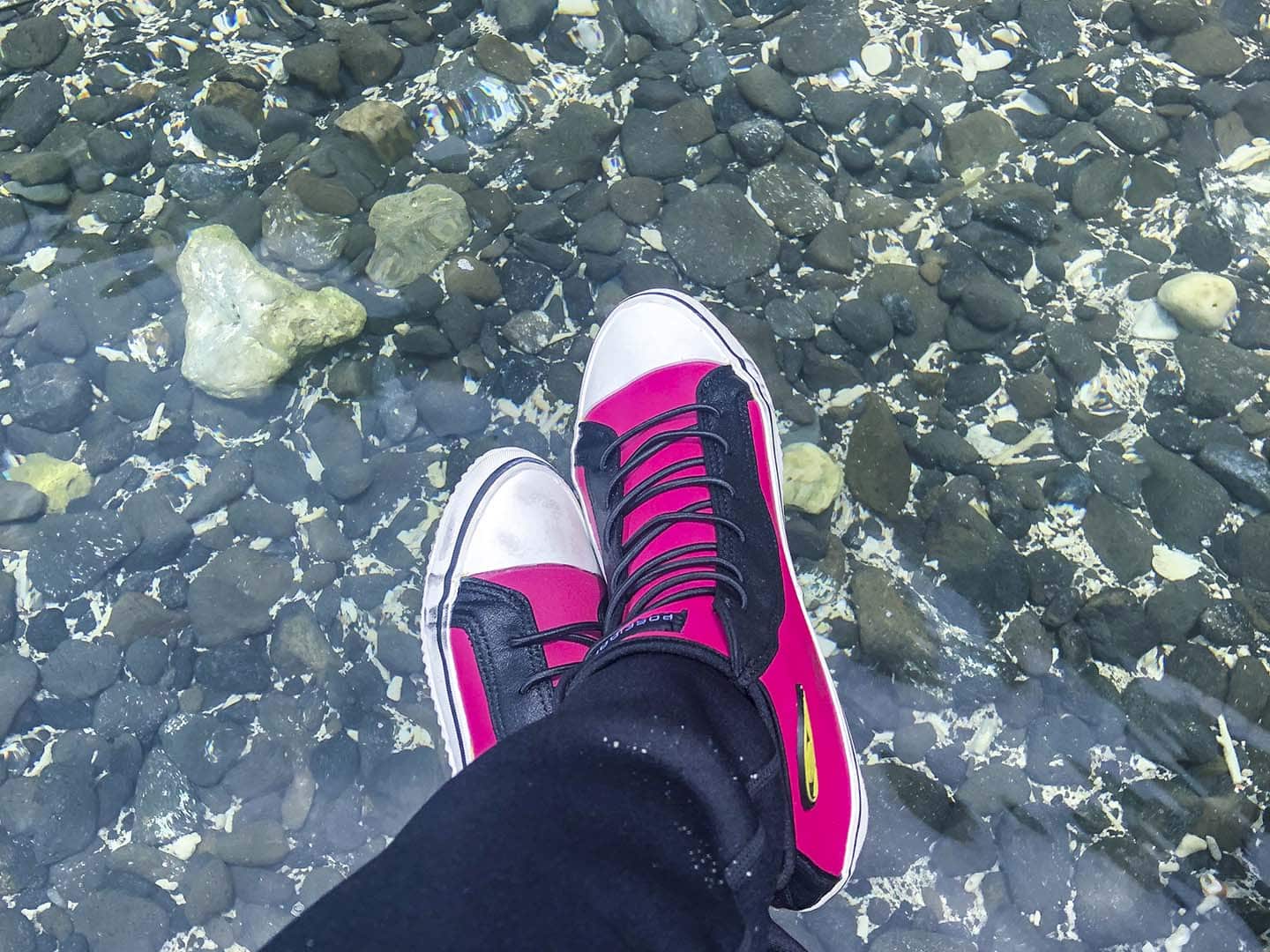 If you're buying new gear before your trip, make sure to test them out before going to the Philippines. You might end up bringing them only to find out something does not work properly. Although dive supply shops are available, they are limited and usually in the metro areas only.

Make sure to get dive insurance so you're covered while traveling and diving in the Philippines. Remember that we are a third-world country and hospital and emergency facilities may be scarce or hard to get to. Getting diver's insurance can give you that extra peace of mind in case of an emergency. I personally use Divers Alert Network (DAN).
My Scuba Diving Gear
Regulator: Scubapro MK25 Evo, C300 and C200 2nd Stage
BCD: Aqualung Axiom
Mask: TUSA M-212 Freedom Ceos
Snorkel: TUSA SP-170 Platina Hyperdry II
Booties: Poseidon Pink Dive Boots
Fins: Problue
Wetsuit: Seavenger
Vest Hoodie: Scubapro Hybrid Hooded Vest
Dive Watch: Suunto D4i Novo
Dive Knife: Aqualung Blunt Tip Knife
Dive Leggings and Rash: Blue Adaptation Coral Sea Fan

My Underwater Camera Gear
Underwater Camera: Canon G7X Mark II
Underwater Camera Housing: Fantasea FG7XII
Video Lights: Big Blue AL1200XP
Underwater Action Camera: GoPro Hero9
360 Camera: Insta360 X3

> Canon G7X Mark II full review
> Insta360 X3 underwater camera review
> Scuba diving camera recommendations for beginners.

Dive Insurance
Divers Alert Network (DAN)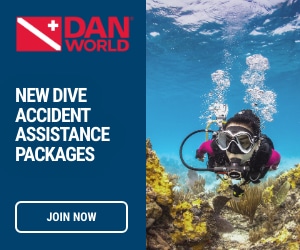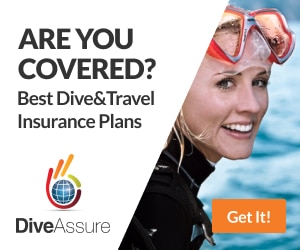 Need travel insurance for your trip? Get a quote from Safety Wing.
Camera and Electronics List
Mobile phone– If you plan to get a local sim, make sure that your phone is open to use other sim cards. Otherwise, make sure that your plan covers roaming within the Philippines.
Tip: You can get your Globe SIM card and claim at the airport.
Invest in a protective and waterproof case especially if you are doing a lot of physical activities.
Camera or Action Cams– Even if mobile phones now are so great at taking photos, I really recommend bringing your own camera equipment for your trips.
As mentioned previously, I recommend Canon G7X Mark II and GoPro Hero9 action cameras. They're both compact and great for traveling.
Charger and Extra Batteries– You'd be surprised by the number of people who have actually forgotten these and left them charging at home! Consider getting extra batteries cause you never know how much time you have to recharge them.
Powerbank– This is an absolute must especially if you use your mobile phone for everything while traveling- taking photos, navigating, googling info, telling people what an awesome time you are having in the Philippines. Powerbank will give you the extra battery juice you need to recharge your mobile devices when you are in the middle of nowhere.
Memory Cards- Don't put all your photos on one card. I take several memory cards as I have experienced losing some and even having the card corrupted… Bye-bye photos of your best vacation ever!
Laptop/ Back Up Drives- You're on vacation! So unless it's absolutely necessary, just leave your laptop. This is just extra weight and something to worry about. If you need to back up your files, I would suggest taking extra memory cards or hard drives. If you really need to access a computer, ask your resort where the nearest internet cafe is.
Travel Adaptor/ Converter– Standard outlet in the Philippines is plug type A which is two flat parallel pins so you might need a travel adapter for your gadgets. The Philippines operate on 220V, so if your electronics run on 110V you will need a converter.
Power Strip- If you have a lot of gadgets that need re-charging, bring a power strip for convenience.
Headlamp– It keeps you hands-free. Also useful if you are traveling to remote places.
Bags and travel accessories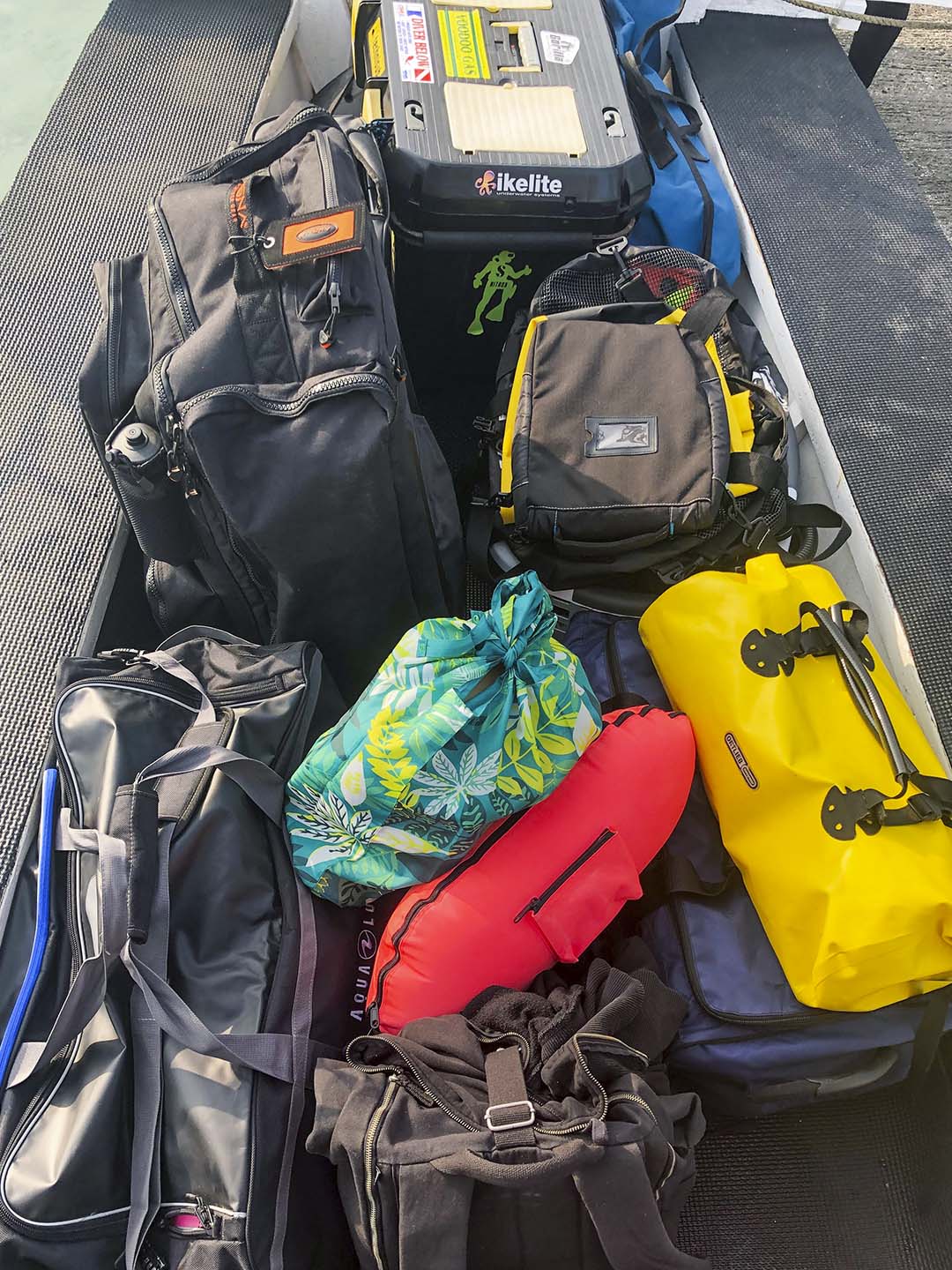 Check-in Luggage– Bag choice really depends on what kind of travel you are doing and the difficulty of accessing the destination. Remember that you might need to ride tiny boats, buses, trikes, jeeps to get somewhere, and having wheeled luggage might actually be more difficult to transport.
But if you are coming from an airport and taking a car directly to a resort, you should take advantage of the convenience of taking your wheeled hard case luggage. If you are taking ferries and you have big luggage, you can also hire porters to help you carry your bags. Just be careful of people who might take advantage or overcharge you.
Carry-on bag– inter-island airplanes usually limit your luggage weight to 7KG per person. Make sure to put all your valuables with you at all times.
Passport, IDs, Credit Cards, Cash
Cameras/ Electronics/ Batteries and accessories
Computers/ Tablets/ Phones/ Dive Computers
Special Medication/ Glasses/ Contacts
Refillable Water Bottle- taking your own water bottle is more economical and earth-friendly. Tap water is not potable so you need to buy water that often comes in single-use plastic. A lot of establishments have their own filtration or buy in gallons and you can just ask them to re-fill your bottle for free. I've used Healthy Human Water Bottle and it keeps my water cool the whole day. I also like that it has a handle and a carabiner so I can just hang it on my bag.
Eco-bag- This comes in handy if you need to go shopping for supplies can also serve as a cute tote when walking around town.
Comfort Food– Perfect for when you feel homesick or just need a snack while on the go.
---
Remember that you need not bring everything on this Philippines Packing List! The fewer items you bring the better. I hope this post helps you decide if you should pack something or not!