The Sardines Run in Moalboal is one of the most epic experiences you can have while diving in the Philippines. If you haven't added this to your bucket list yet, continue reading on why you should!
---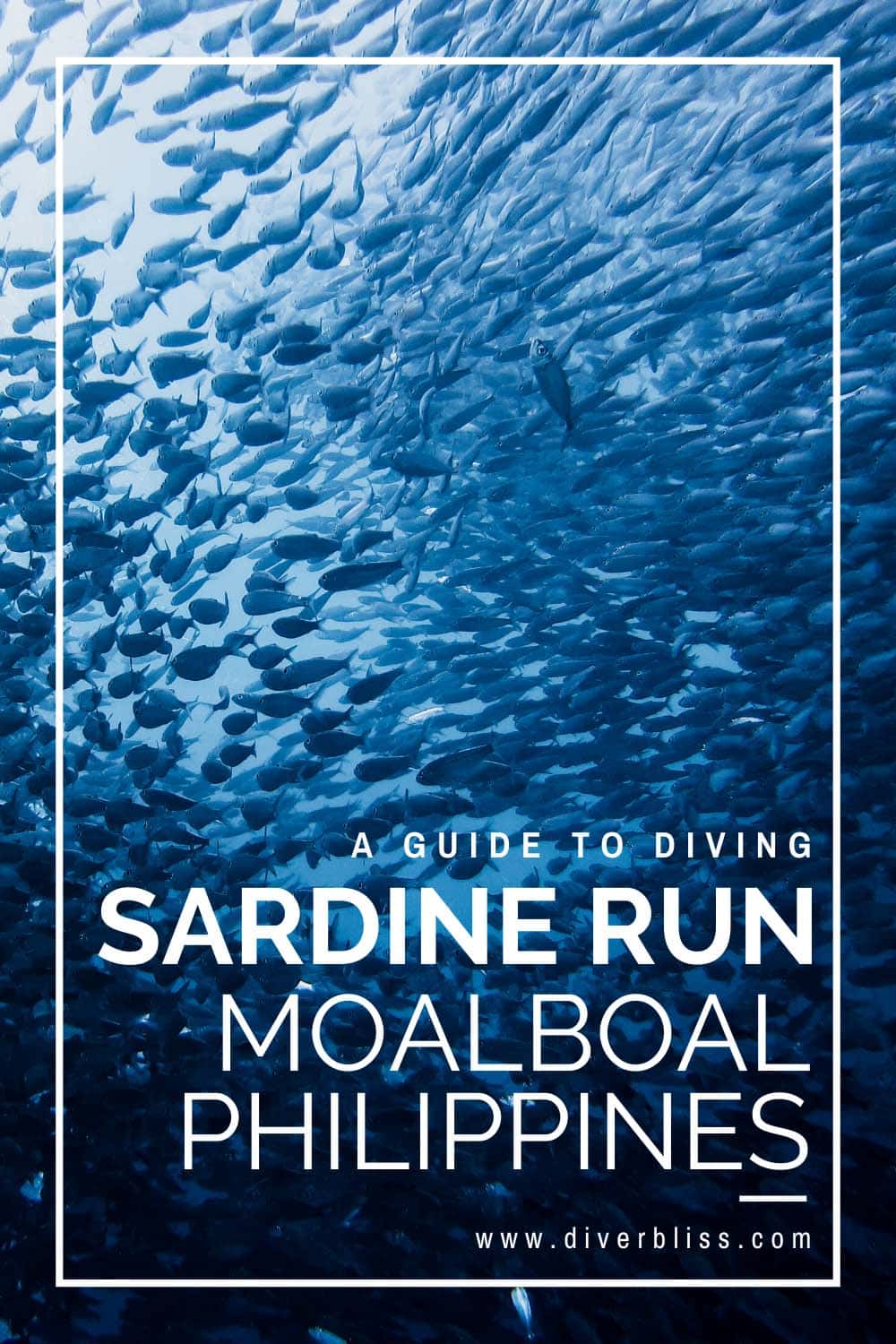 Growing up in the Philippines, there was always a can of sardines in our pantry. It is a staple in a Filipino home because they're rich in protein, delicious and also convenient to eat.
I can say that in my lifetime, I have seen hundreds of sardines, but usually they were in cans!
So when I heard that are a million of them in the wild, swimming freely off the coast of Cebu, I knew I just had to see it for myself.
I never thought I would be so excited over sardines but I found myself booking a dive trip just to see them!
Where is the Sardines Run in Moalboal?
During this trip, Blair, whom I met through Protector of Paradise in Fiji, accompanied me to see the Moalboal sardines run. He had not visited the Philippines and I had bragged how wonderful diving is in the country. So, he wanted to see for himself.
From Manila, we flew to Cebu, which is located south of Manila and in the Visayas Region of the Philippines. Moalboal is on the southwest side of Cebu island. From the airport in Cebu City we had to take a car to Moalboal, home of the famous sardines.
The massive school of sardines can be found off the coast of Panagsama Beach which is declared a Sardine Protection Zone. This means that this is a no-take zone not just for the sardines but also for the other marine life that lives in the reserve. Net fishing is not allowed in the area but the local fishermen can catch fish by line to feed their family.
From the shore, you can swim out to 30 meters where the sardines are. The sloping reef will suddenly drop down to about 70 meters. And into the blue, you will find the millions of sardines feeding on the planktons.
Scuba Diving the Sardines Run
Experiencing the Sardines Run in Moalboal
Our Sardine Run was scheduled at 3 in the afternoon so Johnny asked us to be at the shop 30 minutes early to gear up.
Panagsama Beach is just walking distance from Neptune Dive Resort. This was very convenient especially when we had to do a shore entry to get to the sardines.
The ocean that day was calm, making our entry easy. We did not struggle with any strong currents so swimming out to the dive spot was fast.
When we descended to 20 meters, I immediately saw a school of fish and excitedly swam towards it thinking they were sardines! Turns out they were just fusiliers. False alarm!
We continue to follow Johnny and then I noticed that it suddenly became darker. Despite the afternoon sun shining down on us earlier, it looked like there were clouds overhead. Only it wasn't the weather changing, it was the sardines!
They were just everywhere! Without realizing it, we found ourselves right in the middle of a sardine storm tornado. I have never seen anything like it.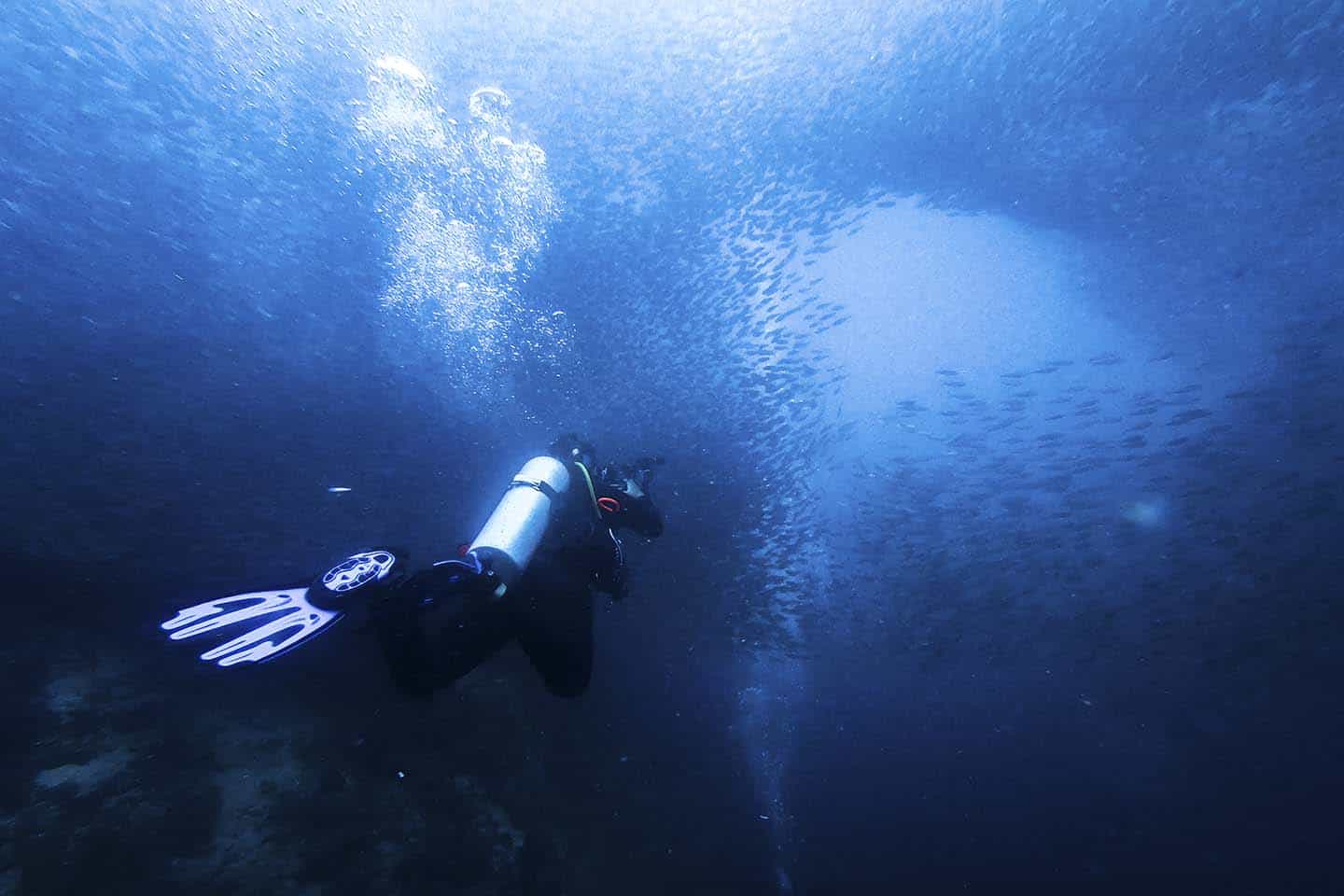 I was so overwhelmed that honestly did not know where to go and what to do first. I have never seen so much fish in my life!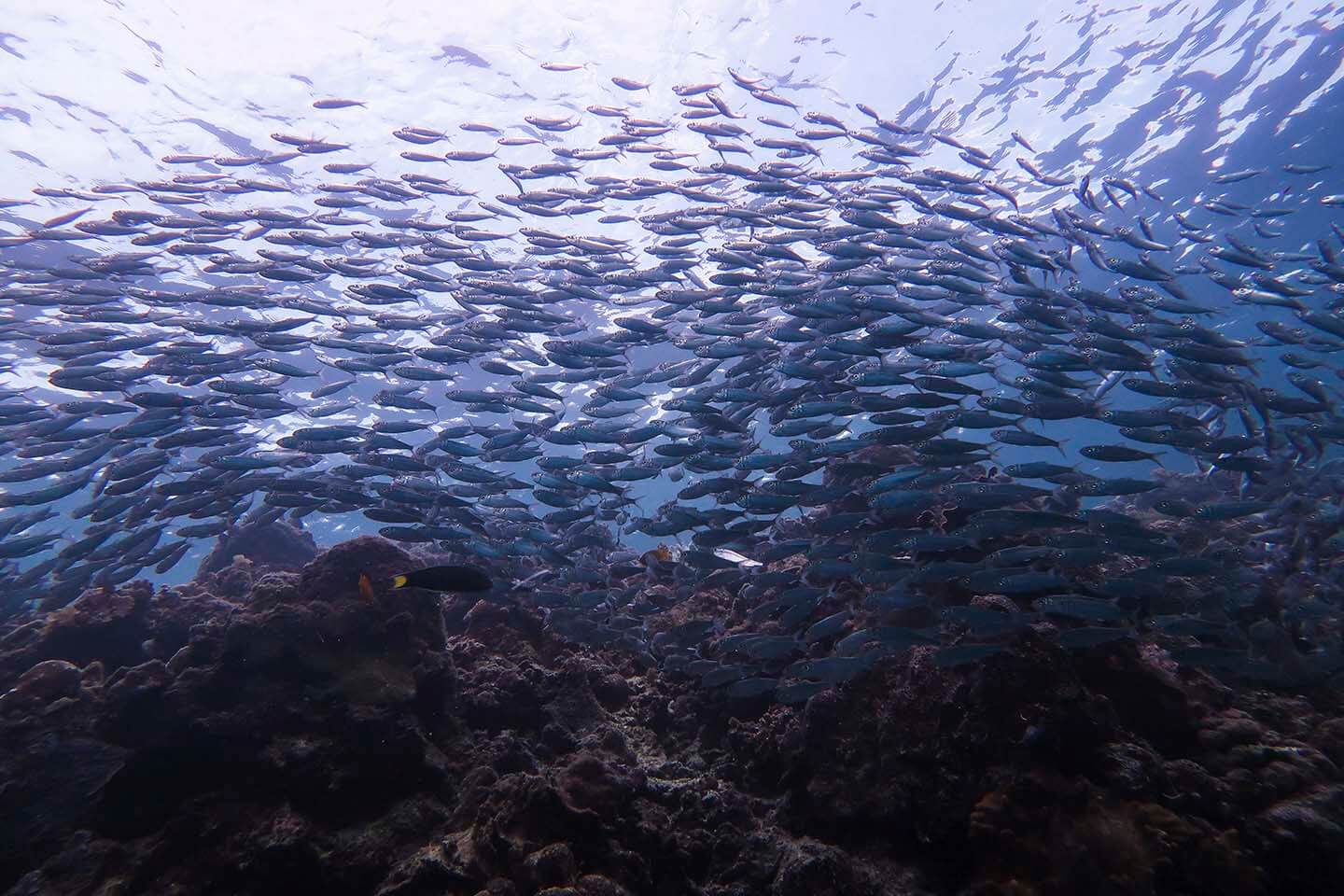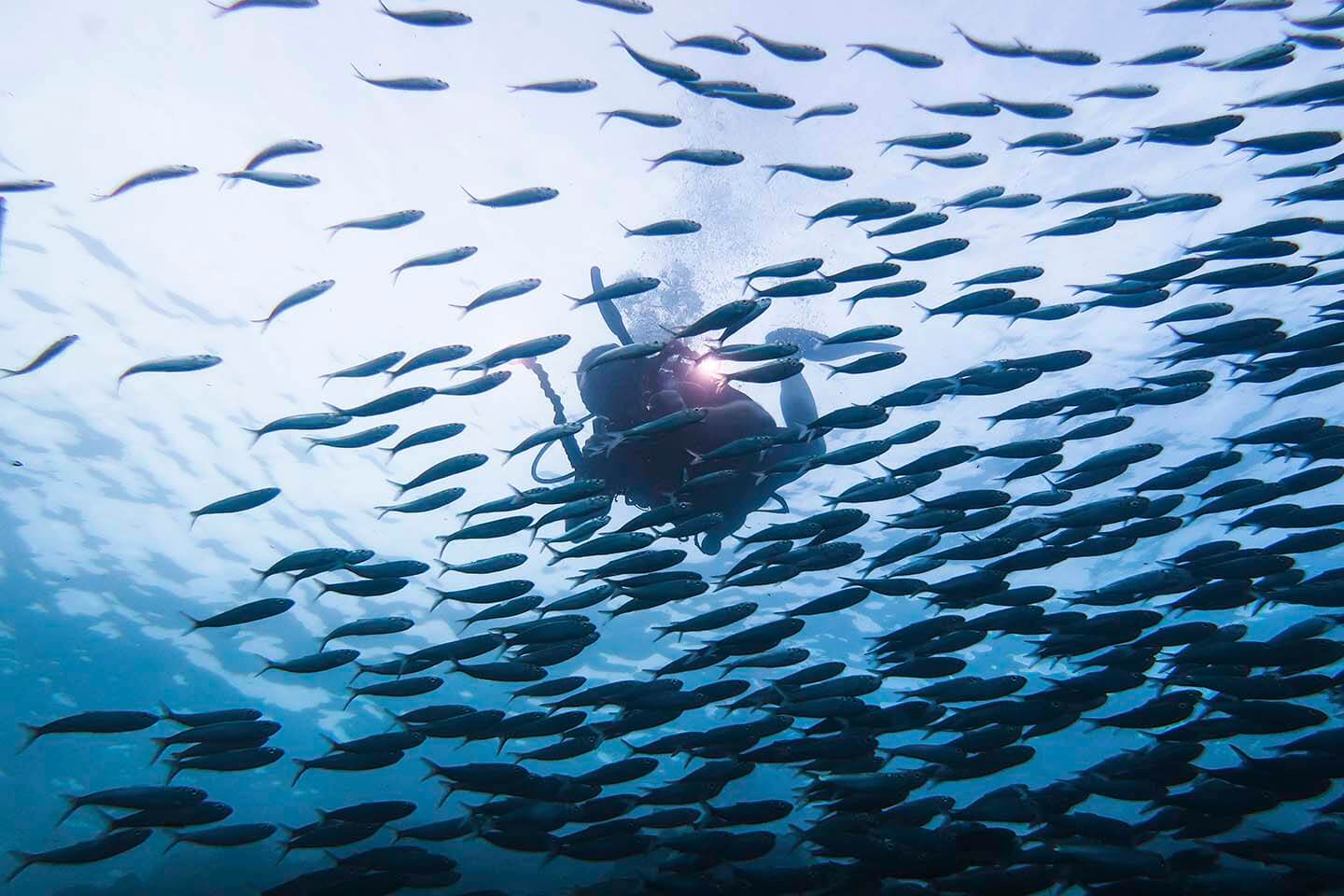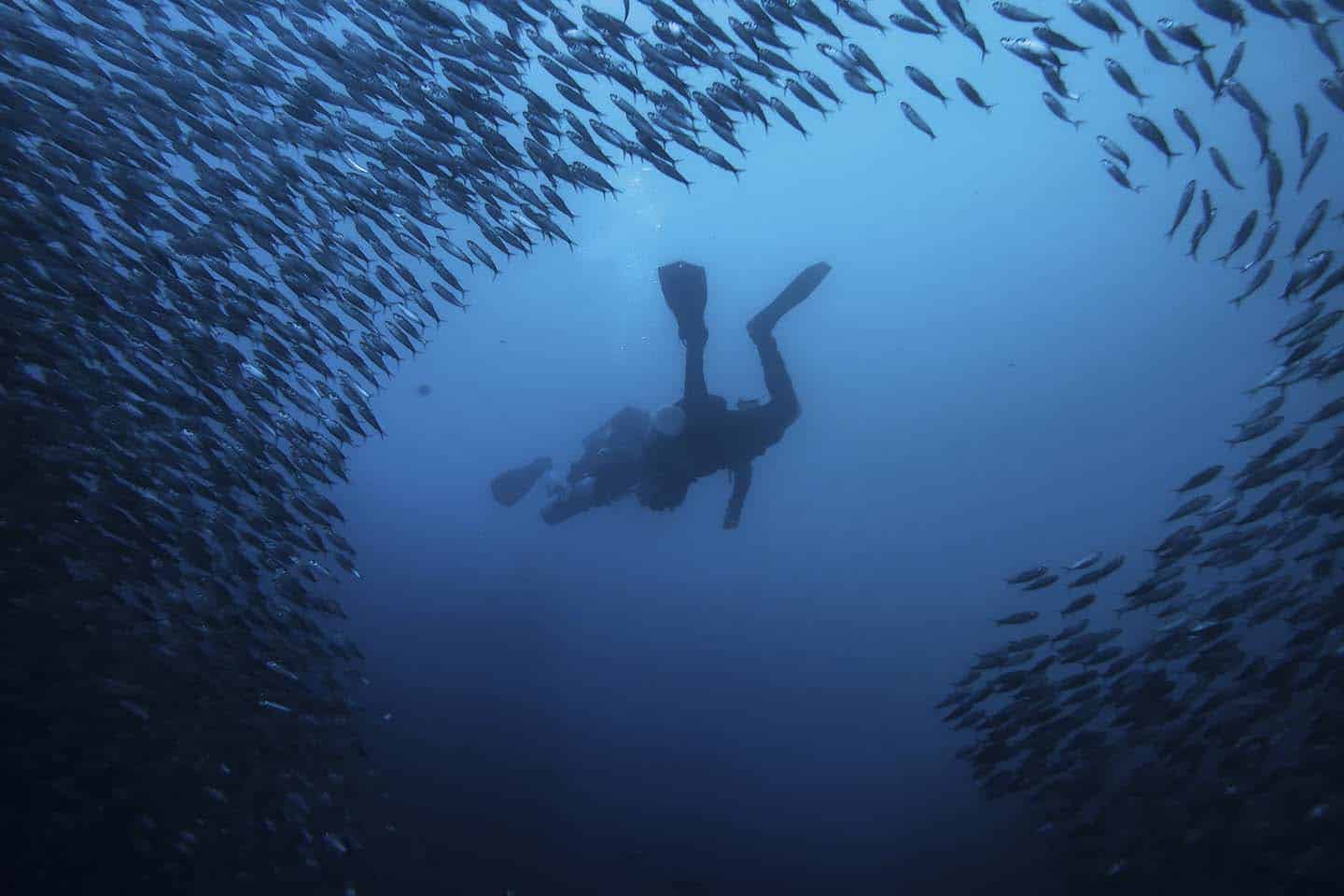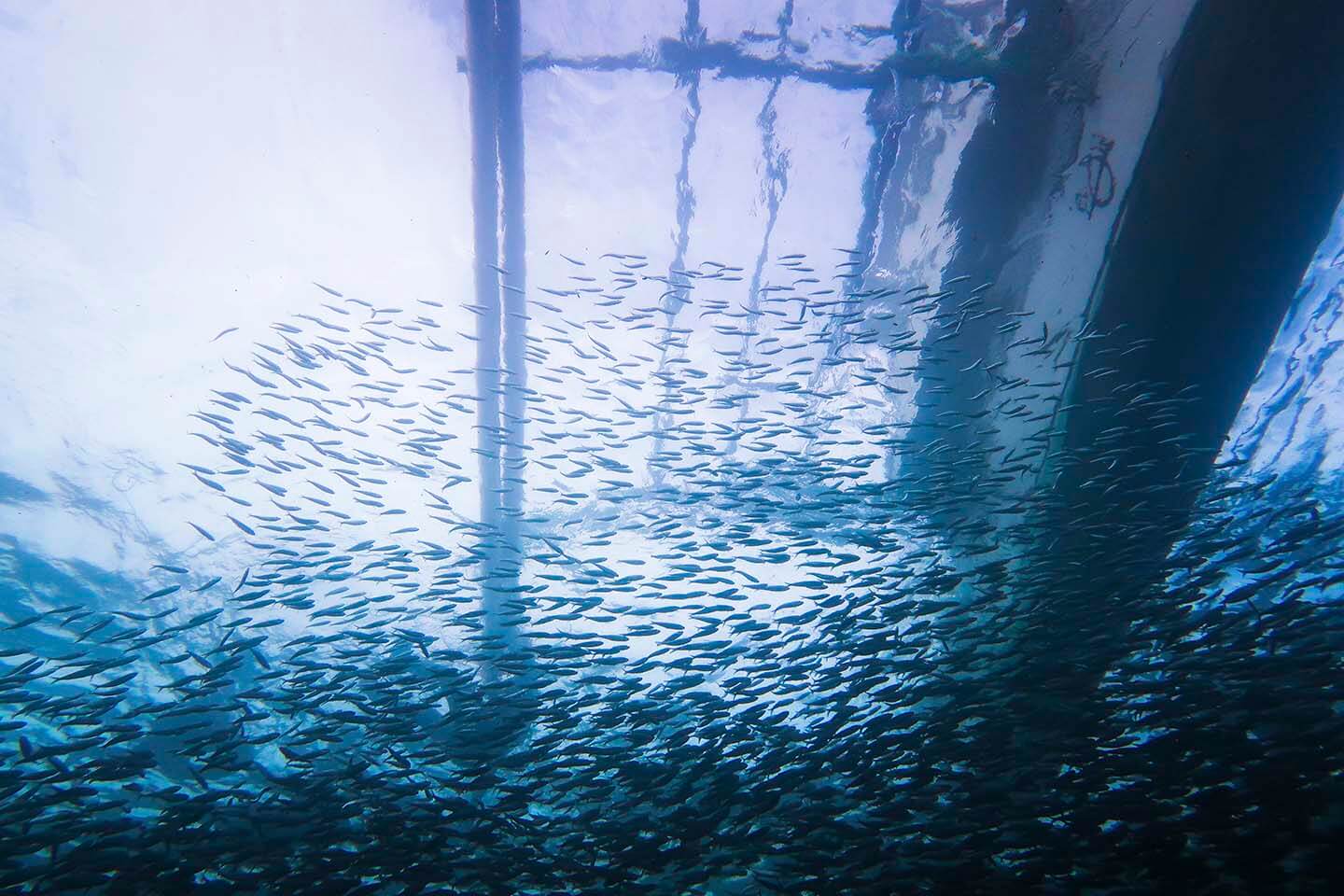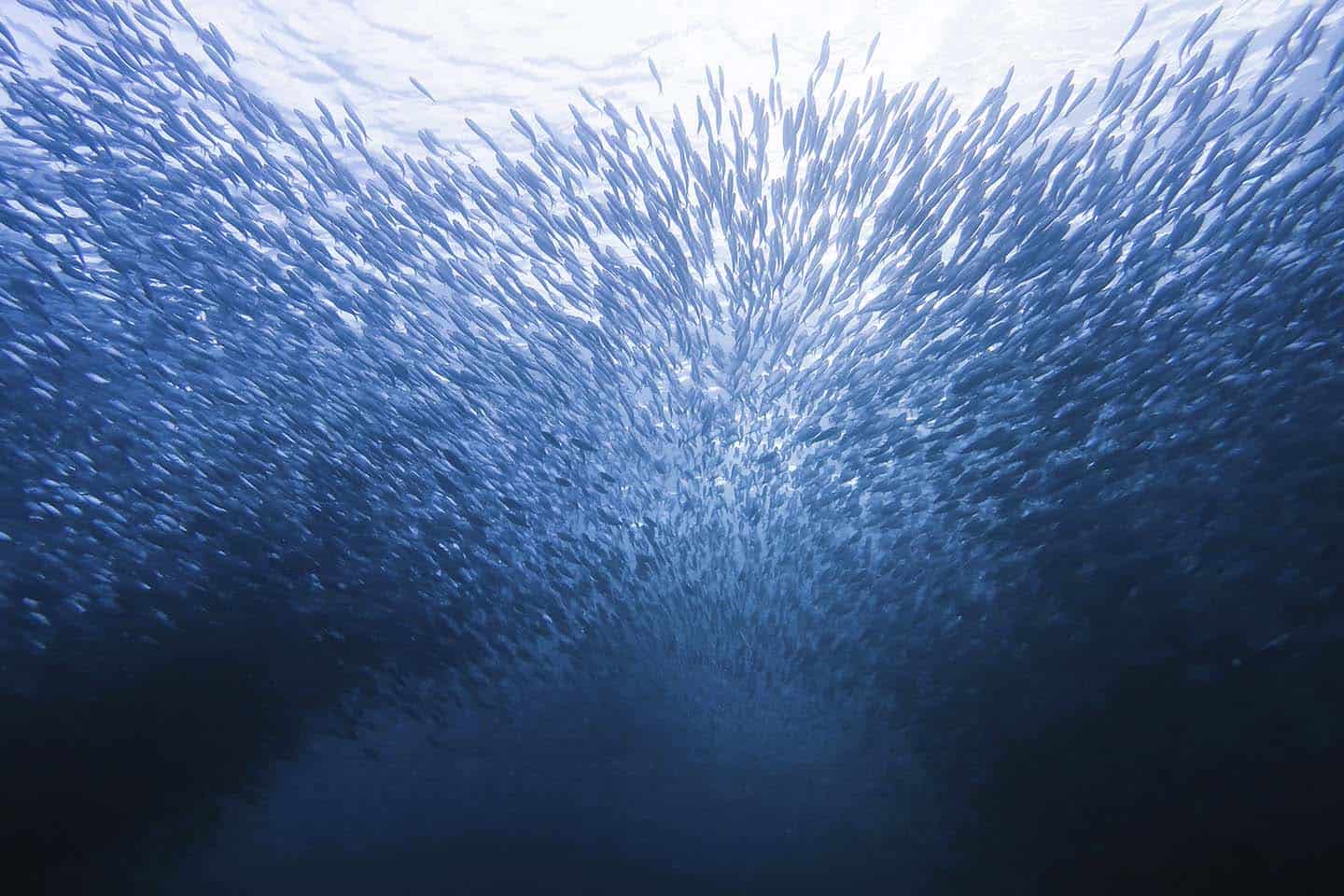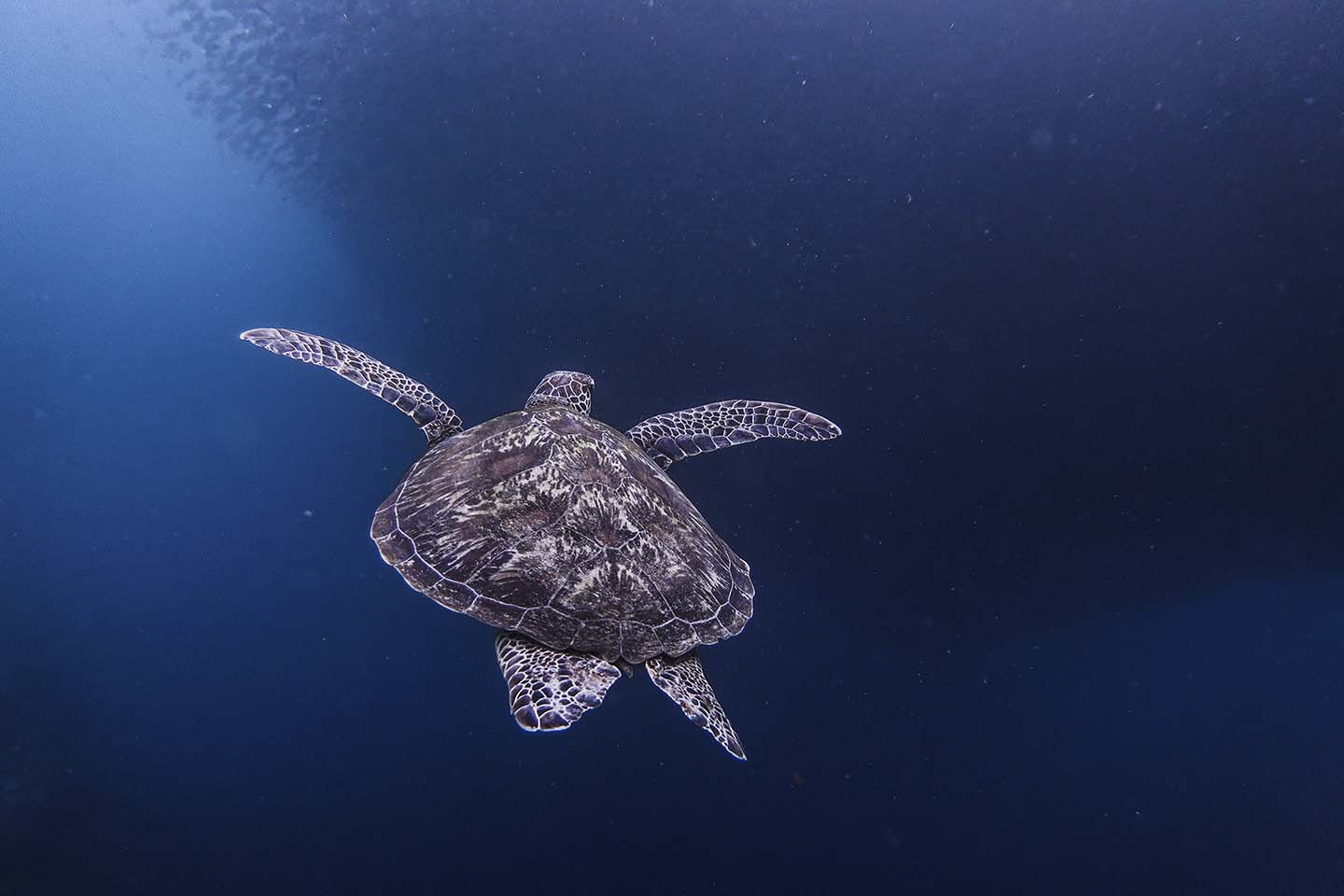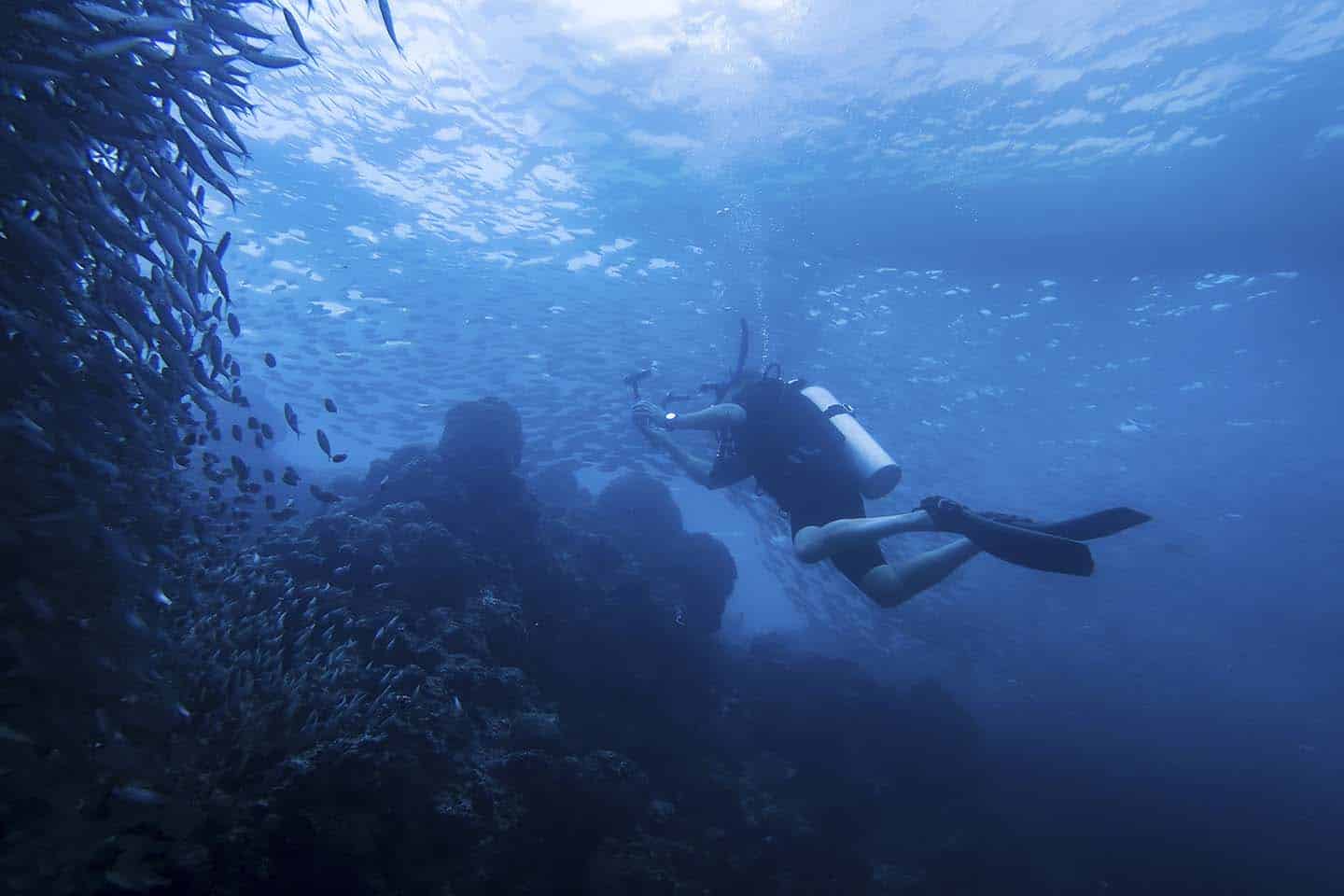 Like synchronized swimmers, the sardines moved together like one single unit. Often moving together and then apart when they sensed a predator, a.k.a. me, was nearby.
It was truly a sight to behold.
Sardine Season in Moalboal
In the past, the sardines were spotted by the neighboring island of Pescador. But for some reason, they moved closer to Panagsama beach, which makes it easier for divers to see them.
The Moalboal sardines run is special because it can be done the whole year-round! This is one of the reasons why Moalboal is one of the best scuba diving spots in the Philippines.
Unlike other sardines run in the world, where you are not guaranteed to see them, the giant bait ball of sardines in Panagsama beach has been spotted every day since it moved there.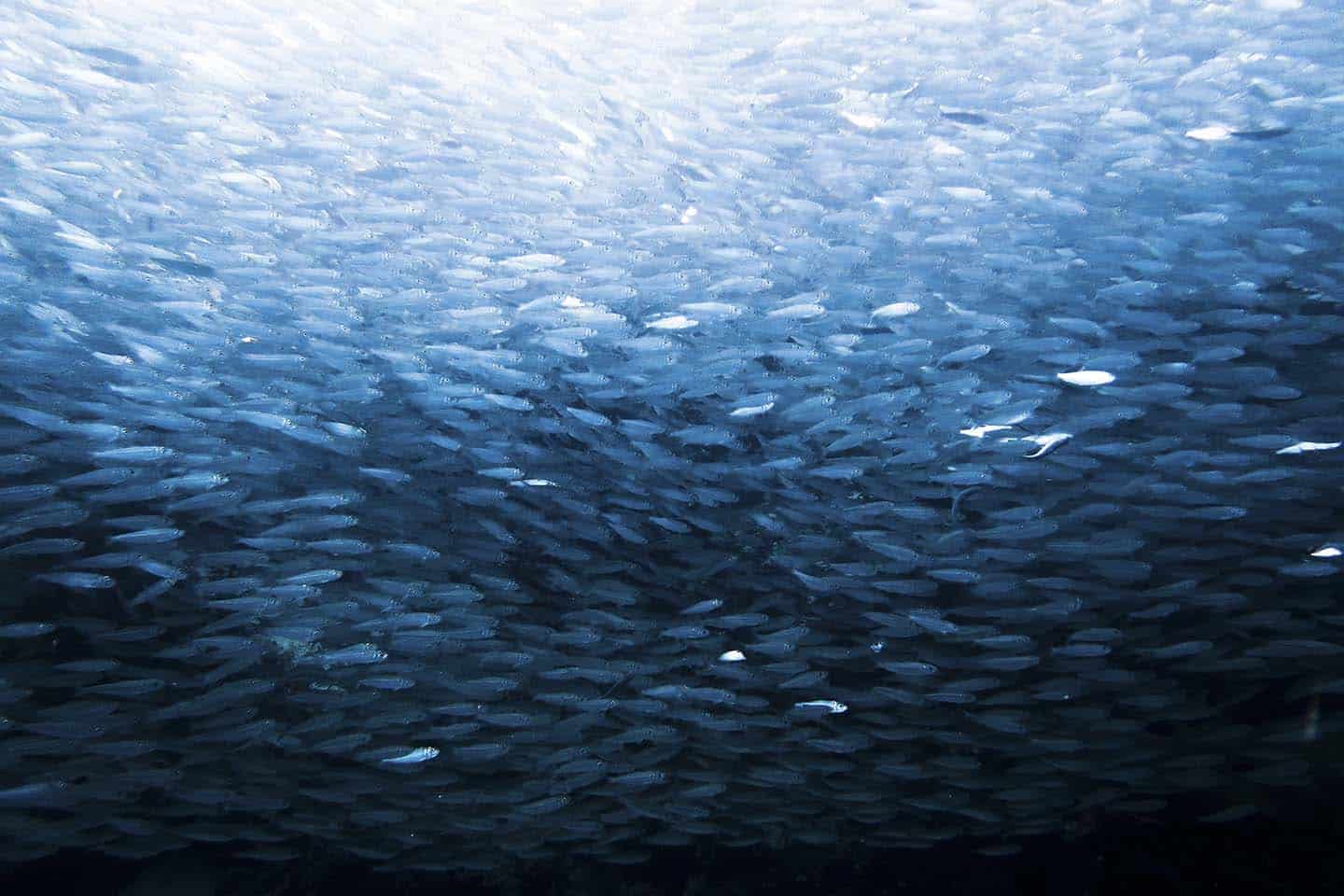 If you are concerned with the weather conditions, the best time to travel to the Philippines is from November to May. During this time, there are fewer typhoons entering the country.
Recommended reading:
Amihan and Habagat: Diving Seasons in the Philippines Explained
Best Time To Dive in the Philippines + Monthly Guide on Where to Go
Water Temperature and Visibility in Moalboal
Water temperatures in the Moalboal fall between 24-30 degrees Celcius. Most divers are comfortable wearing 1.5mm to 3mm suits.
Visibility in Moalboal for the Sardines Run is literally full of shit. With millions of sardines feeding in the water, just imagine the amount of fish poo there is at any given time!
Of course, this does not ruin the experience at all. Unless you feel iffy about fish poo! Despite the additional particles in the water, you can still see as far as 20 meters or more.
Occasionally, it can get very "gloomy" and dark underwater but this is due to the ball of sardines simply blocking the sun. And that's just another part of the experience.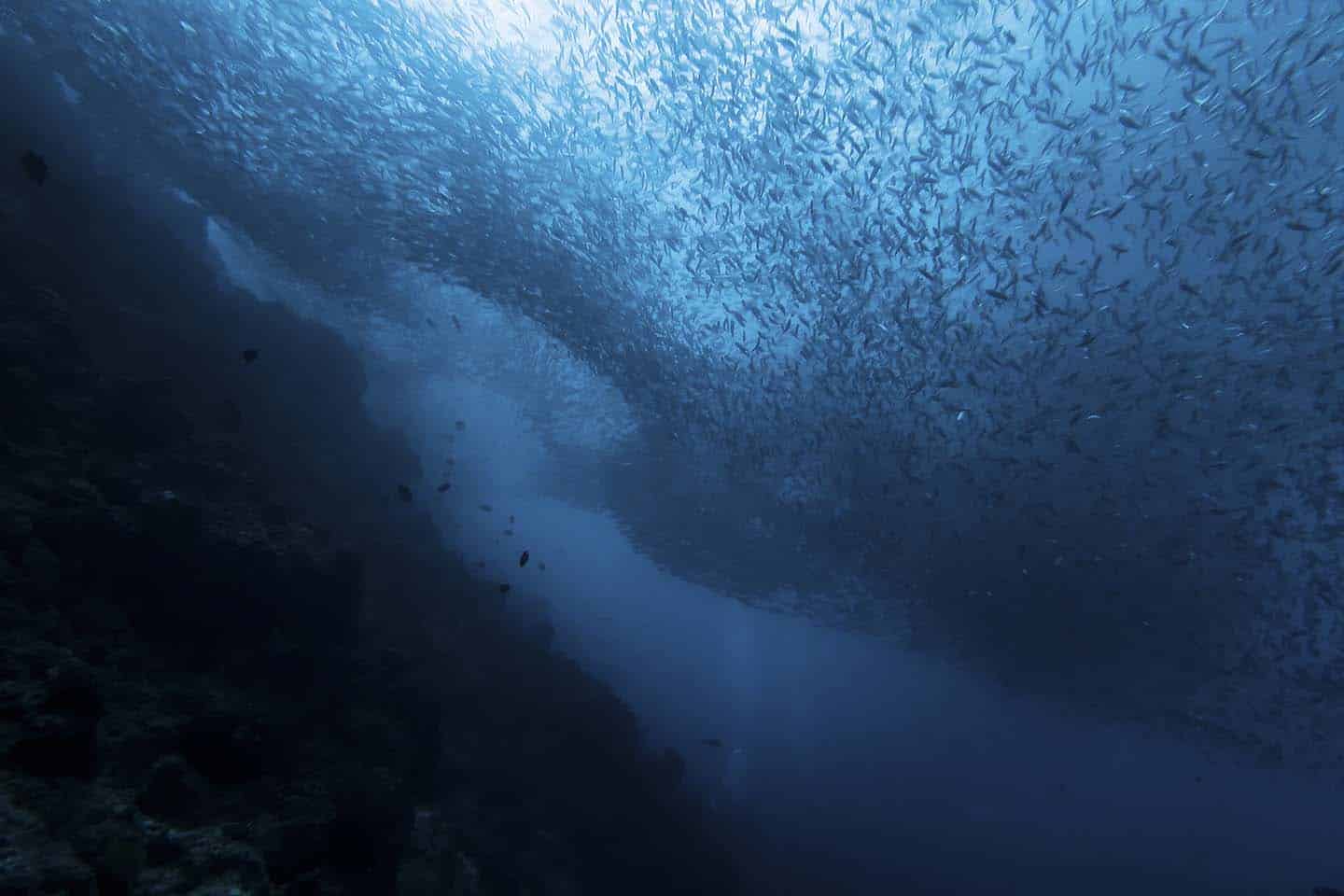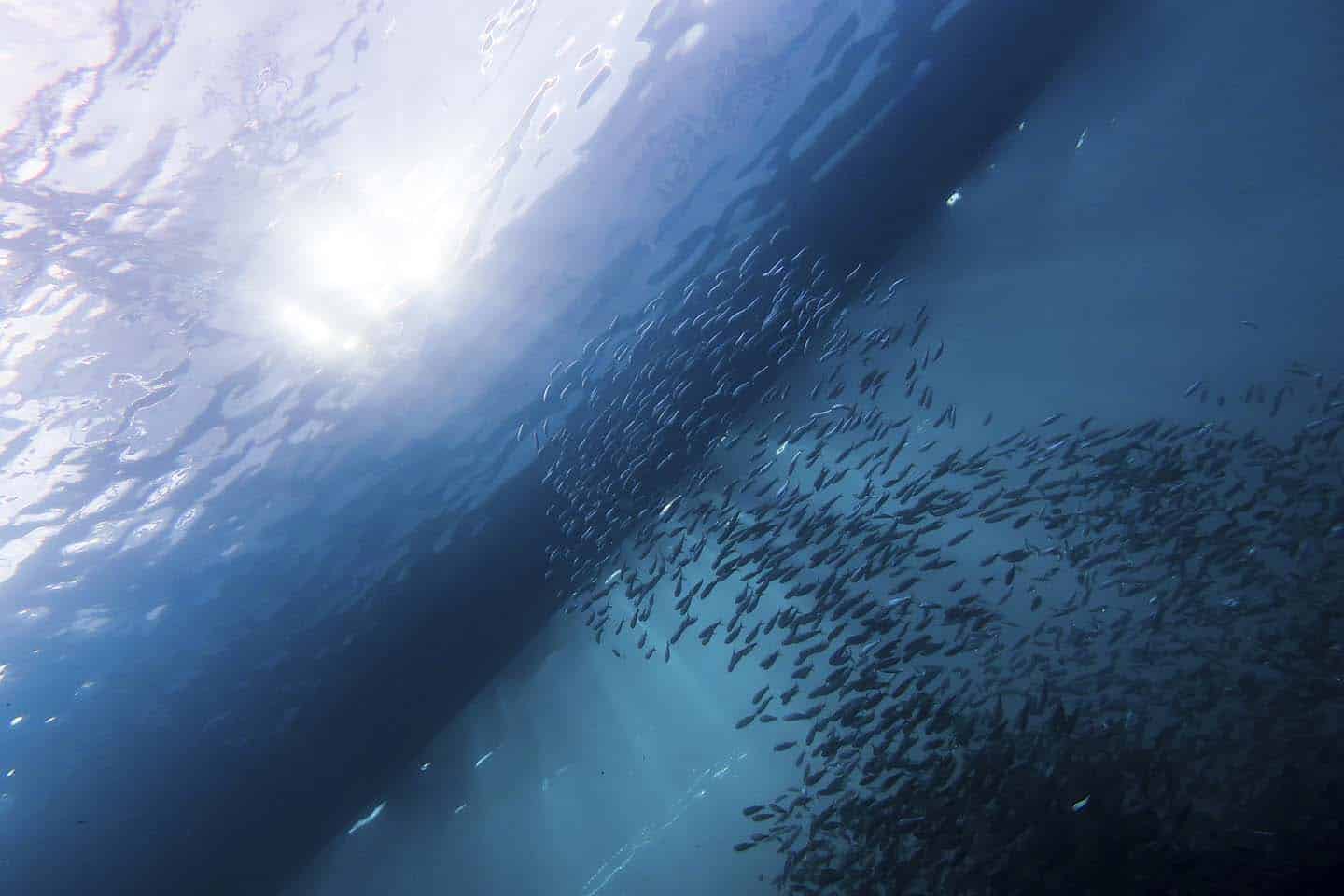 Recommended Dive Shop in Moalboal
There are actually several dive centers in Moalboal you can choose from. But we decided to book our stay and our dives in Neptune Dive Resort. This was based on several recommendations and reviews we read online, as well as its proximity to the beach and other services.
Aside from the sardines run, we did all of our dives in Moalboal with them. The Dive Master (DM) was Johnny and he was an excellent guide and spotter. I was very happy with my experience and would dive with them again.
Snorkeling the Sardines Run
The following day, we realized we had so much fun scuba diving with the sardines in Moalboal that we wanted to see them again. So Blair and I, equipped with our fins and snorkel gear, ventured out on our own to find them.
This is another great thing about the Moalboal sardines run. You don't need to scuba dive to enjoy them.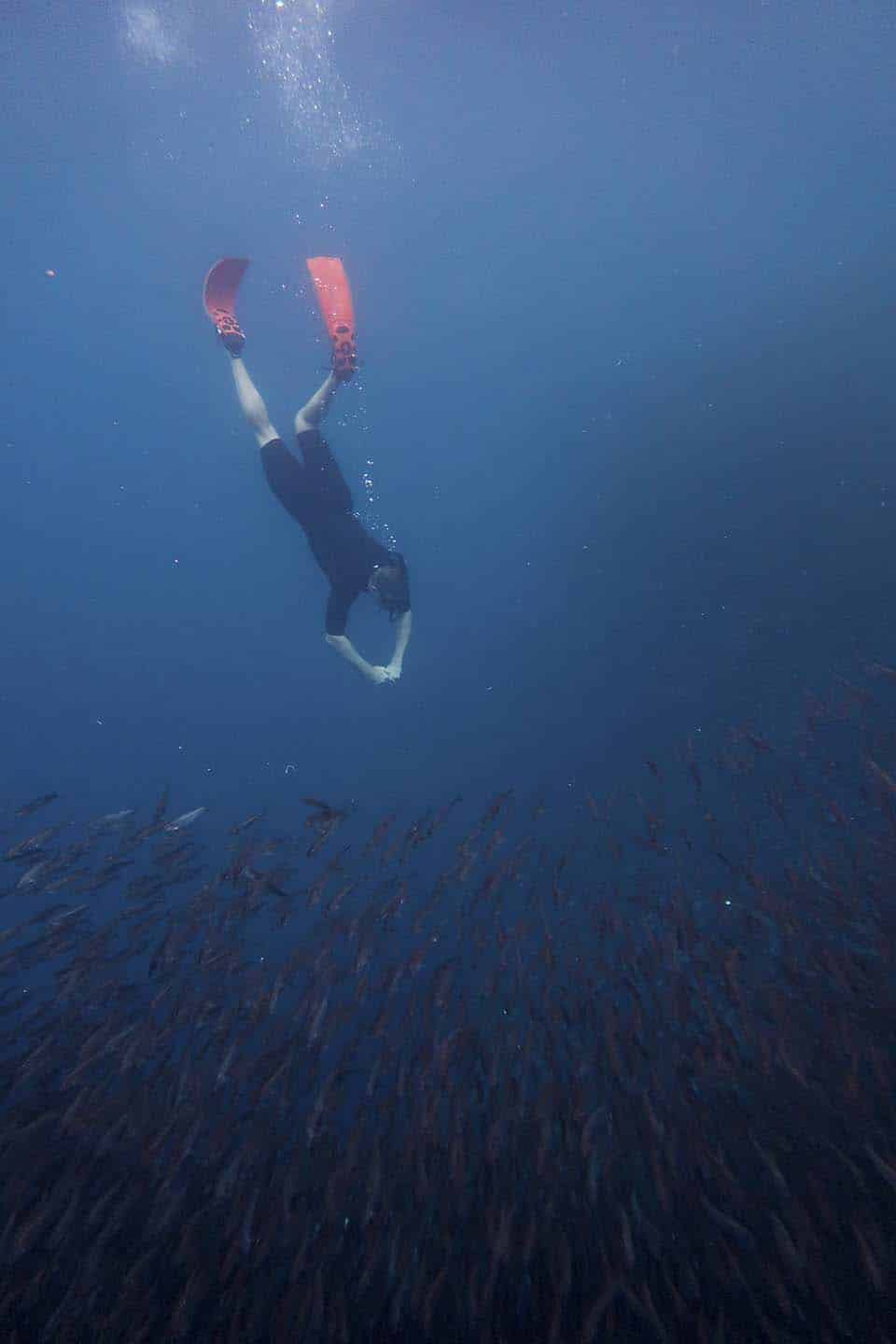 As filter-feeders, the sardines can stay near the surface to feed on the planktons. So you can experience the sardine run in Moalboal simply by snorkeling or freediving.
There's a growing community of freedivers in Moalboal so if you would like to get certified you can do it here! Freediving planet has half-day discover freediving course or if you prefer to get certified, a 2-3 days PADI Freediving Course in Moalboal.
Snorkeling the sardines run is for FREE, which is a "yay!" in my books. Unless of course, you need to rent gear, which you can easily arrange with the dive shops around Panagsama beach.
If you are not a confident swimmer you can also ask for a life jacket to keep you safe. And always make sure to snorkel with a buddy.
Since the reef is a protected area, you can also find sea turtles and other marine life in the area.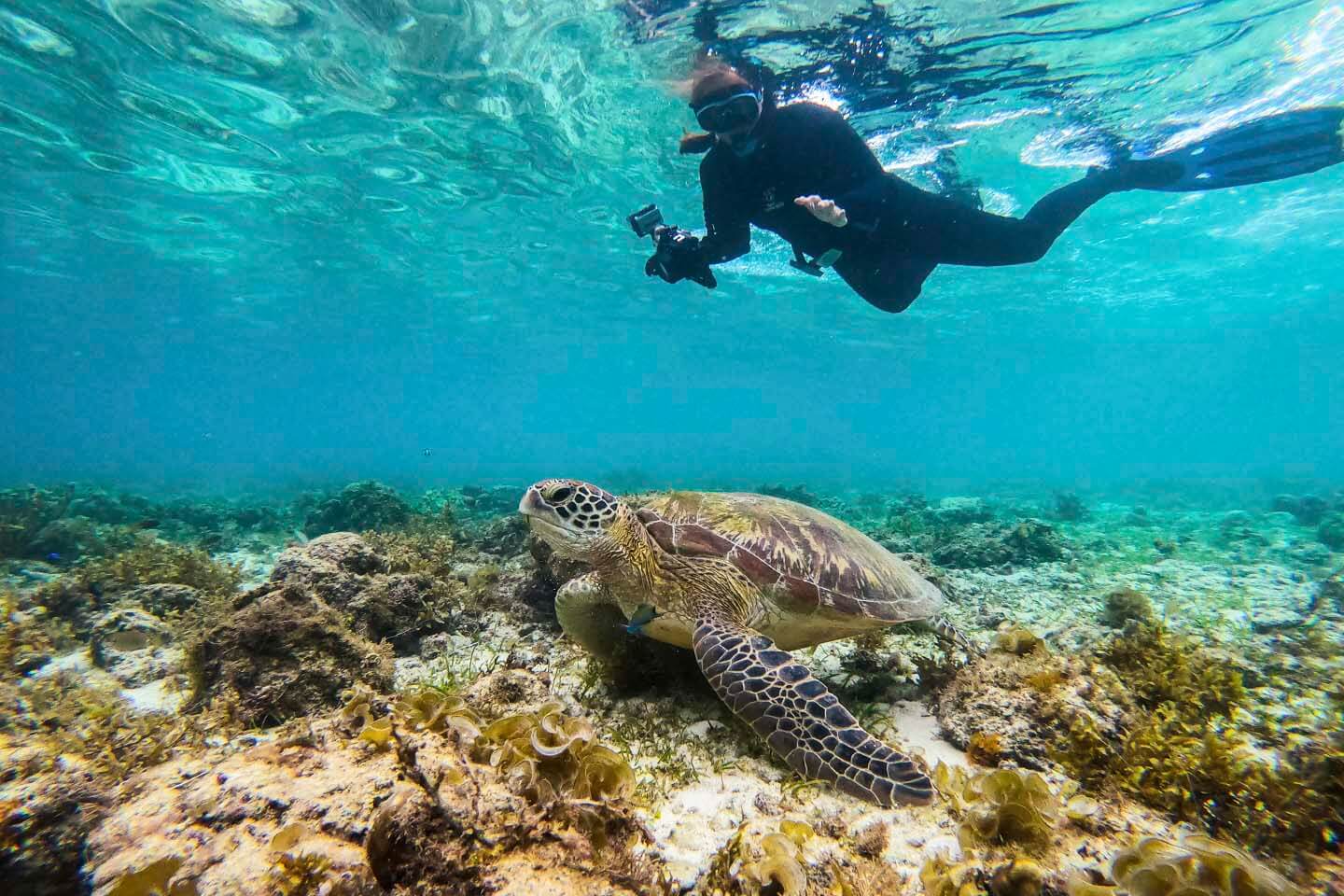 After we got our fill of sardines and turtle heaven, we headed back to shore with energies high from what we had experienced.
If you haven't experienced a Sardine Run before, then Moalboal would be a great place to do it. And even if you have experienced it before, then Moalboal is an awesome place to do it again!
Liveaboard Diving in Moalboal
Experiencing the sardine run is part. of the itinerary for several Philippine Liveaboard operator. If you would like to explore the best reefs in the Visayan region which includes diving with sardines in Moalboal you can check out these liveaboards.
Atlantis Azores– Bohol Safari or Cebu Malapascua
Philippine Siren– Southern Visayas or Malapascua and the Visayas
If you are not familiar with what scuba diving liveaboards are, you can check out my post on liveaboard diving for beginners.
What to pack for Sardines Run in Moalboal
Here is the standard dive gear I bring while diving in the Philippines.
My Scuba Diving Gear
Regulator: Scubapro MK25 Evo, C300 and C200 2nd Stage
BCD: Aqualung Axiom
Mask: TUSA M-212 Freedom Ceos
Snorkel: TUSA SP-170 Platina Hyperdry II
Booties: Poseidon Pink Dive Boots
Fins: Problue
Wetsuit: Seavenger
Vest Hoodie: Scubapro Hybrid Hooded Vest
Dive Watch: Suunto D4i Novo
Dive Knife: Aqualung Blunt Tip Knife
Dive Leggings and Rash: Blue Adaptation Coral Sea Fan

My Underwater Camera Gear
Underwater Camera: Canon G7X Mark II
Underwater Camera Housing: Fantasea FG7XII
Video Lights: Big Blue AL1200XP
Underwater Action Camera: GoPro Hero9
360 Camera: Insta360 X3

> Canon G7X Mark II full review
> Insta360 X3 underwater camera review
> Scuba diving camera recommendations for beginners.

Dive Insurance
Divers Alert Network (DAN)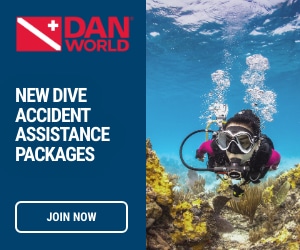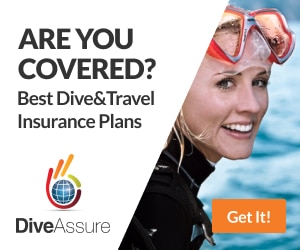 Need travel insurance for your trip? Get a quote from Safety Wing.
If you're traveling and diving in the Philippines for the first time, make sure to read my posts on:
Ultimate Guide to Traveling and Scuba Diving in the Philippines
Philippine Packing List: What to Bring to Your Dive Trip
How to Get to Moalboal?
You can go to Panagsama beach, Moalboal through several modes of transportation. If comfort and getting to your destination quickly are your priority then you can do what we did and hire a private car.
We asked Neptune Dive Resort to arrange for us to be picked up from the airport. The journey took about 3-4 hours and we sat comfortably in an airconditioned vehicle until we reached Moalboal. We paid Php2500 (approximately USD50 for one way trip)
However, if you're on a budget, you can take the slower and cheaper route and take public transportation. Here are some suggestions on how to get to Moalboal.
Step 1: Go to Cebu City
By Air
As major business and tourist hub in the Philippines, there are also international and local flights going in and out of The Mactan-Cebu International Airport daily.
By Ferry
If you're within the Philippines already, traveling by ferry to Cebu is also a good alternative. It is cheaper and also convenient as there are multiple ferries going in and out of Cebu's port daily.
The most common routes would include province of Bohol, Negros Oriental (Dumaguete), Leyte, Iloilo and many more.
Step 2: Go to Moalboal
Once you get to Cebu City, you can take a private or public vehicle to Moalboal.
By Private Car
As mentioned previously, you can ask your accommodations to arrange for car transportation from the airport straight to Moalboal.
Another option is to carpool and hire a van from Cebu City all the way to Moalboal. This works best if you are traveling as a big group. as you can share transportation fees with other travellers.
The only downside of this is that the van service can get canceled if there are not enough people going on the trip.
By Public Transportation
The cheaper alternative is to use public transportation. From Mactan-Cebu Airport, go to the South Bus Terminal where you will need to look for Ceres Bus Line that is bound for Bato, Cebu. Buses depart every 30 minutes and depending on traffic and stopovers. It takes on average 3-4 hours for the journey.
Tell the bus conductor that you will be going to Panagsama Beach. Once in Moalboal you will need to get off the bus at a 7/11. Then take a trike to your accommodations.
Where to Stay in Moalboal?
During our stay in Moalboal we stayed in Neptune Dive Resort due to its location. The rooms were clean and the service was great.
However, if I were to return to Moalboal, I would choose another place to stay in because it was too close to the nightlife. I had difficulty sleeping because of the noise from the bar next door. So in the future, I will most likely choose a location away from the crowd.
Here are other options where you can stay in Moalboal!
Did you find this guide helpful? Don't forget to PIN it for later or SHARE this article to your dive buddy!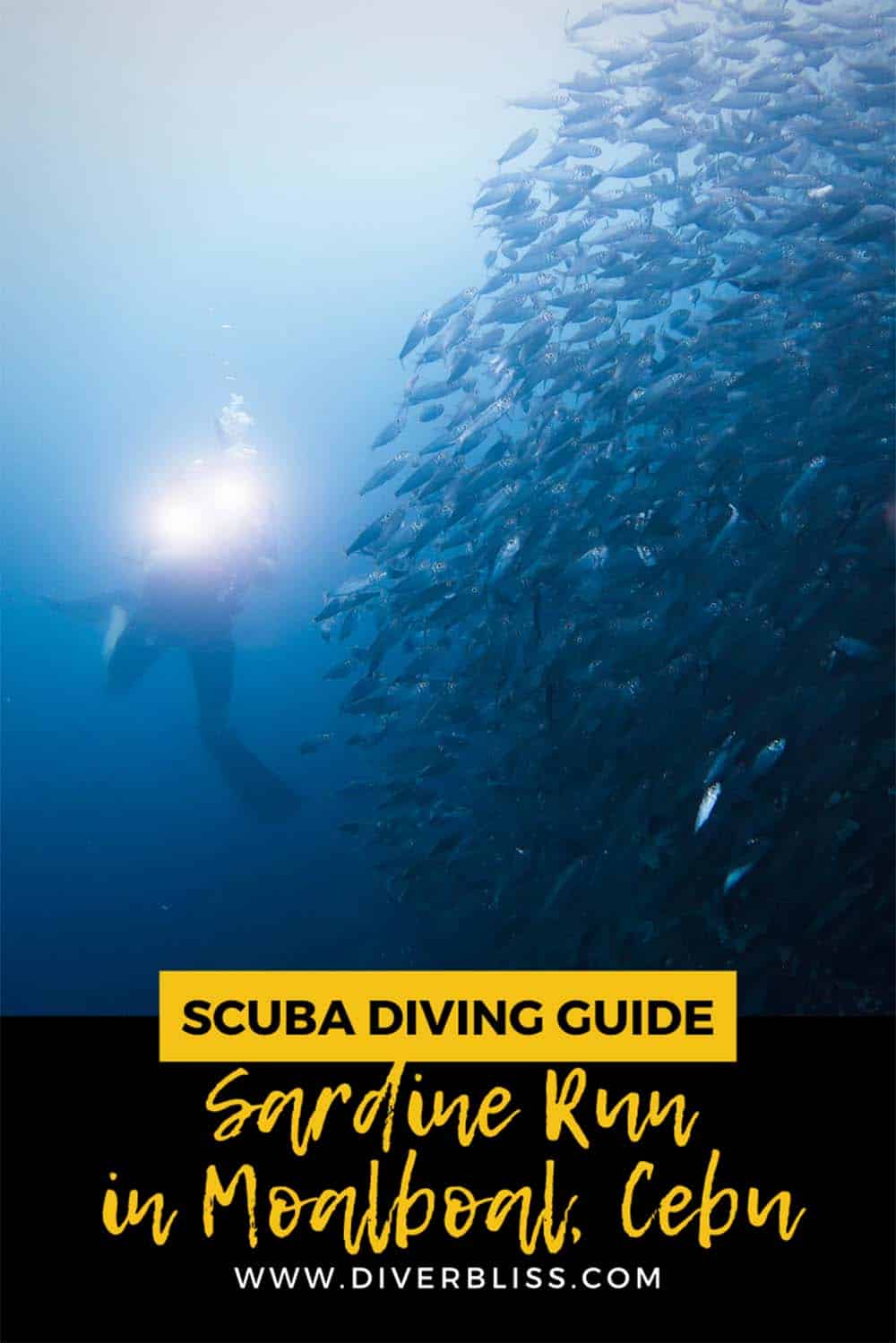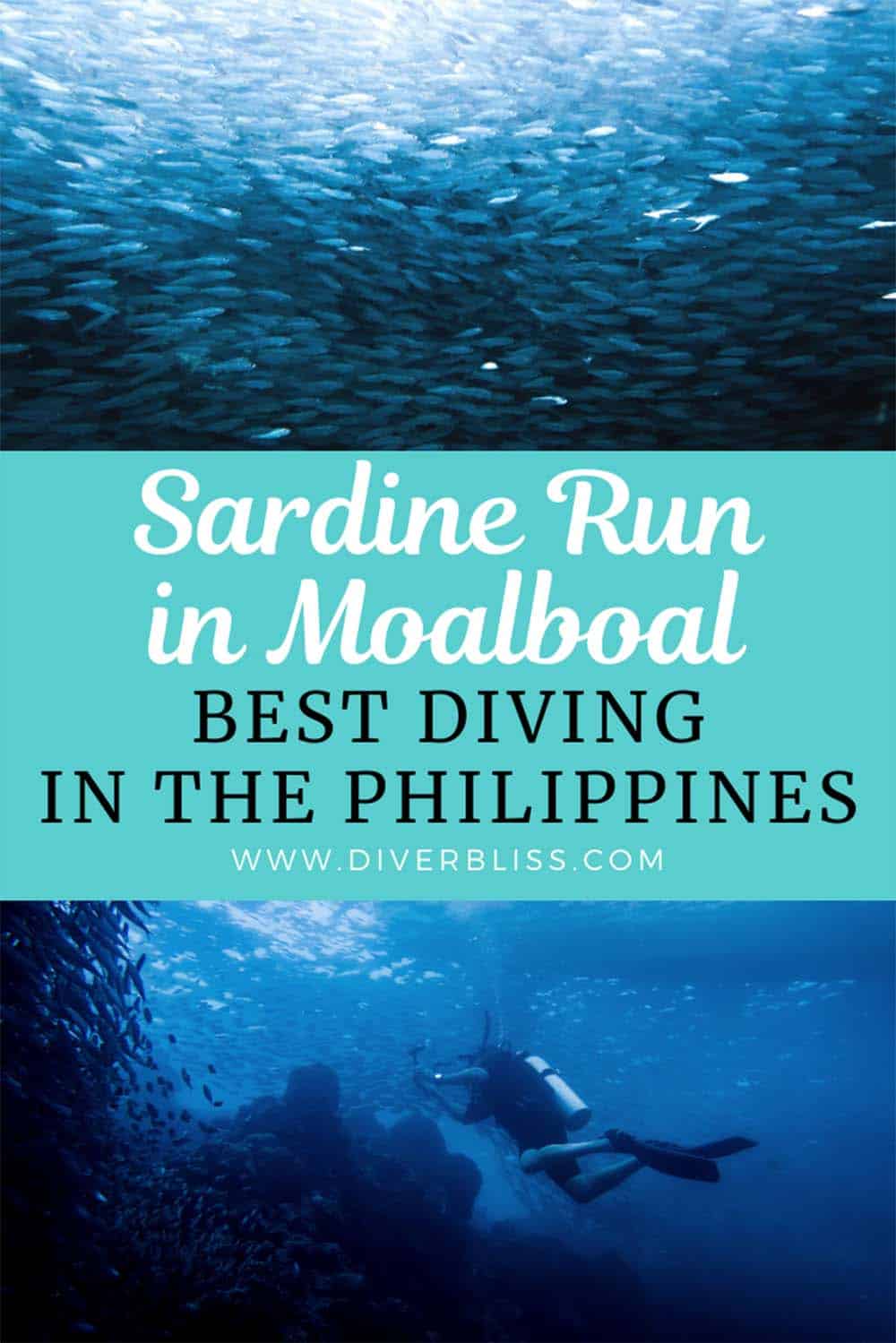 Are you planning on doing the sardines run in Moalboal? What are you looking forward to? Leave a comment below!