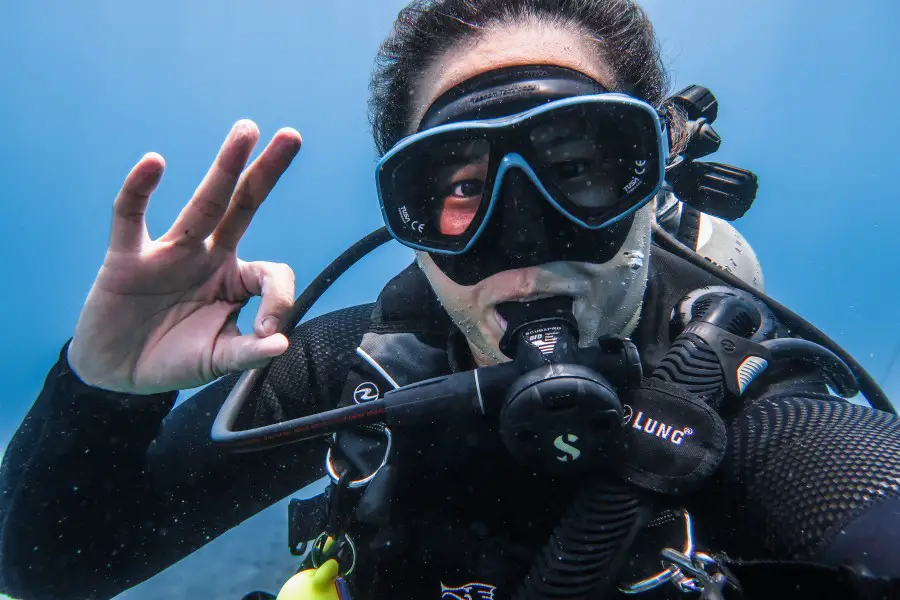 The links below may be affiliate links. If you shop through them, I'll earn a commission at no additional cost to you. For full information, please see my disclaimer here.
Five hundred and three days.
That was how long it was since I last scuba dived because of the pandemic. In the past, I have gone on long breaks without scuba diving, maybe 3 to 6 months at a time. But this was the first time I had been out of the water for more than a year. 
Usually, I would jump right back into the water without any issues. But to be honest, this time around was different. It was the first time I've ever felt this anxious about getting back to scuba diving after a long break. Not only did I have to deal with the diving aspects of it, but I also had to adjust to the "new normal" of traveling. 
Leading up to my first dive trip after more than a year of hiatus, I immediately recognized the signs of how worried I was to dive again.  I did feel the excitement of diving again but I also felt fear. 
Would I still know how to set up my own gear? Will I know what to do in case of an emergency? What if… What if… What if… Scenarios of what could go wrong kept playing in my head. Realizing that I was unconsciously doing these unhealthy behaviors, I took steps to put myself at ease. 
I know that many divers have experienced the same after being out of the water for some time so I would like to share my own experience on what I did in preparation.
1. Check your dive gear and send it in for maintenance
First thing I did was to take out my dive gear and dust off the cobwebs. Yes, there really were some! 
As these were the things that would keep me alive while underwater, I made sure that my scuba diving gear were still safe to use. Over time, dive gear can degrade especially when it's not in use. 
I have heard many stories of divers using dive gear straight from storage only to have it fail during the dive. Straps can disintegrate. Plastic parts can crack. Metal parts can rust. 
I did not want my gear to malfunction during the dive so I sent my regulator and BCD for a check-up as soon as I knew I was diving soon. I also had my dive computer batteries changed as apparently, it needs replacing every year or every 100 dives.
Tip for camera users: Rechargeable batteries need to be charged even when not in use. So occasionally I made sure to charge my camera and video lights batteries while I waited for my next dive.
If you are in the Philippines, here is the list of dive shops where you can have your dive gear serviced.
2. Read and review your diving knowledge 
While waiting for my next dive, I made sure to expose myself to anything about diving. Because I also write about scuba diving on my blog, I end up reading a lot about scuba diving as part of my research.  I also enjoy watching scuba diving Youtube videos which help me remember things that I may have forgotten. 
Reading and reviewing my knowledge about diving has helped me deal with my anxiety. I recognized that much of my unrest came from things that I might have forgotten. To avoid this, I made sure to quickly search for answers. When in doubt, ask Google!
If you still have access to your previous dive manuals or e-learning manuals, you can also go through them for reviews.
3. Choose a good dive destination or dive site 
Choosing where you are going to dive again after a long break is important. You would want to eliminate any locations that may be too difficult, unfamiliar, or unsafe. Consider the weather and environmental conditions of where you will be diving next. You might even want to try diving in a pool first where the environment is controlled. 
My first dive back was in Anilao, where I have dived multiple times. It was a boat entry in calm waters so it was very easy. It was a clean-up dive on a gradual sloping terrain so I didn't have to worry so much about my depth. The dive site was mostly sandy, so I didn't worry about accidentally hitting corals in case my buoyancy was not on point. There was also no current which made it less stressful.
4. Comply with Travel Requirements 
Once you've figured out where you are heading, make sure to double-check the requirements prior to arrival. If you are traveling to another country, confirm if you will be needing Visas.
Nowadays, with complications with the ever-changing pandemic rules and regulations. Reconfirm if you will be needing some vaccinations or Covid-19 tests prior to arrival. Some locations may even require you to quarantine for a few days so this might be something you need to consider.
As there are no standard rules, it is usually best to talk to the dive centers where you will be booking. They usually know the most current travel policies that are being implemented.
Interested in diving in the Philippines? Here are 11 Best Scuba Diving Spots in the Philippines That Are Easy To Visit for Vaccinated Tourists
5. Use a packing list to help you get ready 
Despite having packed my travel bags hundreds of times in the past, I actually started packing 3 days before my first trip back. This was very unlike me as I usually pack the day before a trip.  I was worried about leaving things. 
Then I remembered that I had created a packing list before! I dug out my files and went ahead and printed myself a copy. This really helped me keep organized rather than trying to remember based on memory what I should pack.
Here's what you to pack for your Philippines dive trip or sign up below to get your own packing checklist!
6. Renew Dive Insurance
One of the things that many scuba divers forget is to get dive insurance. You should invest in your own dive insurance so you're covered in case of emergencies. I personally use Divers Alert Network (DAN) but Dive Assure also comes highly recommended. Check with your local area which dive policies would work best for you. 
After more than a year of non-diving, my previous policy lapsed.  I made sure to renew my dive insurance right before my trip. 
7. Set up your own gear 
My first dive back was in the Philippines where "concierge diving" is often practiced. This is when you go to a resort and they pretty much do everything for you. Knowing this, I made sure to be hands-on with my gear set up. 
Setting up your own kit will help you familiarize yourself with your equipment. Go to your dive shop early and take your time to check and re-check every part of your scuba diving gear.
My Scuba Diving Gear
Regulator: Scubapro MK25 Evo, C300 and C200 2nd Stage
BCD: Aqualung Axiom
Mask: TUSA M-212 Freedom Ceos
Snorkel: TUSA SP-170 Platina Hyperdry II
Booties: Poseidon Pink Dive Boots
Fins: Problue
Wetsuit: Seavenger
Scuba Leggings: Ocean Spirit by Aurora Wetsuits (For a 10% discount, use Coupon Code: DIVERBLISS)
Vest Hoodie: Scubapro Hybrid Hooded Vest
Dive Watch: Suunto D4i Novo
Dive Knife: Aqualung Blunt Tip Knife

My Underwater Camera Gear
Underwater Camera: Canon G7X Mark II
Underwater Camera Housing: Fantasea FG7XII
Video Lights: Big Blue AL1200XP
Underwater Action Camera: GoPro Hero9

Click here for my Canon G7X Mark II full review
Click here for scuba diving camera recommendations for beginners.

Dive Insurance
Divers Alert Network (DAN)
Travel the Philippines worry-free!
SafetyWing is an international travel medical insurance that can cover you while you are outside your home. COVID-19 coverage is also included! Enter your details below to get a quotation.
8. Do a checkout dive or take a refresher course 
You can also do a checkout dive where a dive pro assesses if you need additional training.
If you have gone for long periods of time without diving, you might need to take a refresher course. This can be useful if you've forgotten a lot of skills and knowledge in diving and need to build your confidence back in the water. 
Learn more about PADI refresher course.
9. Do visualization exercises
Prior to getting in the water, one of the things that were helpful to overcome my anxiety was to visualize how my dives will go. Rather than focusing on what could go wrong, focus on what should go right.
What I did was go through the dive process in my head. I had done these steps a hundred times before and I knew I simply needed to be reminded that I know what I was doing. I imagined myself preparing my gear, then gearing up and entering the water. I imagined myself descending and calmly completing each task needed for a fun and safe dive. I imagined myself completing the dive and exiting the water without any issues.
I am a firm believer of you attract what you think, so I made sure to think about all the good things that could happen during the dive. This gave me more confidence to jump right back in.
Visualizing the outcome you would want can put you in the proper mindset even before you enter the water.
Here's a video you can watch to remind you why you love scuba diving
10. Talk to your dive buddy and guide of any anxieties you have
Truth be told, on the drive down to Anilao, Batangas, I could feel butterflies in my stomach. Recognizing the signs of anxiety, I told my dive buddy, Maire, what I was feeling. I told her I was worried about the dive as I haven't gone diving for more than a year.
By telling her how I was feeling, I wanted to make her aware of where my mind was. I wanted to let her know that I may need some extra help entering the water.
Talking with her also eased my worries. By the time we reached Anilao, I felt more excited than scared about diving again.
11. Take it slow
Regardless of what level of experience you've had in the past, slowly ease back into it. There is no need to rush into things or be a daredevil. Don't be cocky or overly confident. There is no shame in admitting you have forgotten things and need some time remembering how to do things again. 
If you are not comfortable with the dive, remember that you can cancel or abort the dive at any time.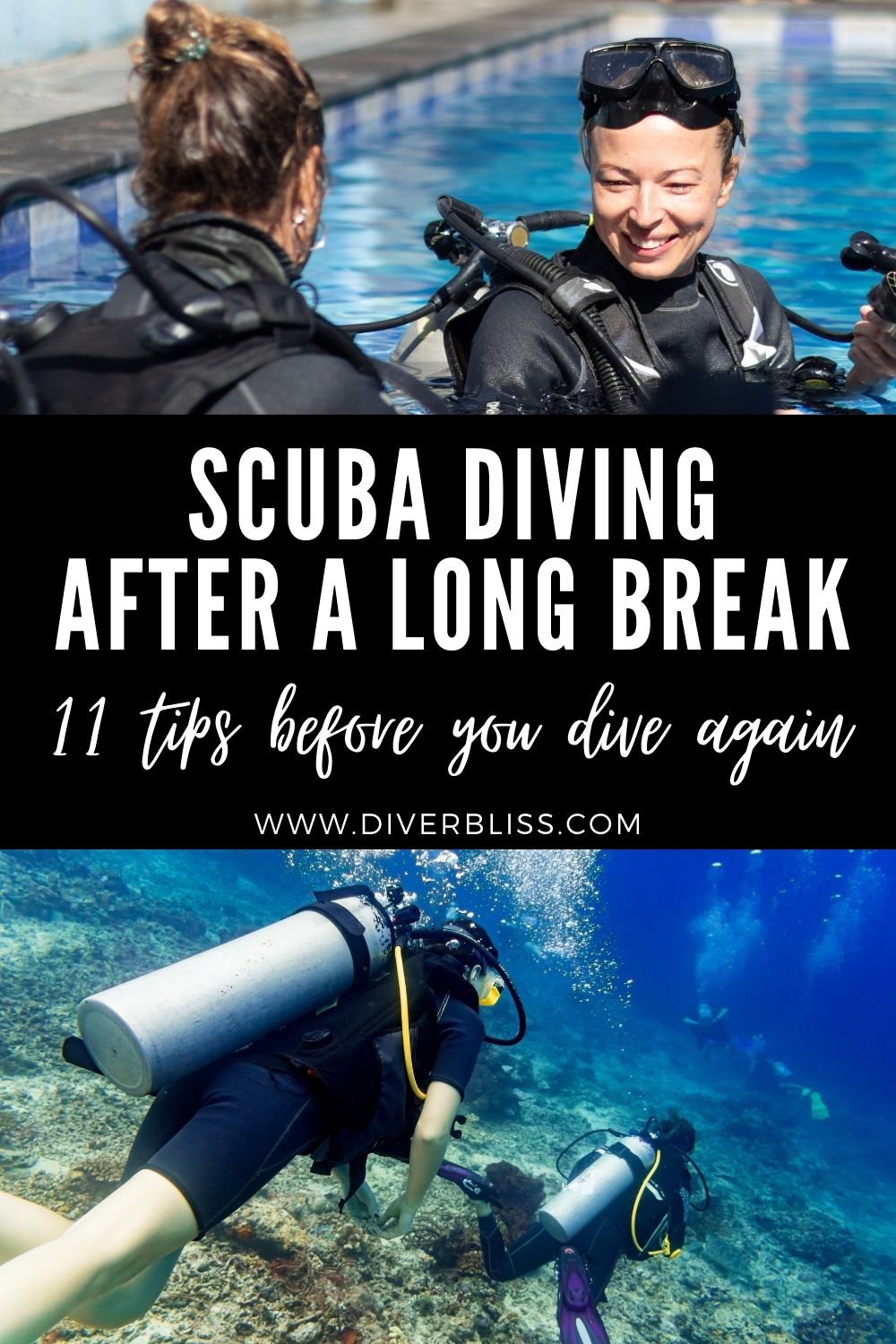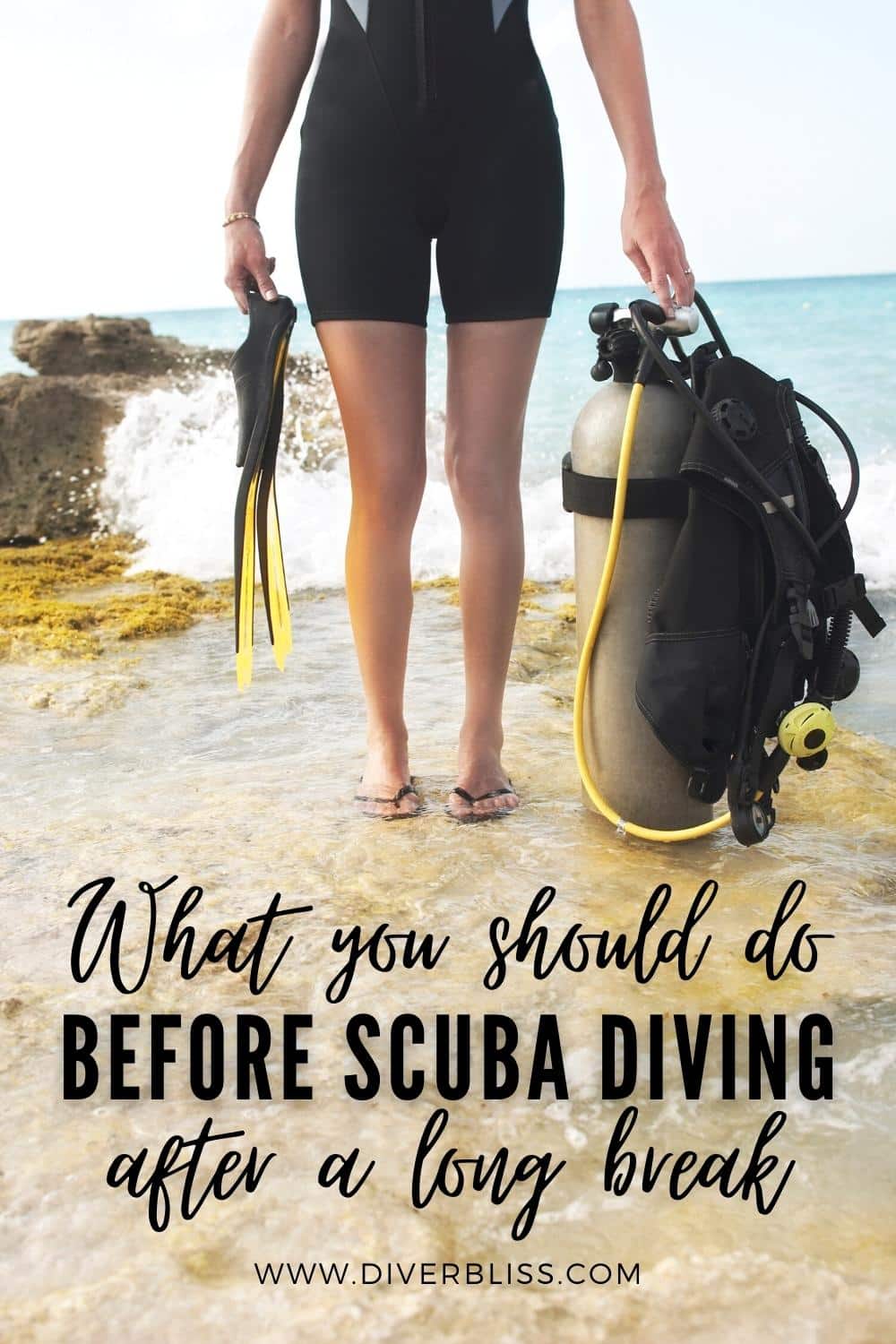 I hope that you find these tips helpful as you return to scuba diving again. I am happy to report that I successfully completed my dives except for some minor hitches. But overall, my dive back was amazing. I hope yours will be too!
When was the longest surface interval you've had between dives? What other pre-diving tips do you have for someone who hasn't gone diving for a long time? Leave a comment below!
The links above may be affiliate links. If you shop through them, I'll earn a commission at no additional cost to you. For full information, please see my disclaimer here.