In this article, I will answer the most frequently asked questions non-divers ask when it comes to getting a recreational scuba diving certification.
Every once in a while I get people sending me messages to ask about scuba diving and getting certified. I love responding to these questions because it's a great way to encourage them to go diving.
As someone who grew up in a family with scuba divers, the idea of breathing underwater was an exciting concept to me. Getting in the water and completing my scuba diving certification was an easy process. I have been swimming since I was a young child so getting into the water was never an issue.
When I tell people I scuba dive, I often get a mixed reaction. I can immediately tell that they're impressed and curious. But I will also sense fear.
"But what about the sharks?!" They'll almost immediately ask.
This always amuses me as most divers I know will be the first to jump into the water just to see a shark. If only they knew how lucky they'd be to actually see one while scuba diving!
I assure them that the sharks and the ocean are not something to be afraid of. I try my best to convince them how amazing it is to scuba dive and that they should try it. But of course, most will still be scared to even try.
I soon came to the conclusion that I am probably an exemption. To love the ocean and to eagerly get in the water is a rarity especially where I come from. Despite living in an archipelagic country with 7641 islands, majority of Filipinos, as I have observed, are still afraid of the ocean.
The Philippines is just a tiny part of the world and I can imagine that many other people also fear the ocean. The unknown.
Did you know that only 5% of the earth's water has been explored by humans? That's a lot of water we haven't explored!
In 2018, it is estimated that there are only 6 million divers worldwide. That's less than 1% of our 7.7 billion world population. A very low number if you ask me.
Scuba divers are such great ocean advocates and influencers. And with the horrible state of our ocean's health, we definitely need more ocean lovers protecting our seas.
I think that fear and lack of awareness has stopped people from getting certified as a scuba diver. Fear of the unknown has robbed them of the joy of diving in our oceans.
So in this post, I will answer some frequently asked questions about scuba diving so you can have a better grasp of it. I hope to give some clarity on concerns that could be stopping you from getting certified as a scuba diver.
So let's dive in…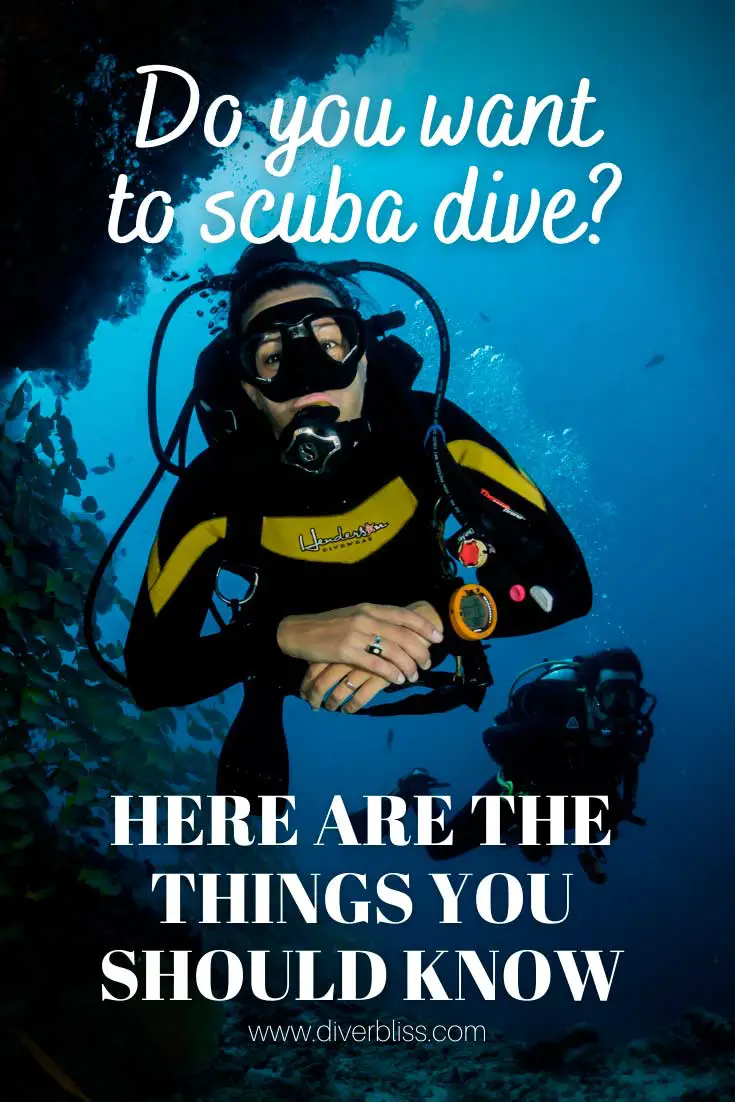 What is scuba diving?
Scuba diving is an underwater activity that involves using special equipment to breathe underwater. The word SCUBA is an abbreviation for Self Contained Underwater Breathing Apparatus.
Scuba diving makes it possible for humans to explore the underwater world for a certain amount of time without having to resurface for air.
Is scuba diving dangerous?
Scuba diving is as dangerous as you allow it to be. Like most things in life, scuba diving does involve many hazards and risks. For instance, you could get attacked by marine life, encounter equipment malfunctions, or experience physical problems that may cause injuries or even result in fatalities.
However, with proper scuba diving education and training, you can reduce these risks and dive as safely as possible. Dangerous situations while scuba diving can easily be avoided if you follow standard safety practices, which you will learn during your scuba diving certification.
What is a scuba diving certification?
A scuba diving certification, also known as a C-card, is proof that you have completed and passed a scuba diving course under a scuba diving agency.
There are many scuba diving courses that you can take that will teach you to dive safely and properly in different underwater conditions and environments.
If you want to become a recreational scuba diver, you will want to get your Open Water Certification first.
Why do I need to get a scuba diving certification?
You need to get a scuba diving certification to ensure that you undergo the proper training and education to safely do scuba diving.
Due to liability and safety issues, most reputable dive shops or dive centers will refrain from doing business with you, if you are unable to show them your scuba diving certification.
Is scuba diving illegal without certification?
It is not illegal to go scuba diving without a certification. While there are no laws that will prohibit you from scuba diving without a certificate, this is dangerous and inadvisable.
There is no scuba diving police that will put you in jail if you scuba dive without a certification. However, diving without getting certified can be reckless. You could put your life and the lives of others in danger if you don't get proper training in scuba diving.
Where can I get a scuba diving certification?
There are many scuba diving agencies all over the world where you can get your scuba diving certification. PADI, SSI, SDI, NAUI, RAID, GUE, BSAC, and CMAS are some examples of dive agencies that can give you scuba diving lessons and certifications.
Each dive agency has their own methods of teaching and scuba diving course curriculum. While they might call their programs or certification levels differently, they all follow international standards for dive training.
Here are some of dive agencies that you might already be familiar with and might want to check out to if you are interested in taking scuba classes:
Scuba diving is incredibly popular so you will be able to find good diving centers anywhere in the world. A quick Google search will tell you where you can get your scuba diving certification near you. You can also visit the website of each dive agency I mentioned above and they should be able to let you know the dive centers in your local area.

Touristic destinations will also have plenty of options when it comes to scuba diving for beginners. Many people love learning how to scuba dive in their next holiday vacation. So this is something that you could consider doing. If you go to the most popular dive destinations all over the world, you are most likely to find a PADI dive shop.
Don't forget to do your due diligence and research before choosing where and with whom to do your scuba diving lessons.
Can I scuba dive without getting certified?
Yes, you can scuba dive without getting certified. If you want to try scuba diving you can do a Discover Scuba Diving or Try Scuba session through a dive center near you. This is not a certification course, but it will allow you to scuba dive without getting certified.
Dive agencies offer this option so you can try scuba diving for the first time. A dive professional will supervise and guide you all throughout your Discover Scuba Diving or Try Scuba session. This short introductory to scuba diving course will allow you to explore the underwater world using scuba diving equipment.
Discover Scuba or Try Scuba Diving is a good way to experience what it feels like to breathe underwater without having to pay the certification fees. If you're hesitant to get your open water scuba diving certification, this trial session is always a good idea.
Here are some programs you can check out if you want to experience scuba diving without getting certified: PADI Discover Scuba Diving | SSI Try Scuba | SDI Scuba Discovery Program | NAUI Try Scuba
What is the best dive training agency?
There are hundreds of dive training agencies all over the world and each one will have its own way of being the "best" at something. Each agency will train differently so do your research and you will find what is best for you.
While PADI might be the most popular and most widespread training agency all over the world, their style might not necessarily be the best for you. For all you know, PADI scuba diving courses might not even be available in your region or your language. So these are the things you might want to consider.
Many divers also advise that rather than choosing any dive agency, find a great scuba diving instructor who will guide and mentor you into becoming the best scuba diver that you can be.
A lot of students quit their scuba diving lessons not because of the agency but because of instructors. So find one who is compatible with your learning style and personality.
Check out this interesting video by Divers Ready on what to ask your potential dive instructor before you do your scuba diving certification.
Remember that you are hiring dive instructors to teach you how to scuba dive properly and safely. So at least do a brief interview with them before handing over your money to them.
Does the scuba diving certification expire?
Scuba diving certifications do not expire. Once you're certified as a scuba diver you're certified for life!
While scuba diving certifications have no expiration date, reputable dive centers make it a practice to ask you about your dive certification, number of logged dives, and dive history. This is one of the reasons why you should log your dives once you are certified!
If you haven't gone diving for 6 months, they might ask you to do check-out dive first to assess where you are with your diving. Some divers might even be required to do a refresher course. This will help you review any skills you may have forgotten.
---
---
What can I do with a scuba diving certification?
Once you are a certified scuba diver you can dive anywhere you want in the world! Just as long as you dive within the limits you are trained to do. Having a scuba diving certification will open new possibilities of exploration for you.
There are many scuba diving benefits you can enjoy once you are certified.
Being able to dive in different environments is one of them. Some divers get to dive in tropical (warm) waters while others prefer temperate (cold) waters. You can go diving in the oceans, rivers, lakes, quarries or any body of water that you can find. For as long as it's safe, of course!
There are also many types of scuba diving activities you can try once you get certified.
You can enjoy the beauty of complex coral reef systems and encounter wonderful marine animals. You can also explore caves, wrecks, and even man-made structures underwater once you have your scuba diving certification.
Many divers also enjoy doing underwater photography and videography. Others will get more certifications that will allow them to dive deeper and stay longer underwater.
Some love diving so much that they make careers out of it. They take on jobs and become dive guides, dive instructors, scientific divers, commercial divers.
There are plenty of things you can do once you have your scuba diving certification or certifications.
Still on the fence about scuba diving? Why don't you check out my post on why scuba diving is the best hobby to pursue after your lockdown!
What are the different levels of scuba diving certification?
The most basic scuba diving certification is the Open Water Diver. After completing this course, recreational divers have the option to continue their dive education and get certified as an Advanced Open Water Diver, and Rescue Diver. Specialty Dive Certifications are also available for divers wanting to learn highly specific skills and knowledge in diving.
Open Water Certification
If you are a certified open water diver, dive shops or dive centers will allow you to rent dive equipment, obtain air fills, go on boat dives with them and take additional dive courses with them.
Open Water Certification trains you to dive confidently and safely up to 18 meters (60 feet). As an open water diver, you may dive with a buddy of the same certification or higher without a dive professional's supervision.
While some people will be content in just being an Open Water Certified diver, you might want to receive other scuba diving certifications so you can become a better scuba diver.
Advanced Open Water Certification
Advanced Open Water Certification is the next level or next course you might want to take after receiving your Open Water Course. This course will train you to dive up to 30-40 meters depending on the agency you use. This is something you might want to take since many of the best dive sites and dive experiences will require you to dive past 18 meters.
During your Advanced Open Water Certification, you will learn more skills that will help you become a more confident scuba diver.
Rescue Diving Certification
The Rescue Diving Certification can be done by Advanced Open Water Certified Divers. This course teaches you to prevent and manage problems in the water. It will teach you what to do during emergency situations.
If you plan to have a career in diving, a rescue diving certification is one of the requirements to becoming a dive professional.
I am currently a PADI Rescue Diver. The PADI Rescue Diving Course is a scuba diving certification I highly recommend divers get especially if you scuba dive for fun.
Specialty Diving Certification
Aside from the three scuba diving certifications mentioned previously, dive agencies might also offer specialty courses for recreational dives.
These scuba diving lessons are focused on specific areas of diving that scuba divers might be passionate about. Examples of these specialty dive courses are wreck diving, underwater photography, underwater naturalist, underwater navigation.
These specialty diver certifications encourage recreational divers to expand their knowledge and skills in relation to the underwater world.
To give you an idea of what additional scuba diving certification you can take, here is a list of distinctive specialty courses for divers who love marine life.
Scuba Diving Certification Levels for Dive Agencies
Each dive agency is structured differently and may call their certifications using a different name. They will also have different requirements to complete the scuba diving certification. It is always best to check with the agency the details and requirements of each scuba diving class you are taking.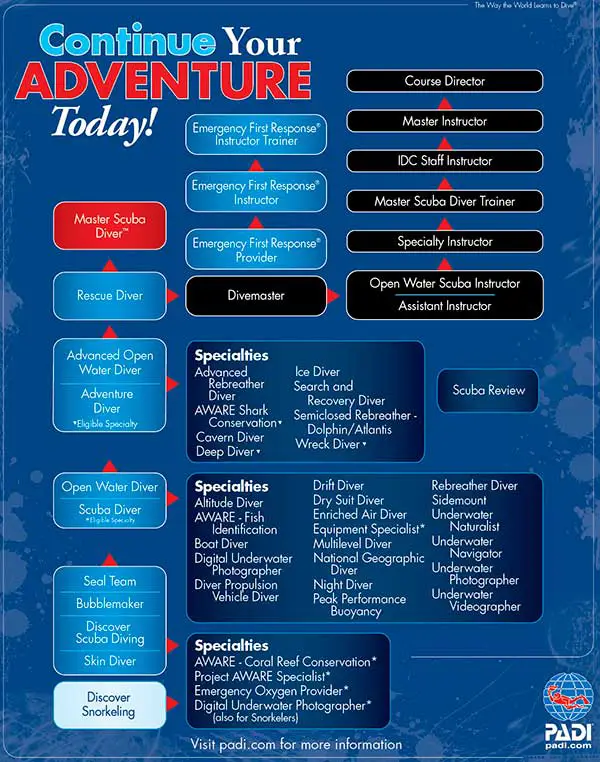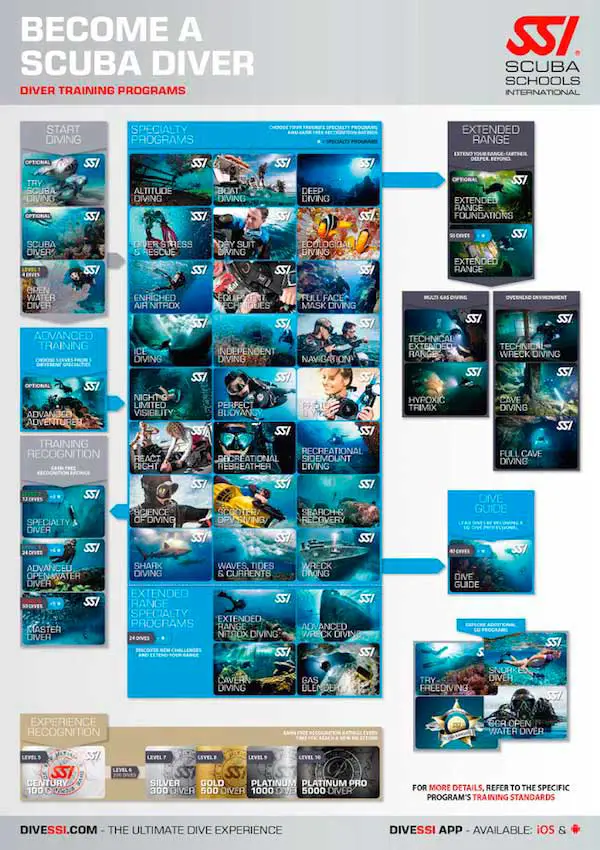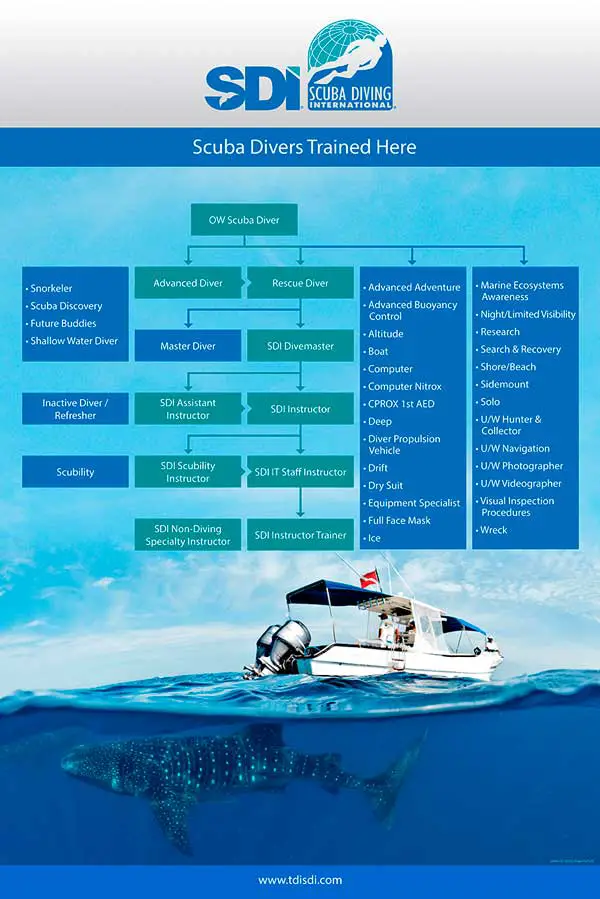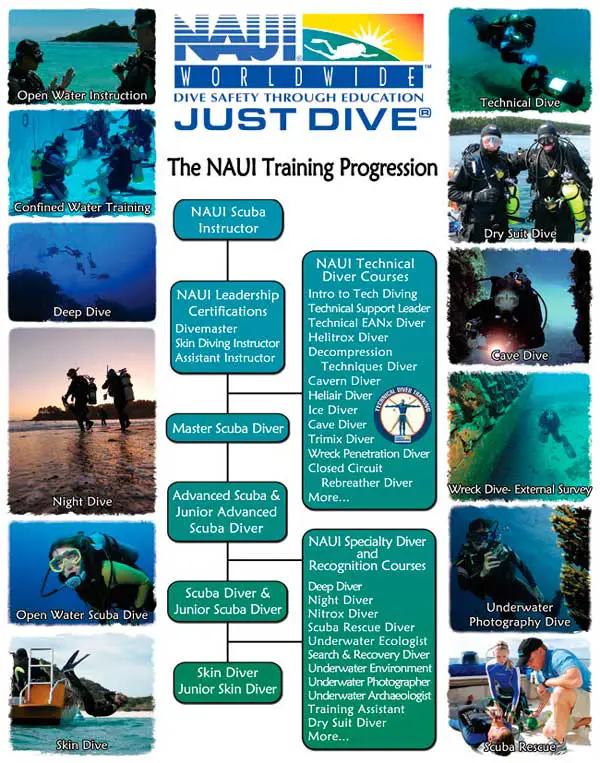 Once you are certified, dive centers will recognize your certifications even if it's from another agency. For instance, if you are PADI certified open water diver, dive shops under SSI will still accept and recognize your certification.
How deep can you scuba dive?
Scuba training agencies limit recreational diving depths to a maximum of 40 meters (130 feet). While this is the maximum limit for recreational diving, open water certification for most dive agencies will only train you to dive up to 18 meters (60 feet).
If you wish to do deeper dives beyond 40 meters, you can get certified as a technical scuba diver.
What are the requirements for dive certification?
Each diving agency will have their own requirements when it comes to getting your scuba diving certification. It is always best to check with the dive agency what you need to do to complete the course.
For more details on the scuba diving courses and the requirements for each agency, you can check some of the courses links below:
How old do you have to be to get a scuba diving certification?
Scuba diving agencies like PADI are able to certify scuba divers as young as 10 years old. Children who gets certified as a PADI Junior Open Water Diver are allowed to dive up to 12 meters (40 feet) with the supervision of a certified adult or dive professional.
While 10 is the minimum age for certification for many dive agencies. Many younger children have tried scuba diving at a younger age.
PADI's Bubblemaker Program allows children as young as 8 years of age to try scuba diving in a pool with a maximum depth of 2 meters (2 feet). A dive pro, like a PADI Instructor or PADI Divemaster, will accompany your child so you can be assured that they are in good hands.
You can also check out SSI Scuba Rangers and SDI Future Buddies for similar diving programs for kids. These program encourages children to try scuba diving at an early age. It may even inspire them to pursue a career in marine sciences or ocean conservation some day!
Am I too old to get a scuba diving certification?
You are never too old to get a scuba diving certification! There is no maximum age limit when it comes to learning how to scuba dive.
---
---
I have a medical condition, can I still get a scuba diving certification?
Many people with medical conditions are still able to go scuba diving. It is best to consult with your doctor if it is safe for you to go scuba diving given your medical condition. Prior to getting your scuba diving certification, you will also be asked to submit a medical clearance to prove that your fit to dive.
You can also check out Divers Alert Network an association which assists divers when it comes to dive emergency and safety. Their website is loaded with articles pertaining to Diving and Medical Frequently Asked Questions.
Do I need to know how to swim to scuba dive?
If you are doing a Discover Scuba Diving or similar introductory non-certification dive course, you don't need to know how to swim to scuba dive. A dive professional will be assisting you when you try scuba diving for the first time.
But, if you intend to get certified then you should at least have basic swimming skills. To pass your open water scuba diving certification, you will need to pass a swim test. This involves threading in water and swimming at a distance.
When you start diving in open water, you will want to know how to swim for your safety and survival. You don't have to be an Olympic swimmer but you should be comfortable in the water.
I am scared of sharks, can I still go scuba diving?
Yes, you can still scuba dive even if you are scared of sharks! Remember that there are many places you can dive without having to encounter these creatures. Don't let your fear of sharks stop you from learning how to scuba dive.
It is normal to be afraid of sharks especially when you grew up watching movies like Jaws! But they're highly misunderstood animals and have been depicted by Hollywood as evil creatures lurking in the dark and out to get you. When really they're not.
While they are apex predators, humans are not part of their regular diet. It's very rare that sharks attack scuba divers and if they do it mostly by accident. Most often, when you encounter sharks underwater, they will even avoid you altogether and swim away.
If you're really scared of them, before diving in a new location, you can always ask about the possibilities of encountering sharks and avoid those places altogether.
Remember, you can always say no to dives you are not comfortable doing.
And in the rare case that you do come face to face with them, just stay calm. Don't make any sudden movements. Maintain eye contact with the shark. If it's within your dive limits, move closer to the reef or ocean floor where they're less likely to attack.
Will sharks attack you if you are diving while on your period? Find the answers in my post about scuba diving and menstruation.
Can I scuba with contact lenses?
Yes, you can still go scuba diving with contact lenses. While scuba diving, water might enter your mask, when this happens simply close your eyes to avoid losing your contact lenses. Quickly clear your mask so you can properly see again. During your scuba diving lessons, you will learn how to properly clear your mask underwater.
Some divers will also use masks with prescription glasses. If you intend to scuba dive frequently buying prescription masks will be a good investment so you don't have to worry about losing your contact lenses underwater.
What will I learn during my scuba diving lessons?
Almost all scuba diving certification involves three components: theory, practice, and application. Theory involves learning through a classroom setting or an online platform. The practice portion is when you do skills training in confined water. Then when you're ready and more confident you proceed to application in open water for real-life applications and situations.
For your Open Water Certification, the first portion of your scuba lessons will be knowledge development. This lays the foundation for your understanding of scuba diving. Before you get in the water you need to have a good grasp of the concepts and terms involved in it. You can opt to do this in a classroom with an instructor or an online course where you can do it on your own pace.
After understanding the scuba theories, you proceed to skills development. This is when you actually wear your dive gear and enter the water. Skills development are done in a safe and controlled area like a pool or any body of water with a calm environment.
Once you have your scuba skills on point, you proceed to go diving in open water to put to practice all your knowledge and skills on basic scuba diving.
Scuba diving is both a science and an art. To be a good scuba diver you need to learn and practice both. Taking scuba lesson will help you achieve this.
Is it hard to learn scuba diving?
Each person's scuba diving learning experience will be different. Learning how to scuba dive will be mentally, physically, emotionally demanding. It will require your time, focus, and commitment. But once you get certified, you might even find diving to be one of the most fun and easy things you do in your life.
Some people will find it easy while other might find it hard. It really depends on the person as each person comes from different backgrounds and life experiences. Some will be more comfortable in the water while others might have some issues that could be holding them back.
If you ask every diver how their certification was, they will give varying answers like:
"It was super easy, I loved all of it."
"I struggled underwater and it took me a while to learn a skill.
"I found it so difficult I almost quit."
With the right attitude and mindset, you will be able to overcome anything when you are learning how to dive. And once you do, it will be worth it!
How long does it take to become a certified scuba diver?
The amount of time it takes to complete your open water certification may vary from person to person. While your Open Water course cannot be done in one day, some people are able to complete all the scuba diving lessons and get certified within 3-4 days.
The course can be set at your own pace and comfort. Good dive instructors will be willing to take their time with you and will help you go over portions you don't understand. You should never feel pressured into doing something you are not ready to do. Remember that your safety and comfort is always your priority in scuba.
While you can set your own pace, don't also take forever to finish the course. Taking too long to complete each portion might make you forget what you've learned and will keep setting you back as a diver.
What equipment do I need to have for my scuba diving lessons?
For your Open Water Diver certification, you learn to use basic scuba gear which includes a mask, snorkel, fins, regulator, buoyancy control device, weights, and a tank. Protective gear like a wetsuit or drysuit will vary depending on whether you're diving in tropical or temperate water.
You don't need to worry about buying all these scuba gear right away. Most dive centers will be able to rent out gear for you to use in your open water course. Some dive centers will include gear rental as part of the fees when you get certified.
Eventually you may opt to buy your own gear or just keep renting depending on your dive frequency and preference.
Want to learn more about the diving gear you need to safely scuba dive? Read my Beginner's Guide to Scuba Diving Equipment.
How much does it cost for the scuba dive certification?
The cost for the scuba dive certification will vary depending on the agency you use, the certification you are getting, and where you are getting certified. It is always best to check in your local area or where you plan to get certified what the standard rates are.
Across different dive agencies, some will charge more than others. And even across the world, dive resorts or dive shops will also charge differently.
But to give you an idea, in the Philippines, a PADI Open Water Diver course will cost around Php 18,000- 20,000. (USD360-400). If you do your PADI Open Water Diver course in a country with a higher cost of living, you can expect to pay more than USD400.
Read this post to learn more about the Cost of Scuba Diving: How much money do you need?
---
---
I don't have a buddy who wants to get certified and go diving with me, what do I do?
If you don't know anyone who wants to dive then it is not a problem! Scuba diving is actually a great way to meet people and gain new friends. Along the way, you'll meet many scuba divers and you might even find a permanent dive buddy.
Many scuba diving centers will help you find a dive buddy during your dive trip. They will pair you with someone of the same level and experience as you. Or the dive guide themselves will buddy up with you.
So don't worry! Get certified first. And, once you know how to dive properly and safely, finding a dive buddy will not even be an issue.
Did you enjoy this article? Don't forget to PIN this for later or share this post to a friend!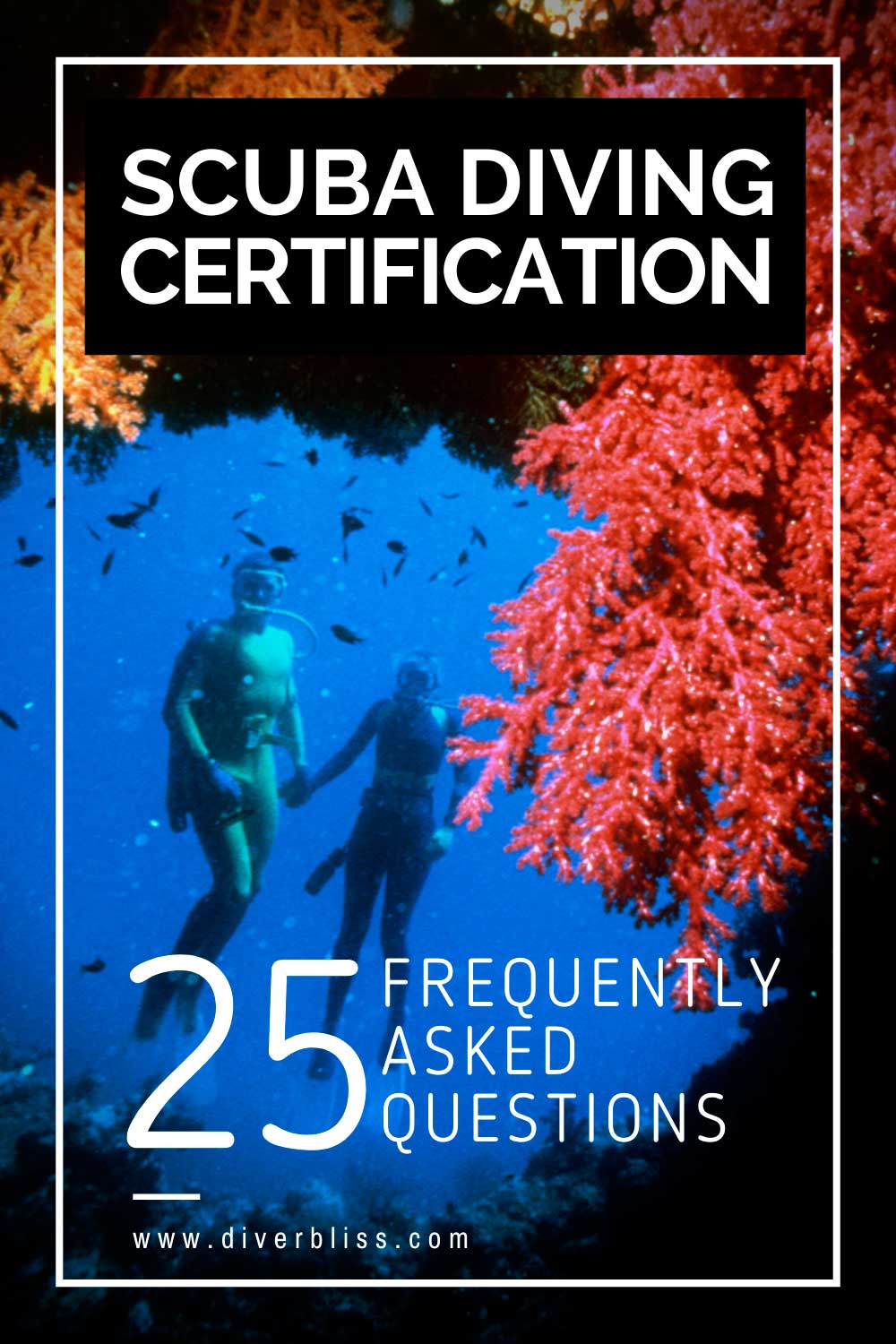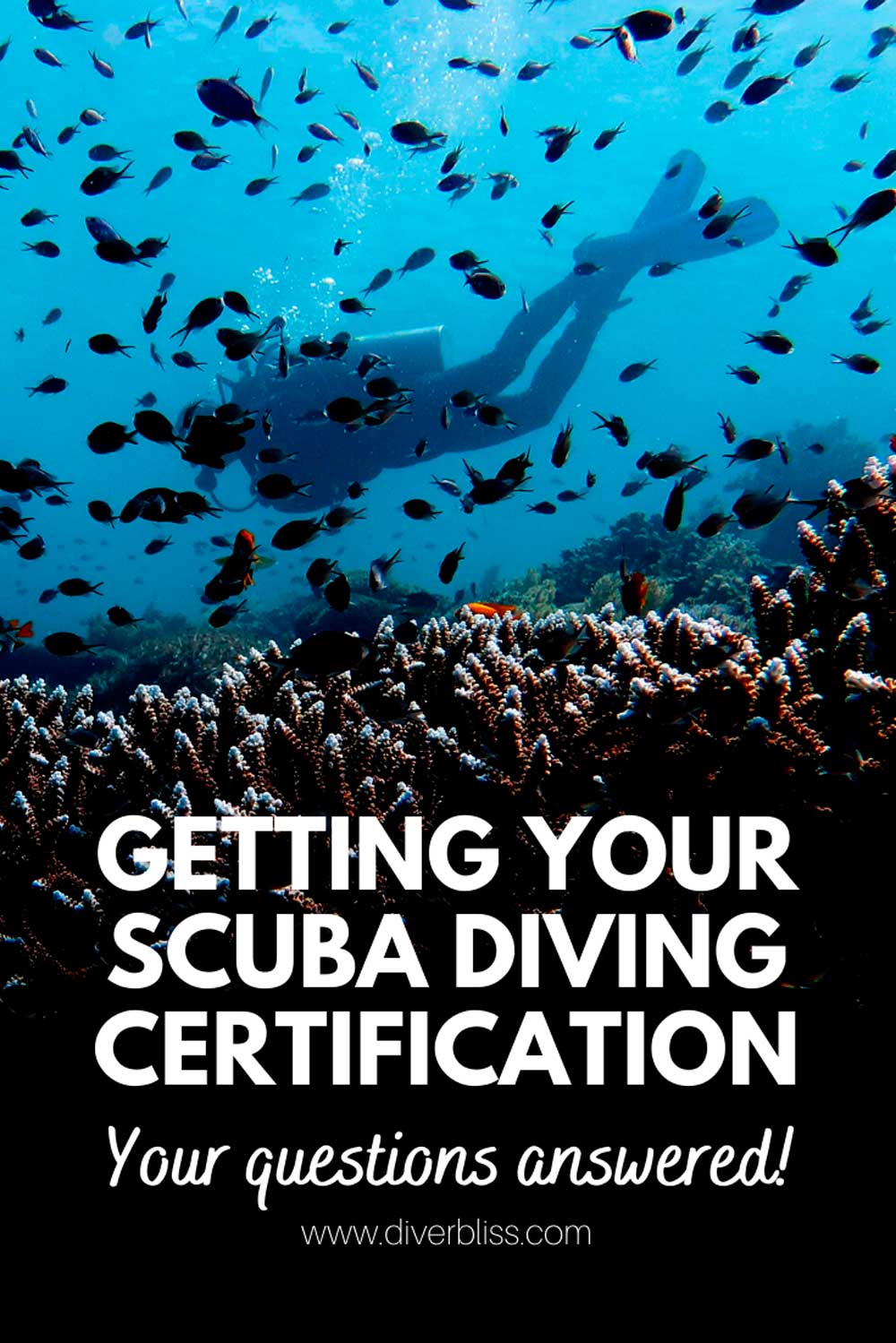 I hope this some how put your mind at ease about scuba diving and helped you on the who, what, where, how and why you should get your scuba diving certification.
Scuba diving is such a rewarding activity. When you finally try it and get certified you will understand why so many people all over the world are obsessed with it!
Do you have other scuba diving certification questions that I was not able to address? Have I convinced you to get scuba certified already? Leave it in the comment section below!