Do you want to go scuba diving but are concerned about how expensive it could be? If you want to get into this recreational activity, you should consider the scuba diving cost to get certified, the scuba equipment and gear cost, and the other expenses involved in diving.
Many have claimed that scuba diving is an activity for the rich. And to some extent, there is some truth to that. While I do not consider myself to be rich, I do consider myself to be more privileged than most to be able to go scuba diving. After all, it is an activity that not everyone can afford to do.
So is scuba diving expensive? It depends.
There is a constant debate among divers about this question. What may be costly in my part of the world, could be considered affordable elsewhere. And what I consider expensive based on my income, might be cheap for you.
My opinion: Yes, it is expensive.
If it was cheap, I have no doubt that more people would be doing it.
Unlike other sports or activities, scuba diving requires you to use special equipment that usually comes with a hefty price tag. Other sports are comparatively more affordable. If you want to go running you just need a pair of good shoes, and if you want to practice basketball, you just need a hoop and ball.
If you want to go scuba diving, you will also need to undergo special training and get a scuba certification for your safety. Most recreational activities can be enjoyed without having to get certified. You don't need to take camping classes to enjoy the outdoors. And you definitely don't need a license if you want to go biking.
Every time you want to go scuba diving, you might also need to pay for additional costs like travel expenses and dive services. Once you've seen the beauty of the underwater world, you will want to visit the best dive destinations around the world. And to do that there will be additional scuba diving costs that you might not have even considered.
So how expensive is scuba diving? To give you a better grasp of the cost of scuba diving, continue reading to get a breakdown or rough estimates of expenses you're bound to make if you take up this new hobby or sport.
This article will answer questions like:
How much does it cost to get scuba certified?
How expensive is scuba gear?
How much does it cost to scuba dive?
After reading this post, you can decide for yourself if scuba diving is expensive for you.
What You Need To Pay For Scuba Diving
Scuba Diving Certification Cost
If you want to go scuba diving you must first get a scuba diving certification so you can learn properly and safely the skills needed to go scuba diving.
There are several factors that may affect the scuba diving certification cost, namely:
What scuba certification course you are taking
The dive agency you are using
Where you are taking your scuba diving course
Cost of Scuba Diving Courses
There are different kinds of scuba diving certifications and the most basic one is the Open Water Diver Certification. This is the course you want to take to learn the essentials of scuba diving.
Later on, you might want to expand your skills and knowledge and you might want to take additional courses like your Advanced Open Water and Rescue Diver Courses. There are also scuba diving courses that will teach you to dive in different underwater environments.
If you want to do different types of diving, you can take scuba diving lessons specifically for wreck diving, underwater photography, cave diving, deep diving and more. This will cost extra.
Some divers with particular interests can also take very exclusive dive courses. For instance, there are PADI has Distinctive Specialty Courses for divers who love marine life.
Every additional scuba diving course you take comes with a price. While they are not required, they are highly recommended to take to make sure that you are diving as safely as possible.
Cost of Scuba Diving E-courses for PADI
Final price of the scuba certification will vary depending on the dive center.
Scuba diving certification cost of different PADI e-courses, does not include pool and open water training fees. This table is just to show you how scuba diving certification prices can vary.
Scuba Diving Certification Cost (comparing dive agencies)
There are several scuba diving agencies where you can get your scuba diving certification. Each dive school has their own methods of teaching and scuba diving course curriculum. They might also call their their certification levels differently but they all follow international standards for dive training.
Some of the dive agencies you might be already familiar with are PADI, SSI, SDI, NAUI, RAID, GUE, BSAC, CMAS. These agencies can help you get started in your scuba diving journey.
PADI– Professional Association of Diving Instructors
SSI– Scuba Schools International
SDI– Scuba Diving International
NAUI– National Association of Underwater Instructors
RAID– Rebreather Association of International Divers
GUE– Global Underwater Explorers
BSAC– British Sub-Aqua Club
CMAS– Confederation Mondiale Des Activites Subaquatiques
Each agency will have different prices for scuba diving certification.
Comparing cost of scuba diving e-courses across different agencies.
| Scuba Diving E-courses | PADI | SDI | NAUI |
| --- | --- | --- | --- |
| Open Water | $195 | $129.95 | $108.60 |
| Advanced Open Water | $183 | $139.95 | $108.60 |
| Rescue Diver | $189 | $139.95 | $108.60 |
| Enriched Air / Nitrox | $180 | $139.95 | $108.60 |
| Deep Diver (Specialty Course) | $125 | $139.95 | $49.43 |
| Divemaster | $259 | $399.95 | $169.96 |
Estimated price (in USD) of e-courses does not include pool training. Prices may slightly vary due to conversion rates and inclusions
Again, cost of scuba diving lessons under each agency will differ because of topics and methods of teaching. Regardless of where you get your certification, most dive shops and centers will still recognize them. What is most important is you find the right agency to teach you proper and safe scuba diving.
Scuba Diving Lesson Costs based on locations
When it comes to scuba diving certification cost, location plays an important role in pricing. Where in the world you get your scuba diving certification can drastically affect the pricing. For instance, a PADI course you take in Asia might be cheaper compared to a PADI course taken in Europe. The dive center's location and its own inclusions may affect the cost of your scuba diving certification.
While the dive centers operate under a dive agency, they are allowed to set their own final prices. Aside from the e-learning or course material, you have to include the pool and open water training costs. This additional rate will vary depending on your local dive center. After all costs of doing business in each country do differ from each other and dive centers need to factor this in their operations.
Estimated prices of PADI courses in different countries
| PADI Certification Courses | Philippines | United States | United Kingdom |
| --- | --- | --- | --- |
| Open Water | $360 | $550 | $520 |
| Advanced Open Water | $280 | $370 | $370 |
| Rescue Diver + Emergency First Responder | $500 | $575 | $510 |
| Enriched Air / Nitrox | $240 | $180 | $175 |
| Deep Diver (Specialty Course) | $250 | $250 | $280 |
Estimated Cost of Scuba Diving Certifications in different countries(Converted to USD). This is for comparison only to give perspective on pricing variations around the world.
The cost of scuba diving certifications around the world may vary depending on inclusions. Each dive shop or dive center can set its own prices and packages so it is best to check the dive shop nearest you for prices. Some dive shops may position themselves to be for high-end customers while others may be targeting a budget-friendly audience.
When deciding which dive shop to go with don't just look at the price tag. Check their record for safety and customer reviews. Factor in gear rental charges and travel expenses for you to complete the course.
Talk to the dive instructor and see if they are a good fit for your learning method. Many divers end up not finishing their courses because of their instructors and not because of the course itself.
You should also consider how many people will be joining the class. Some people thrive when learning as a group while others prefer a one-on-one setup. It might be worth it to pay a bit more so you can have your instructor's full attention.
You can find the closest dive shop near you to inquire about the scuba diving cost:
Watch this video to see why scuba divers want to get certified despite the financial costs!
Scuba Gear Cost
Once you take up scuba diving you also need to consider the scuba gear costs. For you to safely dive, having the right scuba diving equipment and gear is essential. Buying your own set of scuba gear is not a requirement though.
Most dive shops have dive gear rental you can avail of if you decide to dive with them. Many individuals take up scuba diving and never buy their own gear. They find that it's more practical and economical for them to rent especially if they do not scuba dive frequently. You can rent gear as a set or per piece, on a per dive or per-day basis. You can expect to pay from USD20-USD50 to rent gear.
Renting scuba gear can take off the pressure of having to buy your dive equipment all at once. If you are considering getting your own dive kit, renting can help you decide which brands, models, and styles you liked as you have experienced using them already.
If you do decide to buy your own diving equipment, scuba gear costs can vary depending on brands and product features. Quality scuba gear can become very pricey but rightly so when it is what allows you to breathe underwater and to stay safe at all times. You wouldn't want to buy a cheap or an unknown brand if your life depended on it.
When choosing the right dive equipment to get, you might want to consider the following:
how often you go scuba diving (wear and tear)
the diving environment (temperate vs tropical, salt vs fresh, recreational vs technical, etc.)
the different product features that are important for you
testimony, reviews, and brand's overall reputation
warranties and after-sales service
So how expensive is scuba diving equipment?
A basic scuba dive kit can cost you at least USD1500 if you chose from reputable brands. Most brands try to cater to different customer needs so you simply need to do your own research.
To give you an idea on the price of scuba diving equipment, here's a breakdown of a basic scuba diving kit.
| Basic Scuba Diving Equipment | Low Price | High Price |
| --- | --- | --- |
| Regulator (1st and 2nd Stage) | $500 | $2500 |
| Buoyancy Control Device | $300 | $1500 |
| Mask | $30 | $250 |
| Fins | $40 | $250 |
| Dive Computer | $200 | $1500 |
| Wetsuit | $100 | $500 |
| Gauges | $100 | $250 |
| Compass | $30 | $100 |
| Surface Marker Buoys | $20 | $100 |
You will most likely spend a bit more on dive accessories and upgrades especially when you want to try other kinds of diving. Eventually, you might want to buy a scuba diving camera or get into technical diving. And of course, those will cost a bit more as well.
Then don't forget to have your gear serviced and checked which is another cost for scuba diving you need to factor in.
Think of buying scuba gear as a long-term investment. With proper care, most dive gear can last you many years and even decades!
Here are my current scuba diving equipment and gear to give you an idea of how much I've spent through the years. I gradually bought these and some are even second-hand.
My Scuba Diving Gear
Regulator: Scubapro MK25 Evo, C300 and C200 2nd Stage
BCD: Aqualung Axiom
Mask: TUSA M-212 Freedom Ceos
Snorkel: TUSA SP-170 Platina Hyperdry II
Booties: Poseidon Pink Dive Boots
Fins: Problue
Wetsuit: Seavenger
Vest Hoodie: Scubapro Hybrid Hooded Vest
Dive Watch: Suunto D4i Novo
Dive Knife: Aqualung Blunt Tip Knife
Dive Leggings and Rash: Blue Adaptation Coral Sea Fan

My Underwater Camera Gear
Underwater Camera: Canon G7X Mark II
Underwater Camera Housing: Fantasea FG7XII
Video Lights: Big Blue AL1200XP
Underwater Action Camera: GoPro Hero9
360 Camera: Insta360 X3

> Canon G7X Mark II full review
> Insta360 X3 underwater camera review
> Scuba diving camera recommendations for beginners.

Dive Insurance
Divers Alert Network (DAN)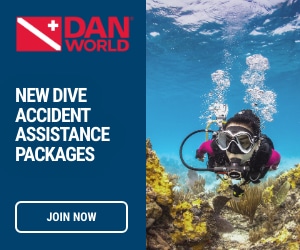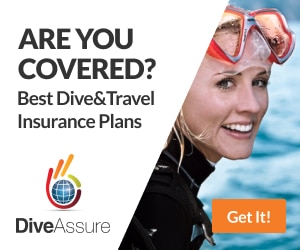 Need travel insurance for your trip? Get a quote from Safety Wing.
Scuba Diving Cost
Another consideration for scuba diving are the costs involved when you actually do scuba diving for fun. Unless you have your own cylinders and air compressor to do your own tank refills, you will still need to pay for these when you go scuba diving.
Regular air refills will be cheaper compared to Nitrox air refills. You can expect to pay around $5-8 for air refills and $8-12 for Nitrox. Again this varies on location and refills centers.
Travel and dive costs
Aside from the air refills, you will have to factor in travel expenses to get to the dive location. This could involve driving a car to the nearest lake or beach, or hiring a boat to bring you to the dive site. You might even have to fly overseas if you want to dive in the best dive locations all over the world.
If you love going on dive holidays, many dive centers or dive resorts offer "concierge diving" where everything is taken care of. They charge a diving fee which includes the scuba cylinder rental with air refill, as well as dive guide fees. In some places, it also covers expenses for the boat dive. You can expect to pay USD25-150 per dive when you go on these dive holidays.
Again the cost of scuba diving may vary depending on the location, the dive resort, the inclusions, and even the type of diving you are doing. Some places may even charge extra if there is something special to see or do underwater. For instance, if you want to do a shark dive in Fiji or a manta night dive in Hawaii, you can expect to pay a bit more.
Don't forget that when you do go on scuba diving trips, you will also have to pay for your accommodations, food, and other travel expenses. Sometimes local areas might charge additional environmental or tourism fees. These are additional scuba diving costs that you should also consider.
Liveaboard scuba diving cost
One of the benefits of scuba diving is being able to travel in the most remote and unexplored locations on our planet. Liveaboard diving allows you to do this but it comes with a hefty price.
These chartered boat trips usually run for days at a time and cover specific dive areas. Most of the expenses like food and board, dive guide fees, boat crew services, and most scuba diving costs are covered already when you go on a liveaboard trip.
If you love going on a dive holiday where all you do is eat, sleep, dive, repeat in the top dive destinations in the world, then doing a liveaboard is something that you should definitely try.
Liveaboard scuba diving costs will vary depending on the boat, inclusions, and locations. Similar to hotel or resort accommodations, you can find budget, mid-range, and luxury liveaboards all over the world.
To give you an idea of how different prices can be for 8 Days and 7 Nights on a liveaboard, here's a comparison:

To learn more, check out my post Liveaboard Diving for Beginners: A First Timer's Complete Guide.
Dive Insurances
Another scuba diving cost you need to consider is travel and dive insurance. It is an expense that you want to get but never want to use.
Dive insurance can cover your medical expenses brought about by scuba diving. Both diving and non-diving emergencies are covered when you get dive insurance. This is usually paid for on a yearly basis and the price varies depending on coverage. You can check Divers Alert Network (DAN) or Dive Assure for insurance rates in your area.
Scuba diving cost-cutting tips
If you find scuba diving to be expensive, here are some money-saving tips for you:
Watch out for discounts and promos from your favorite travel and dive brands. Follow them on social media or sign up for their mailing list.
Reach out to your preferred dive center and ask about special packages and their promos.
Look out for scuba diving scholarships. Did you know I learned scuba diving for free?!
Buy second-hand gear. There are plenty of dive gear buy-and-sell groups on Facebook. Ask your your dive shops if they have 2nd hand or refurbished gear. Some instructors might also have students who impulsively bought something and decided to change their gear, so ask them just in case they know of anyone who is selling.
Go to scuba diving conversions and exhibitions where you can get discounted scuba diving equipment and dive trip packages.
Participate in events organized by dive resorts. I've encountered groups where they organize dive clean-ups and dives are offered at a discounted rate. You get to dive and help clean the ocean too!
Travel as a group to split travel expenses.
Choose destinations that are generally not expensive to travel to.
Now that I've broken down the cost of scuba diving, you can decide for yourself if scuba diving is expensive for you.
At the end of the day, expensive or not, no matter how much you pay, one thing divers can agree on: It is worth it.
Do you have Pinterest? Pin this for later!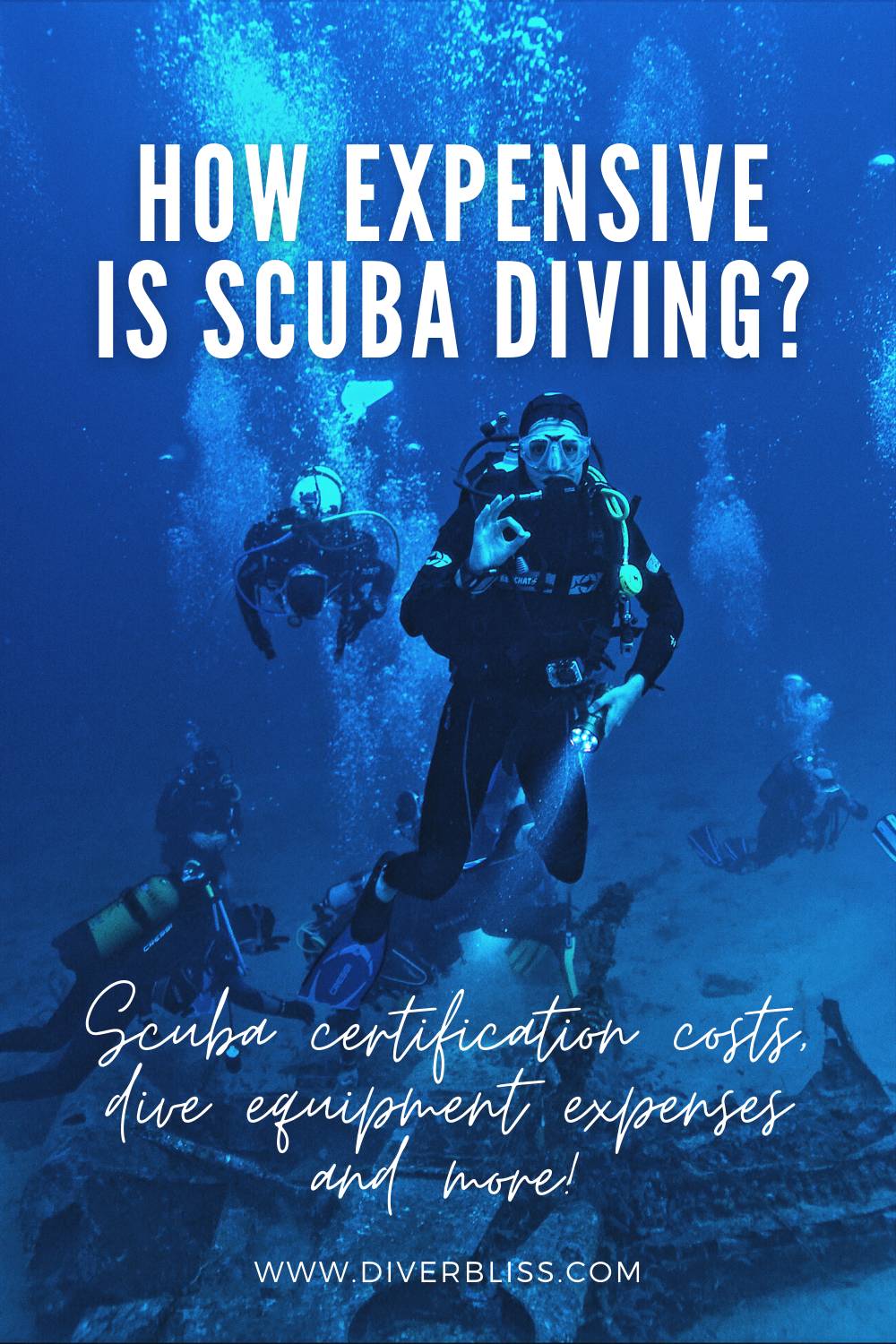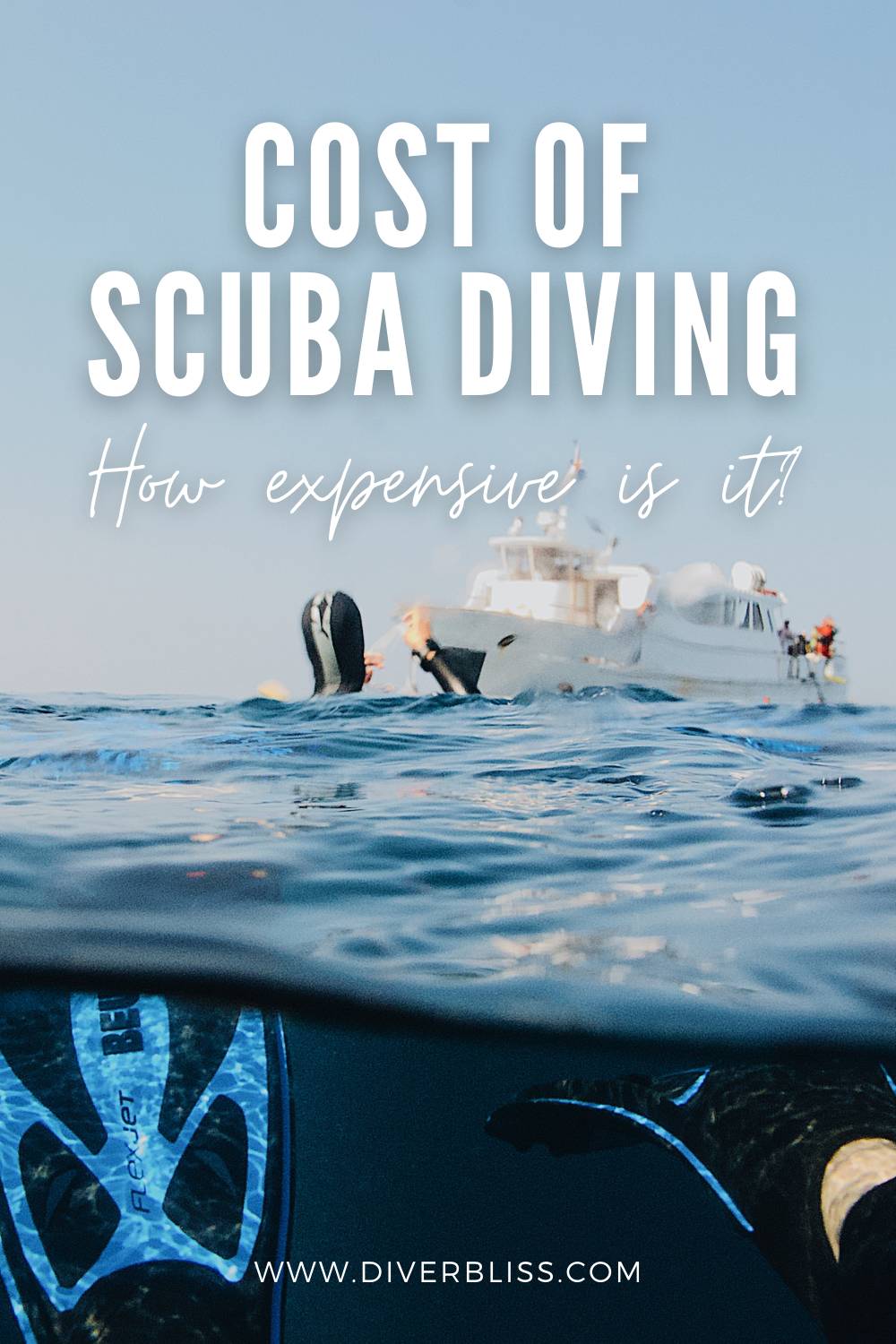 Do you find scuba diving expensive? Leave a comment below!