The links below may be affiliate links. If you shop through them, I'll earn a commission at no additional cost to you. For full information, please see my disclaimer here.
Apo Reef in Sablayan, Occidental Mindoro is considered to be one of the best scuba diving locations in the Philippines. It is a Marine Protected Area encompassing 34 square kilometers and it is the largest atoll-like reef in the Philippines.
---
About Apo Reef Natural Park
In 1980, former president Ferdinand Marcos officially declared Apo Reef as a Marine Park. Former president Fidel Ramos declared the entire reef as a protected natural park in 1996. Ten years later, the Department of Environment and Natural Resources (DENR) submitted the reef for consideration as a World Heritage Site to UNESCO.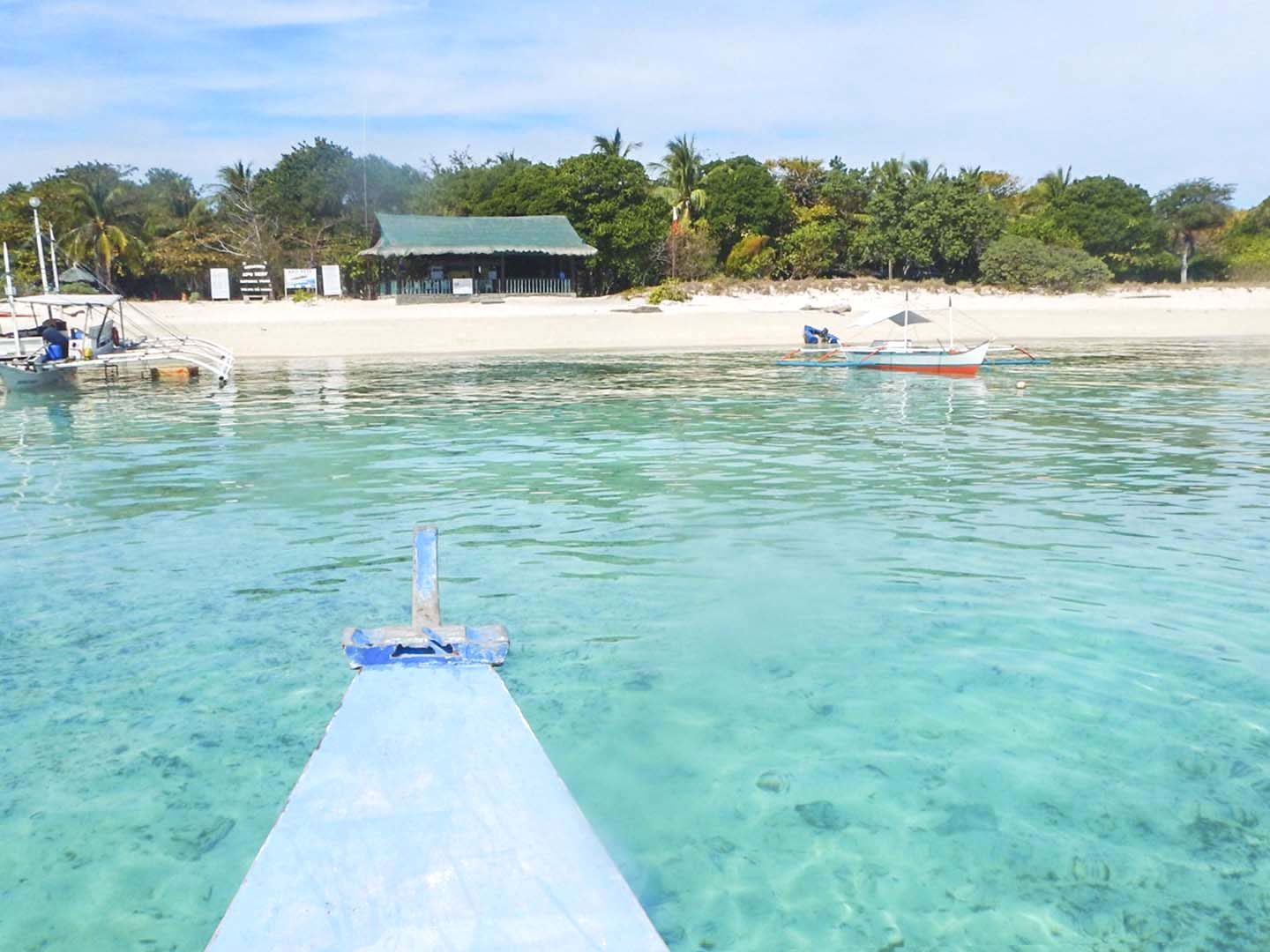 Turning Apo Reef into a marine park has paid off and made it into a scuba diver's paradise. Besides Tubbataha Reef in Sulu Sea, Apo Reef is one of the most famous dive sites in the Philippines. It has also become one of the most popular coral reef dive sites in the world.
Because it was declared as a Marine Protected Area (MPA), fishing within the reef was banned by the Philippine government. The MPA was opened as a tourist destination to help generate funds for its protection and to give alternative livelihood for the fishermen in the area.
Apo Reef Natural Park is located in Mindoro straight, 28 kilometers (roughly 2 hours) from Sablayan, Occidental Mindoro. The marine park consists of 3 islands, namely, Apo Island, Apo Menor and Cayos del Bajo. Apo Island, not to be confused with the one near Dumaguete, is the largest of these three. Apo Island serves as the base for the ranger station and campsite for the tourists.
---
Scuba Diving Experience in Apo Reef Natural Park
In all my dives in Apo Reef, I think I only saw one nudibranch. Apo Reef is known for the big stuff- groupers, snappers, tuna, jackfish, manta rays, white tip sharks and turtles. Even hammerhead sharks and whale sharks have been spotted here on occasion.  If you're into underwater photography, this would be the perfect place to take out your wide-angle lenses.
If you want to see sharks go to the dive site called, SHARK Airport.

Going against the flow.

One of the many turtles I saw in Apo Reef

A scuba diver watches as school of barracudas swims past him in Apo Reef

Schools of surgeonfishes and fusiliers in Ego dive site in Apo Reef

Black and blue fusiliers on the coral reef

A whitetip shark swims by at 30-40 meters in Apo Reef

Fishes with yellow spot! Please help me identify this!

School of surgeonfishes in Apo Reef

Porcupinefish with a cleaner wrasse swimming on top of corals in Apo Reef
Dive Sites in Apo Reef
There are at least 10 dive sites in Apo island ranging between 10 to 50 meters in depth. These sites are identified to have the best corals and sightings for pelagics and turtles!
Currents can be unpredictable and some sites are not beginner-friendly. So for you to fully enjoy Apo Reef, it is highly recommended that you are an experienced diver.
South Corner- Top reef is a mixture of hard coral formations with sand patches. The wall is sloping down to 150+ ft, there are some ledges perfect for White tip sharks to rest.
Ego Wall- This location is on the North West corner of Apo Island. This sheer wall dive has got a few interesting cuts to explore, the wall has a lot of sea fans, colorful sponges and soft corals.
Mabuti Wall- The shallows are the perfect habitat for Black Tip Reef sharks; you can see Titan Triggerfish crushing coral with their powerful jaws.
Shark Ridge- Based on the outer reef, shallows start at 10ft before the wall drops very deep. There are sand channels along the wall with some coral outcroppings covered in gorgonian fans.
Ranger – This site is located right in front of the ranger station on Apo Island.
North Wall – When the current is moving this is one of the best dives on Apo Reef. The top reef is covered in healthy hard corals with a few sand channels and gullies to explore.
Shark Airport- This is one area where you can many White Tip reef sharks. The wall is in two parts, the first part ends in a large sand step between 60 and 90ft.
Apo 29- This sea mount is for advanced divers only. The top of the reef is at nearly a 100ft and is a great nitrox dive.
Hunters Rock- This site is actually 10 miles away from Apo Reef and can be an unpredictable dive that is good for advanced divers.
Corde Point – This location has a large reef plateau with coral ridges and some smaller coral gardens.
Apo Wreck- There is a wreck at 40ft which has some great coral growth.
Source: http://www.mvdive.com/apo_reef.html#
During my visit in Apo Reef, I was able to dive in South Corner, Ego Wall, Mabuti and the Shark Airport. Most of the dives were deep and we would go beyond 30-meters trying to search for mantas, rays and sharks.
Apo Reef Diving Season
You can dive all year round in Apo Reef. The best time to scuba dive in Apo Reef is is from November to May. This is considered to be the "dry season" in the Philippines so there are lesser chances of rain.
Recommended reading- Amihan and Habagat: Diving Seasons in the Philippines Explained
Water Temperature and Visibility
On average water temperature in Apo Reef is 26 – 30°C. Visibility can go as far as 50 meters. It's that crystal clear!
Dive Shops for Apo Reef
Pentagon Pro Dive Centre started its operations in 2015 by the Lontoc family. During my trip to Apo Reef in February 2019, I dived with one of the owners, Albert.

This dive trip was organized by a Manila-based scuba diver- Jeru Cajapin. I virtually met Jeru through Philippine Scuba Divers Facebook group. I did a bit of a background check and learned he's organized several trips in the past with Pentagon. We also had a lot of common friends so I deemed it safe to go on a trip with him.

Please be careful with booking with independent scuba trip organizers as there have been reports of divers who got scammed by individuals claiming to be affiliated with certain dive shops. Do your due diligence before booking with freelance dive trip organizers.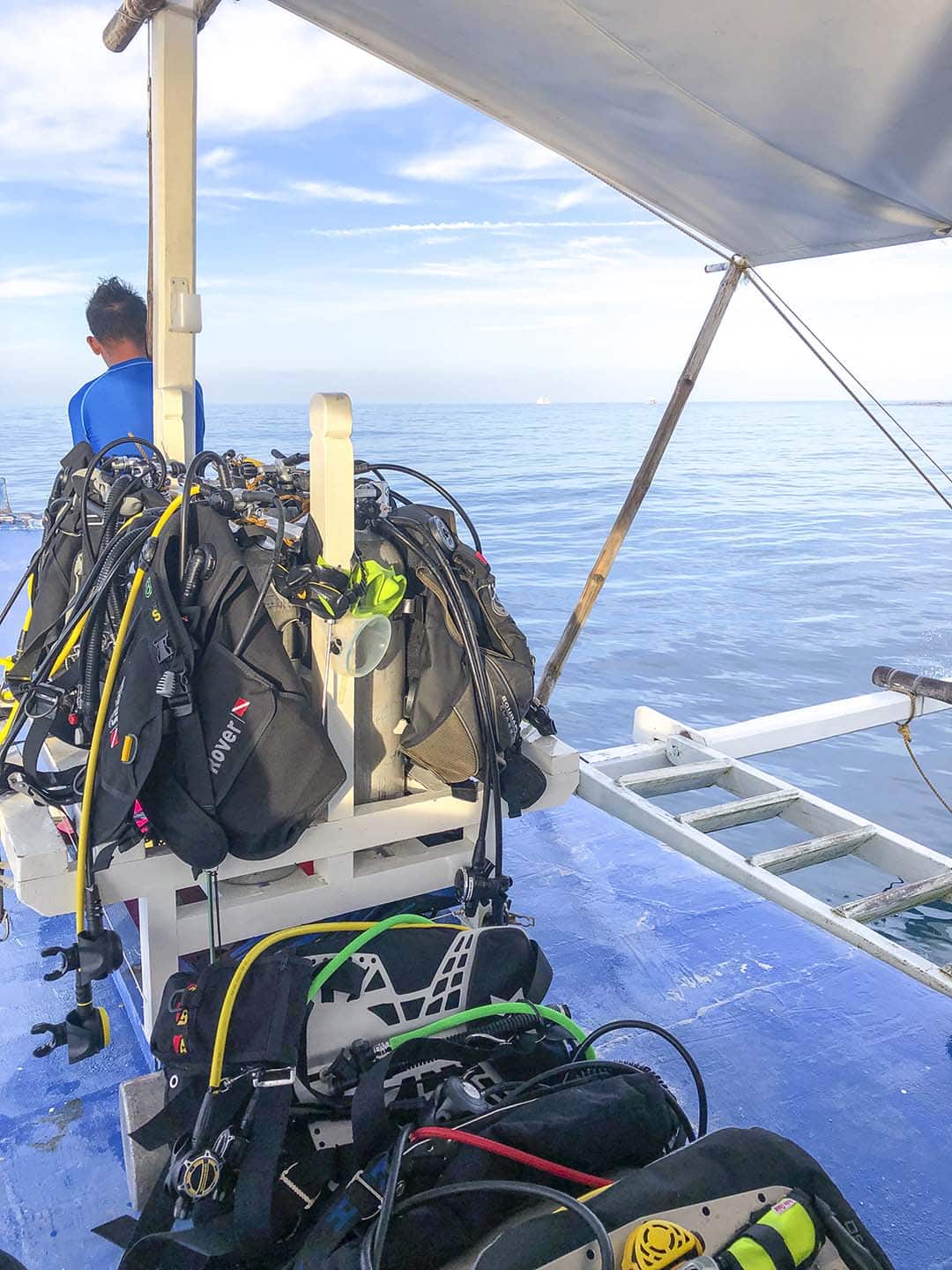 Of course, you can also book directly with Pentagon Dive Center. But since I am a solo traveler and don't have a permanent dive buddy, I thought it would be a good experience to meet other divers for this trip. Also, I didn't want to worry about anything. I just wanted to pay, show up, dive and let the organizers do the rest.
Apo Reef Diving Package
The 3-day, 2-nights dive trip costs Php15000 for scuba divers and Php 4,800.00 (+ Php400 if foreigner) for Non-Scuba Diver.

It includes the following:
Round Trip RoRo Transfer Batangas – Abra de Ilog
Round Trip Private Van Transfer Abra de Ilog – Sablayan
7 Meals (2 Lunch, 2 Dinner, 2 Breakfast, 1 Lunch)
8 Boat dives + Dive Guide +Tanks and Weights
Camping Tent

Extras you need to pay for:
Transportation to Batangas Port
Apo Reef Environmental Fee of Php2380 for locals and Php2940 for foreigners
Dive or Snorkeling Gear Rental
Electric Fan Room if you do not wish to stay in a tent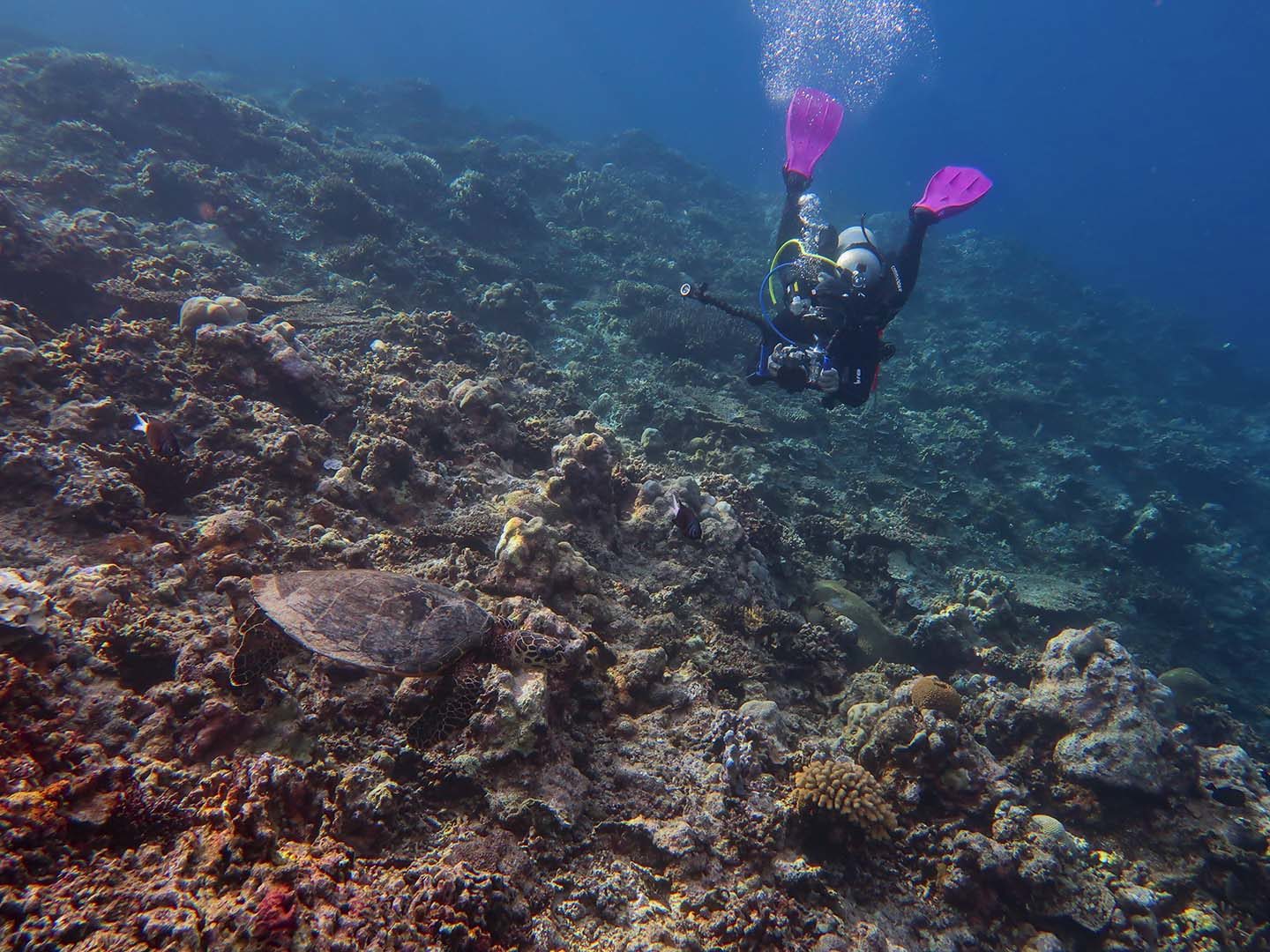 Apo Reef Itinerary
Day 0- Friday
09:00pm Batangas Port Assembly
11:00pm RoRo Transfer to Abra de Ilog
Day 1- Saturday – 3 Scuba Dives
3:00AM Arrival in Abra de Ilog + Van to Sablayan
5:00AM Arrival in Sablayan Breakfast (own account)
7:00AM Departure to Apo Reef via Boat
9:00AM Arrival in Apo Reef Set up Camp
10:00AM Tour Around the Island
12:30 Lunch
5:30PM Sunset in Light House
7:00PM Dinner + Socials / Jamming Night
11:00PM Lights Off
Day 2- Sunday- 4 Scuba Dives
Eat, Sleep, Dive, Repeat!
Day 3 Monday- 1 Dive
5:30AM Wake up + Sunrise
7:00AM Breakfast
8:00AM Departure in Apo
12:00NN Lunch +Arrival in Sablayan
2:00PM Departure to Abra de Ilog
5:00PM Arrival Abra de Ilog + RoRo to Batangas Port
9:00PM End of Trip
The itinerary is subject to change without prior notice. In fact, when we visited, we were able to do 9 dives instead of just 8 dives. And, they didn't charge us extra for it! How cool is that?
Keep in mind that everything about this trip is basic and simple. You will be staying on the island itself where there is no cell signal. Electricity is only at night so you can charge your gadgets. Although there are showers and toilets, the water is salty. You can only have a real bath once you return to Sablayan town proper.
Food is brought in from the mainland. If you have special food requirements, you need to inform the travel organizer ahead of time. You must bring your own provisions and supplies as there are no stores on the island.
If you wish to dive with Jeru's group, you can contact him via his Facebook account. Each trip has maximum of 14 divers and you instantly get new dive friends!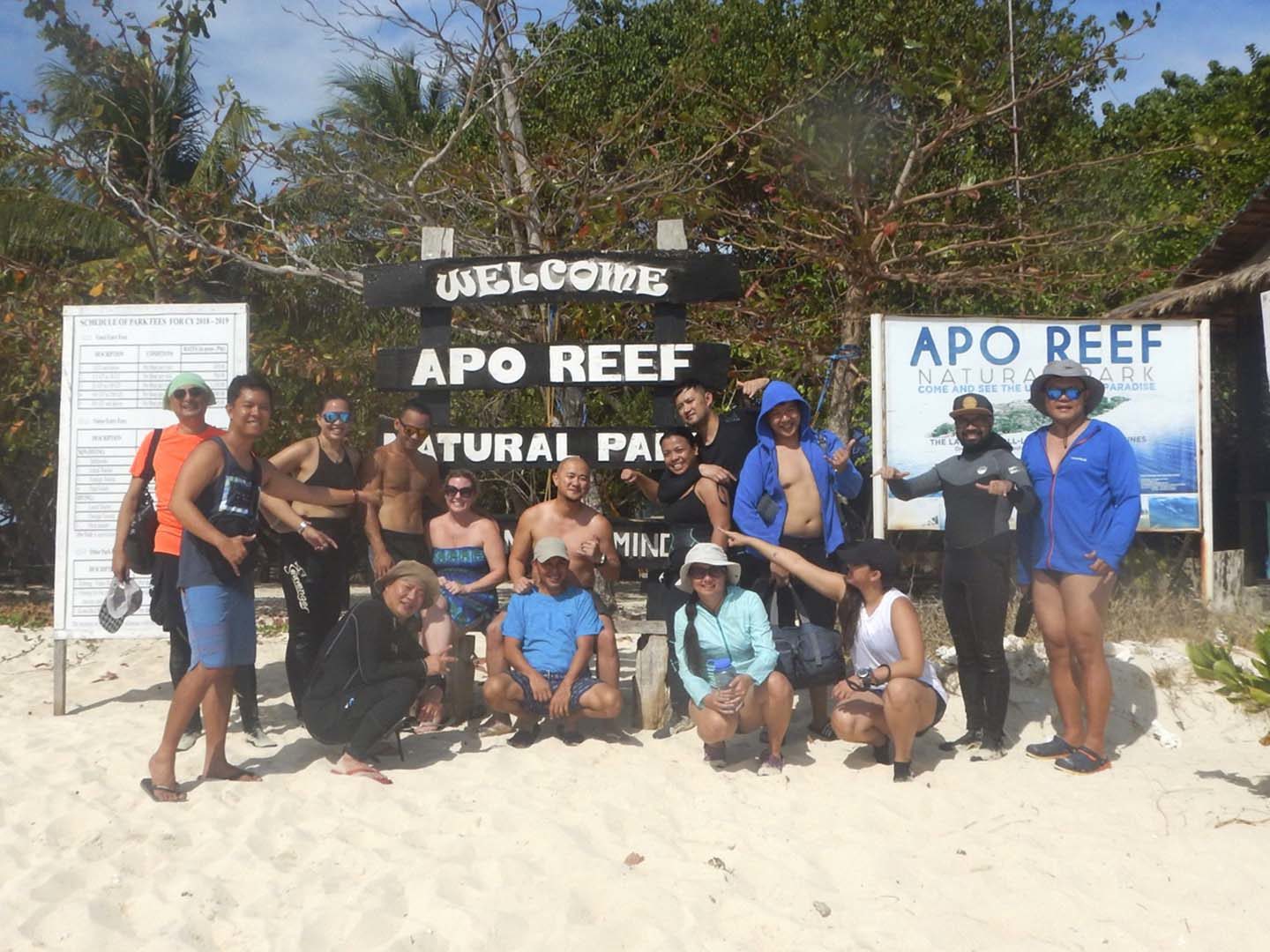 2. Occidental Mindoro Dive Centers
If camping is not your thing, you can check out these other dive shops in Sablayan, Occidental Mindoro
Sablayan Divers
Gustav's Place
When you arrive in Sablayan you can hire a boat to take to Pandan Island. Pandan Island has its own dive shop, Mariposa Diving. They offer trips 2-3 times a week to go diving in Apo Reef
When I first visited Apo Reef in 2014, I opted to stay in Pandan Island with my dive buddy, Jem. I also recommend staying here as you can easily have access to the dive sites around Pandan Island.
I remember seeing a blue-spotted ribbon-tail stingray while snorkeling! And the biggest green sea turtle I've ever seen in my life showed up in their house reef! Pandan Island is definitely worth the visit!
If you dive with Mariposa in Pandan Island, they might require you to do a checkout dive in their house reef before diving in Apo Reef. You're exempted if you're at a certain Dive Certification level or if you have logged a certain number of dives. This is to see the diver's abilities especially since not all dive sites in Apo Reef is suitable for beginners.
Since Apo Reef is located along Mindoro Strait, you can dive Apo Reef even if you are coming from other islands in the Philippines. Several dive shops offer liveaboards from places like Coron in Palawan and Puerto Galera in Oriental Mindoro.

Apo Reef is 2 hours away from Sablayan town proper. Imagine if you want to do multiple dives in Apo Reef. So instead of going back and forth to Sablayan and Apo Reef, doing a liveaboard actually makes sense. Liveaboards in Apo Reef makes it practical for scuba divers to explore Apo Reef for several days at a time. No need to get back to land.
Apo Reef is a huge protected area so there is really much to see and explore. I have done around 10 dives combined in 2 trips. I feel like there is so much more to see. A liveaboard would be worth it!
Here are some Apo Reef liveaboards you can consider:
Reef Check for Apo Reef
In every place I go to, I like checking out the reef situation and what conditions they are in. While scuba diving in Apo Reef in February 2019, I saw a lot of bleaching and dead corals.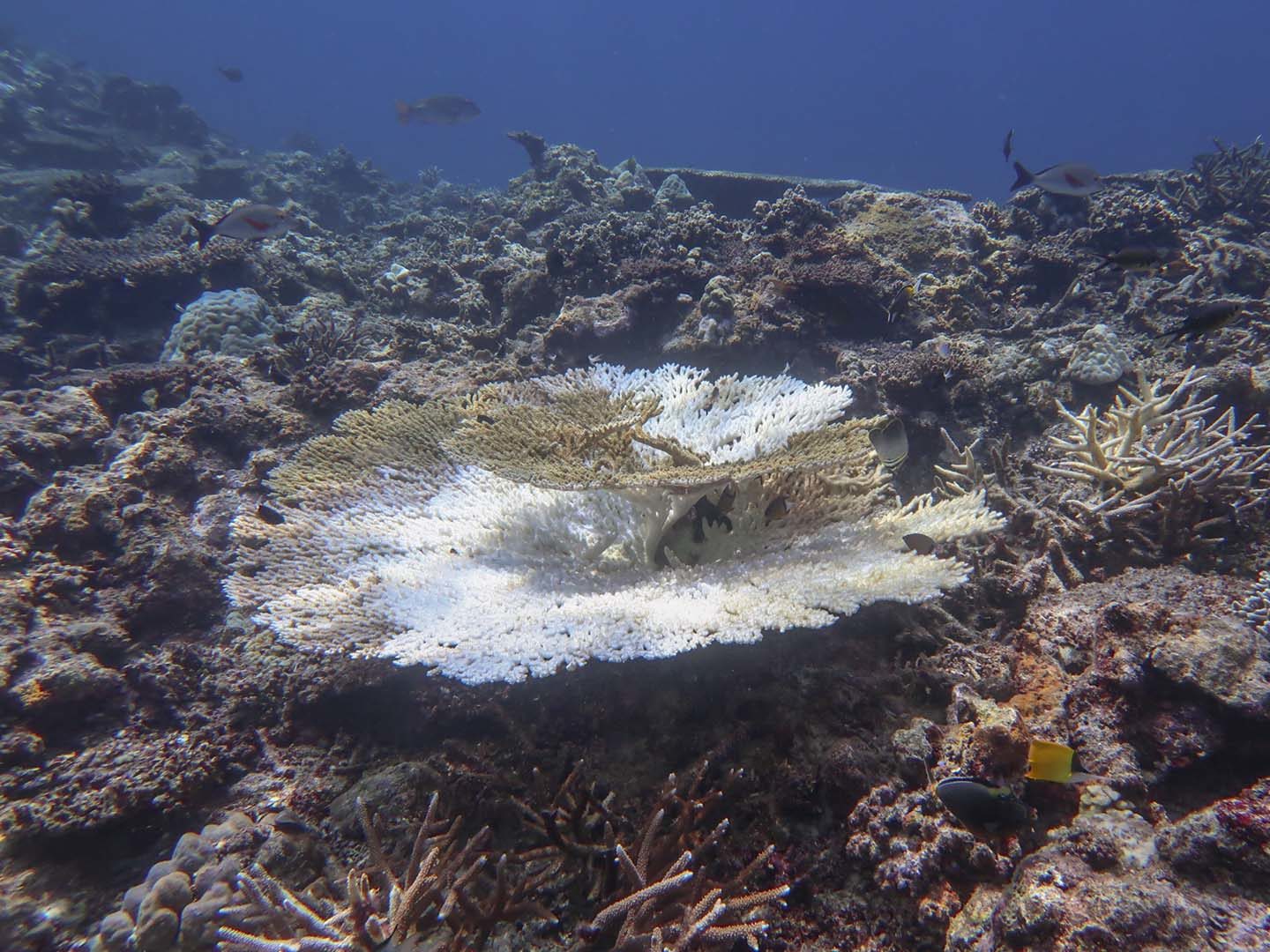 I also noticed a lot of Crown of Thorns (CoTs). In each dive, I would spot around 5-10 crown of thorns. This is not good since the CoTs can easily consume vast amounts of coral in no time.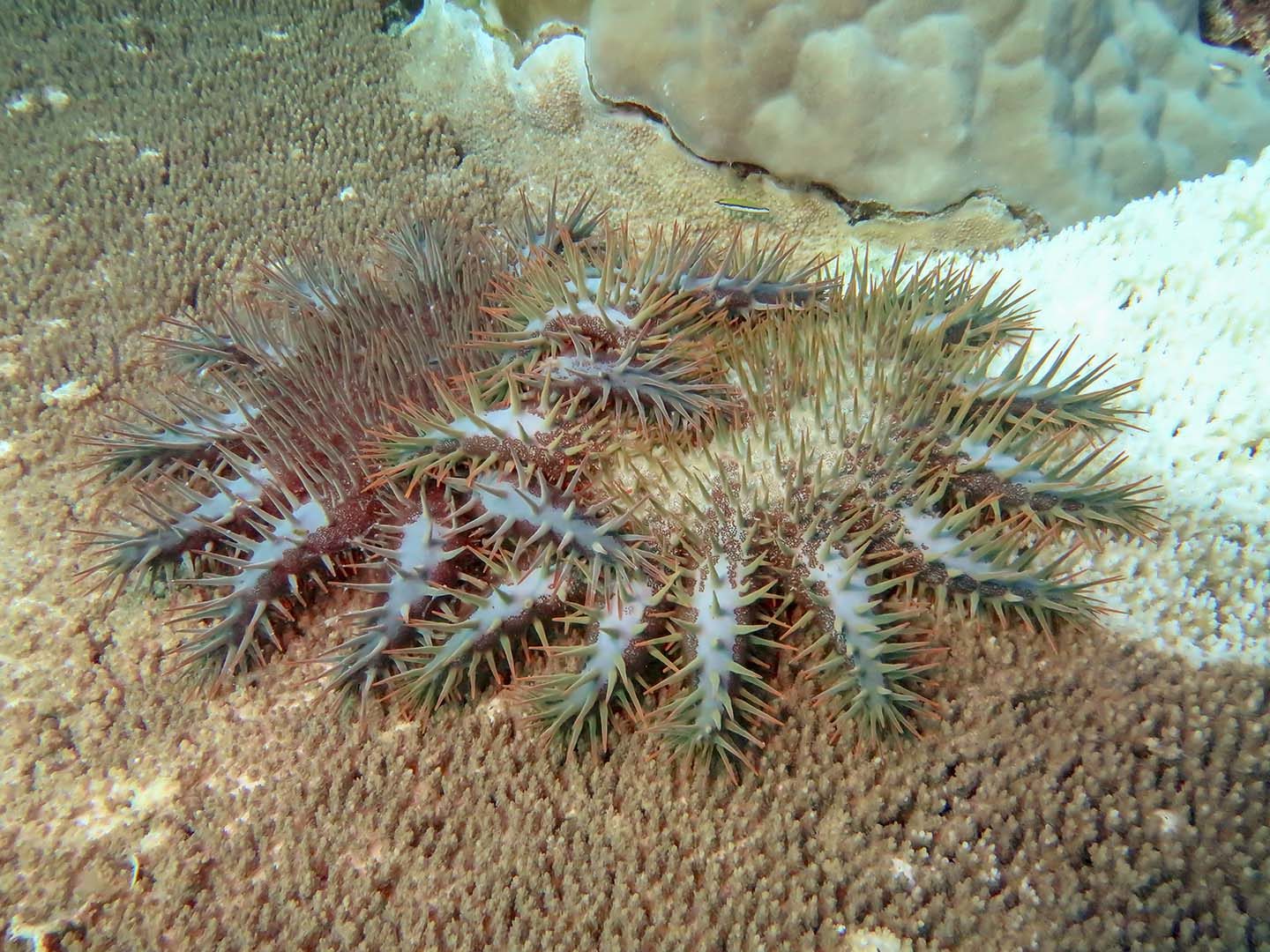 Thankfully, I didn't see or pick up any trash while scuba diving in Apo Reef. However, one of the divers from my group picked up a rice ladle while diving. This might have fallen from the tourist or liveaboard boats as sometimes the crew cook meals at the back of the boat.
---
Things to do in Apo Reef Natural Park
Even if you are not a scuba diver you can still enjoy your time in Apo Reef. You can do a bit of snorkeling or just chill by the beach. A good tech or social media detox is good for your soul. Besides, you don't have a choice anyway since there is no cell signal in Apo Reef!
Apo island has a shallow lagoon. You can visit the lagoon and try to spot sea creatures hidden in the mangroves. The lagoon and mangroves forest serves as a food source, nursery and spawning ground for marine animals and birds.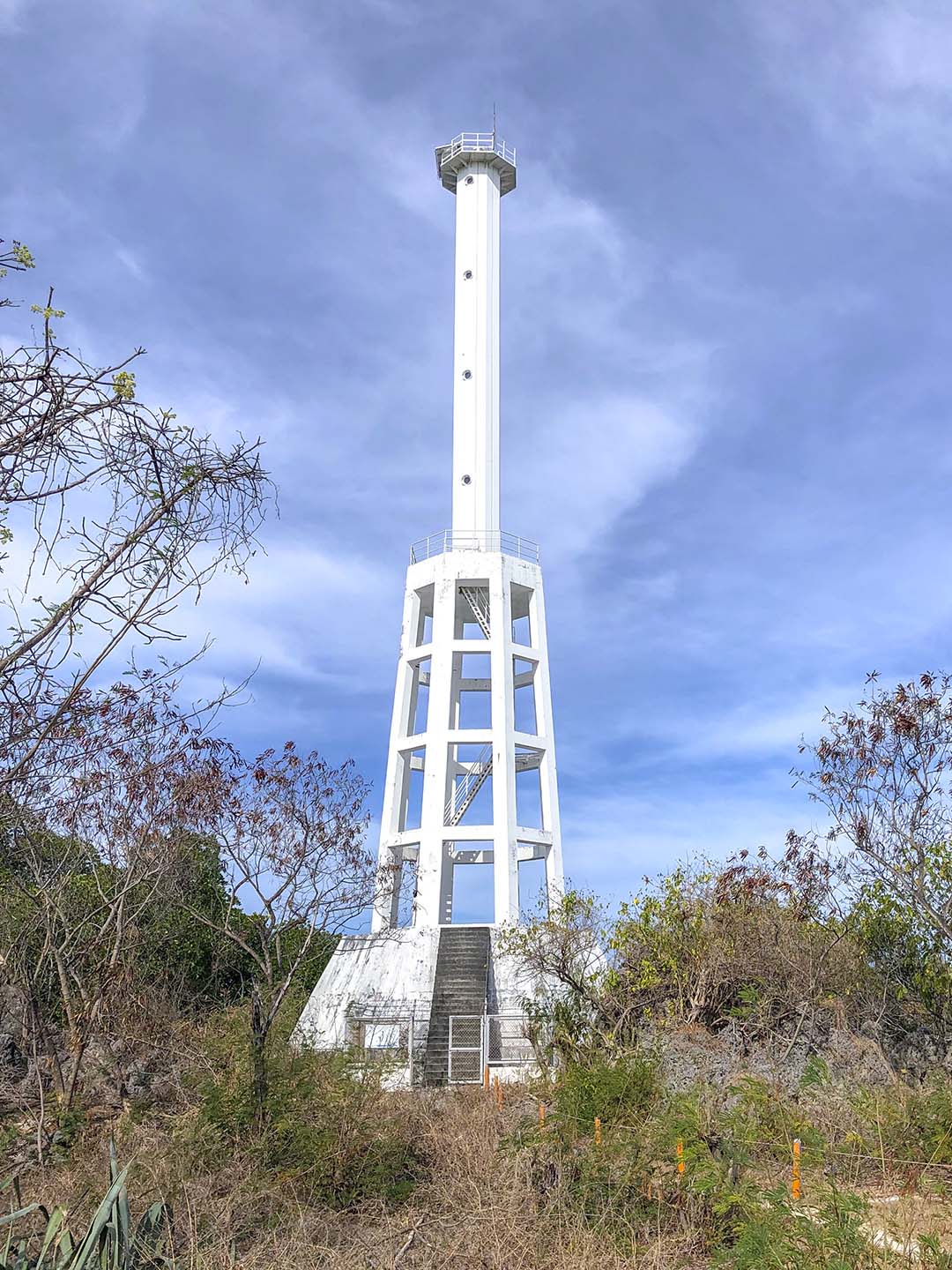 I recommend visiting the lighthouse on the island. It is an easy 10-minute walk from the campsite. The climb up to the lighthouse is also easy. Best of all, you will be rewarded with a breathtaking 360-degree view of the whole Apo Reef.
At night, lay out a mat on the beach and enjoy the most spectacular night sky. Don't forget to watch out for shooting stars and make a wish!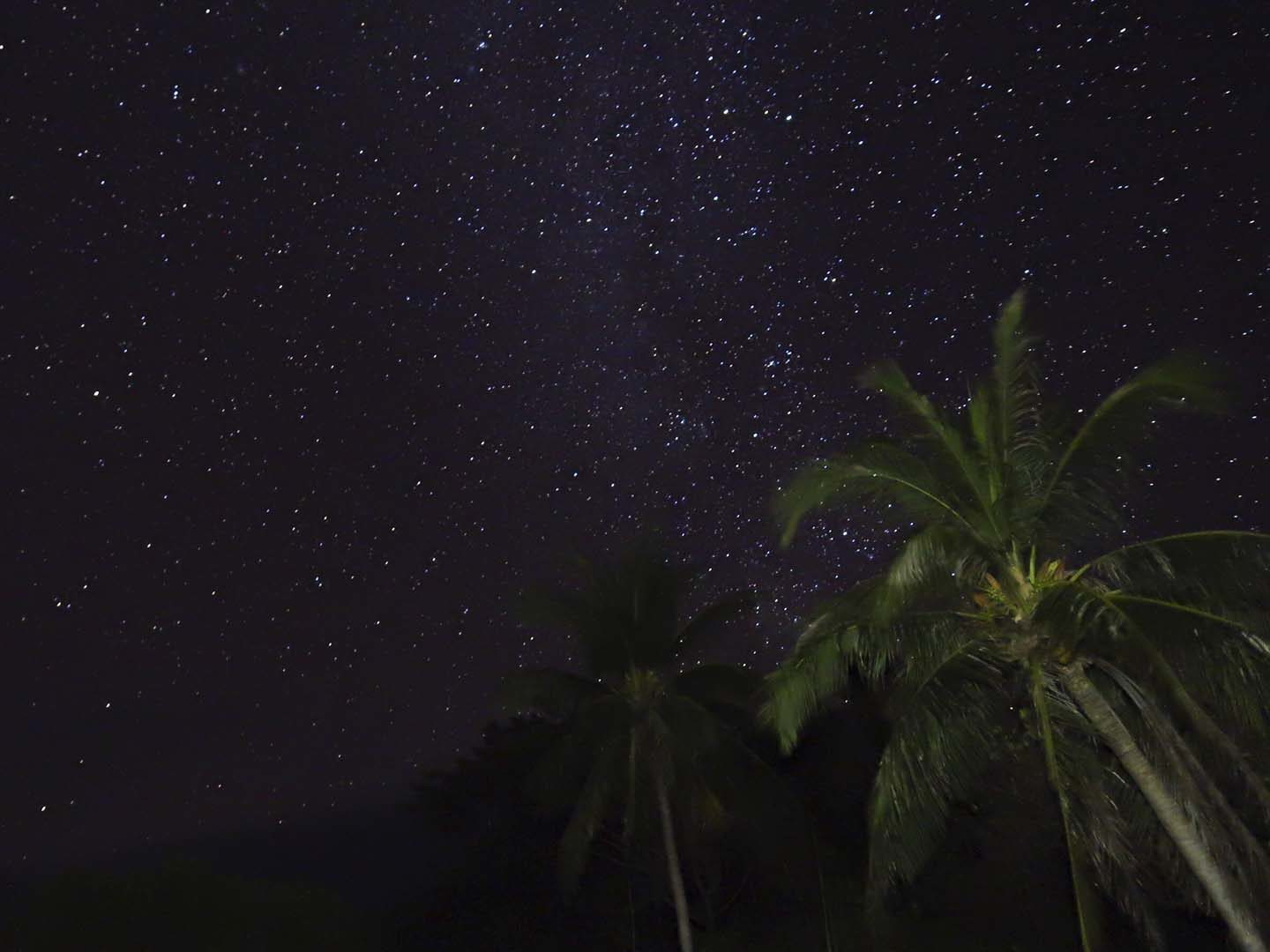 Apo Island is also a nesting ground for sea turtles. You can walk the beach late at night or during sunrise to see if a mommy turtle has laid some eggs. You can report any new nests to the rangers. Since they keep a record of all the eggs in the island, check in with them if they are any turtles to be released in the wild soon.
While I was in Apo Island, I was very fortunate to witness a baby sea turtle, locally known as a pawikan, trying to find its way to the ocean!
If you want to learn more about other activities in Sablayan itself you can visit their official Sablayan website.
Have I convinced you to go scuba diving in Apo Reef?
Continue reading for more travel tips!
What to pack for Apo Reef Diving
Here is the standard dive gear I bring while diving in the Philippines.
My Scuba Diving Gear
Regulator: Scubapro MK25 Evo, C300 and C200 2nd Stage
BCD: Aqualung Axiom
Mask: TUSA M-212 Freedom Ceos
Snorkel: TUSA SP-170 Platina Hyperdry II
Booties: Poseidon Pink Dive Boots
Fins: Problue
Wetsuit: Seavenger
Vest Hoodie: Scubapro Hybrid Hooded Vest
Dive Watch: Suunto D4i Novo
Dive Knife: Aqualung Blunt Tip Knife

My Underwater Camera Gear
Underwater Camera: Canon G7X Mark II
Underwater Camera Housing: Fantasea FG7XII
Video Lights: Big Blue AL1200XP
Underwater Action Camera: GoPro Hero9

Click here for my Canon G7X Mark II full review
Click here for scuba diving camera recommendations for beginners.

Dive Insurance
Divers Alert Network (DAN)
If you're traveling and diving in the Philippines for the first time, make sure to read my posts on Ultimate Travel and Dive Guide to the Philippines
Philippine Packing List: What to Bring to Your Dive Trip.
How to go to Apo Reef
Apo Reef falls under the jurisdiction of Sablayan, Occidental Mindoro. There are several recommended ways to get here. 
Please be reminded that transportation schedules in the Philippines easily changes and are not strictly enforced. Always give extra time for unexpected delays or cancelations. You can ask locals in the area about the transportation situation to get updated information.
How to go to Apo Reef from Metro Manila to Sablayan by bus
Route: Manila – Sablayan
There are several buses that go directly from Metro Manila to San, Jose in Occidental Mindoro. These buses still need to go on board a RoRo (Roll on Roll off Ferry) from Batangas Port to Abra de Ilog in Occidental Mindoro.
If you don't mind spending 8-10 hours in the bus, then this should be the easiest way to go. The buses terminate in San Jose. It is important that you ask the driver to drop you off in Sablayan town proper if you are taking this route. Bus Fare is approximately Php1000 all the way to San Jose.
Ceres Bus from Marikina Terminal to San Jose Terminal
Location of Ceres Bus Terminals:
Ceres Marikina Terminal (Metro Manila) – BFCT East Terminal
Ceres San Jose Terminal (Occidental Mindoro) – Brgy. Bagong Sikat (former Dimple Star Terminal)
Schedule:
Marikina to San Jose | ETD 04:00 to 20:00 (Depending on the booking of passengers)
San Jose to Marikina | ETD 14:45, 19:30
To Book or Confirmation of Schedule please contact these directly:
San Jose Terminal: 0908-700-7769
SM Marikina Terminal: 0909-311-3511
Partas Bus from Pasay Terminal to San Jose Terminal
Check Partas Bus Schedule Here

Sablayan is approximately 80 km away from San Jose. If you need to go back to Manila using the same route in reverse, the buses from San Jose should get to Sablayan around 2 hours after it leaves the San Jose terminal.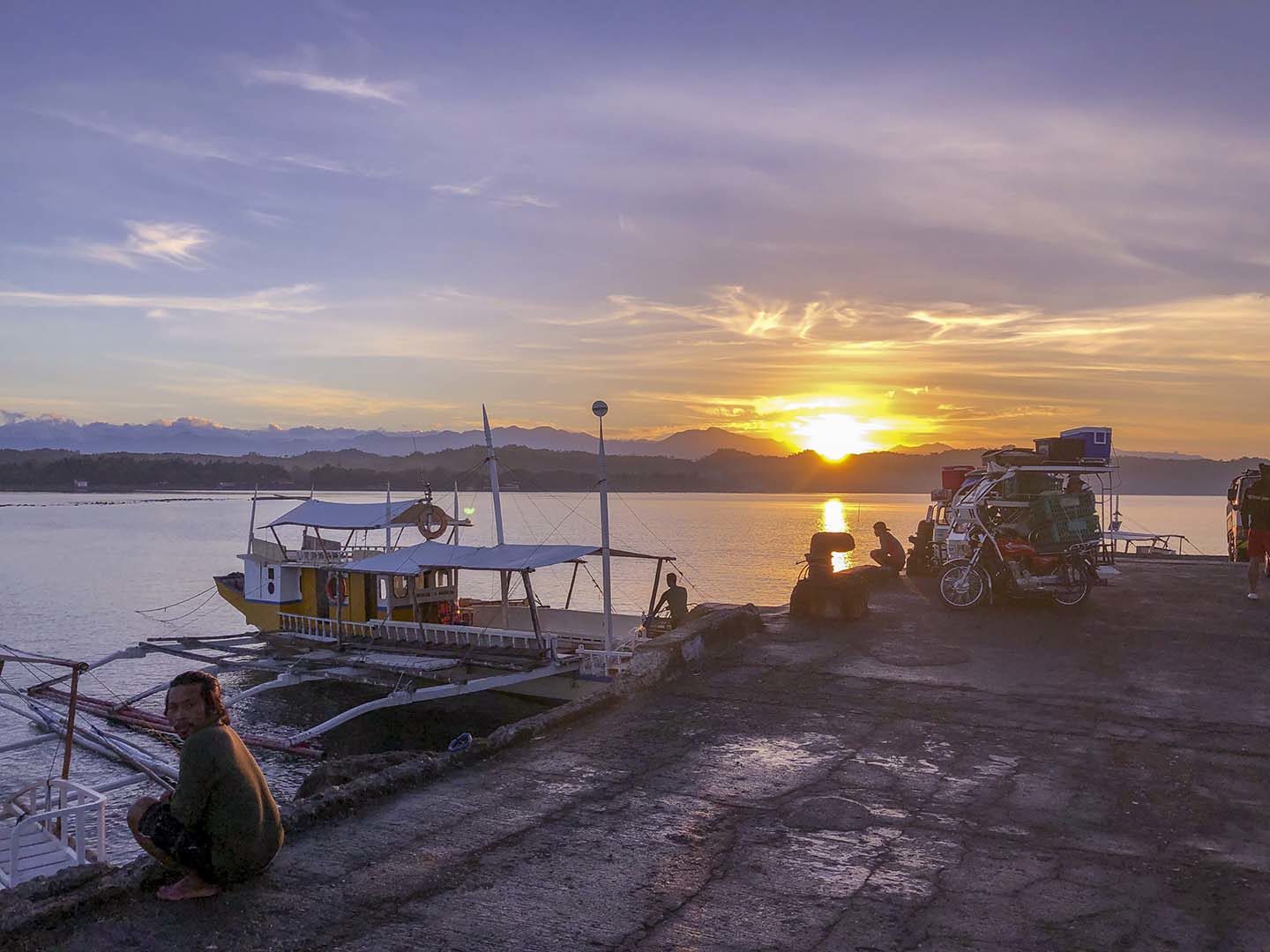 How to go to Apo Reef from Metro Manila to Sablayan by Boat
Route: Manila – Batangas – Abra de Ilog – Sablayan
From Metro Manila, you can take a bus or car to Batangas Port. Batangas Port also has parking for people who want to leave their car and just hop on to a ferry. You must then take a ferry to Abra de Ilog. When you arrive at Abra de Ilog you can hire a van or ride a bus to take you to Sablayan.
Take a Bus from Manila to Batangas Port
If you're coming from Metro Manila these are some of the bus lines that go to Batangas Port.
Jam Liner
Alps Bus
Bus Fare is approximately Php175.
Take a Ferry from Batangas Port to Abra de Ilog
Daily Schedule:
| | | |
| --- | --- | --- |
| Shipping Line | Departure Time | Book Here: |
| Starlight Ferries | 09:00, 17:00 | Batangas to Abra de Ilog |
| Montenegro Shipping Lines | 01:00, 05:00, 09:00, 13:00, 17:00, 21:00 | |
| Besta Shipping Lines | 00:00, 04:00, 08:00, 12:00, 15:30, 20:30 | |
Ferry Fare starts at Php260. (May vary depending on vessel and class)
Batangas Port terminal fee is Php30.
Bus from Abra de Ilog to Sablayan
Once you land in Abra de Ilog, there should be buses or vans waiting outside the pier that will go to Sablayan. Fare is approximately Php220-250 . While waiting in Batangas port itself, you can ask the buses that are taking the same ferry as yours, if there are still available seats. You need to secure your bus seats immediately as the buses quickly fill up.
How to get to Apo Reef from Metro Manila to Sablayan by Airplane
Route: Manila – San Jose – Sablayan 
The nearest airport to Sablyan is located in San Jose, Occidental Mindoro. From Manila, you can take Cebu Pacific to San Jose. Philippine Airlines also flies to this airport. However, their flights are to and from Clark Airport in Pampanga. Travel time is approximately 45 minutes. But given NAIA's air traffic situation, expect delays on flights.
From San Jose airport, you can take a tricycle to the bus terminal. Hop on to a bus going to Sablayan. Travel time to Sablayan is approximately 2-3 hours.
You can also hire private vans from San Jose to take you to Sablayan. This might be a better option if you are traveling as a group or concerned with all your luggage and scuba gear.
How to go to Apo Reef from Puerto Galera to Sablayan by Boat
Route: Puerto Galera – Abra de Ilog- Sablayan
There is a ferry that travels daily between Abra de Ilog in Occidental Mindoro and Puerto Galera in Oriental Mindoro.
Find your way to Balatero Port in Puerto Galera. You can directly purchase a ferry ticket that will go directly to Abra de Ilog. The boat departs from Balatero pier at 10:30 and will take 1 hour. When you land in Abra de Ilog, you can take a 2 to 3 hours bus or van ride to Sablayan
The ferry from Abra de Ilog to Puerto Galera leaves at noon.
Traveling to Apo Reef from Caticlan to Sablayan by boat
Route: Caticlan – Bulalacao – Sablayan
If you are coming from Aklan, Fast Cat travels twice daily to Oriental Mindoro. You can catch the 3:00 or 15:00 ferry from Caticlan and arrive 3 hours later in Bulalacao. From Bulalacao, take a bus to Sablayan via San Jose in Occidental Mindoro.
---
Where to stay in Sablayan, Occidental Mindoro
Camp in Apo Reef Island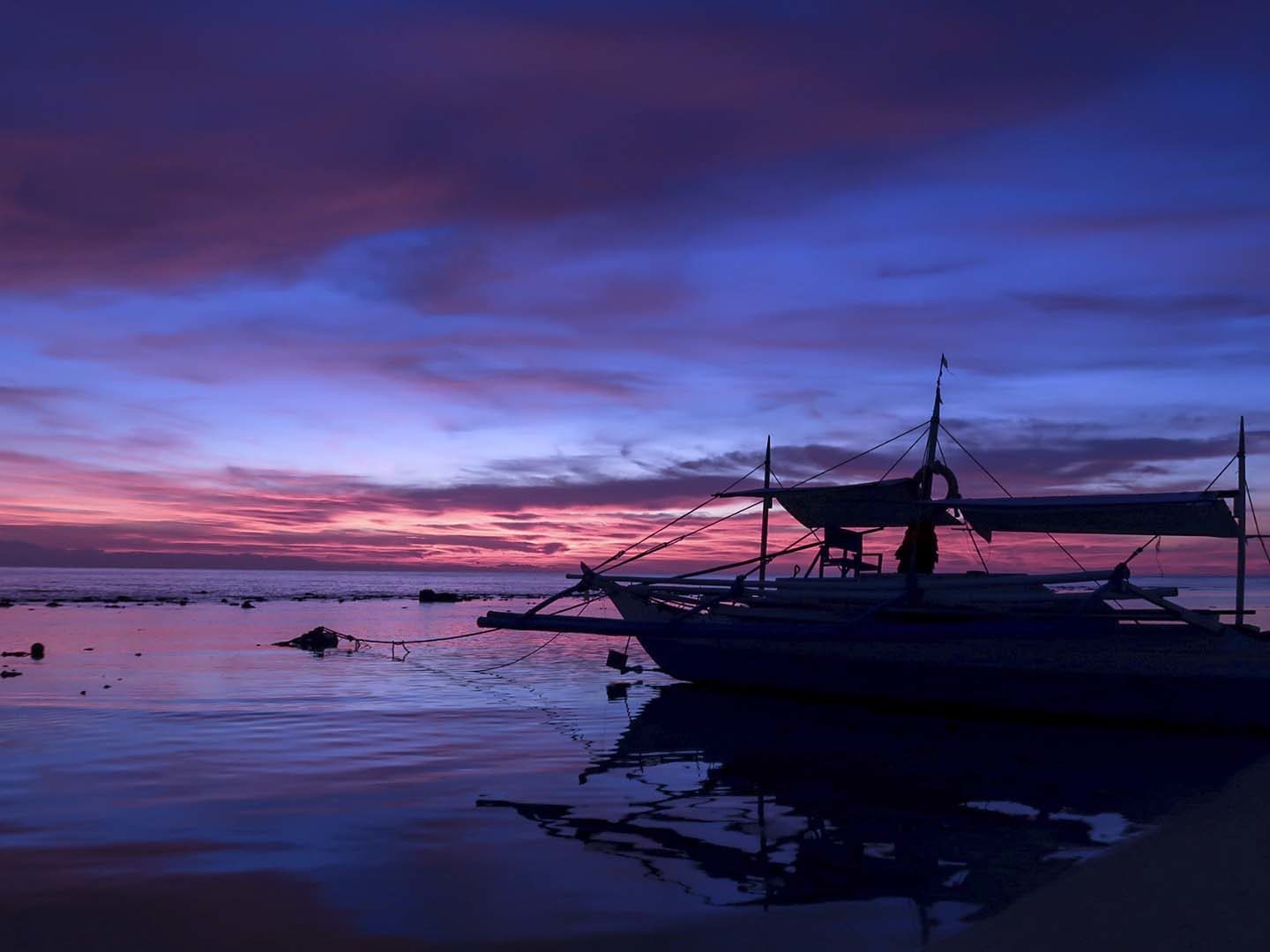 Apo Reef Natural Park is a place where you can go camping. Accommodations on Apo Island is very basic. Most visitors bring or rent tents.
If you don't like camping, there are also fan rooms available. You can rent a room for Php1500/night. The room is good for 4 people. If you opt to stay in the island, there is no fresh water, no internet or telecommunication signal. Electricity is only at night.
Make sure to bring insect repellent as there are some months where there are sand flies, locally known as niknik. They can leave really bad bites if you're not careful.
If you plan to just snorkel and camp, you can coordinate directly with Sablayan Eco-tourism Office. They can assist you if you plan to DIY.
Hotels in Sablayan, Occidental Mindoro
If you're on a budget or wanting to go around Sablayan, you can book for a hotel/ hostel in Sablayan. Then, you can arrange for the different dive shops in Sablayan for their services.
Book your hotel in Sablayan Occidental Mindoro via Agoda.com
---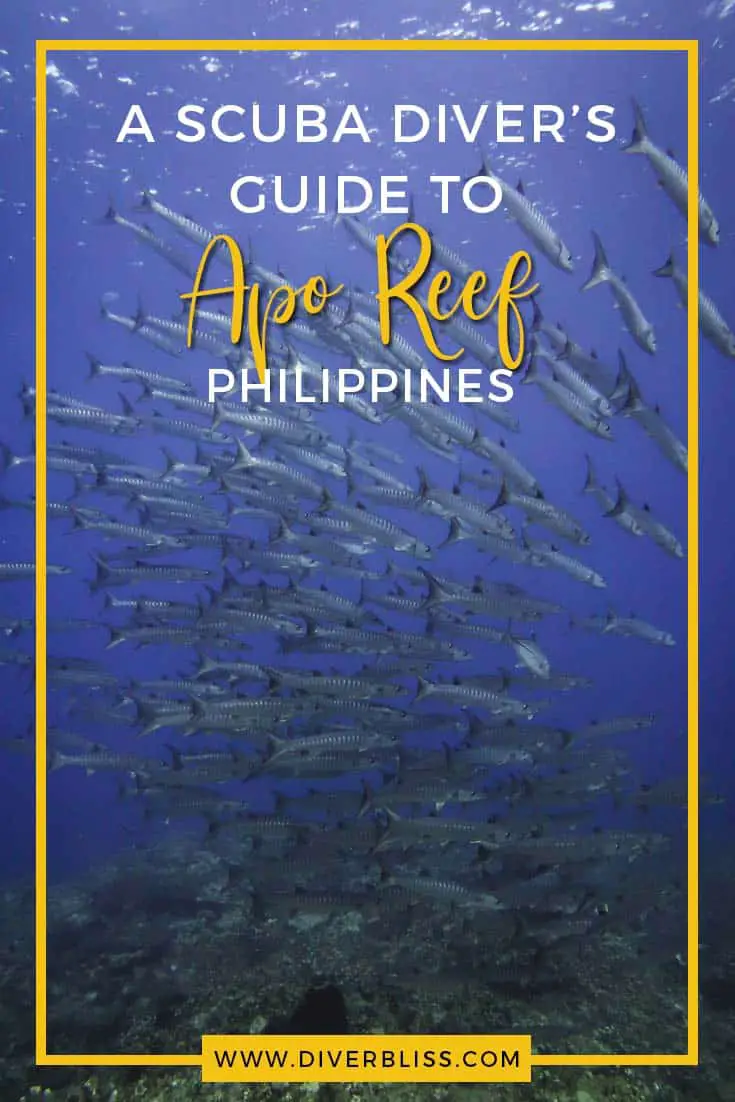 This trip to Apo Reef had so many highlights! I can't even choose which one was my favorite moment.

I hope that this has convinced you to go scuba diving in Apo Reef! It truly is magical above and below water. And any scuba diver should experience this paradise.
---
Is Apo Reef in your dive bucket list?
What are you looking forward to seeing in Apo Reef?
Leave a comment below!
The links above may be affiliate links. If you shop through them, I'll earn a commission at no additional cost to you. For full information, please see my disclaimer here.