Scuba diving in Dauin is considered to be one of the best muck dive sites in the Philippines. If you like muck diving, which is basically diving in large patches of sand to find cool critters like frogfishes, sea slugs, seahorses or cuttlefish, then you should be heading to Dauin right now!
Back in 2014, I visited Negros Oriental for the first time. I had the chance to go to scuba diving in Dauin, but I skipped it. I was a new diver and at the time, I equated good diving to lush and colorful corals, lots of fishes, and seeing turtles! When I was told it was diving on dark sand, I wasn't exactly thrilled. There was no way I was going to pay to see sand! And so I went to the nearby Apo Island instead.
Thankfully, five years later, my interests when it comes to scuba diving have diversified. After scuba diving in Romblon, where I was introduced to super-macro photography, my love for finding tiny and unique creatures grew.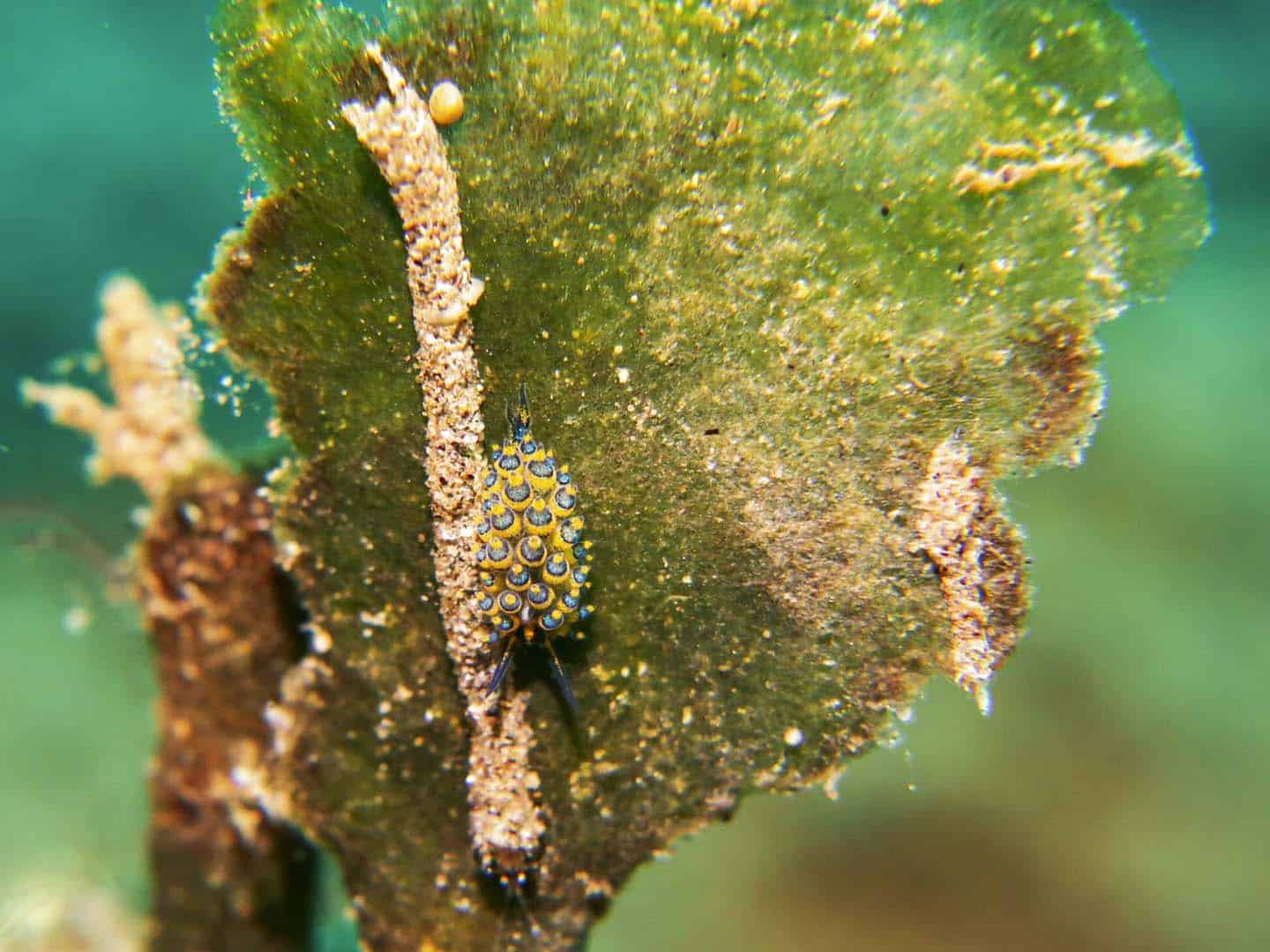 When my dive buddy Jem told me she was going to Dumaguete in July (2019), I quickly jumped on the chance to visit her. I haven't seen her since she went to the USA to get her Ph.D. and it would be great to go diving with her again.
Need help planning your trip? Check out this post on my Dumaguete-Siquijor Itinerary or sign up to my mailing list to get a free trip planner spreadsheet.
About Dauin, Negros Oriental
Negros Oriental is part of the island of Negros, which is the largest island in the Visayas and fourth-largest island in the Philippines. This is divided into two major provinces- Negros Oriental and Negros Occidental. On the south and east side is Negros Oriental. And in the north and west side is Negros Occidental. The province of Negros Oriental faces Cebu and Siquijor to the east.
Dumaguete is the provincial capital and seat of government of Negros Oriental. Located approximately 15 kilometers to the south of Dumaguete is the municipality of Dauin. Most municipalities in Negros Oriental rely heavily on agriculture, but Dauin has a huge tourism industry.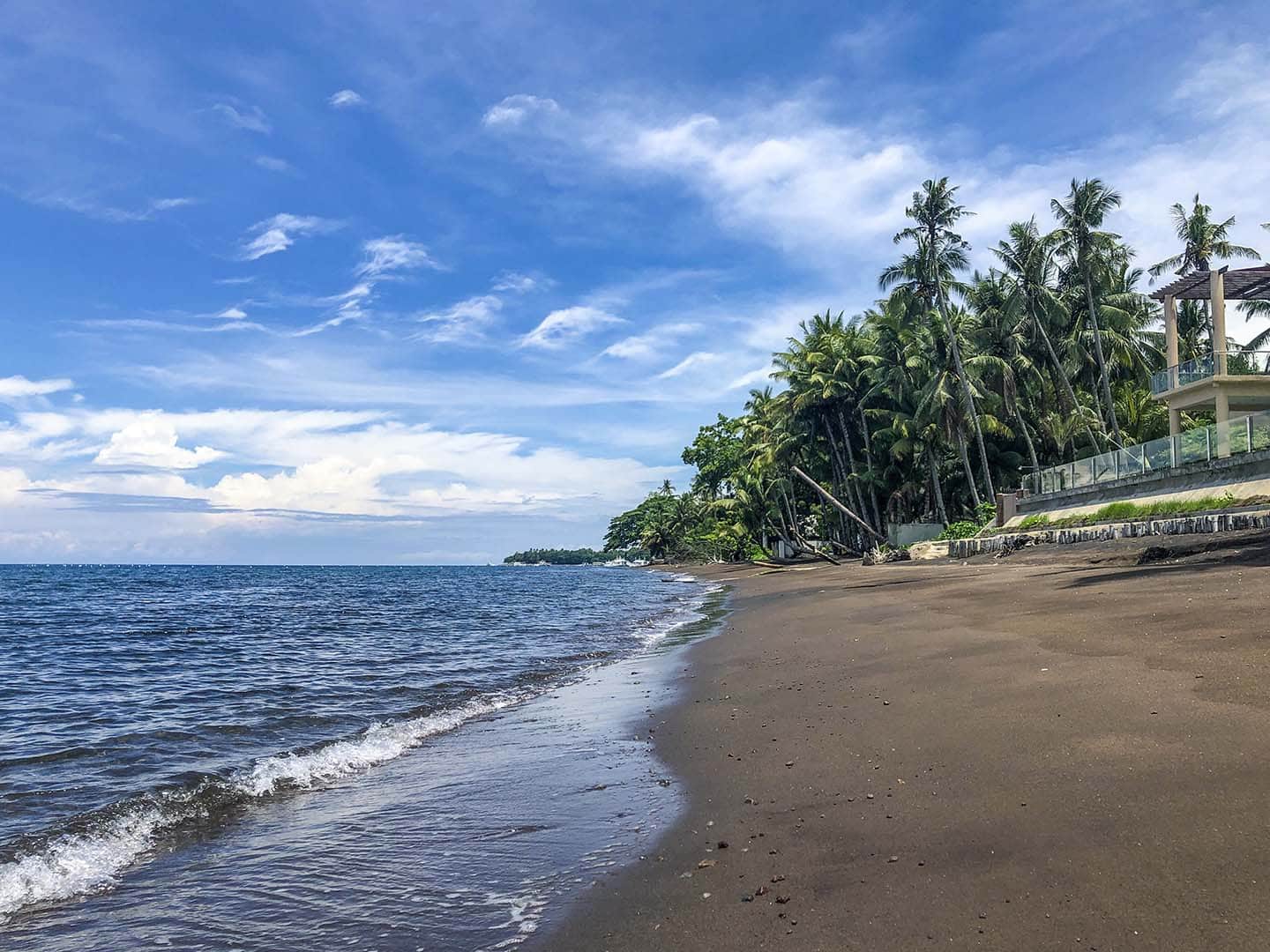 Local and foreign tourists visit Dauin for its world-class diving. The establishment of several marine sanctuaries along the coast of Dauin and around Apo Island has attracted more resorts to set up shop in the area. Today, Dauin is filled with businesses catering to tourists wanting to see its beautiful underwater world.
---
Scuba Diving in Dauin
Note: Although Apo Island belongs to the jurisdiction of Dauin, this guide will focus more on Dauin as a muck diving destination. I created another post focusing on scuba diving in Apo Island.
Muck diving in Dauin
Many divers claim that scuba diving in Dauin is the Philippines' version of scuba diving in Lembeh in Indonesia. Even if I have not been to Lembeh, I believe this claim to be false…Dauin is better! (Hahaha.. Yes, I have to love my own country!)
If you haven't heard of either Lembeh or Dauin, they are basically known for their muck diving. And if you haven't heard of this kind of diving, it is scuba diving in sites consisting of dark volcanic sand, sediments, and sometimes debris like dead corals or trash.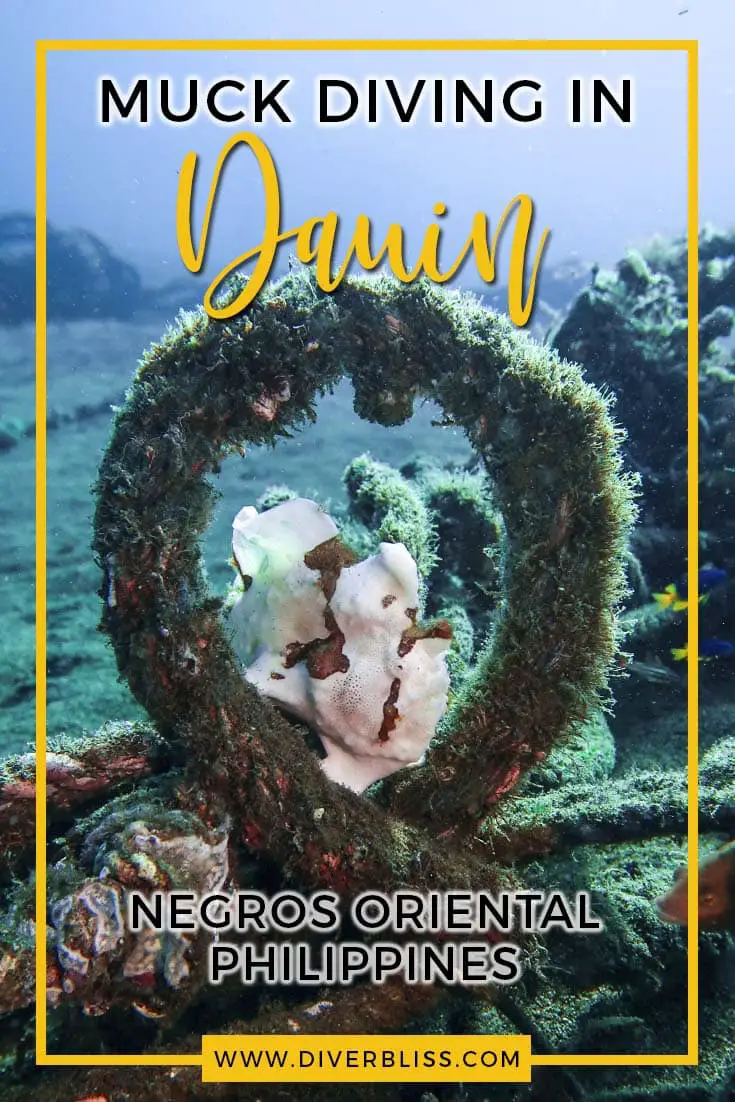 Muck sites usually do not have many corals and the terrain often appears like a barren wasteland. I know it doesn't sound enticing. But what makes it special and worth experiencing are the critters you may find in this environment.
For divers who are used to exploring healthy coral reef systems, diving in a muck site might sound boring. But the key to muck diving is getting real close to the sandy bottom. And maybe having bionic eyes! If you're patient and observant, you will be rewarded with the weirdest and most wonderful marine critters in their natural habitat in Dauin.
Now, if you're not into muck diving, do not worry as Dauin has several established marine sanctuaries like Masaplod and Apo Island. These protected areas are popular even to snorkelers and freedivers. The coral reefs and abundant marine life in Dauin make it worth the trip.
Scuba Diving Season in Dauin
You can scuba dive in the Dauin all year round. But the best time to go is from November to May. This is considered the "dry" months in the Philippines where the chances of a typhoon is less.
You can experience heavy rains from June to September. This wet season can extend even until October.
By the way, I went in July and the weather was perfect. So sometimes it boils down to luck!
Recommended reading:
Amihan and Habagat: Diving Seasons in the Philippines Explained
Best Time To Dive in the Philippines + Monthly Guide on Where to Go
Water temperature and visibility in Dauin
Water temperatures in Dauin fall between 25-30 degrees Celcius. I was comfortable wearing my 3mm full wetsuit. If you're doing underwater photography, I recommend doing a 3mm full suit to keep you warm and protected. My DMs were just wearing rash guards and board shorts.
The visibility underwater was really good during my dives. I could see from 15 to 25 meters.
Scuba Diving Sites in Dauin
There are more than 20 dive sites along the coast of Dauin. Namely: Ducomi Pier, Mainit, San Miguel, Talisay, El Dorado, Mike's, Secret Corner, Tires, Cars, Dauin north, Dauin south, Ginama an, Masaplod norte, Pyramid, Masaplod sur, Bahura, Atmosphere, The pier, Unity point, Thalatta, and Basac.
Apo Island is also just a 45-minute boat ride away. Unlike Dauin which is popular for its muck diving, Apo Island is the exact opposite. It has plentiful corals, fishes, and turtles.
Marine Diversity in Dauin
Who would have thought that one can find so many cool critters on what appears to be a boring patch of sand?
Below are some of the creatures I found while muck diving in Dauin. Photos were taken using my Canon G7X Mark II and Fantasea Underwater Housing.
Nudibranchs and Sea Slugs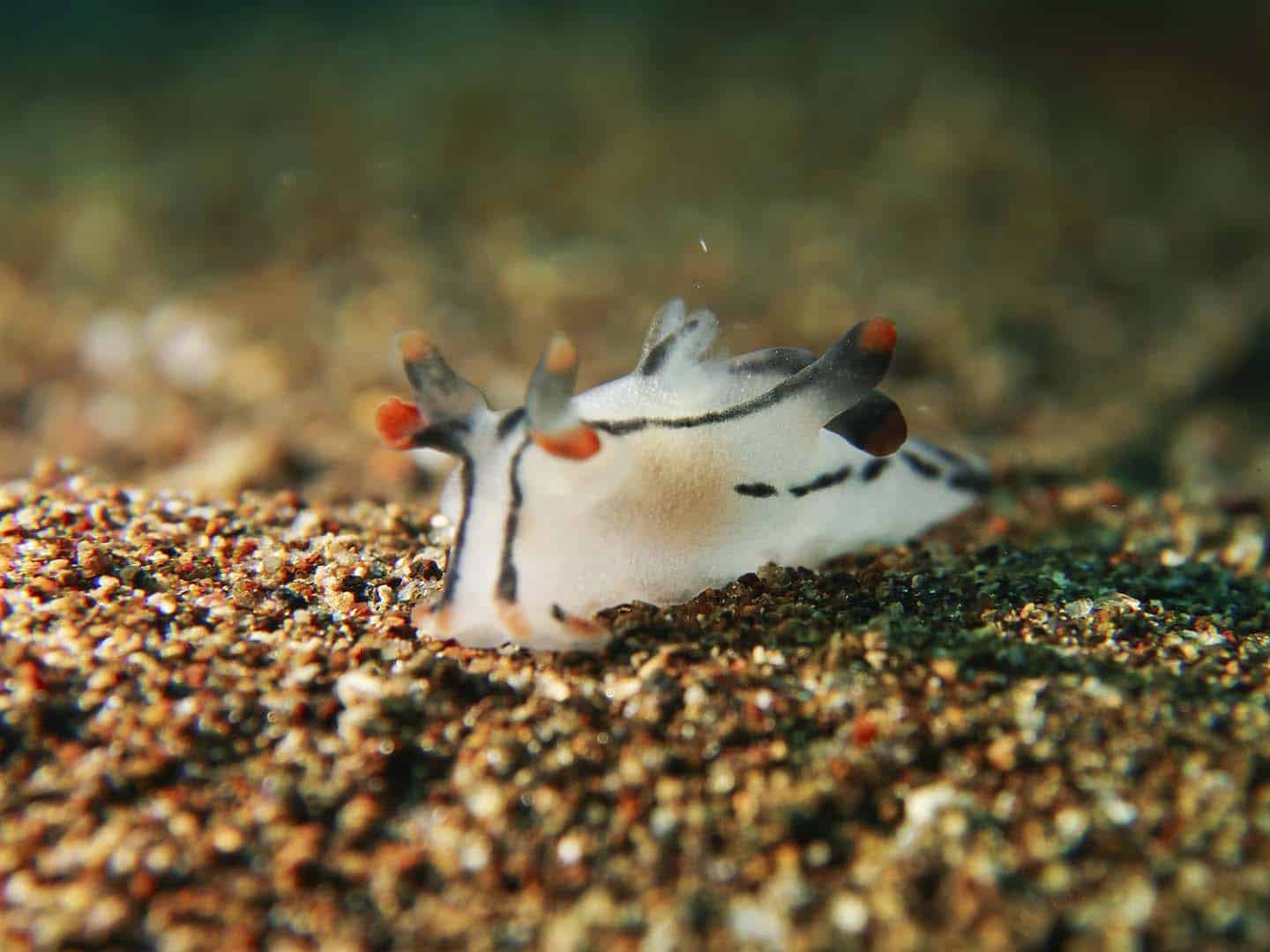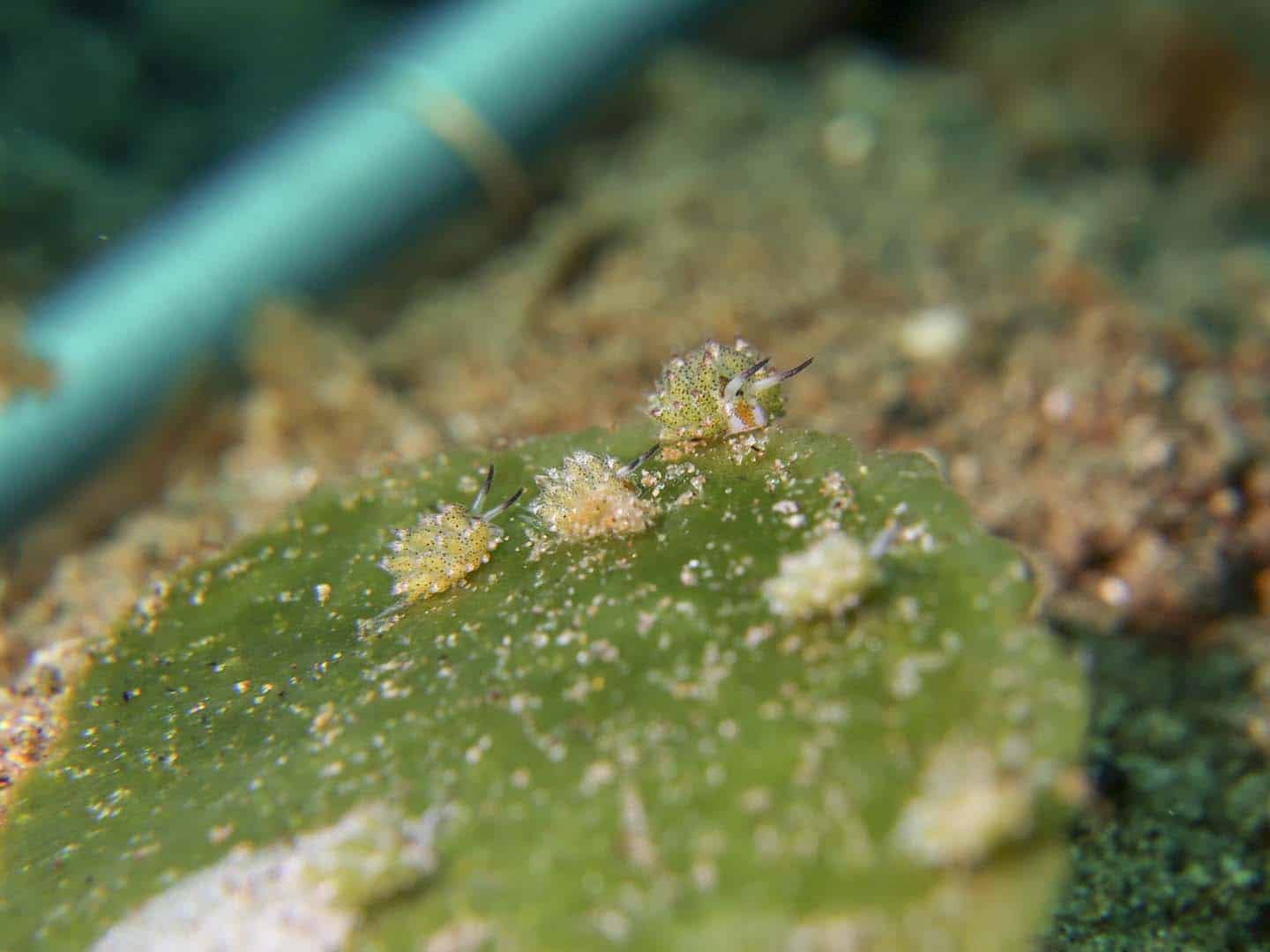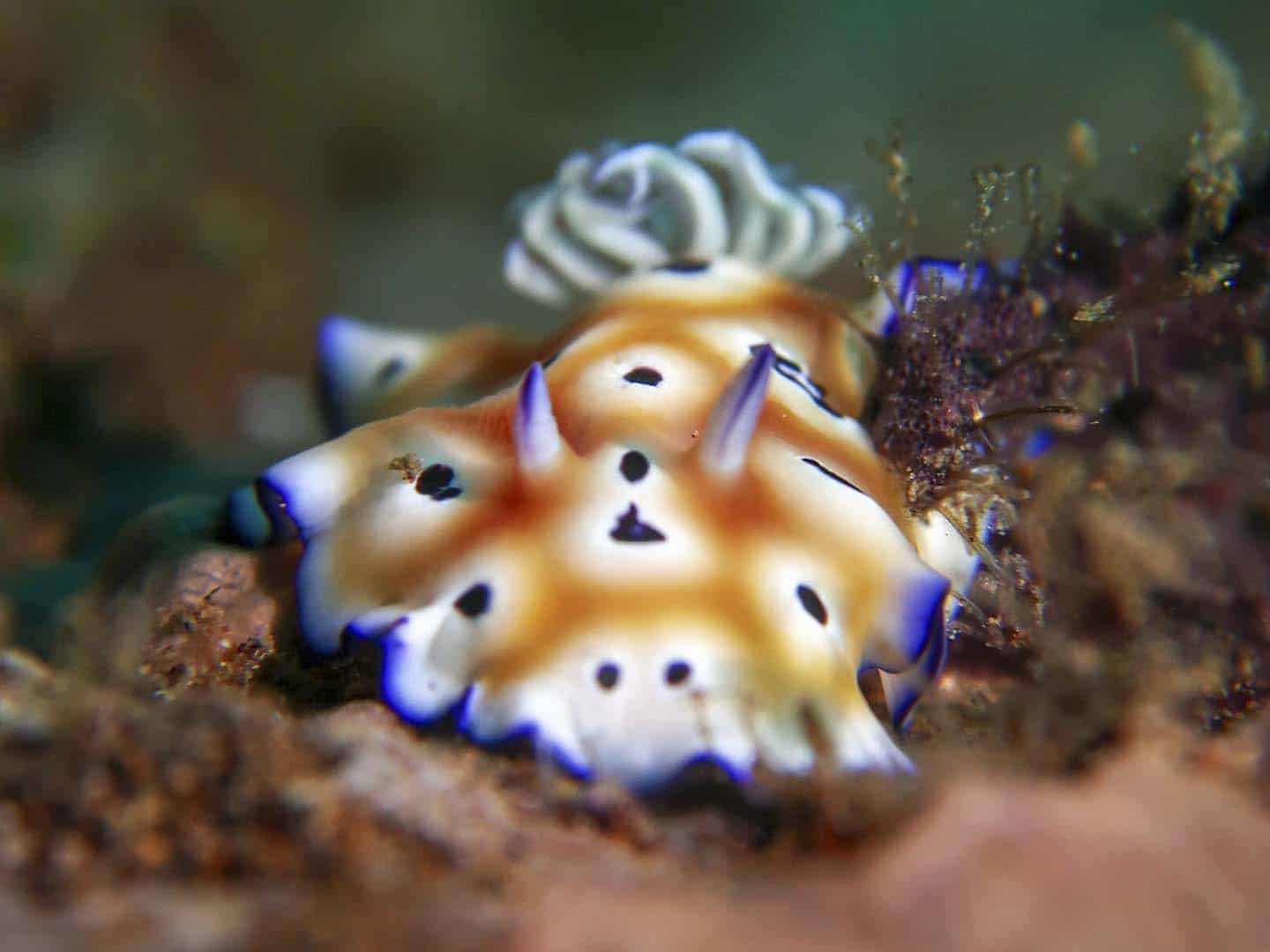 Worms
Octopus, Squid, and Cuttlefishes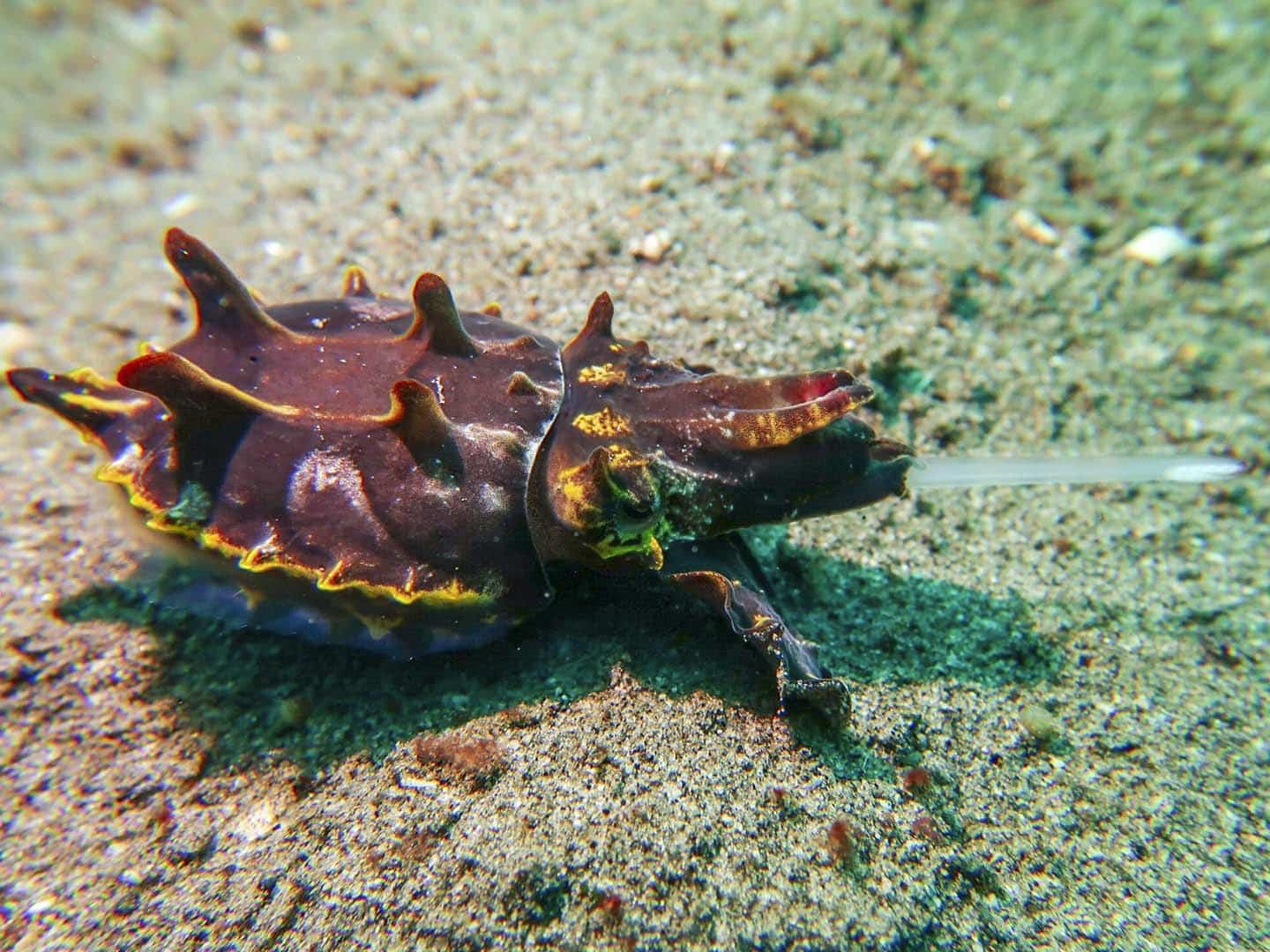 Seahorses and Pipefishes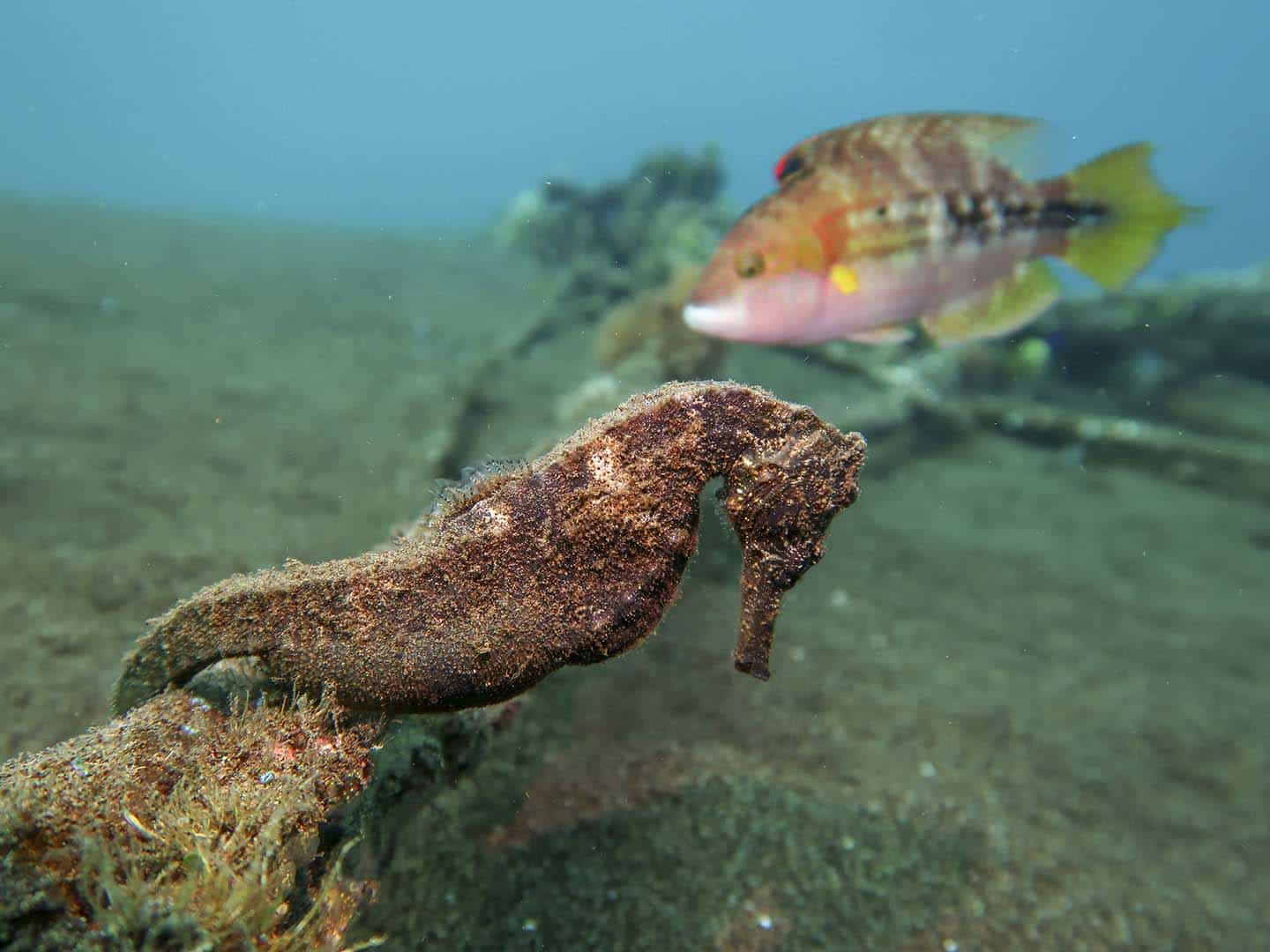 Frogfishes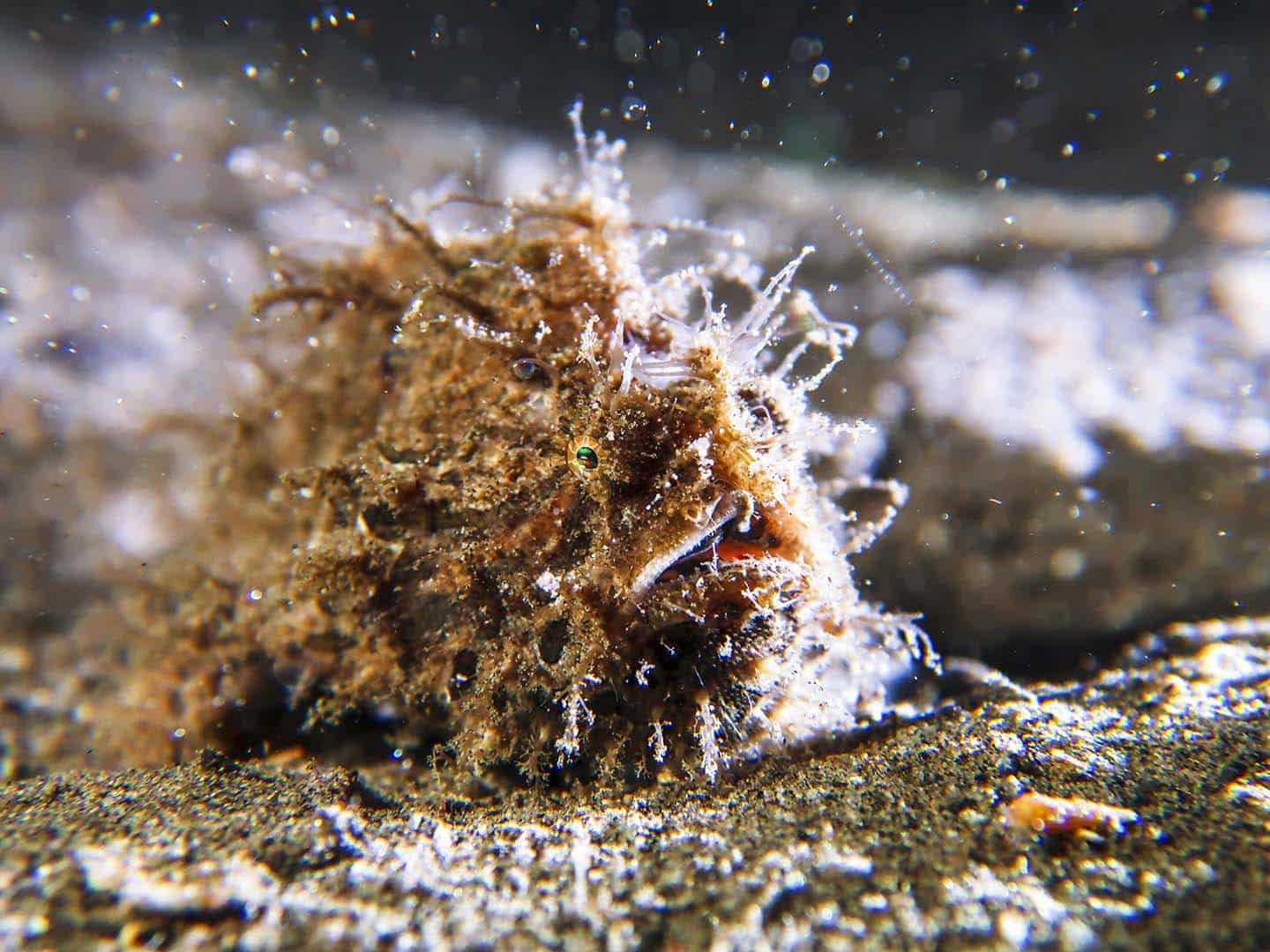 Crabs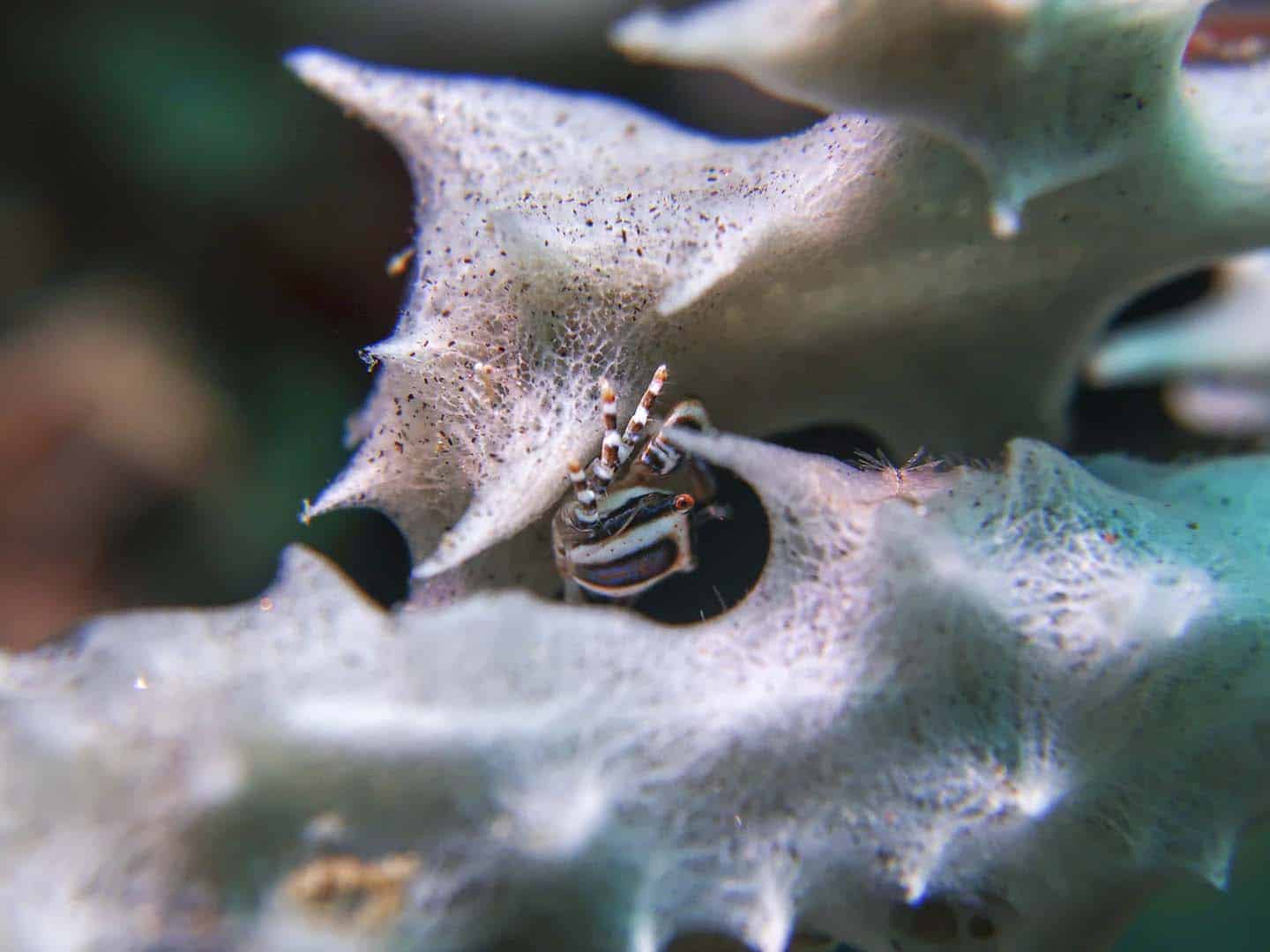 Goby, Blennies, and Dragonets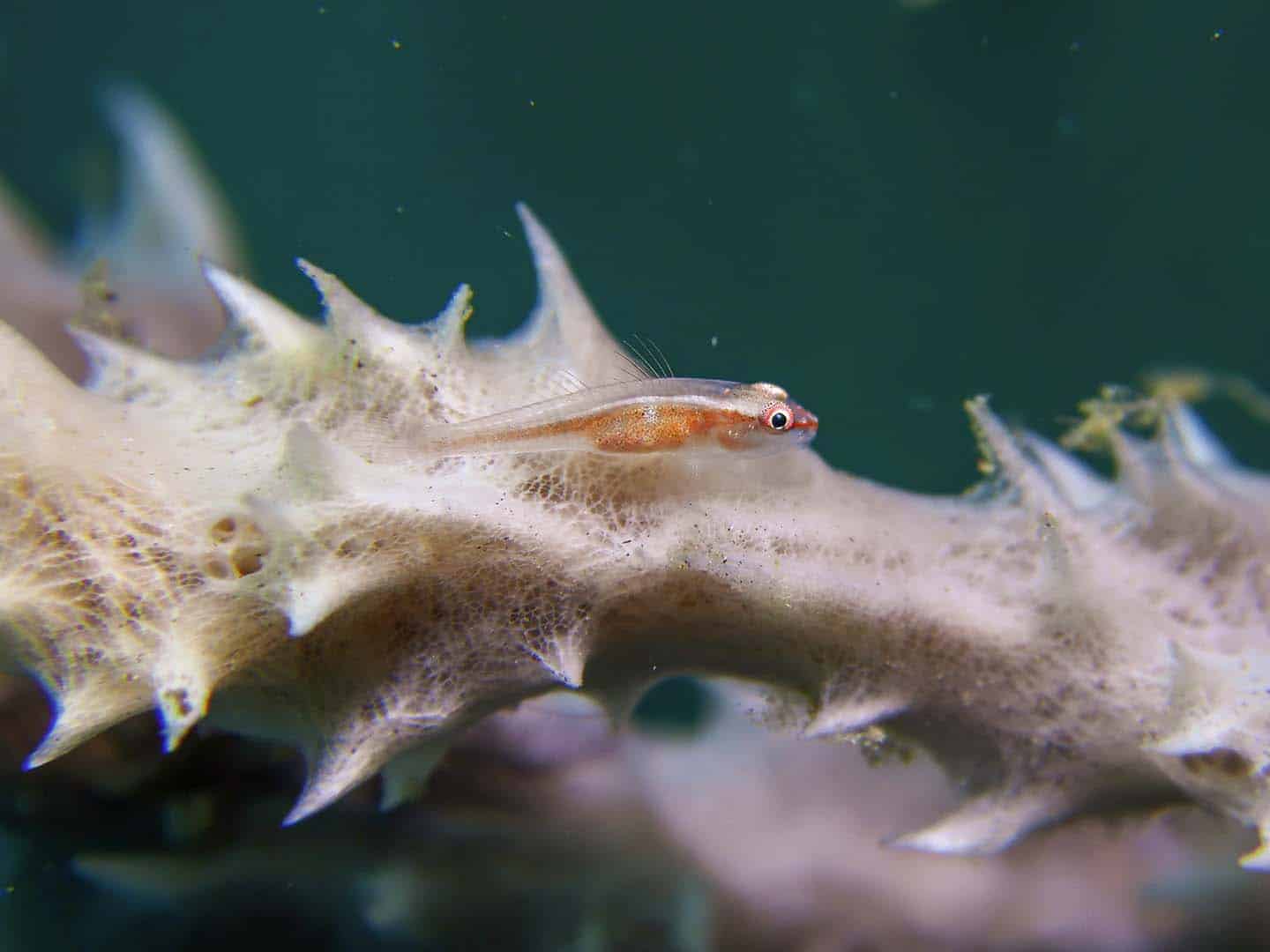 Shrimps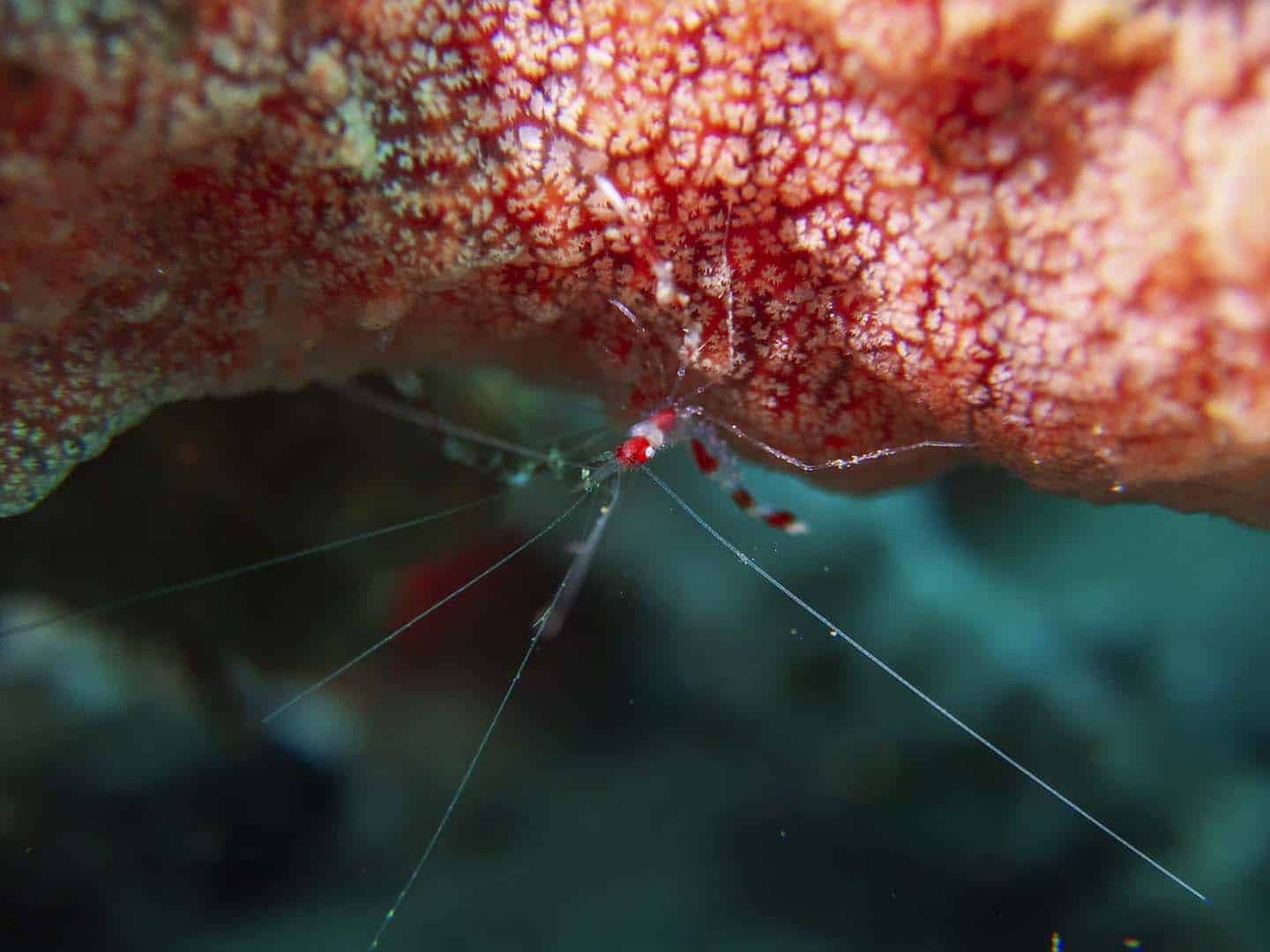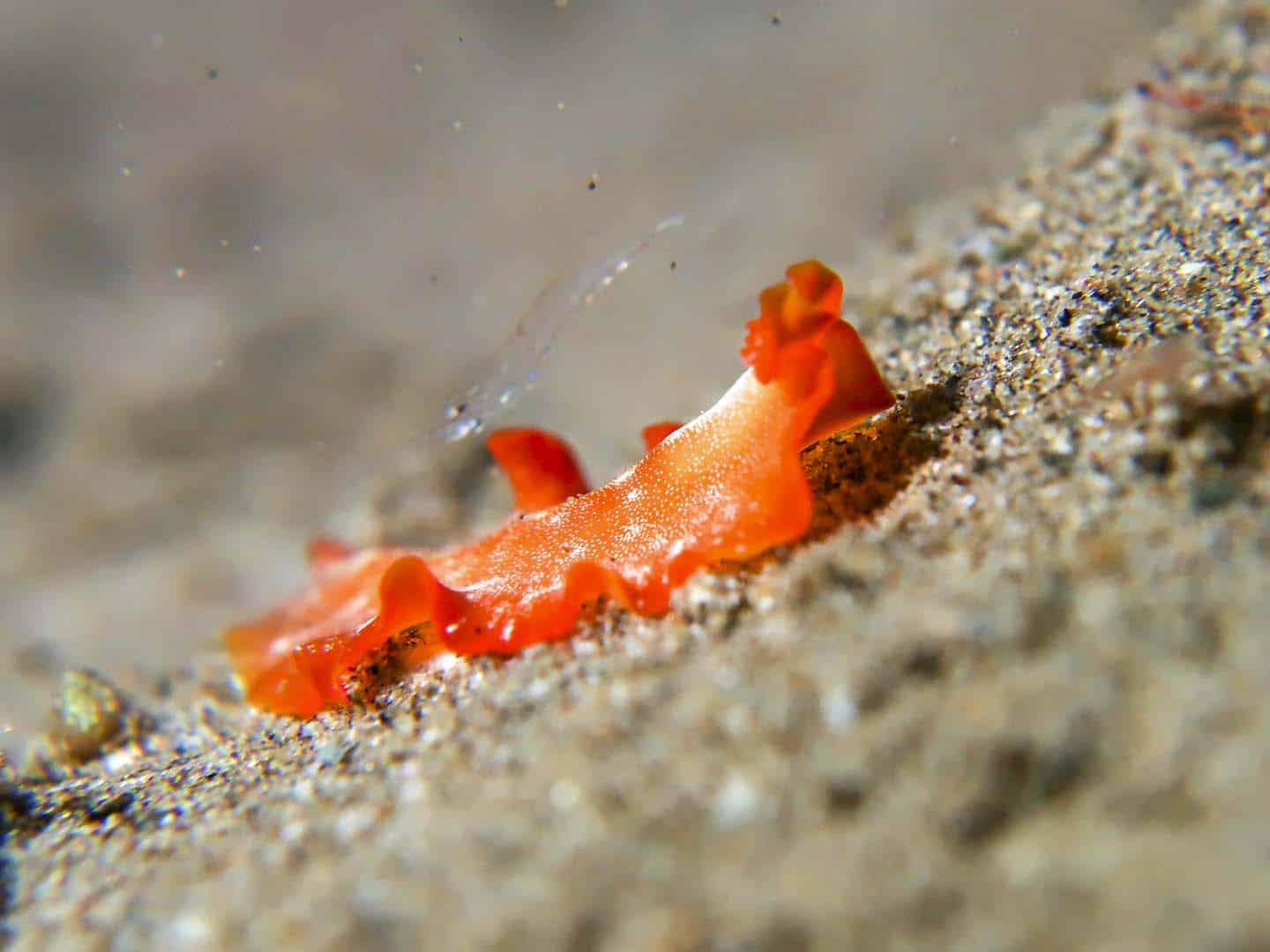 Eels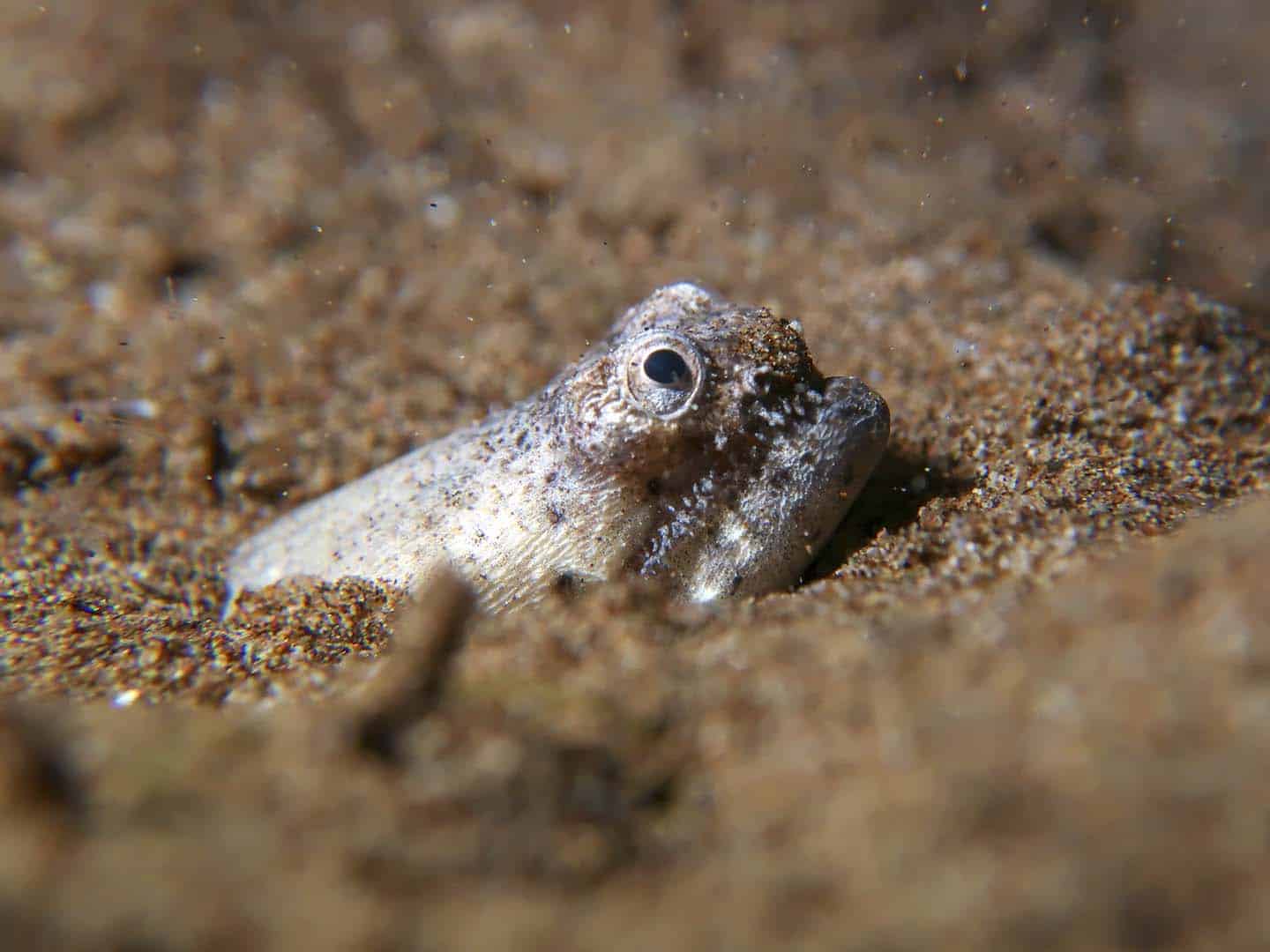 Urchins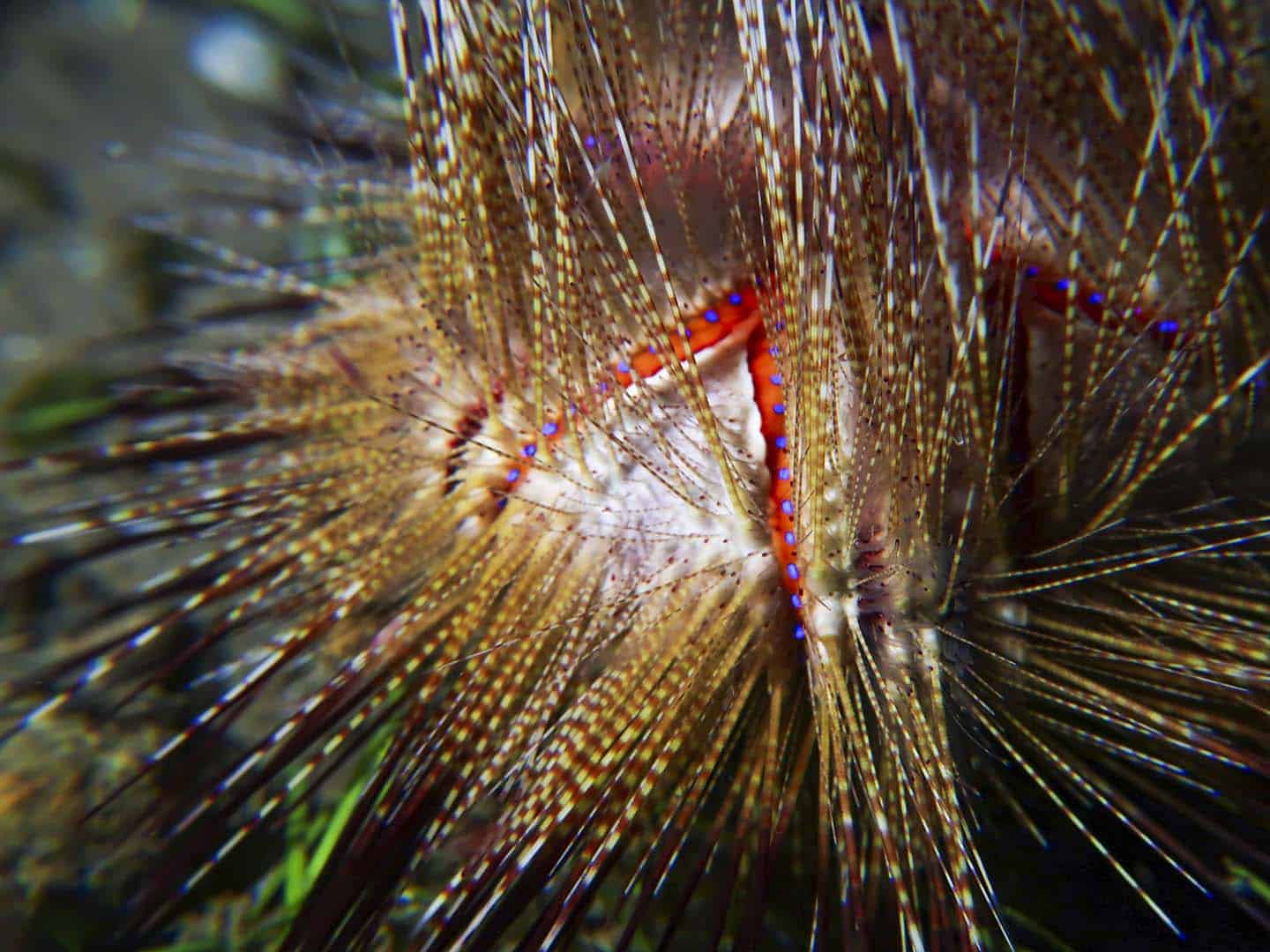 Scuba diving in Dauin really ticked off a lot on my critter bucket list. Don't forget to also read my article on the dangerous sea creature in the Philippines as you might encounter several of them while diving in Dauin.
If you would like to know more about the other things you might see while diving in the Philippines, check out my post on 100 Marine Life in the Philippines that you must see.
Scuba Diving Experiences in Dauin
Dauin is great for all levels of scuba divers. It has a little bit of everything for beginners to experienced divers which is why it is one of the best scuba diving spots in the Philippines.
Learn Scuba Diving in Dauin
From what I have observed Dauin is a great place to get your scuba diving certification. Most dive sites are close to the dive shops so doing shore entries is not so difficult.
Dauin's shores are very beginner-friendly. I did not have a hard time getting in and out of the water especially while lugging my dive gears and camera! Of course, this might change depending on the weather but the absence of big rocks made it easier.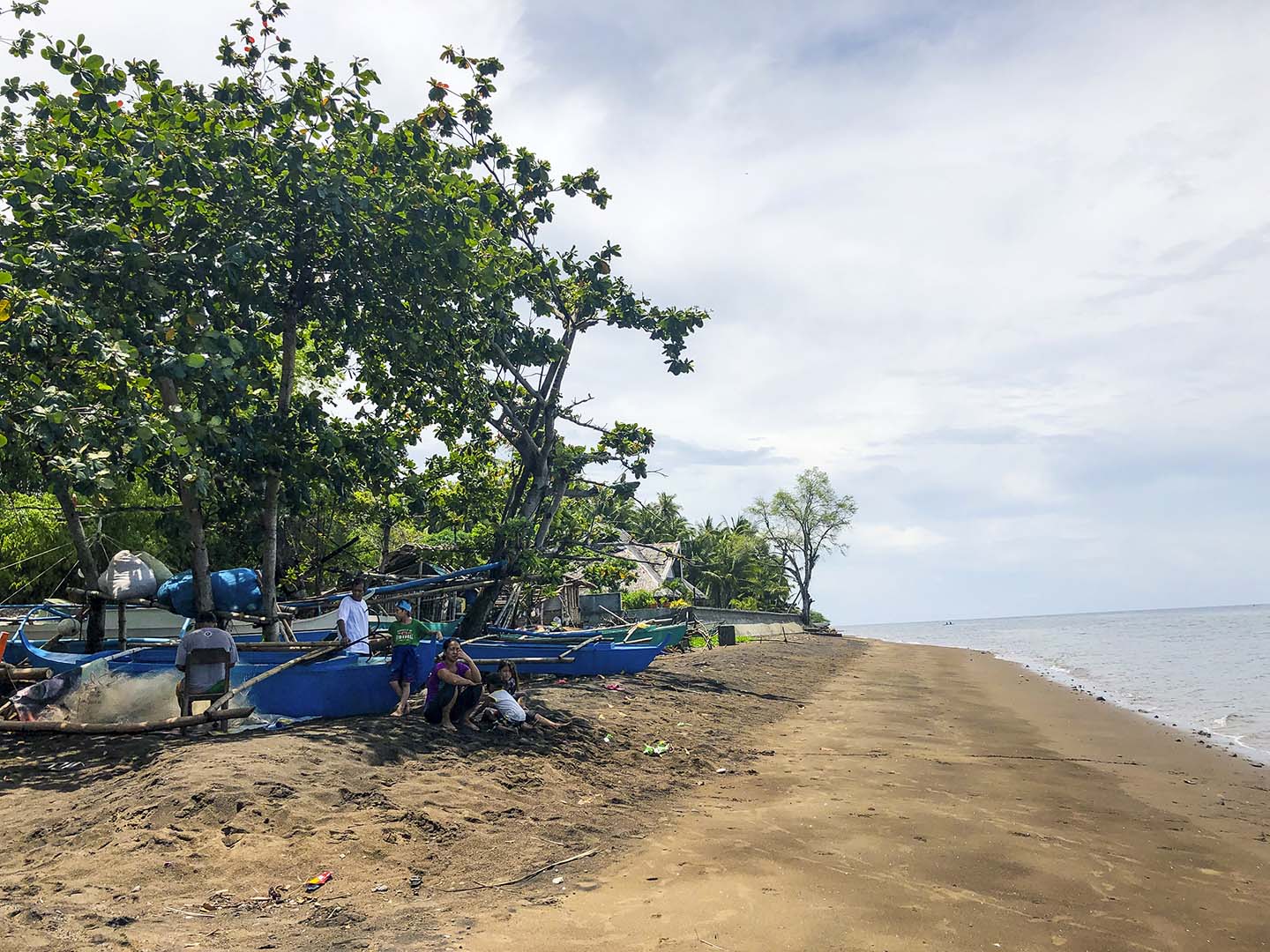 I remember getting my certification in Napantao and the beach entry could get so difficult. The heavy waves combined with a rocky beach resulted in me getting a lot of scrapes and bruises. So comparatively, I think Dauin's shore entry was a walk in the park!
On top of that, with Dauin's muck sites and the nearby Apo Island's colorful reef, any new scuba diver will get a chance to experience the contrasting scuba diving conditions and unique marine life each has to offer.
If you are looking for ideas on where to get your certification, check out the section below for suggested dive shops and accommodations in Dauin.
Master your buoyancy
Dauin is also a good place to master your buoyancy. With muck diving, the last thing you want to do is disturb the sand with the flailing of your arms or your fins. If your buoyancy sucks is not so great, you can easily disturb the sand and harm the critters that live, hide or feed in it.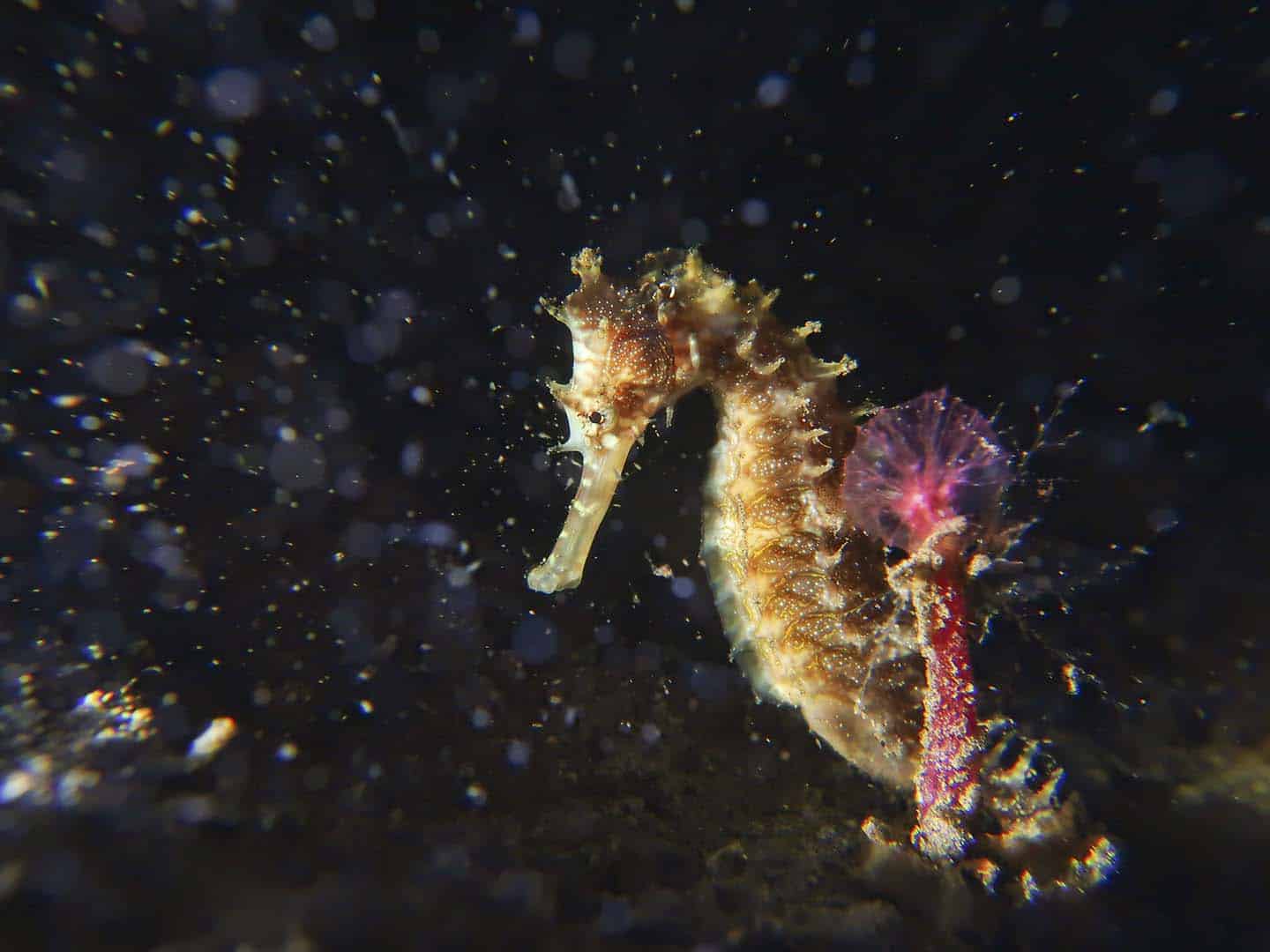 You might want to consider getting Peak Performance Buoyancy course or include it in your Adventure Dives if you are working on your Advance Open Water Certification.
Try a Night Dive
Even if I only had a day in Dauin, I made sure to do a night dive. I've always enjoyed night dives and Dauin did not disappoint. I had gone scuba diving in the San Miguel dive site during the day and went back to the same dive spot at night.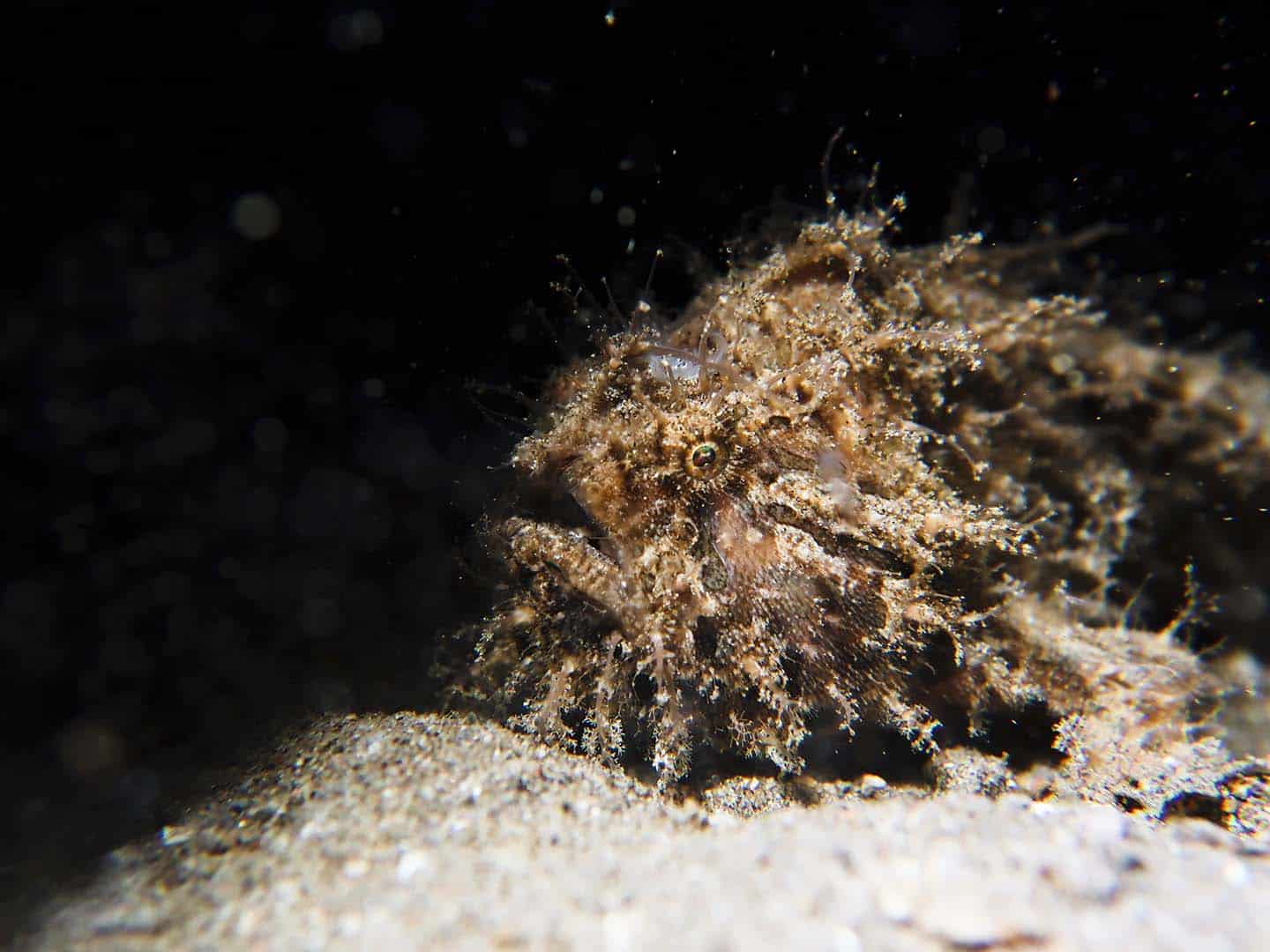 One would think that you'd find the same things at the same dive site, but the critters I saw at night were even cooler and weirder!
Hone your underwater photography skills
Underwater photographers love going to Dauin because of the diversity of creatures one can find while muck diving. Some critters can be hard to spot but when you do, it can be a very magical moment. Capturing the different species' behavior in this kind of environment can be mind-blowing.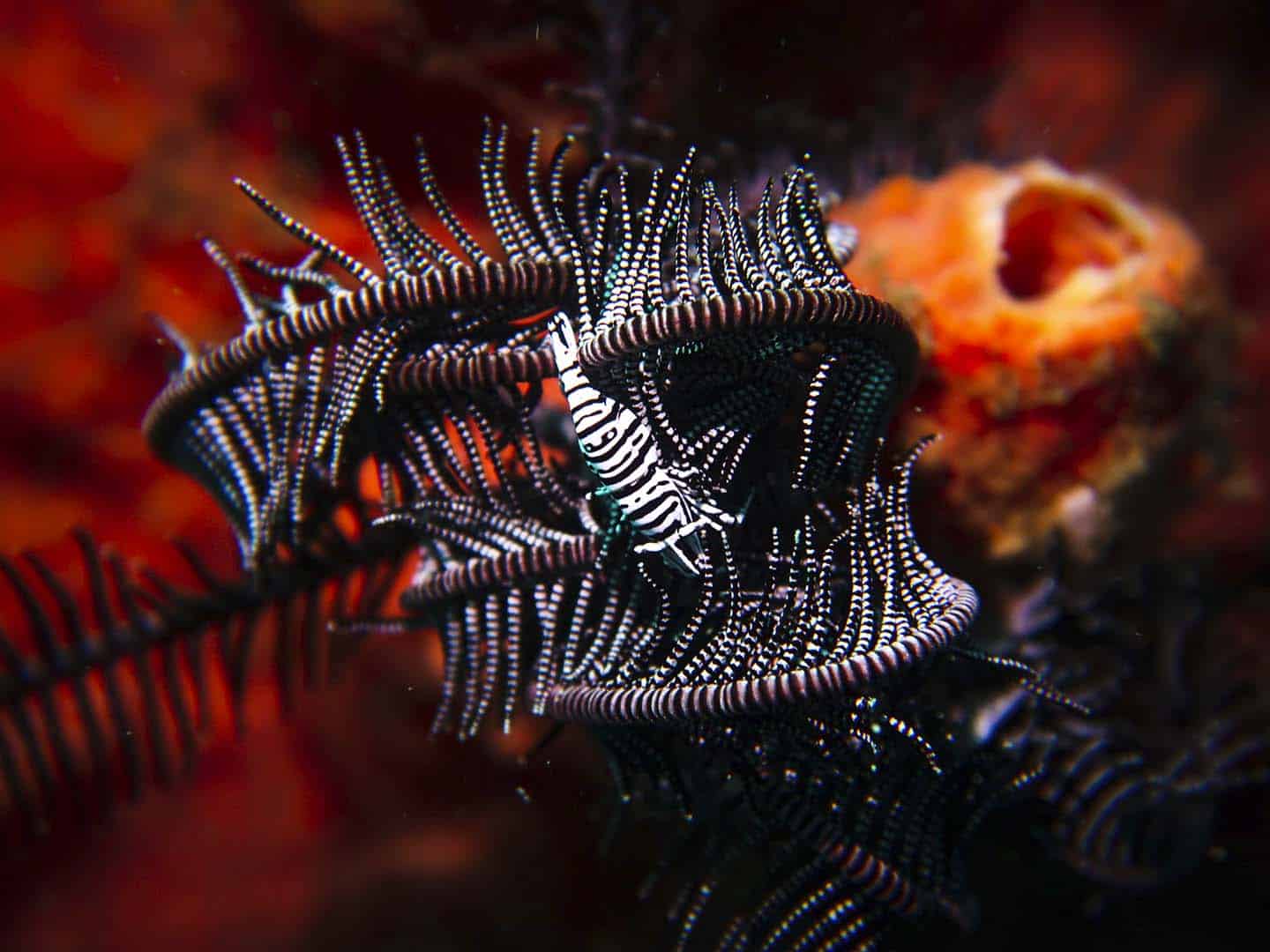 Before heading to Dauin, you might need to invest in proper strobes as some critters are very good at playing hide and seek. Sometimes a steady video light will spook them. Don't forget to pack your macro lens because some creatures are the size of grain of rice!
If you want to improve your underwater photography, scuba diving in Dauin will do the trick!
Become a PADI Frogfish Specialist
I think it's worth mentioning that one of the unique underwater courses, Frogfish Specialist, is currently only available in Dauin! If you love frogfishes or simply want to learn more about them, you can take the PADI Frogfish Specialty course.
If you are interested in taking this PADI distinctive specialty course, you can read this post on the Frogish Course by Daniel Geary aka Dr. Frogfish.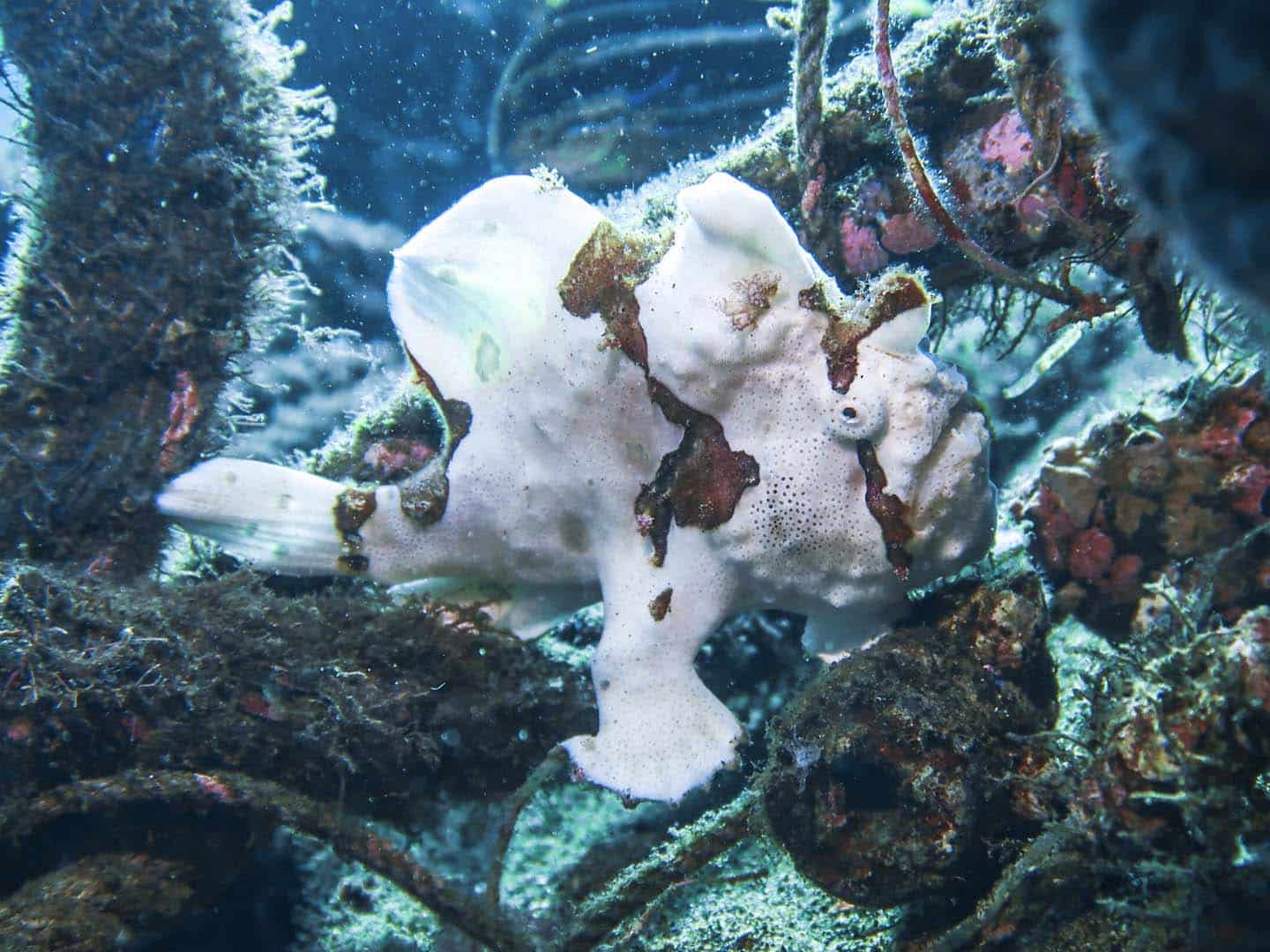 Take your Dive Master or Instructor Development Course
If you're looking to become a dive professional a good number of resorts actually offer Dive Masters to Instructor Development Course.

You can check these dive shops that offer PADI IDC:
Recommended Dive Shop in Dauin
I decided to dive Dauin with Bongo Bongo Divers. They came highly recommended by scuba divers upon checking the different diving Facebook groups I was part of.
Great Service
As I was kinda winging this trip, I didn't exactly make a reservation! I messaged them the morning of my arrival to Dumaguete and told them I wanted to dive. Thankfully, they still accommodated me.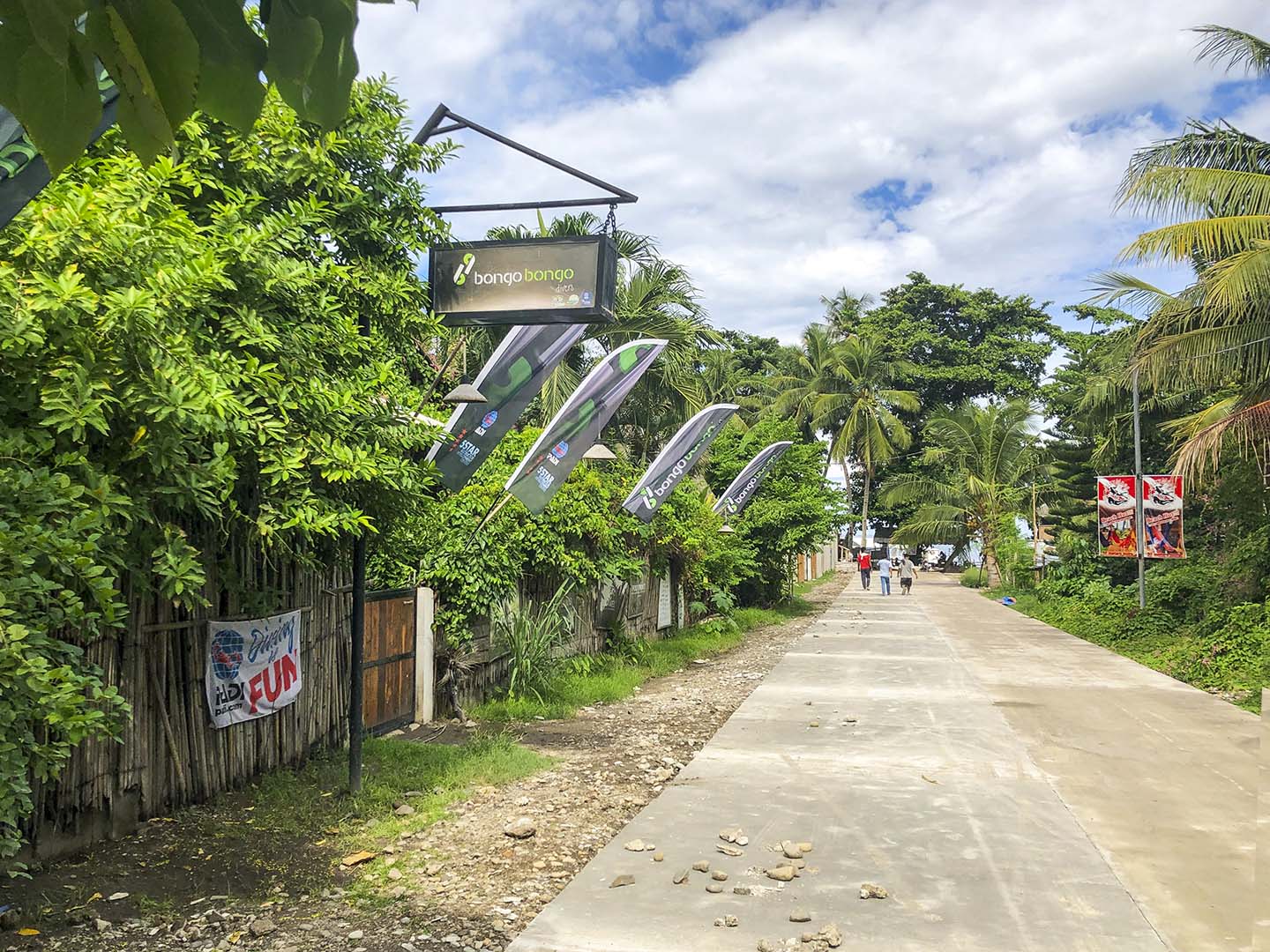 When I arrived at the shop, I filled out my forms and they checked my Certification Card. After this, they led me to the dive shop to prepare for my dive.
I had my own dive equipment set up and I did not have to rent. I appreciated the fact that they gave me my own "locker" space to hang my gear in between dives.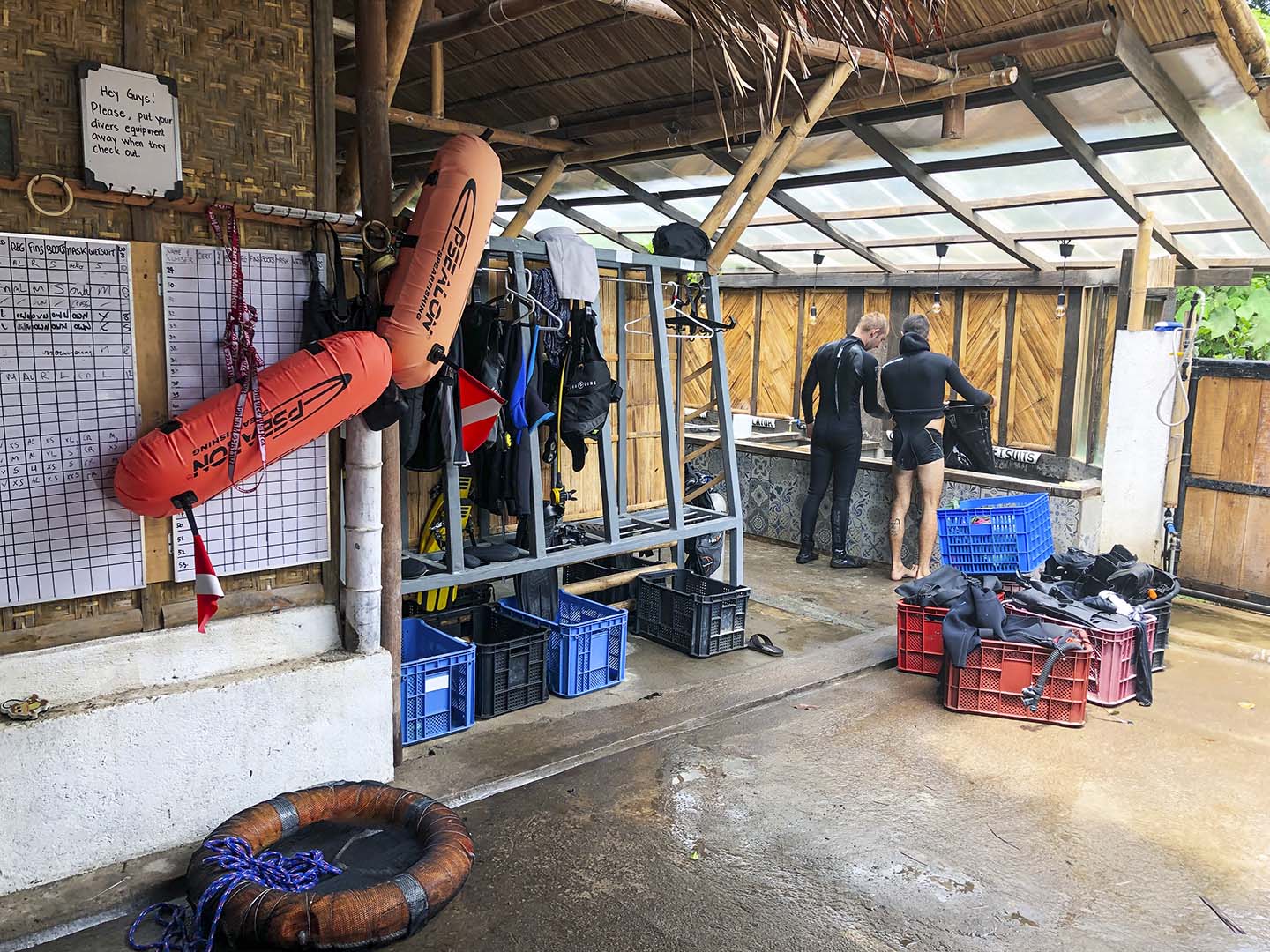 Awesome Dive Guides
I did two day-dives and one night dive with Bongo Bongo. During the day dives, I was guided by the Dive Master (DM) Alfer. I was not put in a group so I was able to take my time photographing the creatures we saw. I really valued this one-on-one opportunity as I wanted to practice with my new macro lens.
For my first dive, we had to take a tricycle to go to the dive site in San Miguel. And for the second dive, we just walked up to the beach which was 5-minutes away from Bongo Bongo.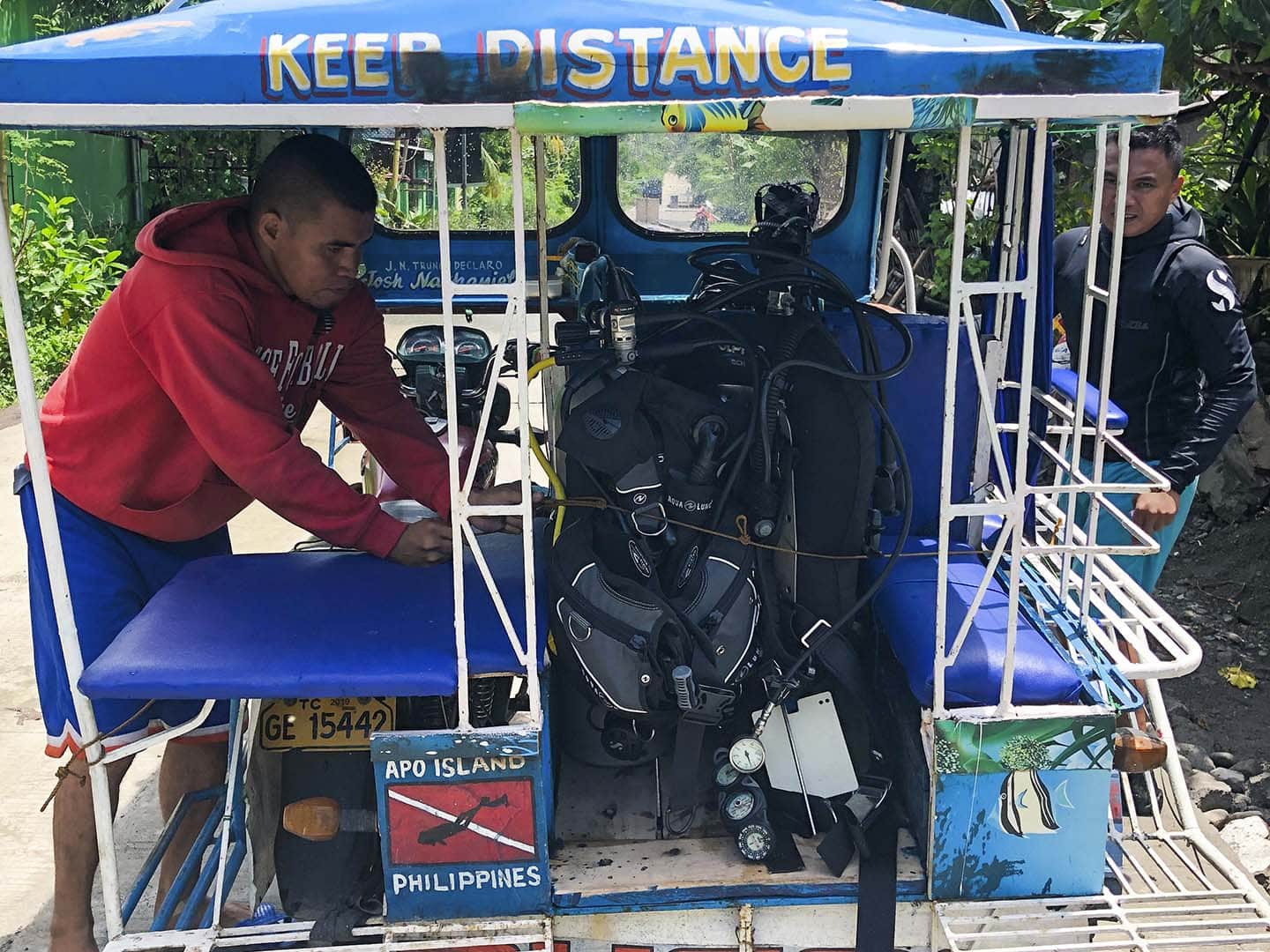 During the night dive, we were in a bigger group. At the last minute, Jem and her friend, Eric, decided to join me for a night dive. We were put together with another pair from China so there were five of us plus the DM Tito.
Both DMs were locals who were very good at spotting the creatures underwater. I was very happy to have seen so many creatures that I've never seen before. This is crucial as I've had guides who were not good and I managed to find more stuff on my own than with their help! Make sure that you are given experienced dive guides who know the local terrain and critters that live in them.
Affordable diving
If you want to know how much it costs to dive with Bongo Bongo, you can check their rates on their website.
Bongo Bongo also has their own rooms and accommodations. Should you decide to dive and stay with them, you can book your room here. They're very affordable and popular among backpackers and solo travelers.
Reef Check
Some of the dive sites in Dauin have been established as Marine Protected Areas. While diving in these sites, you can expect to pay a marine conservation fee. This goes towards making sure these areas remain a no-take zone and free from any destructive fishing practices.
You can check with your dive shop how much it is. The fees may also vary depending on whether you are are just snorkeling, diving, or diving with your camera.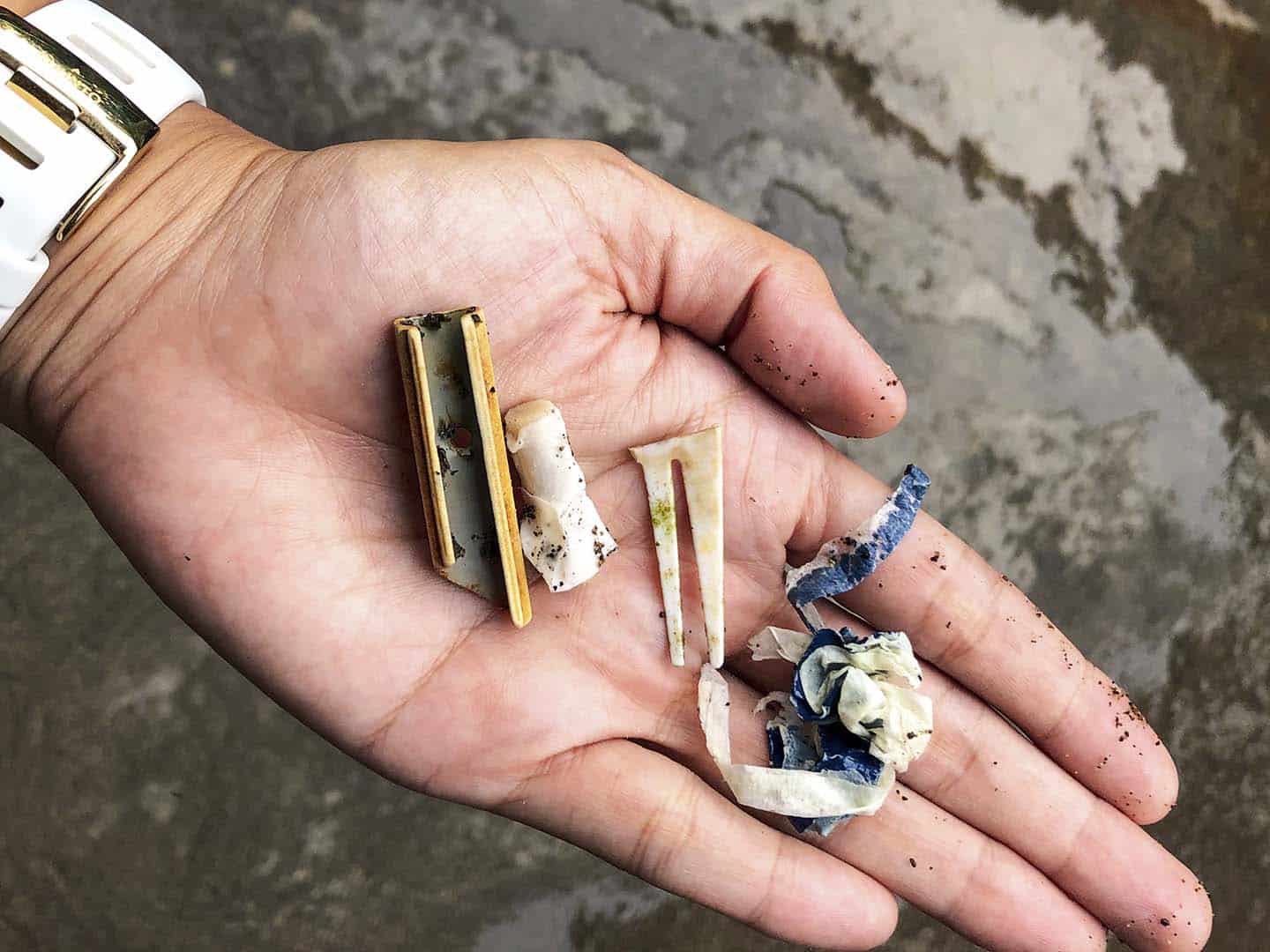 I deduce that the establishment of MPAs has been very effective in keeping the oceans "cleaner." Despite its proximity to the community I hardly picked up any trash underwater. At one point though, I did notice blue specs mixed in with sand while diving in Dauin. I assume they are micro-plastic.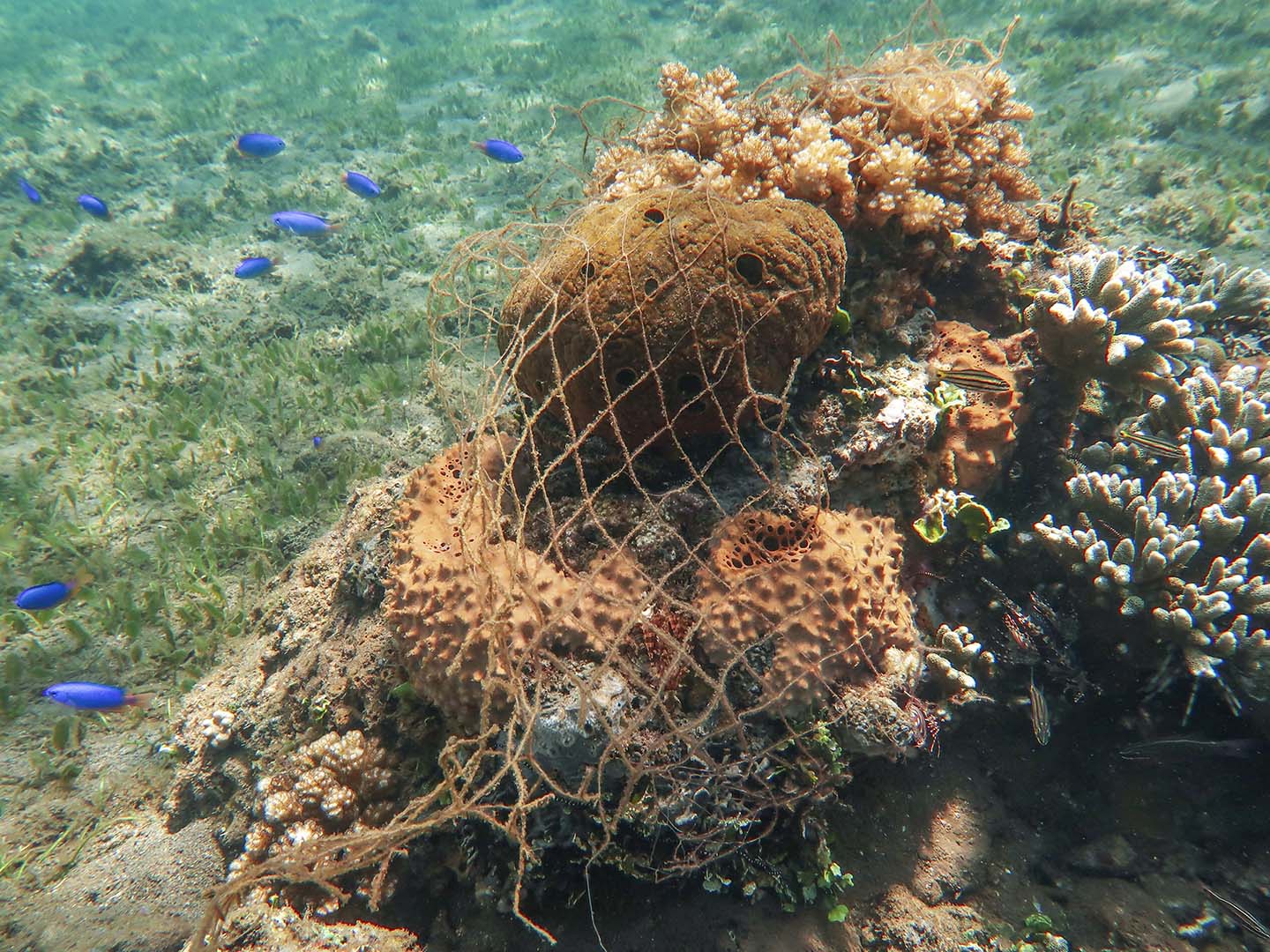 Over all, the dive sites I visited were relatively clean and definitely not "mucky"!
The beach, however, is another issue. At one point, I did notice a lot of snack wrappers and plastic bottles near some beach huts. This is possibly from irresponsible travelers who picnic by the beach and leave their trash.
If anyone from Dauin's Local Government is reading this, maybe some of those conservation funds can be used to buy trash cans along the coast of Dauin. Also, don't forget to collect the trash on a regular basis! I think this will lessen the chance of plastic entering the water.
---
---
---
Dive Resorts in Dauin
Since I was staying in Dumaguete with Jem, I did not get a chance to try out any of the accommodations in Dauin. But, the next time I visit Negros Oriental I would definitely consider staying in Dauin so I can be closer to the dive sites and don't need to traveling back and forth to Dumaguete.
Here are some recommendations on where to stay and whom to dive with in Dauin. I've listed hotels or resorts that offer scuba diving and come highly recommended by my other diver friends. Check them out to see what fits your budget and travel style!
---
Other scuba diving opportunities from Dauin
Scuba Diving in Zamboanguita
If you are diving in Dauin, you can also head to Zamboanguita which is just a town beside Dauin. While you can expect to find similar marine life in both places, some dive sites in Zamboanguita may have the special critter you have been looking for.
Learn more about diving in Zamboanguita.
Scuba Diving in Apo Island from Zamboanguita
One of the things you can take advantage of if you will be diving Dauin is its accessibility to one of the best scuba diving destinations in the Philippines– Apo Island.
This 12-hectare volcanic island is located off the coast of Negros Oriental. Apo Island is one of the most popular tourist attractions in the province. Many snorkelers and divers have made their way to the island just to swim with the sea turtles of Apo.
But aside from the turtles, Apo Island is home to over 615 documented species of fish, about 400 coral species. The biodiversity on this island is simply outstanding and should be visited if you are on a dive vacation in Dauin.
This marine protected area is just a 45-minute boat ride away. Your dive resort can easily arrange for you to go scuba diving in Apo Island.
Scuba Diving in Siquijor
If you're diving in Negros Oriental, another dive destination you can visit is the island of Siquijor. This small island is just a ferry ride away from Dumaguete. It is known for its white beaches, aquamarine waters, and picturesque waterfalls.
To learn more about this magical place, you can read my post on scuba diving in Siquijor.
What to pack for diving in Dauin
Here is the standard dive gear I bring while diving in the Philippines.
My Scuba Diving Gear
Regulator: Scubapro MK25 Evo, C300 and C200 2nd Stage
BCD: Aqualung Axiom
Mask: TUSA M-212 Freedom Ceos
Snorkel: TUSA SP-170 Platina Hyperdry II
Booties: Poseidon Pink Dive Boots
Fins: Problue
Wetsuit: Seavenger
Vest Hoodie: Scubapro Hybrid Hooded Vest
Dive Watch: Suunto D4i Novo
Dive Knife: Aqualung Blunt Tip Knife
Dive Leggings and Rash: Blue Adaptation Coral Sea Fan

My Underwater Camera Gear
Underwater Camera: Canon G7X Mark II
Underwater Camera Housing: Fantasea FG7XII
Video Lights: Big Blue AL1200XP
Underwater Action Camera: GoPro Hero9
360 Camera: Insta360 X3

> Canon G7X Mark II full review
> Insta360 X3 underwater camera review
> Scuba diving camera recommendations for beginners.

Dive Insurance
Divers Alert Network (DAN)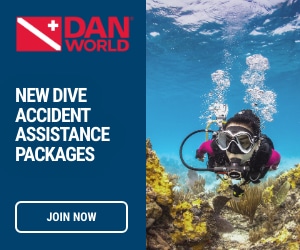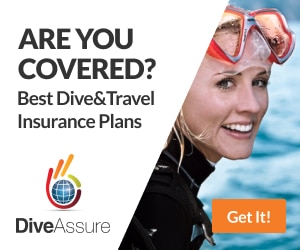 Need travel insurance for your trip? Get a quote from Safety Wing.
If you're traveling and diving in the Philippines for the first time, make sure to read my posts on
Ultimate Travel and Dive Guide to the Philippines
Philippine Packing List: What to Bring to Your Dive Trip.
How to get to Dauin
To get to Dauin in Negros Oriental, you must find your way to Dumaguete. Once in Dumaguete, you can easily travel by land to Dauin.
Below are the most common routes that travelers use to get to Dumaguete if they are coming from Manila, Cebu, Bohol, or Siquijor.
Step 1: Go to Dumaguete, Negros Oriental
From Manila by Air
If you're coming from Manila, take a plane from NAIA to Sibulan Airport in Dumaguete, Negros Oriental. You can take either Cebu Pacific Air or Philippine Airlines. There are flights daily.
Check Flights from Manila to Dumaguete here.
From Cebu by Air
If you're coming from Cebu, you can take a direct flight from Mactan International Airport to Sibulan Airport in Dumaguete, Negros Oriental. Cebu Pacific Air flies this route daily.
Check Flights from Cebu to Dumaguete here.
From Cebu by Ferry
If you are coming from Cebu City, you can go on board several shipping lines which will take you to Dumaguete. Travel time is approximately 6 hours.
| | |
| --- | --- |
| Cokaliong Shipping Lines Route | Schedule |
| Cebu to Dumaguete | MON/ TUE/ WED/ FRI : 7 PM |
| Cebu to Dumaguete | SUN: 12 NN |
| Dumaguete to Cebu | TUE/ WED/ THU/ SAT/ SUN: 12 MN |
| | |
| --- | --- |
| George and Peter Lines Route | Schedule |
| Cebu to Dumaguete (via Tagbilaran) | MON /WED/ THU / SAT / SUN : 10 PM |
| Dumaguete to Cebu (via Tagbilaran) | MON/THU / FRI / SAT: 11 PM |
Another option is to take Ocean Jet from Cebu to Dumaguete. This route has a stop-over in Bohol first. Travel time is approximately 5 hours as it is a smaller and faster vessel.
| | |
| --- | --- |
| Ocean Jet Route | Daily Schedule |
| Cebu to Dumaguete (via Tagbilaran) | 5:10 AM and 9:10 AM |
| Dumaguete to Cebu (via Tagbilaran) | 9:50 AM and 2:30 PM |
Book your Cebu – Dumaguete Ocean Jet Ferry Ticket here.
From Liloan, Santander, Cebu by Ferry
If you find yourself in the proximity of Santander Pier in Liloan, Cebu you can take a 30-minute ferry to Sibulan. When you get to Sibulan Port, you can take trike or multi-cab into Dumaguete.
| | |
| --- | --- |
| Maayo Shipping Route | Daily Schedule |
| Liloan, Cebu to Sibulan, Negros Oriental | 7:30 AM, 10:30 AM, 1:30 PM, 4:30 PM, 7:30 PM, 10:30 PM |
| Sibulan, Negros Oriental to Liloan, Cebu | 6:00 AM, 9 AM, 12:00 NN, 3:00 PM, 6:00 PM, 9:00 PM |
Contact Numbers: +63917-7107080
From Bohol by Ferry
From Tagbilaran Port in Bohol, you can take an Ocean Jet ferry to Dumaguete Port. Travel time is approximately 2 hours only.
| | |
| --- | --- |
| Ocean Jet Route | Daily Schedule |
| Tagbilaran, Bohol to Dumaguete, Negros Oriental | 7:30 AM and 12:10 PM |
| Dumaguete, Negros Oriental to Tagbilaran, Bohol | 9:50 AM and 2:30 PM |
There is a 15-kg baggage allowance allotted for each per passenger. If you're bringing dive gear and need extra luggage allowance, you will be charged a fee of Php15.00 per additional kilo.
Book your Bohol – Dumaguete Ocean Jet Ferry Ticket here.
From Siquijor by Ferry
From Larena, Port in Siquijor you can choose from several shipping lines that can take you to Dumaguete.
The Montenegro Siquijor-Dumaguete Route takes about 1.5 hours.
| | |
| --- | --- |
| Montenegro Route | Daily Schedule |
| Larena, Siquijor to Dumaguete, Negros Oriental | 7:30 AM, 10:00 AM, 2:00 PM, 4:30 PM, 7:30 PM |
| Dumaguete, Negros Oriental to Larena, Siquijor | 5:00 AM, 7:00 AM, 10:00 AM, 12:00 NN, 2:00PM |
The Ocean Jet fastcraft Siquijor-Dumaguete Route takes about 50 minutes.
| | |
| --- | --- |
| Ocean Jet Route | Daily Schedule |
| Larena, Siquijor to Dumaguete, Negros Oriental | 6:00 AM, 8:30 AM, 10:50 AM, 1:30 PM, 3:50 PM |
| Dumaguete, Negros Oriental to Larena, Siquijor | 7:20 AM, 9:40AM, 12:20 PM, 2:40PM, 5PM |
Book your Siquijor to Dumaguete Ferry Here.
Important reminder: Ferry and Bus schedules in the Philippines are always changing and can be canceled due to bad weather. Please contact the shipping or bus lines to confirm schedules and rates.
Step 2: Go to Dauin
Hire a private car
You can ask your dive shop or hotel if they have car services to pick you up from Dumaguete. Dauin is about 30 minutes away from Dumaguete.
Hire a trike
From the airport, you can hire a tricycle to bring you all the way to Dauin. Another diver told me he paid Php500 from the Sibulan Airport to Dauin. But you can definitely haggle this down. (We almost got stranded in Dauin and considered taking a trike back to Dumaguete. The tricycle driver quoted us Php300.)
Take a bus
Once you're in Dumaguete, you can take a Ceres Bus to Dauin.
Go to the Main Bus Terminal in Dumaguete and look for a Bus going to Bayawan, Sipalay or Hinobaan.
This was the route I took and I remember paying less than Php50 for the one way trip.
Once in Dauin, I asked the bus to drop me off the Chooks to Go along the highway. From there, I walked to Bongo Bongo Divers.
---
---
After having done just 3 dives, I was very impressed with my scuba diving experience in Dauin. The marine diversity is simply amazing. No doubt, Dauin is among my favorite muck diving destinations in the Philippines!
Have you gone muck diving in Dauin before? Where else have you gone muck diving?
Leave a comment below!