When you ask about scuba diving in Cebu, the first thing local divers would recommend is you go to either Malapascua Island for the thresher sharks or Moalboal for the sardines run. Rarely do they mention Mactan Island for scuba diving.
I found this odd considering how convenient it is to go scuba diving in Mactan, Cebu.
Located right next to Cebu city itself, Mactan Island is actually one of the most accessible dive spots in Cebu. It is so accessible that the Mactan International Airport is located on the island itself. As soon as you arrive, the dive shops and dive resorts are only a 30-40 minute drive from the airport.
I had visited Cebu numerous times but I had never considered diving here until recently. I had heard that there were actually marine sanctuaries near Mactan Island so I thought that was worth exploring. In my experience, if there are sanctuaries then you can expect at least some healthy reefs. I also heard that the macro photography was pretty decent and it was a good place to go critter hunting.
As I was planning my trip to Cebu, only a few dive shops and resorts responded to my inquiries. I assumed that they were still closed because of the pandemic. But since some dive shops were still doing business, I decided to still go on the trip and just choose whom to dive with when I arrived on the island.
It wasn't until I got to Cebu that I realized how badly Mactan was affected by Typhoon Odette. It was a category 5 typhoon that ravaged several islands in the Philippines last December of 2021.
Even when I visited Mactan in March, 3 months after the calamity, it was very obvious how badly it was affected.
It also explained why some resorts were still closed and the options on where to stay were very limited. Many establishments were still recovering from both the pandemic and the typhoon.
After checking into my resort Alta Cebu, I made my way to Marigondon where I was hoping to find a dive shop that would take me scuba diving in Mactan, Cebu.
Dive Shops in Mactan
From my initial research and based on who replied quickly, I decided to visit Mactan Scuba Dive Center first. I spoke to the staff and they were willing to take me out the following day to go on shore dives along Mactan. Boat dives can also be done but it has to be scheduled ahead of time.
They were reasonably priced at Php1,100 (USD 22) for shore dives in Mactan. Boat dives were Php5000 (USD 100) which include 3 guided dives, gear rental, lunch, and any sanctuary fees. The boat dives can include diving in Olango, Gilitungan, and Nalusuan islands which have marine sanctuaries.
I was keen on diving with them because of their quick response but I wanted to see my options.
I was hoping to spend my first day exploring and inquiring about diving in Mactan, but I learned that the shops were far apart and were difficult to access on foot. Even if Google maps made it look like they were all in the same beach area, the beaches were not actually that tourist-friendly.
In my mind, I was expecting it to be similar to when I went diving in Panglao. Where all the dive shops are either side by side or a few meters apart along Alona Beach. This was not the case.
As I was walking back to hail a trike I noticed a white building that looked like a scuba center. I knocked on the gate and to my surprise, it gently opened, revealing a very active dive center called Ocean Player.
A Korean staff immediately noticed me and approached me. I told him that I was looking for a dive shop to take me around Mactan and I discovered their shop by accident.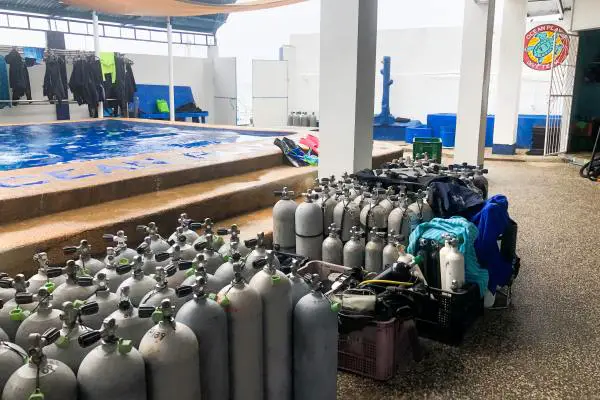 He told me that they were doing some boat dives on Olango Island the next day and I could join them if I wanted to. This piqued my interest as I had read online that Olango had really good dive sites because of the marine sanctuaries.
If I wanted to scuba dive in Mactan with them, it will be Php1000 (USD 20) per dive and Php100 (USD2) for the sanctuary fee. It also came with lunch which I thought was a pretty good deal. If I wanted to do a third dive, it will also be Php1000 (USD 20).
As there was a definite plan already and it was to a place I wanted to visit, I decided to come back to Ocean Player the following day.
Scuba Diving Olango Talima
I was asked to be at the dive shop by 8 AM so I can sort out the pre-dive paperwork, fix my gear and join the dive briefing.
By 9:20 AM we were on our way to Olango Island, which is situated 5 kilometers east of Mactan Island in Cebu. It takes around 20-30 minutes to get to Olango Island from Mactan. It was a very cold and wet boat ride as it had been raining hard the entire morning.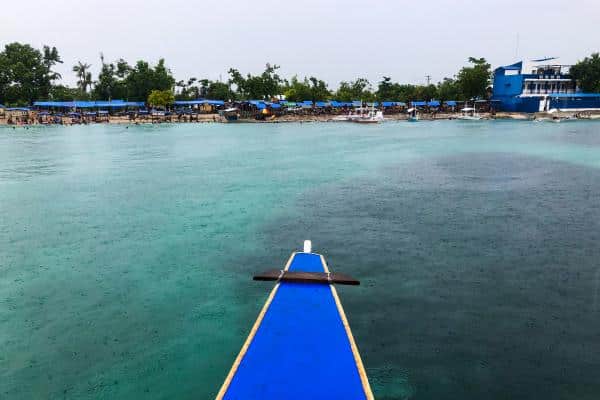 When we reached Talima Point where we would be diving, our dive group of four quickly geared up and entered the water by doing a giant stride.
On that day, I went diving in Olango with a purely Korean team! I was buddied up with Ricky and Jacky, two Koreans who loved diving in the Philippines. And JM, the Korean owner of Ocean Player, lead the dive.
Due to the poor weather, there was a bit of surface current. We quickly descended and were greeted by a beautiful reef. Despite the lack of sun from above, I could immediately tell that this was a spectacular dive site. Visibility was amazing and I could see up to 15 meters, possibly even more.
There was a light current that gave us a bit of a push as we explored the reef but nothing too crazy to consider it a drift dive.
Talima is a dive site that has a colorful wall and sloping sandy area with lots of coral colonies, barrel sponges, and rock formations. This underwater terrain made it perfect for different species to cohabitate.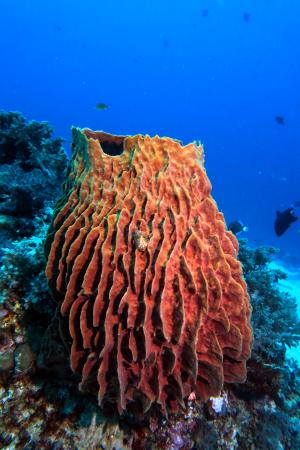 There were a lot of anemone and anemonefish species at this dive site. I also noticed a lot of Midnight snappers (Macolor macularis), Harlequin sweetlips (Plectorhinchus chaetodonoides), and trevally.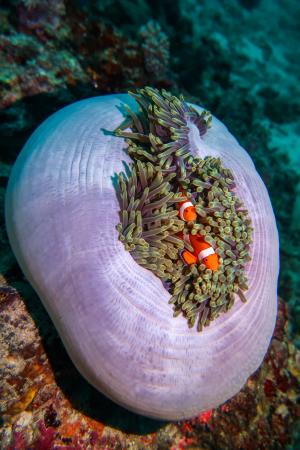 Sea fans and soft corals in bright orange and yellow brightened up the reef amidst the gloomy skies above. The light current made the dive site the perfect playground for the bright-colored anthias and silver fusiliers to come out and play.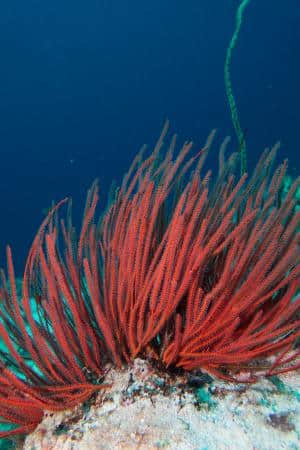 There were also clusters of silver fingerlings or baby fish that have made this site their sanctuary.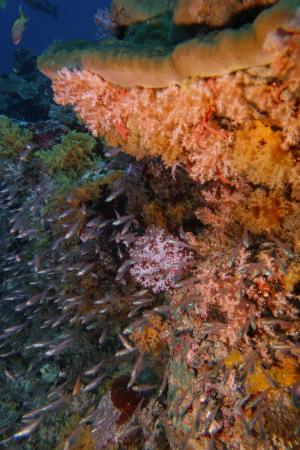 On the sandy area, I also noticed some garden eels peeking out from their burrows. They quickly retreated to their safe space as soon as they sensed me approaching.
I also saw some black and white striped catfish (Plotosus lineatus) which are known to hunt in groups to ward off predators.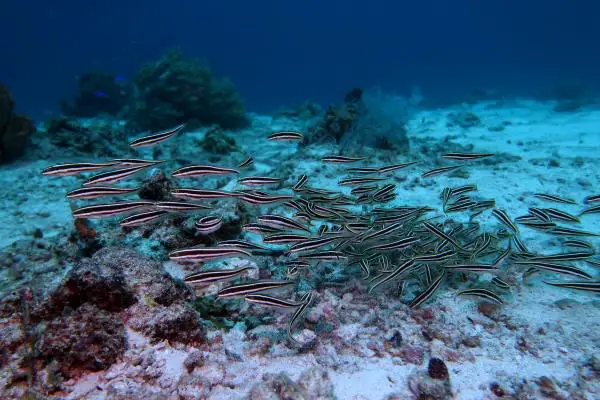 We did two dives on the same site which I didn't mind. I thoroughly enjoyed the first dive and felt it had ended too quickly even if it was a 45-minute dive.
After diving in Olango Island, we headed back to Mactan to have some lunch. Authentic Korean food was served. The main dish was a spicy chicken in tomato sauce. It reminded me of a local Filipino dish called Afritada except that this one packed a lot of heat!
If you'd like to learn more about the marine life you might encounter in Cebu, read these posts:
13 Dangerous Sea Creatures in the Philippines
Marine Life in the Philippines: 100 Sea Creatures You Must See
Scuba Diving Mactan Cebu Plantation Bay
In the afternoon, I opted to do a third dive off the coast of Mactan. From Ocean Player dive center, we took a 5-minute boat ride to the reef in front of Plantation Bay.
During the briefing, we were told to expect a current and we might do a drift dive by the wall. Except when we went down it was completely calm. I enjoyed looking at the algae, sponges, soft corals, and algae that completely covered the wall.
It looked very colorful but I noticed a lack of fish. I do not know if this was because there were no current or simply because of overfishing.
After the wall, we head towards the shallower portion of the reef and dive on the sandy areas.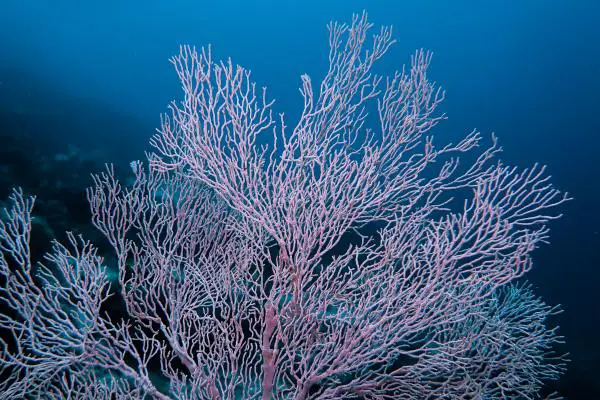 While there was life on the site, I immediately noticed the stark difference between the dive site in Mactan and Olango Island. The site was heavily damaged with coral rubble everywhere. I can only assume this was due to typhoon Odette as I had seen something similar while diving in Dauin the previous month.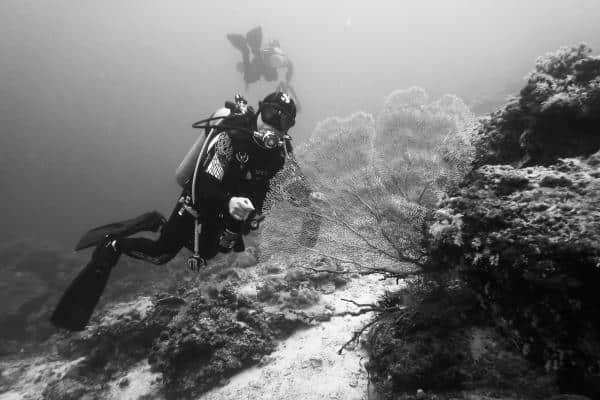 Nevertheless, it was a very chill and enjoyable dive. I saw some pipefish and nudibranchs which confirmed that you can do macro photography while diving in Mactan.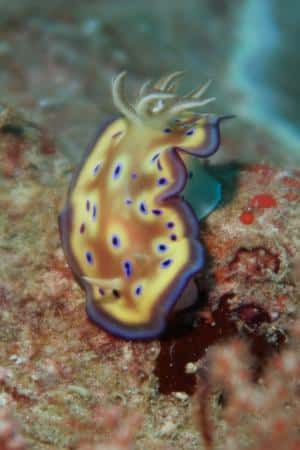 To my delight, I also saw a sea turtle just as we were ending the dive.
I was pleasantly surprised with the diving in Mactan. And would definitely come back again. I originally planned to do some more dives the following day but my plans to stay in Cebu changed.
I was traveling with a non-diving friend whom I was showing around the Philippines, and the bad weather and the beach situation in Mactan simply weren't meeting up to our expectations. The next day, we decided to take a ferry to Bohol instead, so my dive adventure in Mactan was cut short.
With the surprisingly cheap diving and beautiful dive sites, I'll surely be back here one day. Hopefully, by then, the resorts and dive sites would have fully recovered from both the pandemic and the typhoon.
Water Temperature and Visibility in Mactan, Cebu
Water temperatures in Mactan fall between 24-30 degrees Celcius. I was comfortable wearing my rashguard, leggings, and hoodievest. Most divers wear, 3mm full suit to keep warm and protected. You can also encounters some dangerous sea creatures while diving in Mactan so a full suit can give you additional protection.
Underwater visibility can range from 5-20 meters.
Best time to go to diving in Mactan, Cebu
You can scuba dive in Mactan, Cebu all year round. But the best time to go is from November to May as this is considered to be the "dry" months in the Philippines. There are less typhoons during this time of year.
You can experience heavy rains from June to September. This wet season can extend even until October.
I went diving in Mactan in April (2022), and we experienced some summer drizzle but this did not negatively affect our schedule.
Recommended reading:
Amihan and Habagat: Diving Seasons in the Philippines Explained
Best Time To Dive in the Philippines + Monthly Guide on Where to Go
What to pack for Mactan Island Diving
Here is the scuba equipment and dive gear I bring while diving in the Philippines.
My Scuba Diving Gear
Regulator: Scubapro MK25 Evo, C300 and C200 2nd Stage
BCD: Aqualung Axiom
Mask: TUSA M-212 Freedom Ceos
Snorkel: TUSA SP-170 Platina Hyperdry II
Booties: Poseidon Pink Dive Boots
Fins: Problue
Wetsuit: Seavenger
Vest Hoodie: Scubapro Hybrid Hooded Vest
Dive Watch: Suunto D4i Novo
Dive Knife: Aqualung Blunt Tip Knife
Dive Leggings and Rash: Blue Adaptation Coral Sea Fan

My Underwater Camera Gear
Underwater Camera: Canon G7X Mark II
Underwater Camera Housing: Fantasea FG7XII
Video Lights: Big Blue AL1200XP
Underwater Action Camera: GoPro Hero9
360 Camera: Insta360 X3

> Canon G7X Mark II full review
> Insta360 X3 underwater camera review
> Scuba diving camera recommendations for beginners.

Dive Insurance
Divers Alert Network (DAN)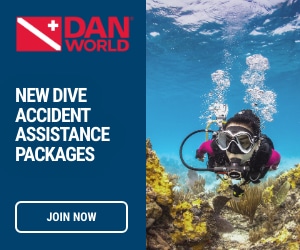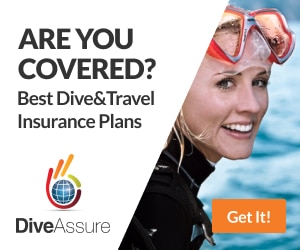 Need travel insurance for your trip? Get a quote from Safety Wing.
If you're traveling and diving in the Philippines for the first time, make sure to read my posts on
Ultimate Travel and Dive Guide to the Philippines
Philippine Packing List: What to Bring to Your Dive Trip.
Got Pinterest? Pin this for later!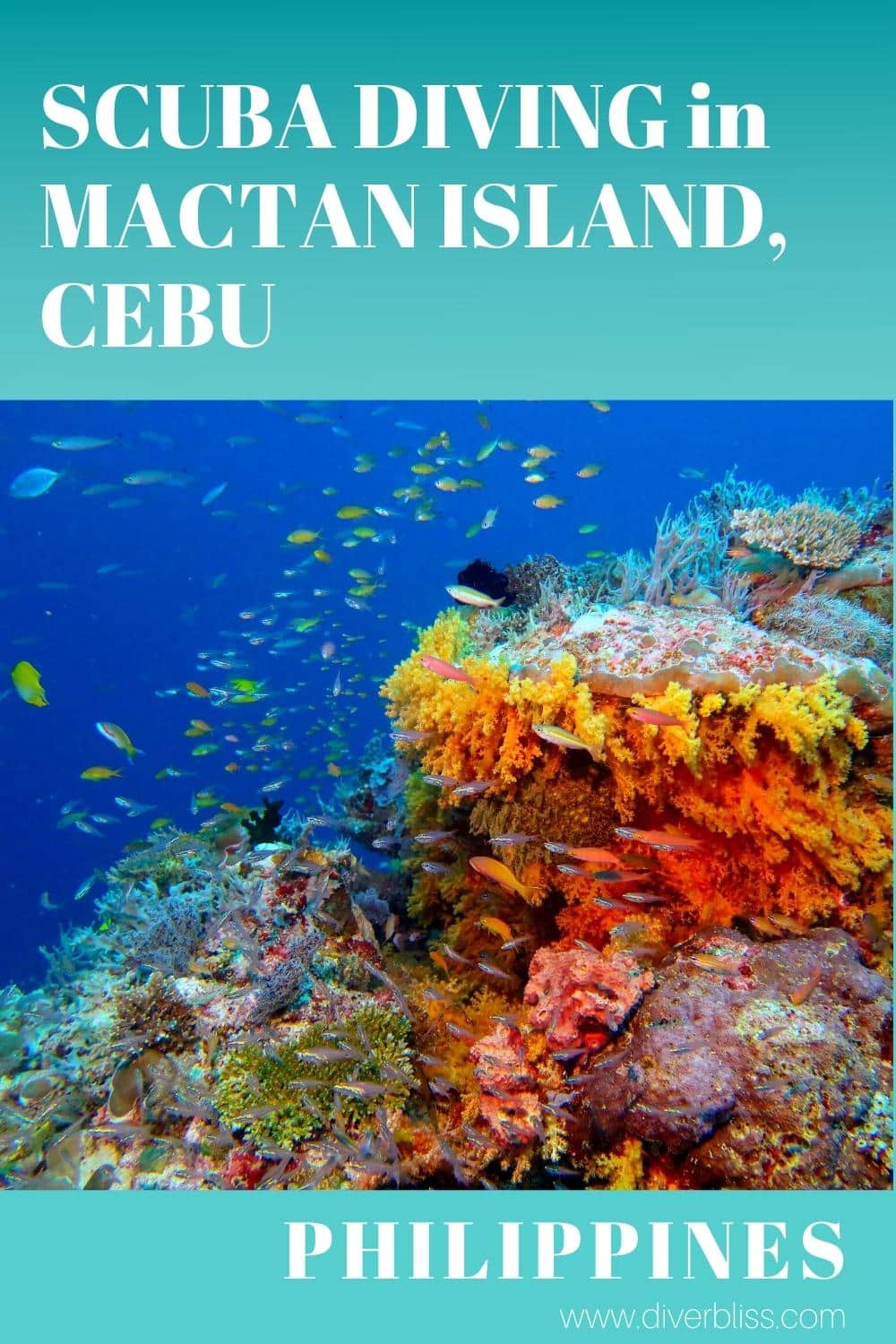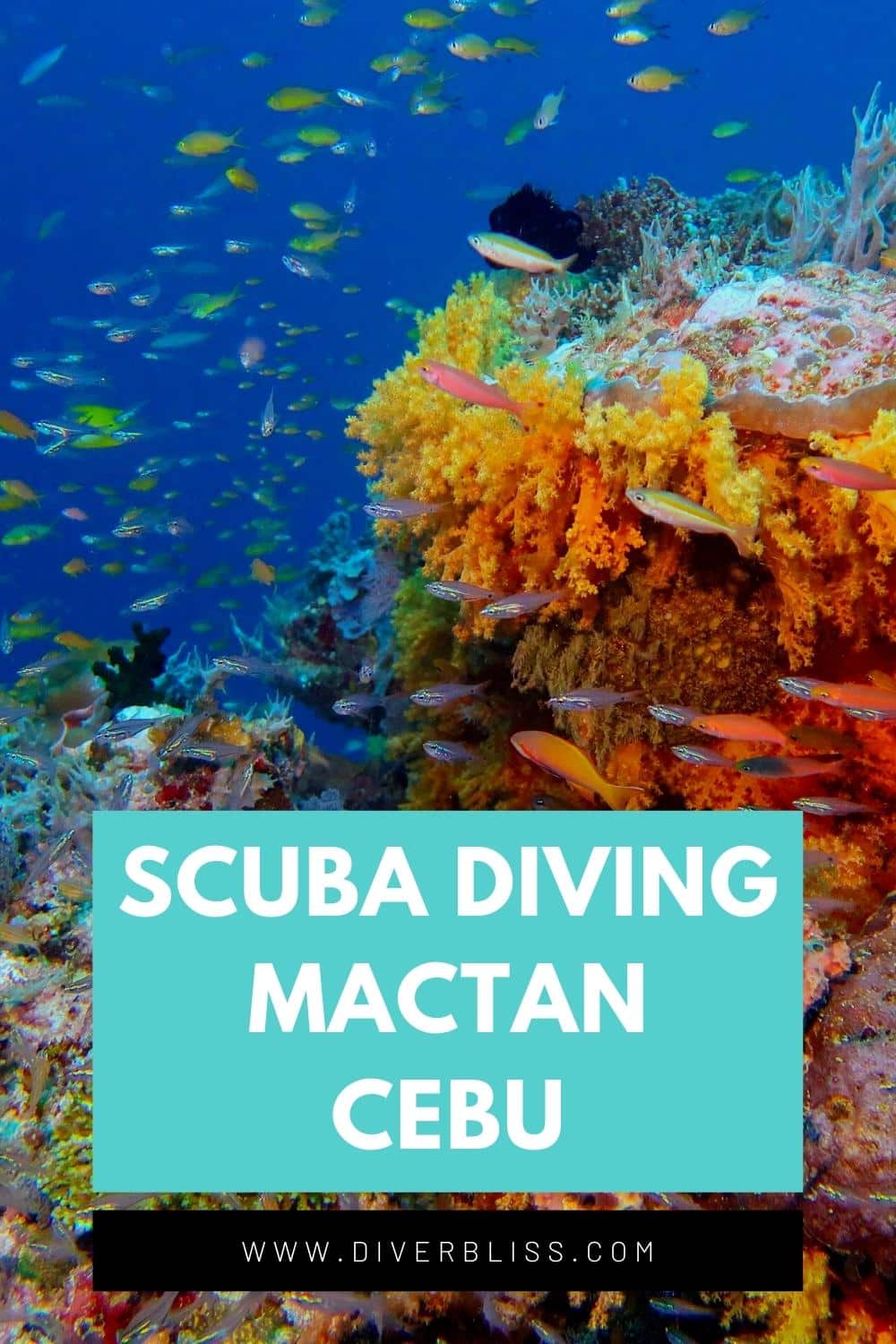 Have you gone scuba diving in Mactan Island? What was your experience like? Will you add Mactan Island in your bucket list? Leave a comment below!