Napantao Marine Sanctuary is one of my most favorites dive sites in the Philippines. It holds a special place in my heart as this was where I learned how scuba dive in 2013.
This was where my scuba diving journey began. Every time I go scuba diving in Southern Leyte this is one of the sites that always leaves me in awe.
Napantao Marine Sanctuary and Coral Cay Conservation
Through a UK-based non-profit organization called Coral Cay Conservation, I received a scuba diving scholarship which was granted to Filipino citizens. This was part of their agreement with the local government for setting up a field base in the Philippines.
It was through this program that I received my PADI Open Water and Advanced Open Water certifications.
Coral Cay Conservation founded The Southern Leyte Coral Reef Conservation Project (LRCP) in 2002, but it was only in 2008 that they settled in Napantao, San Francisco, Southern Leyte.
Because of their long-standing presence and influence in Sogod Bay, Coral Cay Conservation and Napantao became synonymous with each other.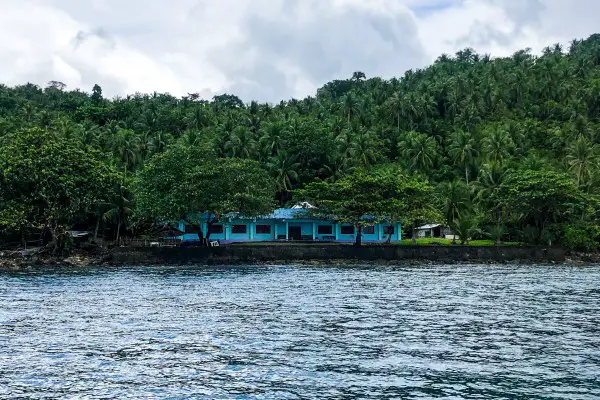 Hundreds of volunteers, staff, and scholars, like myself, have called Napantao their home. And they will all agree that the Marine Protected Area (MPA) in Napantao is one of the best dive sites in Southern Leyte, and maybe even the Philippines.
Napantao Fish Sanctuary was established in 1996 and covers an area of 5 hectares. For more than a decade this became the reef survey grounds of Coral Cay's research studies. Their presence in the area helped establish Napantao as a marine protected area.
Because of the MPA, an abundance of marine life can be found in Napantao. It boasts of over twice the amount of hard coral cover than the Philippine's average. The coral reef of Napantao is a perfect model of what a healthy reef should look like.
Unfortunately, because of the Covid-19 pandemic, Coral Cay Conservation decided to pull out its operations in the Philippines.
While the reef remains beautiful, it can easily decline if no one is enforcing Napantao as a fish sanctuary.
I can only hope that Coral Cay's influence to the community remains intact even if they are no longer there.
To learn more about CCC, read my post on being a Filipino dive scholar in Coral Cay Conservation.
Scuba Diving in Napantao
When someone asks me the best places to go scuba diving in the Philippines, Napantao is always on my top 5 list.
I have done more than 40 dives in Napantao most of which were done in the house reef in the areas where we did reef surveys. These were mostly shore entries. On weekends, we would take the CCC dive boat and sometimes do fun dives on the North or South Wall.
Napantao basically spoiled me and became the benchmark for all the other dives that followed. Suffice to say that compared to Napantao, many dive sites in the Philippines and even in other countries I've visited fell short.
I promised myself that someday I would return to this place where it all began. And so last November 2021, I did.
For this dive trip, I was staying and diving with Sogod Bay Scuba Resort which was on the Padre Burgos side of Sogod Bay. To get to Napantao, we had to cross the bay and make our way toward Panoan Island where Napantao is located.
We started boarding the dive boat at around 8:30 AM. Encountered some dolphins on the way and we were in Napantao by 9:30 AM.
It was about a 45-minute boat ride to reach Napantao in San Francisco, Southern Leyte.
Napantao dive sites and marine life
Napantao North Wall
Our first dive was at the North Wall which is basically a wall that drops down to 50 meters.
The wall is covered with giant gorgonians, corals, sponges, and lots and lots of fish! The wall is massive so sometimes the tiny creatures like nudibranchs, crabs, shrimps, and frogfishes are hard to spot. But they are there if you know where to look and if the current doesn't drag you away.
You can expect ripping currents at this dive site so you might end up doing a drift dive, which we did. If you're lucky, large pelagic fishes like barracuda, trevally and maybe a whale shark might show up- they didn't.
The current may take you past the wall where the current tends to be lighter. You will dive over a sloping reef covered with different species of hard corals. Here you can encounter more reef species like butterflyfishes, wrasses, groupers, snappers, fusiliers, anthias, anemones and their anemonefishes, trumpet fishes, pufferfishes, and more.
With air down to 100 Bar, we head back towards the boat while gradually ascending towards the top of the reef at around 10 meters. At this depth, there is still a slight current. While we fin like crazy and hide behind boulders and rock formations to avoid the current, the anthias playfully dart in and out of the corals.
For our safety stop, rather than exhaust ourselves, we simply deployed our dSMB and let the current take us. We ascend a bit farther from the wall, but the dive boat did not have any problems spotting us.
As it is usually two dives out in the morning, our second dive was also in Napantao North Wall. Even if it was a repeat of the same site, we didn't mind as the dive turned out to be more leisurely. The wall is massive, so at a different depth, you will see different things.
The current was weaker for the 2nd dive. We got to observe more marine life rather than fighting currents. I even saw a frogfish, sea turtle, sea snake, and several nudibranchs.
Napantao South Wall
As we love Napantao so much, the dive group decided to return the following day to dive the South Wall. You can expect the same marine life species in the area, but I found the South Wall more calm and relaxing. I don't know if it was the time of day or how the reef was shaped but there was hardly any current, which I liked.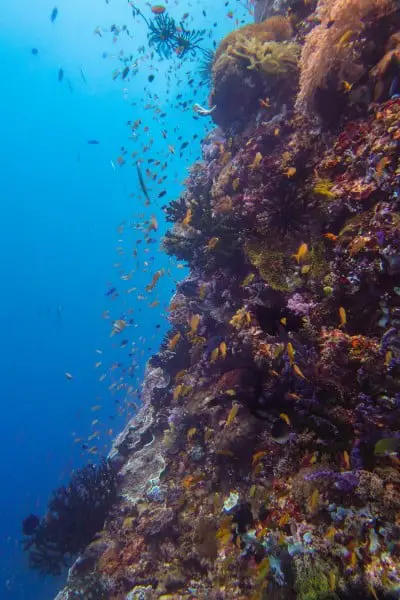 Napantao House Reef
While we didn't dive the house reef this time around, the areas in front of the Coral Cay building and Napantao beach are just as lovely to dive in. It is a sandy slope covered with both soft and hard corals. Even at 3 meters, you can see a lot of marine life already.
In between dives or in the afternoon, we would snorkel in this area and find cool critters. There is even a spot they call anemone city because it is covered with anemones and anemonefishes.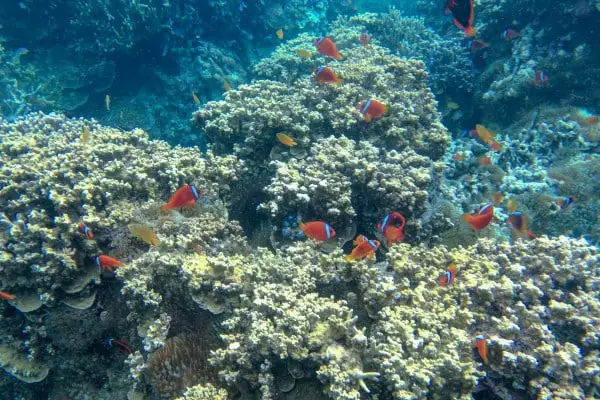 This was where I first spotted a cardinal pajama fish, a mandarinfish, a crocodile fish, harlequin sweetlips, a giant moray eel to name a few.
If you are a freediver you can also visit Napantao House Reef and explore the MPA. There is a sanctuary fee of Php200 that you just pay to the Bantay Dagat which they turn over to the local government.
Scuba divers who visit Napantao are also required to pay the Marine Sanctuary Fee.
If you'd like to learn more about marine life you might encounter in Napantao, read these posts:
13 Dangerous Sea Creatures in the Philippines
Marine Life in the Philippines: 100 Sea Creatures You Must See
Best Time to Go Diving in Napantao Fish Sanctuary
Weather permitting, scuba diving in Napantao can be done the whole year-round.
During the "Amihan" season or Northeast Monsoons (November – March), crossing seas from Padre Burgos side towards Napantao can be a bit more choppy. Amihan season also brings cooler water temperatures and you can expect more frogfishes and macro life in the area.
November to March is also the whale shark season so you might encounter them while diving in Napantao.
During the "Habagat" season or Southwest monsoon (June – October), dives can sometimes be more challenging as the strong winds and currents head towards Napantao's direction. This is considered to be the "summertime" in Southern Leyte, so you can expect less rain and brighter skies during these months.
Recommended reading:
Amihan and Habagat: Diving Seasons in the Philippines Explained
Best Time To Dive in the Philippines + Monthly Guide on Where to Go
Water Visibility in Napantao
Visibility in Napantao Marine Sanctuary ranges from 10 to 40 meters (30 to 120 feet). Sometimes even more! Yes, visibility is that amazing.
Water Temperature in Napantao
Water temperature in Napantao Marine Sanctuary can range from 24-30 °C (75-86 °F).
At the time of my visit in October 2021, water temperature was 29°C (84 °F). I was comfortable wearing dive leggings, a rashguard, and a vest.
Napantao reef check
Even if Napantao is a Marine Protected Area, it still faces threats like plastic pollution and coral bleaching.
At the time of my visit, I did encounter fishing nets caught on corals. I thought that this was troubling considering that it was a protected area so there shouldn't be fishing nets here at all. It was also troubling as the holes on the fishing net were tiny so it looks like they were meant to catch even the tiny fishes.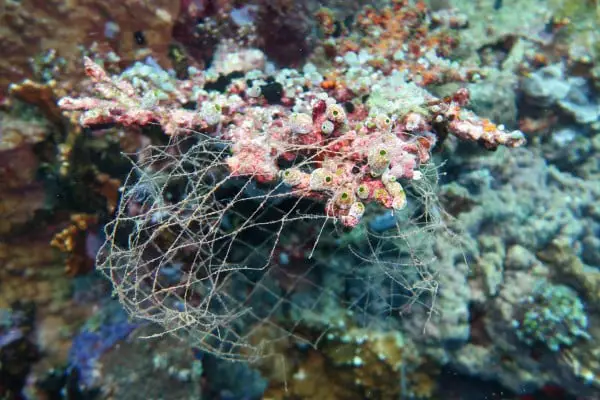 Crown of Thorns infestation is also a problem in Napantao. In one of our dives, Phil the owner of Sogod Bay Scuba Resort, even brought his COT's vinegar injector to kill COTs. This needs to be done to help control the COTs population that is known to multiply rapidly and feast on large areas of corals.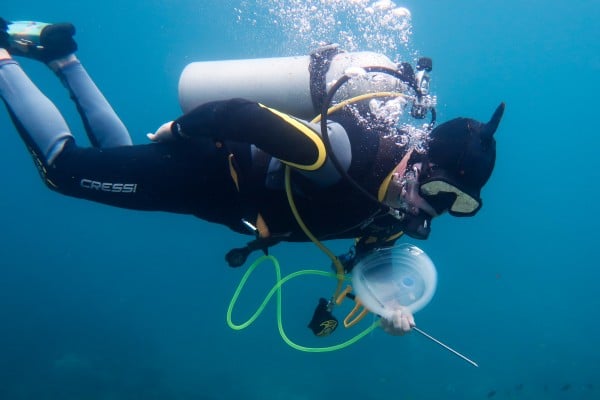 What to pack for Napantao
Here is the scuba equipment and dive gear I bring while diving in the Philippines.
My Scuba Diving Gear
Regulator: Scubapro MK25 Evo, C300 and C200 2nd Stage
BCD: Aqualung Axiom
Mask: TUSA M-212 Freedom Ceos
Snorkel: TUSA SP-170 Platina Hyperdry II
Booties: Poseidon Pink Dive Boots
Fins: Problue
Wetsuit: Seavenger
Vest Hoodie: Scubapro Hybrid Hooded Vest
Dive Watch: Suunto D4i Novo
Dive Knife: Aqualung Blunt Tip Knife
Dive Leggings and Rash: Blue Adaptation Coral Sea Fan

My Underwater Camera Gear
Underwater Camera: Canon G7X Mark II
Underwater Camera Housing: Fantasea FG7XII
Video Lights: Big Blue AL1200XP
Underwater Action Camera: GoPro Hero9
360 Camera: Insta360 X3

> Canon G7X Mark II full review
> Insta360 X3 underwater camera review
> Scuba diving camera recommendations for beginners.

Dive Insurance
Divers Alert Network (DAN)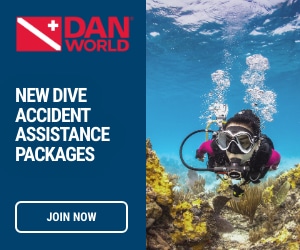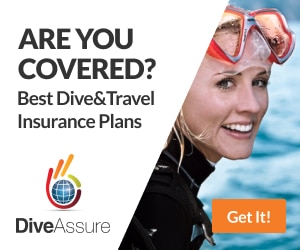 Need travel insurance for your trip? Get a quote from Safety Wing.
If you're traveling and diving in the Philippines for the first time, make sure to read my posts on
Ultimate Travel and Dive Guide to the Philippines
Philippine Packing List: What to Bring to Your Dive Trip.
How to get to Napantao Marine Sanctuary
In the past, dive volunteers were able to access Napantao through Coral Cay Conservation. But since they stopped their volunteer program in 2020, only dive boats and liveaboards are able to access the dive sites in Napantao.
If you want to scuba dive in Napantao Marine Sanctuary, you can find a dive shop in Southern Leyte that can take you. I highly recommend diving with Sogod Bay Scuba Resort.
Liveaboards that go to to Napantao, Southern Leyte
You can also experience diving in Napantao fish sanctuary through liveaboard vessels that have a Visayas route.
These liveaboards include Napantao in their itinerary as well as other hard-to-reach places in the region. Some liveaboards also include scuba diving in Limasawa Island, which I also recommend.
If you have limited time and want to experience the best of the best in the Visayas, doing a liveaboard is one of the best ways to do it.
Many of these Visayas liveaboards visit 2-3 different provinces at a time so rather than wasting your time traveling on land, you can spend your vacation diving instead.
Pin this for later!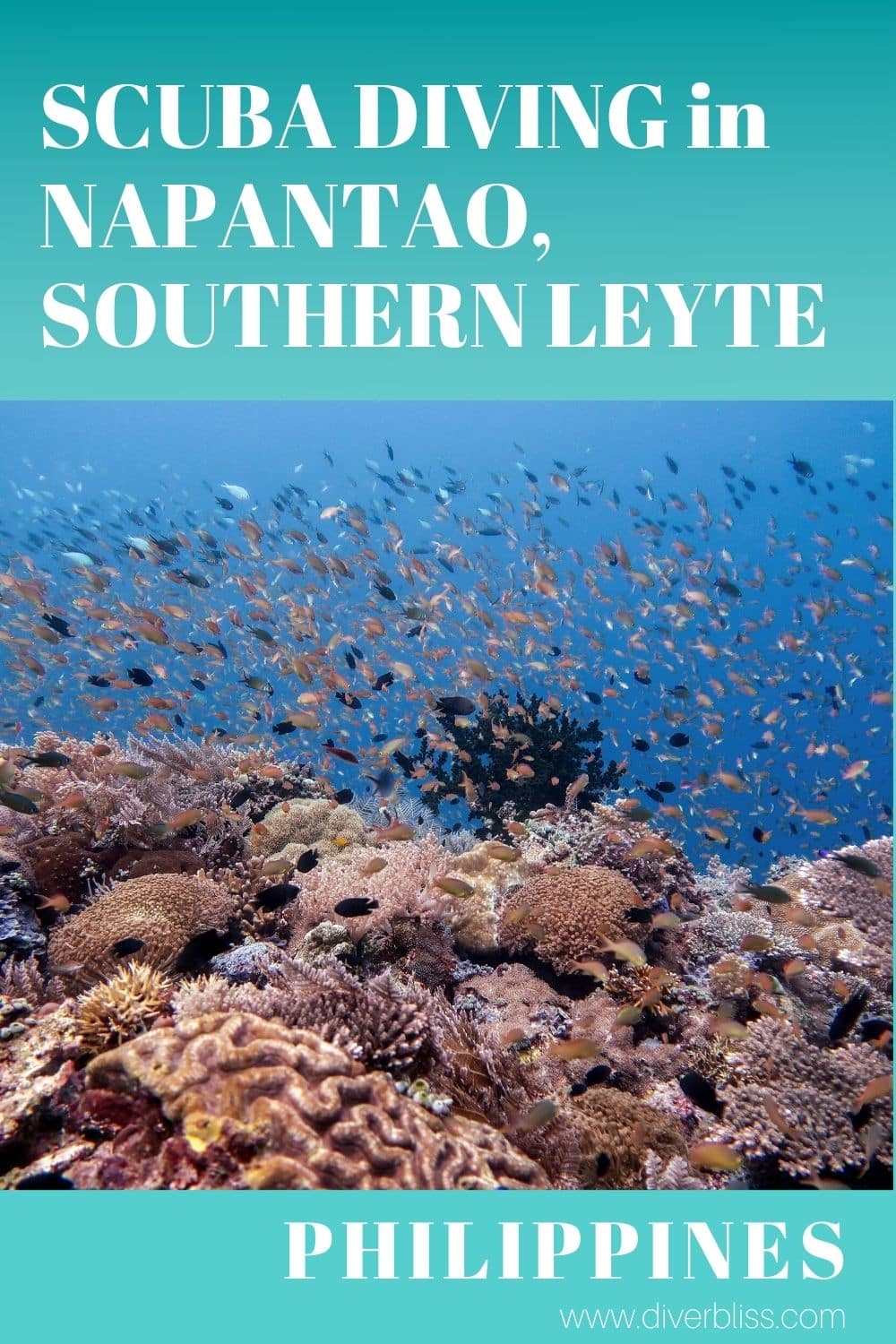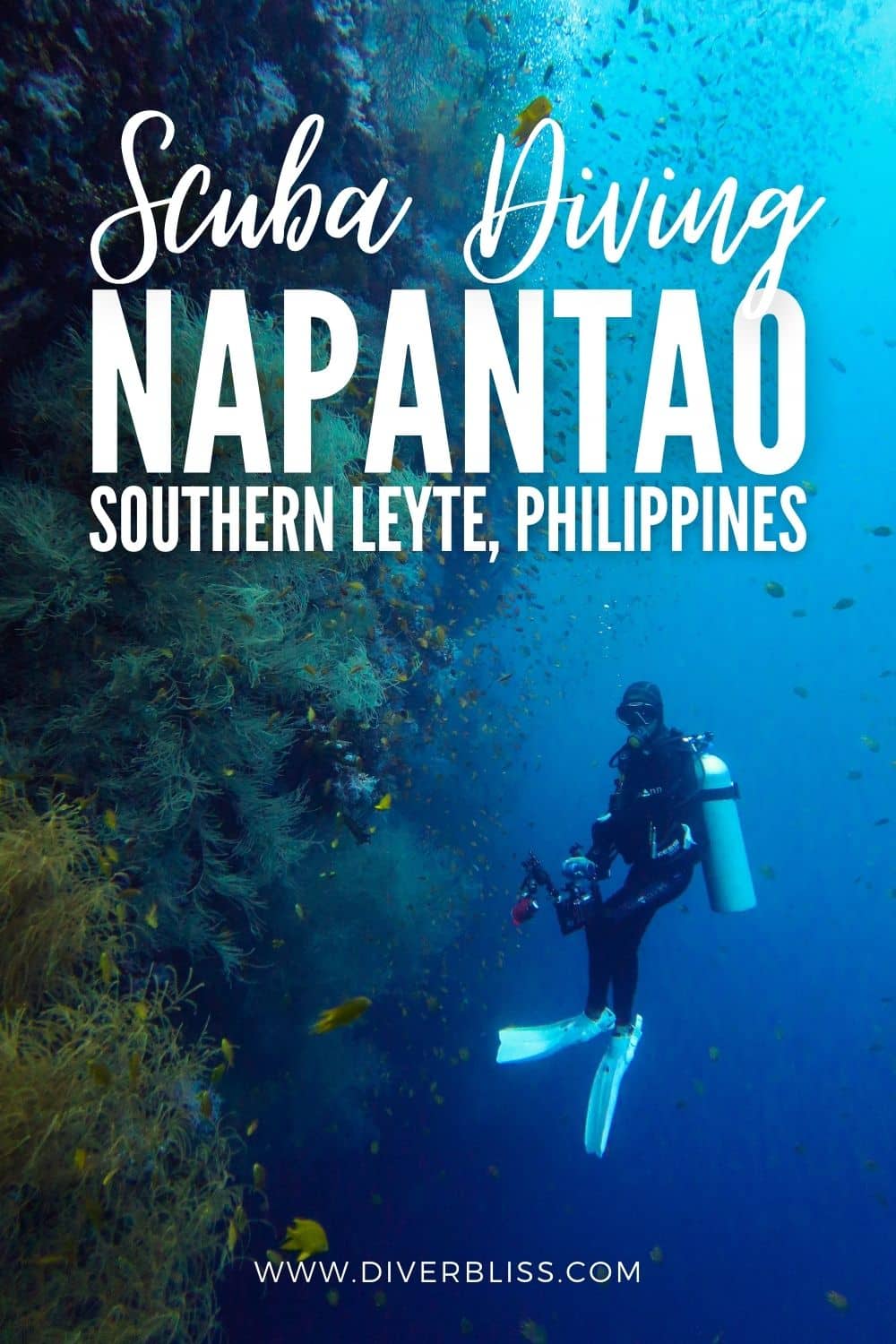 Have you gone scuba diving in Napantao Marine Sanctuary? What was your experience like? Leave a comment below!