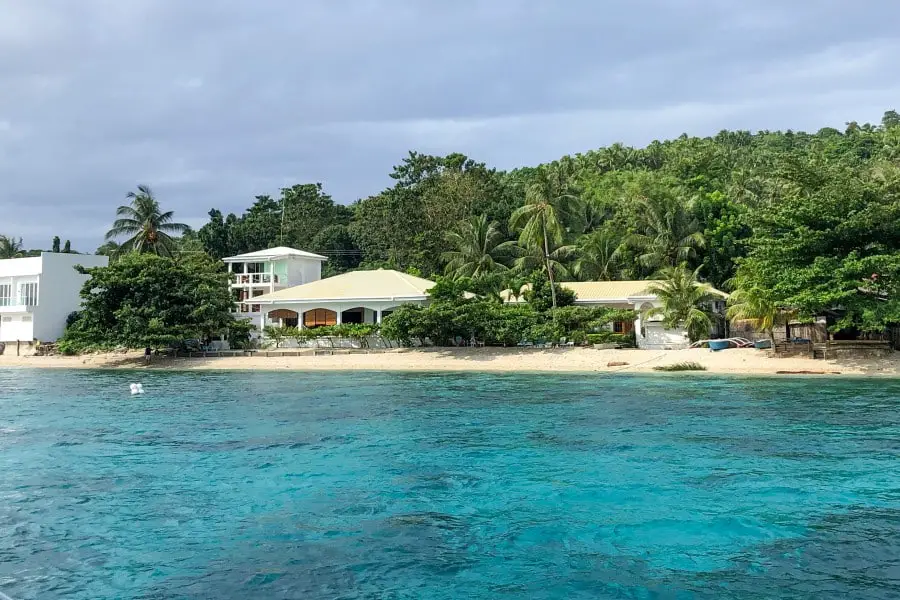 The links below may be affiliate links. If you shop through them, I'll earn a commission at no additional cost to you. For full information, please see my disclaimer here.
A trip to Sogod Bay Scuba Resort has been way overdue. I had planned this trip in March 2020 but because of the pandemic, I had to cancel it twice.
They say that third time's the charm, and indeed it was. No doubt, my dive and stay with Sogod Bay Scuba Resort is easily one of my highlights for 2021.
This was not my first visit to the province as I had actually learned how to scuba dive in Coral Cay Conservation back in 2013. Napantao in Southern Leyte, where Coral Cay was based, became my home for a month. This dive site has a special place in my heart and I vowed that I would someday return to where my dive journey started.
There are only a handful of dive shops around Sogod Bay so choosing where to stay wasn't so difficult.
I ended up booking with Sogod Bay Scuba Resort because of recommendations from fellow divers and because of the owner, Darlene. I had been following her on Instagram and her posts gave me dive-envy.
About Sogod Bay Scuba Resort
Darlene and her husband, Phil have been running Sogod Bay Scuba Resort since 2004.
Darlene is a fellow Filipina from Zamboanga while Phil is from Australia. They are not from Southern Leyte but they decided to build a life here because of the amazing diving.
The McGuires saw the potential of the Southern Leyte as a world-class dive destination. Together with their co-founder Ron Parkes, they converted the beach home property into a dive resort.
Sogod Bay Scuba Resort is located in Barangay Lungsodaan, Padre Burgos, Southern Leyte. From Manila, we flew to Tacloban then took a 3.5-hour car ride to the resort.
Sogod Bay Scuba Resort Room
Upon arrival, Darlene welcomed us and showed us to our room. We were assigned to one of the rooms that had a wonderful view of the beach and Sogod Bay.
The room was simple and very minimalist. It smelled clean. The sheets were pristine. I liked that the doors had window panels to allow natural light to come in.
The ocean-view room had two single beds. This was ideal for me and my dive buddy, Maire. We had our own side tables and outlets, so we could charge all our batteries without worrying about mixing things up.
The room had its own temperature-controlled air conditioning and ceiling fan- a must for someone like me who gets cold easily.
Our room also had a table with complimentary coffee and tea, and a thermos which was refilled daily. There was also a refrigerator minibar stocked with local beverages and a TV that we didn't really use.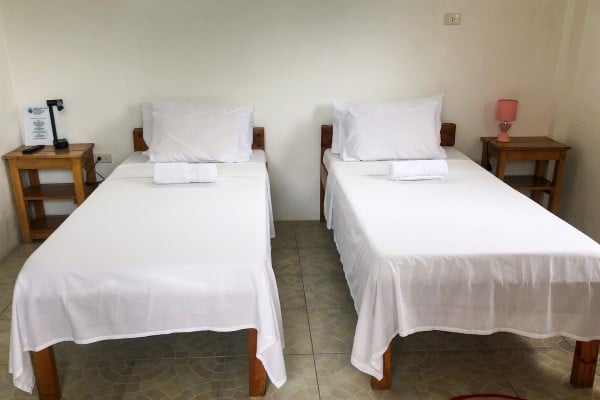 The bathroom was very basic with a sink, a toilet, and a hot and cold shower. Water pressure wasn't too great though. I am not sure if it's the showerhead or just the water supply since we were in the province after all.
I liked that there were shelves and hangers in the bathroom which made changing and storing clothes easier.
Each beach-side room had its own terrace with chairs and a table set. It also has its own drying rack so we could hang our wet suits after each dive.
WiFi connection was pretty good as there was a dedicated connection for different areas of the resort.
There are only a few ocean view rooms so make sure to book right away to secure one of the best rooms in the resort.
Sogod Bay Scuba Resort also has budget-friendly rooms with fewer amenities. It includes air conditioning, a ceiling fan and you get your own bathroom. I think it's a pretty good deal especially when you will be spending most of your time outside diving anyway.
You can also rent their 2-story beach home for long-term stay. When we visited, another guest was renting the apartment for months now and she was gracious enough to show us around her space.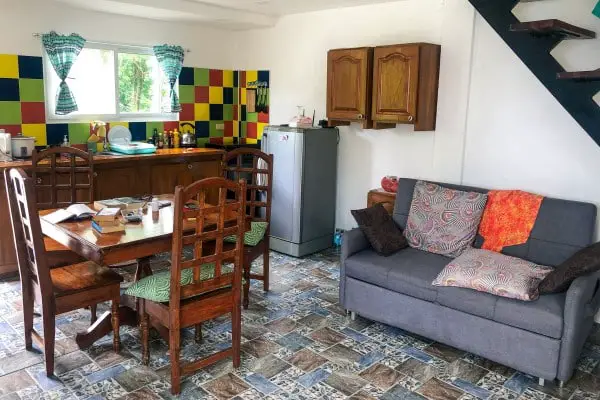 The apartment has its own kitchen, dining area, and a pull-out couch on the first floor. A bathroom, a bedroom, and a terrace with the best view of Sogod Bay.
The apartment has a dedicated internet connection so it is perfect for someone who wants to work from home and then dive every day.
If you would like to book a stay with Sogod Bay Scuba Resort, here are the rates:
| | | |
| --- | --- | --- |
| Room Rates | Price In Pesos | Price In Dollars |
| Deluxe Ocean view (1 king bed and 1 single bed) | Php 2,600 | Usd 50 |
| Ocean view (2 single beds) | Php 2,100 | Usd 42 |
| Apartment (2 single beds) | Php 1,700 | Usd 34 |
| Budget (2 single beds) | Php 1,200 | Usd 24 |
| 2-story beach home (good for 4 people) | Php,3,600 | Usd 72 |
| 2-story beach home (1 month stay) | Php 35,000 | Usd 700 |
Rough Conversion: Php 50 = Usd 1
Sogod Bay Scuba Resort Guest Area
The resort is very intimate as it used to be someone's home that was converted into a resort. You can basically get to know everyone who stays, which means more diver friends!
The dining and common area are on the patio which has an amazing view of the bay. Inside the house is where you will find the reception, the kitchen, and a bar. There is also a mini library where you can find fictional books as well as fish identification and scuba diving books.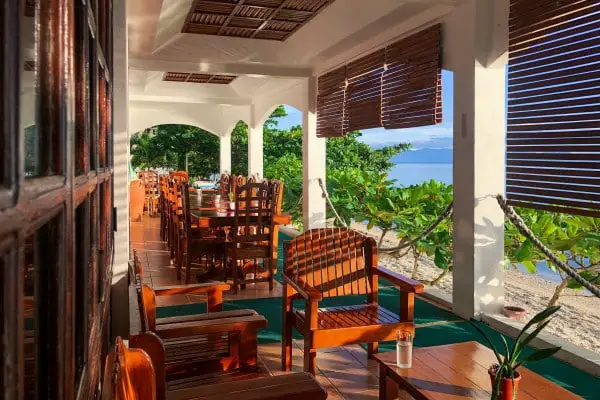 After meals and between dives, my favorite place to hang out is by the beach, where there are lounge chairs and hammocks underneath the beautiful Talisay tree.
I highly recommend waking up early to catch the sunrise in this spot.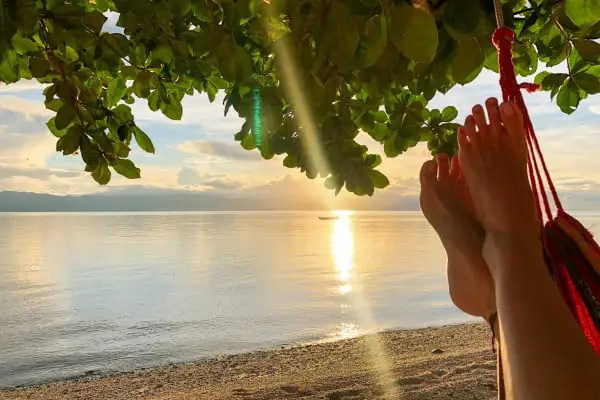 In the evening, it is very common to find other divers chilling here as well. The ambiance is perfect for exchanging dive stories and planning for the next dive adventure.
The resort has its own bar where you can order liquor, but you can also bring your own bottle as their options are limited.
Darlene is particularly fond of Baileys Irish Cream so if you want to share a drink with her, you might want to bring a bottle or two of it!
Sogod Bay Scuba Resort Food and Menu
One of the things I appreciated was the amazing food at Sogod Bay Scuba Resort. I didn't have a meal that I did not enjoy.
Their menu offers a good mix of both eastern and western cuisines so your palette won't get tired of eating similar flavors.
Breakfast
Coffee is an everyday must for me so I was delighted that they had an espresso machine. I started my days with a delicious hot cup of latte.
For some breakfast meals, I ate rice, egg, and meat, which is a common Filipino meal. But I also had pancakes and bacon because I haven't had them in a while.
I don't normally eat muesli but the breakfast bowl looked delicious so I gave it a try. It was pretty good, minus the watermelon. But that's just a personal preference.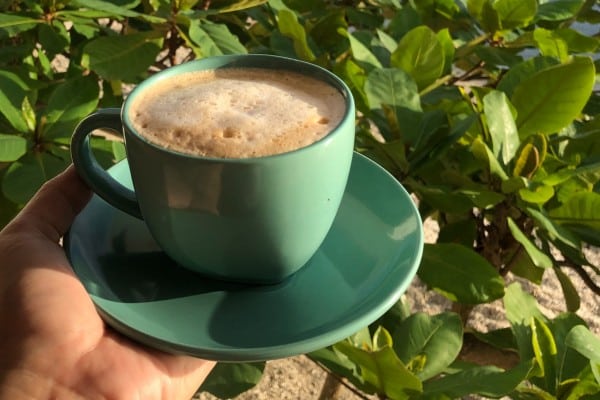 Lunch
After coming back from our awesome dives, I always look forward to having a nice warm meal for lunch.
Here are some of the meals I had: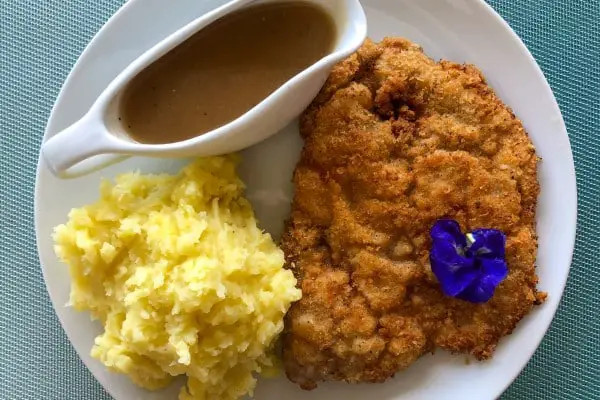 The pork schnitzel is basically breaded lean pork with a side of mash and gravy. You can choose to swap the potatoes with rice.
The lasagna with garlic bread was tasty but a bit dry. I think this was frozen then reheated so I wouldn't order this again unless it was freshly made. So make sure to ask.
The burger was worthy of its name- goliath. In between the buns was the works- a thick burger patty, bacon, eggs, lettuce, tomato, and cucumber. It came with fries too. So if you're hungry, this meal is very filling.
One of my favorites was the chicken satay which is a grilled spiced chicken with peanut sauce. I would order this again.
Dinner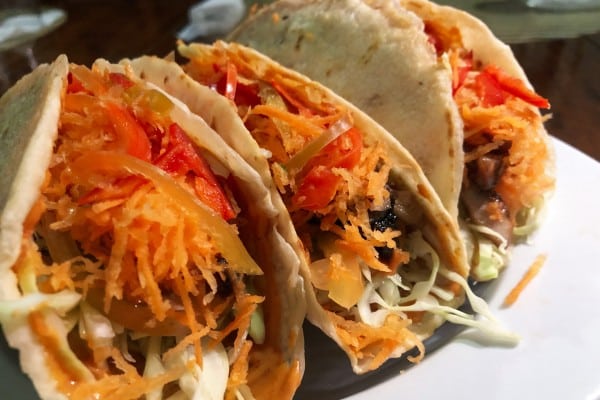 For dinner, I decided to try the homemade chicken tacos which were on their Special Menu Board. It's not your traditional Mexican taco but it was tasty nonetheless.
I don't normally order pork binagoongan but after several hints from Darlene on what she recommends, I decided to give it a go. I thought the serving was good for two but I ended up finishing it anyway. The pork was a bit fatty but I liked that the bagoong (shrimp paste) didn't overpower the dish. I would order this again but would ask for more eggplant and less fat on the meat.
The Lechon was a special order our group requested. It is not on the menu but if you have a special request you can ask them to cook something for you. With advanced notice of course!
For dessert, you can check their freezer for an assortment of ice cream flavors. You can also indulge in some mango float which is layers of graham crackers, fresh Philippine mangoes, and cream.
Sogod Bay Resort Food Prices
At first, I thought their pricing was a bit high with prices ranging from Php180-Php310. But after seeing their generous servings and food quality, I changed my mind.
Here's the menu and prices of Sogod Bay Scuba Resort's restaurant.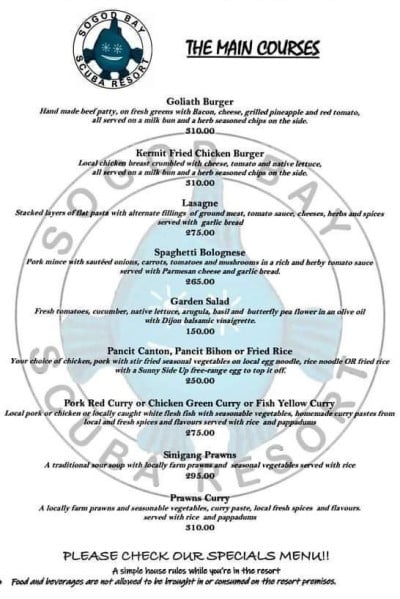 If you are looking for a restaurant in Sogod Bay, you can check out Sogod Bay Scuba Resort for your meals. They accept customers even if you are not a guest in the resort.
The Sogod Bay Scuba Resort restaurant is open every day from 7 am to 3 pm and 5:30 pm to 9 pm.
Due to the pandemic, social distancing rules may apply. Please confirm with the resort their requirements if you are dining in.
Sogod Bay Resort Dive Shop
Sogod Bay Scuba Resort is one of the few dive scuba diving centers in Southern Leyte. They're also one of the most established and reputable PADI dive shops in the area.
Since they have been operating in Southern Leyte for more than a decade now, they're very knowledgeable and experienced on which dive sites to visit and the best time to go to those sites.
Their divemasters are also locals who have been diving in the area for years as well.
Their dive shop itself was tiny but very organized.
Upon arrival, we were given individual crates to put our scuba gears in. Surprisingly, even with 16+ divers in the resort and in the boat, not once did I have my gear mixed up with anyone else.
Dives were done by boat or shore entries. The house reef was a short 10-meter walk from the dive shop making it an easy entry and exit.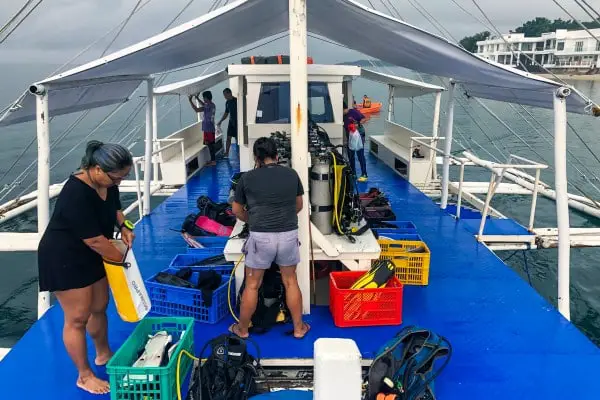 For boat dives, we had to ride a small orange pump boat to go to the bigger 63-feet banka named Kermit 2. The traditional Filipino boat was modified for dive purposes and can accommodate up to 25 divers and boat crew.
The dive kits had their own slots to avoid damage and to make it easy for divers to gear up.
Every day, we left the resort at 8:30 am to head out to the dive sites. We did around 3-4 dives in a day.
You can opt to do two morning dives, an afternoon dive at 2:30 pm onwards, and/or a night dive at 6 pm.
We always had a dive briefing before the dives. Then we would gear up according to assigned teams. This ensured we entered the water in intervals thereby avoiding underwater traffic.
We had a 4:1 divers to DM ratio, with 4 dive teams getting in the water. Our dive team was led by DM Dave. Maire and I dove with 2 other guests, Hayley and Burke.
During my stay, I was fortunate to have dived with Dave and Darlene, who were amazing at spotting critters. They were showing me insanely small critters that left me laughing underwater for how ridiculously tiny they were.
Similar to most dive resorts in the Philippines, you can expect "concierge diving" with Sogod Bay Scuba Resort. They will take care of everything for you. All you have to do is ride the boat, put on your gear, and jump in the water.
In between dives, they will change the tanks and prepare the gear for the next dive while you rest and enjoy a cup of coffee or have a snack.
On the last day, they also took care of rinsing our gear and hanging them to dry. I hate this part so I was happy they did it for me!
The staff of Sogod Bay Scuba Resort really took care of us all throughout our stay. I felt very safe in all of our dives and would choose to dive with them the next time I dive Southern Leyte!
Other snorkeling and diving activities
Whale Shark Tours
Occassionally, Sogod Bay Scuba Resort also organizes whale shark snorkeling tours.
If you are interested in interacting with whale shark without having to worry about fish feeding practices, Sogod Bay is one of the places to do it. The locals and fishermen have been taught not to disrupt their feeding habits. The best time to go is during the whale shark season from November to March.
Discovery Scuba Diving and PADI Certifications
Sogod Bay Scuba Resort also offers PADI courses. If you would like to try scuba diving for the first time or want to get certified, their instructor, Pedro will take care of you. He also takes amazing underwater photos so if you're lucky he might be able to take you on photo dives and give you some underwater photography tips.
Conservation Efforts
Sogod Bay Scuba Resort is also active in conservation efforts in the area.
One of the efforts they do is Crown of Thorn management. COTs can eat a lot of corals in a small amount of time which leads to the destruction of the reef. Together with the local government, they organize dives to reduce the COTs starfish population.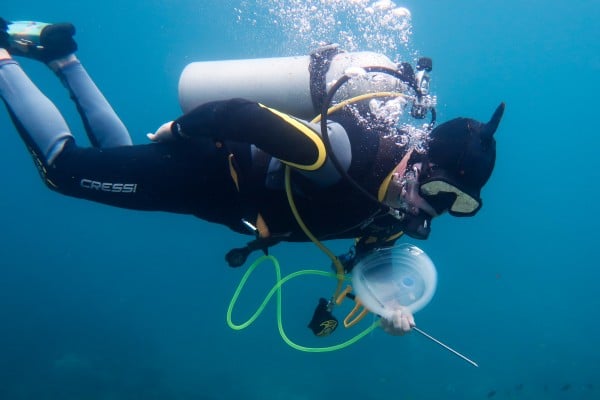 Here is Phil carrying his COTs vinegar injector during one of our fun dives. He designed this device and is available for purchase. You may contact SBSR directly for details.
Scuba Dive Rates
Here are some of the diving rates in Sogod Bay Scuba Resort. At the time of our visit, Nitrox was unavailable.
The resort is in a remote area so if you have special requests especially with gear rental, kindly confirm with them ahead of time any requirements you might have.
| | | |
| --- | --- | --- |
| Scuba Diving Rates | Price In Pesos | Price in US dollars |
| Scuba Dive with own gear | Php 1,550 | Usd 31 |
| Scuba Dive with gear rental | Php 1,800 | Usd 36 |
| Enriched Air (Nitrox) Dive | + Php 200 | Usd 4 |
| Night dive | + Php 100 | Usd 2 |
| Sanctuary and Camera Fee | + Php 100-200 | Usd 2-4 |
| Snorkeling Rental | Php 300 / day | Usd 6 |
| Whale Shark Tour | Php 3,500 | Usd 70 |
Rough Conversion: Php 50 = Usd 1
Diving in Sogod Bay
Sogod bay is one of the best places to scuba dive in the Philippines. It offers a diverse underwater landscape that any scuba diver will enjoy exploring. From color coral gardens just a few meters from the shore to steep drop-offs and walls that will make you feel so small.
This underwater paradise is home to much beautiful marine life in the Philippines. Whether you are looking for the tiniest nudibranch or the gigantic whale sharks, the biodiversity in Sogod Bay will leave you wanting more.
I have logged more than 50 dives in this region thanks to my volunteer work in Coral Cay Conservation in 2013. For this recent trip, I was able to log 10 day dives and 3 night dives with Sogod Bay Scuba Resort.
I was thankful that they showed me the different sides of Sogod Bay. It reminded me why this is one of my favorite places to dive.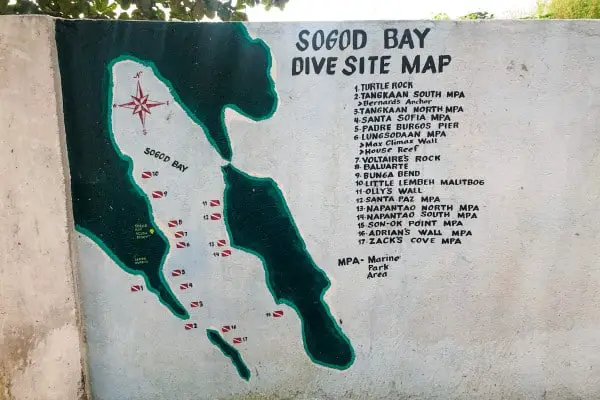 With more than 20 dive sites in the area, it was rare that we visited the same place twice. And when we did, the experience was always different and we saw different things.
Here are some of the dive sites we visited and some cool critters I saw.
Max Climax – House Reef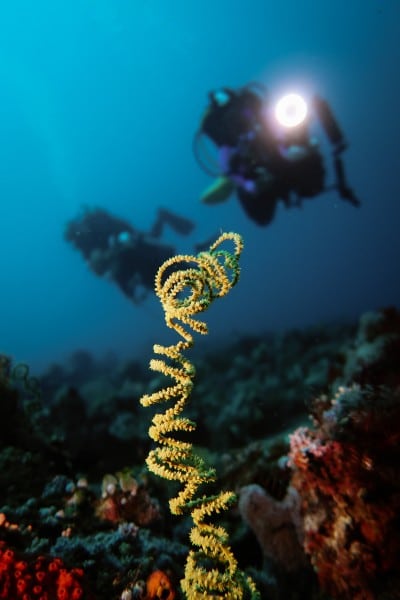 Located right in front of the resort. A beautiful coral garden that slopes down to a wall. Excellent for night diving as well. I even saw sea turtles at night twice!
Marine Sanctuary / Camera Fee: Php 100 (Usd 2)
Limasawa Island
Limasawa Island is located approximately 1 hour away. We did 2 boat dives at Zack's Cove and Adrian's Cove. A must-dive if you're in Southern Leyte.
Marine Sanctuary / Camera Fee: Php100 (Usd 4)
For more details on this dive site, read my post Scuba Diving in Limasawa Island: An Absolute Must in Southern Leyte.
Napantao Marine Sanctuary
Napantao is about 1 hour away from Sogod Bay Scuba Resort. One of the best dive sites in the area. Wall diving expect strong currents that can lead to drift dives. We did 3 dives here at the North and South walls. Best for wide photography. Also a must place to visit!
Marine Sanctuary / Camera Fee: Php200 (Usd 4)
For more details on this dive site, read my Ultimate Guide to Scuba Diving in Napantao Marine Sanctuary.
Padre Burgos Pier
One of the best night diving in Sogod bay. Muck diving site where we spotted frogfishes, stargazers, sea slugs, octopus, cuttlefish, shrimps, crabs and more. Can only be done during specific nights due to permit issues. Shore entry and exit was a bit challenging during our dive because of the waves and currents.
Marine Sanctuary / Camera Fee: Php100 (Usd 2)
Tangkaan
About 20 minutes away from the resort. Also a wall dive spotted several tiny creatures.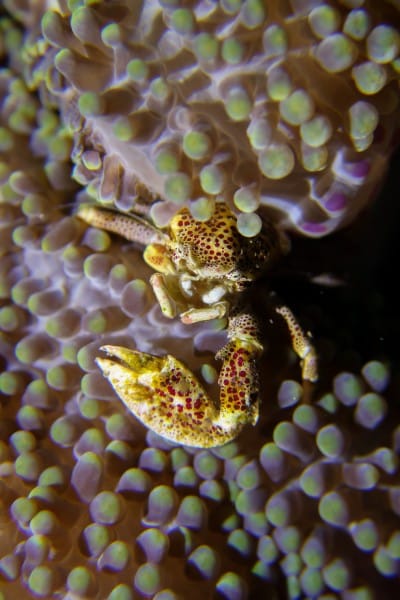 Marine Sanctuary / Camera Fee: Php100 (Usd 2)
Santa Paz
Combination of wall, reef and muck. The site has a pinnacle that reminded me of Kirby's rock in Anilao.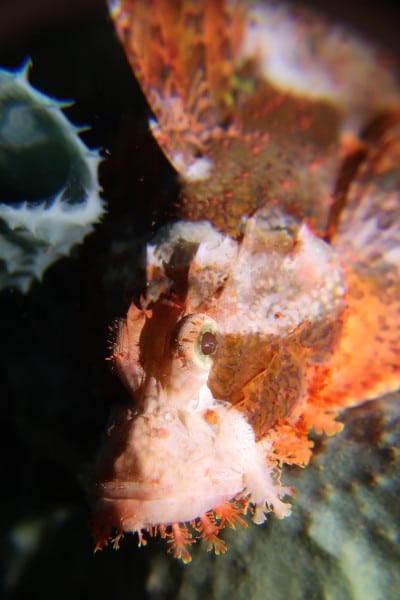 Little Lembeh
Combination of wreck diving and muck diving. Perfect for macro-lovers. I saw some nudibranchs, frogfish, sea horse, pipefish, mantis shrimp, octopus, and more. Can be shore and boat dive. But we went here at the back of a small truck and it was a 20-30 minute ride from the resort.
Marine Sanctuary / Camera Fee: Php150 (Usd 3)
Baluarte
Shallow dive with a sloping reef full of colorful soft and hard corals and small reef fishes. Site also has a pickup wreck site.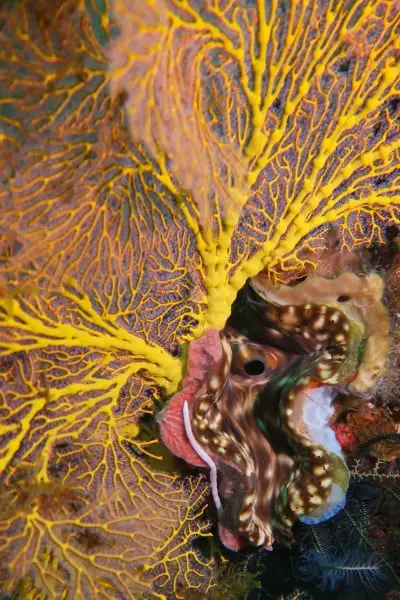 If you have limited time, I recommend that you put Limasawa, Napantao, and Padre Burgos Pier on your must-dive list. Don't forget to grab my dive critter list and show it to your dive guide.
What to pack for Sogod Bay
Here is the standard dive gear I bring while diving in the Philippines.
My Scuba Diving Gear
Regulator: Scubapro MK25 Evo, C300 and C200 2nd Stage
BCD: Aqualung Axiom
Mask: TUSA M-212 Freedom Ceos
Snorkel: TUSA SP-170 Platina Hyperdry II
Booties: Poseidon Pink Dive Boots
Fins: Problue
Wetsuit: Seavenger
Scuba Leggings: Ocean Spirit by Aurora Wetsuits (For a 10% discount, use Coupon Code: DIVERBLISS)
Vest Hoodie: Scubapro Hybrid Hooded Vest
Dive Watch: Suunto D4i Novo
Dive Knife: Aqualung Blunt Tip Knife

My Underwater Camera Gear
Underwater Camera: Canon G7X Mark II
Underwater Camera Housing: Fantasea FG7XII
Video Lights: Big Blue AL1200XP
Underwater Action Camera: GoPro Hero9

Click here for my Canon G7X Mark II full review
Click here for scuba diving camera recommendations for beginners.

Dive Insurance
Divers Alert Network (DAN)
Travel the Philippines worry-free!
SafetyWing is an international travel medical insurance that can cover you while you are outside your home. COVID-19 coverage is also included! Enter your details below to get a quotation.
If you're traveling and diving in the Philippines for the first time, make sure to read my post on Philippine Packing List: What to Bring to Your Dive Trip.
Expenses
For those who want to know how much you can expect to pay for a 6 Day, 5 Night dive trip to Sogod Bay, here is the breakdown of what I paid.
| | | |
| --- | --- | --- |
| Expenses | Cost in Pesos | Cost in USD |
| Air Asia Flight | Php 4,625 | Usd 92.50 |
| Land Transfers | Php 2,500 | Usd 50.00 |
| Accommodation (5 nights discounted rate) | Php 4,200 | Usd 84.00 |
| Scuba Diving (13 dives- discounted rate) | Php 16,120 | Usd 322.40 |
| Additional Fee for Night Dive (3 dives) | Php 300 | Usd 6.00 |
| Marine Sanctuary Photographer Fee | Php 1,050 | Usd 21.00 |
| Food in Resort | Php 4,273 | Usd 85.46 |
| Food outside the resort | Php 860 | Usd 17.20 |
| Massage | Php 500 | Usd 10.00 |
| Souvenirs | Php 380 | Usd 7.60 |
| Tip | Php 2,000 | Usd 40.00 |
| Total Expenses | Php 36,808 | Usd 696.16 |
Rough conversion Php 50 = Usd 1
Here is the explanation for each expense entry above.
Air Asia round trip flights (Manila – Tacloban – Manila) amounted to Php 4,625 (Usd 92.50) . This included 20-kilogram baggage allowance for my dive gear.
Land transfer from the airport to Sogod cost Php 5000 (Usd 100) per commuter van that can fit up to 6 people. We split the cost among 4 people, so each had to pay Php 1,250 (Usd 25) per person one way. All in all I paid Php 2,500 (Usd 50) for a seat in the van going to Sogod Bay Scuba Resort and back to the airport.
The Ocean View Rooms at Sogod Bay Scuba Resort was actually Php2,100 (Usd 42) per room for 2 people. As a special promo, we were given a 20% discount, so we were only charged Php 1,680 (Usd 33.60) per night. Since I was sharing a room with my dive buddy, Maire, my share was Php 840 (Usd 16.80) per night. In total, I paid Php 4,200 (Usd 84) for 5-night stay.
Scuba diving at Sogod Bay Scuba Resort is Php 1,550 (Usd31) per dive if you have your own gear. As we were doing more than 10 dives, they also gave us a 20% discount. The discounted dive rate was Php 1240 (Usd 24.80) per dive. I did 13 dives all in all which amounted to Php 16,120 (Usd 322.40)
If you want to do night dives, you pay an extra Php100 (Usd 2) per dive. Since I did 3 night dives out of the 13 dives, I paid an extra Php 300 (Usd 6)
Because we visited several marine sanctuaries in Sogod Bay, we also had to pay some MPA (Marine Protected Area) and Camera fees. You can expect to pay up to Php 200 (Usd 4) per dive location. I paid a total of Php 1050 (Usd 21).
Most of the time we ate at the resort due to time constrains between dives and also for our safety. My total food bill was Php 4,273 (Usd 85.46)
Food outside the resort includes breakfast at the airport, lunch enroute to Sogod, as well as a late lunch while exploring Padre Burgos. This amounted to Php 860 (Usd 17.20)
In the last evening of our stay, I decided to get a massage for Php500 (Usd 10).
As a Filipino tradition, I had to buy pasalubong or souvenirs for my family. I spent Php380 (Php 7.60) for some dried squid and fish for them to enjoy.
Tipping is optional in the Philippines but I gave extra Php 2,000(Usd 40) for the staff.
For those who like charts, here's a breakdown of my expenses with the majority going to scuba diving, of course.
Transportation was the second-highest expense because of the air and land travel costs. Before the pandemic, I had booked a ticket for March 2020 and it was only Php3,700 roundtrip and the van transfers were Php 4000. So the transportation increase (by almost Php2000) really did a number on my budget. So, watch out for seat sales and go as a group to help share the cost of land travel expenses.
Next was food with almost 15% of the travel budget. I think food would have been lower if we tried other restaurants in the area. But since a lot is still closed due to the pandemic, eating out was not really an option.
Accommodations would have been higher if we were not given a discount. (Thanks, Darlene!)
All in all, I spent Php 36,808 (Usd 736.16) on this trip.
Travel hack!
If you are traveling solo or as a couple, you can consider joining group trips organized by my friend, Jeru. I had joined his dive trip in Apo Reef and had an awesome time.
During this trip to Sogod Bay, Jeru also organized a trip so we were all together in the dive boat and dive resort. We had asked to share with him in the van costs which he graciously allowed so this helped with our expenses.
You can get reach Jeru Cajapin on Facebook if you would like to join one of his hassle-free group trips to Sogod Bay.
Covid-19 Travel Protocols
At the time of my travel to Sogod Bay Resort, these were the travel requirements for the LGU:
Confirmed booking with dive resort and request for an Letter of Acceptance from the LGU. Darlene of Sogod Bay Scuba Resort coordinated this for us.
Register at the Tacloban Safe City QR Code. (Use mobile number to register)
Register at the Southern Leyte ACTS (Automated Contact Tracing System) (Requirement: Upload valid ID front and back) QR code will be emailed when approved.
Get a Travel Coordination Permit through Travel S-PaSS at least 2 days before travel. (Requirements to be uploaded: Valid ID, Current negative RT-PCR result OR proof of full vaccination OR Bureau of Quarantine Certification, City/Municipal Letter of Acceptance- see item 1 above).
Nobody really checked these when we crossed the border between Leyte and Southern Leyte but it's always good to be prepared. We did use the Southern Leyte QR code when we stopped over for lunch in a town en route to Padre Burgos.
Please check the latest travel requirements with the resort as they are always changing.
How to Get to Sogod Bay Scuba Resort
With the travel restrictions and rules in place, getting to Sogod Bay Scuba Resort was even more challenging than it already was. Due to the pandemic, I would advise against taking public transportation when possible. I would recommend arranging for a van and or car transfer upon arrival to the region.
Manila to Sogod Bay by Airplane
If you're coming from Manila, the most convenient way to go to Sogod Bay Scuba Resort is by taking a 1.5-hour flight to Tacloban, Leyte, then taking a 3-4 hour car ride to Sogod Bay Resort in Southern Leyte.
Philippine Airline, Cebu Pacific, and Air Asia have flights daily from Ninoy Aquino International Airport in Manila to Daniel Z. Romualdez Airport in Tacloban.
You can then arrange for a private vehicle transfer with the help of Sogod Bay Resort.
Approximate travel time: 5.5 hours (not including airport pre-departure waiting time)
Cebu to Sogod Bay by Airplane
If you're coming from Cebu, you can also fly to Tacloban, Leyte from Cebu Mactan International Airport. The flights through Philippine Airline, Cebu Pacific, and Air Asia are only 45 minutes long.
Once you arrive in Tacloban, you can take a 3-4 hour car ride to Sogod Bay Scuba Resort.
Approximate travel time: 4.75 hours (not including airport pre-departure waiting time)
Cebu to Sogod Bay by Ferry
You can also take a ferry between Cebu and Leyte. While ferry tickets are generally cheaper than flights, travel time can take longer between the islands. They are also more unreliable as schedules frequently change or are canceled due to weather conditions.
The Gabisan ferry that leaves from pier 3 in Cebu takes 3.5 hours to get to Hilongos, Leyte. Once you arrive in Hilongos, you can arrange for a private land transfer to the resort. This will take another 1.5 hours.
Approximate travel time: 5 hours (not including ferry pre-departure waiting time)
The SuperCat and Oceanjet ferries from pier 1 in Cebu take 2.5 hours to get to Ormoc, Leyte. Once you arrive in Ormoc, Leyte you can arrange for a private land transfer to the resort. This will take another 3 hours.
Approximate travel time: 5.5 hours (not including ferry pre-departure waiting time)
Sogod Bay Scuba Resort Contact Details
If you plan to scuba diving in Southern Leyte, I highly recommend staying with Sogod Bay Scuba Resort. You can book directly with them via:
Facebook: Sogod Bay Scuba Resort
Instagram: Darlene
Phone: +639155207274
E-mail: [email protected]
Website: www.sogodbayscubaresort.com
Have you gone scuba diving with Sogod Bay Scuba Resort? What was your experience like? Leave a comment below!
The links above may be affiliate links. If you shop through them, I'll earn a commission at no additional cost to you. For full information, please see my disclaimer here.