In 2012, the Department of Tourism launched the "It's More Fun in the Philippines" campaign. During that year, we welcomed 4.27 million visitors to the country. The years succeeding that even showed more tourists going to the Philippines. The materials produced definitely gained the attention of travelers around the world. And, I believe that the campaign was instrumental in the increasing number of visitors entering our country.
When President Duterte was elected in 2016, I was very worried about the continuity of this campaign. Every new administration likes changing things up in an attempt to leave some sort of legacy. There were even whispers that the campaign would be replaced! Thankfully that did not happen, thanks to the President.
*gasp* Yes, I did say thanks to the President and not in a sarcastic way! Please don't misquote me on this one or throw this back to my face, my dear readers!
As some of you might already know, I am not a fan of the current administration. In fact, I did not vote for President Duterte and in the recent national election, I did not vote for anyone he endorsed. However, if there is one thing I think he did right, it was to appoint Sec. Bernadette Romulo-Puyat as the tourism secretary. And this is why I am thanking him.
Even before she was appointed as Tourism Secretary, I was already "following" Secretary Berna on Instagram. She would often post about her travels in the Philippines. Plenty of which were about food or a product from some province she is visiting. So even before she was appointed as Secretary of Tourism she was already promoting our country.
Last February, the Department of Tourism (DOT) finally revealed the new tourism campaign. To my delight, they used decided to keep the "It's More Fun in the Philippines" campaign and put a spin on it.
Using Filipino's creativity and a knack for social media, DOT announced that they will crowd-source all content for the campaign. It will showcase the stories and experiences of travelers in the Philippines.
Since the campaign is crowd-sourced, DOT will donate $10 to the World Wide Fund for Nature (WWF) for every photo used in the campaign. This is tied to the other part of the campaign, which is to give emphasis on sustainable tourism. With the Philippines aiming to target 8.2 million visitors this year, we can just imagine the negative impact that has on our resources and environment.
I have traveled around the Philippines for the past 13 years. And I have seen how tourists can easily destroy paradise. I am glad that DOT recognizes the need to push for sustainable travels and making it part of the fun.
As my way of showing support for this campaign, I have listed things you can do in your travels so you leave our paradise a paradise. You may also apply most of them to your everyday life. I personally practice these when possible, so I know it can be done!
Read on for my 11 tips for sustainable travel in the Philippines.
---
1. Bring Your Own Reusables
Whether you live in the Philippines or it is your first time to visit, you'll notice that Filipinos love using plastic. Our shampoo, soaps and even our coffee comes in tiny sachets. If you buy soft drinks in a sari-sari store, they'll transfer the soda from the bottle to a plastic bag and put a straw in it. Need to shop for 1 item? Here's a plastic for you to take it home in.
According to a report by Ocean Conservancy, the Philippines produce at least 2.7 million tons of plastic each year. It is estimated that 76% of this ends up in our oceans. Damn! That's a lot of plastic!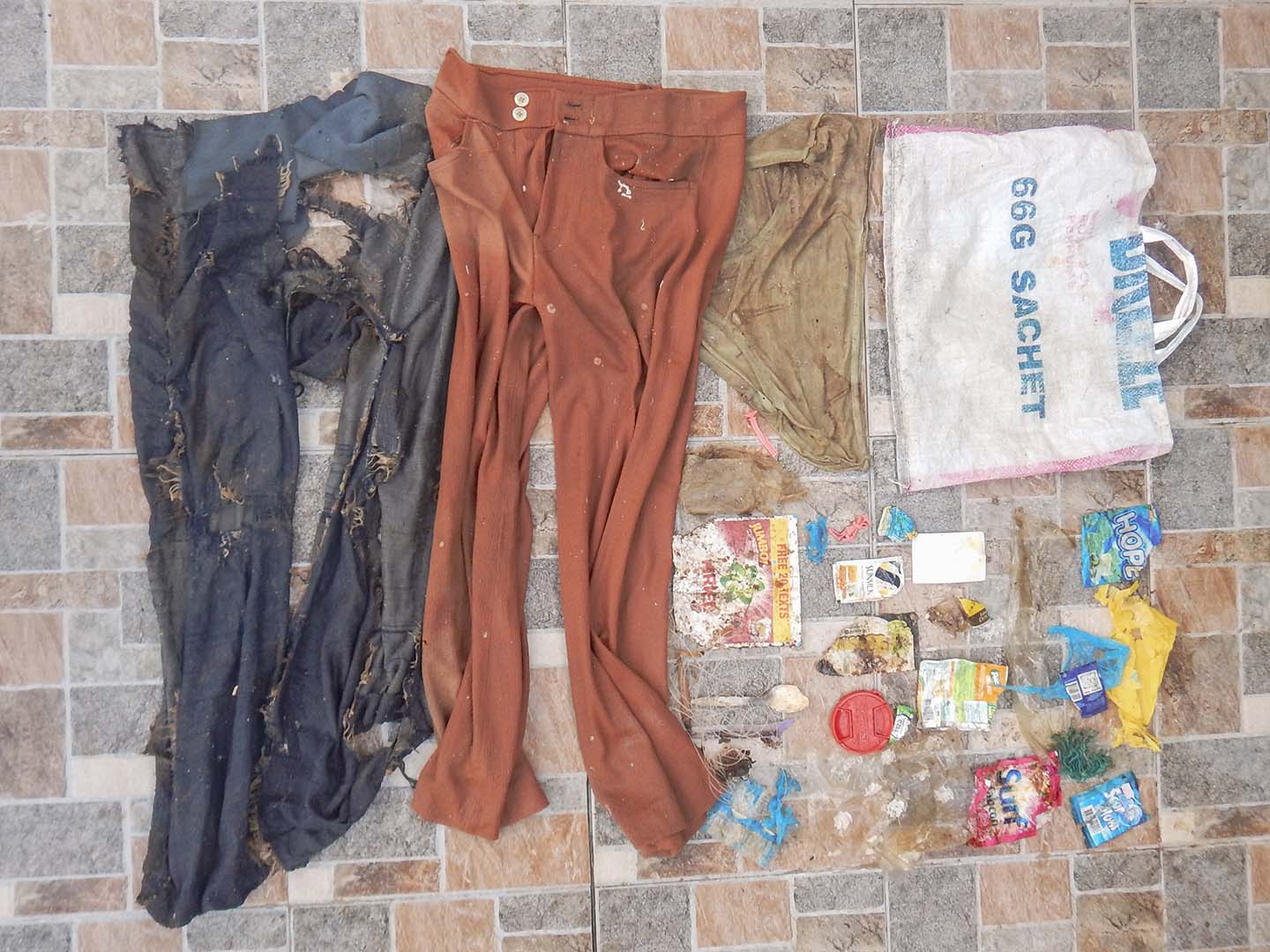 I personally have seen the devastating impact of plastic in our oceans. It always bugs me how much plastic we consume. This is one of the reasons why I've decided to make some lifestyle changes. So my first tip for sustainable travel the Philippines is to bring your own reusables and say no to plastic!
Albeit they are small changes, I still consider it helpful. I never leave home without my refillable bottle, my metal straws, my reusable cutlery set (chopsticks included since I love Japanese food) and my own shopping bag. This helps me to say no to plastic wherever I go.
If you want to buy your own re-usable items, check out this article on sustainable lifestyle store in the Philippines.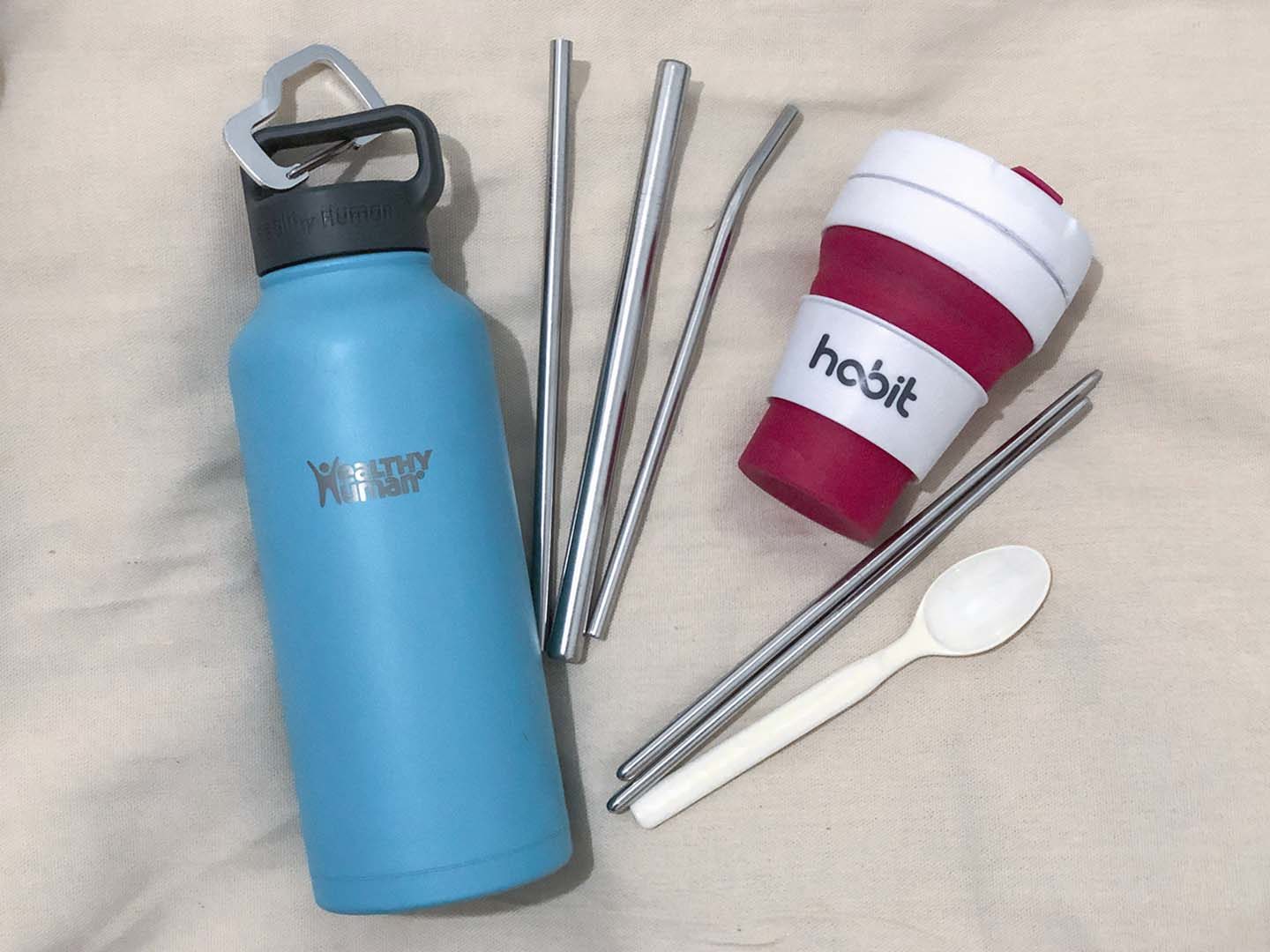 Taking my own water bottle has also saved me money since I avoid buying single-use plastic bottled water. It has been good for my health too. Not only am I hydrating more, it also prevents me from buying sugary drinks, which by the way, comes in plastic too!
Not sure where to refill your water bottle while traveling? Visit Plastic Battle for a list of establishments who offer free or cheaper water refills for your bottle when traveling within the Philippines!
These are just some examples of easy zero waste swaps you can do so you use less plastic while traveling.
---
2. Walk, bike, or use public transportation
Transportation within the Philippines is not the best in the world. You can expect traffic, delays and cancellations. Whether you're riding a bus, a ferry or a plane, you can pretty much expect the worst situations. But despite all these challenges, I can assure you that our unique modes of transportation will still get you to any of our 7000+ islands.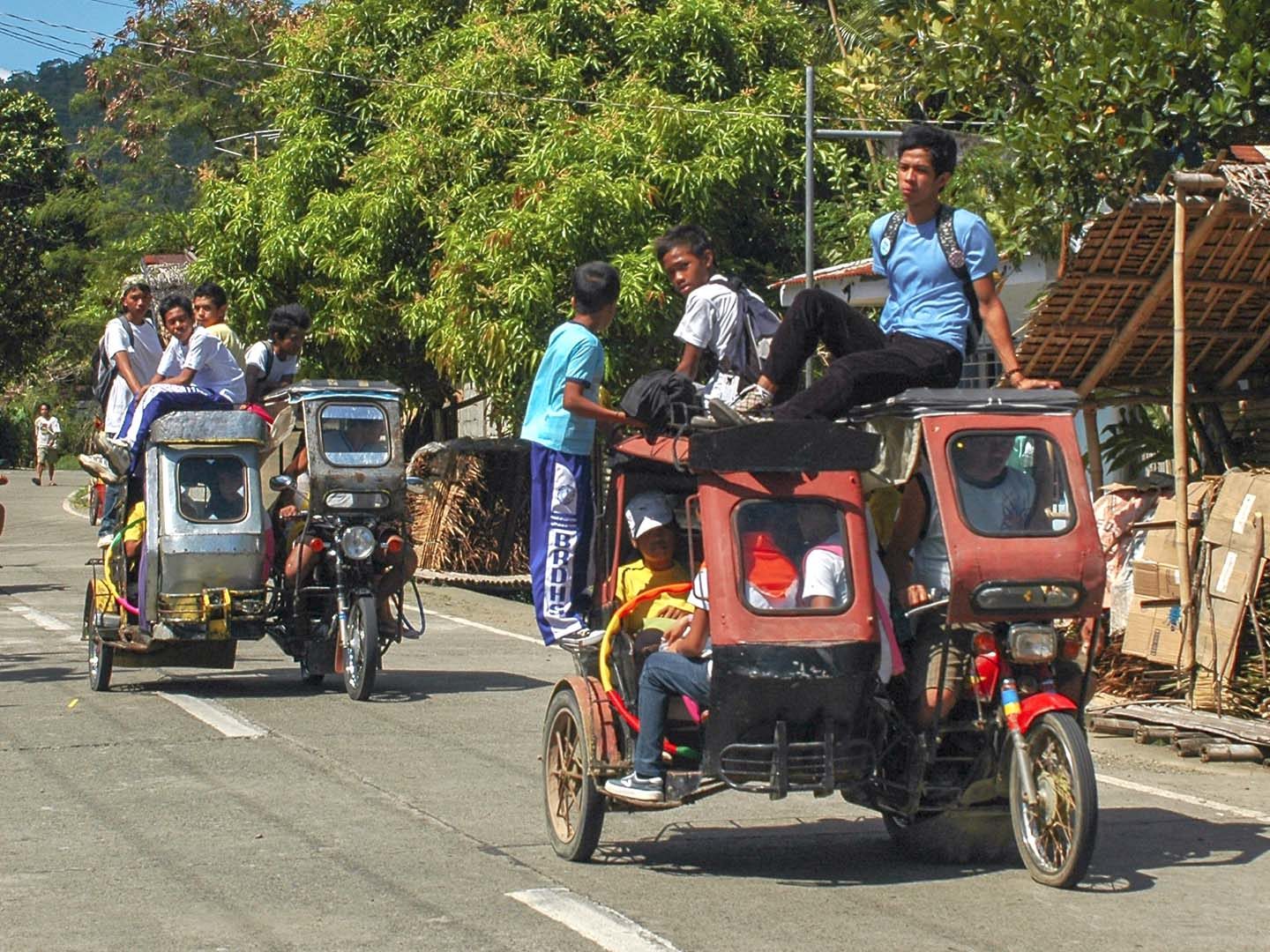 If you want to travel sustainably, you can lessen your carbon footprint by using public transportation instead of hiring your own vehicle. Use a bicycle or do a walking tour to get to know a city. If the destination is nearby, just walk instead of taking a public transportation. You'll burn off those calories too from all the lechon or kakanin you have been indulging.
---
3. Stay in Eco-friendly Accommodations
Whether you're a backpacker or a luxury traveler, there are many available accommodations in the Philippines. However, not all of them might be eco-conscious. Before booking your hotel do your research to check which hotel practice sustainability.
Be careful of establishments that may be greenwashing or claiming to be eco-friendly. Check what their sustainable policies are and how they are practicing sustainability before booking with them.
---
4. Treat your accommodations like it is your own home.
When traveling sometimes we want to feel pampered or luxurious. After all, we are taking a break from the stresses of life. Indulge when you can but also be aware of your consumption. So my fourth tip for sustainable travel in the Philippines is to treat your temporary place like your own home.
When you are at home, you don't really use fresh towels every day. You can ask housekeeping to tidy up your room without changing the towels. If you're leaving your hotel room or your Airbnb, don't leave the television, lights or air-conditioning running.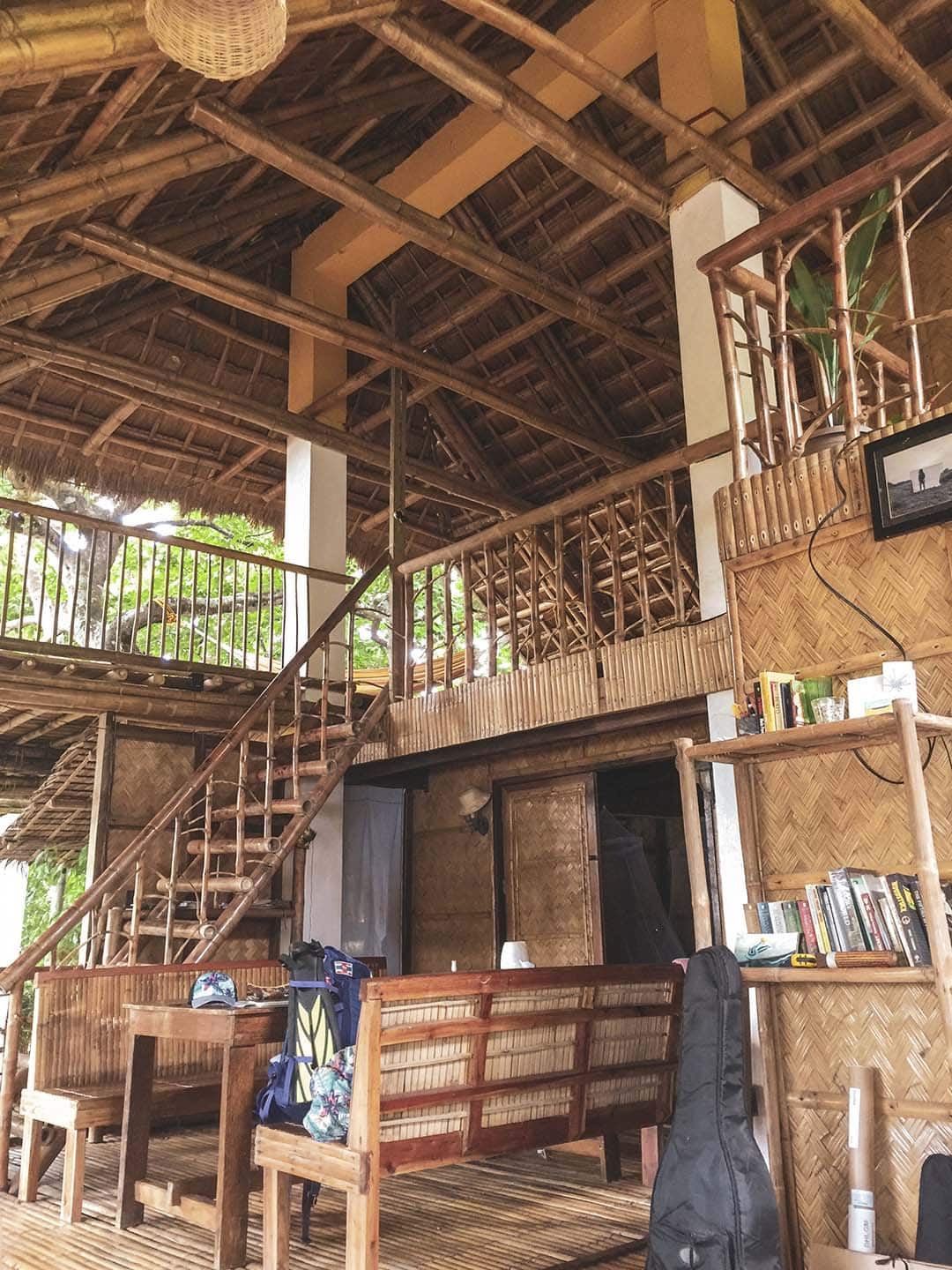 Conserve electricity and water. Turn off everything when not in use. (Unless, of course, that's not how you do it at home. Then you should really rethink your habits.)
---
5. Bring your own eco-friendly products.
There is nothing more Filipino than going to a hotel and putting all the complimentary items like soaps, shampoos, sewing kit, into our luggage. Whatever we can get for free, we take them! Am I right?
I know I'm guilty of doing this. In fact, in the past, I made sure I get all the freebies and have housekeeping re-fill them so that I can take those home too. I mean you did pay for it anyway. When I realized that these tiny bottles were just going to end up in the trash after one use, I stopped my hoarding habits and brought my own supplies. Nowadays I bring my own zero waste shampoo and conditioner.
If you have no choice but to use the complimentary toiletries, make sure to take home any leftovers. You can use up the remaining contents, as hotels normally throw them out if they're partially used. Repurpose or re-use the bottles if you can.
Another thing you can do is make sure the products you are using are eco-friendly as well. Buy zero waste reef-safe sunblock especially if you'll be spending the day in the ocean. Use organic products so it is less harmful to our earth. I highly recommend you put together your own zero waste travel kit.
Here is a list of sustainable lifestyle stores in the Philippines you can visit for your organic product needs.
---
6. Support environmentally-aware, local businesses or tour operators
One of the best ways to get to know a place you are visiting is by joining tours and doing activities. Hire individuals or companies that you know will do good to our planet.
Want to learn more about the underwater world? Why not join Reef Nomads in their skin diving tours. Or you can join a marine and wildlife camp in Danjugan Island so you can learn more about conservation.
Check out this cool concept of touring Intramuros on a bamboo bike! Or join a TAO expedition– a sustainable island-hopping tour around Palawan.
If you are going scuba diving, check if the dive shop has a good record when it comes to protecting and conserving marine life and our reefs. Choose businesses affiliated or accredited by environmental organizations like Greenfins. You would be surprised how some dive shops or tour operators do not strictly enforce conservation practices.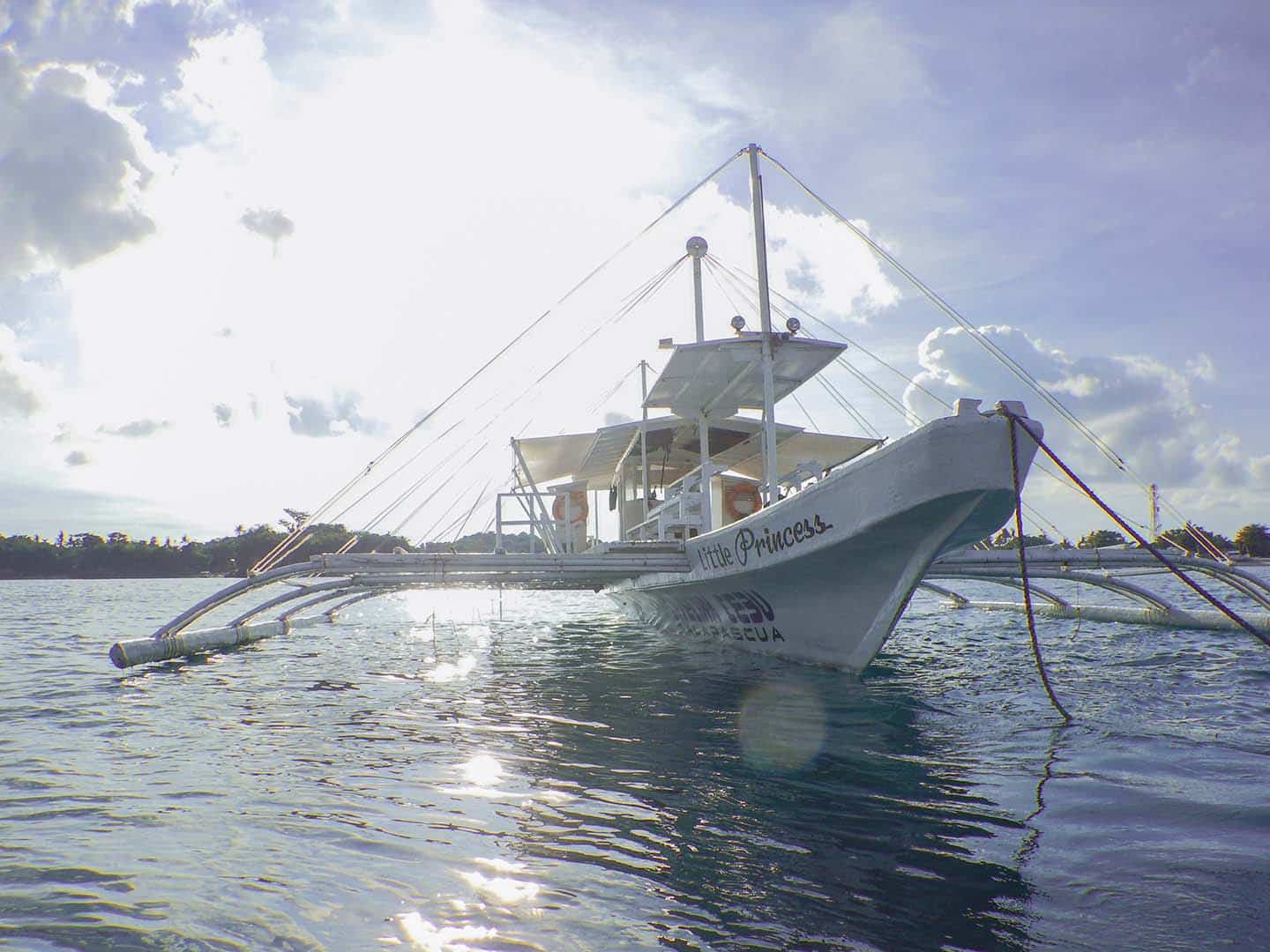 ---
7. Participate in Eco-friendly Activities
One of my favorite tips for sustainable travel in the Philippines is participating in eco-friendly activities. As a scuba diver, I treat each dive an underwater cleanup activity.
When I went to scuba dive in Anilao and Romblon, I was able to pick up a good number of plastic waste from the oceans. I know that a lot of scuba divers do the same in their dives.
If you're not into scuba diving, you can join beach cleanups organized by different groups. Join Plastic-free Boracay or Plastic-free Bohol beach cleanups if you find yourself in their islands.
No, cleanup drives on your island? Then do your own cleanup. Find an activity that you like. It could be anything, like hiking up a mountain or trekking to a beautiful waterfall. Then, just grab a sack or trash bag aka your Adventure Bag. The idea is you fill it up with trash as you go on your adventure.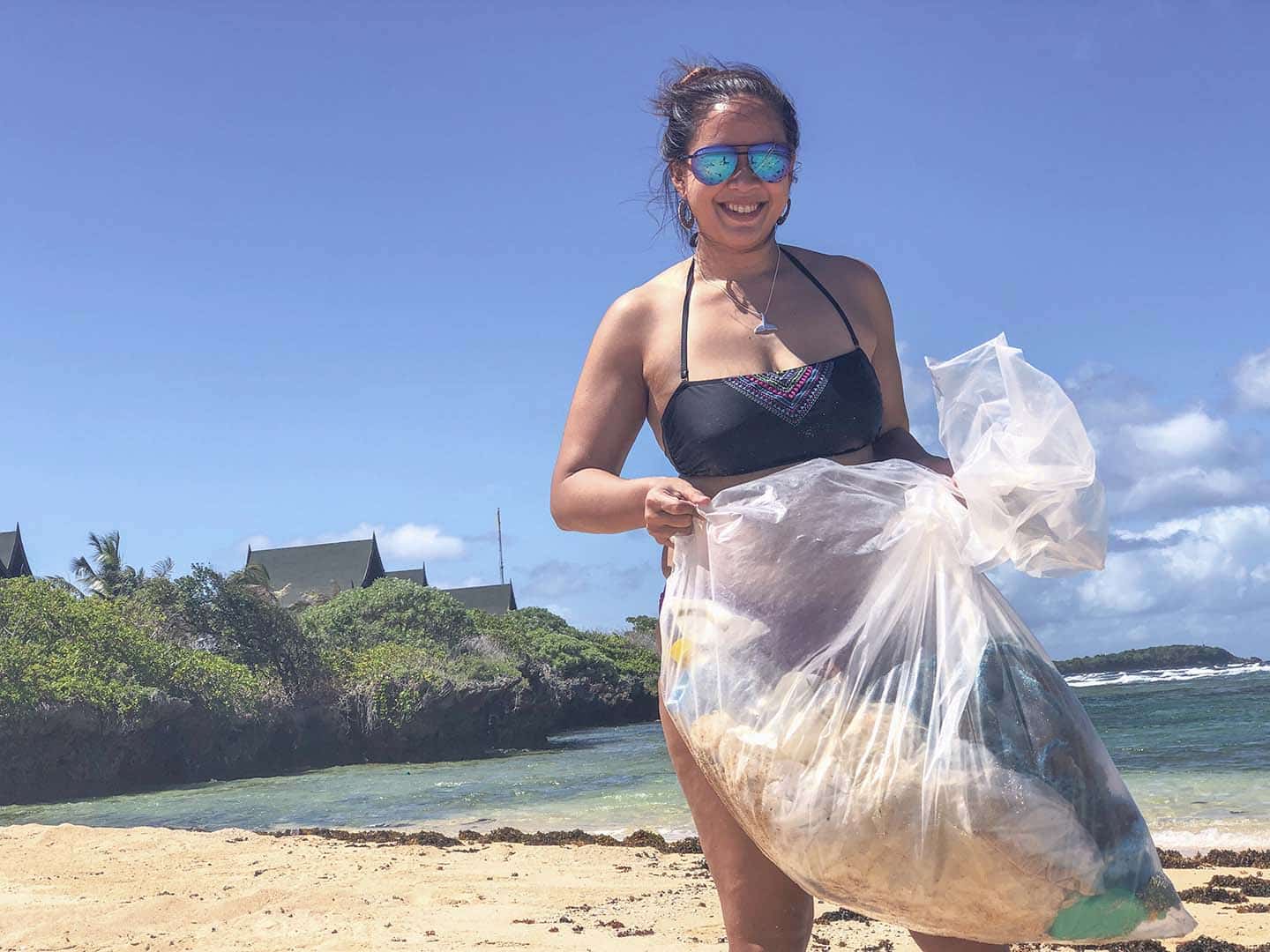 ---
8. Volunteer in an Non-Government Organization (NGO)
Back in 2013, I spent 1 month in Southern Leyte volunteering in a marine conservation Non-Government Organization (NGO) called, Coral Cay Conservation. Volunteering is one of my favorite experiences while traveling.
I also joined a 2-week volunteer program with Marine Conservation Philippines. I highly recommend it especially if you enjoy traveling and doing good at the same time.
There are multiple NGO's in the Philippines that you can give your time and talents to. LAMAVE focuses on research and conservation of marine megafauna and the marine environment in the Philippines. Balyena focuses on humpback whale research. These are just a few groups you can volunteer in if you are traveling the Philippines sustainably.
---
9. Never feed or touch wildlife
In my opinion, this tip for sustainable travel in the Philippines is one that is often ignored. Sometimes it is even the locals themselves who participate in feeding and touching wildlife just to amuse tourists or earn a bit more income. Unfortunately, it is because they are ignorant of the negative effects this has on the ecosystem.
One of the tour activities I often see is fish feeding. Stay away from tour operators that bring bread to attract schools of fish. Feeding can change the behavior of marine species, making them reliant on humans. This can also make them sick since bread is not the natural food of fish.
Another thing to avoid is stepping or touching corals when snorkeling or scuba diving. Corals are actually animals and stepping on them can harm them. They play an important role in the reef's ecosystem so make sure you keep your distance.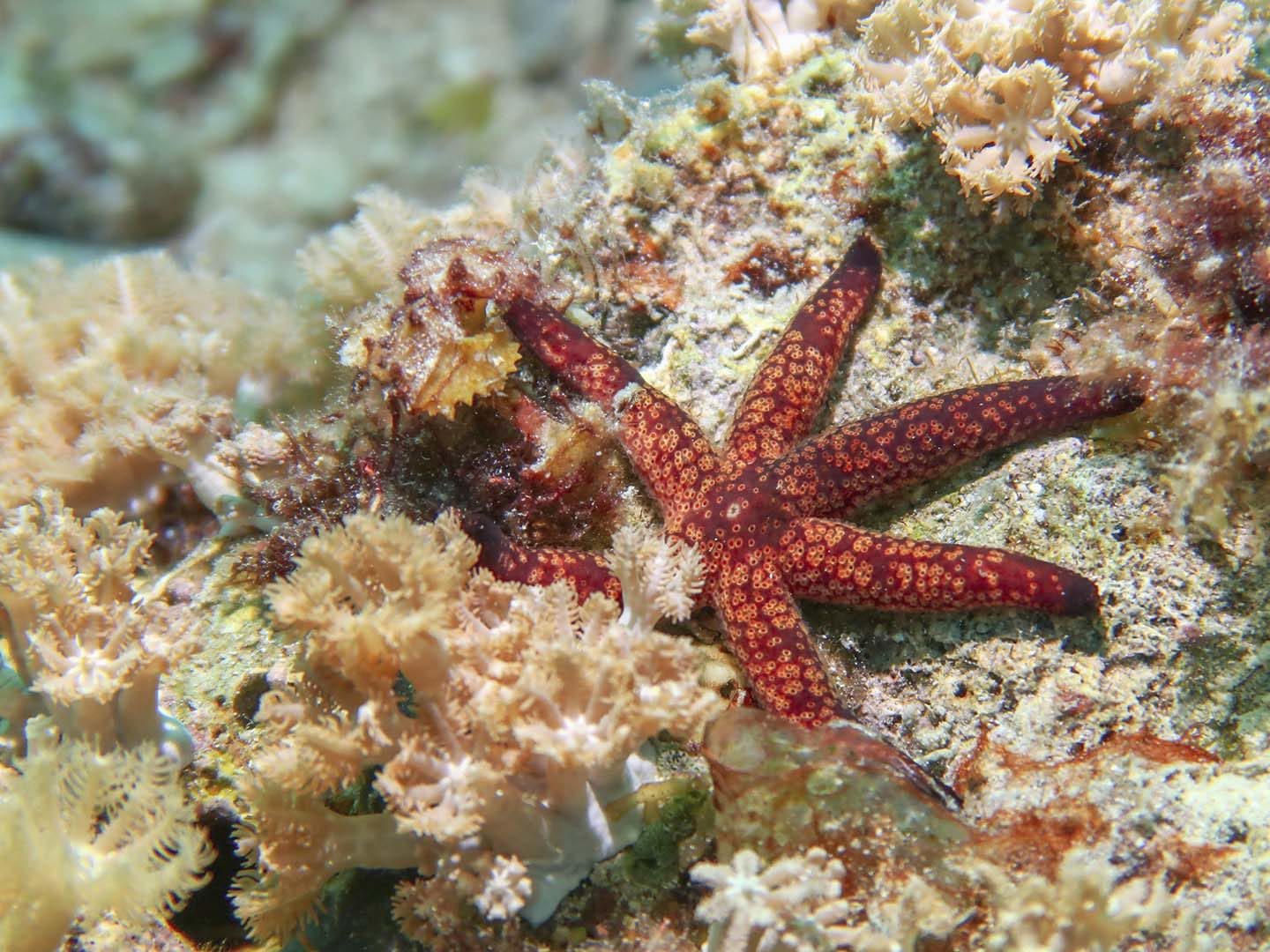 Touching marine animals can stress them out and eventually kill them. And besides, you never know, you might end up touching a venomous marine animal that could kill you too.
Read: Dangerous sea creatures in the Philippines.
---
10. Buy sustainably-made pasalubong.
Filipinos love buying pasalubong or souvenirs. If you're the type who loves buying presents for friends and family back home, make sure that what you buy is sustainably made.
The Philippines has so many artisans. You'll find weavers, painters, crafters, jewelry makers across different regions. So another tip for sustainable travel in the Philippines is to buy your pasalubong from local makers and crafters. Buying from them helps the local economy.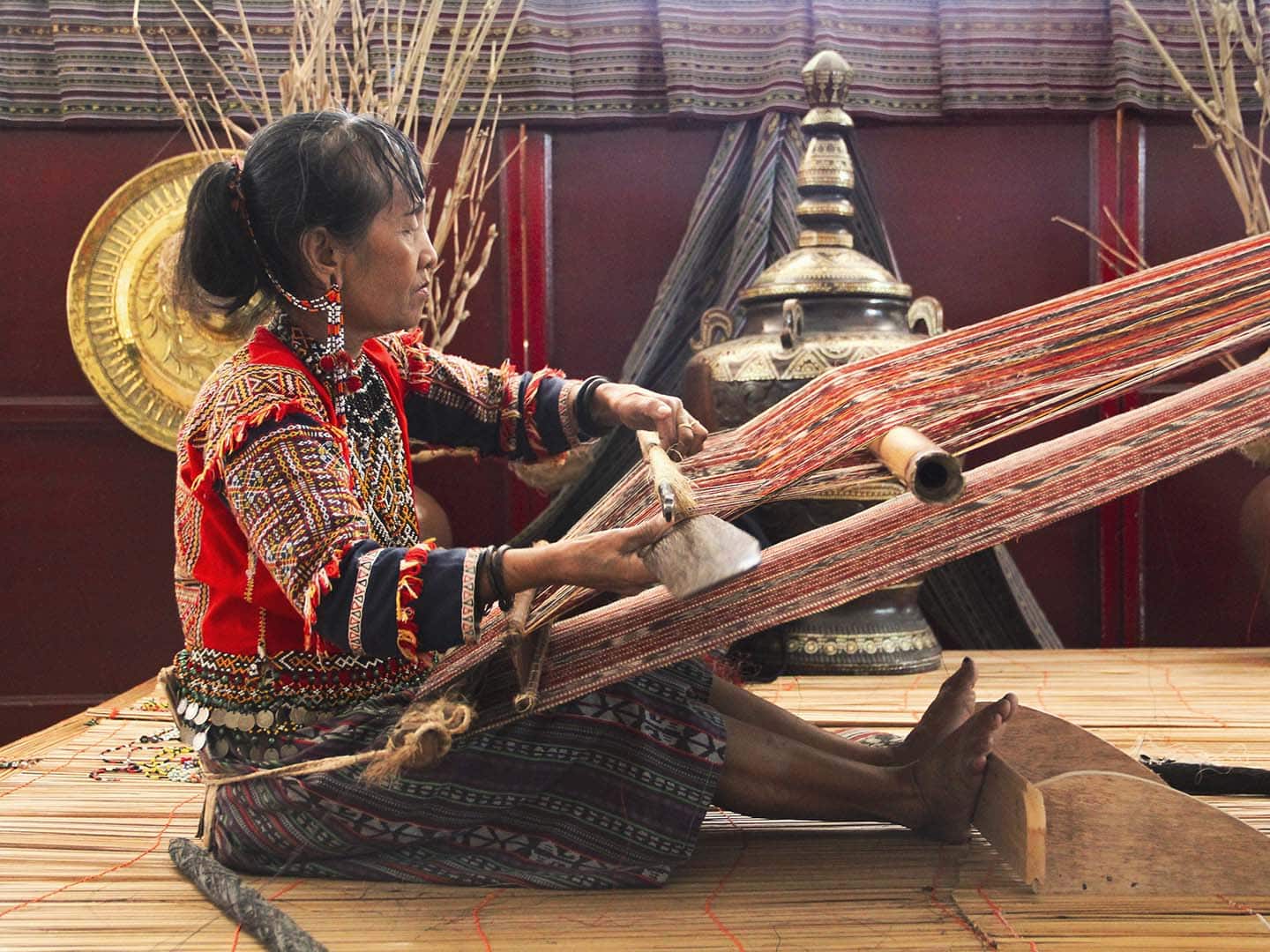 Personally, I like buying food as pasalubong as it's a good representation of the place I visit. And, I have a big family so I need to bring home something everyone can enjoy.
Do not buy anything made from endangered plants or animals. When you buy, you are encouraging the sellers to take rare plants or kill more animals just for profit. Not only is this bad for the environment, but you can also get imprisoned for this.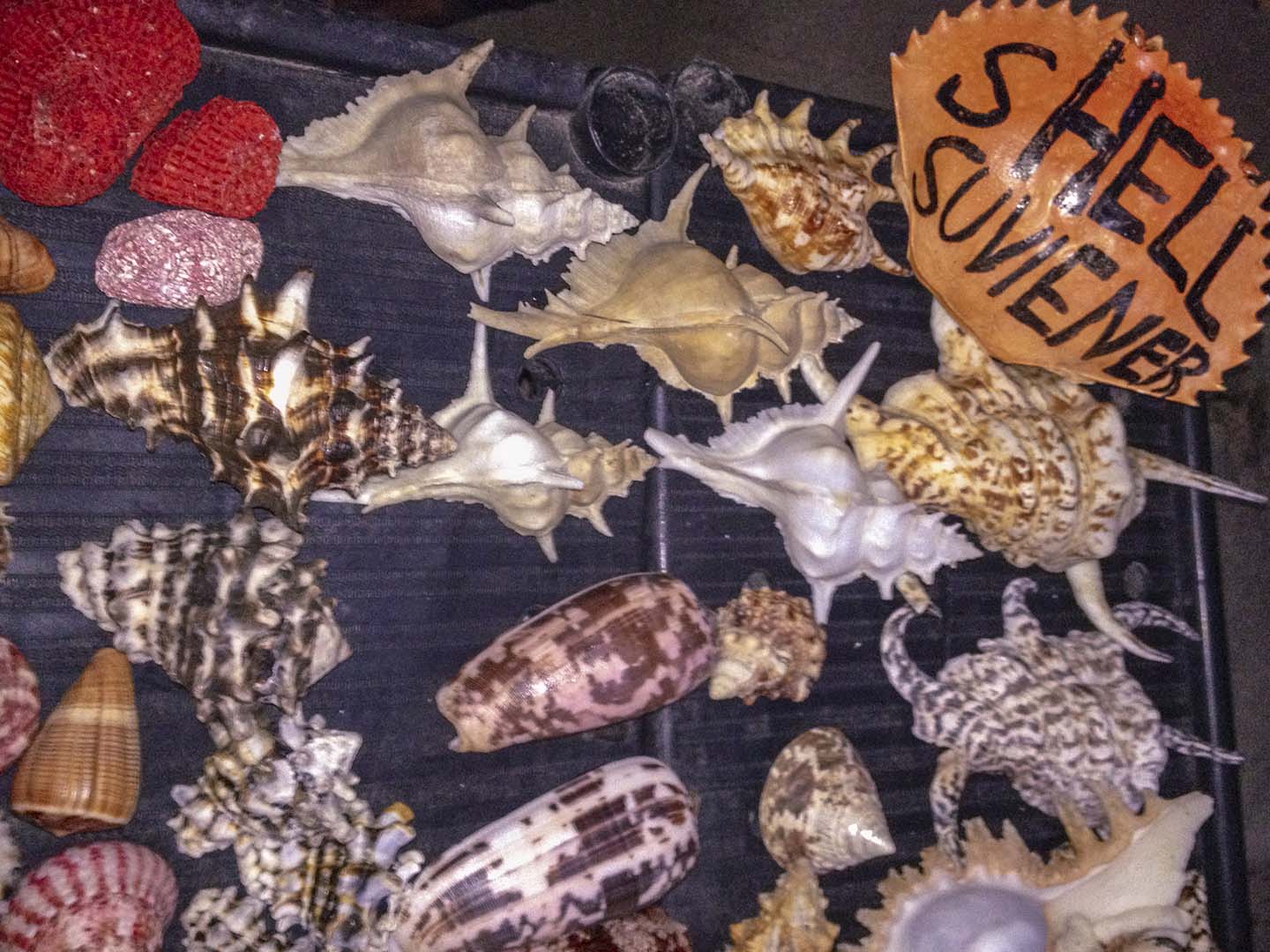 ---
11. Make meaningful connections
The traveler was active; he went strenuously in search of people, of adventure, of experience. The tourist is passive; he expects interesting things to happen to him. He goes 'sightseeing."

Daniel J. Boorstin
I have been both a tourist and a traveler in the Philippines. And I noticed that my favorite trips were the ones where I made meaningful connections with the locals. I am a bit of an introvert so sometimes I just want to be on my own. But when I open myself to connect with people in my travels, most often those encounters become the most memorable part of the journey.
When you hear about how a mother of 3 became a tour guide for the additional income or how a former fisherman learned to scuba dive to become a dive guide instead, you feel more invested and connected to a place. It is stories like these that change the way we see the world. It enriches our lives and creates a positive impact on us.
I personally believe that this is one of the important and achievable tips you can follow for a more sustainable travel experience in the Philippines. So, see a destination through a local's eyes. Travel the Philippines not just to sightsee but to experience the culture and its people as well. Talk to strangers and make them your friends.
When you get to know a place through its people, it is more likely that you recommend it to other travelers. Having these ties will make you want to give back, support the community and improve their lives.
---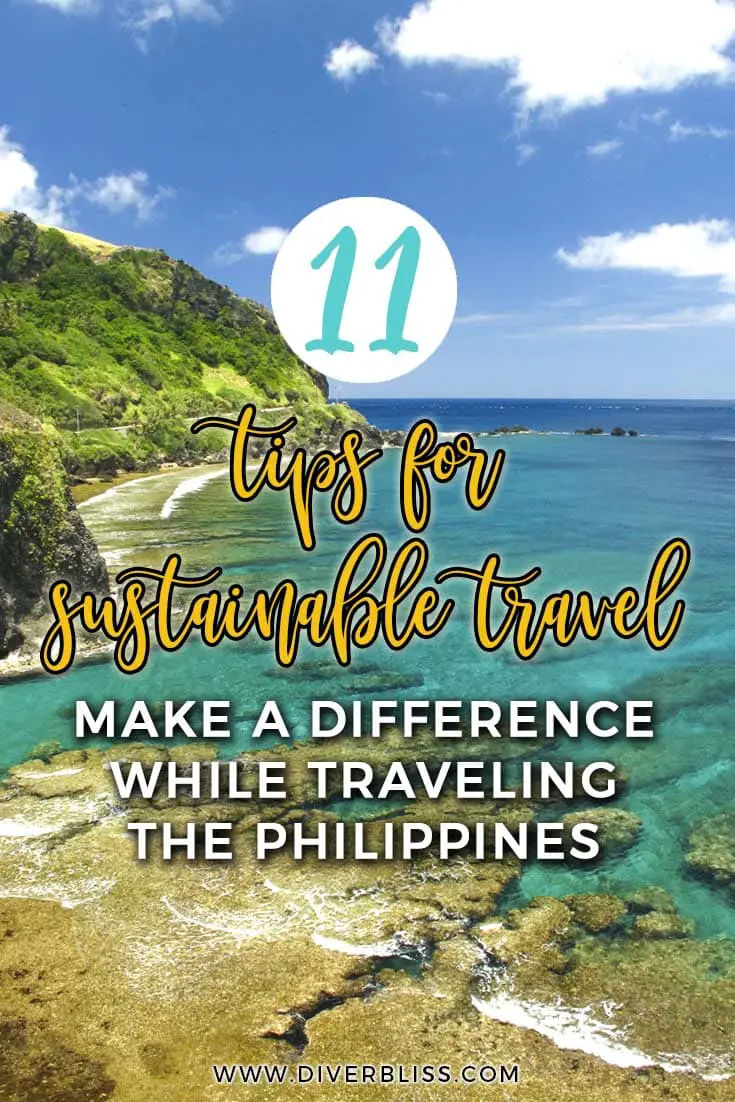 Traveling the Philippines should not just be about having fun, but it is also about making a difference. It is our responsibility to travel our country world in a sustainable way. If we want to see a thriving and healthy planet we should do our part as travelers. Let us remember that we are mere visitors on this earth. And wherever we go we should try to leave it as we have found it or leave it in a better way.
Do you have additional tips for sustainable travel in the Philippines? Leave a comment below!