Disclaimer: Some of the links in this post are affiliate links, meaning, at no additional cost to you, I will earn a commission if you click through and make a purchase. 
Are you visiting the Philippines for the first time? I've created this guide to help you prepare for your trip to the Philippines. This article is loaded with helpful information and tips about travel and scuba diving in the Philippines.
Geography
The Philippines is an archipelagic country composed of 7,641 islands. It is situated in South East Asia. Its neighboring countries are Indonesia on its southern side, Vietnam on its west side and Taiwan on the north. The pacific ocean is directly on its eastern side.
Within the Philippines, you will find beautiful mountains, active volcanoes, countless waterfalls and rivers, tropical rainforests and, of course, islands with the most beautiful beaches and coral reefs. These unique features allow for rich biodiversity within the ecosystems found on land and in water.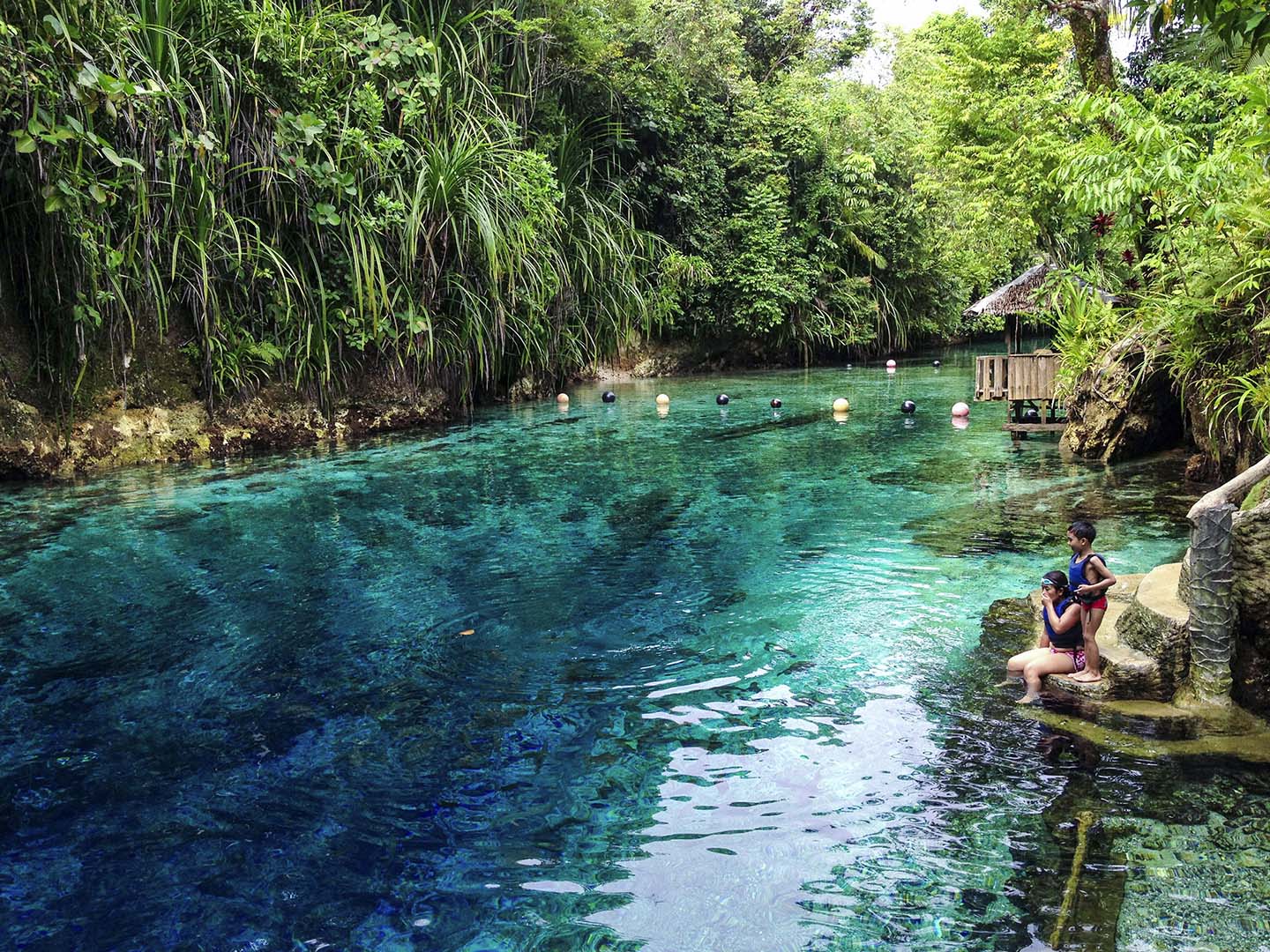 The Philippines has much to offer to travelers and it is simply waiting to be explored and discovered.
Read: Most Insta-worthy Places in the Philippines
---
Traveling to the Philippines
Covid-19 Safety Travel Protocols
As of February 10, 2022, the Philippines will be accepting foreign travelers to enter the country for tourism purposes.
The new guidelines issued by the IATF allows Covid-19 vaccinated foreign visitors coming from 157 visa-free countries to enter the country without the need to stay in a quarantine facility. The following requirements must be met:
Present an acceptable proof of vaccination
Have a negative RT-PCR Test Taken within forty eight hours (48 hours) before the date and time of departure from the country of origin
 Have a valid tickets for their return journey to the port of origin or next port of destination not later than thirty (30) days from date of arrival in the Philippines 
 Passports valid for a period of at least six (6) months at the time of their arrival to the Philippines 
 Travel insurance for COVID-19 treatment costs from reputed insurers, with a minimum coverage of USD 35,000 for the duration of their stay in the Philippines 
Due to the ever-changing Covid-19 safety protocols, please check the latest Department Tourism advisories.
Immigration and Visa Requirements
The Philippines is one of the easiest countries to visit in terms of visa requirements.
For business and tourism purposes, some nationalities are allowed to enter the Philippines without needing a visa for as long as your visit does not exceed thirty (30) days. You must also show a valid return or next port of destination ticket, and your passport must be valid for a period of at least 6months beyond the contemplated period of stay.
Some countries might have exemptions like citizens of Brazil and Israel can stay up to 59 days. For more details, you can check out the Department of Foreign Affairs website.
For people who want to stay longer and retire in the Philippines to keep diving there is a Philippines retirement visa.
International Airports
There are several airports for international flights to the Philippines. Depending on where you are coming from and where you are heading Ninoy Aquino International Airport (NAIA) in Manila or Mactan Airport in Cebu are the most frequently used port of entry for flights.
The other international airports in the Philippines are in Iloilo, Bohol, Clark (Pampanga), Bacolod, Davao, General Santos, Kalibo. These airports have served international destinations currently or in the past.
Once in the country, there are smaller airports that cater to some of the provinces. These are the three major airlines that fly internationally and within the Philippines:
The minor/ boutique airlines that travel within the Philippines are:
Tip: If you are arriving or departing from Manila, expect delays due to air traffic. Take this into consideration when you are booking connecting flights that will be going in or out of Manila airport.
---
Traveling within the Philippines
Weather and Climate
The Philippines only has two seasons- wet and dry season.
Situated at the west side of the Pacific ocean, the Philippines is basically in the path of any typhoon that is formed in this largest body of water. This usually occurs from June to October.
November to May is the dry months. This is the best time to visit the Philippines as this is the sunniest, driest and warmest time of the year. Summer (when school is out) is April and May so these months are also peak season for tourist spots especially for families on vacation.
Language
Filipino is the official national language of the Philippines. The language is based on Tagalog, a dialect which originated in the central and southern part of Luzon. Although most Filipinos can understand this, the rest of the Philippines have their own dialects depending on their region. Some speak Ilocano, Bisaya, Waray, Kapampangan, among many others.
Having been colonized by the Americans for 50 years, the English language was easily embraced by Filipinos. Today, the Philippines is recognized as one of the largest English speaking nations. If you are an English speaker you can easily travel the Philippines as it is spoken by more than 14 million Filipinos.
Majority of Filipinos speak Taglish which is basically combining Tagalog and English words to form sentences.
Money
The currency used in the Philippines is Peso (Php). One peso is broken down into 100 Centavos. Coins come in 5, 10, 25 centavos. Php1, Php5 and Php10. Notes or bills are in the denominations of 20, 50, 100, 200, 500 and 1000 pesos.
For easy conversion, it is roughly PHP50 to USD1. You can check your currency conversion here.
Although credit cards are accepted, in the Philippines, cash is still king. If you are traveling in remote areas, it is recommended that you have cash on hand as not all establishments have credit card systems. Some provinces do not have ATMs, moneychangers or banks so check beforehand what the facilities are available before going to an island.

Tipping isn't mandatory but it is always appreciated. Some restaurants might add a service charge but if you are feeling generous you can leave an extra tip for the waitstaff. Feel free to tip your tour guides or hired drivers if you are happy with their service.
Getting Around
Depending on how adventurous you are, there are several modes of transportation you can take while traveling the Philippines. Unfortunately, most public transportation are very inefficient.
Grab cars and taxis
Once you arrive in Manila or Cebu using Grab (our country's version of Uber) is the safest and reliable choice to get around. You can easily download the app and use your credit card or cash to pay.
Taxis are available in major cities but be careful of drivers who might scam or overcharge you. Insist that they use the meter so you get charged correctly.
For your convenience, you can also rent for private cars in major city. Book here for Manila private car charters.
Jeepneys and Buses
The jeepneys or buses are also a popular mode of transportation. Although cheap, it also may take longer to go to your destination. They follow a specific route and make stops anytime to pick up or drop off passengers.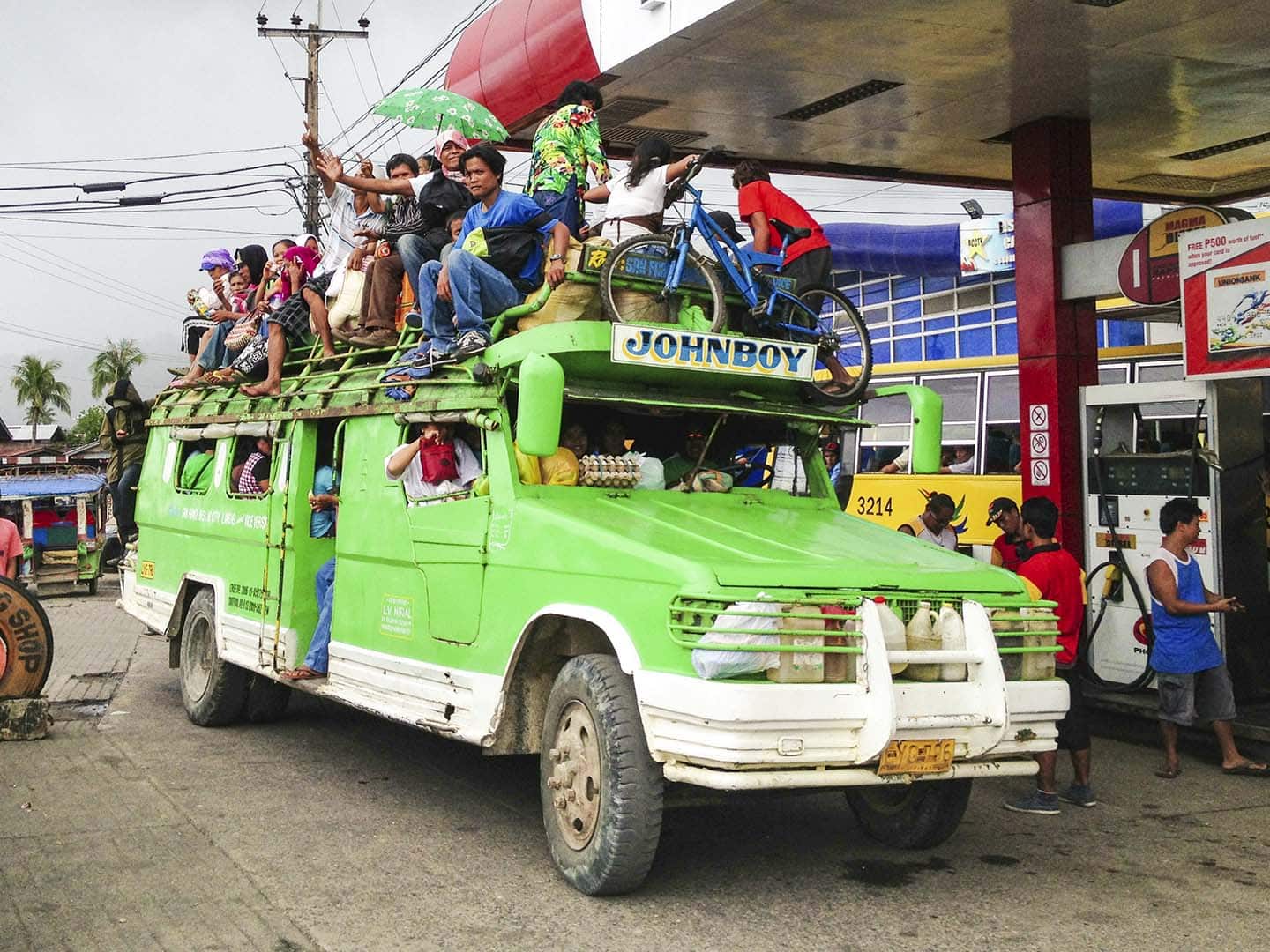 Tricycles and Motorcycles
Tricycles are alternative modes of transportation, especially in provincial areas. You can tell them to drop you off at specific addresses. Although tricycle can be shared among passengers, you can also hire the trikes exclusively.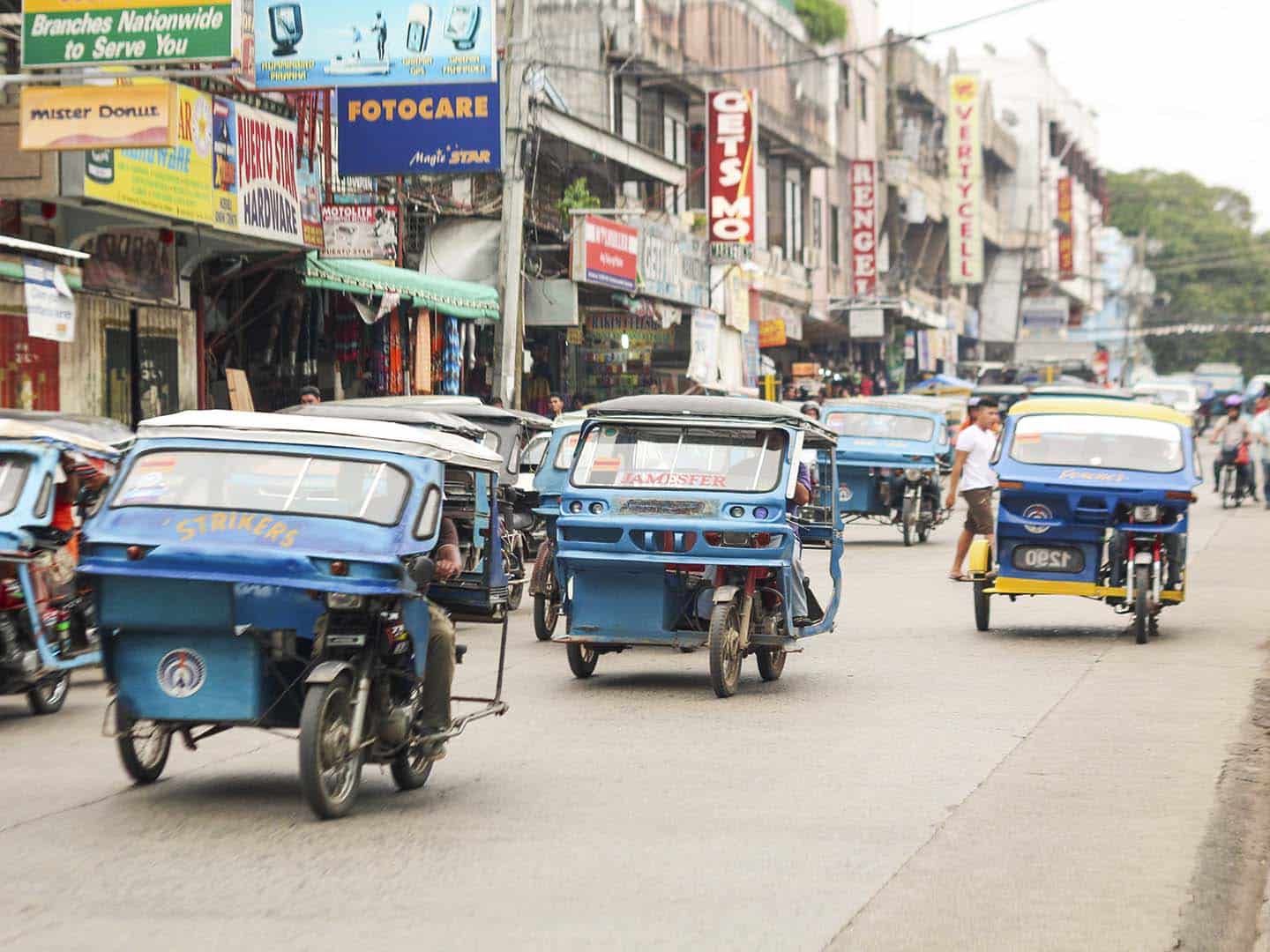 Riding at the back of motorbikes, locally known as "habal-habal" is a common practice especially in the provincial areas. However, I would not recommend this as they usually do not provide helmets for passengers.
In some popular tourist destinations, you can also rent motorbikes for the day. Make sure you have the proper licenses and the registrations for the motorbikes are up to date to avoid issues with law enforcers.
Ships, Ro-Ro, Ferries, Banka
With over 7000 islands, you are most likely to ride a boat at one point in your travels within the Philippines. Most locals use bankas (wooden boats with outriggers) when they need to go from one island to another as this is cheaper than riding an airplane. At the same time, not all provinces have airports so sometimes the easiest way to travel would be to take a boat from one port to another.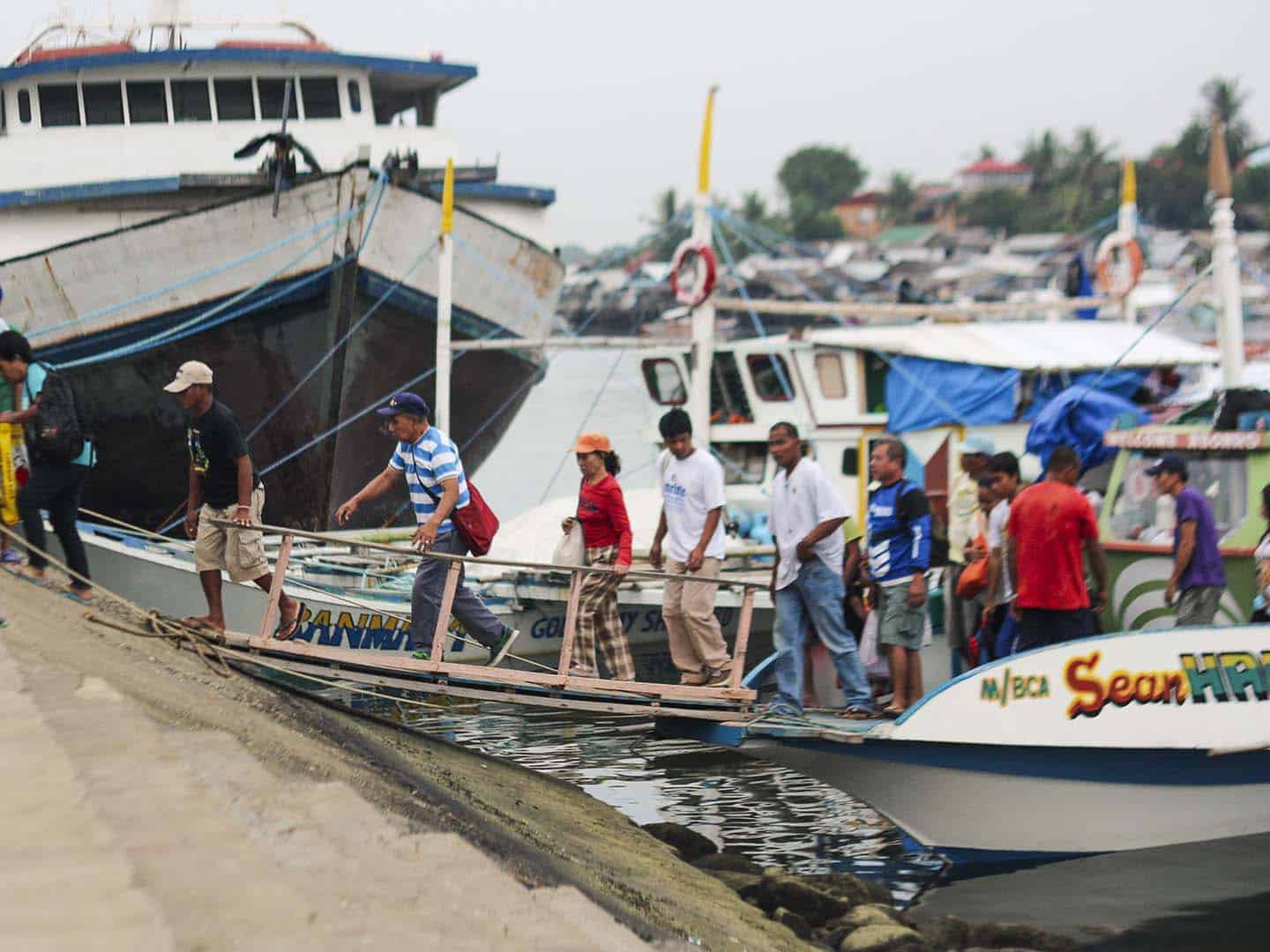 Schedules always change and often are not on time. So to be safe, always ask the locals what the updated schedule is. If you are following a strict schedule, be prepared for contingencies in case trips get canceled due to bad weather.
Check here for tickets to your next Philippine destination.
Internet and Communication
The Philippines has one of the slowest internet connectivity in Asia. Mobile signal can also be intermittent due to limited cellular towers and remoteness of some islands. Be prepared to disconnect from the rest of the world when you are traveling in the Philippines.
Most hotels and resorts have free wi-fi but doesn't guarantee speed and reliable connectivity. If you want your own data there are two major cellular companies that you can choose from- Globe or Smart. I personally use Globe and have not encountered any issues except for when I went to Apo Reef and both networks had no signal.
If your work or lifestyle requires you to stay connected all the time, acquiring both sim cards is easy and cheap. You can easily buy a pre-paid sim card which you can top up / put load as needed.
Upon arrival at the international airport, you can get your Globe SIM card so you're immediately connected to the local network.
Health and Wellness
Before traveling to the Philippines, make sure that you are updated with the necessary vaccines to lessen the risks of getting diseases during your stay. You can check this link on the recommended vaccines. https://wwwnc.cdc.gov/travel/destinations/traveler/none/philippines
Dengue is also a common disease you can get from a mosquito carrier. Take some mosquito spray/ lotion to lessen the chances of getting bitten by mosquitos.
If you plan to engage in sexual relationships, be a responsible adult and always use protection. Condoms and other forms of contraceptives might not be easily available in remote areas so always bring your own supply with you.
Once in the country, it is advisable that you stay away from dogs and cats especially if they are found roaming on the streets. They might carry rabies. Askal ("Asong Kalye" which means "dog from the streets") or Pusakal ("Pusang Kalye" which means "cat from the streets" are often not vaccinated. If you are scratched or bitten, seek medical attention.
Tap water (from the faucet) is not safe for drinking. Most resorts buy filtered water to serve their guests but if you are not sure where the water is from, it is best to just buy your own.
With the most recent Corona Virus outbreak, there have been confirmed cases in the Philippines. Proper hygiene and preventive measures should be practiced at all times. For tips on how to reduce chances of transmission, check out this guide made by the Philippine Tourism Department. For more information about COVID-19 in the Philippines, get updates from the Department of Health.
Please consider getting your own travel and health insurance that will allow you to return to your country and seek medical care wherever you are.
Electricity
In the Philippines, the power plugs and sockets are of type A and standard voltage is 220V. Major tourist areas have stable electrical connections but from time to time brownouts can occur. Some islands may run on generators and only supply electricity at night or when needed. Powerbanks are a must especially when traveling to remote places.
Shopping and Business Hours
Filipinos love shopping malls and you can find them almost everywhere in major cities. The mall is a favorite hang-out place. Most malls, stores, and restaurants are open every day except for some religious holidays like Good Friday or Christmas.
Want to support local sustainable businesses? Check out this article on 22 Sustainable Lifestyle Stores in the Philippines.
In provincial areas, sari-sari stores serve communities where malls or convenient stores like 7-11 are not available. Sari-sari means "different assortment" so you can pretty much purchase the basic supplies that a typical household would need.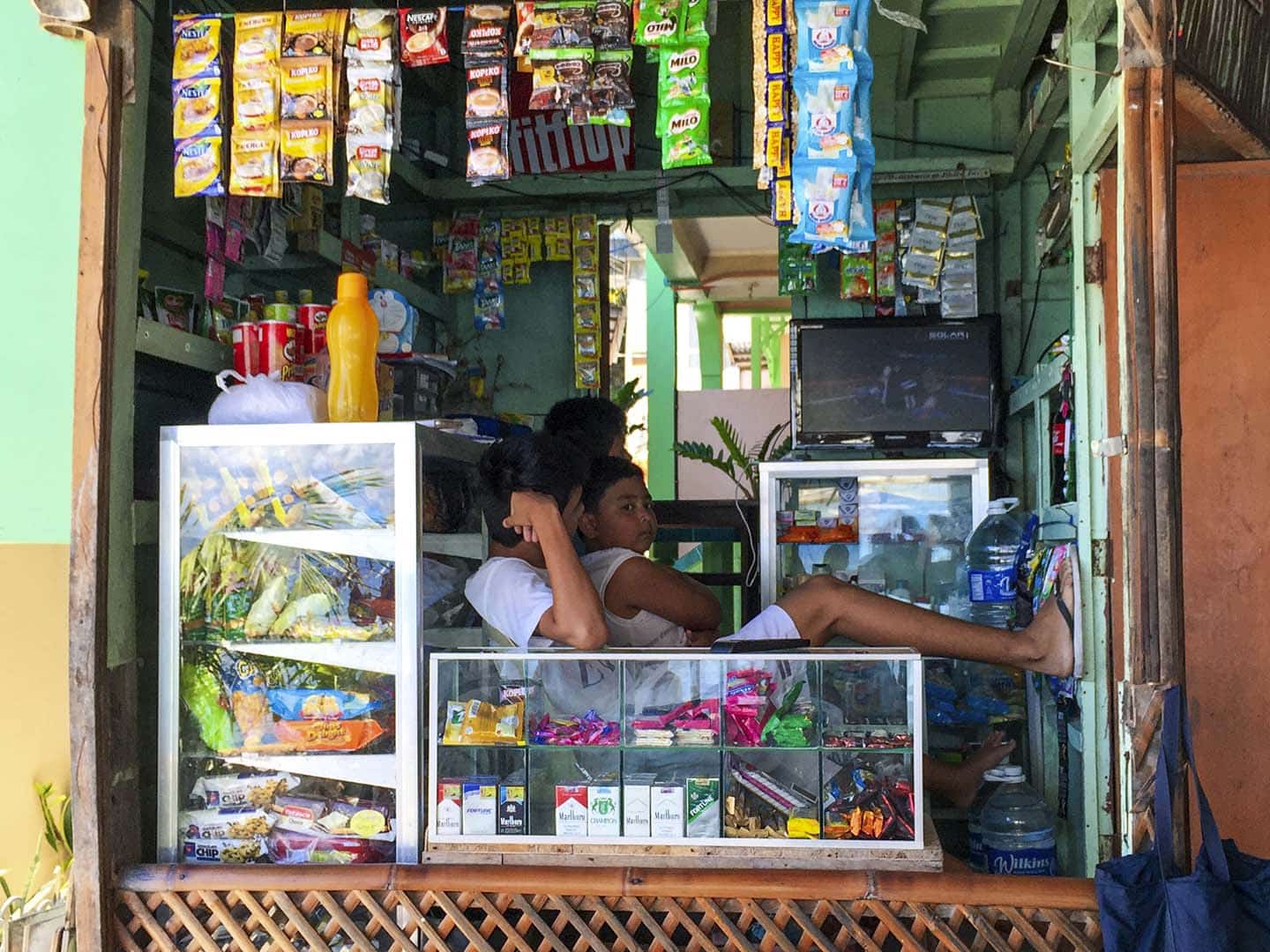 Accommodations
Whether you are backpacking the Philippines for three weeks or spending a luxurious weekend getaway on a secluded island, there are many available accommodations to choose from in the Philippines.
In provincial areas, it is very common to encounter homestays. They are simple and basic accommodations in a local's home. They are usually not registered in any booking site and they rely on word of mouth to get customers. I've encountered homestays that can go as low as Php250 per night.
Airbnb's are also available in certain locations. I highly recommend checking Airbnb as some individuals list their homes, hostels or boutique hotels there.
A lot of the hostels, hotels and resorts are listed in booking sites so this would be a good place to start when searching for a place that fits your budget.
Check Prices of Accommodations in the Philippines Here:
Crimes, Scams and General Safety
Illegal Drugs
In case you haven't heard, the current government administration has been on a "war against drugs". Police have been reported to go on raids and shoot any suspected dealers on the streets.
While marijuana might be acceptable for use in some countries, it is still illegal in the Philippines. If you recently visited a country where some drugs are legal, make sure to check that your luggage is drug-free before entering the Philippines.
Err on the side of caution and do not buy or use illegal drugs while in the Philippines.
Poverty and Crime
As someone who was born and grew up in Manila, I would say that travelers are generally safer outside of Manila. This is based on my experience of being pickpocketed while commuting and almost being held up in my own neighborhood! Poverty is so prevalent that crimes like theft or mugging are a common occurrence.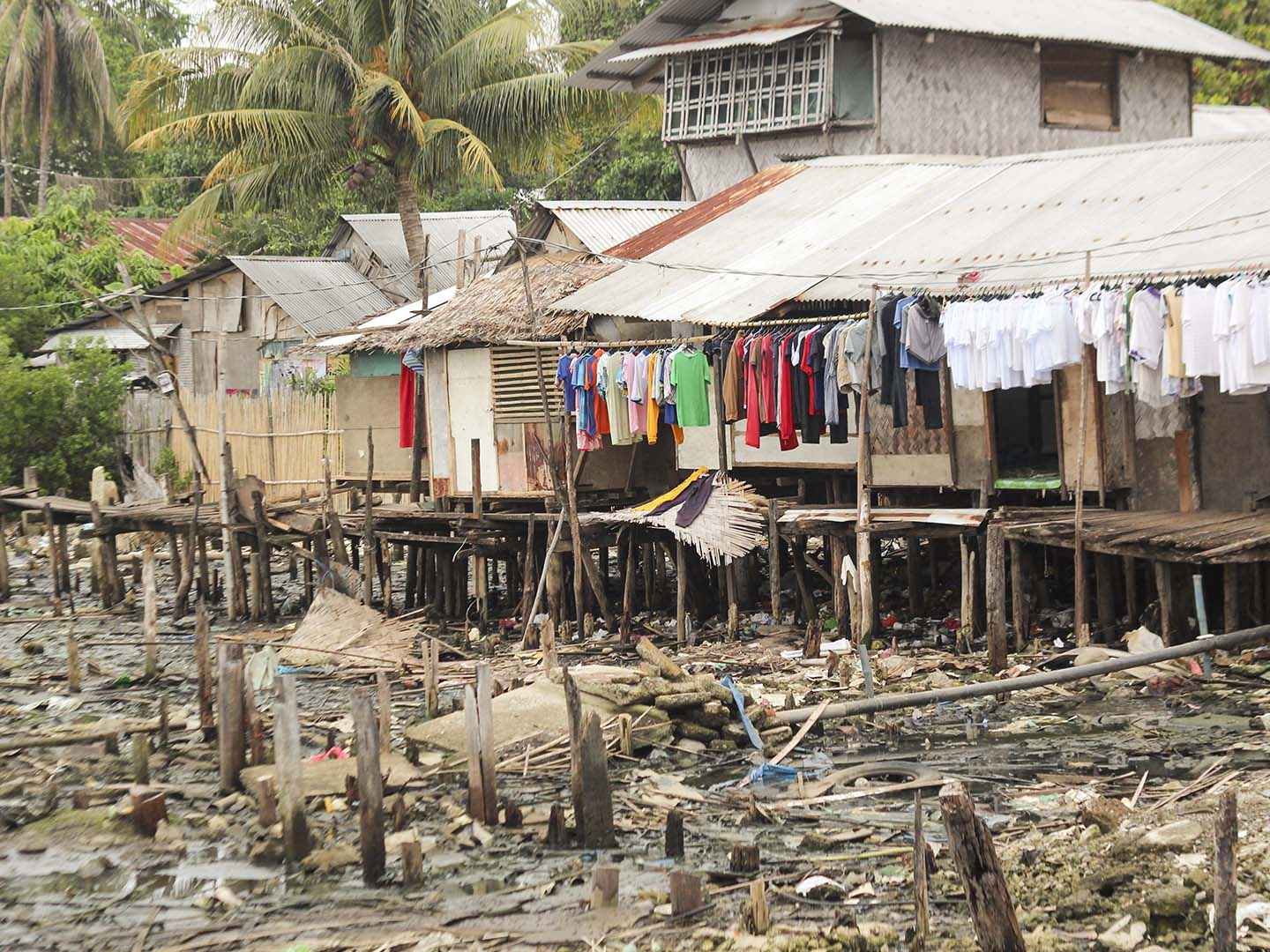 Regardless if you are in the city or province, do not leave your valuables unattended. Secure your bags with locks and always have them in sight. Lock your house or room doors. Avoid walking alone especially in dark streets and alleyways. Be aware of your own surroundings as you would normally do when you travel.
As mentioned previously, the government is cracking down on drug use and trafficking so best to avoid places and conditions that will put you in a precarious situation.
Like anywhere else in the world, there will be people who will either help you or take advantage of you. Just be on the lookout for common scams and tourist traps. Use your gut instinct and common sense.
Natural Disasters
Geographically the Philippines sits in what is known as the "Pacific Ring of Fire". This makes it prone to natural disasters like volcanic eruption and earthquakes.
It is also located west of the Pacific Ocean making it exposed to tropical cyclones all year round. On average, approximately 20 typhoons enter the Philippines Area of Responsibility.
Related post: 10 Sustainable Ways You Can Help when Natural Disasters strike in the Philippines
List of Emergency Hotlines in the Philippines
911 is the National Emergency Hotline.
Should you find yourself needing help from specific authorities while you are traveling the Philippines, below is a list of agencies you can call.
Country code of the Philippines is +63. (02) is the area code for Metro Manila and neighboring provinces.
If you are calling using a local Philippine mobile number, you can dial these numbers directly.
I've included some twitter accounts in case you want updates on weather, earthquakes, volcanic eruptions, floods, and other emergencies happening in the Philippines.
---
Filipino Culture
The Philippines prides itself on its beautiful islands but if there is one thing you will never forget when you visit the Philippines, it will be its people. The Filipinos have been known to be one of the most welcoming and friendliest people.
They love treating guests like family because family is a huge part of the culture. By the time you leave the Philippines, don't be surprised if you feel like you're leaving home.
Family
In the Philippines, family always includes the aunts, uncles, grandparents, cousins and honorary relations such as godparents, sponsors, and close family friends.
The family is the source of strength and influence among Filipinos. It is very common to find Filipinos putting their family first and making sacrifices instead of their personal needs. A lot of businesses are run by families and priority is given to family connections. Even in politics, you will see entire families in positions of power.
Religion
As a former colony of Spain, the majority of Filipinos belong to the Roman Catholic Church. Even if the Spanish left more than a century their religious influence is ingrained in Filipino culture.
Religion plays an important role in the lives of Filipinos. Most cities and towns in the Philippines have patron saints who are honored through festivals. Some important days that are significant to the religion are often declared public holidays.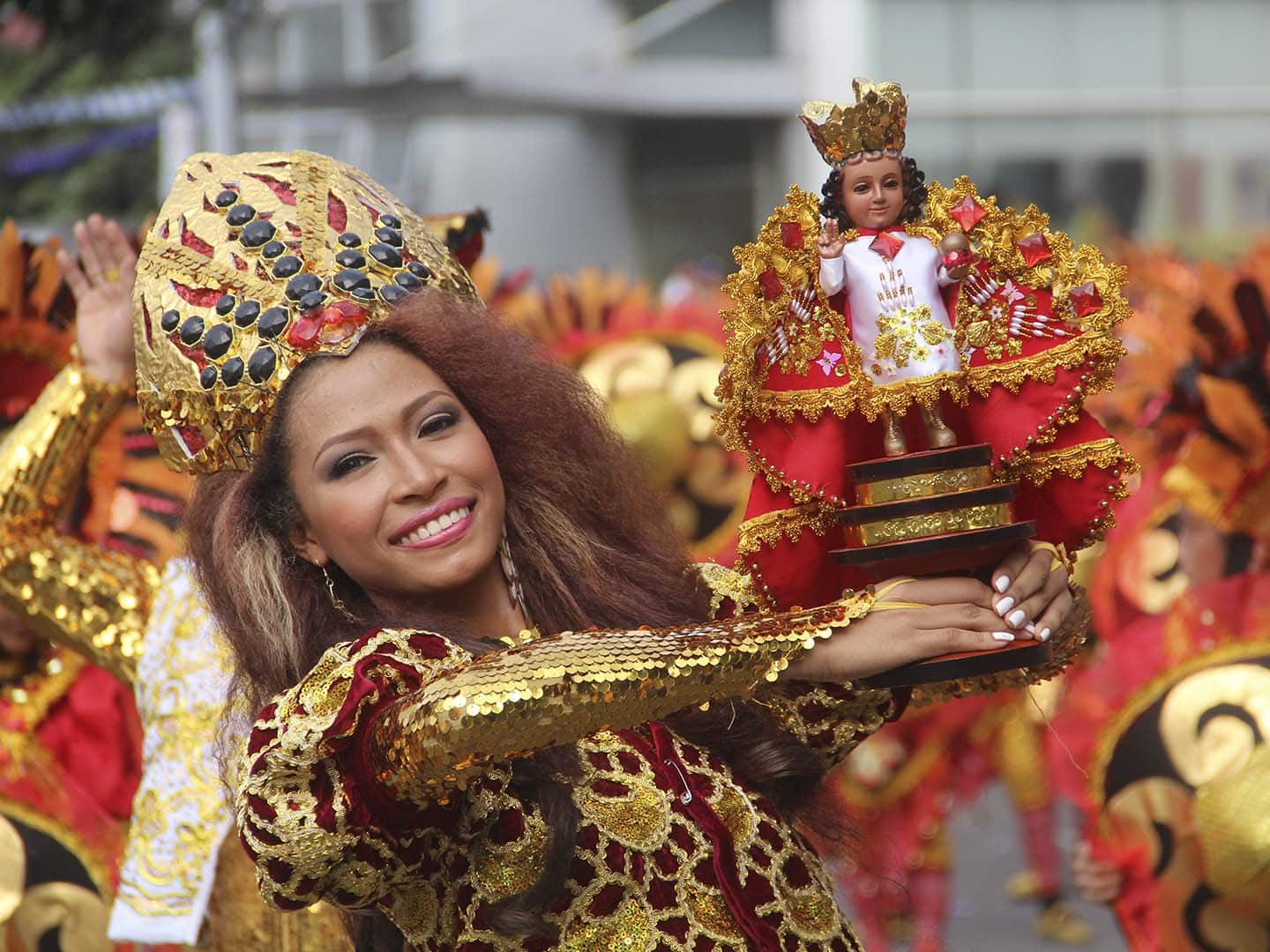 The Philippines is one of the few countries in Asia to have a Christian majority population. The second most practiced religion in the country is Islam.
Holidays and Gatherings All-Year-Round
Filipinos love celebrating all sorts of milestones and special occasions. Filipinos are friendly and so even if you have just met, don't be surprised if you get invited to someone's birthday party or their child's baptism.
There are at least 10 regular holiday and 9 special holidays declared each year in the Philippines. During this time work is suspended and Filipinos take this time to plan their vacation. Consider this when planning your vacation/ trip as most tourist destinations can easily get fully-booked. Some businesses also close during the holidays.
Dining and Food
Filipinos love to eat and celebrate around food. Regardless of how tough the times are, they will always find a way to prepare and share this blessing with others. If you are invited to a home, you will most likely be served a drink or a snack even if you decline.
Don't be surprised if a stranger says "Kain tayo!" which means "Let's eat!" right before they're about to have their meal. It is not rude to decline or accept the offer.
If you happen to be in a town fiesta, you can pretty much walk inside someone's home and they will give you a plate so you can enjoy a meal. Each province has its own specialty dish so if you are feeling adventurous do try the local dishes.
If there is one thing that is a staple in a Filipino meal, it is rice. We eat rice for breakfast, lunch and dinner. It is often paired with a dish that's made of meat or vegetables. Although there are vegetable dishes available, Filipinos love meat. If you are vegan or vegetarian your options might be limited.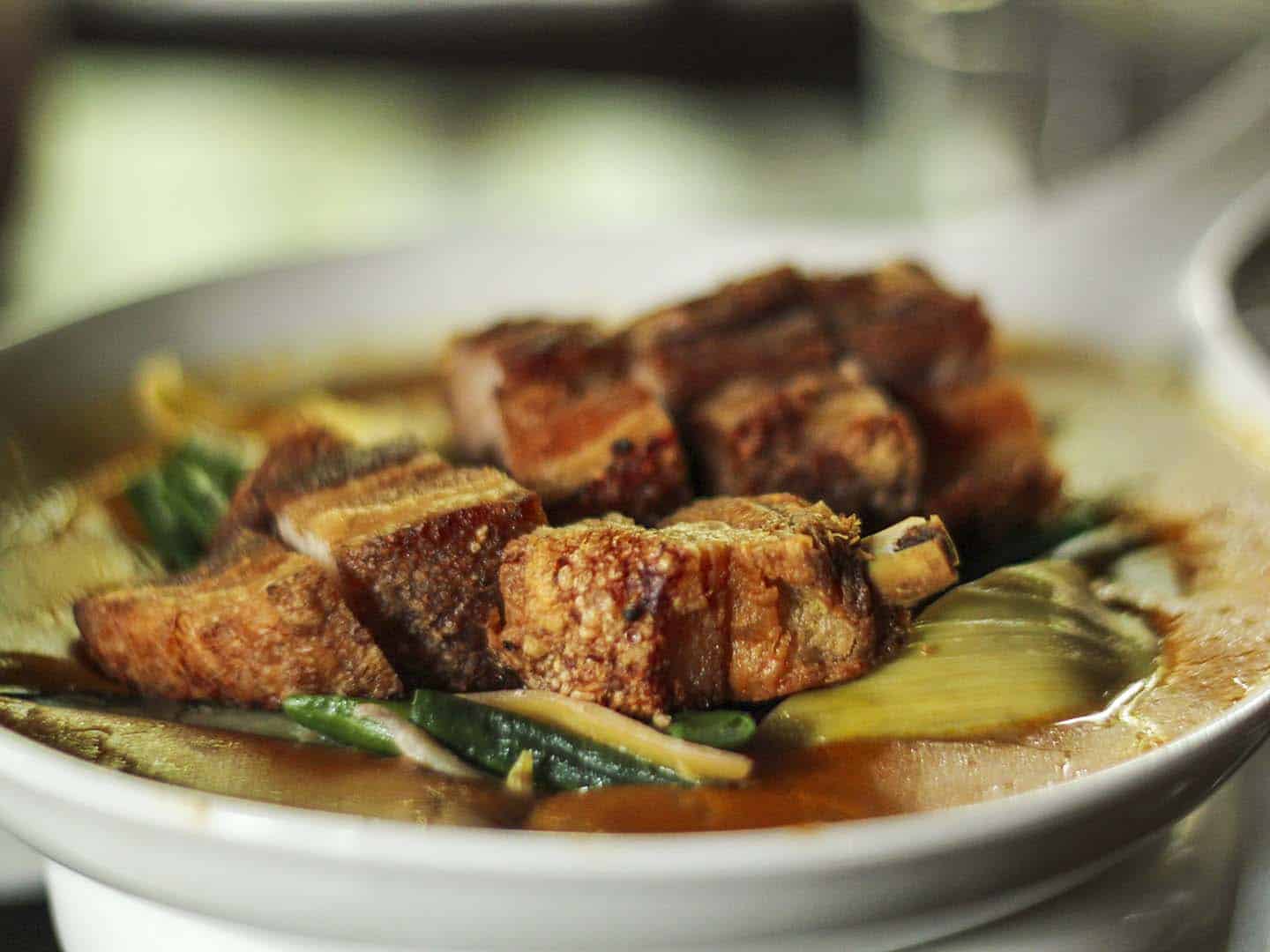 If you're new to the Philippines the locals will offer that you try street foods like balut or chicken innards, Fear Factor- style. I suggest to google before you eat if you are not the adventurous type.
Filipinos love eating sweets so don't be surprised to find dishes with lots of sugar. It is not only the desserts that are sweet but don't be surprised to find sweet spaghetti or a meat dish that is on a sweeter side.
Drinking is another favorite social activity. If you love drinking alcohol then you will love the Philippines. Don't forget to try the locally-made beers, gin, rum, and lambanog (coconut wine). Best of all, they're also cheap to buy!
Tip: Try out different Filipino dishes by joining an Old Manila food crawl. Or treat your taste buds to a gastronomic feast with a food tour of Binondo, Manila.
---
Scuba Diving in the Philippines
The Philippines is located in a region in the globe called the "Coral Triangle". It is named as such because of the large number of corals in the area that is spread out in the waters of the Philippines, Malaysia, Indonesia, Timor Leste, Papua New Guinea and Solomon Islands. Looking at the map, this resembles a triangular region.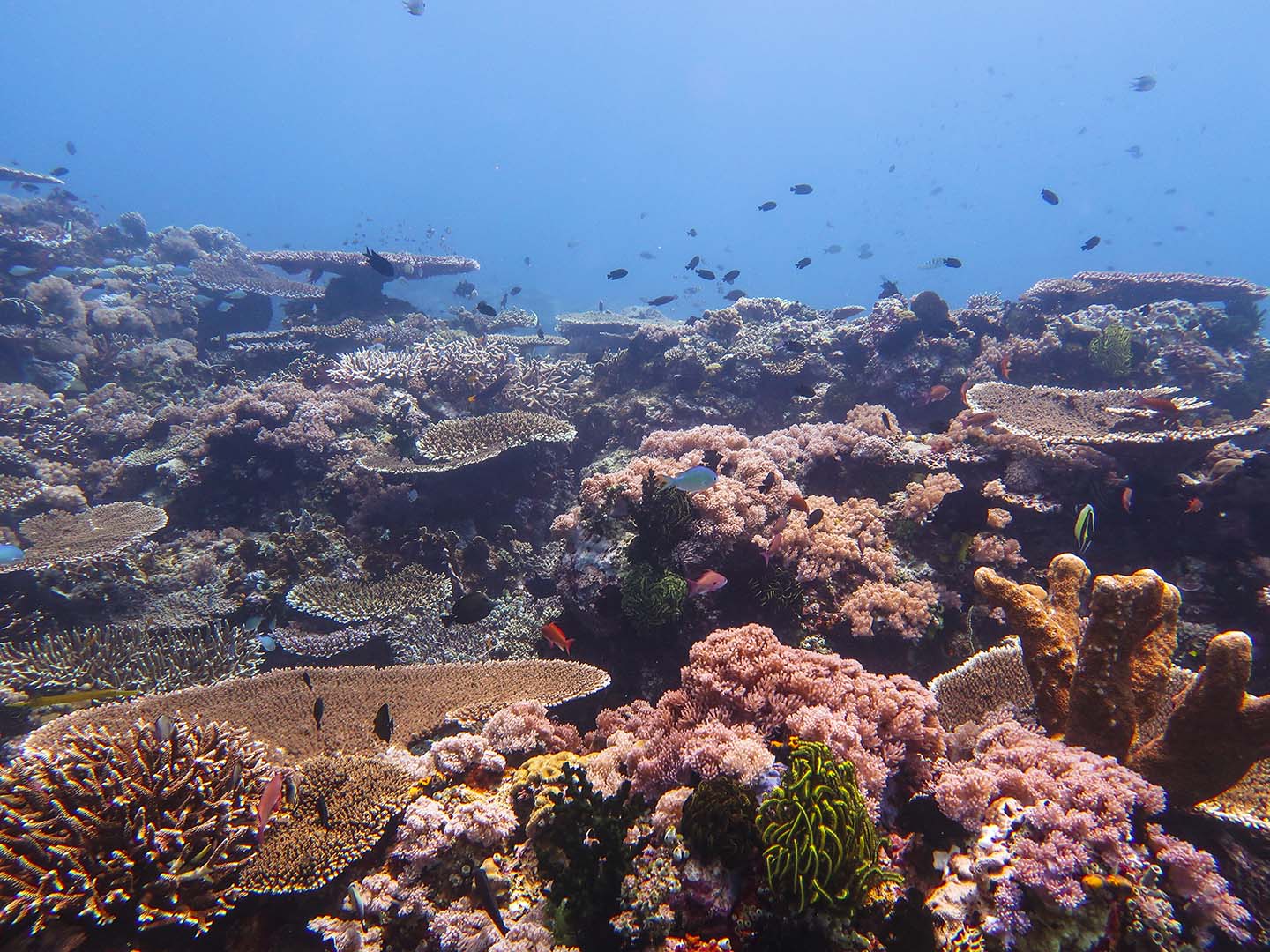 When it comes to marine biodiversity, the Philippines has one of the best in the region as its marine resources are made up of not just coral reefs but of seagrass beds, mangrove and beach forests, fisheries, invertebrates, seaweeds, marine mammals and many others.
The Philippines' marine biodiversity is simply astounding. Records show that there are over 488 species of corals, 981 species of bottom-living algae, 5000 species of clams, snails and mollusks that can be found in the Philippines.
Make Sure to read this before diving in the Philippines!
15 Dangerous Sea Creatures in the Philippines
Fishbase records indicate that the country harbors more than 3000 fish species and this list keeps growing as more species are being discovered and listed. Five of the seven sea turtles species can also be found in the Philippine waters.
With this kind of diversity, it is no wonder that the Philippines is considered to be one of the top scuba diving destinations in the world.
Curious to know what scuba divers love seeing in the Philippines? Check out this list of 100 of the most popular marine life in the Philippines.
Diving conditions in the Philippines
Aside from the abundant marine life, the Philippines has much to offer for divers of all skill levels and interests.
If you love big pelagic creatures, you will find several spots to scuba dive with them within Philippine waters. Do you love looking for frogfishes, seahorses, shrimps, nudibranchs and tiny critters? You should visit our dive sites with muck diving opportunities. Are you a history-nerd and would love to see some World War shipwrecks? Then we have the perfect spots just for you.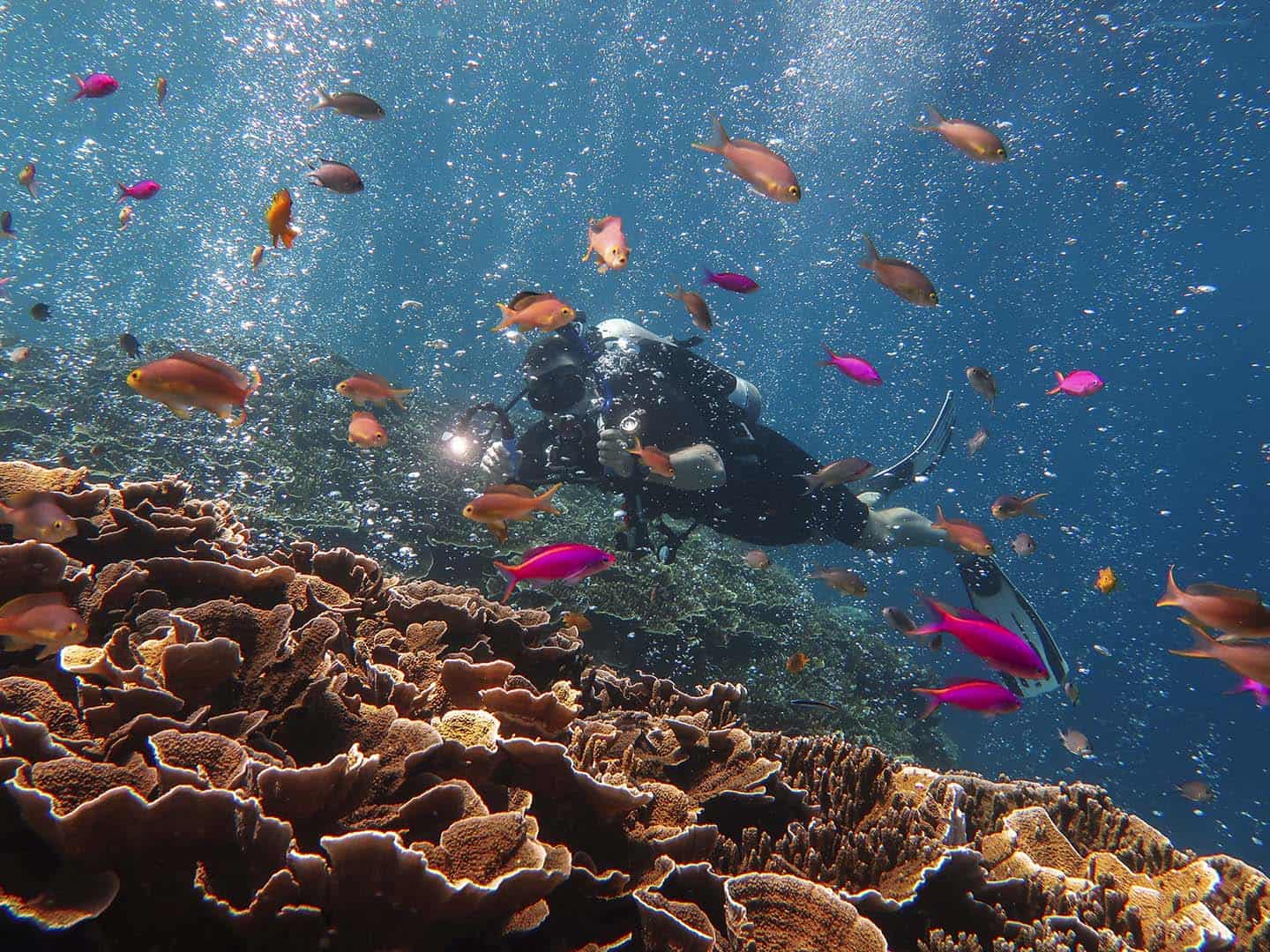 Scuba divers also can choose the type of diving they want, day dives vs night dives, shore entries vs boat dives, recreational vs technical. You can even choose to do weeklong liveaboards that will take you to the best diving spots in the region. This will give you a taste of the best scuba diving the Philippine has to offer.
Best Months to Scuba Dive in the Philippines
You can go scuba diving in the Philippines all year round, but the best time to go is November to May. These are the months when the typhoon season is over. Peak season is between February to April when water temperature is at its warmest and visibility is simply amazing.
Some dive sites are best visited only on specific months. For instance, Tubbataha is only open from March to June. If you are looking for whale sharks or mantas they also have a season for greater chances of sightings.
Some sites might also have unpredictable currents or conditions that might not be suitable depending on the months. It is always best to check with the local dive operators for advice if you are in search of specific creatures or plan to visit a specific dive spot.
Water Temperature
Water temperatures in the Philippines fall between 24-30 degrees Celcius. Most divers are comfortable wearing 1.5mm to 3mm suits. If you have a high tolerance for "cold" temperatures, a rash guard will also work.
Dive Spots in the Philippines
The Philippines is divided into three major regions: Luzon, Visayas, and Mindanao. Luzon is in the northern region of the Philippines. Visayas is in the Central region. Mindanao is in the southern region.
Below are the known dive destinations often visited and accessible to tourists. Many reefs are still unexplored and inaccessible but year after year more and more sites are being discovered.
Here are some of the popular destinations to go scuba diving in the Philippines:
Diving Spots in Luzon
Puerto Galera
Subic Bay
La Union
Coron, Palawan
El Nido, Palawan
Donsol
Ilocos
Diving Spots in Visayas
Malapascua, Cebu
Moalboal, Cebu- Sardines Run | Pescador Island
Oslob, Cebu
Cabilao Island, Bohol
Anda, Bohol
Negros Occidental
Boracay, Aklan
Diving Spots in Mindanao
Davao
Camiguin
Saranggani
The Philippines has a lot of amazing dive spots so to narrow it down, check out this post: 11 Best Scuba Diving Spots in the Philippines That Are Easy To Visit for Vaccinated Tourists
Need to find dive centers and resorts in these locations? Check out PhilippineDives.com.
Dive Training & Certifications
The Philippines is one of the best places to learn scuba diving. There are hundreds of dive centers and qualified instructors that can accommodate both first-timers and those wanting to advance their skills. Most dive shops are affiliated with PADI. There are also some that are under NAUI, SSI and SDI.
Click here to try scuba diving for the first time:
The warm and almost always calm waters make it suitable for beginners to learn the basics of scuba diving. The deep dives, wrecks, and caves make it possible to advance one's skills and knowledge.
If you want to become a dive professional, diver master training and instructor development programs are also available all year round.
For your safety, make sure you only dive with reputable dive shops and instructors. You can check if they are accredited by The Philippines Commmission on Sport Scuba Diving. Although not everyone is registered it gives you some extra assurance that the business offers quality service.
Cost of Scuba Diving in the Philippines
Depending on where you're diving, the cost of diving can vary depending on the dive resort and location. On average here is the cost of diving certifications in the Philippines:
Discovery Scuba Diving: Php 3,000-3,500
PADI Open Water Diver: Php 18,000- 20,000
PADI Advanced Open Water Diver – Php 14,000-16,000
Emergency First Responder – Php 6,000-8000
PADI Rescue Diver – Php 19,000-20,000
PADI Nitrox Diver – Php 10,000-12,000
If you are already certified fun dives can range from Php1,000-1,800. Some dive shops already include gear rental fees on their pricing, while some charge extra. Once in a while they also offer dive packages or discounts if you plan to do multiple dives.
Some shops may charge extra for boat dives vs shore entries. Boat costs are often divided among divers.
Night dives are also more expensive by a few pesos, usually an additional Php100-300. Nitrox is also an additional cost and is not available in all dive shops.
Some locations may also charge an environmental fee that goes to the local government.
Dive Equipment and Rental
Most dive shops in the Philippines rent out scuba gear if you do not have your own. Gear rental is charged on a daily basis. You can rent the full set up or per equipment.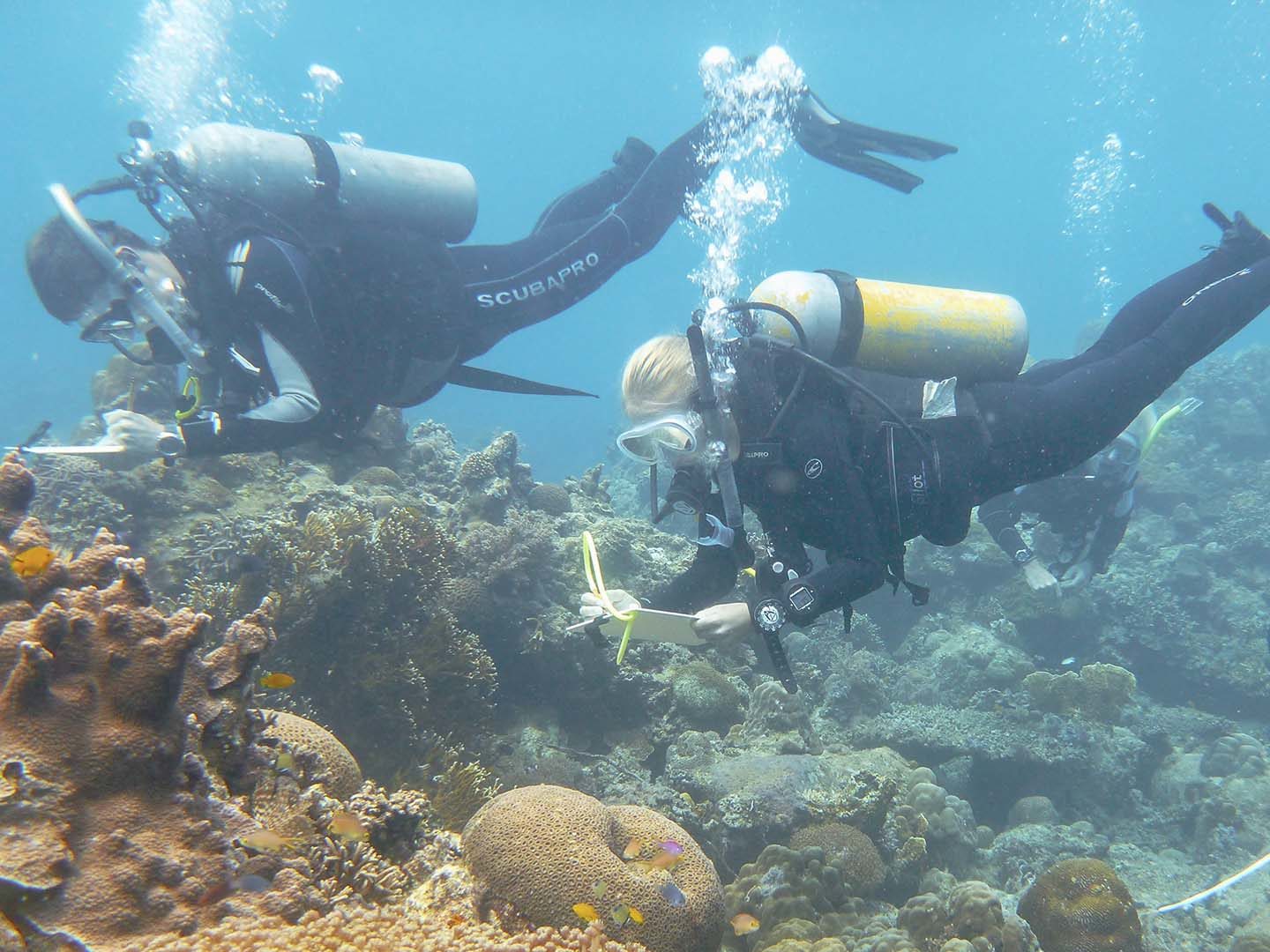 Full gear includes your BCD, Regulator, Wet Suit, Mask, Fins, Weight Belt, Weights, and Tanks. Torches, Dive computers and DSMBs are usually not included in the full gear rental. These can be rented for an additional fee.
If you are bringing your own gear, tanks are usually yoke-compatible. Bring an adaptor or check with the shop if they have one if your set up is DIN. Nitrox is not always available so check with your shop if this is an important requirement for you.
In case you need some dive gear recommendations, here are the equipment I use while diving in the Philippines.
My Scuba Diving Gear
Regulator: Scubapro MK25 Evo, C300 and C200 2nd Stage
BCD: Aqualung Axiom
Mask: TUSA M-212 Freedom Ceos
Snorkel: TUSA SP-170 Platina Hyperdry II
Booties: Poseidon Pink Dive Boots
Fins: Problue
Wetsuit: Seavenger
Vest Hoodie: Scubapro Hybrid Hooded Vest
Dive Watch: Suunto D4i Novo
Dive Knife: Aqualung Blunt Tip Knife

My Underwater Camera Gear
Underwater Camera: Canon G7X Mark II
Underwater Camera Housing: Fantasea FG7XII
Video Lights: Big Blue AL1200XP
Underwater Action Camera: GoPro Hero9

Click here for my Canon G7X Mark II full review
Click here for scuba diving camera recommendations for beginners.

Dive Insurance
Divers Alert Network (DAN)
---
Need to buy dive gear in the Philippines? Here is a list of the
DIVE SHOPS IN THE PHILIPPINES

Need help packing for your trip to the Philippines?
Check out my Philippine Packing List to help you pack!
---
Liveaboard Scuba Diving in the Philippines
If you have limited time and want to experience the best scuba diving in the Philippines, you might want to consider doing a liveaboard or dive safari. A liveaboard will allow you to go to multiple areas and at the same time visit sites that are hard to reach by a regular boat. There are different vessels available depending on your budget.
The most popular liveaboard for both local and foreigners is for Tubbataha. This is one of the best marine protected area in the Philippines that can only be accessed by divers from March to June.

Other Philippine liveaboards also cover multiple dive destinations allowing you to dive the best spots in the region. Here are some liveaboards you can consider that will give you the best scuba diving experience in the Philippines.
CLICK HERE FOR POPULAR LIVEABOARDS IN THE PHILIPPINES:
Diving Conservation & Awareness
The Philippines has one of the richest and diverse waters in the region making it prone to unsustainable and illegal fishing practices. Although there are laws and regulations, it has been very difficult to enforce them due to the lack of human resources as well as lack of education among the locals.
Outsiders from neighboring countries have also been known to poach marine life within Philippine territories. And with the demand for marine life to be used for food, medicine, jewelry, and even home decor, even the locals participate in unsustainable harvesting practices.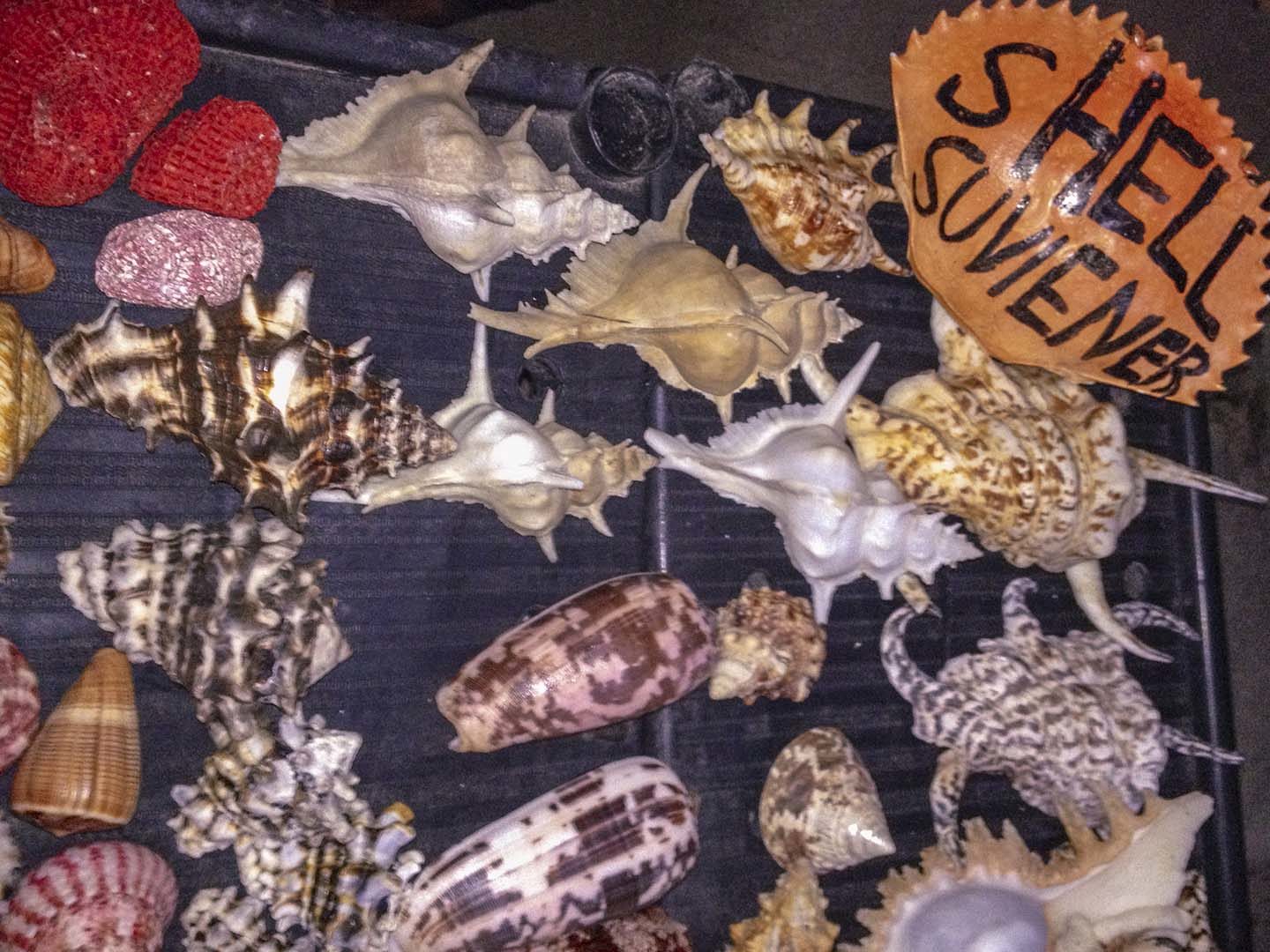 Spearfishing is still practiced but only in selected areas. Most dive operators have outlawed the practice, especially in Marine Protected Areas. Dynamite fishing or cyanide fishing is still being used by fishermen who do not understand the destruction that they are causing.
Aside from these, the Philippines is also facing a huge plastic and pollution problem. Recent studies show that the Philippines is the 3rd biggest contributor to ocean plastic. Although there is a growing awareness and movement against single-use plastic, the country still has a long way to go.
Amidst all these issues and environmental problem, environmental groups and government agencies have risen to teach communities about sustainable practices.
For instance, the Department of Tourism relaunched its 2019 campaign to focus on sustainable tourism. Many NGOs are also educating the locals about the importance of the reefs and establishing marine reserves. And of course scuba divers are becoming one of the biggest protectors of the oceans.
Read: Tips on traveling sustainably in the Philippines.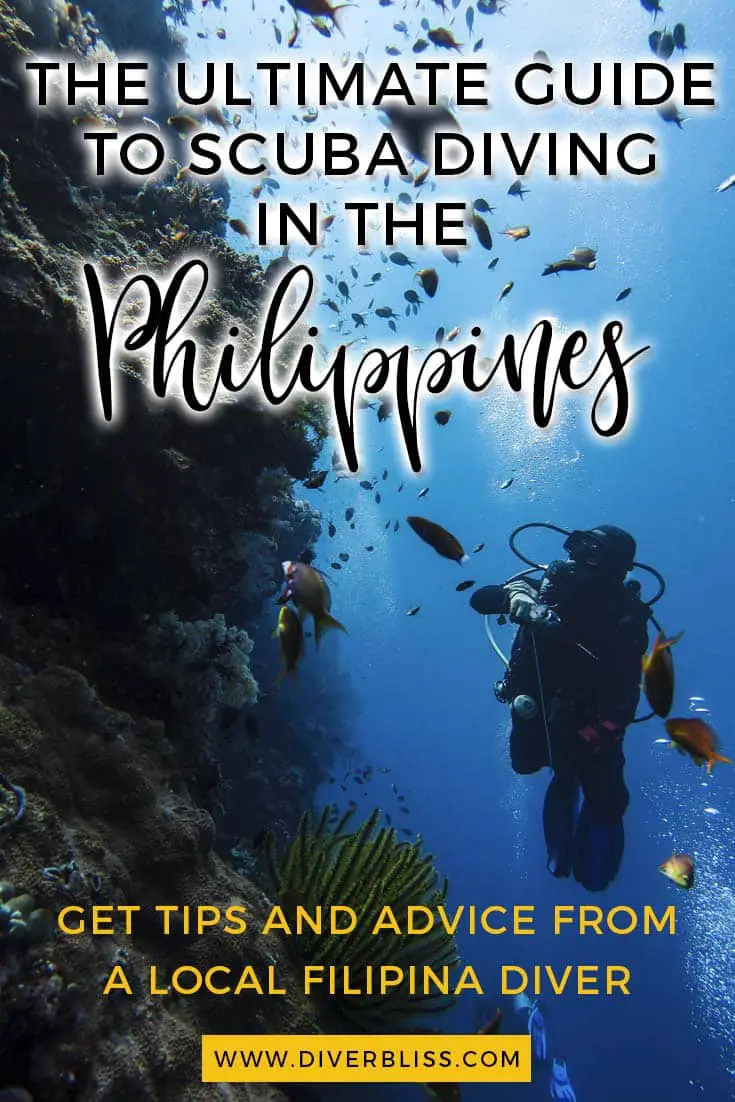 ---
Disclaimer: Some of the links in this post are affiliate links, meaning, at no additional cost to you, I will earn a commission if you click through and make a purchase.