Diving Tubbataha reefs has been my dream ever since I learned how to scuba dive more than 9 years ago.
Last April 2022, I finally got to make this dream come true!
I have gone scuba diving in almost all the best dive spots in the Philippines and I can now confirm that Tubbataha Reefs rightly earns its place on the top. It was worth the wait, worth every peso, and even better than I dreamed of.
If scuba diving in Tubbataha Reefs Natural Park and World Heritage Site is your dream too, I've put together this guide to help you plan your trip. Continue reading if you want to learn more about Tubbataha Reefs Diving.
Where is Tubbataha Reefs Natural Park?
Tubbataha Reefs Natural Park (TRNP) is a UNESCO World Heritage Site located at the heart of the Sulu Sea. The park is 150 kilometers (93.2 miles) southeast of Puerto Princesa City in Palawan, Philippines, and is part of the municipality of Cagayancillo.
Tubbataha sits at the apex of the Coral Triangle, which is a marine area renowned for having the highest recorded coral diversity on the planet.
---
How big is Tubbataha Reefs Natural Park?
Tubbataha Reefs Natural Park and World Heritage Site has a total area of 97,030 hectares. It is composed of 10,000 hectares of coral reef and more than 87,000 hectares of surrounding waters. The North Atoll, South Atoll, and the Jessie Beazley Reef are located within the park.
Contiguous to this area, is a 10-nautical mile no-take buffer zone spanning an area of 357,000 hectares.
---
Why is Tubbataha Reefs Important?
On December 11, 1993, Tubbataha reefs was inscribed as a World Heritage Site by United Nations Educational, Scientific, and Cultural Organization (UNESCO) for its outstanding beauty, significant ecological processes, and importance as a natural habitat for the conservation of biological diversity.
To date there has only been 50 marine sites recognized by UNESCO. Tubbataha reefs joins the ranks of other UNESCO World Heritage Site like Galapagos Islands in Ecuador, The Great Barrier Reef in Australia, and Komodo Park in Indonesia.
Since its discovery by scuba divers in the 1970s, Tubbataha has significantly contributed to the country's tourism industry. The abundant marine life and beautiful underwater landscapes make it a favorite underwater playground for scuba divers from all over the world.
Tubbataha reefs has been admired not just by divers but also by marine scientists and researchers. 80 of the 119 coral genera in the world, can be found in Tubbataha. It is home to more than 600 species of fishes, 14 species of dolphins and whales, and 23 species of sharks, skates, and rays. The biodiversity in Tubbataha and the healthy reef make it a fantastic place to study marine life and the ocean ecosystem.
The park is also a refuge for endangered species and migratory creatures. Tubbataha is a no-take zone so creatures may seek sanctuary in this paradise. Whale sharks, green sea turtles, hawksbill turtles, Napoleon wrasses, and manta rays roam freely in Tubbataha without the threats of being killed or poached.
As the biggest and most pristine marine protected area (MPA) in the Philippines, Tubbataha has become a valuable food source to many communities. While fishing is not allowed within TRNP, currents can carry fish and coral larvae to neighboring areas where fishing is allowed. This helps feed thousands of Filipinos every year.
---
Marine species in Tubbataha reef
The diverse marine species in Tubbataha reefs is the main reason why I wanted to go to this place in the first place.
Whenever I saw photos of Tubbataha, they always showed the beautiful pelagic creatures one rarely sees while diving in the Philippines. I have never seen a whale shark, a hammerhead or a manta ray while scuba diving so I was determined to see them in Tubbataha!
Sharks and Rays
Friends who have been to Tubbataha reefs confirmed that sharks and rays were abundant so I was really looking forward to the "big stuff".
And true enough, Tubbataha did not disappoint.
Sharks are everywhere! They were so common that it came to a point that after a few dives, I realized that I didn't have to follow them just to take a picture. They just come to you!
Twelve shark species have been identified in Tubbataha Reefs Natural Park. I did see some white-tip sharks, black-tip sharks, silver-tip sharks, grey reef sharks, hammerhead sharks, and tawny nurse shark. While I did not see it, a tiger shark was also spotted last season. Leopard sharks and thresher sharks have also been seen in the park.
My favorite encounter and possibly the highlight of my Tubbataha trip was seeing a whale shark for the first time. It was totally unexpected. It came out of nowhere, cruised beside us, and then itsoon left.
I also saw a shiver of sharks, with around 30 individual sharks swimming together like one big happy family.
Seeing a hammerhead shark swim just 3 meters away from me was heart racing. I didn't expect it to curiously swim around us for a few seconds before it went back down into the deep blue.
I didn't see a manta ray, but other groups did see them last season. I did finally see a marble ray so at least that's another one crossed off my dive critter list.
If you love sharks, check out my posts:
35 Fun Facts About Sharks to Sink Your Teeth Into
Top 15 Coolest Types of Sharks in the World
10 Best Adopt a Shark Programs that are Fin-tastic!
33 Best Shark Gifts That Are Totally Jaw-some!
Reef fishes
There are more than 600 species of fish that can be found in Tubbataha Reefs. I spotted different species of butterflyfish, angelfish, anthias, chromis, damselfish, parrotfish, surgeonfish, triggerfish, grouper, sweetlips, tuna, fusilier, and more.
It is also very common to see schooling fish in Tubbataha. I spotted a group of spadefish, trevallies and jacks, and barracuda too.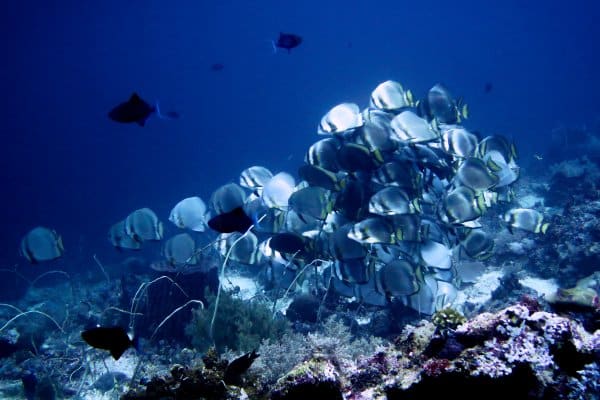 Normally, if I wanted to see schooling fish like these, I'd go to separate dive destinations like Balicasag Island or Apo Reef. But they were all there in Tubbataha!
Sea Turtles
The hawksbill sea turtle and green sea turtles are commonly found in Tubbataha reefs. On one of our dives, some divers even witnessed them mating!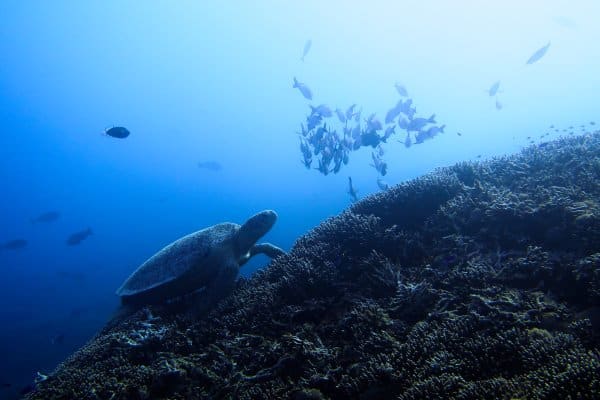 We found them often grazing over the staghorn corals. The turtles were very chill and would just eye divers curiously. The turtles were everywhere and eventually, I got sick of taking their photos!
It did remind me of my experience in Apo Island where sea turtles are also abundant.
Soft corals and sponges
Huge gorgonian sea fans and barrel sponges can also be seen growing along the steep walls of Tubbataha reefs. Many of which were the size of an adult human!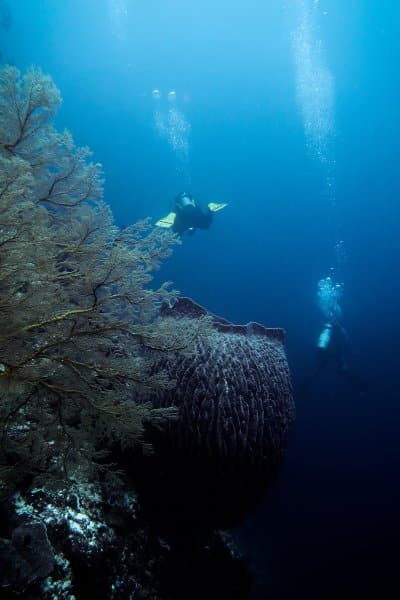 Seeing these ginormous sea fans and sponges reminded me a lot of my dives in Napantao, which is also a marine protected area. This just goes to show what happens when places are protected and left alone to thrive!
Corals
One of the things that I feel divers don't highlight enough is just how amazing the corals are in Tubbataha.
Yes, the pelagic creatures and the amount of fish is very impressive, but the coral in Tubbataha is a sight to behold.
According to TRNP, about 90% of all the Philippine coral species can be found in Tubbataha. Of the 119 coral genera found in the world, 80 of them were recorded in Tubbataha. You can find over 360 coral species in Tubbataha. How cool is that?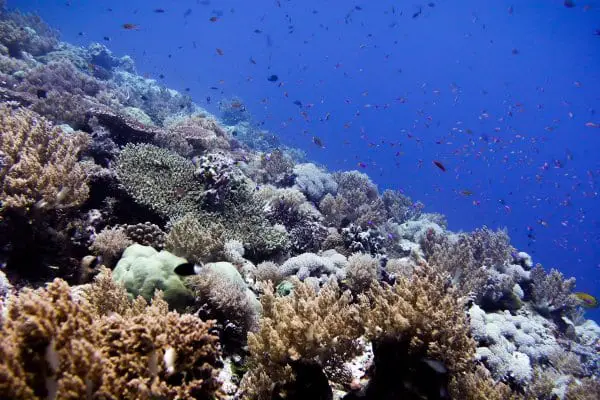 What I even found mind-blowing was the density of the coral colonies. Huge boulders and fields of them covered the entire atoll. It was absolutely stunning to see.
More people should really be talking about the corals in Tubbataha reefs if you ask me.
My photos cannot give it justice.
Invertebrates
In case you are wondering if there are invertebrates in Tubbataha, there certainly were. They are an important part of the reef after all.
I did see some sea cucumbers, lobsters, crinoids, sea squirts, sea stars, and even giant clams.
I made it my goal to look for some sea slugs but I had a hard time spotting them because there were just so many colors and textures on the reef.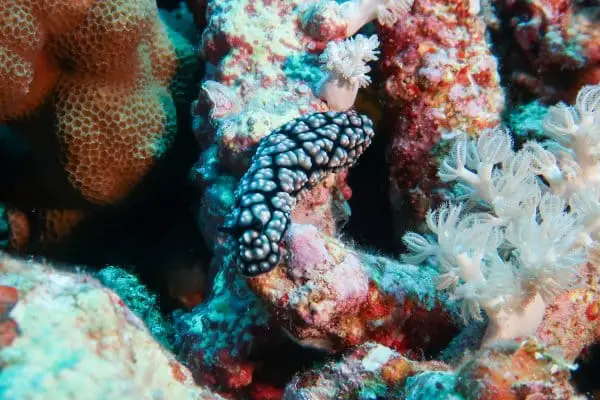 If you are intent on doing macro photography in Tubbataha you most certainly can but do it with the right people who also want to do macro too. Or just go to places like Anilao, Dauin or Romblon!
Cetaceans
Dolphins and whales are common visitors to Tubbataha. Fourteen species of cetaceans like the spinner dolphin, bottlenose dolphin, and even a sperm whale have been seen in the park.
I didn't see them during my trip but a few weeks after our expedition, another group spotted them.
I soon realized that there was more to Tubbataha Reefs than the big pelagic stuff that everyone raves about. If you want to see how rich and biodiverse the marine life in the Philippines truly is, Tubbataha perfectly represents it. It showcases not just the big stuff but the small stuff too.
Visiting Tubbataha reminded me of all my favorite marine life encounters around the Philippines, except that Tubbataha just had more of everything. The reef was more vibrant and healthy. The fish looked bigger, the schools of fish were denser, and the corals looked lusher.
I don't know how else to describe it but I remember thinking that it was like the reef was on steroids and it was overdosing in pure goodness.
---
Dive sites in Tubbataha Reefs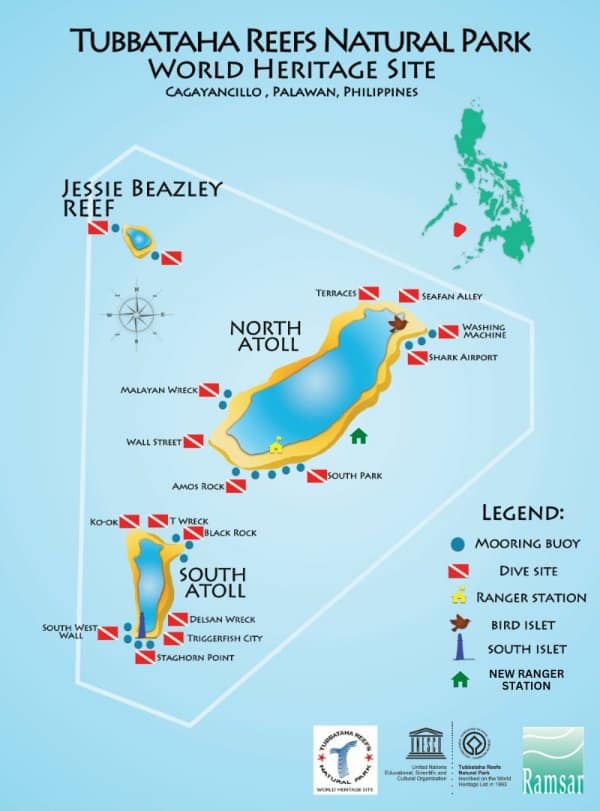 Tubbataha reefs dive sites can be described as wide flat reefs with abrupt dropoffs.
On most of the dives, your dive boat would usually drop you off at the sandy area of the reef. This area is about 10-20 meters from the surface and gradually slopes. You then swim to the edge of the reef that drops down to 30 meters or more.
Most of the sites are wall dives where you swim parallel to it for 30-40 minutes. Then you ascend back to the top of the reef where you do your safety stops over the sandy slopes.
Tubbataha Reefs Natural Park is made up of three major dive areas: Tubbataha North Atoll, Tubbataha South Atoll, and Jessie Beazley Reef.
North Atoll
On the North Atoll, you will find an islet which is an important seabird roosting area. The ranger station is also located in the North Atoll.
There are 8 dive sites around the Tubbataha North Atoll:
Terraces
Seafan Alley
Washing Machine
Shark Airport
South Park
Amos Rock
Wall Street
Malayan Wreck
South Atoll
The South Atoll also has an islet which also serves as a nesting spot for seabirds and sea turtles. It is marked by a lighthouse that was reconstructed by the Philippine Coast Guard in 2019.
There are 7 dive sites around the Tubbataha South Atoll:
Ko-ok
T-wreck
Black Rock
Delsan Wreck
Triggerfish City
Staghorn Point
Southwest Wall
Jessie Beazley
Jessie Beazley Reef is located 20 (12.4 miles) kilometers from the North Atoll. There are no distinct man-made structures on Jessie Beazley but there is a small sand cay made of corals visible above the water.
Most liveaboards make Jessie Beazley their last stop before heading back to Puerto Princesa.
I did a total of 18 dives in Tubbataha Reefs Natural Park but I did not get to visit all the dive sites. Where you dive is usually determined by the liveaboard operator. Sometimes this is determined by the weather conditions, the current, or in some cases availability of the buoys where the liveaboards moor themselves.
During my trip, I was able to dive in Wall Street, Malayan Wreck, Delsan Wreck, Triggerfish City, Staghorn Point, Black Rock, Washing Machine, Shark Airport, and South Park. We went diving in Delsan the most often as this was where "most of the action happened" according to our guides.
---
Diving Conditions in Tubbataha
Diving in Tubbataha is generally good for both highly experienced and not-so-well-seasoned divers.
If there is one word to describe the diving conditions in Tubbataha, I'd say it's unpredictable.
Our dive liveaboard had two dive teams going out almost at the same time with a 5-10 minute interval. And when we get back to the liveaboard vessel, we'd have a different experience than them.
When diving Tubbataha, just expect the unexpected.
Depth
Most of the dives were between 10 to 30 meters (33 to 100 feet). All dives are non-deco dives.
If you want to see the "big stuff" like manta rays and sharks, they tend to be on the deeper parts of Tubbataha so if you are only certified to dive up to 18 meters, you might miss out on some epic encounters.
On some dives, while looking for hammerheads, we did swim out into the blue. Truth be told, this was a bit scary for me as I could barely see the wall and it was just blue everywhere. Definitely not for the faint-hearted.
While most divers go to Tubbataha for the pelagic creatures, I thoroughly enjoyed the shallower areas where the sun illuminated the reef beautifully. I loved swimming over the coral fields and seeing the dense reef fish dart in an out of them. So even if you are a beginner and don't like or can't dive deep, you will still enjoy Tubbataha.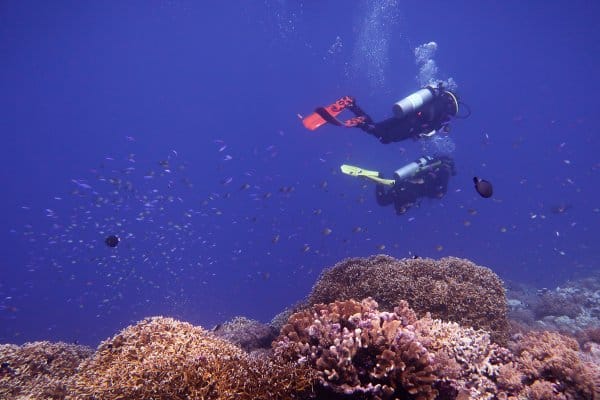 Currents
Some dive sites were more challenging than others with heavy currents.
Prepare to do some drift dives or occasionally swim against currents while in Tubbataha. There were also instances where we'd suddenly be met with a strong current and we were forced to turn back.
If you want to see the sharks and mobula rays, there are higher chances of seeing them in areas where there are stronger currents. So if you're not confident diving in currents, try to get some experience prior to going to Tubbataha.
Temperature
The water temperature in Tubbataha is 28°C – 30°C. (82.4°F- 86°F). On some dive sites, we did encounter some thermocline and the temperatures would briefly drop.
Most divers are comfortable wearing a 3mm wetsuit. I was very comfortable wearing dive leggings, rash guard and a hood.
I recommend, wearing a full suit or rash though for extra protection from the UV rays of the sun and also from animal sting. You can encounter some dangerous sea creatures like jellyfish , while diving in Tubbataha.
Visibility
Visibility in Tubbataha is excellent and may reach up to 40-50 meters.
In all my diving experience in the Philippines, that was no doubt one of the best I've encountered. Water was so clear that I actually struggled gauging how far I was from the surface, bottom, or from my dive buddies. Always dive with a computer and be aware of your depth.
Night Diving
Night diving is allowed in Tubbataha Reefs but some operators do not offer this due to the risks involved. It is more difficult to respond to accidents or emergencies in the dark. Bear in mind, Tubbataha is in a remote area and far from medical facilities so these things should be considered if you plan to do a night dive in Tubbataha.
---
Activities in Tubbataha Reefs
Scuba diving is the most popular activity to do in Tubbataha Reefs Natural Park. According to Tubbataha's annual report in 2019, over 3475 visitors arrived in Tubbataha, generating over 18.7 million pesos in revenue. This helped fund the park's day-to-day operations and finance its education and awareness campaigns.
Aside from scuba diving, visitors can engage in other activities in Tubbataha Reefs Natural Park. You can also go snorkeling, freediving, fly a drone and bird watching.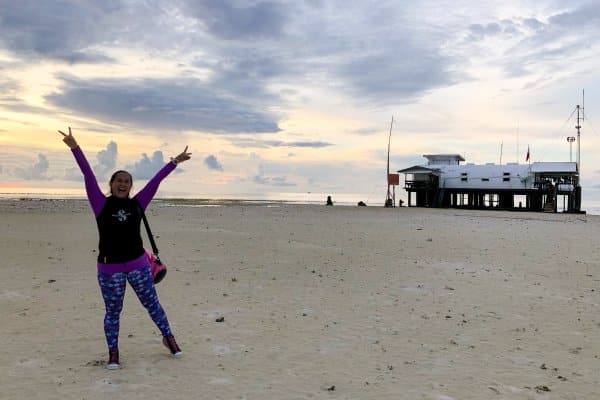 A visit to the ranger's station is also a must.
There are 10-8 marine park rangers in Tubbataha and they patrol the area 24/7. The rangers consider it an honor to be assigned in Tubbataha, but it can get very isolating and challenging to live in the ranger station on the North Atoll. The presence of visitors boosts their morale.
Your visit is something they look forward to when they are assigned to Tubbataha.
When we visited the ranger's station, some of the divers brought their extra snacks and gave them to the rangers. I thought this was a thoughtful gesture, especially since the rangers are so far away from the comforts of their home for months at a time.
You can do the same when you visit the Ranger's Station, but your presence is a gift in itself. Have a chat with them. Play volleyball with them. Take pictures.
You can also support them by buying Tubbataha souvenirs. The rangers get a 10% commission out of the sale of merchandise, so bring cash with you when you visit the ranger's station.
If you'd like to know more about the things you can do in Tubbataha, read my post: Tubbataha Reef Activities: 6 Things You Can Do In The Marine Park
Best Time To Go Diving in Tubbataha Reefs
If you want to go diving in Tubbataha Reef, you can only do so from mid-March to mid-June as this is the only time the marine park is open for recreational scuba divers. These months also have the most favorable conditions for diving-with clear skies, calm seas, and amazing visibility.
This is also the summer or dry season in the Philippines so you can expect good weather almost every day. This is not guaranteed though. I booked my trip in April and encountered some heavy clouds and rain while diving in Tubbataha.
Recommended reading:
Amihan and Habagat: Diving Seasons in the Philippines Explained
Best Time To Dive in the Philippines + Monthly Guide on Where to Go
Diving Centers in Tubbataha
There are no diving centers in Tubbataha Reefs Natural Park and World Herritage Site. If you would like to go diving in Tubbataha, you may do so through a dive liveaboard.
Dive companies that want to offer liveaboard trips to Tubbataha must get accredited by Tubbataha Reefs Natural Park.
If you are not familiar with what scuba diving liveaboards are, you can check out my post on liveaboard diving for beginners.
Tubbataha Liveaboards
As of 2022, there are 14 accredited liveaboards that can take you scuba diving in Tubbataha Reefs Natural Park.
Most liveaboards offer 7 days/ 6 nights trips to Tubbataha. Divers can enjoy 5 days of diving around the atolls and doing 3-4 dives per day. By the end of the trip, you would have logged 16-18 dives in Tubbataha.
Here are the Tubbataha Liveaboards you can take for the 2023/ 2024 diving season. You can check each link for the most updated schedule, pricing, and inclusions.
1. M/Y Almaroon Intrepid – Philippines Aggressor
2. P/Y Atlantis Azores – Atlantis Dive Resorts Philippines
3. M/Y Azalea – Liveaboard Diving Philippines
4. M/Y Discovery Palawan – Discovery Fleet Corporation
5. M/V Dolphin- Dolphinbay Divers
6. M/Y Infiniti- Infiniti Liveaboard Diving
7. M/Y Narayana- Coopers Narayana Dive Services
8. M/V Oceana Maria Scuba – Oceana Maria
9. S/Y Philippine Siren- Worldwide Dive & Sail Philippines, Inc.
10. M/Y Resolute – Far East Liveaboards Inc
I did my first Tubbataha liveaboard trip with M/Y Resolute and had a blast. I highly recommend them! You can read my Resolute liveaboard experience here.
11. Seadoors – Seadoors Philippines Diving
12. M/V Solitude One – Nomadic Underwater and Tours
13. M/V Stella Maris Explorer – Expedition Fleet
14. M/Y Zamerdius – Nazario M. Gabinete
For a more detailed breakdown of the liveaboard options, check out my post on 9 Best Tubbataha Liveaboards You Can Take in 2023.
Requirements for Tubbataha Diving
Each liveaboard vessel that goes to Tubbataha sets its own minimum requirements for divers. Some liveaboards require you to be at least an Advanced Open Water diver with a minimum number of logged dives. While others are a bit more flexible and only require you to be an Open Water Diver with 10 dives logged.
Based on my recent trip there, I recommend you get your Advanced Open Water certification first and gain more experience before diving Tubbataha reefs. Heavy currents can be expected around the atolls so you should be comfortable and confident diving in challenging environments.
Many of the dive sites in Tubbataha reefs are best enjoyed if you go deep. We were diving up to 30 meters in all of the dives so if you're only an Open Water, you will be limited to diving up to 18 meters only. This might not be ideal even for you, as you might get tempted to dive deeper simply because Tubbataha is that spectacular.
Tubbataha Park Rules and Regulations
As early as the 1980s, the scuba diving community campaigned for the protection of Tubbataha reefs. At that time, fishermen were using destructive fishing techniques and exploited Tubbataha which resulted in over-fishing and rapid decline and degradation of the reef.
In 1988, with the endorsement of the Provincial Government of Palawan, former President Cory Aquino declared Tubbataha a no-take national marine park.
More than 2 decades later, Republic Act 10067 also known as TRNP Act of 2009 was enacted to further protect and preserve Tubbataha reefs. This RA provided the legal framework for the management of Tubbataha. It gives Tubbataha Reefs Natural Park the right to implement rules and regulations and impose sanctions against violators.
Throughout the decades and in recent times, Tubbataha Reefs faces many threats and problems. As visitors and stakeholders of the park, we must do our part to preserve this national treasure.
What is not allowed in Tubbataha
If you are visiting Tubbataha, these are the things to keep in mind:
Tubbataha is a no-take zone. All forms of fishing are prohibited.
Do not touch or take any marine plants and animals- dead or alive. Even dead corals and shells are home to other marine organisms.
Fish feeding activities are also not allowed
Do not chase, harass or stress marine life. Do not block their path either.
Do not introduce new or non-native species into the park.
Do not vandalize. (For example, carve on rocks or coral colonies)
Use of motorized sports equipment (example, jetskis and Dive Propulsion Vehicles)is not allowed.
Do not use gloves while diving. The water temperature is 28-30 degrees Celcius so there is no need to wear gloves.
Do not use pointer rods or tank bangers. Touching marine life with a pointer stick is still considered touching.
Decompression dives without prior certification, training and equipment is not allowed
Anchoring is not allowed. Liveaboard boats should use a mooring line to secure themselves on designated buoys around Tubbataha reefs.
Tubbataha has two islets that serve as nesting grounds for birds and sea turtles. These areas are off-limits to visitors. Liveaboard operators are not allowed to take their guests here and divers are not allowed to engage in any activity in these vicinities.
Do not cruise around the north and south islets without clearance from the park rangers.
Do not land a boat or set foot on the north and south islets.
Do not swim, snorkel, or dive around the north and south islets.
Do not fly your drone at the north and south islets.
Diver's Best Practices while in Tubbataha
As visitors of the park, we must all do our part to leave it as we have found it. All divers should keep this in mind when diving in Tubbataha.
If you have to check your weights and practice your buoyancy control, do it in an area where you cannot damage anything
Keep your distance to avoid touching any part of the reef. Brushing up against a coral as you swim can still harm a coral polyp. You might not feel it but they can.
Keep your fins up. Improper finning can disturb the sand and sediments. This can smother and kill any creature that has made it their home. You might not see it but there are millions of tiny creatures that live in Tubbataha.
Be aware of your behavior and don't be that diver no one wants to dive with.
If you are an underwater photographer, be aware of your surrounding. Take care not to harm or harass an animal for the perfect shot. Make sure to observe proper underwater photography etiquette.
Unfortunately, plastic has made its way to Tubbataha reefs. If you find trash in and out of the water, make sure to pick it up and dispose of it properly.
Reporting violations in Tubbataha
Tubbataha park can be enjoyed by anyone regardless of scuba diving certification and level. But with certain privileges comes certain responsibilities.
If you find someone violating any of Tubbataha Reef's rules and regulations, you can report them to Tubbataha rangers and management for immediate action. Visitors, dive professionals, and liveaboard crew have the responsibility to report offenders. Liveaboard dive operators should notify the ranger's station through the radio when they notice fishermen encroaching in the park.
You are encouraged to provide photos to the park authorities if they witness any wrongdoings. These violations are addressed administratively or criminally through the court.
Here are the contact details of the Tubbataha Management Office (TMO) should you wish to contact them regarding these matters.
Address: Manalo Ext., Bgy. Milagrosa, Puerto Princesa City 5300, Palawan
Telephone: (048) 716-1631
E-mail: tmo(a)tubbatahareefs.org
How much will it cost to dive in Tubbataha?
Liveaboard Expenses
Tubbataha liveaboard packages can range from budget to luxury and everything in between. You can expect to pay Php 80,000-Php200,000 ($1600-4000) if you want to go diving in Tubbataha.
There are many factors that affect Tubbataha reefs diving price like the duration of the trip, the room and liveaboard amenities, the types of meal served, the dive services, and more. You can check out Liveaboard.com or DiveBooker.com for the most updated prices and deals on Tubbataha liveaboard diving.
Aside from the liveaboard trip itself, you may have to pay extra for gear rental, Nitrox tank refills, dive courses, and other services that are not included in the basic Tubbataha package. This will vary on what you need and the liveaboard you choose.
Scuba divers are also required to pay for their Tubbataha dive permit. A Tubbataha conservation fee of $100 goes towards the management of the park and the protection of the reef. 10% of this revenue is also allocated to Cagayancillo, which is Tubbataha's municipality. Since Tubbataha is a no-take zone for Cagayancillo's fishermen, the funds go to coastal resource management and alternative livelihood activities for the community.
Nowadays, it is very common for Tubbataha liveaboards to have a fuel surcharge. This extra fee is determined by the liveaboard to protect themselves when there is an increase in fuel prices. I had to pay $100 surchange when I went on my liveaboard.
When you go to Tubbataha Reefs Natural Park, you will most likely go to the Ranger Station where you can buy souvenirs. If you would like to buy official Tubbataha merchandise, make sure to bring cash. I got a Tubbataha Shirt for Php500 ($10)
Tipping is not required but is always appreciated when you go on a Tubbataha liveaboard trip. Most liveaboards recommend tipping 5 to 10 percent of the package price. The Philippines is a third-world country and your generosity will go a long way to feed the families of the staff and crew. So if you'd like to show your appreciation, you can include this in your budget.
Travel Expenses
Another huge expense is the travel expenses before and after your Tubbataha liveaboard trip.
Depending on where you'll be coming from, you can easily spend Php25,000 – Php100,000 ($500-$2000) on round-trip international flights to the Philippines.
Since most liveaboards will depart from Puerto Princesa, Palawan, you'll also have to spend for local flights and transportation as well. You can get round-trip tickets from Manila or Cebu for Php6,000-Php12,500 ($120-$250) via Air Asia, Cebu Pacific, or Philippine Airlines .
You might also have to book accommodations before and after your liveaboard trip depending on your itinerary. Within Puerto Princesa, you can find budget rooms for as low as Php750 ($15) a night to hotel resorts as high as Php7,500 ($150) a night. To look for the best hotel rates, I check Agoda.com
Food in Puerto Princesa is cheaper compared to when eating out in Manila. A budget of Php250-Php500 ($5-$10) per meal will go a long way.
Puerto Princesa is a popular tourist destination so you might want to go on a heritage tour or a Honda Bay island hopping tour while you are already there. You can also explore the Puerto Princesa Underground River National Park, which is another UNESCO World Heritage Site. These tours are around Php750-Php2500 ($15-$50) per person.
At the end of your trip, you might even want to indulge in an Asian massage. You can get a massage for less than Php500 ($10)!
(Conversion above is Php50 to $1.)
Insurance
Make sure to get insurance as well so you're covered while traveling and diving.
Tubbataha liveaboard packages do not include diving insurance so you will have to purchase this separately. Tubbataha is in a remote location with challenging and unpredictable conditions. Getting dive insurance can give you that extra peace of mind in case of an emergency.
I personally use Divers Alert Network (DAN). While I haven't had to use it, it's good to know that I am covered while diving in Tubbataha. You can also check out DiveAssure which has a liveaboard insurance rider so you can benefit from.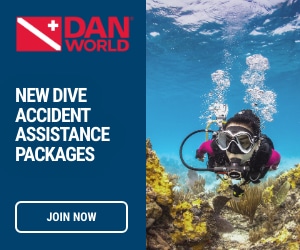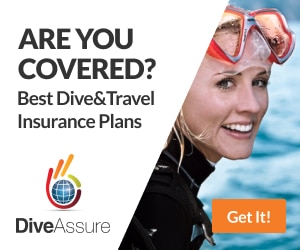 Dive insurance does not always include travel insurance. If you also want to get travel insurance, you can also check SafetyWing. It is an international travel medical insurance that can cover you while you are outside your home. COVID-19 coverage is also included! You can enter your details below to get a quotation.
How to Get to Tubbataha Reefs
From Manila or Cebu, you can take a flight to Puerto Princesa, Palawan. The liveaboard operators usually offer free pick-up from the Puerto Princesa airport or anywhere in the city. They can bring you to the pier where your liveaboard is docked.
From Puerto Princesa, it takes around 10 to 14 hours to get to Tubbataha Reefs Natural Park in Cagayancillo, Palawan. Transit time varies depending on the speed and size of the liveaboard vessel. Most leave port around dusk in order to arrive in Tubbataha by dawn.
At the start and end of the Tubbataha diving season, some liveaboards that are not based in Palawan offer what they call "transition trips." Some liveaboards might be coming from other popular dive destinations in the Philippines so they will have to make the journey to Puerto Princesa for the Tubbataha season. During the transition, they include stopovers so their guests can experience other dive sites en route to their final destination.
The ports for embarkation or disembarkation will be different for transition trips. Make sure to check the itinerary and arrange for transport accordingly.
What to Pack for Tubbataha Liveaboard Diving
When it comes to packing for a liveaboard trip, always pack light. Space is very limited on board so take only the essentials.
In my experience, you will spend most of your time in your swimsuit and dive gear so there is no need to bring fancy clothes and shoes. If I wasn't wearing my booties and fins, I was barefoot or wearing my flipflops.
While space is limited, it's still best to bring your own dive gear to save on rentals and also for your own comfort.
Tubbataha is a photographer's haven so you might want to bring your own underwater camera to capture your experience. Here are some recommendations on scuba diving cameras for beginners.
It's important to note that there is no mobile reception in Tubbataha Reefs Natural Park so you might want to bring a book or an iPad with music or movies to entertain you between dives.
Don't forget to bring Dramamine or motion sickness medicine. I was taking Bonamine for two days. The journey made me nauseous and it took me some time to adjust to the motion of the ocean.
You can read my post on the best seasickness remedies for scuba divers to prepare yourself for the journey.
Here is the scuba equipment and dive gear I brought on my Tubbataha liveaboard:
My Scuba Diving Gear
Regulator: Scubapro MK25 Evo, C300 and C200 2nd Stage
BCD: Aqualung Axiom
Mask: TUSA M-212 Freedom Ceos
Snorkel: TUSA SP-170 Platina Hyperdry II
Booties: Poseidon Pink Dive Boots
Fins: Problue
Wetsuit: Seavenger
Vest Hoodie: Scubapro Hybrid Hooded Vest
Dive Watch: Suunto D4i Novo
Dive Knife: Aqualung Blunt Tip Knife
Dive Leggings and Rash: Blue Adaptation Coral Sea Fan

My Underwater Camera Gear
Underwater Camera: Canon G7X Mark II
Underwater Camera Housing: Fantasea FG7XII
Video Lights: Big Blue AL1200XP
Underwater Action Camera: GoPro Hero9
360 Camera: Insta360 X3

> Canon G7X Mark II full review
> Insta360 X3 underwater camera review
> Scuba diving camera recommendations for beginners.

Dive Insurance
Divers Alert Network (DAN)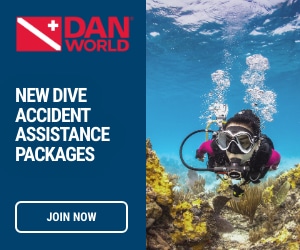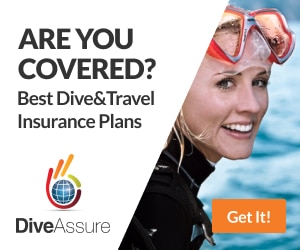 Need travel insurance for your trip? Get a quote from Safety Wing.
If you're traveling and diving in the Philippines for the first time, make sure to read my posts on
Ultimate Travel and Dive Guide to the Philippines
For a more detailed list of things to pack, check my post:
Ultimate Liveaboard Packing List: What to Bring on a Liveaboard Dive Trip.
Pin this for later!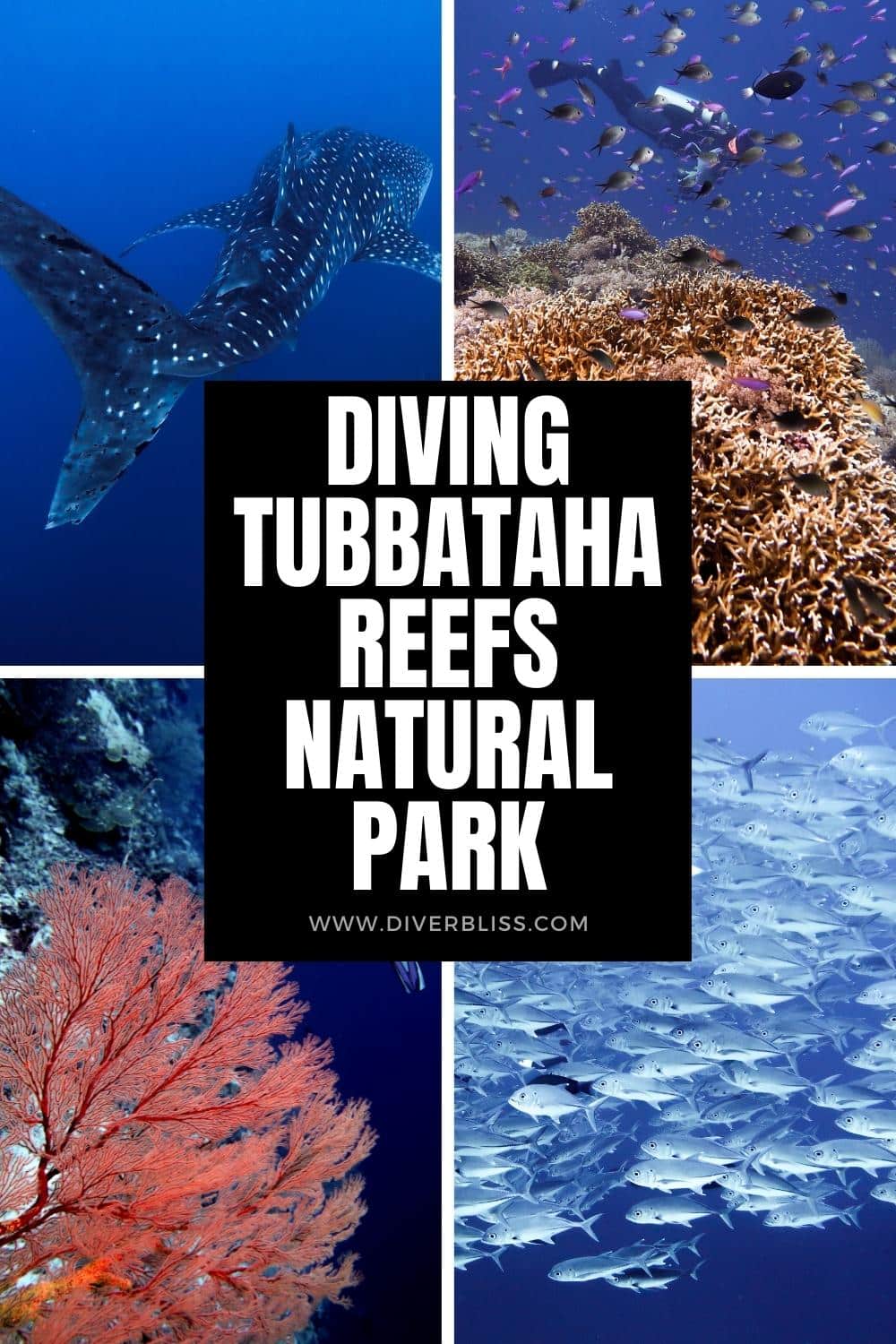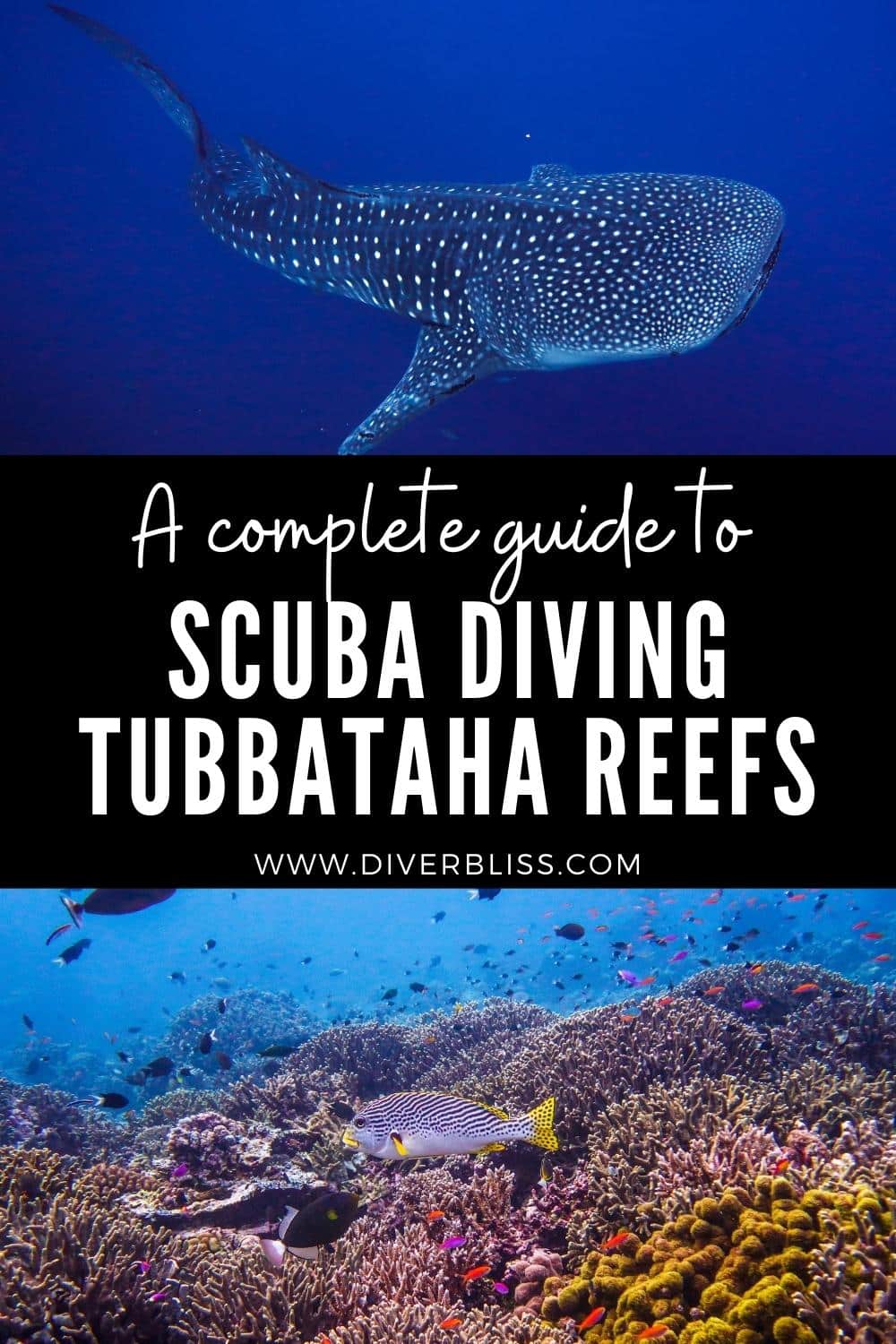 Have you been to Tubbataha Reef? What was your experience like? Is Tubbataha Reef Natural Park and World Heritage Site now on your dive bucket list? Leave a comment below!