I love-hate diving in Verde Island. There, I admit it.
I always share about all the good stuff that's happened in all my dives. But the truth is not all dives turn out to be great.
If you follow me on Instagram or Facebook, or read my blog, I always gush about diving in the Philippines. But for some bizarre reason, my "bad dive" stories always happened while diving Verde Island.
"That place is jinxed!" My best friend recently told me. And after 2 visits and all the unfortunate events that happened there, I'm starting to wonder if it is!
Verde Island Passage
I first heard of Verde Island from my dive buddy, Jem. She is an environmental scientist and my go-to girl for all things fish. According to her, "Verde Island is the center of the center of biodiversity!"
"The Indo-Malay- Philippines Archipelago, or Coral Triangle has long been considered an area of high marine biodiversity" says Kent Carpenter, a biology professor based at the Old Dominion University, USA. " Indonesia, because of its greater area, may eventually be shown to have a greater overall marine biodiversity than the Philippines" he continued, "but there is a higher concentration of species per unit area in the Philippines, with the world's highest concentration of marine species – including fish, shrimp, crabs, seaweeds, corals, sea turtles, and sea snakes".

The International Union for Conservation of Nature (IUCN)
Verde Island sits in an ocean passage between Batangas and Oriental Mindoro. So most divers visit Verde Island coming from either of these two provinces.
Verde Island Diving Experience from Puerto Galera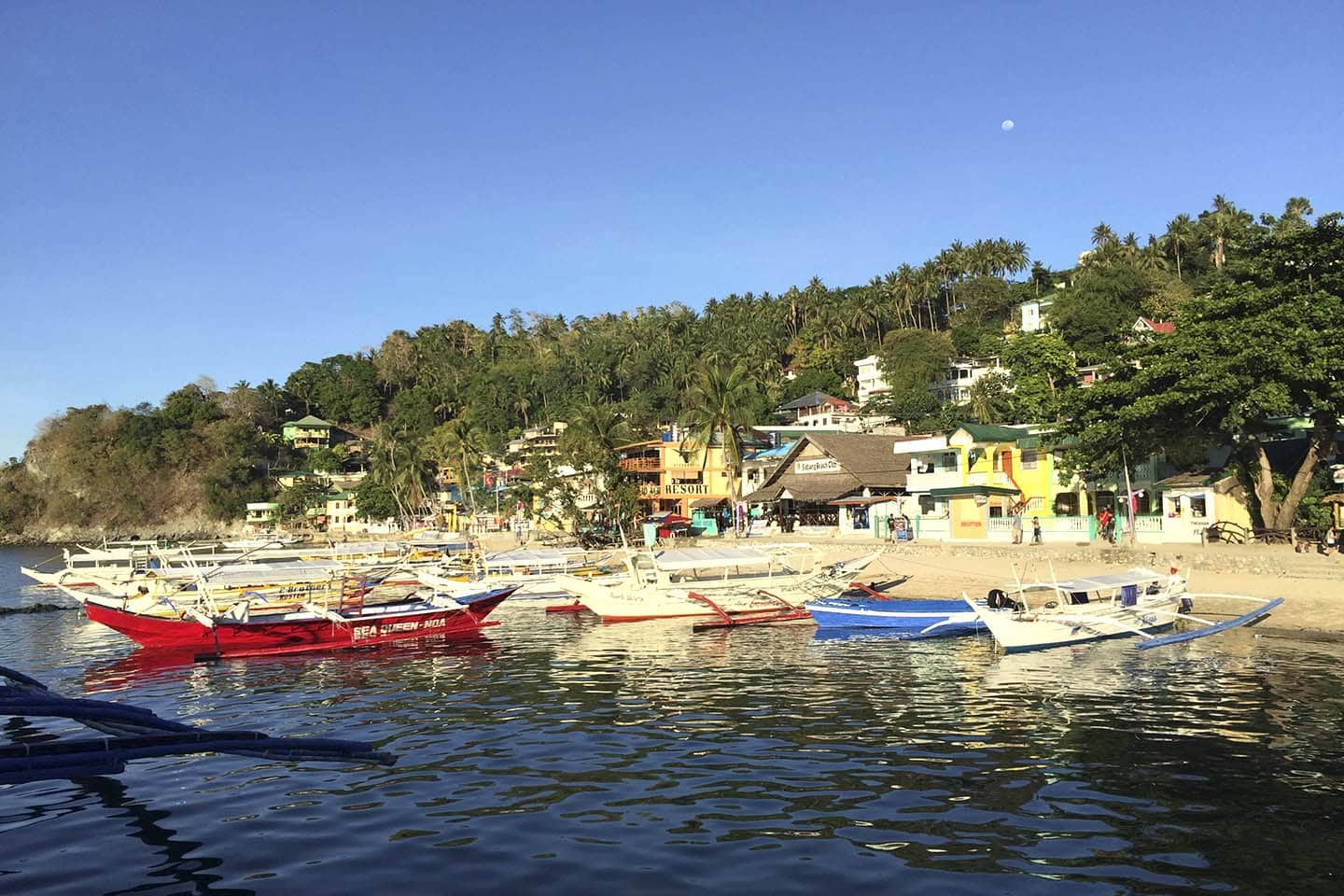 Back in 2015, my dive buddy, Jem, and I went scuba diving in Puerto Galera. We decided we were doing a day trip to Verde Island as well. When we reached Sabang, we walked around to look for a dive shop to take us. Luckily, we found one and booked for a trip the following day.
Verde Islands does live up to its hype. It was a real-life aquarium teeming with life. Their claim about biodiversity and it being the "center of the center" might actually be true.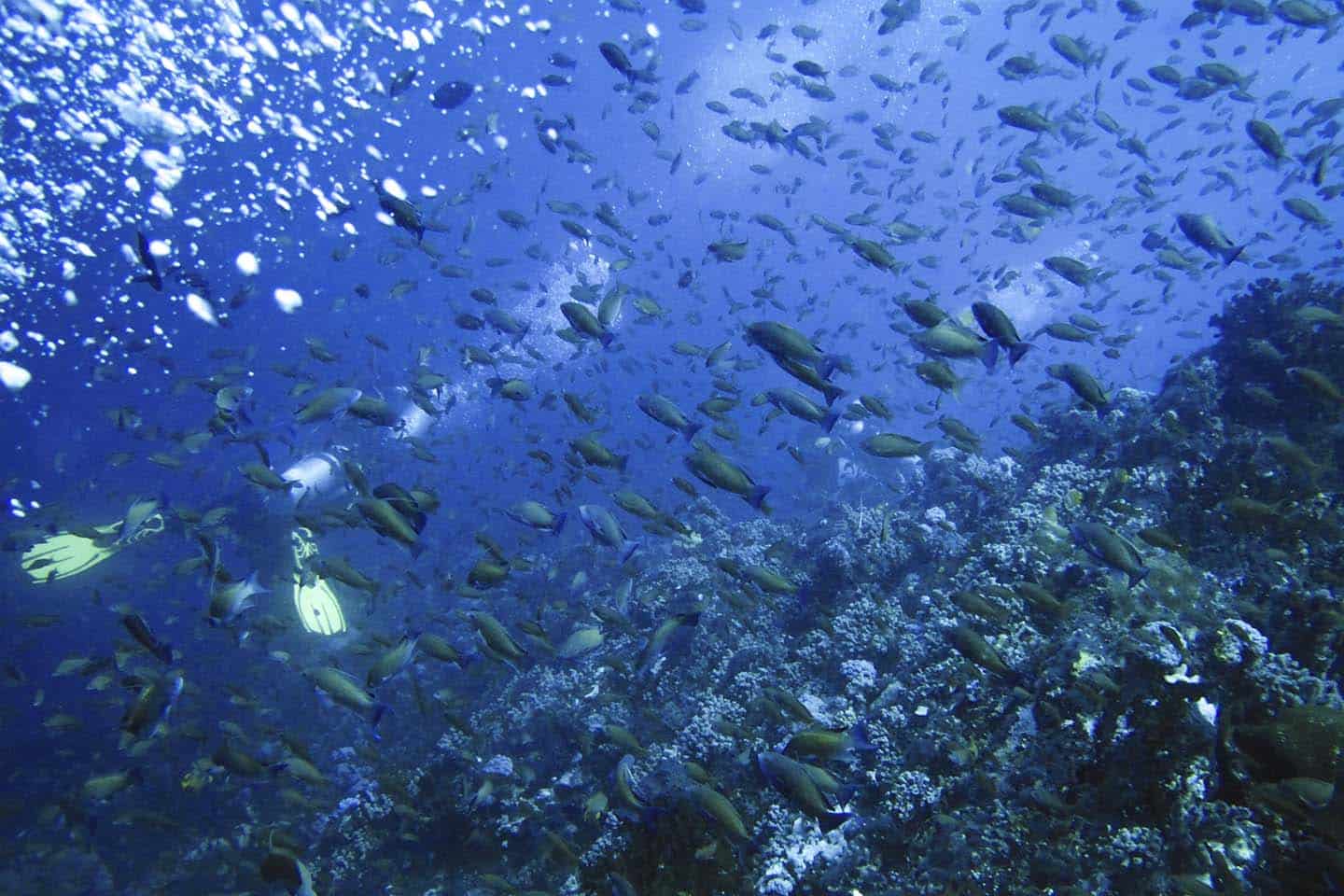 We first went to a dive site called Corner, followed by Pinnacle. Everything was good and well. Until the third dive.
Washing Machine Experience
The divemaster suggested we leave our cameras as we are diving in "Washing Machine". It's going to be tough he warned us and only experienced divers can go.
This dive site in Verde Island is known for its extreme currents. And as the name creatively suggests, it will feel like you are thrown into one, sans the dirty clothes.
Before the dive, he reminds us to stay near the reef and just follow him. Everything happened so fast and the next thing I knew, we were swimming against the current.
I consider myself a strong swimmer. But the current was so strong we were forced to anchor ourselves on the reef. When we exhaled the bubbles would be swept horizontally instead of flowing upwards!
I tried to avoid making contact with the reef. But that day I had no choice. I had to grab on to the rocks or else they might pick me up in God knows where. I'm pretty sure I hurt some corals in the process. And for that I am sorry.
To be honest it was actually cool to experience. But only to some extent. It was hard to enjoy when I did not feel safe for the most part. The DM barely gave any signals on where we were supposed to go or checked if we were okay.
He kept swimming farther into the current, I guess that was the point of the dive? Or he could not find a way out? After all, we were warned it was going to be challenging.
So we kept finning hard like our life depended on it. And it probably was.
I kept looking at Jem to figure out what was going on. And she just kept shrugging back also confused as to what the DM was doing or where he was taking us.
Eventually, we got out of the current and we were in a safer zone. Or so I thought.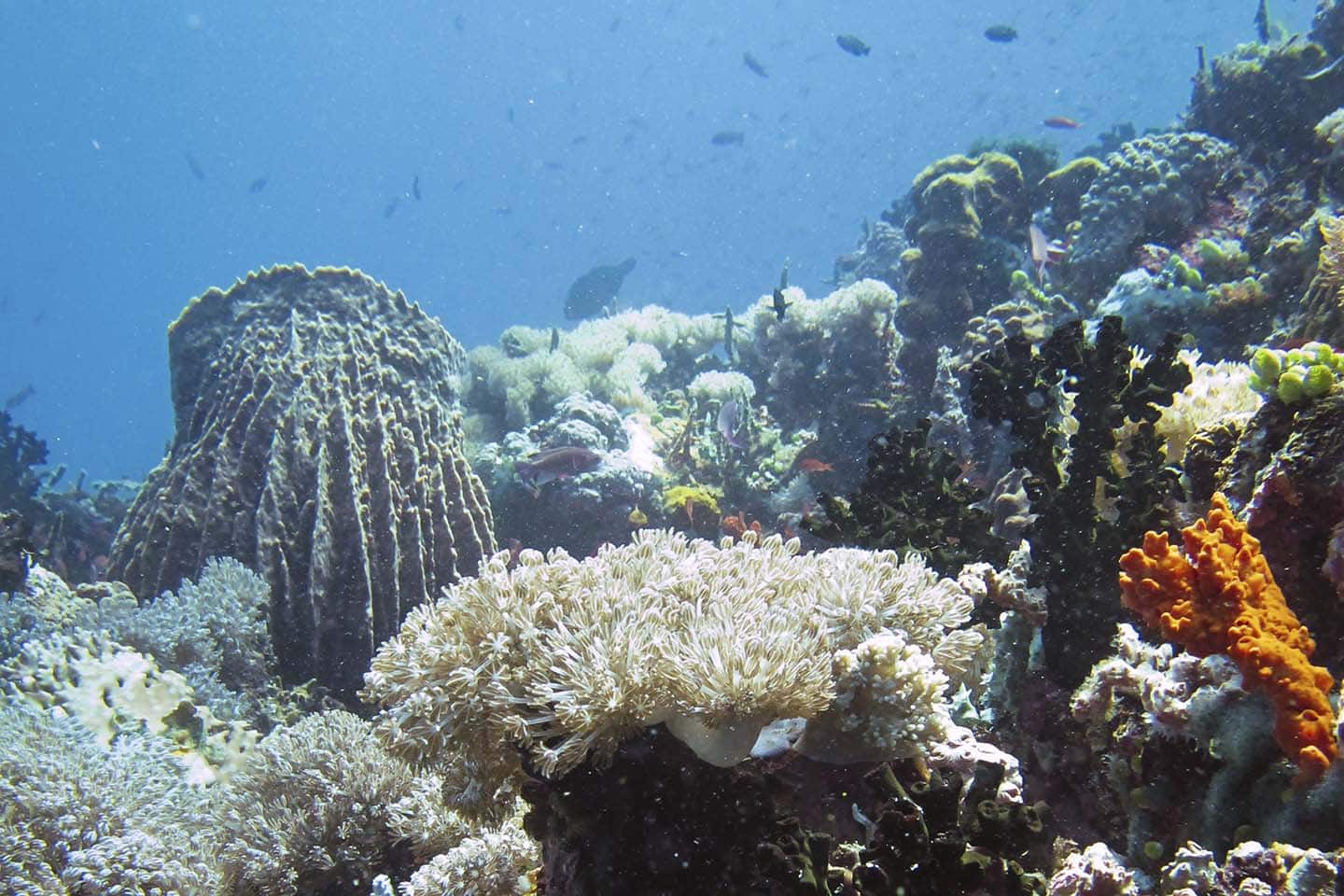 Bad Divemaster
I was following our DM and turned around to check on Jem. I could not find her. So I stopped for a bit to look for her. When we finally saw each other, I realized I lost sight of our DM. Fuuudge. Where was everyone?
Ten meters away from us, I saw a diver swimming out into the blue. I wasn't sure if he was part of our group. So we took the risk and started swimming in the same direction.
I felt so uneasy swimming in an area where I could not even see the bottom. We finally reached the boat and was relieved to see that it was ours. And the DM was already in it, waiting for us.
To this day, I consider that as one of my worst dive experiences. I'm sure Swimming against the current and feeling the rush was fun but it was also not the safest. I felt the DM was negligent especially when he left us during ascent.
It was the first time I had ever felt unsafe in a dive and it happened in Verde.
For more dive horror stories, check my post on The Worst Divemasters I Have Ever Encountered.
Verde Island Diving Experience from Batangas
Recently, I saw an opportunity to dive Verde Island once again. Despite my bad DM experience, I knew Isla Verde was still worth the visit.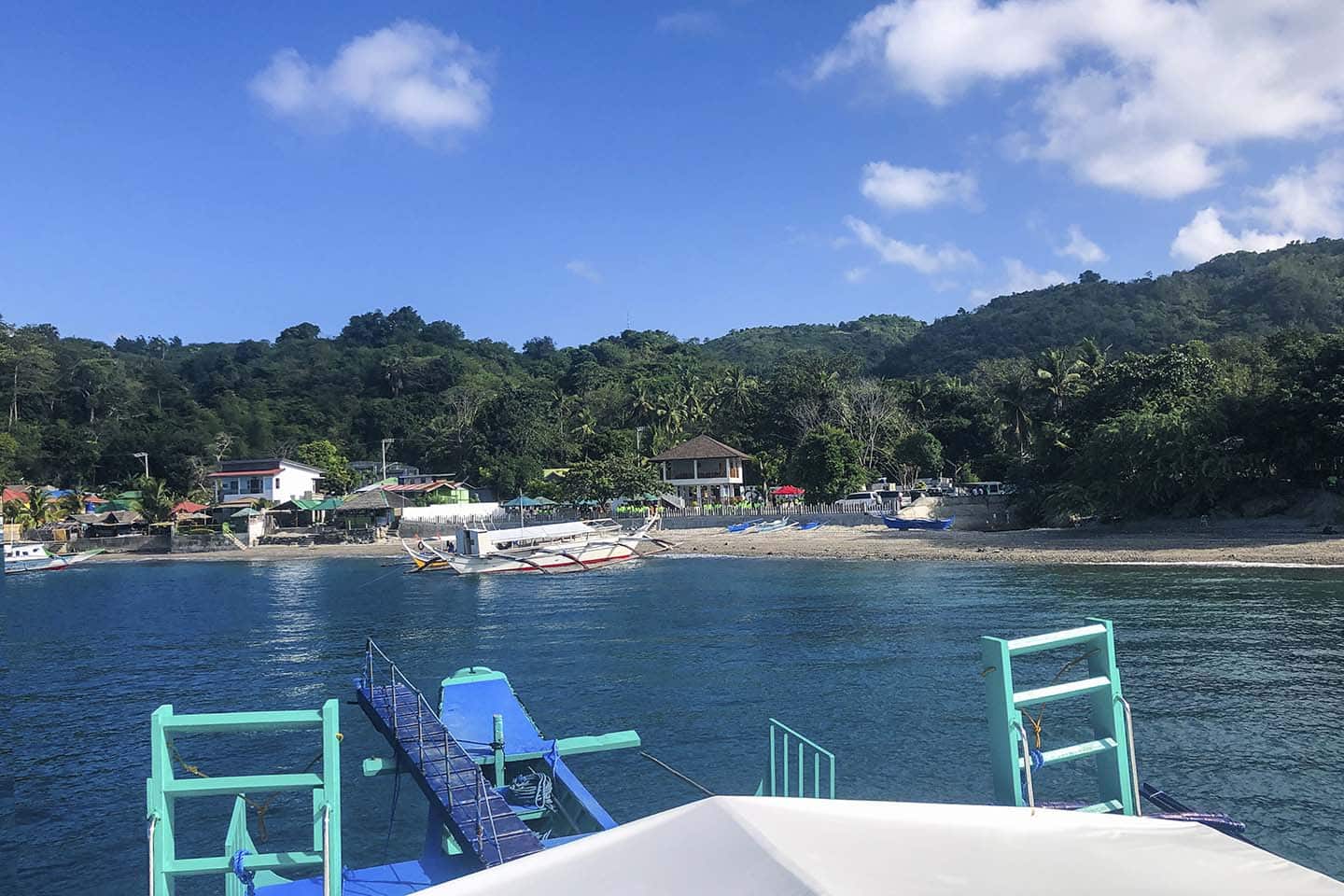 Christian (aka Salty Dude Scuba) invited me to go on a day trip to Verde Island via Batangas. We left Manila at 4 AM to go to the meetup point in Pagkilatan, Batangas.
Penn de los Santos and Avic Maramot of Batangas Scuba Academy organized the trip.
While some diver or dive shops have accessed Verde Island by taking a boat from Anilao, these dive pros offer this alternate route via Pagkilatan.
Verde Island is less than an hour away from here versus the 1.5 hours trip from Anilao. We left Pagkilatan before 9 and arrived Verde Island shortly after.
Our first dive was at Pinnacle also known as Pulong Bato by the locals. Upon ascend, we were immediately greeted by a turtle and huge school of jacks.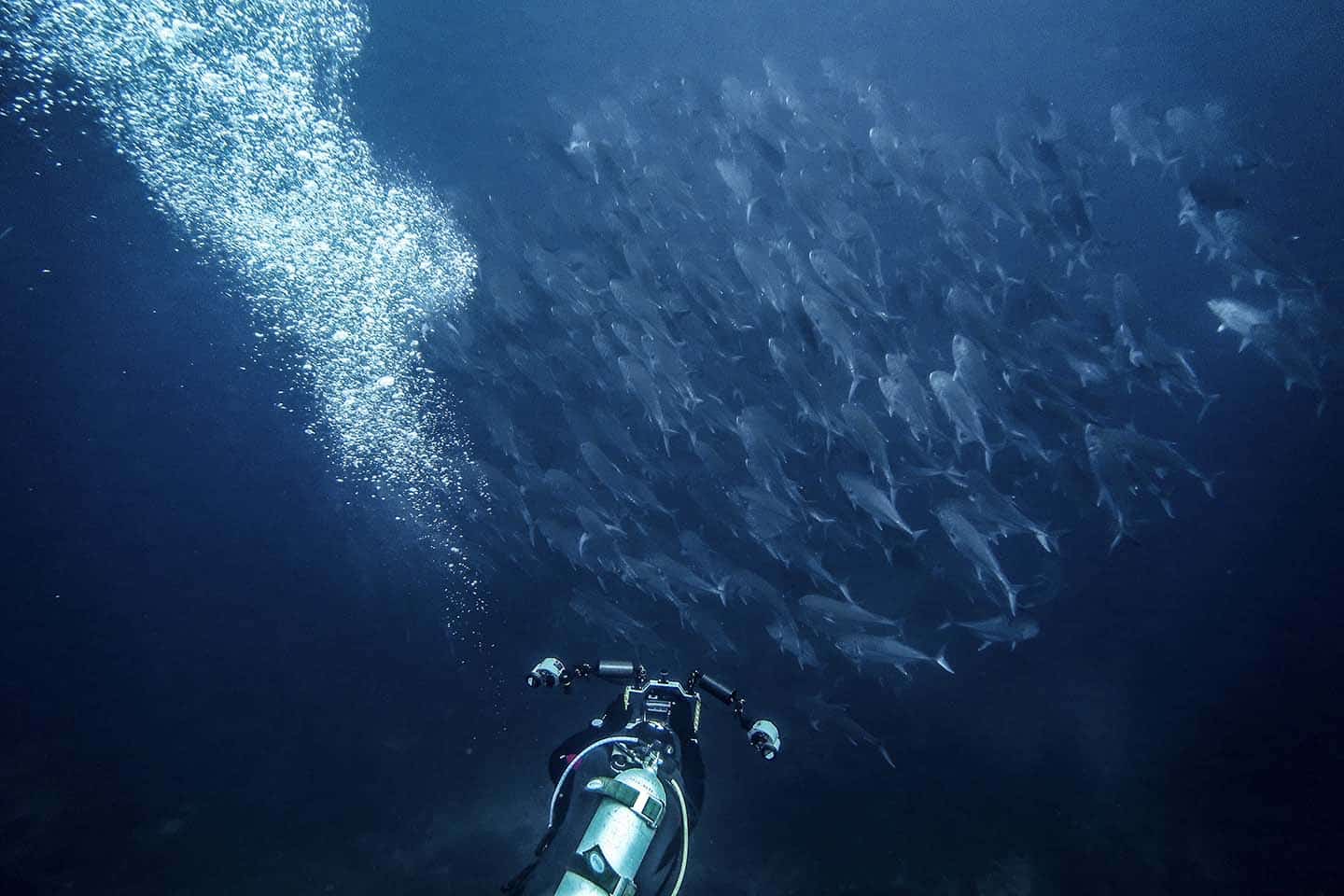 A Leaky Dive!
As a habit, I checked my air. We were only a few minutes into the dive, and I'm down to 2200 psi from 3000 psi. Well, that's not right.
I immediately check my "octo" (back up) regulator and saw bubbles streaming out. It was leaking. It wasn't so obvious as I had placed it in my octo-holder, but it was definitely releasing bubbles.
I just had some parts replaced and it was its first dive back. Note to self, do not do a gear test dive in Verde!
So I called Christian's attention telling him my problem. He checked it out and toggled the switches on the regulator. This lessened the leak significantly. I kept an eye out for it the entire dive, just in case.
We continued diving Verde Island and then I noticed another leak.
Oh nooo.
This time, water had leaked into my Sony underwater casing. Now my camera was partially swimming in saltwater. Damn it.
A nightmare came true- camera flooding.
This was definitely not how I wanted my first dive of the year to go.
Despite the leaky gear mishaps, overall, it was still a good dive. I loved how my photos turned out from my other camera. And I am happy that I didn't have to abort the dive!
A very long surface interval
We headed back to the boat and we decided to have lunch first before going for a second dive.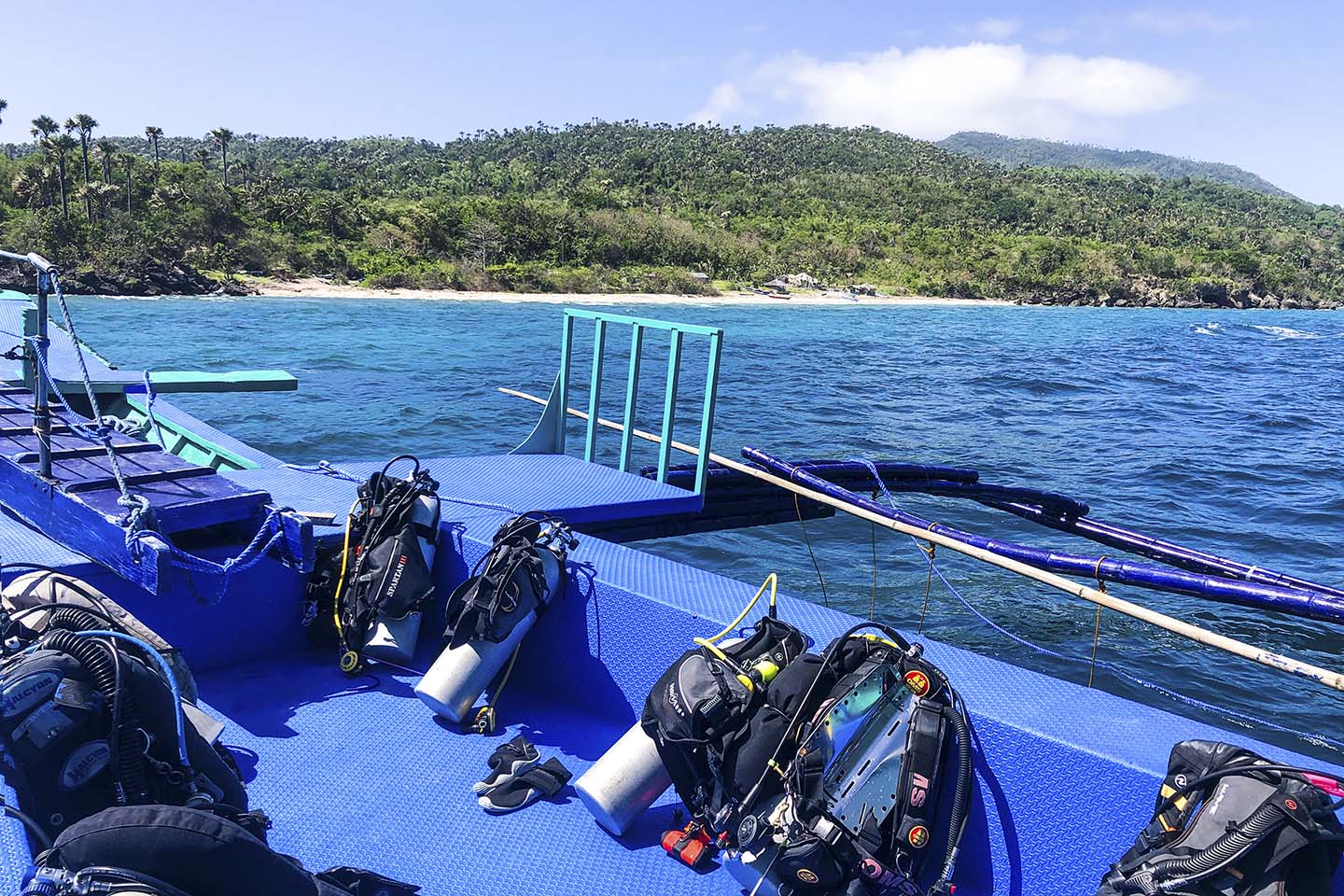 After a very yummy home-cooked lunch, we decided to move to our second dive spot. The captain turned the key to start the boat and it sputtered. He tried again and nothing happens. Well, that's not right.
Oh nooo.
Engine failure.
We were stuck there for another hour until the boat crew managed to fix the engine.
Due to timing, it was decided to cancel diving Verde Island. It wasn't ideal but it would be worse for us if we got stranded between Verde and Batangas.
Instead, we did two more dives in Batangas. It wasn't as nice as Verde since the visibility wasn't great. But in my book, a dive with bad vis is better than no dives at all!
Love or Hate?
Unsafe dives. Bad dive guides. Faulty regulators. Camera flooding. Boat Troubles. Unfortunately, these things do happen from time to time.
Coincidentally they all happened to me while diving Verde island, making it a very memorable and educational trip. But to be fair, these misadventures were not exactly Verde's fault. They were because of human error.
I'm sure all divers have had bad dive experiences at one point or another. We just have to learn from it. Take it one giant stride at a time. And hopefully, live to tell the tale!
Will I still go back to Verde Island? Yes, of course! Do I still recommend it? Most, definitely!
Diving Verde Island was an overall good experience. I think it is deserving to be included as one of the best diving locations in the Philippines. The reef was simply outstanding and you'll want to keep diving for more.
So yes, I will be back soon. I am sure of it. But, hopefully, the next time is without a glitch!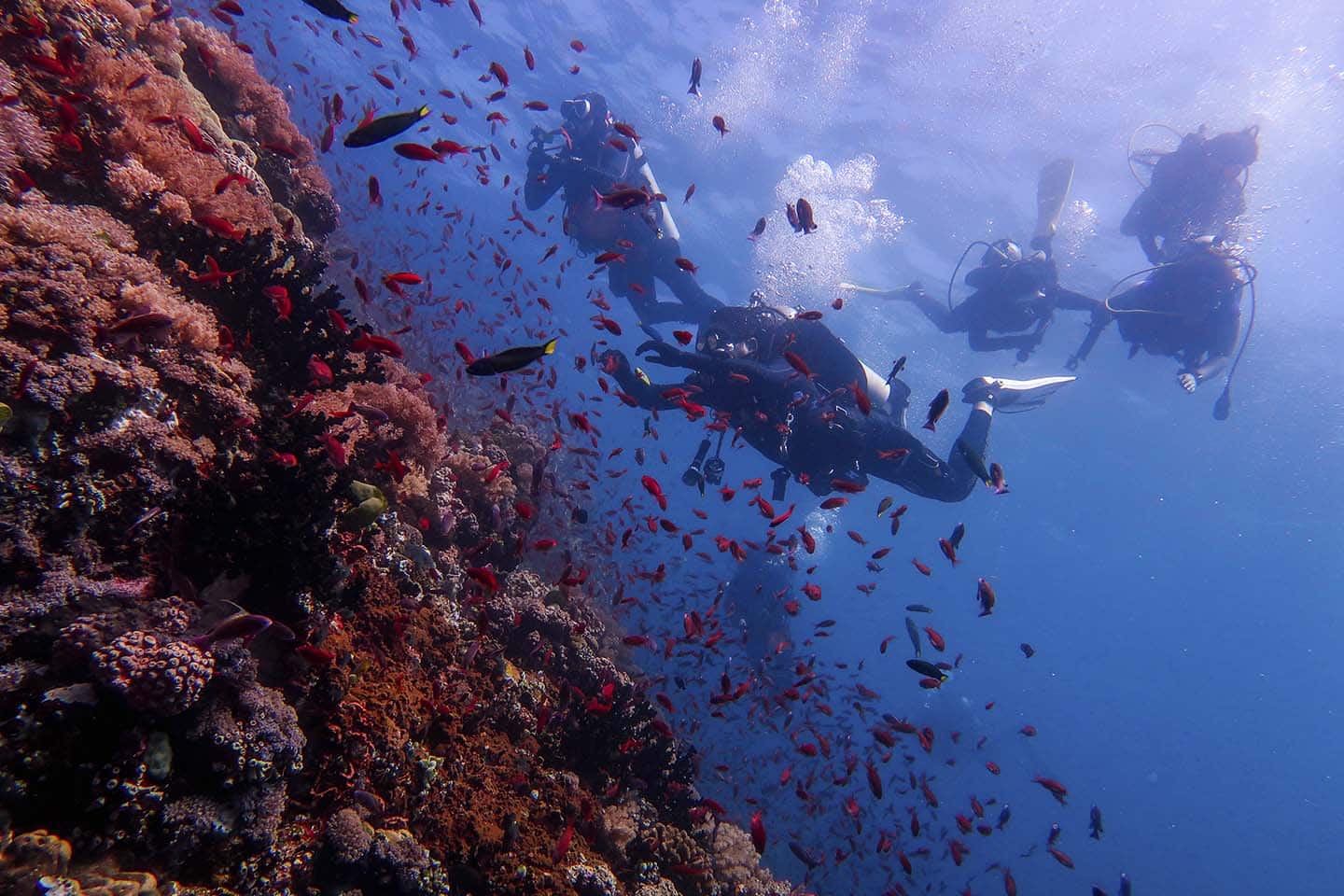 If you want to dive Verde Island coming from Pagkilatan, Batangas, please contact Penn or Avic of Batangas Scuba Academy for their scheduled trips and rates.
Pro Tip: If you wish to visit Verde Island via a liveaboard vessel the Solitude One and Resolute has charters covering that area.
When is the best time to go diving in Verde Island?
You can dive Verde Island all year-round. But, the dry season or during the Amihan months, from December to May, is the best time to go diving in Verde Island. The waters are normally calmer and the visibility is better during this time. This creates optimal diving conditions and allows divers to completely appreciate Verde Island's underwater splendor.
Recommended reading:
Amihan and Habagat: Diving Seasons in the Philippines Explained
Best Time To Dive in the Philippines + Monthly Guide on Where to Go
What to pack for Verde Island Diving
Here is the standard dive gear I bring while diving in the Philippines.
My Scuba Diving Gear
Regulator: Scubapro MK25 Evo, C300 and C200 2nd Stage
BCD: Aqualung Axiom
Mask: TUSA M-212 Freedom Ceos
Snorkel: TUSA SP-170 Platina Hyperdry II
Booties: Poseidon Pink Dive Boots
Fins: Problue
Wetsuit: Seavenger
Vest Hoodie: Scubapro Hybrid Hooded Vest
Dive Watch: Suunto D4i Novo
Dive Knife: Aqualung Blunt Tip Knife
Dive Leggings and Rash: Blue Adaptation Coral Sea Fan

My Underwater Camera Gear
Underwater Camera: Canon G7X Mark II
Underwater Camera Housing: Fantasea FG7XII
Video Lights: Big Blue AL1200XP
Underwater Action Camera: GoPro Hero9
360 Camera: Insta360 X3

> Canon G7X Mark II full review
> Insta360 X3 underwater camera review
> Scuba diving camera recommendations for beginners.

Dive Insurance
Divers Alert Network (DAN)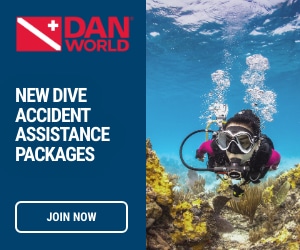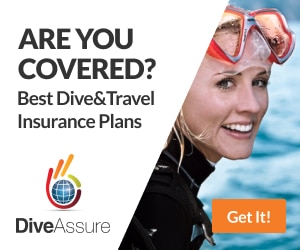 Need travel insurance for your trip? Get a quote from Safety Wing.
If you're traveling and diving in the Philippines for the first time, make sure to read my posts on:
Ultimate Travel and Dive Guide to the Philippines
Philippine Packing List: What to Bring to Your Dive Trip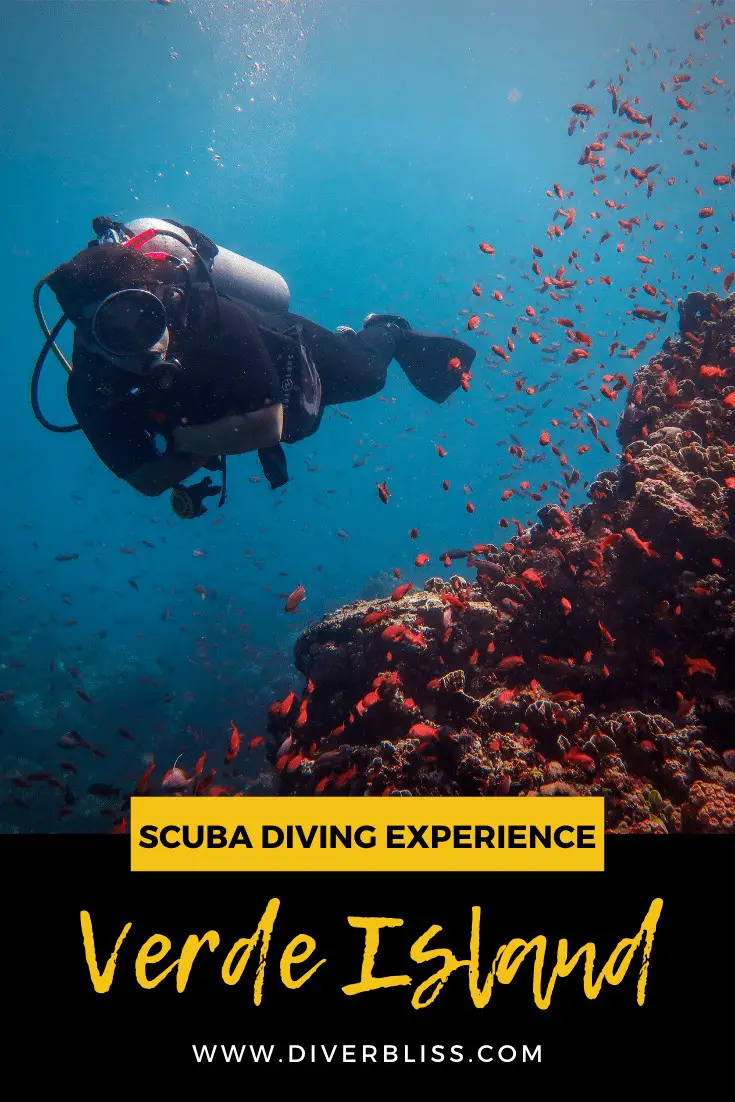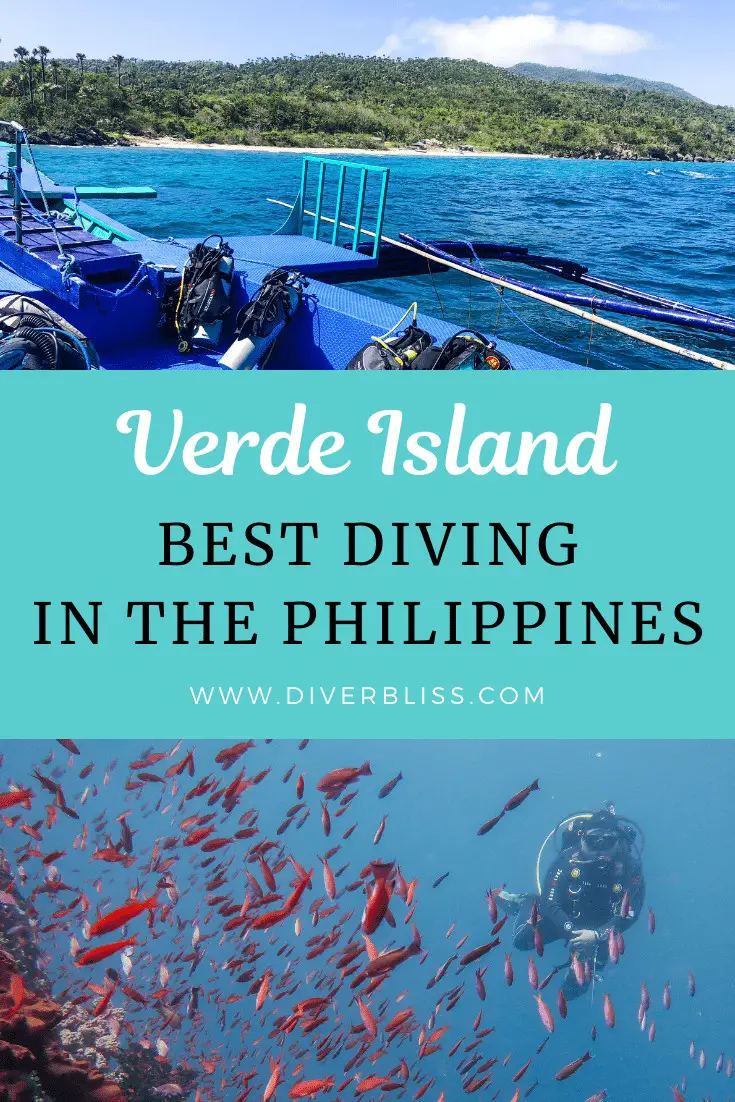 Would you still want to dive Verde Island? What dive disaster stories have you experienced? Leave a comment below!