You don't have to be a starving artist to make a living as an underwater photographer.
If you have the talent for creating beautiful underwater shots then you should use this to your advantage. Not everybody can do what you do and you deserve to be paid for it!
As someone who had previously worked in a portrait studio for 5 years and now sells products online, let me assure you that there is money to be made in photography. You just have to get creative and have a business mindset, so you can find the right opportunities for yourself.
Here are the ways you can start making money as an underwater photographer starting this summer!
10. Enter underwater photography contests
One way to earn money as an underwater photographer is by joining photography contests. Many organizations hold photography contents for different levels of photography and their prizes can be pretty amazing. While some contest will give you free trips or products, some will reward winners with cash prizes.

There are many photography contests you can join online for free but there are also some that charge a processing or joining fee. 
Here are some examples of underwater photography contests you can join: 
While contests may not always bring you money, joining photography contests can help give you some exposure and recognition for your work. Getting recognized as a winner in an established competition can be good for your personal brand. This can help you land gigs and work opportunities in the industry.   
9. Become an online influencer
You can also make money as an underwater photographer by also becoming a social media influencer. 
Many photography and scuba diving brands are always looking for individuals who have a good online presence. If you build a following in your Instagram or Youtube or Facebooks or TikTok account you can actually start monetizing these by working with sponsors to promote their brand to your audience. 
But of course, social media is not just about getting brand sponsorship and deals. It is also an excellent tool for other businesses to find you. 
So if you think you have what it takes to be an influencer on social media then this could be a good additional source of income that is complementary to your photography business. 
If you would like learn how to grow your IG, check out my post on tips on growing your Instagram to advocate for the ocean.
8. Do underwater photography-related tasks for a fee

If you are an underwater photographer, you may already have learned various creative skills that other newbies or rookie may find challenging to do. If you've noticed non-photographers or novices asking you for help on how to do certain things, like photo editing, you can sell a service to make the task easier fo them. 
For instance, you can sell underwater photo editing presets to make editing underwater photos easier for others. 
You can also offer to edit the vacation videos and photos of other people who are not so creative and tech-savvy. There are many divers who buy their own underwater cameras to capture their adventures but have no idea what to do with them afterward. You can offer your editing services as part of your photography gig. 
Here are some samples of how others have sold their editing service on Fiverr: 
If you don't know where or how to start, check out this Fiverr course on Launching A Successful Photography Business.
7. Build an underwater photography website
If you are wanting to make a living as an underwater photographer, you really should have your own website. It shows your potential clients that you are a professional. Having a website establishes your expertise. It shows that people can go to you for help and advice.

You can easily build a website via Smug Mug which has amazing features like having the portfolio. It's simple to use and will get you started immediately. Create a custom photo website in minutes. Click here to get started.
Aside from selling your own photos, merchandise, or photography courses on your website, you can also earn passive income on your photography website through affiliate marketing.

Affiliate marketing is when you earn a commission by recommending services and products you love to other people. For instance, you can write on your website about your favorite underwater photography gear and equipment, you can add an affiliate link to these posts. If someone clicks the links and purchases through them, you can earn a percentage commission from any sales made through them. 
If you love writing and giving photography advice, building a photography blog might be for you.
I learned about affiliate marketing by taking a blogging course. And this is how I learned how to earn passive income on my website. If you are interested in affiliate marketing, my mentors, Tom and Anna, have FREE online training you can join to learn more about how you can profit from blogging.
Need some website inspiration? Check out this list of best women scuba diving blogs.
6. Sell an online underwater photography course
If you consider yourself an expert in underwater photography and love teaching others about it, then you can create and sell an online underwater photography course. Many beginner photographers will surely want to learn from someone with experience, and you could be the mentor they are looking for.
There are many websites online, like Skillshare and Udemy, that will allow you to sell your courses on their platform. While you will initially have to put in a lot of work to create modules and videos for your students, this can potentially be a source of passive income for you. Anyone can sign up for your photography course and learn at their own pace.
You can also do an online course via Zoom or a similar platform where divers can learn from you "live" instead of pre-recorded videos. This format is basically similar to having a face-to-face photography workshop except that it is done online.
Many photographers have earned money selling courses, and you can too. 
Check out this post to find out how these underwater photographers are making money: 15 Amazing Women Underwater Photographers You Should Follow on Instagram
5. Organize underwater photography trips
If you have a knack for travel planning, organizing photo trips might be a good source of income for you.
As an underwater photographer, you have probably visited several wonderful places already. You may have also built relationships with dive liveaboards and dive resorts. You can tap into this network and come up with an exclusive trip for underwater photographers. 
Many dive businesses would be happy to give you deals and discounts when you are able to bring new customers to them. You can earn a commission from the trip or charge a fee for organizing the trip.
As an added value, you can also market your trip as an underwater photography workshop where people can learn from you and meet other underwater photographers. Scuba divers wanting to hone their crafts are always looking for opportunities to learn from experts. And one of the best ways to do this is by going on an actual dive with them.
4. Offer your services to liveaboard or dive shop guests
Another side hustle you can do is to offer your photography services to guests of liveaboards or dive resorts. Some guests might be looking for someone to capture their underwater adventures. And you could provide the service they are looking for to capture their perfect scuba getaway. 
Many first-time scuba divers might also want this first scuba experience documented. Since first-time divers are discouraged from taking their own underwater camera, you can offer to take their photos instead. 
Some divers might be on their honeymoon and they might want souvenirs from the trip. Just imagine, whether it's their first or their 10th anniversary, they can look back and will be so glad they hired you to capture their happy moments underwater.
Guests might also want to have their portraits taken in very special underwater environments and rare animal encounters. So if you are based in a dive location where you might have one-of-a-kind experiences, then you should take advantage of this opportunity. 
No doubt, someone out there would want professionally taken photos of themselves with a manta ray or whale shark. Or would not mind paying an underwater photographer of them exploring a cenote in Mexico for the first time.
If this is something that interests you, you should build an online portfolio of your best underwater portraits to easily showcase your work. Dive businesses and guests will surely want to see how talented you are before hiring you.
Did you know that SmugMug can help you create a custom photo website in minutes? Try it for free and save 15% on any new account when you use this link.
3. Work with small dive businesses to elevate their brand
Offering your photography services to a dive business can be another way for you to earn money as an underwater photographer. Many dive shops may not have the resources and skills to produce the best photos to promote their business.
Having professionally taken photographs on their business website and social media accounts can help boost their revenue. The beautiful imagery you create can convince scuba divers and guests to book with them. 
You can approach dive shops as an underwater photographer who wants to help elevate their brand. You can package your photography services to include photos of not just the underwater life of the area but also photographs of their facilities and services. 
Before approaching these dive centers looking for an underwater photography job, make sure that you have a professional business website to showcase your experience and work.
Your website may contain multiple galleries to showcase your different photography styles. And you might even want to have password-protected galleries for each of your clientele so they can access their own photos after each project. If you want features like this on your website, you can create a stunning photo website for your business with SmugMug.
2. Sell stock photography images
Selling stock photography images is also a good way to earn income online. Similar to selling merchandise, you can also start selling your digital photos online.
When you sell stock photos you are essentially giving an individual or company a license to use your photos for their personal or commercial use. For all, you know someone out there is needing a photo of a rare nudibranch you too or someone needs a photo of a wreck dive site for a travel brochure.
There are several options for selling your photos on the internet. You can sell them through your own website where you have full control of the terms of use and get most of the profits. But you can also sell them through a microstock photo site, where you upload your photographs on their platform and they sell your images for you.
The benefit of signing up on another online platform is that you will have a wider audience reach. However, when someone purchases your photo through a microstock site, you will only receive a royalty. Depending on which stock site you join, you can receive a payment between 20% to 60% royalty per image sold. 
This is one of the most common ways photographers earn money online. If you are a beginner at selling your photos, it is recommended that you join several image stock sites. This will give you more exposure and increase the possibility of sales. Each platform targets a different set of clientele so you can do well on one platform and not so well on another.
Some of the more well known sites you can join are: 
Selling stock photos can be highly competitive. You might even get rejected on some platforms but do not feel disheartened if this happens.  There are many tutorials online you can read to help you get started on selling stock images.
1. Sell prints and merchandise
If you have thousands of images in your hard drive that's just sitting at home and gathering dust,  it's time to go through them and start selling your work online.
Nowaday, there are so many platforms on the internet that you can use to sell your prints for profit. 
For instance, SmugMug can help you sell your photos as products like wall art and photo merchandise. You simply have to open an account, upload your photos and choose which photos you want to sell. The platform can help you manage your photo for sale and help you set prices so you can sell your photos for profit.
Once your SmugMug website is up and running, you can promote it to your family and friends. When your fans or followers place an order, SmugMug will take care of printing and shipping the products so you don't have to worry about it! 
If you want to see how it works, you can sign up for your free SmugMug 14-day trial today, and save 15% on a new account.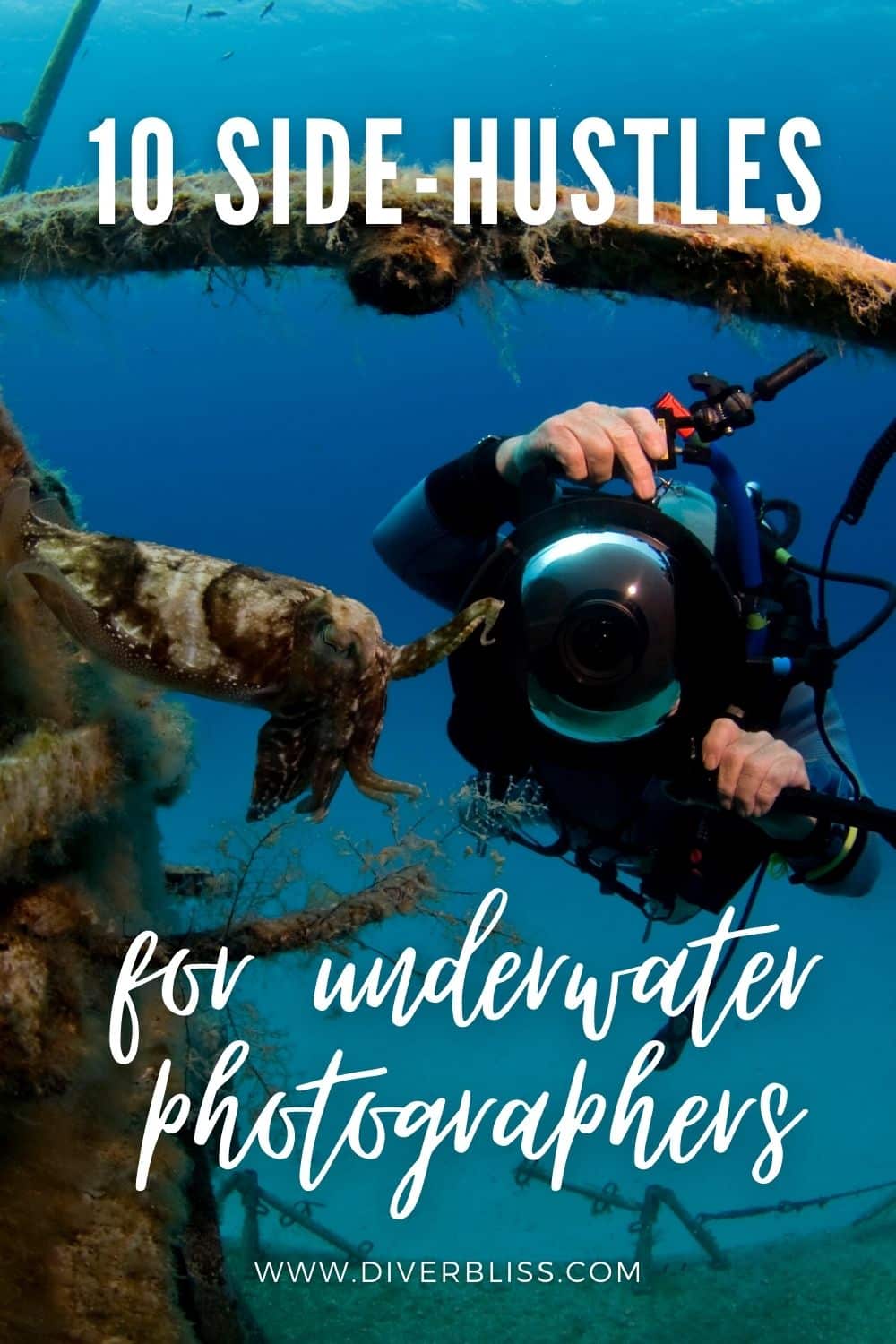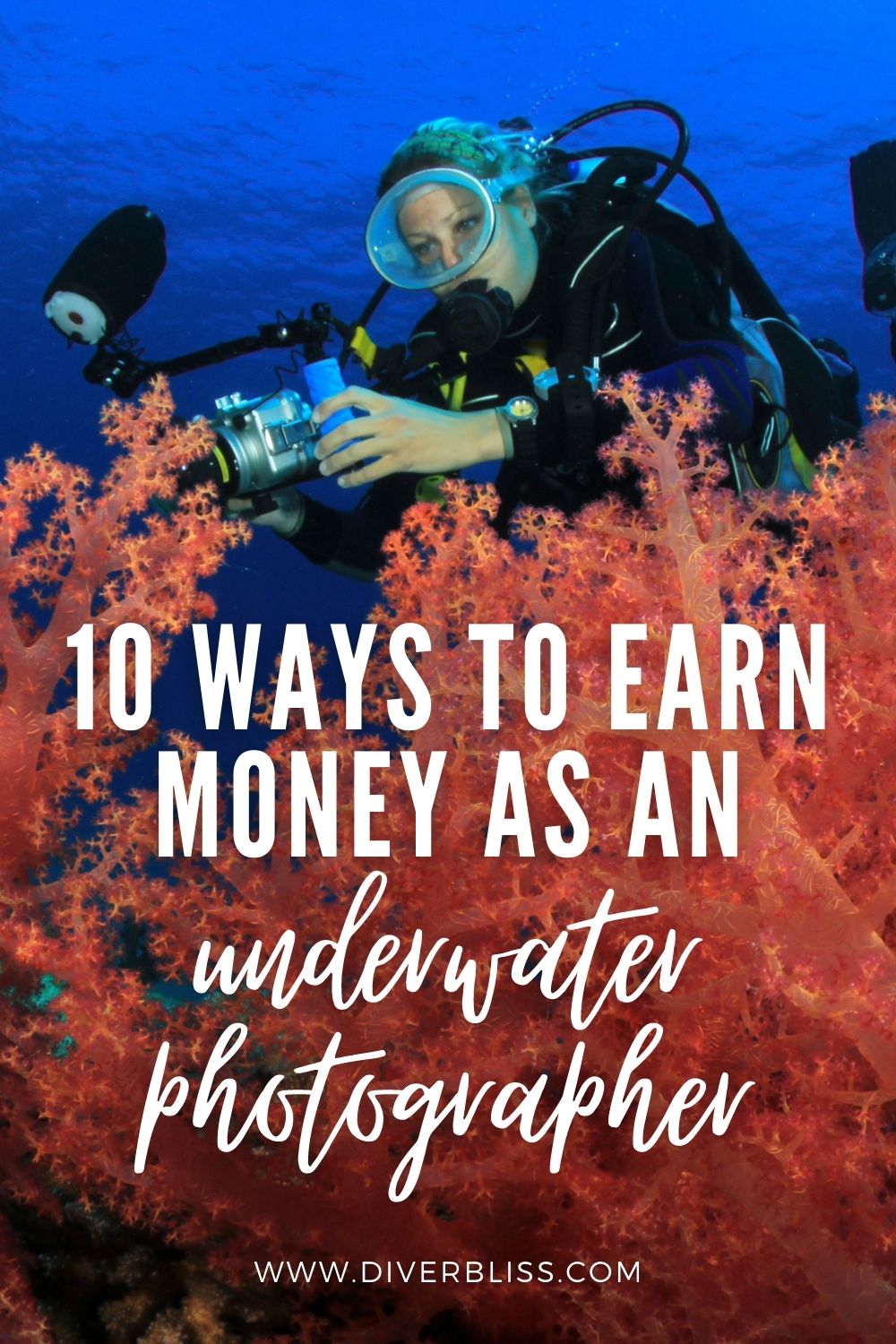 It's time you stop giving your images and your skills away for free and start earning from your photography. Especially when diving and photography are both costly to pursue, you might want to offset those expenses by actually earning from your craft. Even if you are doing underwater photography for fun or as a hobby (for now), there is no reason for you to not be earning from your talent.
If you want to earn from your underwater photography, remember that you should be willing to put in the time and work to make it work. The suggestions above are not get-rich-quick schemes. 
As someone who has been running my own business for the past 10 years, I can tell you that just because you build it, it doesn't mean they will come. Just because you make something, it does not mean it will sell. And just because you promoted something, it doesn't mean your clients will come in droves.
Whether you want to do this part-time or full-time, you will have to be persistent and consistent if you want to earn an income from your photography.
Yes, some of the suggestions above may give you instantaneous results. But if you want something that is long-term and sustainable you will have to put in the time, effort, and investment to make your hobby into a business.
Which photographer side-hustle on the list would you want to pursue?
Are you currently earning an income from underwater photography? How do you earn money as a photographer? Leave a comment below!